Get connected with our daily update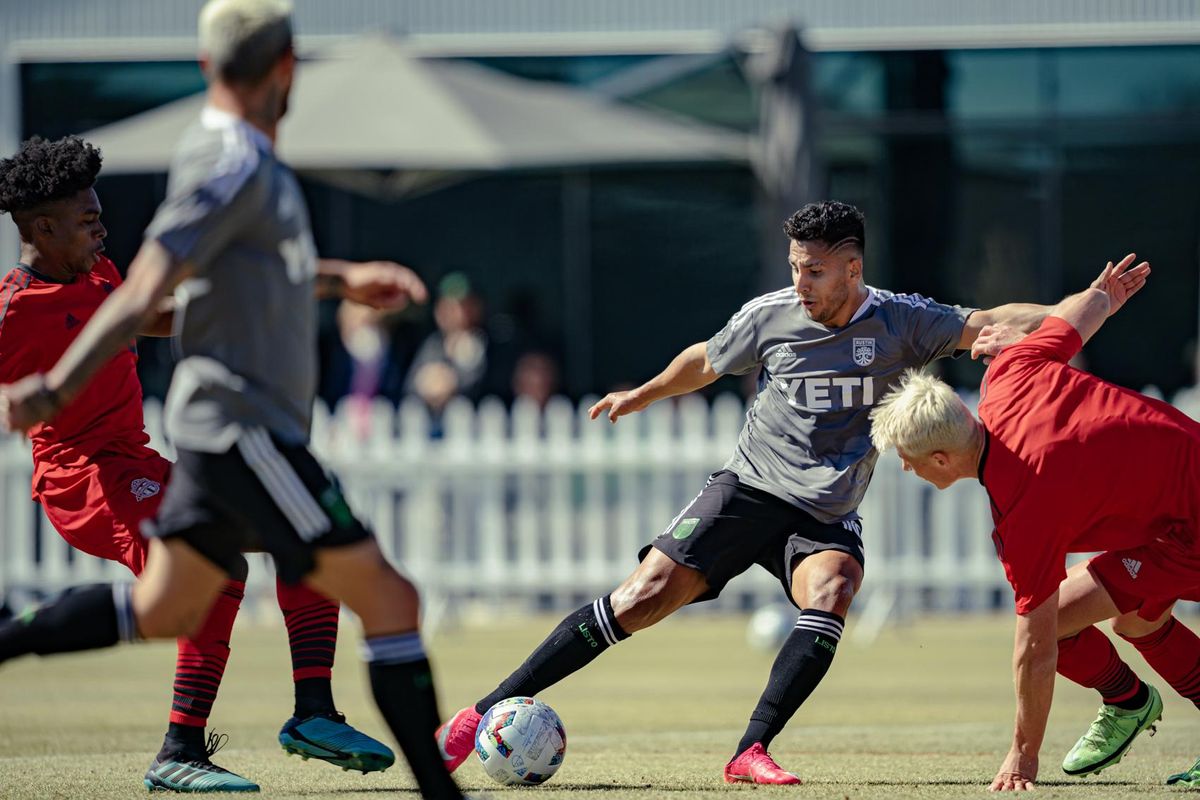 North Austin's Parmer Pond was filled with Verde Wednesday as Austin FC opened its doors to the media for the first time this season to watch a preseason matchup against Toronto FC at its practice field, St. David's Performance Center.
---
Although the team lost 2-1, the friendly match was a chance to watch last year's fan favorites, like Diego Fagundez and Brad Stuver, play alongside new talents including Maxi Urruti, the former Houston Dynamo striker who scored Austin's lone goal of the match.
Familiar chants from fan band La Murga echoed into the practice field in Northeast Austin as they looked onto the match from above at what they call the Verde Hill.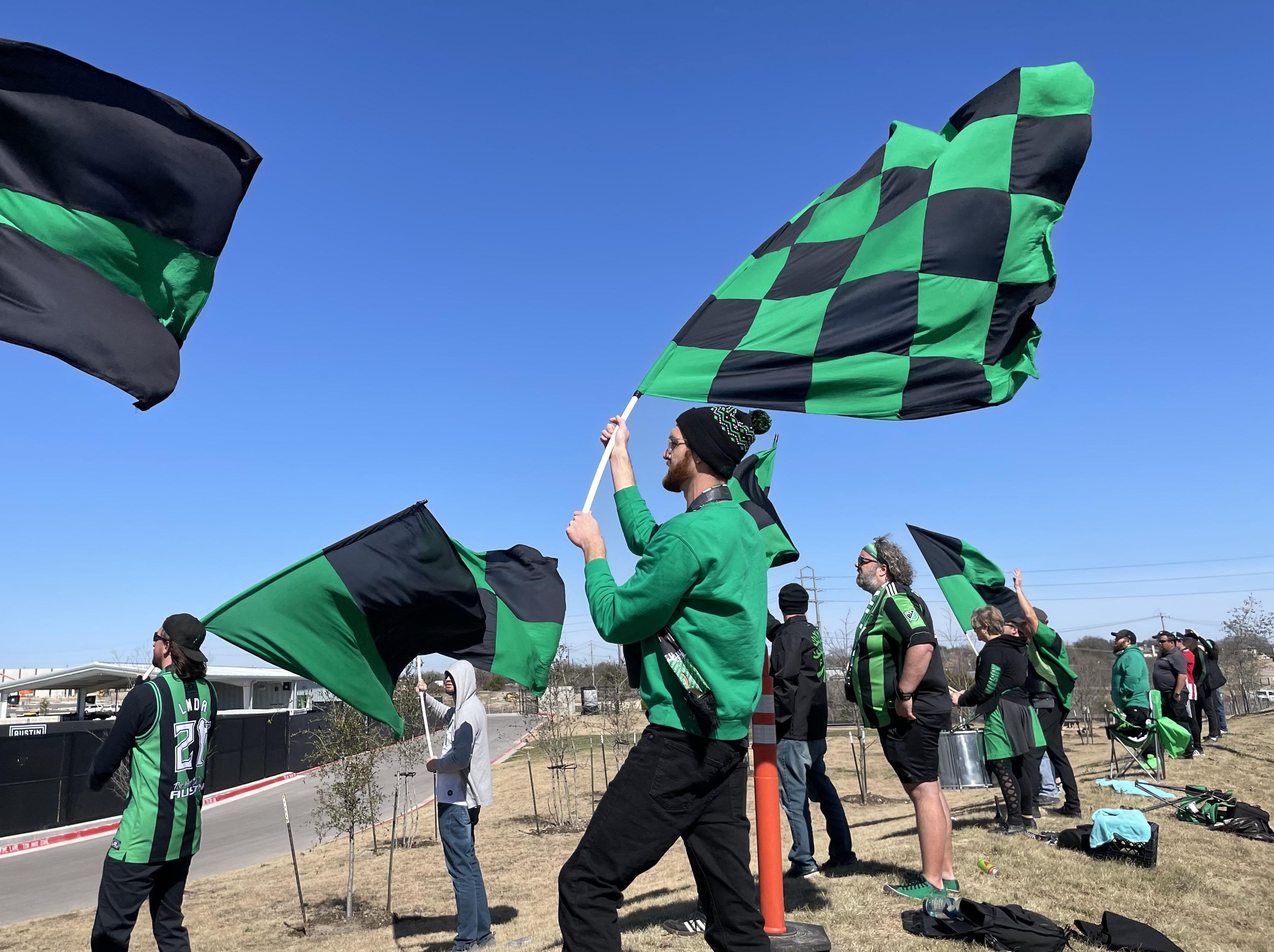 Austin FC fan band La Murga de Austin weren't allowed inside St. David's, but they still watched from afar atop the "Verde Hill" as the team played its preseason match. (Claire Partain/Austonia)
And after the match, fans and media alike could snag food and drinks from new Verde entertainment hub The Pitch, which had its soft opening Wednesday at Parmer Pond.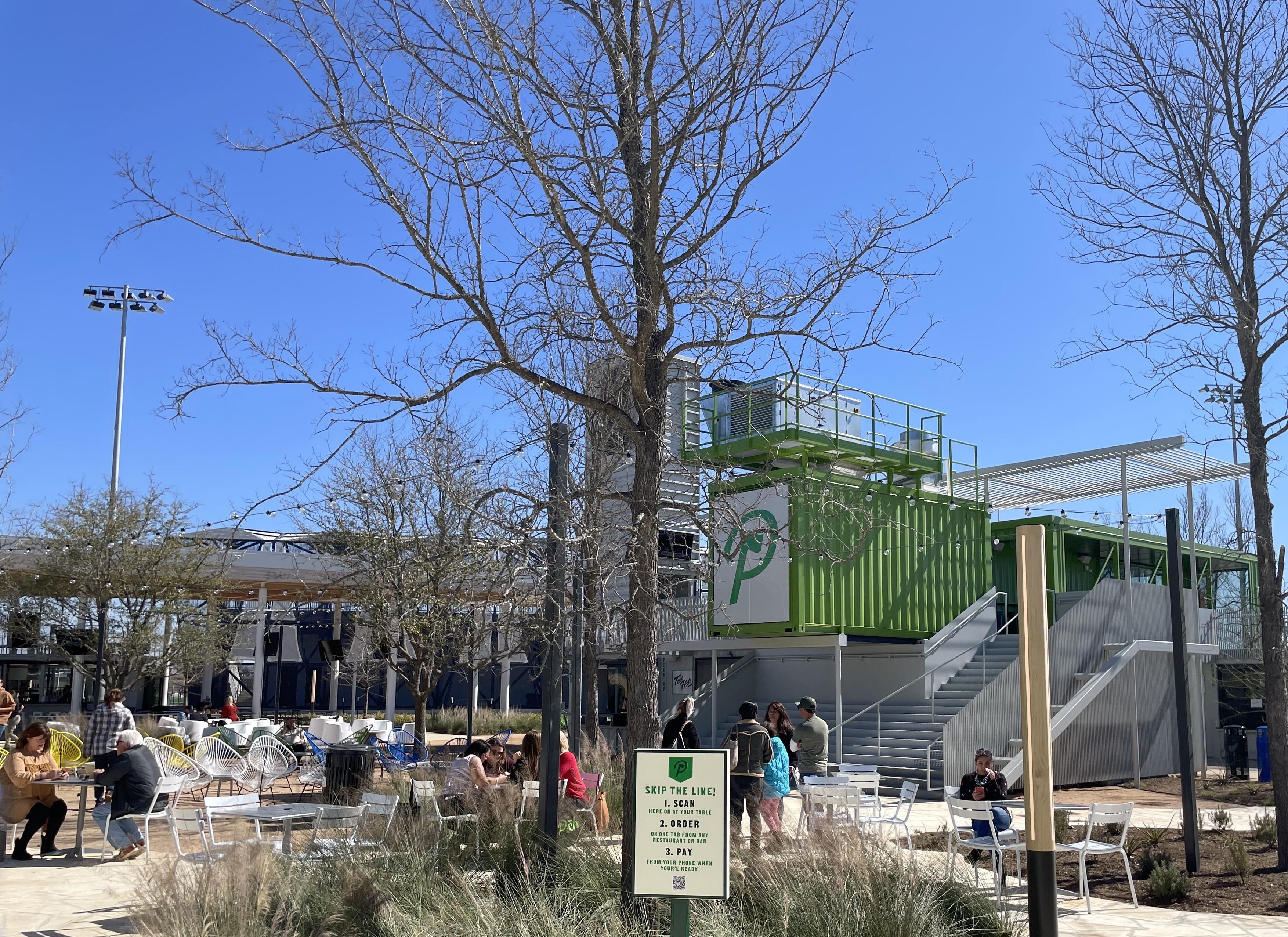 The Pitch began filling up with customers on its soft open Wednesday as fans looked to get food and drinks at the new facility. (Claire Partain/Austonia)
Austin's second matchup of the season saw a hodgepodge of players new and old. The starting lineup included last season's strongholds Stuver and Fagundez, while Captain Alex Ring and Daniel Pereira took the midfield. Right back Nick Lima, center back Jhohan Romana, and star forwards Sebastian Driussi and Cecilio Dominguez also took to the pitch.
But it was Urruti who stood out most as he notched a goal in the 32nd minute off a Ring assist, and by the second half, more new players had entered the mix. Head Coach Josh Wolff's son, Owen Wolff, was joined by midfielder Jhojan Valencia, who made it to Austin from his home country of Colombia just four days before, and MLS vet Felipe Martins entered the pitch just two days after his signing was announced.
Promising young center back Kipp Keller, who was Austin FC's No. 1 pick in the MLS SuperDraft this offseason and played in the first half of the match, said the three weeks of preseason have been a chance to adapt to a higher level of play and build chemistry with his new teammates.

"It's definitely what I expected," Keller said. "I knew it was going to be hard, but I'm getting used to it day by day and just trying to learn from these big-time players. It's pretty cool, playing with these guys I looked up to my whole life."
Even with Urruti's goal, Austin could never regain momentum after Toronto scored on a penalty kick less than 10 minutes into the match and later scored again in the second half. But with a year under their belt, Stuver said the team's challenges are fewer as they head into the season with a more experienced and cohesive group.
"Last year, we had to learn to teach a system, learning everything from scratch on the field (and) off the field," Stuver said. "From day one, we were able to say, 'Hey, we know exactly what's expected of us.' Now we have to get up to that level quick."
Fans will no longer have to crane their necks on the Verde Hill as Austin FC hosts its first open match of the season in an international friendly against current Liga MX champions Atlas FC at Q2 Stadium on Wednesday, Feb. 16.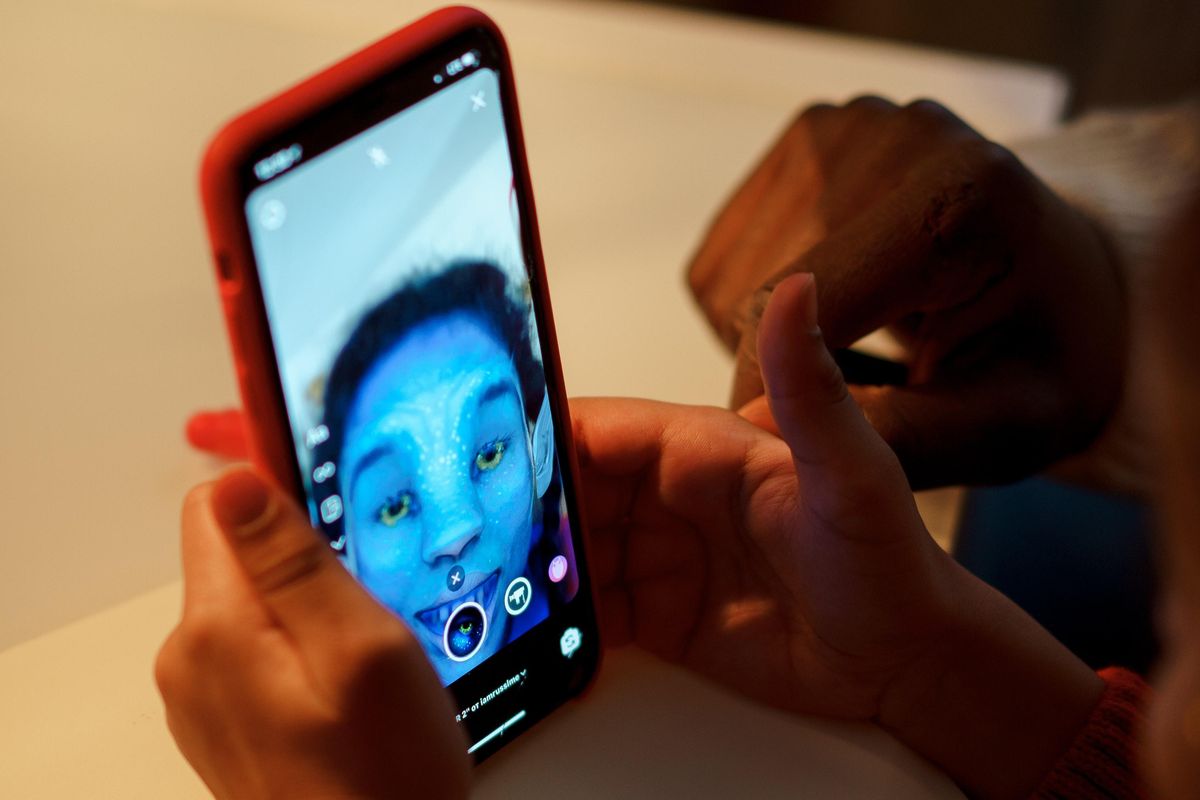 Some of your favorite Instagram filters can't be used in Texas anymore and Austinites are sounding off on social media.
Meta, Facebook and Instagram's parent company, announced on Wednesday that certain filters would no longer be available in Texas.
The change is a result of Texas Attorney General Ken Paxton's lawsuit against Meta, alleging the company uses facial recognition technology that violates laws in Texas. A release from Meta says it stopped using facial recognition tech in November 2021 and denies Paxton's allegations.
Some Austinites bemoaned the shift, saying some of their favorite filters were now unavailable.
But more often than not, locals joked about the ban.
And some in-between chose to show off some natural beauty.
Finally, some are trying to cash in on the opportunity.
Meta said it plans to create an opt-in system for both Texas and Illinois residents, who are facing the same issues.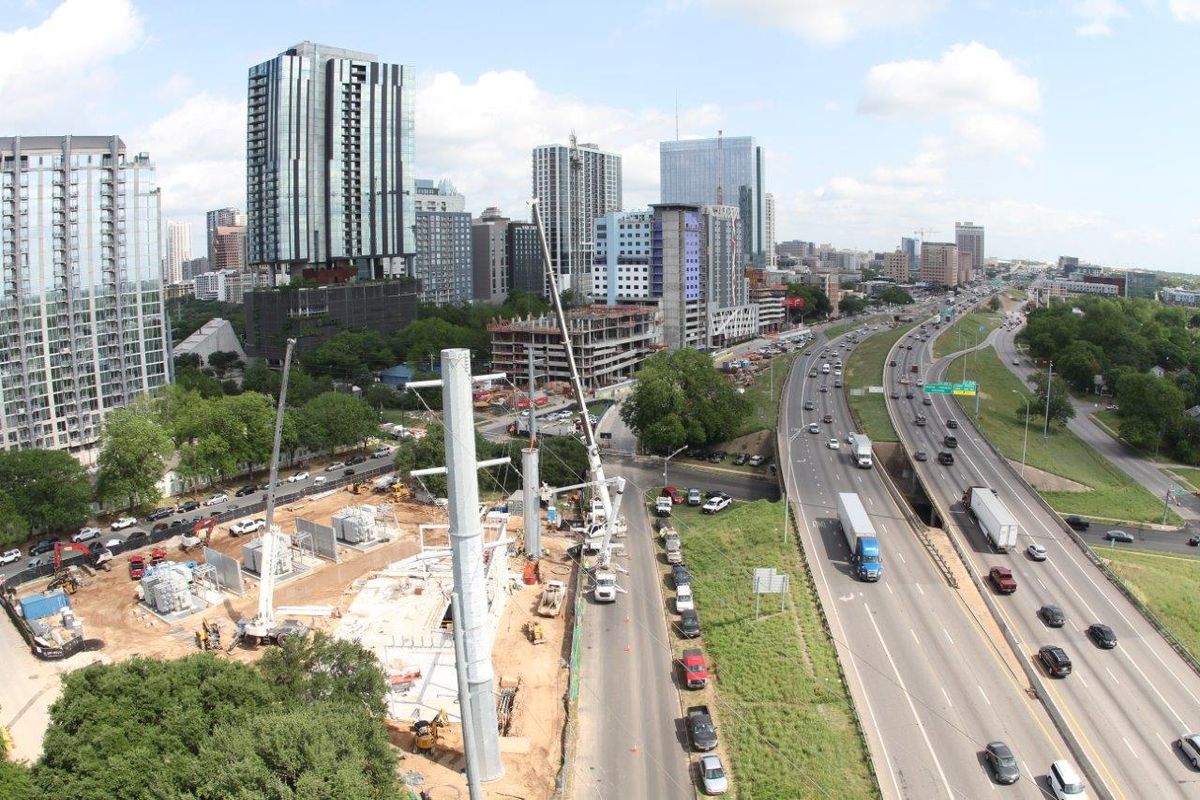 Power demand is forecast to push within 600 megawatts of the Electric Reliability Council of Texas' capacity Friday afternoon as a record month of heat continues.

Demand for the statewide power grid hit over 65,000 Mw at 5 p.m., just under the capacity the grid can handle. ERCOT announced approximately 2,900 Mw of power was lost on Friday due to six power generation facilities tripping offline. At 5 p.m. it said all reserve generation resources available are operating. Texans have been asked to conserve energy.
Inbox: ERCOT says "six power generation facilities tripped offline resulting in the loss of approximately 2,900 MW of electricity. At this time, all reserve generation resources available are operating." Asks Texans to conserve power... pic.twitter.com/g6LxJlHlop
— Forrest Wilder (@Forrest4Trees) May 13, 2022
As the power grid threatens to buckle under the weight of consumers, record-breaking heat continues to push up demand. Austin is currently in the hottest May on record, with temperatures averaging at 82 degrees—eight degrees higher than average—at Austin's Camp Mabry.

And Austin is expected to have another triple-digit onslaught next week, with temperatures peaking at highs of 100 degrees Friday and Saturday. As a result, demand could peak Monday, with forecast demand expected to reach a May record of 70,758 Mw. The previous record was 67,265 in 2018, while ERCOT's all-time high was 74,820 Mw in August 2019.
While ERCOT has not yet seen a heat surge reminiscent of 2021's Winter Storm Uri, power outage woes became all too real for around 3,600 southeast Austinites Saturday as Austin Energy put on a last-resort power pause from around 3:30 to 7:30 p.m.
The outage was a culmination of many factors—from near-100 degree heat to unfortunately-timed maintenance checks and growth in the Bluff Springs area. The result was an overheating circuit that needed relief fast.
"It was related to high usage overloading one circuit at a time when some of our infrastructure was still undergoing maintenance in preparation for the months to come," Austin Energy spokesperson Matt Mitchell told Austonia. "So it was a very unique set of circumstances that we do not see repeating itself."
Mitchell said that all seasonal maintenance is complete and that Austin Energy will open a new power substation in Bluff Springs this June. The organization also said the issue had nothing to do with ERCOT, which released a statement assuring consumers that power was not threatened during that time.
ERCOT also told Austonia before 5 p.m. that it "projects there will be sufficient generation to meet demand for electricity" on Friday. It then informed the public about the energy loss due to a power trip.