Get connected with our daily update
The floodgates have once again opened for Austin FC.
---
Austin FC once again ended a scoring hiatus with a breakthrough win as midfielder Tomas Pochettino stole the show for the home team with two goals to land a 3-2 victory over the Houston Dynamo. The team is now at least temporarily the best in (Copa) Tejas, Texas' annual soccer derby, after the Wednesday night win over their newfound rivals.
Austin FC won momentum early as Pochettino, who had the most shots without scoring in MLS this season prior to the match, shot one off the post in the seventh minute. The ball would then be assisted by Houston themselves as Pochettino scored his first MLS goal and broke Austin's four-match scoreless streak.
The rivalry showed its true colors in the 20th minute of play, when Houston's Darwin Ceren took down Austin's Sebastian Berhalter with an elbow to the face and was subsequently punished with a red card.
With just ten men on the field for the remainder of the match, the Dynamo proved they could fight with one man down as they responded with a goal five minutes later.
Pochettino brought the lead to Austin once again, however, as he went for seconds with a clear goal off a rebound to close out the first half.
Pochettino said building trust between himself, Dominguez and Diego Fagundez was vital to making his first goal.
"To me, this is the first time that I scored with this club and Major League Soccer, so now that definitely helps me build our trust," Pochettino said. "Because I can talk to them in Spanish, there's always that chemistry that you build around them, and obviously having them around day in day out. I think they had a sensational match, and we definitely have to keep looking forward to improve it even more."

Austin would score once more in the 57th minute when a cross by midfielder Diego Fagundez was headed in by striker Cecilio Dominguez.
Houston attempted a late-match comeback in the final ten minutes of play as they thwarted Austin FC's Brad Stuver for a second goal, but it proved too little, too late as Austin celebrated their second high-scoring victory at Q2 Stadium.
The win provides a much-needed boost for Austin FC, who were previously stuck at the bottom of the West for two straight matches as they went scoreless for nine of their last 11 games. The club is also at least temporarily the "Best in Texas" as they tally the first win in the Copa Tejas, which adds up wins and losses between the Lone Star State's best professional teams.
Austin FC saw their lowest injured lineup in months as young midfielder Danny Pereira, who has proved himself as the club's glue, reentered the pitch in the 64th minute. Right back Nick Lima also joined the pitch once more for the second time since a pulled hamstring left him out for weeks.
Head coach Josh Wolff said a full and healthy roster will help build healthy competition as the team fights for playoff berth.
"I think it'll drastically affect the outcome when you have quality and you have a full roster," Wolff said. "Competition is a must in this league, the season's long, it's a grind. You need rotations, but you also need these guys competing... when you know there's someone knocking on the door asking questions, as a player and a teammate, it pushes you a little more."
The club has even more to look forward to: they'll likely enjoy a boost as they expect at least a few of new striker signees Sebastian Driussi, Moussa Djitte and Austinite McKinze Gaines to join them in their second Texas rivalry match at FC Dallas on Saturday.
Here's what happened in the breakaway match:
86' Not so fast: Houston scores to make it 3-2
Not. Over. Yet.@HoustonDynamo pull one back late! #ATXvHOU pic.twitter.com/v3YnffcT1W

— Major League Soccer (@MLS) August 5, 2021
Just when Austin seemed to be sailing into their second home win with ease, the Dynamo found a hole in the home team's defense to land their second goal of the night.
The Dynamo now have four minutes of regulation to find an equalizer if they wish to take some points from Austin tonight.
64' Pereira reenters the ring, for Ring
64' | Three #AustinFC substitutions.

➡️ Jhohan Romaña
⬅️ Julio Cascante

➡️ Hector Jimenez
⬅️ Nick Lima

➡️ Dani Pereira
⬅️ Alex Ring pic.twitter.com/miRnwqRzbp

— Austin FC (@AustinFC) August 5, 2021
Dani Pereira, the fuel of Austin's midfield, makes a reappearance for the first time in weeks after being out on injury. He reenters the ring for Captain Alex Ring as fellow former injured teammate Nick Lima subs in for Hector Jimenez. Jhohan Romana also makes a rare appearance at center back for Julio Cascante.
A few minutes later, Jared Stroud takes the stead of Cecilio Dominguez.
57' When it rains, it pours (but in a good way)
Fagundez ➡️ Dominguez@AustinFC feelin' it! pic.twitter.com/XbZXNi8G9y

— Major League Soccer (@MLS) August 5, 2021
It's clearly all or nothing for Austin FC. The team has now scored three times in their first rivalry matchup against Houston after a well-placed header by Dominguez goes in.
46' Stuver kicks off second half with a save
No #MLSAllStar shout for @brad_stuver?…

•Leads the league in saves % ✅
•Human Highlight reel ✅ https://t.co/WN68BD46B3

— Michael Lahoud (@MikeLahoud) August 4, 2021
He may nt have been able to stretch for two back-to-back shots to keep a clean sheet, but Stuver is still showing his keeping prowess. Every save serves as an "I told you so" to the MLS, who snubbed him from the All-Star lineup Wednesday despite leading the league in saves with 65 this season.
45+ Pochettino finally has his day! 2-1 Austin at the half
POCHETTINO@AustinFC have the lead yet again. #VERDE pic.twitter.com/8nNpHzy9GM

— Major League Soccer (@MLS) August 5, 2021
Pochettino's patience is finally paying off. The Argentinian midfielder, who had the most shots without a goal of any MLS player prior to the match, got another one in goal to regain the lead for Austin as the first half wraps up.
For his first clear goal with Austin FC, Pochettino reacts to a deflection just in time to get a solid shot into the bottom right corner of the net. Austin has scored two goals in a match for the first time since their Portland match on July 1.
25' Tie game as rivalry heats up
Fresh off the Gold Cup, @Typash smashes this one to level it! #ATXvHOU pic.twitter.com/O5UcMcGdkq

— Major League Soccer (@MLS) August 5, 2021
Shortly after the Ceren red card, the Dynamo prove they can still be a threat with 10 men. An initial shot is blocked by Stuver, but he can't quite react in time as Tyler Pasher shoots one up to the top of the net on a rebound. It's now a tie game with two goals and a red card as the Texas rivalry begins to take shape.
20' Houston knocked down to 10 after red card
Cerén shown red, and we fight on with ten men 😣#HoldItDown

— Houston Dynamo FC (@HoustonDynamo) August 5, 2021
Houston will now play the finally three-quarters of the match with 10 men after Austin's Sebastian Berhalter takes an elbow to the eye from the Dynamo's Ceren.
7' Houston has a problem! Austin scores 1-0
The @AustinFC attack forces an own goal. They lead 1-0! #ATXvHOU pic.twitter.com/hehR6mtprH

— Major League Soccer (@MLS) August 5, 2021
Tomas Pochettino's first goal with Austin may not quite be his, but it's still worth celebrating. After five of six straight home games going scoreless, Austin finally broke the silence as Pochettino's shot hit the post and was guided in by an unhappy Houston player.
Austin is now up 1-0 for the first time in weeks at their home stadium.
Starting lineup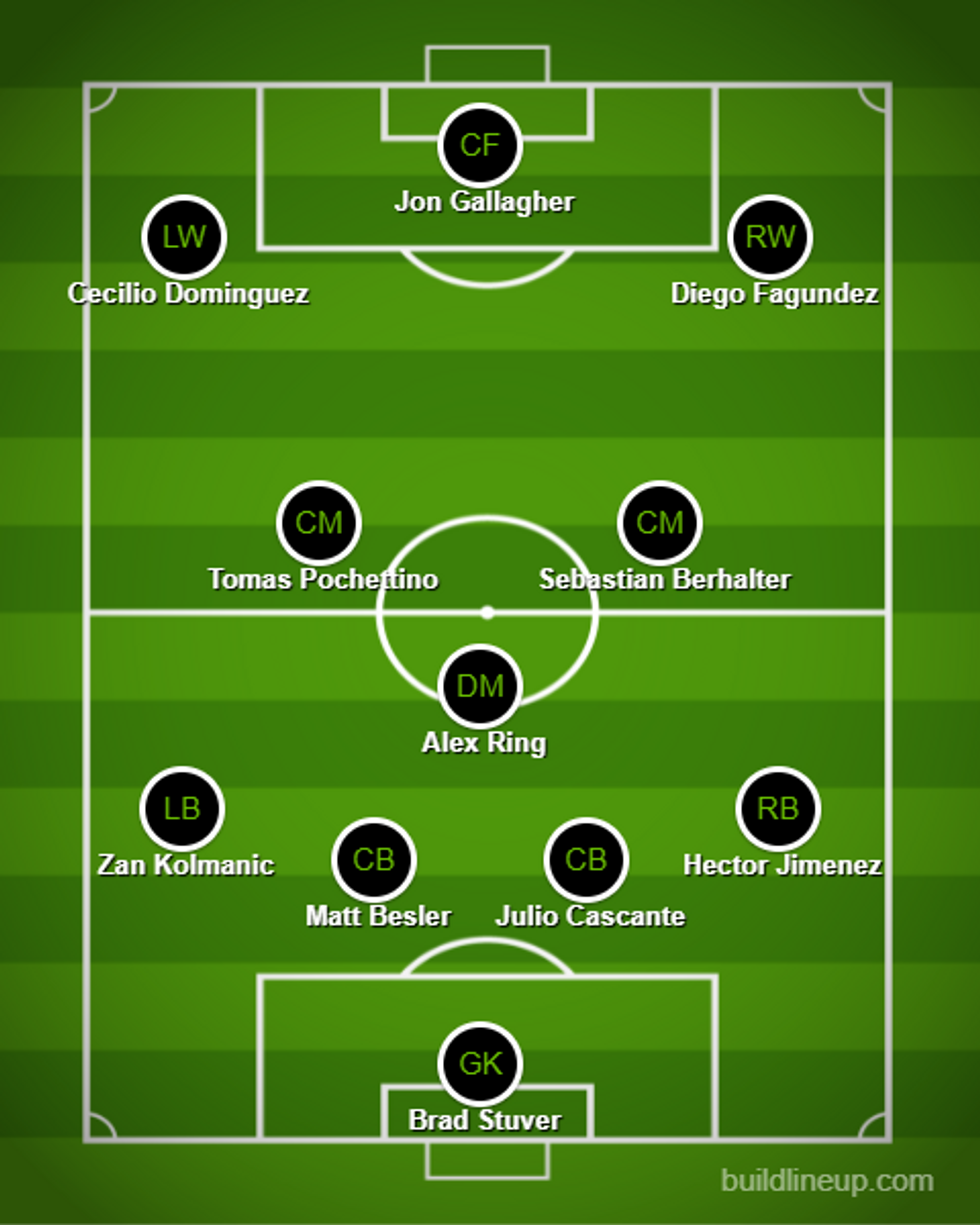 Jon Gallagher is back in the starting XI and will likely crown the lineup, with Cecilio Dominguez and Diego Fagundez flanking him on either side.
20-year-old Sebastian Berhalter will start in Fagundez's shoes for the first time since a June match vs. Minnesota United. Meanwhile, the steady back end looks much of the same with a near-All Star Brad Stuver in at keeper.
After months of speculation, a new report says political personality Beto O'Rourke is mulling a run for Texas governor that he will announce later this year.
Sources tell Axios the former congressman is preparing his campaign for the 2022 election, where he will likely vie for the position against incumbent Gov. Greg Abbott. The only other candidate that has announced he will take on Abbott for governor is former Texas GOP Chairman Allen West—no Democrats have announced they are running as of yet.
"No decision has been made," Axios reports David Wysong, O'Rourke's former House chief of staff and a longtime adviser, said. "He has been making and receiving calls with people from all over the state."
A new poll from The Dallas Morning News and University of Texas at Tyler shows O'Rourke is narrowing the gap between himself and Abbott's prospects for governor. In the poll, 37% said they'd vote for O'Rourke over Abbott, while 42% said they'd vote for Abbott.
Abbott has been in the hot seat due to his handling of COVID-19 and the signing of landmark legislation into law, including new abortion and voting rights laws; 54% of poll respondents voted they think the state is headed in the "wrong direction." Still, Texas hasn't had a Democrat as governor since the 90s.
O'Rourke's people-focused approach to the 2018 Senator race, which he lost to Sen. Ted Cruz, gave him a widespread following and many hoped he'd throw his hat into the ring since he said he was considering it earlier this year.
"We hope that he's going to run," Gilberto Hinojosa, the state chair of the Democratic Party, told Axios. "We think he'll be our strongest candidate. We think he can beat Abbott because he's vulnerable."
Austin rapper Jordi Esparza may not have won the 2021 Red Bull Batalla, the world's largest Spanish freestyle rap competition, but for a spirited two rounds, the 22-year old Mexican native looked like he had every right to.
On Saturday evening in Los Angeles, the event itself looked like Cobra Kai meets Star Search with graphics adding a very Batman Beyond aesthetic. Over a dozen rappers hoping to represent the U.S. in the international round of the competition took to the stage with in-your-face jabs at accents, sexual orientation and odors, among other things.
This was Esparza's second rodeo; he had placed third at the 2020 National Finals, automatically securing him a spot this year.
However, things were different this year. He was not nervous about the contest. Unlike in 2020, when he made his Red Bull Batalla debut, the anxiety of the event led him to "feeling so bad."
Affecting a casual calm, the locally-based landscaper said he just felt "so relaxed, so happy" and primarily wanted to "enjoy everything."
Choosing his first-round opponent, Esparza, whose stage name is Jordi, elected to go against LA-based Boss.
Esparza freestyled an attack on his opponent's weight and cholo style of dress.
Boss—bracketing his Latin freestyle with English appeals to the crowd—mocked Jordi's lack of education, made fun of how clean Jordi's shoes looked and suggested that Jordi just came back from a Footlocker.
That first round went to Jordi.
But his next opponent Eckonn would prove to be his undoing.
Eckonn compared Jordi to Hannah Montana, while Jordi soulfully explained that he had learned from the best.
Esparza's verbal dexterity is matched by a rattling rhythm and a game face that is as mawkish as it is mockish. The overall effect is that of an underdog with bite.
Eckonn beat Esparza in that round with the overall championship going to Palm Beach-based rapper Reverse.
However, Esparza was just happy to be there. He recently told Austonia going to the finals again was a dream come true—a pinnacle that he said he won't know how to top.
With his nimble jabs and sneaky prowess, honed from pop culture and the swagger of a young working man hungry to be more, Jordi Esparza is just getting started.