Get connected with our daily update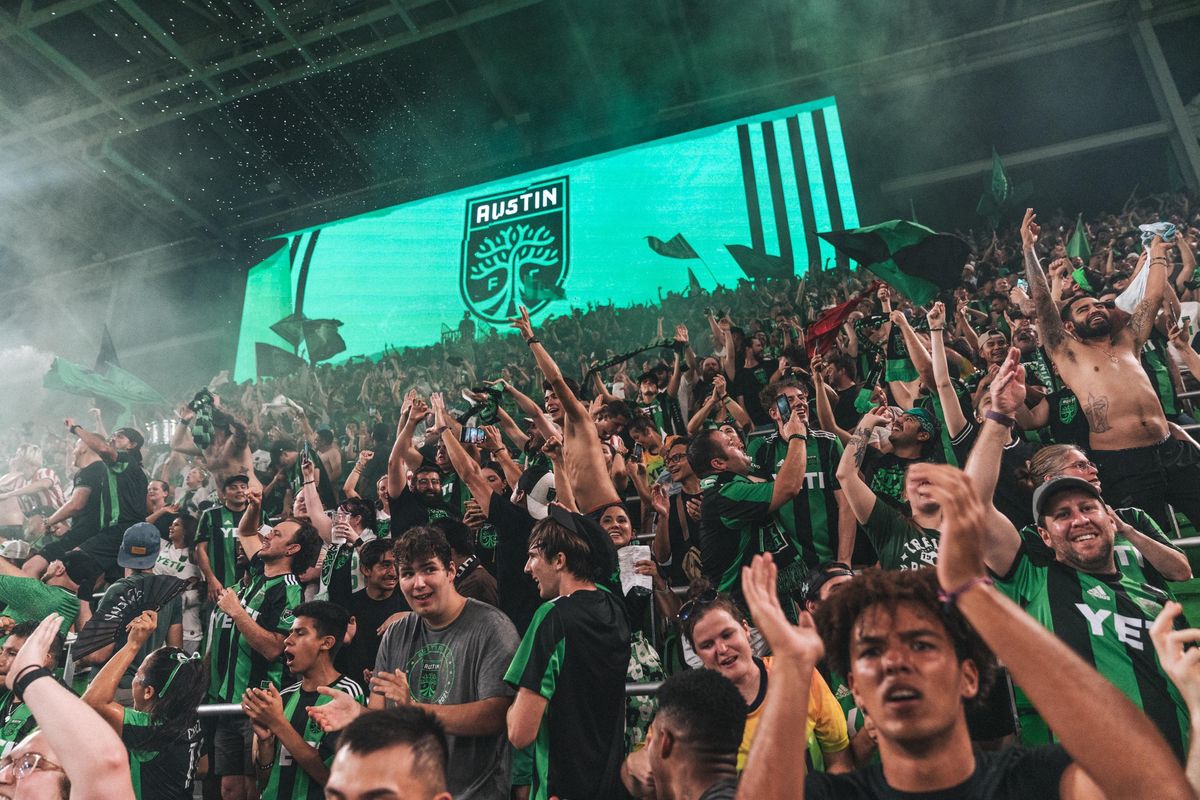 The floodgates have once again opened for Austin FC.
---
Austin FC once again ended a scoring hiatus with a breakthrough win as midfielder Tomas Pochettino stole the show for the home team with two goals to land a 3-2 victory over the Houston Dynamo. The team is now at least temporarily the best in (Copa) Tejas, Texas' annual soccer derby, after the Wednesday night win over their newfound rivals.
Austin FC won momentum early as Pochettino, who had the most shots without scoring in MLS this season prior to the match, shot one off the post in the seventh minute. The ball would then be assisted by Houston themselves as Pochettino scored his first MLS goal and broke Austin's four-match scoreless streak.
The rivalry showed its true colors in the 20th minute of play, when Houston's Darwin Ceren took down Austin's Sebastian Berhalter with an elbow to the face and was subsequently punished with a red card.
With just ten men on the field for the remainder of the match, the Dynamo proved they could fight with one man down as they responded with a goal five minutes later.
Pochettino brought the lead to Austin once again, however, as he went for seconds with a clear goal off a rebound to close out the first half.
Pochettino said building trust between himself, Dominguez and Diego Fagundez was vital to making his first goal.
"To me, this is the first time that I scored with this club and Major League Soccer, so now that definitely helps me build our trust," Pochettino said. "Because I can talk to them in Spanish, there's always that chemistry that you build around them, and obviously having them around day in day out. I think they had a sensational match, and we definitely have to keep looking forward to improve it even more."

Austin would score once more in the 57th minute when a cross by midfielder Diego Fagundez was headed in by striker Cecilio Dominguez.
Houston attempted a late-match comeback in the final ten minutes of play as they thwarted Austin FC's Brad Stuver for a second goal, but it proved too little, too late as Austin celebrated their second high-scoring victory at Q2 Stadium.
The win provides a much-needed boost for Austin FC, who were previously stuck at the bottom of the West for two straight matches as they went scoreless for nine of their last 11 games. The club is also at least temporarily the "Best in Texas" as they tally the first win in the Copa Tejas, which adds up wins and losses between the Lone Star State's best professional teams.
Austin FC saw their lowest injured lineup in months as young midfielder Danny Pereira, who has proved himself as the club's glue, reentered the pitch in the 64th minute. Right back Nick Lima also joined the pitch once more for the second time since a pulled hamstring left him out for weeks.
Head coach Josh Wolff said a full and healthy roster will help build healthy competition as the team fights for playoff berth.
"I think it'll drastically affect the outcome when you have quality and you have a full roster," Wolff said. "Competition is a must in this league, the season's long, it's a grind. You need rotations, but you also need these guys competing... when you know there's someone knocking on the door asking questions, as a player and a teammate, it pushes you a little more."
The club has even more to look forward to: they'll likely enjoy a boost as they expect at least a few of new striker signees Sebastian Driussi, Moussa Djitte and Austinite McKinze Gaines to join them in their second Texas rivalry match at FC Dallas on Saturday.
Here's what happened in the breakaway match:
86' Not so fast: Houston scores to make it 3-2
Not. Over. Yet.@HoustonDynamo pull one back late! #ATXvHOUpic.twitter.com/v3YnffcT1W

— Major League Soccer (@MLS) August 5, 2021
Just when Austin seemed to be sailing into their second home win with ease, the Dynamo found a hole in the home team's defense to land their second goal of the night.
The Dynamo now have four minutes of regulation to find an equalizer if they wish to take some points from Austin tonight.
64' Pereira reenters the ring, for Ring
64' | Three #AustinFC substitutions.

➡️ Jhohan Romaña
⬅️ Julio Cascante

➡️ Hector Jimenez
⬅️ Nick Lima

➡️ Dani Pereira
⬅️ Alex Ring pic.twitter.com/miRnwqRzbp

— Austin FC (@AustinFC) August 5, 2021
Dani Pereira, the fuel of Austin's midfield, makes a reappearance for the first time in weeks after being out on injury. He reenters the ring for Captain Alex Ring as fellow former injured teammate Nick Lima subs in for Hector Jimenez. Jhohan Romana also makes a rare appearance at center back for Julio Cascante.
A few minutes later, Jared Stroud takes the stead of Cecilio Dominguez.
57' When it rains, it pours (but in a good way)
Fagundez ➡️ Dominguez@AustinFC feelin' it! pic.twitter.com/XbZXNi8G9y

— Major League Soccer (@MLS) August 5, 2021
It's clearly all or nothing for Austin FC. The team has now scored three times in their first rivalry matchup against Houston after a well-placed header by Dominguez goes in.
46' Stuver kicks off second half with a save
No #MLSAllStar shout for @brad_stuver?…

•Leads the league in saves % ✅
•Human Highlight reel ✅ https://t.co/WN68BD46B3

— Michael Lahoud (@MikeLahoud) August 4, 2021
He may nt have been able to stretch for two back-to-back shots to keep a clean sheet, but Stuver is still showing his keeping prowess. Every save serves as an "I told you so" to the MLS, who snubbed him from the All-Star lineup Wednesday despite leading the league in saves with 65 this season.
45+ Pochettino finally has his day! 2-1 Austin at the half
POCHETTINO@AustinFC have the lead yet again. #VERDEpic.twitter.com/8nNpHzy9GM

— Major League Soccer (@MLS) August 5, 2021
Pochettino's patience is finally paying off. The Argentinian midfielder, who had the most shots without a goal of any MLS player prior to the match, got another one in goal to regain the lead for Austin as the first half wraps up.
For his first clear goal with Austin FC, Pochettino reacts to a deflection just in time to get a solid shot into the bottom right corner of the net. Austin has scored two goals in a match for the first time since their Portland match on July 1.
25' Tie game as rivalry heats up
Fresh off the Gold Cup, @Typash smashes this one to level it! #ATXvHOUpic.twitter.com/O5UcMcGdkq

— Major League Soccer (@MLS) August 5, 2021
Shortly after the Ceren red card, the Dynamo prove they can still be a threat with 10 men. An initial shot is blocked by Stuver, but he can't quite react in time as Tyler Pasher shoots one up to the top of the net on a rebound. It's now a tie game with two goals and a red card as the Texas rivalry begins to take shape.
20' Houston knocked down to 10 after red card
Cerén shown red, and we fight on with ten men 😣#HoldItDown

— Houston Dynamo FC (@HoustonDynamo) August 5, 2021
Houston will now play the finally three-quarters of the match with 10 men after Austin's Sebastian Berhalter takes an elbow to the eye from the Dynamo's Ceren.
7' Houston has a problem! Austin scores 1-0
The @AustinFC attack forces an own goal. They lead 1-0! #ATXvHOUpic.twitter.com/hehR6mtprH

— Major League Soccer (@MLS) August 5, 2021
Tomas Pochettino's first goal with Austin may not quite be his, but it's still worth celebrating. After five of six straight home games going scoreless, Austin finally broke the silence as Pochettino's shot hit the post and was guided in by an unhappy Houston player.
Austin is now up 1-0 for the first time in weeks at their home stadium.
Starting lineup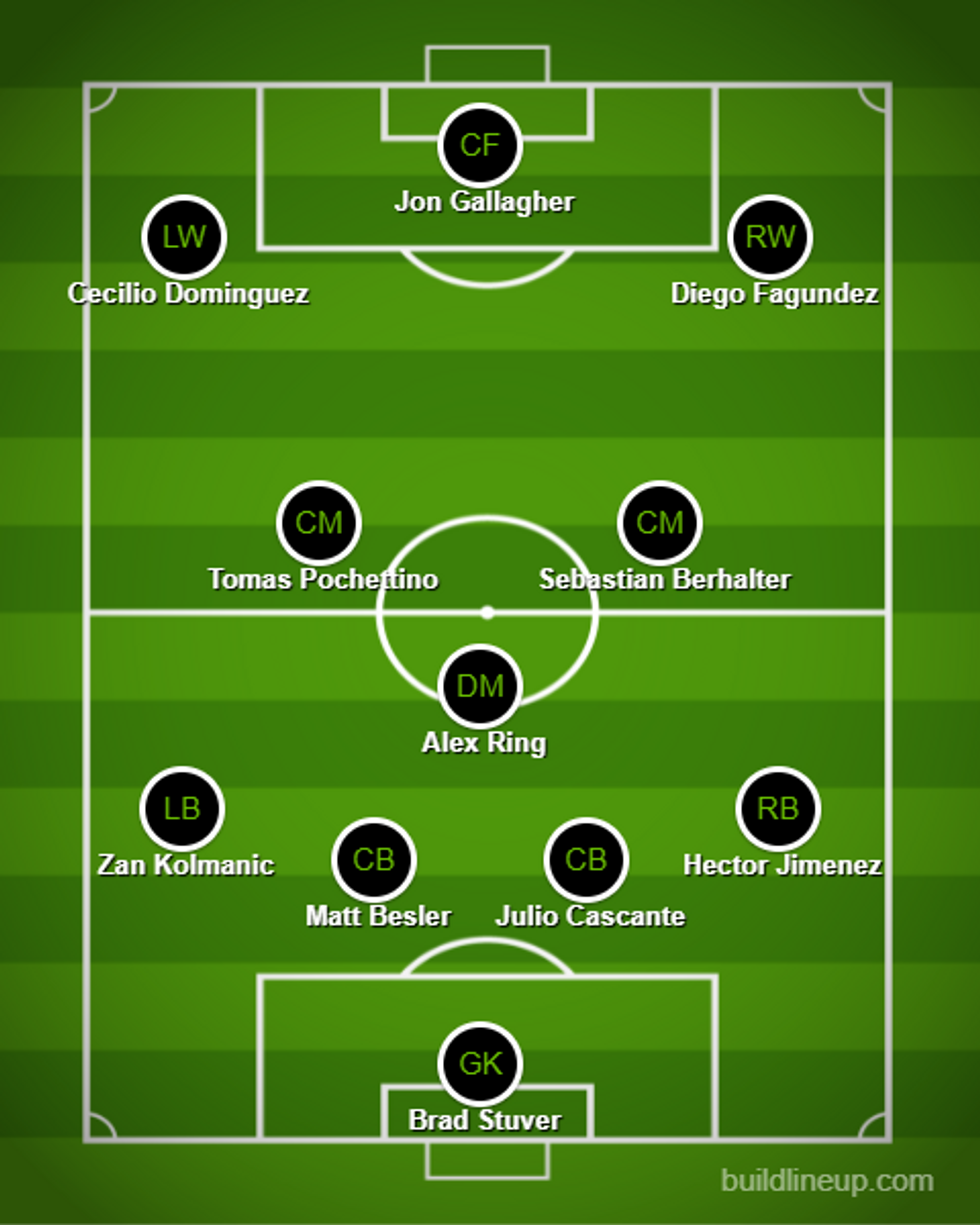 Jon Gallagher is back in the starting XI and will likely crown the lineup, with Cecilio Dominguez and Diego Fagundez flanking him on either side.
20-year-old Sebastian Berhalter will start in Fagundez's shoes for the first time since a June match vs. Minnesota United. Meanwhile, the steady back end looks much of the same with a near-All Star Brad Stuver in at keeper.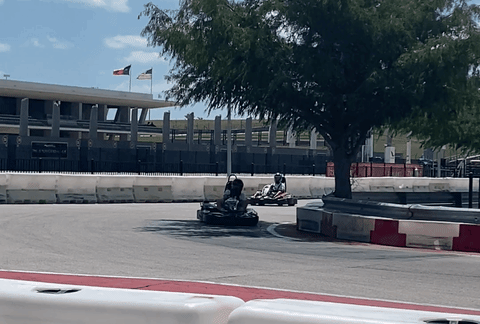 Few of us will ever feel the thrill of whipping through Circuit of the America's 23-turn track at the 220+ mile per hour speeds of Formula 1 racers. But thrill-seekers still rev their engines at COTA thanks to its go-kart track and ziplining service.
Here's what to expect when go-karting at COTA firsthand from Austonia's Claire Partain.
1. Go for the package deal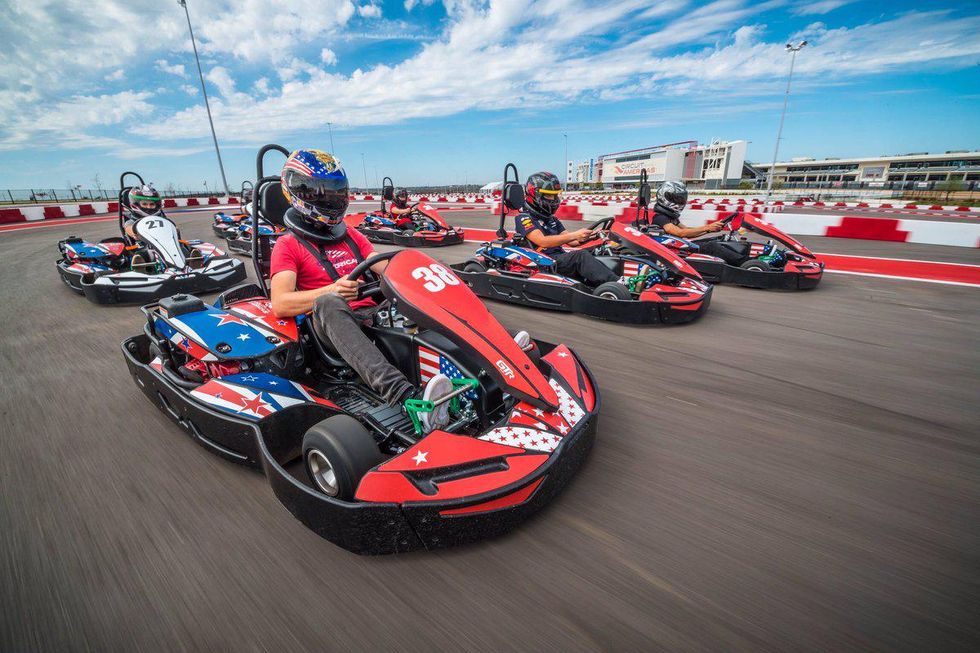 (COTA Karting/Twitter)
Schedule ahead of time online. A 10-minute race at COTA's karting track is $35, and tacking on a ride on the zipline is just $5 more. Go big or go home.
2. Get your gear on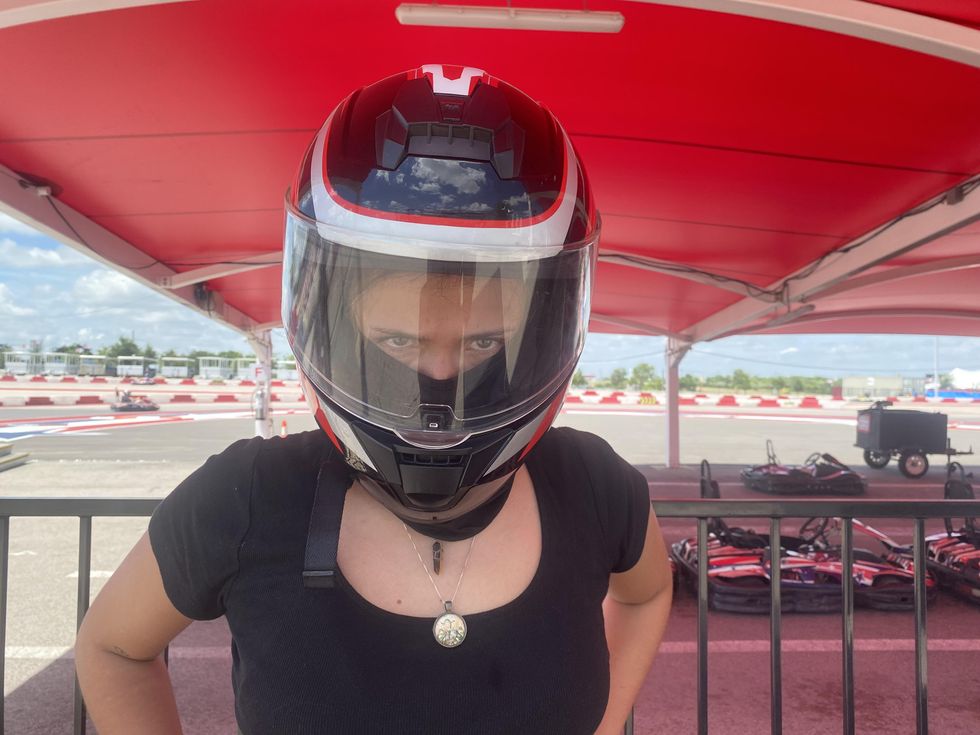 Go-karting gear includes a head sock and helmet. (Laura Figi/Austonia)
The track is located just off the COTA Boulevard entrance near the main course. Get to the track before your race is scheduled to start so you can watch the training video and try on a helmet and a head sock, which functions like a ski mask and goes on under your helmet. It's somehow even less cool-looking than it sounds.
3. To the track
Head to the track! Attendees will pick out a kart for you and make sure you're all strapped in. The first round is a slower round, but people start slamming on the gas pretty much immediately.
4. On the track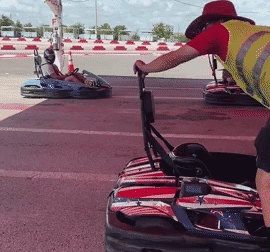 Track time! (Laura Figi/Austonia)
These go-karts go up to 55 mph, and some turns (including the traffic-inducing second-to-last curve) were kind of tough to navigate. Other than avoiding barriers, the most unexpected obstacle I had was avoiding other go-karters who had crashed. Passing people is exhilarating, but don't be the annoying driver who passes people on a hairpin curve either.
When crashes happen, all of the karts are programmed to sputter and slow down, so don't panic like I did and ask why your kart has stopped going fast. Move to the side and wave your hand to get help if your go-kart malfunctions otherwise.
5. Revel in your victory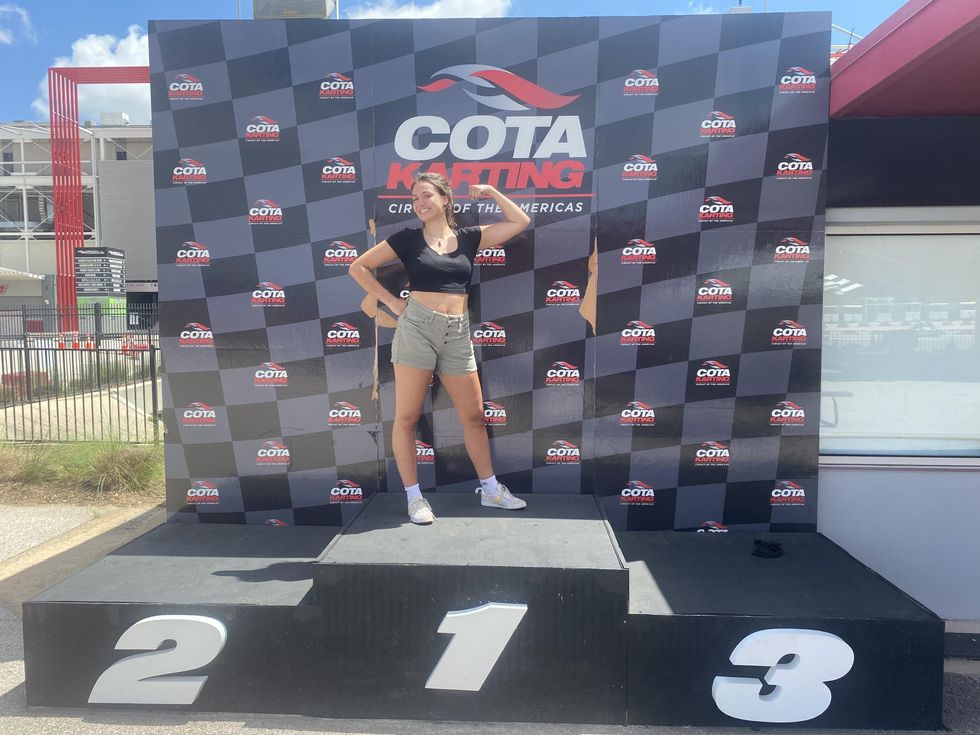 (Laura Figi/Austonia)
Karting is a great way to find out who's the Lewis Hamilton of the family. At the end of the race, COTA will email you your results and give a breakdown of your fastest lap times. There's also a podium for those of us who win the race (I got sixth).
5. The zipline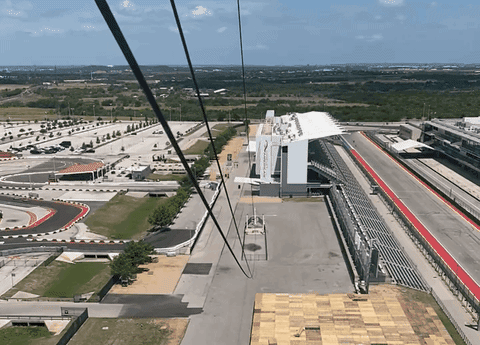 The zipline takes you up above both the COTA and karting track. (Laura Figi/Austonia)
After you've had your taste of adrenaline, get some more at the nearby zipline ride. Unlike traditional ziplines, this route has two seats that take you up and backward before bringing you back down. Grab some quick views of the entire track and hold tightly onto your phone while up top. Other than that, it's a pretty smooth ride.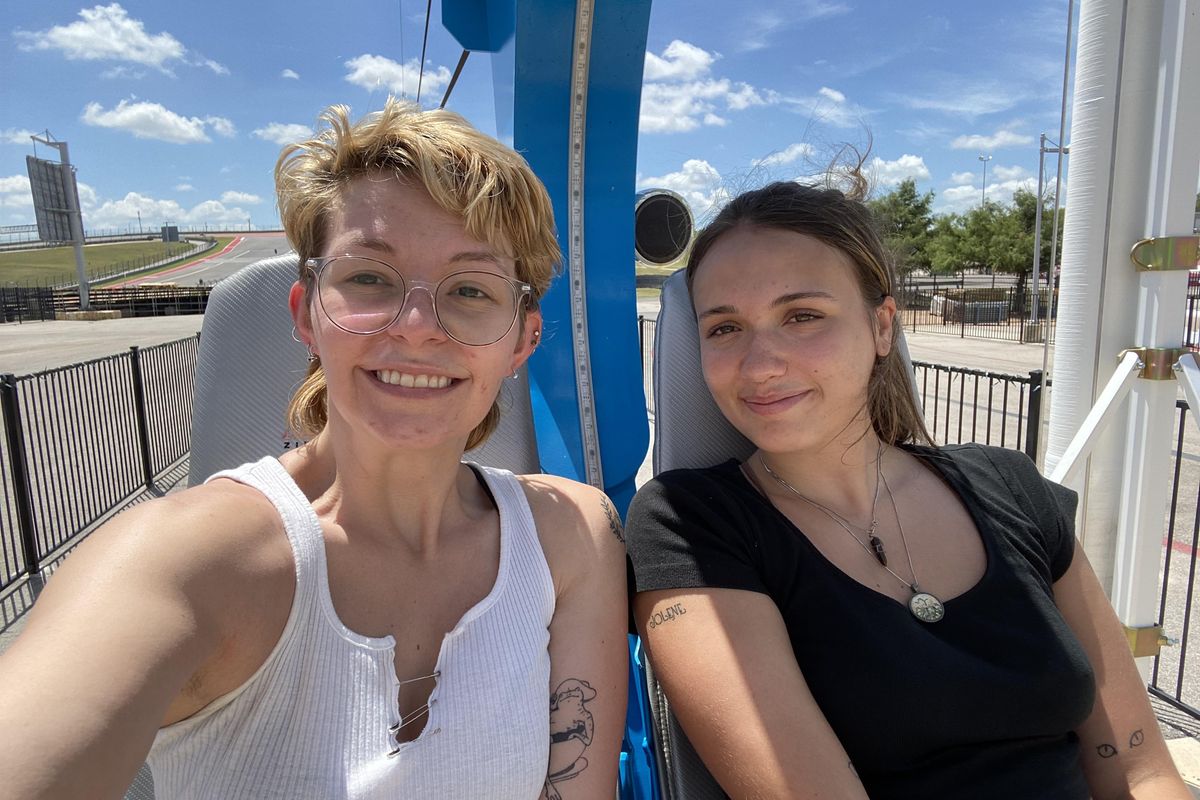 (Laura Figi/Austonia)
Happy karting!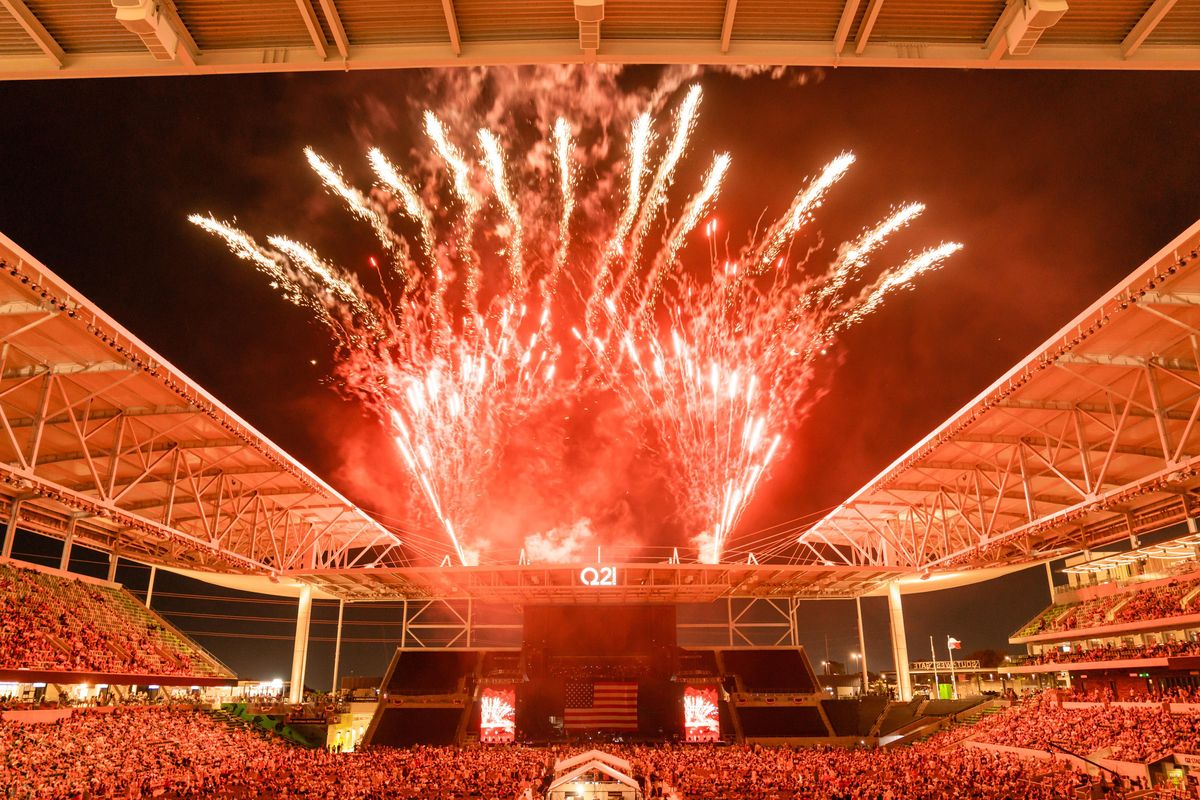 Q2 Stadium swapped its Verde for red, white and blue as country music legend Willie Nelson returned for his first in-person Fourth of July Picnic since 2019 on Monday.
The music fest included fireworks, fun merch and acts from country greats including Charley Crockett, Midland, Brothers Osborne, Allison Russell, Tyler Childers, Jason Isbell and Austin's own Asleep at the Wheel. And while Q2 will have some kinks to straighten before it becomes a concert-hosting regular, Nelson's unifying spirit kept things cool during the 12-hour outdoor event.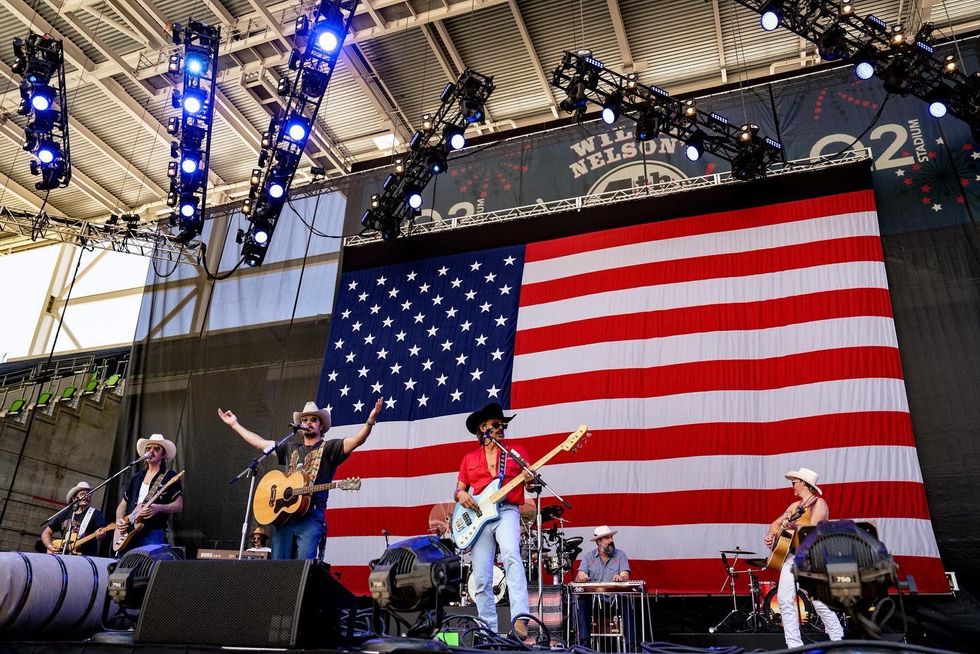 Midland performed at Willie Nelson's Fourth of July Picnic. (Q2 Stadium/Twitter)
Doors opened at 11 a.m., and Asleep at the Wheel was on the stage by 12 p.m.—though as one Reddit post pointed out, there weren't many people there to see them play.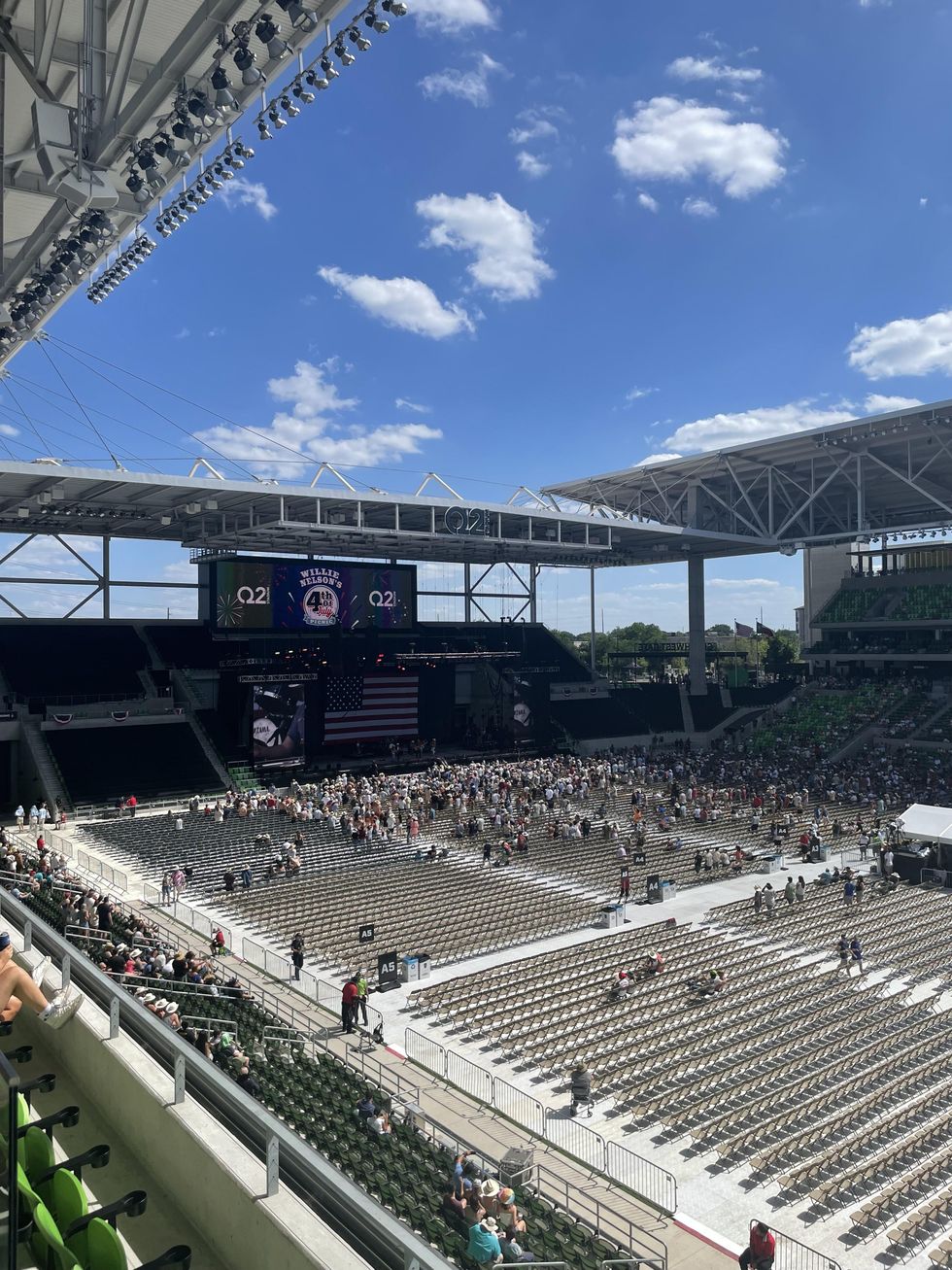 Q2 Stadium stayed sparsely populated for the first half of the day. (Claire Partain/Austonia)
Per Q2 Stadium policy, attendees weren't allowed to re-enter the venue after leaving, so anyone who wanted to watch both an afternoon and Nelson's big performance were stuck at the venue for hours straight. That opened up the perfect opportunity for customers to snatch up snacks, water and beers, which emptied wallets even faster than at Austin FC games. Nothing says "the end is nigh" like $15 beers.
An open-air, 20,500 seat venue, Q2 Stadium sometimes struggled to carry sound clearly, and between-song banter was often limited to an incomprehensible garble. Still, Tyler Childers' commanding growls came through, Alison Russells' multi-instrument ensemble shone and Nelson's strums on his trusty guitar, Trigger, were front and center by the end of the night.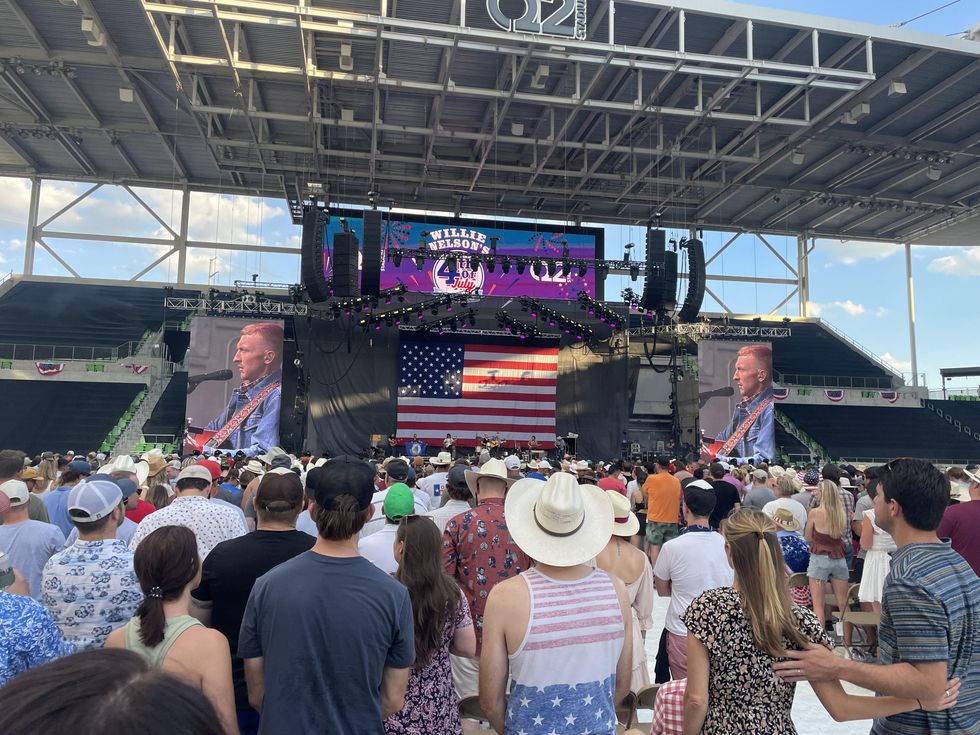 Fans found it hard to look away from Tyler Childers' enrapturing performance. (Jakob Rodriguez)
The July 4th picnic, which was most recently held at Circuit of the Americas from 2015-2019, benefitted from Q2's more central location, and the large venue offered plenty of room for attendees to mull about.
As the sun mercifully dipped below the horizon, the music paused for a 15-minute fireworks show.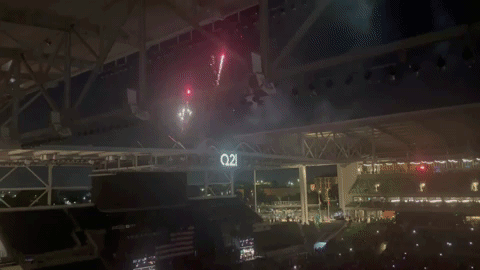 But the July 4th staples weren't the main event. At 89, Nelson didn't disappoint, sitting calmly as he performed alongside his family members and even gubernatorial candidate Beto O'Rourke, who made a surprise appearance midway through the show.
At times wistful, joyful or both, Nelson took the crowd through hits from "On the Road Again" to "Always on My Mind."
And as each favorite was played, all of the heat and stress of the day were encompassed by Nelson's voice, his storytelling and more as Austinites new and old gathered for the decades-old tradition.