Get connected with our daily update
The floodgates have once again opened for Austin FC.
---
Austin FC once again ended a scoring hiatus with a breakthrough win as midfielder Tomas Pochettino stole the show for the home team with two goals to land a 3-2 victory over the Houston Dynamo. The team is now at least temporarily the best in (Copa) Tejas, Texas' annual soccer derby, after the Wednesday night win over their newfound rivals.
Austin FC won momentum early as Pochettino, who had the most shots without scoring in MLS this season prior to the match, shot one off the post in the seventh minute. The ball would then be assisted by Houston themselves as Pochettino scored his first MLS goal and broke Austin's four-match scoreless streak.
The rivalry showed its true colors in the 20th minute of play, when Houston's Darwin Ceren took down Austin's Sebastian Berhalter with an elbow to the face and was subsequently punished with a red card.
With just ten men on the field for the remainder of the match, the Dynamo proved they could fight with one man down as they responded with a goal five minutes later.
Pochettino brought the lead to Austin once again, however, as he went for seconds with a clear goal off a rebound to close out the first half.
Pochettino said building trust between himself, Dominguez and Diego Fagundez was vital to making his first goal.
"To me, this is the first time that I scored with this club and Major League Soccer, so now that definitely helps me build our trust," Pochettino said. "Because I can talk to them in Spanish, there's always that chemistry that you build around them, and obviously having them around day in day out. I think they had a sensational match, and we definitely have to keep looking forward to improve it even more."

Austin would score once more in the 57th minute when a cross by midfielder Diego Fagundez was headed in by striker Cecilio Dominguez.
Houston attempted a late-match comeback in the final ten minutes of play as they thwarted Austin FC's Brad Stuver for a second goal, but it proved too little, too late as Austin celebrated their second high-scoring victory at Q2 Stadium.
The win provides a much-needed boost for Austin FC, who were previously stuck at the bottom of the West for two straight matches as they went scoreless for nine of their last 11 games. The club is also at least temporarily the "Best in Texas" as they tally the first win in the Copa Tejas, which adds up wins and losses between the Lone Star State's best professional teams.
Austin FC saw their lowest injured lineup in months as young midfielder Danny Pereira, who has proved himself as the club's glue, reentered the pitch in the 64th minute. Right back Nick Lima also joined the pitch once more for the second time since a pulled hamstring left him out for weeks.
Head coach Josh Wolff said a full and healthy roster will help build healthy competition as the team fights for playoff berth.
"I think it'll drastically affect the outcome when you have quality and you have a full roster," Wolff said. "Competition is a must in this league, the season's long, it's a grind. You need rotations, but you also need these guys competing... when you know there's someone knocking on the door asking questions, as a player and a teammate, it pushes you a little more."
The club has even more to look forward to: they'll likely enjoy a boost as they expect at least a few of new striker signees Sebastian Driussi, Moussa Djitte and Austinite McKinze Gaines to join them in their second Texas rivalry match at FC Dallas on Saturday.
Here's what happened in the breakaway match:
86' Not so fast: Houston scores to make it 3-2
Not. Over. Yet.@HoustonDynamo pull one back late! #ATXvHOU pic.twitter.com/v3YnffcT1W

— Major League Soccer (@MLS) August 5, 2021
Just when Austin seemed to be sailing into their second home win with ease, the Dynamo found a hole in the home team's defense to land their second goal of the night.
The Dynamo now have four minutes of regulation to find an equalizer if they wish to take some points from Austin tonight.
64' Pereira reenters the ring, for Ring
64' | Three #AustinFC substitutions.

➡️ Jhohan Romaña
⬅️ Julio Cascante

➡️ Hector Jimenez
⬅️ Nick Lima

➡️ Dani Pereira
⬅️ Alex Ring pic.twitter.com/miRnwqRzbp

— Austin FC (@AustinFC) August 5, 2021
Dani Pereira, the fuel of Austin's midfield, makes a reappearance for the first time in weeks after being out on injury. He reenters the ring for Captain Alex Ring as fellow former injured teammate Nick Lima subs in for Hector Jimenez. Jhohan Romana also makes a rare appearance at center back for Julio Cascante.
A few minutes later, Jared Stroud takes the stead of Cecilio Dominguez.
57' When it rains, it pours (but in a good way)
Fagundez ➡️ Dominguez@AustinFC feelin' it! pic.twitter.com/XbZXNi8G9y

— Major League Soccer (@MLS) August 5, 2021
It's clearly all or nothing for Austin FC. The team has now scored three times in their first rivalry matchup against Houston after a well-placed header by Dominguez goes in.
46' Stuver kicks off second half with a save
No #MLSAllStar shout for @brad_stuver?…

•Leads the league in saves % ✅
•Human Highlight reel ✅ https://t.co/WN68BD46B3

— Michael Lahoud (@MikeLahoud) August 4, 2021
He may nt have been able to stretch for two back-to-back shots to keep a clean sheet, but Stuver is still showing his keeping prowess. Every save serves as an "I told you so" to the MLS, who snubbed him from the All-Star lineup Wednesday despite leading the league in saves with 65 this season.
45+ Pochettino finally has his day! 2-1 Austin at the half
POCHETTINO@AustinFC have the lead yet again. #VERDE pic.twitter.com/8nNpHzy9GM

— Major League Soccer (@MLS) August 5, 2021
Pochettino's patience is finally paying off. The Argentinian midfielder, who had the most shots without a goal of any MLS player prior to the match, got another one in goal to regain the lead for Austin as the first half wraps up.
For his first clear goal with Austin FC, Pochettino reacts to a deflection just in time to get a solid shot into the bottom right corner of the net. Austin has scored two goals in a match for the first time since their Portland match on July 1.
25' Tie game as rivalry heats up
Fresh off the Gold Cup, @Typash smashes this one to level it! #ATXvHOU pic.twitter.com/O5UcMcGdkq

— Major League Soccer (@MLS) August 5, 2021
Shortly after the Ceren red card, the Dynamo prove they can still be a threat with 10 men. An initial shot is blocked by Stuver, but he can't quite react in time as Tyler Pasher shoots one up to the top of the net on a rebound. It's now a tie game with two goals and a red card as the Texas rivalry begins to take shape.
20' Houston knocked down to 10 after red card
Cerén shown red, and we fight on with ten men 😣#HoldItDown

— Houston Dynamo FC (@HoustonDynamo) August 5, 2021
Houston will now play the finally three-quarters of the match with 10 men after Austin's Sebastian Berhalter takes an elbow to the eye from the Dynamo's Ceren.
7' Houston has a problem! Austin scores 1-0
The @AustinFC attack forces an own goal. They lead 1-0! #ATXvHOU pic.twitter.com/hehR6mtprH

— Major League Soccer (@MLS) August 5, 2021
Tomas Pochettino's first goal with Austin may not quite be his, but it's still worth celebrating. After five of six straight home games going scoreless, Austin finally broke the silence as Pochettino's shot hit the post and was guided in by an unhappy Houston player.
Austin is now up 1-0 for the first time in weeks at their home stadium.
Starting lineup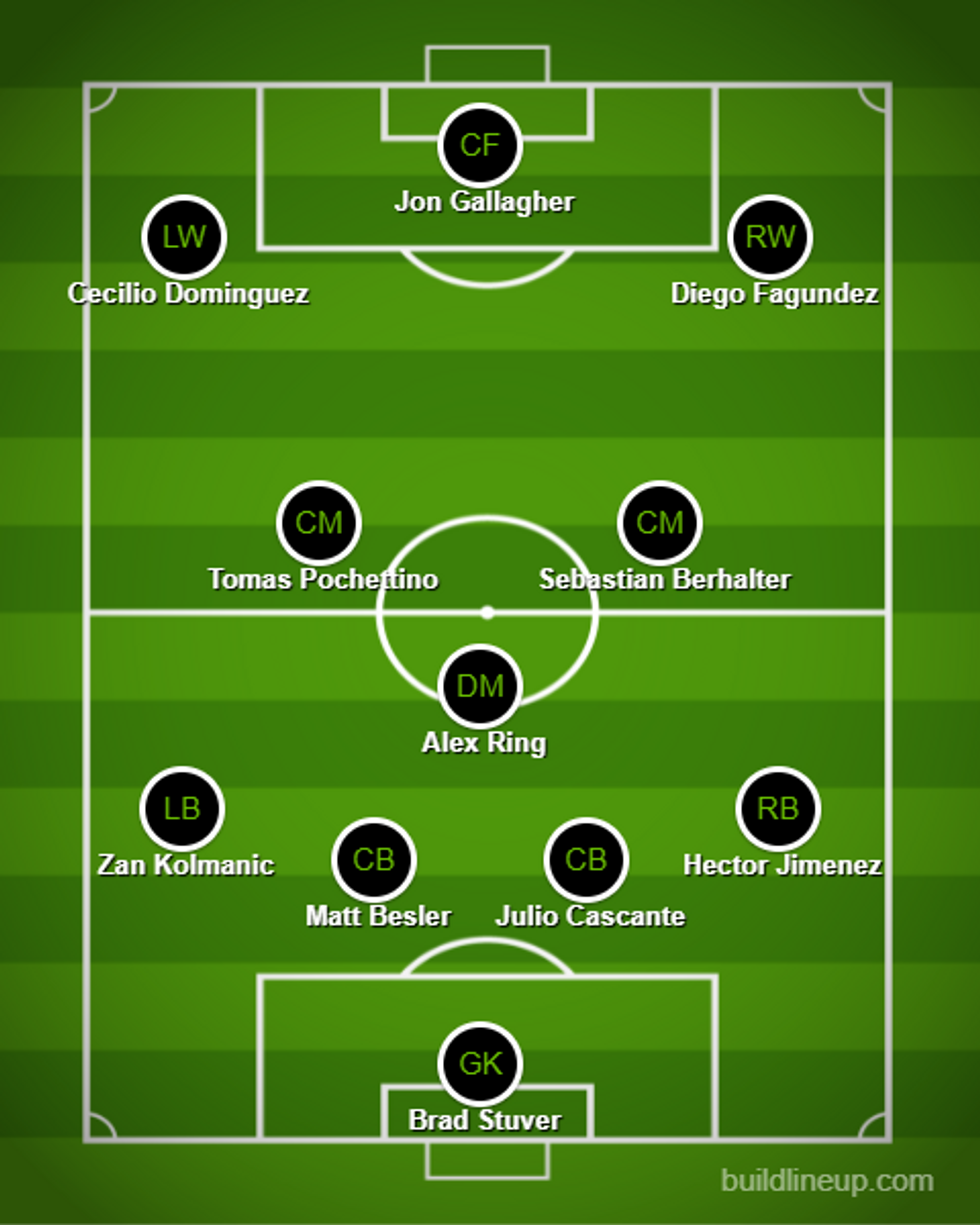 Jon Gallagher is back in the starting XI and will likely crown the lineup, with Cecilio Dominguez and Diego Fagundez flanking him on either side.
20-year-old Sebastian Berhalter will start in Fagundez's shoes for the first time since a June match vs. Minnesota United. Meanwhile, the steady back end looks much of the same with a near-All Star Brad Stuver in at keeper.
Officials are asking certain residents in Bastrop State Park to evacuate as crews work to put out a "very active fire" that is currently 0% contained.
The Texas A&M Forest Service has responded to help local fire departments with the Rolling Pines Fire at 100 Park Road 1A, which is consuming 300 acres. Residents of Pine Hill Drive, Pine Tree Loop, Linda Lane and Lisa Lane are being asked to evacuate.
Aviation resources have been called to assist.

According to the Bastrop County Office of Emergency Management, the wildfire sparked during a prescribed burn that took place today, despite wildfire warnings. Park Road 1C from Harmon Road to Park Road 1A had been closed for the prescribed burn.
The blaze is in the same location as the Bastrop Complex Fire of 2011, which burned for 55 days, killing two people, destroying 34,000 acres and around 1,700 homes and buildings. The fire, which started in 2011, became the most destructive wildfire in Texas at the time.
A hotbed for fires, the Hidden Pines Fire started at the same location in 2015, destroying 4,600 acres and 64 structures.
Some road closures have been put in place at State Highway 21 South Shore Lake Bastrop and East State Highway 21.
This is a developing story and will be updated as information becomes available.
After months of record-setting periods for Austin real estate, the Austin Board of Realtors announced Tuesday that the metro's housing market accounted for over $23 billion of economic activity in 2021, making it the biggest year yet for both home sales and median home prices in the metro.
The Austin-Round Rock MSA saw 41,316 homes sold in 2021, 2.5% more than a record-setting 2020. Median home prices skyrocketed as well, rising 30.8% from 2020 to $450,000. The housing market also saw unprecedented impact on Austin's economy, with sales dollar volume jumping to over $23.38 billion, and more homes hit the market in 2021 than any previous year, increasing by 5.9% to 46,449 total homes listed.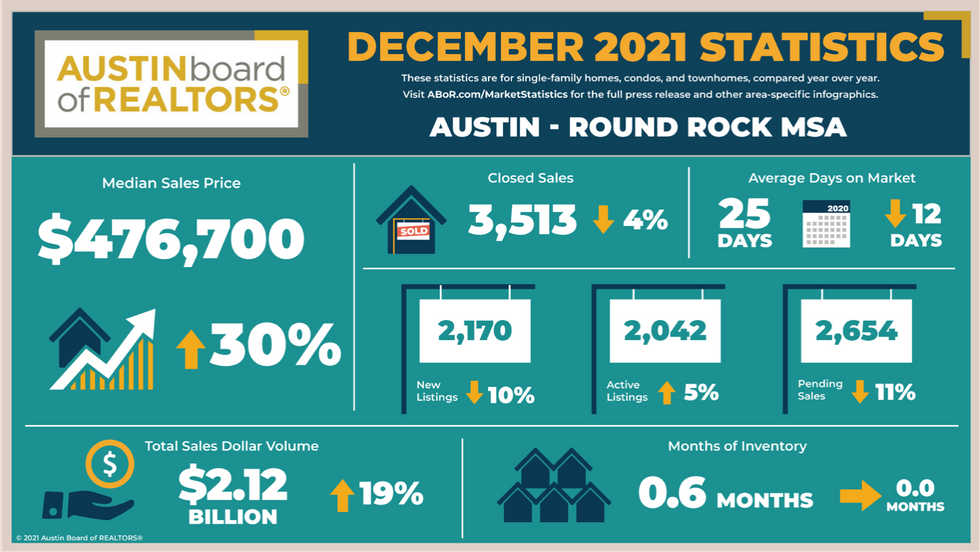 (Austin Board of Realtors)
As many recent Austin homebuyers have experienced firsthand, Austin Board of Realtors 2022 President Cord Shiflet said 2021 was the most "exciting, complicated, fast-paced and record-setting housing market" in Austin's history.
Shiflet dubbed the market as "complicated" for a reason—Austin became a case study on supply and demand in 2021, with demand far outpacing the number of active listings, which dropped by 48.2% to 2,348 homes in 2021.
The metro ended the year with 0.6 months of inventory, a far cry from a "healthy" six-month supply, and houses were snatched at breakneck speeds, spending 25 fewer days on the market when compared to 2020. The average home was on the market for 20 days.
But low inventory is more due to high demand than a stagnant homebuilding market, Mark Sprague, Independence Title's state director of information capital, said in the report.
"In 2021, the record number of homes sold were demand-driven transactions and that demand was influenced greatly by companies continuing to target the region for job creation and expansion," Sprague said. "Even though more homes are being built, listed and sold than ever before, our region is still nowhere close to having a comfortable amount of supply to meet the demand, which is why home prices continue to rise steadily."
Over 23,000 jobs have been promised by companies across the metro as of December 2021, breaking the 2020 record, according to Opportunity Austin, the economic development arm of the Greater Austin Chamber of Commerce. With an influx of major factories and offices, including Tesla's Giga Texas, Samsung's Taylor plant and a planned 33-floor Facebook office, Sprague said the region's booming market paired with a struggling inventory and supply chain issues could be a double-edged sword in 2022.
"In short, 2022 will see a robust market for home sales and property values, but the region must do more to address inventory, " Sprague said.
Shiflet recommended that potential homebuyers make a decision ahead of predicted increases in interest rates and home prices and said that he hopes local politicians will continue to prioritize affordable housing in the election year.
Still, Shiflet said a record-breaking housing market reflects Austin's growing reputation as a hub for talent, tech jobs and a good quality of life.
"With all the new jobs across the region from exciting companies like Tesla and Samsung, Austin was put on the world's stage and captured the hearts and attention of so many," Shiflet said. "We are lucky to call Austin our home when it has so much to offer from a great quality of life to a wonderful destination for innovation and opportunity."