Get connected with our daily update
The floodgates have once again opened for Austin FC.
---
Austin FC once again ended a scoring hiatus with a breakthrough win as midfielder Tomas Pochettino stole the show for the home team with two goals to land a 3-2 victory over the Houston Dynamo. The team is now at least temporarily the best in (Copa) Tejas, Texas' annual soccer derby, after the Wednesday night win over their newfound rivals.
Austin FC won momentum early as Pochettino, who had the most shots without scoring in MLS this season prior to the match, shot one off the post in the seventh minute. The ball would then be assisted by Houston themselves as Pochettino scored his first MLS goal and broke Austin's four-match scoreless streak.
The rivalry showed its true colors in the 20th minute of play, when Houston's Darwin Ceren took down Austin's Sebastian Berhalter with an elbow to the face and was subsequently punished with a red card.
With just ten men on the field for the remainder of the match, the Dynamo proved they could fight with one man down as they responded with a goal five minutes later.
Pochettino brought the lead to Austin once again, however, as he went for seconds with a clear goal off a rebound to close out the first half.
Pochettino said building trust between himself, Dominguez and Diego Fagundez was vital to making his first goal.
"To me, this is the first time that I scored with this club and Major League Soccer, so now that definitely helps me build our trust," Pochettino said. "Because I can talk to them in Spanish, there's always that chemistry that you build around them, and obviously having them around day in day out. I think they had a sensational match, and we definitely have to keep looking forward to improve it even more."

Austin would score once more in the 57th minute when a cross by midfielder Diego Fagundez was headed in by striker Cecilio Dominguez.
Houston attempted a late-match comeback in the final ten minutes of play as they thwarted Austin FC's Brad Stuver for a second goal, but it proved too little, too late as Austin celebrated their second high-scoring victory at Q2 Stadium.
The win provides a much-needed boost for Austin FC, who were previously stuck at the bottom of the West for two straight matches as they went scoreless for nine of their last 11 games. The club is also at least temporarily the "Best in Texas" as they tally the first win in the Copa Tejas, which adds up wins and losses between the Lone Star State's best professional teams.
Austin FC saw their lowest injured lineup in months as young midfielder Danny Pereira, who has proved himself as the club's glue, reentered the pitch in the 64th minute. Right back Nick Lima also joined the pitch once more for the second time since a pulled hamstring left him out for weeks.
Head coach Josh Wolff said a full and healthy roster will help build healthy competition as the team fights for playoff berth.
"I think it'll drastically affect the outcome when you have quality and you have a full roster," Wolff said. "Competition is a must in this league, the season's long, it's a grind. You need rotations, but you also need these guys competing... when you know there's someone knocking on the door asking questions, as a player and a teammate, it pushes you a little more."
The club has even more to look forward to: they'll likely enjoy a boost as they expect at least a few of new striker signees Sebastian Driussi, Moussa Djitte and Austinite McKinze Gaines to join them in their second Texas rivalry match at FC Dallas on Saturday.
Here's what happened in the breakaway match:
86' Not so fast: Houston scores to make it 3-2
Not. Over. Yet.@HoustonDynamo pull one back late! #ATXvHOU pic.twitter.com/v3YnffcT1W

— Major League Soccer (@MLS) August 5, 2021
Just when Austin seemed to be sailing into their second home win with ease, the Dynamo found a hole in the home team's defense to land their second goal of the night.
The Dynamo now have four minutes of regulation to find an equalizer if they wish to take some points from Austin tonight.
64' Pereira reenters the ring, for Ring
64' | Three #AustinFC substitutions.

➡️ Jhohan Romaña
⬅️ Julio Cascante

➡️ Hector Jimenez
⬅️ Nick Lima

➡️ Dani Pereira
⬅️ Alex Ring pic.twitter.com/miRnwqRzbp

— Austin FC (@AustinFC) August 5, 2021
Dani Pereira, the fuel of Austin's midfield, makes a reappearance for the first time in weeks after being out on injury. He reenters the ring for Captain Alex Ring as fellow former injured teammate Nick Lima subs in for Hector Jimenez. Jhohan Romana also makes a rare appearance at center back for Julio Cascante.
A few minutes later, Jared Stroud takes the stead of Cecilio Dominguez.
57' When it rains, it pours (but in a good way)
Fagundez ➡️ Dominguez@AustinFC feelin' it! pic.twitter.com/XbZXNi8G9y

— Major League Soccer (@MLS) August 5, 2021
It's clearly all or nothing for Austin FC. The team has now scored three times in their first rivalry matchup against Houston after a well-placed header by Dominguez goes in.
46' Stuver kicks off second half with a save
No #MLSAllStar shout for @brad_stuver?…

•Leads the league in saves % ✅
•Human Highlight reel ✅ https://t.co/WN68BD46B3

— Michael Lahoud (@MikeLahoud) August 4, 2021
He may nt have been able to stretch for two back-to-back shots to keep a clean sheet, but Stuver is still showing his keeping prowess. Every save serves as an "I told you so" to the MLS, who snubbed him from the All-Star lineup Wednesday despite leading the league in saves with 65 this season.
45+ Pochettino finally has his day! 2-1 Austin at the half
POCHETTINO@AustinFC have the lead yet again. #VERDE pic.twitter.com/8nNpHzy9GM

— Major League Soccer (@MLS) August 5, 2021
Pochettino's patience is finally paying off. The Argentinian midfielder, who had the most shots without a goal of any MLS player prior to the match, got another one in goal to regain the lead for Austin as the first half wraps up.
For his first clear goal with Austin FC, Pochettino reacts to a deflection just in time to get a solid shot into the bottom right corner of the net. Austin has scored two goals in a match for the first time since their Portland match on July 1.
25' Tie game as rivalry heats up
Fresh off the Gold Cup, @Typash smashes this one to level it! #ATXvHOU pic.twitter.com/O5UcMcGdkq

— Major League Soccer (@MLS) August 5, 2021
Shortly after the Ceren red card, the Dynamo prove they can still be a threat with 10 men. An initial shot is blocked by Stuver, but he can't quite react in time as Tyler Pasher shoots one up to the top of the net on a rebound. It's now a tie game with two goals and a red card as the Texas rivalry begins to take shape.
20' Houston knocked down to 10 after red card
Cerén shown red, and we fight on with ten men 😣#HoldItDown

— Houston Dynamo FC (@HoustonDynamo) August 5, 2021
Houston will now play the finally three-quarters of the match with 10 men after Austin's Sebastian Berhalter takes an elbow to the eye from the Dynamo's Ceren.
7' Houston has a problem! Austin scores 1-0
The @AustinFC attack forces an own goal. They lead 1-0! #ATXvHOU pic.twitter.com/hehR6mtprH

— Major League Soccer (@MLS) August 5, 2021
Tomas Pochettino's first goal with Austin may not quite be his, but it's still worth celebrating. After five of six straight home games going scoreless, Austin finally broke the silence as Pochettino's shot hit the post and was guided in by an unhappy Houston player.
Austin is now up 1-0 for the first time in weeks at their home stadium.
Starting lineup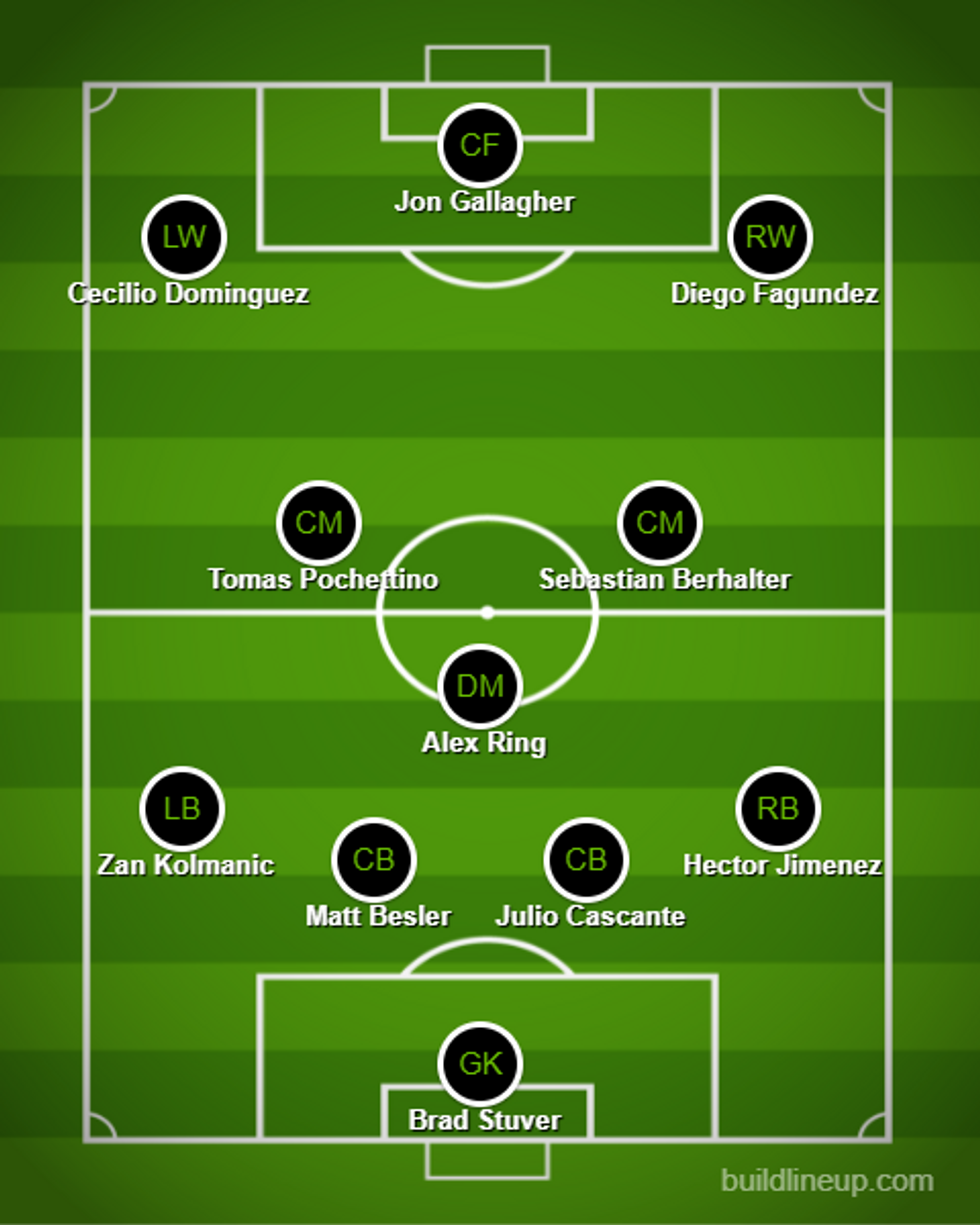 Jon Gallagher is back in the starting XI and will likely crown the lineup, with Cecilio Dominguez and Diego Fagundez flanking him on either side.
20-year-old Sebastian Berhalter will start in Fagundez's shoes for the first time since a June match vs. Minnesota United. Meanwhile, the steady back end looks much of the same with a near-All Star Brad Stuver in at keeper.
Five Austin companies joined Google's second Startups Black Founders Fund on Wednesday, earning $100,000 each as part of the $10 million initiative geared toward giving Black entrepreneurs access to funding for their startups.
The fund gave $100,000 to 50 founders nationwide, including Austin companies CustomerX.i, Journey Foods, Sandbox Commerce, The Mentor Method and Tadeblock.
The founders will receive the funding without giving up any ownership of their startups and will gain access to Google technical support including up to $120,000 in donated search Ads from Google.org and up to $100,000 in Google Cloud credits. The Austin companies will also join a select few—the fund is only two years old and last year rewarded 76 Black-led startups with up to $100,000 as well.
Google's Startup funds can be used to boost Black founders' companies into success—last year, founders raised up to $50 million in capital after recieving the funds, and 80% of the companies used their funds to create jobs.
Founders from last year's batch then paid it forward by nominating new companies and announcing the winners via Zoom.
Here's a look at those 5 founders in Austin:
A member of the Independent Citizens Redistricting Commission (ICRC) contacted council members asking for their home addresses despite a charter provision prohibiting the ICRC from considering such information in its mapping process, according to emails obtained by the Bulldog through a public information request.
Four council members or their staffers replied providing home addresses: Alison Alter, Paige Ellis, Mackenzie Kelly, and Leslie Pool, according to the emails dated August 9th to Aug. 17.
Austinites will once again be able to take a nonstop flight to London as Austin-Bergstrom International Airport resumes transatlantic travel this fall.
Starting Oct. 13, British Airways will offer its direct flight from ABIA to London-Heathrow Airport three times a week on Wednesday, Friday and Sunday. The airline, which has been operating in Austin since 2013, had halted service at the start of the pandemic over a year ago.
"We can't wait to welcome our customers back on board our Austin flights and we are honored to be playing our part in reuniting families and friends with their loved ones after such a long time apart," said Marie Hilditch, British Airways' head of North America sales.
Safety protocols the airline is taking include:
social distancing measures
wearing of facemasks
providing hand sanitizer stations
cleaning all surfaces after every flight
fully recycling the air once every two to three minutes through HEPA filters, which remove microscopic bacteria and virus clusters with over 99.9% efficiency
The announcement comes as COVID-19 testing requirements to enter the UK are scheduled to stop on Oct. 4. for vaccinated Americans.
Additionally, a Monday White House announcement allows fully vaccinated international travelers to enter the U.S. starting in early November with proof of a negative COVID-19 test. The ban, which was implemented in 2020, restricted travelers from a number of European countries, Iran and China throughout the pandemic.