Get connected with our daily update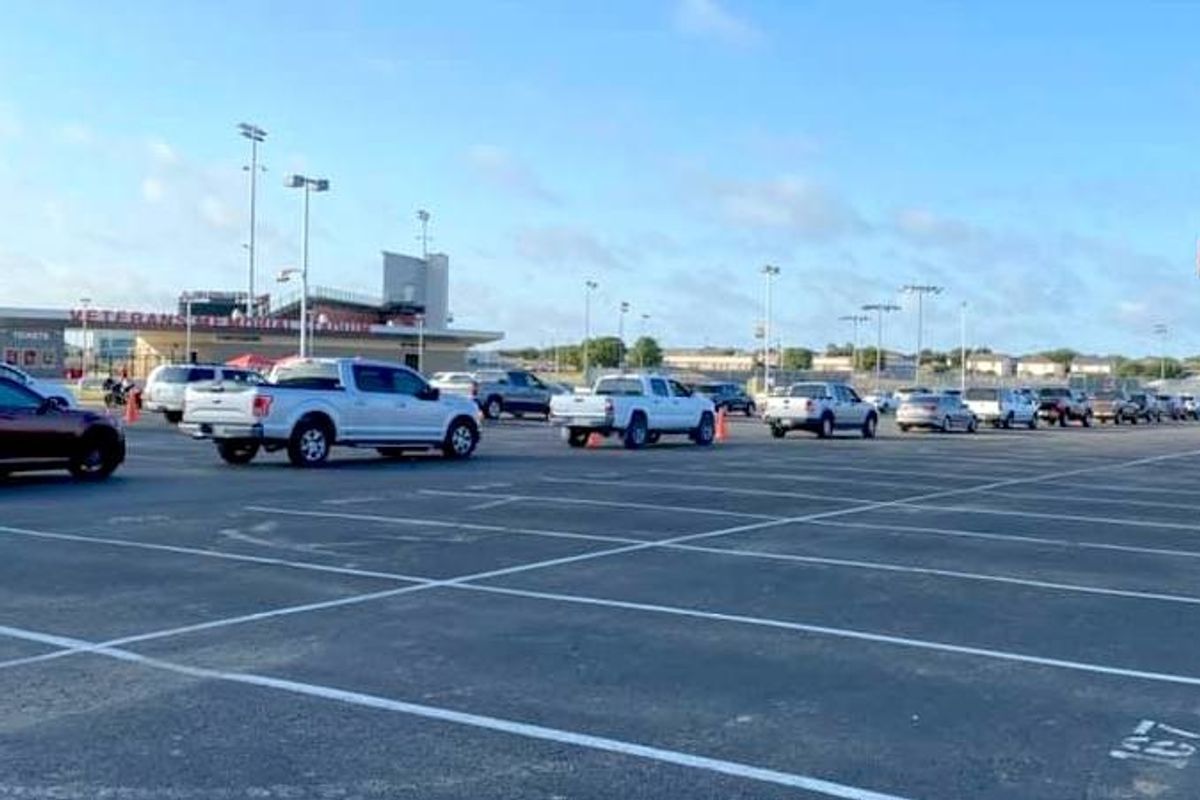 (Austin Latino Coalition, Del Valle Community Coalition)
Face coverings and hand sanitizers may not seem like the rare commodities they were back in the spring when many stores and online vendors had sold out of their stock. But for many Ausitnites, these resources remain out of reach.
---
"Now more than five months into the COVID-19 pandemic there is an assumption that everyone has access to [personal protective equipment], but the reality is that there are people in our community who have to make the tough choice of buying food versus buying a mask and hand sanitizer," said Paul Saldaña, coordinator of the Austin Latino Coalition.
The coalition co-hosted a PPE distribution event on Aug. 29 with the Del Valle Community Coalition. Volunteers distributed 15,00 disposable masks, 200 boxes of gloves, 5,000 reusable adult masks, 400 reusable children's masks and 500 bottles of hand sanitizers to 1,700 families. There was also voter registration and census stations set up.
"People were in line at Del Valle High School more than two hours before we began distribution," Saldaña said. "One elderly woman who was at the front of the line arrived at 5:30 a.m., with her oxygen tank. There are seniors, veterans, teachers, construction and grocery workers, among others, who are all in need."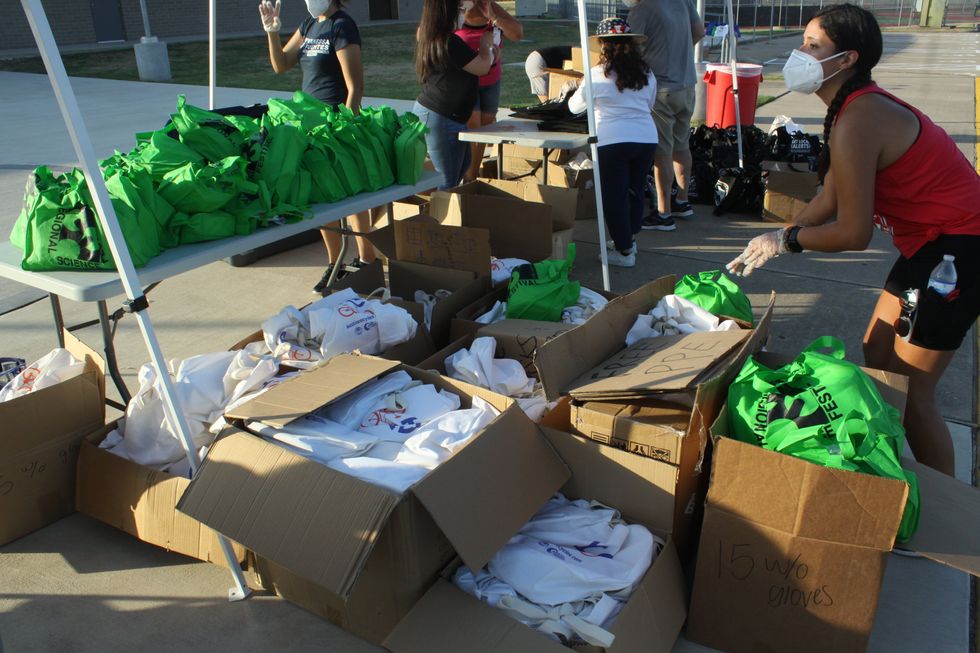 Volunteers distributed thousands of masks at the most recent distribution event. (Austin Latino Coalition, Del Valle Community Coalition)
The Austin Latin Coalition began in 2013 and is organized by 30 volunteers. Private sector partnerships—with H-E-B, Lowe's and Tito's Vodka, among others—help fund its initiatives.
At the beginning of the pandemic, the coalition saw that the needs of the local Latino community were being inadequately addressed by local governments.
"Information about the virus was not easily accessible, and not culturally relevant and difficult to find in Spanish," Saldaña said. "With over 20 subcultures in our Latino community, the Spanish translation doesn't always resonate [with everyone]."
It also became clear that Latino Austinites were disproportionately impacted by the pandemic. Despite making up around a third of the Travis County population, they account for more than half of confirmed COVID cases and hospitalizations and nearly half—49%—of deaths.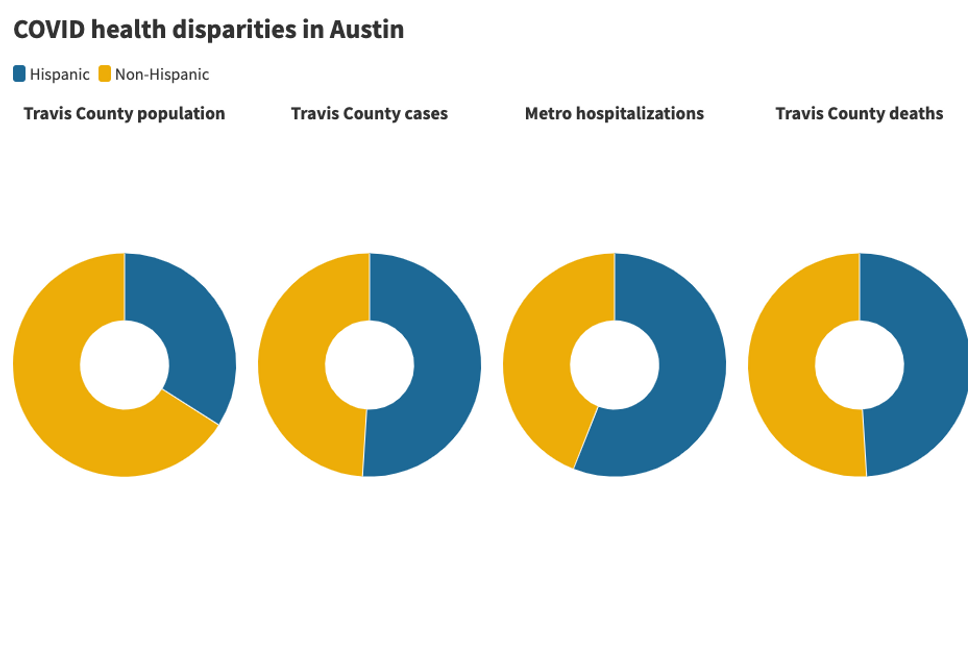 Latino residents are overrepresented when it comes to COVID cases, hospitalizations and outcomes. (Austin Public Health)
Although the number of new confirmed daily cases has been on the decline in recent weeks, transmission remains most concentrated on the city's east side. The highest number of confirmed cases is found in the 78744 ZIP code, where a majority of residents are Latino.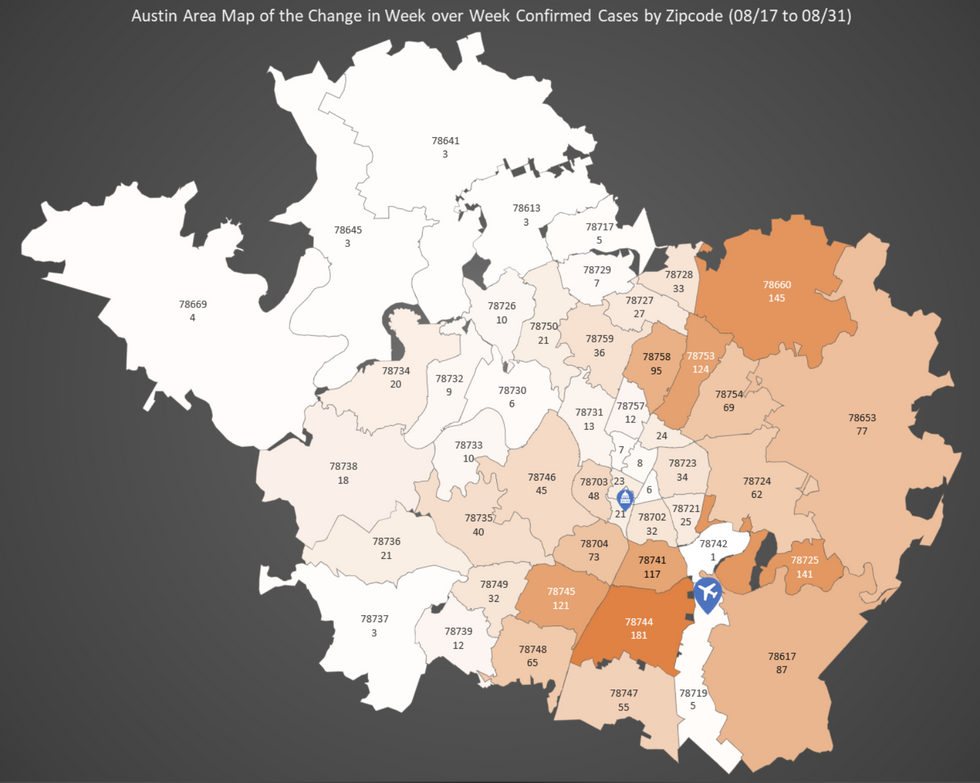 Austin's confirmed COVID cases are more concentrated on its east side, with the highest number of cases in the 78744 ZIP code, where a majority of residents are Latino. (Rational Anarchy/Reddit)
"The southeastern ZIP codes and portions of Austin [and] Travis County continue to be among the communities with the highest numbers of COVID-19 cases and positivity rates," Del Valle Community Coalition President Susanna Woody said.
Saldaña has criticized elements of the city's response to the pandemic, arguing that they could do more to address disparate outcomes.
The city's health department provided and packaged PPE and other informational materials for the distribution event last weekend. On Wednesday it also announced it would co-host, along with CommUnity Care and Central Health, nine PPE distribution events this month in areas with high COVID positivity rates, such as Pflugerville and Dove Springs.
"It is important to [Austin Public Health] to ensure that the most vulnerable in our community are protected from COVID-19," a spokesperson said. "Additionally, we are continually re-evaluating our epidemiological data and burden of disease on our community to ensure that we are meeting the community's needs during this time."
However long the pandemic lasts, ALC and its partners plan to continue offering barrier-free testing, PPE and education resources to the Latino community.
"Many won't come to the local government coordinated testing sites out of fear for a variety of reasons, so we host these events where those in our community feel safe," Saldaña said. "While our focus is the Latino community, all are welcome to come."
The U.S. Hispanic Contractors Association of Austin, a member of the ALC, is hosting a free COVID testing event this Saturday at the Sacred Heart Catholic Church in Northeast Austin, near the Little Walnut Creek Greenbelt, from 8 a.m. to 4 p.m.
"This is about being a good citizen to our neighbors and fellow Austinites," Saldaña said.
Want to read more stories like this one? Start every day with a quick look at what's happening in Austin. Sign up for Austonia.com's free daily morning email.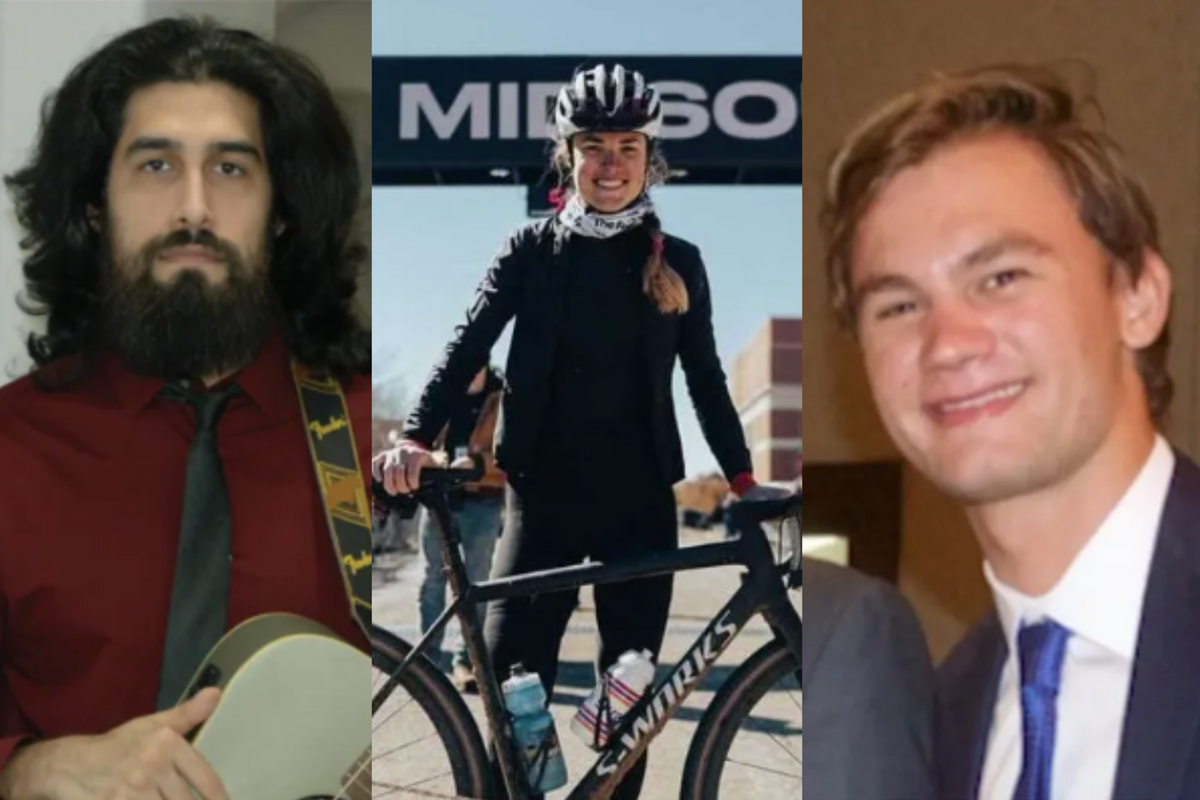 Austin has been in the national spotlight for more than extreme growth—the last two years have brought a handful of violent crimes, missing persons cases and shootings.
Some of the most heartbreaking cases have yet to be solved. Here's a small update on some ongoing, high-profile cases in Austin.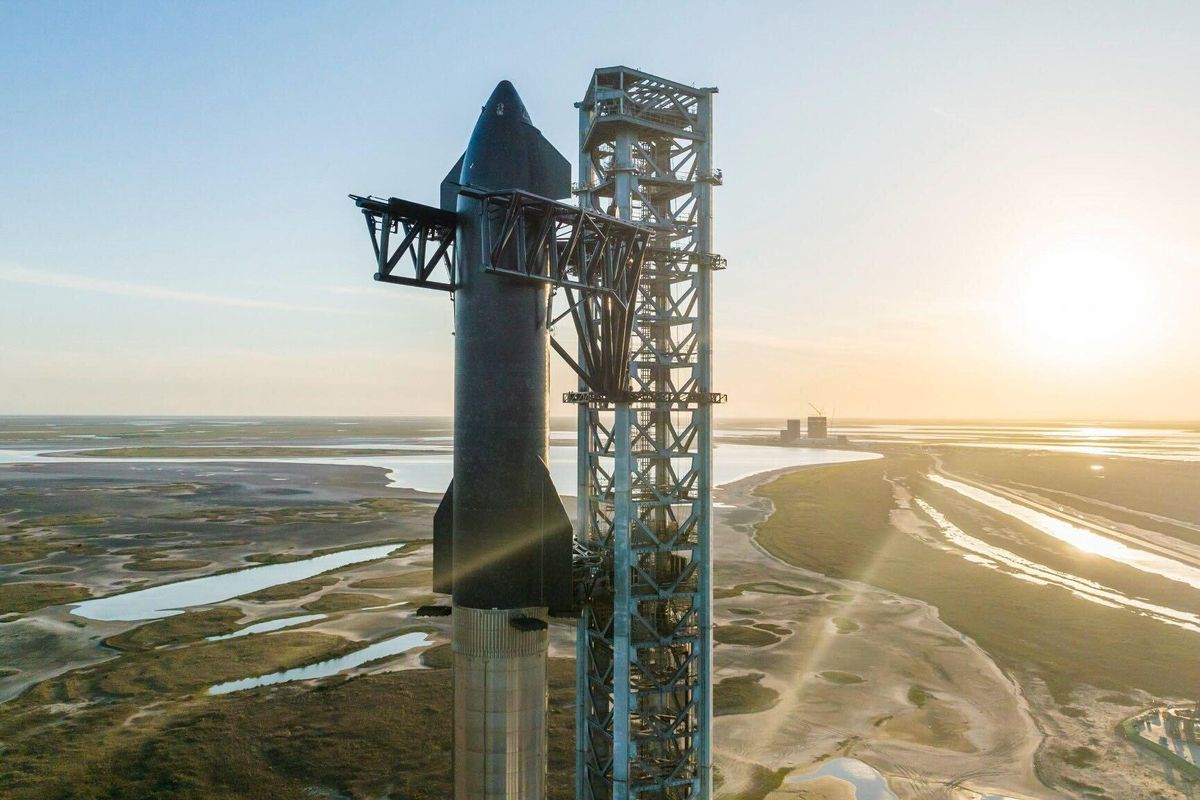 Elon Musk's spacecraft and rocket company SpaceX could be moving into Central Texas with an industrial facility in Bastrop County.
The Austin Business Journal first reported on SpaceX acquiring 170 acres east of Austin and job listings in the Austin area.
Bastrop County property records show that an entity tied to the Boring Company purchased the land near what it already owned along FM 1209. Then in early June, a 46.5-acre tract was transferred from the Boring Company's entity to SpaceX.
In a June 6 filing with the Texas Commission on Environmental Quality, SpaceX gave notice for "Project Echo," a nearly 30-acre warehouse at 816 FM 1209. The project, just a 20-minute drive from Tesla's Giga Texas factory, was authorized to start construction early this month and has an estimated completion at the end of March 2023.
Meanwhile, the SpaceX jobs are for a facilities engineer and a senior application software engineer. The facilities engineer would be tasked with enabling SpaceX to achieve its long-term mission while the software engineer position would create systems to enable rapid build and reuse of the Starship—a reusable rocket the company is developing to carry cargo and people to space—as well as designing manufacturing software that will be used for Starlink, the company's network of satellites providing internet access.
SpaceX has a site in South Texas along with a rocket testing facility an hour and a half drive north of Austin, in McGregor. Last year, job postings indicated SpaceX's plans for an Austin factory.
This brings an expansion of Musk's companies in the region, with Tesla's headquarters in southeast Travis County and the Boring Company based in Pflugerville.