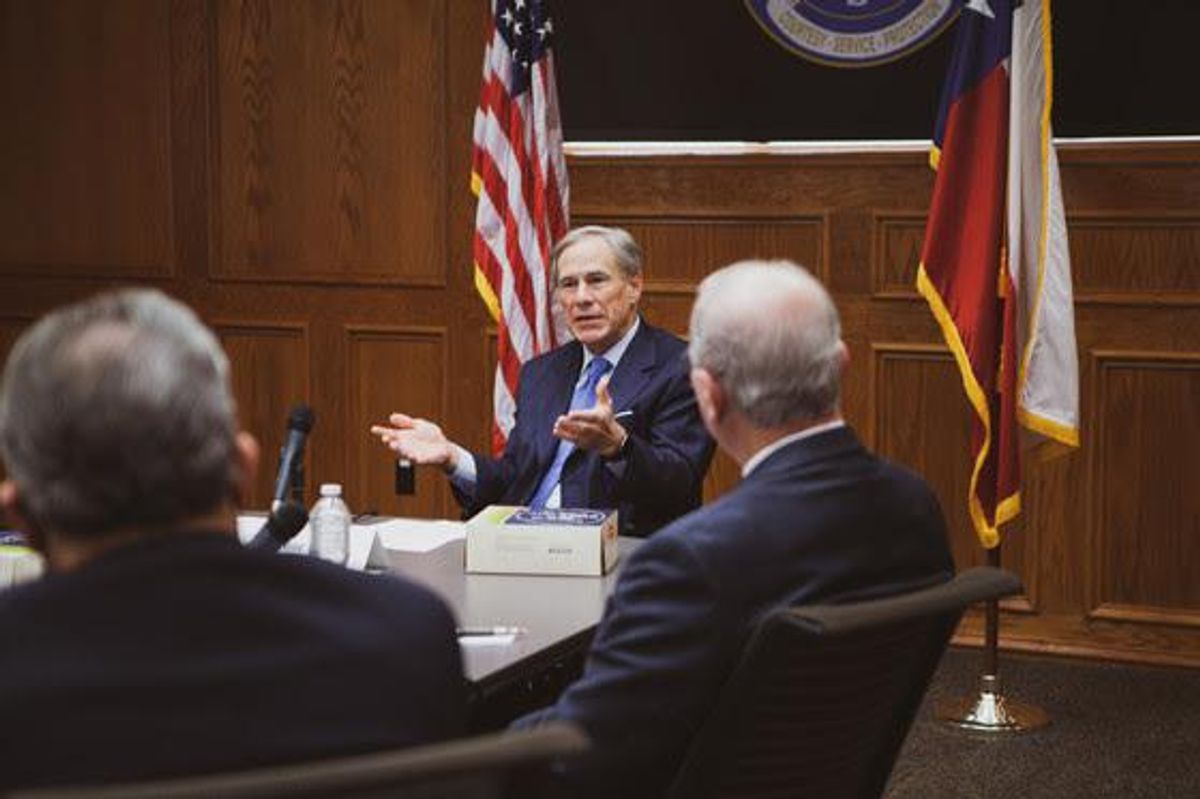 (Office of the Governor)
Texas Gov. Greg Abbott's public safety priorities for the current legislative session include making it "fiscally impossible" for municipalities to defund their police departments and a statewide plan to address homelessness that will include a ban on public camping. Both are clear rebukes to recent policy changes enacted by local elected officials.
"We cannot and will not allow Austin to defund the police," Abbott said during a press conference on Thursday. "Texas must set the example for the United States of America, not only to support law enforcement but to fully fund law enforcement agencies."
---
Austin City Council voted last August to cut the Austin Police Department budget by around 5% in the wake of mass protests against police brutality and racial injustice. Council members also approved putting around 30% of the budget into transition funds while they decide which traditional police duties could be moved out of the department's control.
Abbott did not elaborate on what such legislation might look like during a press conference on Thursday. But a few bills have already been proposed that might provide insight.
State Rep. Matt Krause, R-Fort Worth, filed a bill that would prohibit municipalities from passing annual budgets that reduce funding for public safety agencies. And State. Rep. Steve Allison, R-San Antonio, filed a bill that would require a referendum in cases where municipalities passed budgets with more than a 5% cut to public safety spending.
The Texas Legislative Council, a nonpartisan agency that helps lawmakers draft legislative, has also drawn up a proposal that, if filed and approved by state lawmakers, would put APD under state control—while remaining fully funded by the city of Austin. Abbott signaled his support for the draft on Twitter, writing that it had arrived "just in time for Christmas."
The main impact of the APD budget cuts was the cancellation of three planned cadet classes. APD's training academy has come under fire in recent years following allegations of racism, hazing and a paramilitary culture. Multiple reports commissioned by the City Council have recommended that it be put on hold until these issues can be resolved.
The most recent one—a community review of APD's training videos that was published on Monday—found "dangerous racial and class sterotypes;" limited representation of women, trans and non-binary people; a warrior mentality that pitts police officers against the community members they serve; and "constant refinforcement … that every encounter is potentially life-threatening," which could encourage excessive use of force.
Abbott said he "fully support(s) training reform" but is staunchly opposed to cuts.
Austin City Council Member Greg Casar, who spearheaded the recent push to cut APD's budget, said the governor was standing in the way of accountability.
"In the wake of unjustifiable shootings and violence by police, our community has pushed the city to make much needed change," he said in a statement. "Now, Gov. Abbott is supporting proposals to protect departments that do the wrong."
In addition to police funding, Abbott also announced a forthcoming statewide plan to address homelessness, which he said would include a ban on public camping.
Austin City Council voted in 2019 to overturn a camping ban, which prompted intense pushback from concerned residents, business owners and state officials, including the governor. Two council members faced conservative challengers in runoff elections last month who ran on reinstating the camping ban. Incumbent Jimmy Flannigan lost his race to Republican Mackenzie Kelly; Alison Alter narrowly defeated her opponent Jennifer Virden.
Earlier this week, Save Austin Now, a local campaign led by Travis County GOP Chairman Matt Mackowiak, submitted thousands of signatures in support of a petition that, if validated, will allow Austin voters to decide whether to reinstate the campaign ban. It is the group's second attempt to do so after an earlier batch of signatures was ruled invalid before the November election.
Abbott called Austin "the front door for the state of Texas" and said such a ban is important for the city's appeal to visitors. "When they come into this community, they need to know that they're going to be safe."