Get connected with our daily update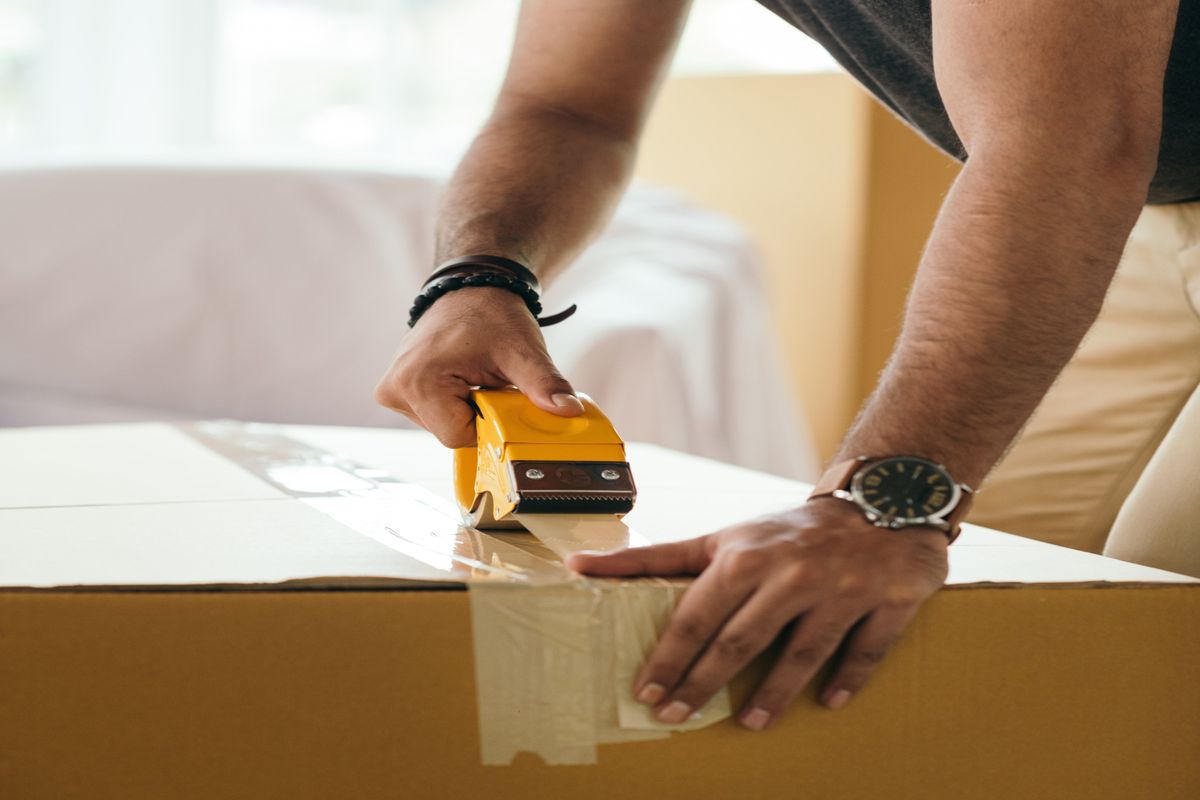 After a decade of being called the country's fastest-growing metro, Austin is about to learn early next year if the trend continues when census counts are released.
---
In anticipation, The Greater Austin Chamber of Commerce revisited the latest U.S. Census migration insights in its latest economic report. Migration patterns help reveal where new Austin residents moved from and how that growth compares nationally.
Based on 2018-19 population estimates outlined in the report, Austin is now growing at 168 net new residents per day, mostly thanks to people who relocate here.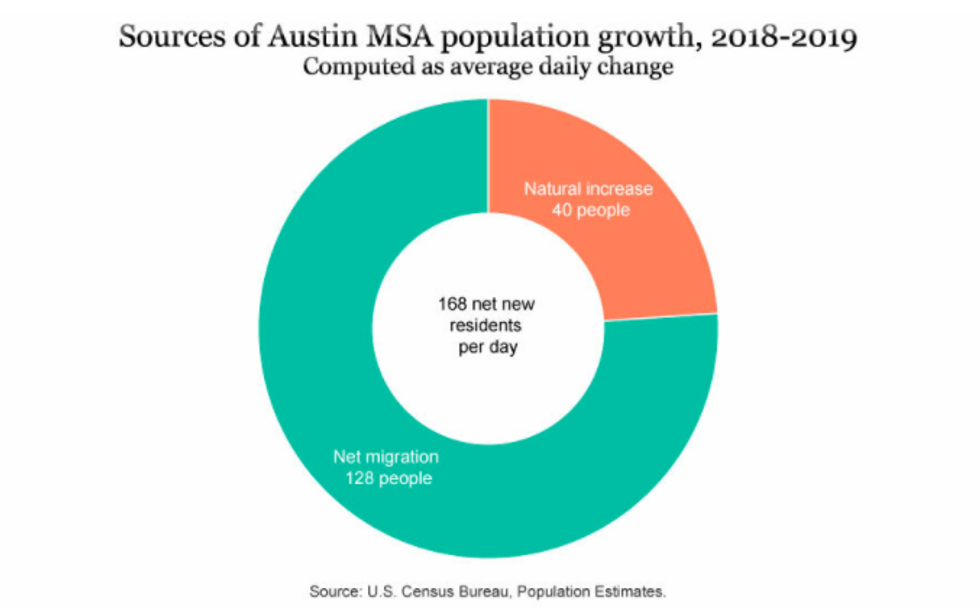 Here are three notable takeaways from the report:

1. Austin really is a 'Hotel California'
The cliche that Californians are flocking to the city has merit, based on the report takeaways.
California residents make up 8% of all migration to the Austin metropolitan area, according to 2014-18 U.S. Census survey data compiled by the chamber. That is significantly more than the next five states:
California (8%)
New York (3.3%)
Florida (3.1%)
Illinois (2.3%)
Arizona (2.1%)
Colorado (2.0)
But more than half (51.3%) of new Austin residents actually come from elsewhere in Texas, according to census survey data.
In total, 119,146 people migrated to Austin between 2014-18, a net gain of 25,769 residents. Most of these newcomers come from other Texas cities like Houston, Dallas and San Antonio, as well as from New York City and Los Angeles.
Ironically, California is also the top destination for Austin residents who relocate permanently, followed by Florida and Colorado.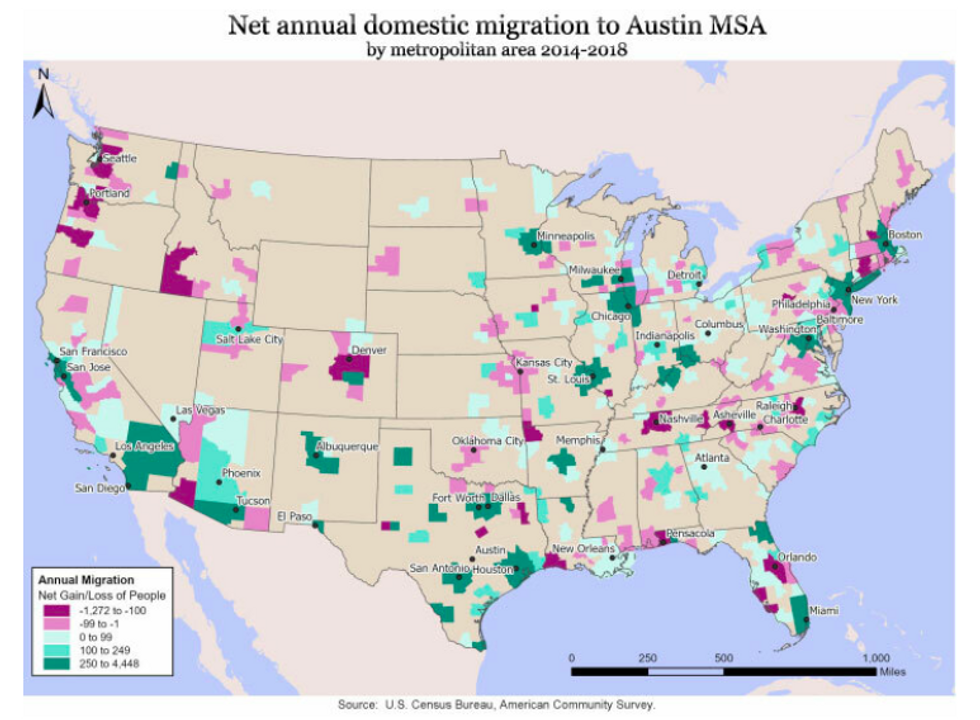 2. No other city grew faster this decade
The percentage of Austin's population growth from 2010-19 exceeded every other metro area in America, according to the U.S. Census Bureau.
In fact, Austin grew at a 10% faster rate than any other Texas city despite The Lone Star State making up four of the nation's six fastest-growing cities this decade:
Austin (29.8%)
Raleigh (23%)
Orlando (22.2%)
Houston (19.4%)
San Antonio (19.1%)
Dallas (19%)
Austin's consistent growth the past 10 years comes from various factors. Census data shows about 32,000 people move within the U.S. per year and another 6,850 relocate internationally annually. An additional 16,200 people per year come from natural increase (births minus deaths).
Raleigh is the only city to have a higher percentage (6.8%) than Austin (6.6%) of overall residents who relocated within the past year.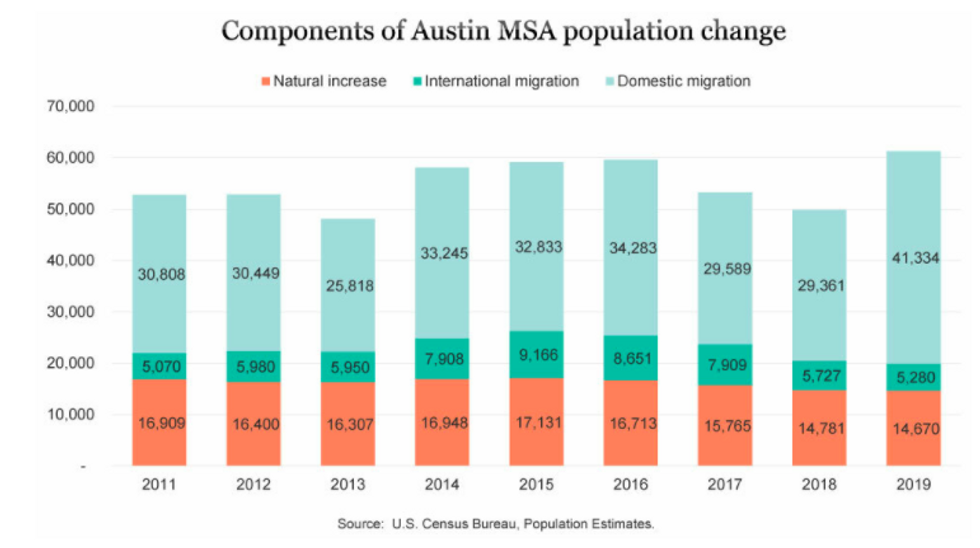 3. Relocations skyrocketed in 2019
The majority of the city's annual population increase comes from domestic migration, or people moving to Austin from other parts of the U.S. Between 2011-18, Austin gained 30,798 residents, on average, who relocated here.
But that number ballooned to 41,334 new residents in 2019, according to U.S. Census Bureau estimates. That helped Austin reach a net population increase of 60,000 for the first time this decade.
More on moving to Austin: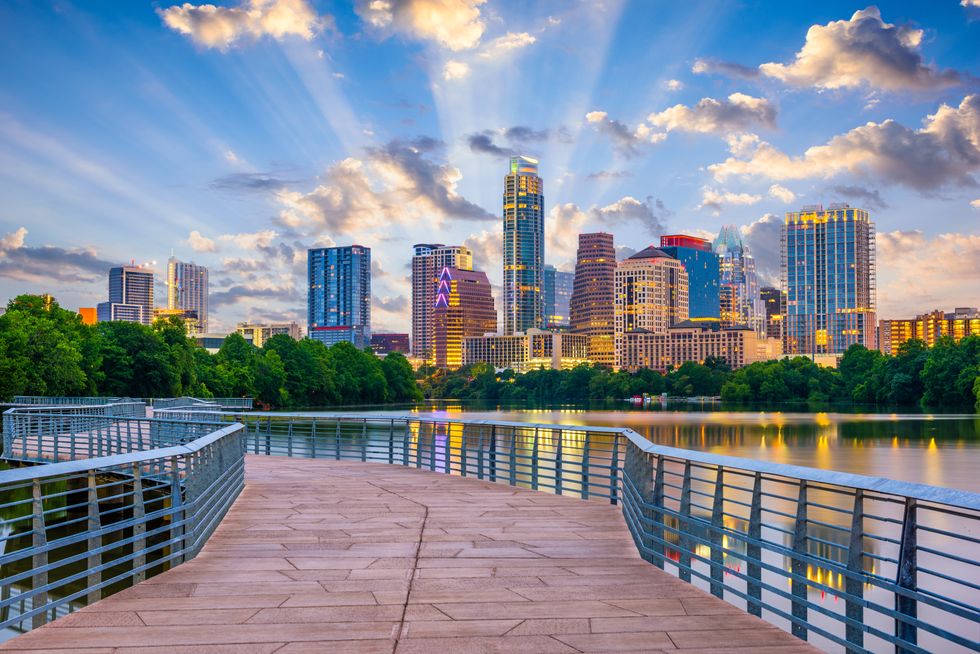 Dreaming about becoming an Austinite? Here are 8 things you'll love about the city
Help us find our editor!
Austonia, a for-profit Austin digital media company, is looking for the right person for a new position as newsletter editor.
Are you an innovator who wants to work exclusively in digital media and push the boundaries? Do you have 3+ years in digital, broadcast, print or agency work? This could be the opportunity for you.
In two years we've created a place in the Austin media landscape, and we're looking for people who can move us toward the front.
AM email newsletter, 22,500+ daily subscribers
Austonia.com, reaching 250,000+ users/month
Social media, 50,000+ followers
Success in this role is based on skills: an excellent writer, editor, visual communicator and storyteller who builds compelling stories with digital and classic elements, who can recruit and mentor contributors in doing the same.
Austin is the most interesting city in the world, and we want to cover it that way. The people, issues, opportunities, challenges, companies and cultures that make Austin dynamic and successful.
Compensation depends on experience. Benefits include PTO and employee Blue Cross Blue Shield "Silver" health coverage, with 100% of the monthly premium paid by the company.
This is a hybrid, mostly remote position. Must live in Austin.
The position reports to Austonia's CEO.
To apply, follow this link to become a candidate immediately:
https://hu9c8d8pxw6.typeform.com/to/JMkTWPwG
Or send your contact info and a link to your LinkedIn profile to hr@austonia.com.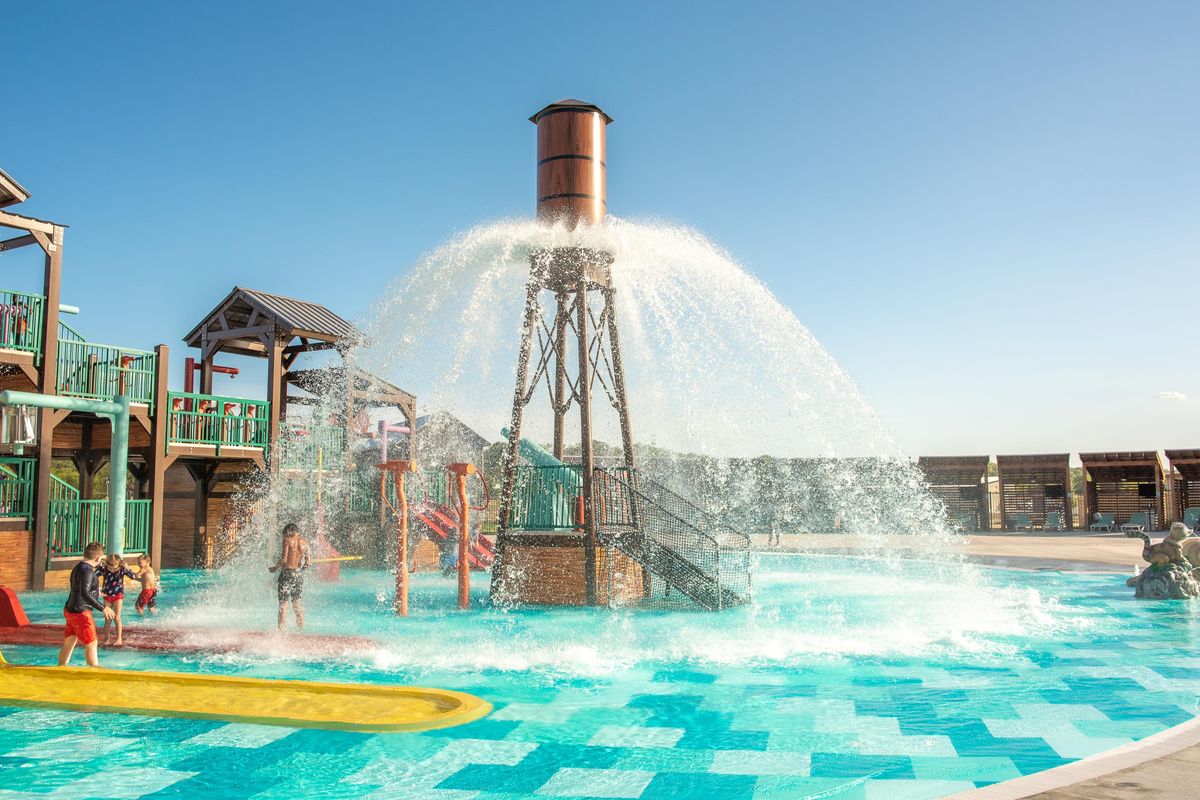 Camp Fimfo Waco
Camp Fimfo Waco, a brand new camping resort, is kicking off football and fall camping season in style! With top-notch amenities, premium accommodations, and 10 weekends of fall fun, there's no better place to have a fall camping getaway, especially if you're a Baylor football fan!
Fall promises to be a one-of-a-kind camping experience. From Sept. 16 to Nov. 24, weekends will be packed with fall-themed activities, including special Halloween weekends in October. Campers can enjoy activities like fall crafts, campground trick-or-treating, costume contests, site decorating, outdoor movie nights, and more!