Never miss a story
Sign up for our free daily morning email...
...and afternoon text update
Get connected with our daily update
(Anna Reynal/Dane's Body Shop)
While COVID-19 may have had an impact in the sheer number of gym memberships last year, one thing it didn't affect was the usual increase in active gym-goers in the first weeks of the New Year.
---
Across the country, the pandemic has led the fitness industry to face its own unique challenges of the year—and Austin's fitness industry is no exception.
Despite the drastic restrictions that most local Austin gyms have implemented, people continue to sign up for new memberships in the new year.
"More than ever people need things in their lifestyle that contribute to healthy mental wellness," Cody Butler, founder and owner of Heat Bootcamp, located in South Austin, said. "Exercise is what we're doing, but the benefits that we get from it are so much more than just how it changes our body, but how it provides mental wellness."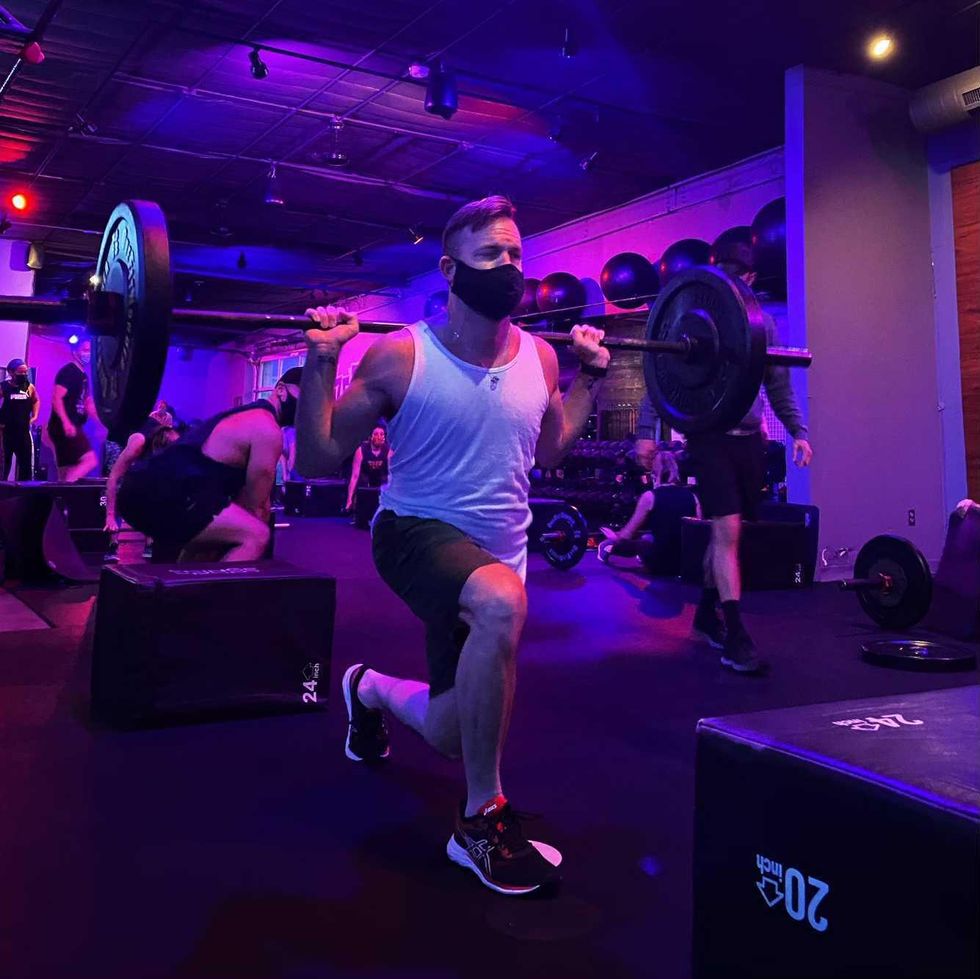 Cody Butler is the founder and owner of Heat Bootcamp. (Heat Bootcamp)
According to a 2018 study by the International Health, Racquet & Sportsclub Association, 12% of all new gym memberships occur in January. Every year, people begin the year in search of the physical benefits of exercise, however, as 2021 begins, people are in search of ways to improve their mental health through such turbulent times.

Jane Butler (unrelated to Cody Butler), an avid gym-goer, says her experience attending a gym during the pandemic brought her out of a "depression sinkhole" and kept her from feeling so alone.
"It gave me that mental clarity and refresh that I needed," she said. "I think everyone needs that during this time."
One of the primary reasons Jane feels comfortable attending a gym is because of the precautions the staff and other members adhere to.
At Heat Bootcamp, Cody has kept the fitness center at 35% despite other larger fitness centers jumping to the state-suggested 50% in early 2020 and 75% later in the year. In 2021, gyms are now mandated to keep capacity at 50%due to increased COVID-19 hospitalizations.
"Revenue is obviously very important to provide a business, but safety has been our main focus over packing people into classes and increasing revenue," he said.
As gyms reopened their doors last May, Heat Bootcamp implemented the same strict precautions they have in place today. According to Cody, these precautions, such as the 35% capacity, mask enforcement, 8-10 feet of social distancing, and individual workout pods, will stay in place in 2021. However, there are some less tangible things that will be different in the upcoming year.
"Our coaches have really had to dig deep into their creativity bags and create workouts that are just as fun and challenging as they were before when we didn't have to be in individual stations," Cody said. "So I feel like moving into 2021 we have a greater sense of community here."
Although many may be deterred by so many added precautions, Dane Krager, owner and founder of Dane's Body Shop said getting members on board was fairly simple.
"Whenever you set rules and you stick to them and your team is all on the same page and we're all following the same rule, it all trickles down," he said. "And whenever our members come in and they see us being so diligent with wiping equipment down, wearing our masks, how far away we're staying from people, they're just absorbed in that as well, and it just became more of a natural thing."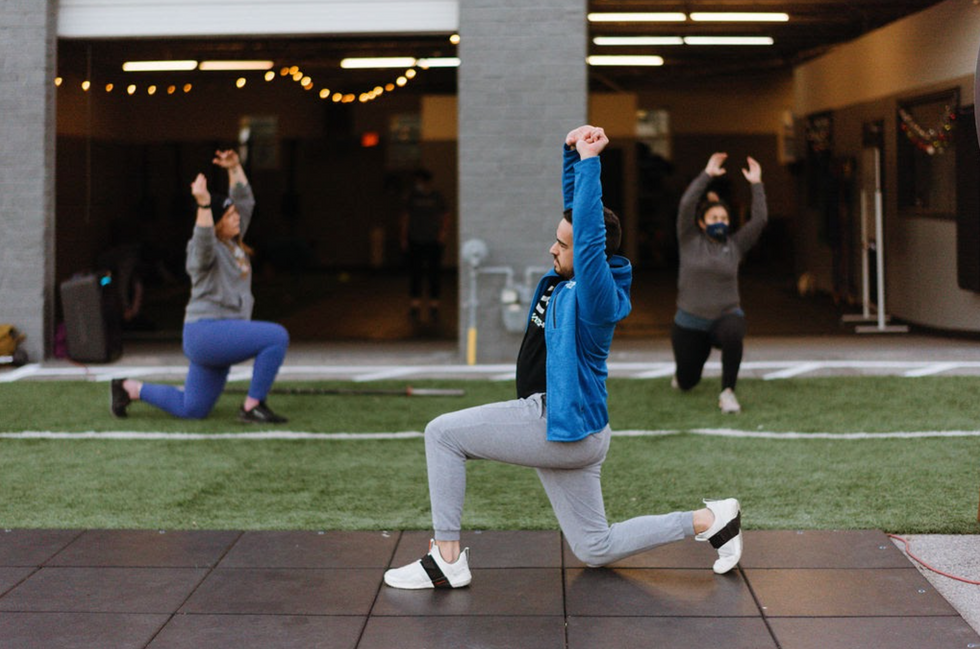 Dane's Body Shop turf area. (Dane's Body Shop)
As we begin an already turbulent 2021, many are looking forward in hopes of a brighter future.

Krager spoke about utilizing the gym's new location off Capitol Court in the new year as something he and his staff are looking forward to. He also wants to continue connecting with the community through various gym events.
In order to continue providing these events, however, discussions around the staff and members' safety are ongoing.
"It comes down to the respect that people have for each other and the love that people have for each other as a community," Krager said. "It's whenever you get loose on those rules, that things can tend to fall apart."
While 2020 brought challenges, some people have found solace in their fitness communities.
Krager said, "I truly couldn't have done any of this without my staff and community. . . I'm looking forward to making this business stronger in 2021."
First score made by LAFC. (Sonia Garcia/Austonia)
Austin FC couldn't find the stamina to fight off a 2-0 loss against LAFC for their inaugural match on Saturday.
The match, which saw No. 21 Austin FC go head-to-head with No. 2 LAFC in Los Angeles, was broadcast nationally on FOX and FOX Deportes.
Eleven players took the stage as Austin FC players for the first time, with five starters making their MLS debut. "Ringleader" Alex Ring took the captain's armband and wore it well. The defensive midfielder could be seen leading his teammates through their first ever match, but it wasn't enough to stage an Austin takeover in LA.
In the signature style of Head Coach Josh Wolff, the team played with quickness and intensity, nearly connecting on several fast breaks. It was harder for them to stay in front, however, something that Wolff credits with quick decision making and a tough LAFC defense.
"We have a quick attacking team, but I think when you make quick attacks and it fizzles it's just about some decision making," Wolff said. "Are we in position to finish attacks? If not, can we reestablish our attack and get stuff better?"
The club was given some generous breaks from No. 2 LAFC, who had one or both of their star DPs out for the half. While forward Diego Rossi is out for the entire match due to a hamstring injury, Carlos Vela was accidentally pulled too soon on what turned out to be a miscommunication.
"He gave us the sign that he needed to come off," LAFC Head Coach Bob Bradley said on broadcast. "I can't say more than maybe it's my fault."
LA pulled some dramatics and slowly gained more possession throughout the half, but ATXFC's defense wasn't initially as shaky as it seemed in preseason. Jhohan Romana has pulled his weight in getting the ball out of goal, and a 34-year old Matt Besler held his own in center back.
As the second half commenced, however, it became clear that LAFC had the advantage over Austin's first major league team.
Goalkeeper Brad Stuver had his work cut out for him, fending off 24 shot attempts, 11 of which were on goal. He didn't have much time to prepare, either: in the first 30 seconds of play, Stuver had already made a save to keep the match 0-0.
LAFC finally connected in the 61st minute of play as Corey Baird shot one into the bottom right corner. The team capitalized off their momentum and put one past Stuver a second time, drawing roars of approval from the LAFC crowd.
While some last-minute attempts from Jon Gallagher and others were made, Austin FC didn't have the endurance to bring a tie. After seven additional minutes of stoppage time, the club lost their first match 2-0.
While the scoreboard tells one story, Wolff said that the team did well considering the skill of LAFC and the pressure of their club debut.
"We've got to be realistic," Wolff said. "This is the first time this organization has been in front of TV with an opportunity to show itself and I think there were some promising moments. And we're going to maximize those and continue to try to develop those, but there's lots to build on."
The team may have lost, but it still won the support of thousands of Verde fans, dozens of which made it to watch their team's first match. When Stuver and the team made it to bthe stadium, Los Verdes fans were already there to show support, and Stuver said his wife saw the same back in Austin.

"The moment that we pulled into the stadium, we saw Black and Verde fans cheering us on as we got to the stadium," Stuver said. "During warm up, you can just look around and see different groups sitting in different sections of the stadium and it's just truly amazing to see the support in our first game. We know that we want to give the fans everything, because this we play for the city and we play for them."