Get connected with our daily update
The city of Austin has a $4.3 million plan to connect around 100 homeless residents at four camps around town with shelter or housing by the end of August. The camps will be designated non-camping areas within the same time frame.
---
Council adopted a resolution to fund and implement the Homeless Encampment Assistance Link, or HEAL, Initiative on Feb. 4. On Tuesday members received an update on the first phase of the plan from Dianna Grey, the city's recently appointed homeless strategy officer, who mapped out a four-step process, starting later this month, when the city will conduct an analysis of four camping sites around town and establish a potential central shelter location from which people can be connected to housing.
The initiative will continue regardless of the outcome of the May 1 election, during which city residents will vote on whether to reinstate the city's public camping ban. "I don't see anything on the horizon that would suggest a barrier to us doing outreach and moving folks into housing or shelter," Grey said during a council work session on Tuesday.
The camp sites and shelter location
Although the city declined to name the site locations, citing the privacy of camp residents, the HEAL resolution lays out criteria that suggests the camps will be those along East Cesar Chavez Street and the Ann and Roy Butler Hike and Bike Trail downtown, in front of the Terrazas Branch of the Austin Public Library in East Austin, at the intersection of Menchaca Road and Ben White Boulevard in South Central Austin and at the intersection of Hwy. 183 and Oak Knoll in Northwest Austin.
Starting this summer, the city and its partners will begin the process of relocating camp residents to a temporary shelter from which they can access transitional or permanent housing.
The city is looking primarily at facilities it already owns or leases to serve as the site of a shelter that can house around 50 people at a time in a non-congregate setting, which allows residents to have their own space and allows for social distancing and other pandemic protocols, Grey said.
Wherever the shelter is located, it will likely spark pushback, as seen with a separate strategy to purchase and convert hotel and motel properties into housing for homeless residents. There has been substantial resistance from residents and business owners near such sites.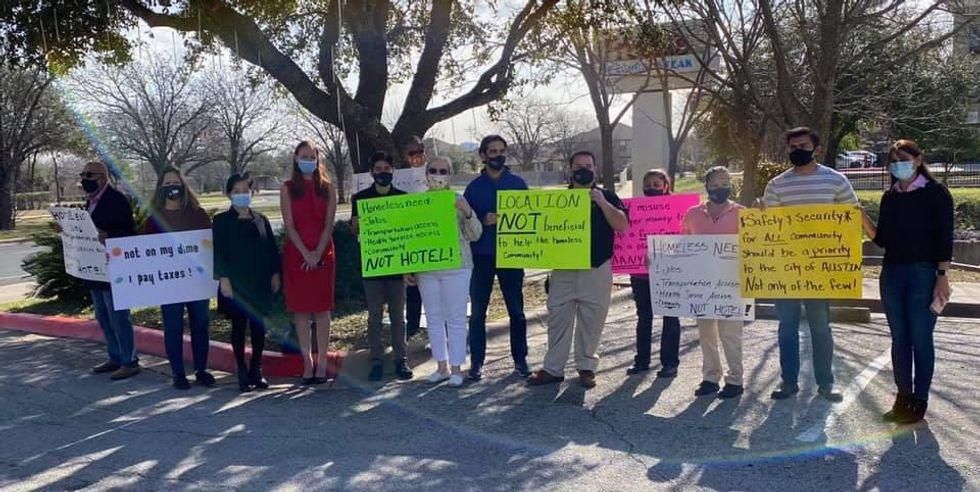 Council Member Mackenzie Kelly meets with constituents who opposed the conversion of a Northwest Austin hotel into a permanent supportive housing facility for homeless residents.(Mackenzie Kelly, Austin City Council/Facebook)
"One of the things that we're doing as part of our due diligence is reaching out to those neighborhood associations in the immediate vicinity of the (shelter) facility to talk to them … and ameliorate any of those concerns that might exist," Grey said.

Next steps
After camp residents are relocated to the shelter, residents will be directed to transitional or permanent housing. "Providing immediate access to very low-barrier shelter with direct connections to housing resources is integral to the success of this strategy designed to help end unsheltered homelessness," Grey wrote in a Tuesday memo to council.
An oft-cited concern is that homeless residents will resist housing or other support services. Although the city will not force any unsheltered homeless residents into housing, Grey said the more pressing issue is inadequate housing supply. "We have an extraordinarily long waitlist for housing," she said, adding that some people may turn down offers to live at a congregate shelter or some other location that does not meet their specific needs.
The 2020 point-in-time count, an annual census of the city's homeless population, found 1,574 unsheltered homeless people, a nearly 45% increase compared to 2019, according to the Ending Community Homelessness Coalition. The 2021 count was canceled due to the pandemic.
Meanwhile, the city will work to restore the sites, at which camping will no longer be permitted, and work to ensure voluntary compliance using non-punitive measures, such as landscaping, adding amenities such as a community garden or playgrounds, and fencing.

Council will be updated on the HEAL Initiative on May 4, three days after city voters decide whether to reinstate the camping ban.
In a win that brought on the passion from Formula 1's biggest rivals, 24-year-old Max Verstappen won his first U.S. Grand Prix as he bested seven-time champ Lewis Hamilton by less than a second at Austin's Circuit of the Americas on Sunday.
Hamilton, who has won the USGP for Mercedes seven times before, snuck up on Verstappen's lead for the final 15 laps but was unable to beat the Dutchman as Verstappen took a more decisive lead in the 2021 standings. Verstappen is now 12 points ahead of his veteran foe with just five races to go.
After a weekend of big-name performances, celebrity appearances and wacky entertainment, all eyes were on Austin as the fest came to a dramatic end for the final 2 p.m. race.

The 56-lap Texas showdown saw plenty of lead changes between the two stars.
It was Red Bull Racing's Verstappen who nabbed the pole position in a stormy qualifying race on Saturday, but Hamilton quickly closed the 260-yard-gap to take the first lead of the final race. With a well-timed pit stop from Verstappen, however, the young driver edged out Hamilton by six seconds early in the race.
Hamilton's younger tires won him over for the next several laps as he closed the lead, while a slowing Verstappen opted for a new set of hard tires as he took another pit stop in the 29th lap. Hamilton's brief lead lasted until a pit stop of his own that once again had him trail 7.8 seconds behind his competitor in the 37th lap.
With 15 laps to go, Hamilton had halved his lead and took the fastest lap of the race to earn an extra point in the season's standings. It was anyone's battle as the final five laps saw a bumper-to-bumper showdown between the two as Hamilton cut down to less than within one second behind Verstappen. But with Verstappen's cool head and a gust of dirty air, Hamilton was unable to make a last-ditch effort for another U.S. title as he lost the race by 1.33 seconds.
Despite losing the race, Hamilton fist-bumped Verstappen at the end and said the competition's far from over between the two racing greats.
"What a great race down to Turn 1," Hamilton told reporters. "I thought for a second that we might be out to win the race, but we'll have to win the next one."
Verstappen's teammate Sergio Perez, a Mexico native, saw thousands of supporters from his home country as he landed the third-place title in the race. Meanwhile, Hamilton's teammate Valtteri Bottas edged past Carlos Sainz to win a bumper-to-bumper battle for sixth place in the last lap of the race. Ferrari's Charles Leclerc and Mercedes McLaren's Daniel Ricciardo rounded out the top five in fourth and fifth, respectively.
While the lead has widened between the sports' biggest rivals, there is still plenty of time for either to take the throne as they head into the final five races.
Despite losing a race that they normally win, Mercedes' Toto Wolff said they are very much in the running as they head to Mexico City for another showdown at the Mexican Grand Prix on Sunday, Nov. 7.
"We are right there," Wolff said. "It's just good fun for everybody and there's pressure, but it's positive pressure."
Hamilton and Verstappen will once again face off in North America for the Mexican Grand Prix on Sunday, Nov. 7 in Mexico City.
Here are the biggest highlights and final results for the first U.S. Grand Prix since 2019:
Final standings
Max Verstappen, Red Bull Racing
Lewis Hamilton, Mercedes
Sergio Perez, Red Bull Racing
Charles Leclerc, Ferrari
Daniel Ricciardo, McLaren Mercedes
Valtteri Bottas, Mercedes
Carlos Sainz, Ferrari
Lando Norris, McLaren
Yuki Tsunoda, AlphaTauri
Sebastian Vettel, Aston Martin
Antonio Giovinazzi, Alfa Romeo
Lance Stroll, Aston Martin
Kimi Räikkönen, Alfa Romeo
George Russel, Williams
Nicholas Latifi, Williams
Mick Schumacher, Haas
Nikita Mazepin, Haas
Drivers Fernando Alonso (Alpine), Esteban Ocon (Alpine), and Pierre Gasly (AlphaTauri) did not finish.
Lap 50—1.5 seconds separates the leaders
LAP 50/56

Deep breaths everyone, hold it together 😅

Under 1.7 seconds now between Hamilton and Verstappen ⏰👀#USGP 🇺🇸 #F1 pic.twitter.com/qi0aKnJezT

— Formula 1 (@F1) October 24, 2021
Hamilton has improved a six-point deficit for first as his younger tires take him within 1.5 seconds of Verstappen by the 50th lap. With six laps to go, Hamilton continues to beat out Verstappen in lap times, but some think Verstappen is holding out on speed.
Hamilton will need to bully his way past Verstappen very shortly if he's to take his seventh U.S. Grand Prix title, while Verstappen will need to keep his wits if he's to take his first.
Lap 43—Bumper car battle for fifth
LAP 43/56

It's getting spicy between Sainz and Ricciardo 🔥

The two touch as Sainz tries to move round the outside of the McLaren 👀#USGP 🇺🇸 #F1 pic.twitter.com/Qx1zDAQy7W

— Formula 1 (@F1) October 24, 2021
With just over half of a second between the two, Sainz and Riccardo briefly get a bit too close as both cars make contact in the 43rd lap.
Dirty talk abounds—Sainz says Riccardo drove "a bit dirty" with a wide turn in Lap 10—and a bit of damage to Sainz's left-wing may not bode well for him in the remainder of the race. Meanwhile, Bottas encroaches both drivers with less than a second behind himself and Sainz in seventh place.
Lap 41— Hamilton encroaches Verstappen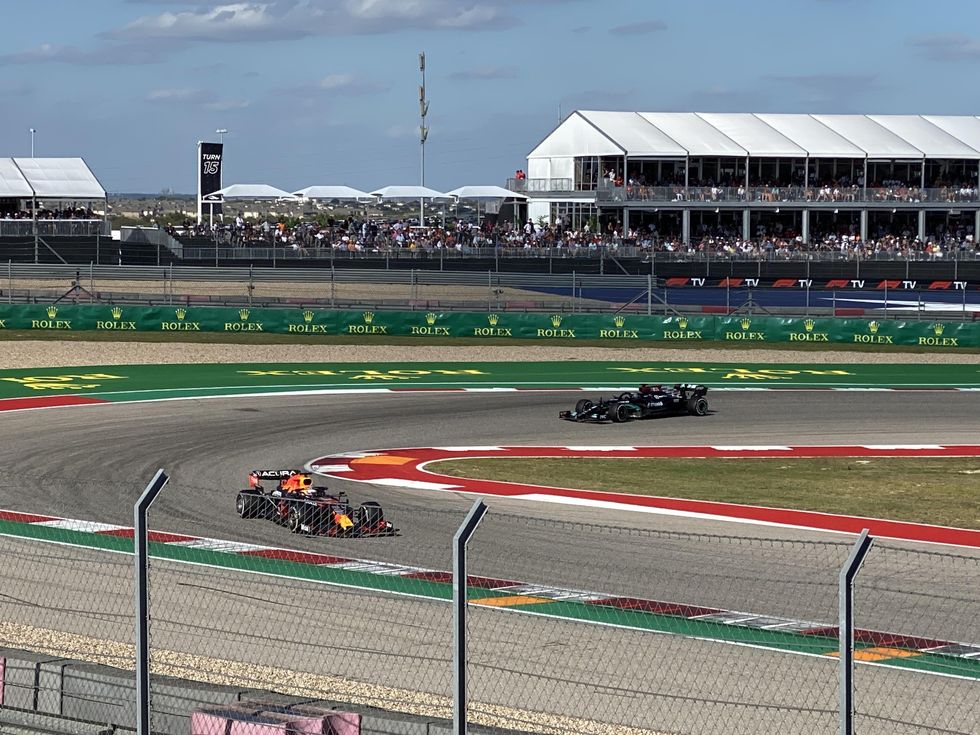 Hamilton charged Verstappen for the final half of the race. (Austonia)
While Verstappen works to weave past the back of the pack as he laps them, Hamilton briskly follows. By Lap 41, he logs the fastest lap of the match, beating Sergio Perez, with a time of 1:39.781. He's now just 3.8 seconds behind a leading Verstappen with less than 15 laps to go.
Lap 37—Hamilton pits, Verstappen takes lead
LAP 37/56

Hamilton comes into the pits

The lead has changed hands once again, with Verstappen back into P1 👀#USGP 🇺🇸 #F1 pic.twitter.com/RCcnpxFR7b

— Formula 1 (@F1) October 24, 2021
Despite a decently quick pit stop—over two seconds shorter than Verstappen's—Hamilton falls 7.8 seconds behind Verstappen as the lead once again switches hands.
Lap 29—Verstappen returns to pit, Hamilton closes lead
LAP 33/56

📻 TOTO: "You're racing for the win Lewis"

📻 LEWIS: "Leave it to me bro, thanks" #USGP 🇺🇸 #F1 pic.twitter.com/uiKgvtKiHH

— Formula 1 (@F1) October 24, 2021
After falling by as many as six seconds near the beginning of the race, Hamilton slowly began encroaching on Verstappen's lead. The Mercedes driver came within three seconds of Verstappen before the leading Dutchman took a pit stop in the 30th lap to opt for a fresh set of hard tires.
Meanwhile, a battle for fifth place has seen both Carlos Sainz, who was less than a second behind Daniel Ricciardo, to take a pit stop. Ricciardo soon followed. Hamilton's teammate Valtteri Bottas earns a temporary fifth place slot, and Ricciardo keeps a lead over Sainz in sixth.
2:25- Verstappen wins over strategy
LAP 14/56

Hamilton comes into the pits

And he comes out behind Verstappen! 😮#USGP 🇺🇸 #F1 pic.twitter.com/7YS4iHz4Sf

— Formula 1 (@F1) October 24, 2021
Hamilton may have grabbed an early lead, but Verstappen's well-timed pit stop in lap 11 put him six seconds ahead of his British foe by lap 14. Verstappen is now comfortable as Red Bull Racing wins the strategy side of the race.
Meanwhile, Red Bull's Perez has reached the No. 3 spot with Hamilton sandwiched in between. The middle race is beginning to expand as Charles Leclerc advances his fourth-place lead over a fifth-place Ricciardo.
2:08 p.m.—Hamilton takes lead, sets fastest lap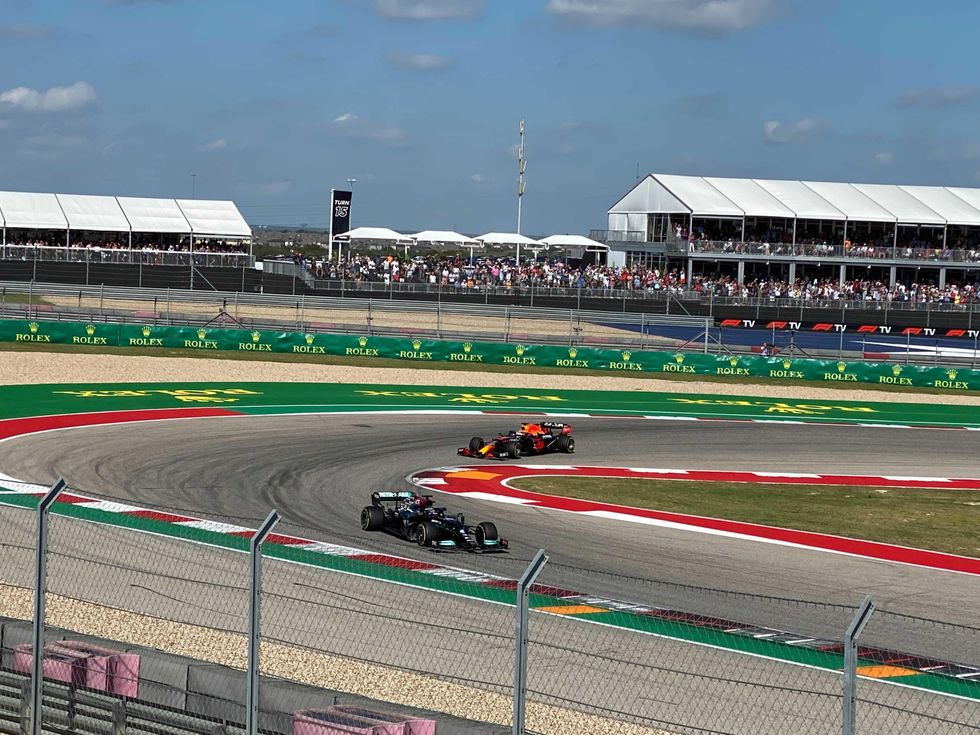 Hamilton is edging out Verstappen in the U.S. Grand Prix race. (Austonia)
Even with a 260-yard deficit, it's Hamilton who edges out Verstappen to take the lead at the start of the race despite being squeezed by Verstappen at the top of the hill. A few minutes later, Hamilton sets a lap-best time at 1:41.071.
Sunday, 1:30—drivers, cars heat up for the big race
Hamilton, Verstappen and the other 20 drivers are warming up their cars and minds as the clock ticks down for the final race.
The starting grid is buzzing with excitement as Verstappen arrives at around 1:15, with Hamilton hitting the grid around 10 minutes later.
The rivals' cars are wheeled just 260 yards apart, a small margin that Hamilton will attempt to close by the end of the first lap on the 20-turn track.
Sunday—Celebrities take COTA as the race heats up
Serena Williams #F1 #USGP pic.twitter.com/jDxSZi40ub

— Bruno HQ (@iPicsHQ) October 24, 2021
As one of the United States' premier racing competitions, it's no surprise that a star-studded cast—and audience—have contributed to the excitement of the race.
Performances from Twenty One Pilots, Billy Joel and Travis Scott have riled up the crowd, while NBA star-turned-DJ Shaquille O'Neal will be performing as DJ Diesel for the race after party.
IndyCar racing great Danica Patrick is commentating nationwide for the race after a decorated career as one of the most prominent female drivers ever in the sport.
The U.S. Grand Prix has seen anyone from former President Bill Clinton to star chef Gordon Ramsey in past crowds, and this year is no different. Shaq's fellow NBA star Chris Bosh has been spotted this weekend as well as tennis star Serena Williams, Texas rapper Megan Thee Stallion and actor William Fichtner.
There's sure to be many more celebs embedded in that thousands-strong crowd, so keep your eyes peeled!
Sunday—Chadwick takes W Series Championship title
A 𝗗𝗢𝗨𝗕𝗟𝗘 @WSeriesRacing champion 🔥 pic.twitter.com/PFr1gSUvY3

— Williams Racing (@WilliamsRacing) October 24, 2021
Formula 1 may be taking the limelight this weekend, but a high-stakes competition took place just before the big race on Sunday morning as the Women's Series' Jamie Chadwick took her second consecutive championship title in Austin.
The 2021 W Series champ took her crown after winning both races this weekend. After taking the Saturday race, Chadwick cruised to victory with a five-second lead over a second-place Abbi Pulling to win the championship over rival Alice Powell.
Chadwick defeated Powell for her second U.S. Grand Prix win since the last race in 2019, earning $500,000 in the process. The W Series, which is free-to-enter unlike Formula 1 and hopes to level out the financial playing field for men and women, is a developmental league that also provides 15 FIA super licence points to season winners. With enough super licence points, W Series drivers can level up to Formula 3 competitions and eventually beyond as they begin to compete against male drivers.
Saturday, 4 p.m.—Verstappen wins first, Hamilton takes second in qualifiers
It's @Max33Verstappen's ninth pole of 2021!#USGP 🇺🇸 #F1 pic.twitter.com/gp7RIlrOaf

— Formula 1 (@F1) October 23, 2021
In a three-round battle on Saturday, Verstappen flipped the switch from the day's practice rounds as he took a last-second lead over Hamilton to win the pole position, or first slot, in Sunday's starting grid on Saturday's qualifiers.
But it wasn't an easy battle. Verstappen's teammate Perez, a Mexico native, earned cheers from plenty of fans from his neighboring home country as he held the lead through the 10-minute round. Hamilton, who had been flanked behind both Red Bull foes, pulled a last-second lead to finish the finals and looked to take the pole position.
As rain began to fall, however, Verstappen pumped the gas for one final lap and won the pole position from his Team Mercedes foe.
It's Verstappen's first pole position on U.S. soil as he looks to take his first U.S. Grand Prix.
Click here for more information on the qualifiers.
Saturday morning—Ricciardo drives Earnhardt's 1984 car
Think @DanielRicciardo might have enjoyed that. 😅 #USGP 🇺🇸 pic.twitter.com/qfkGnEl0sO

— McLaren (@McLarenF1) October 23, 2021
Just as early fans began to trickle in, McLaren Mercedes' Daniel Ricciardo broke the crisp morning air with a roar as he drove some donuts in Dale Earnhardt's 1984 Wrangler car.
Ricciardo fulfilled his childhood dream—unlike many of his competitors his racing heroes growing up were his dad and Earnhardt, a seven-time NASCAR champion. Ricciardo collected many of Earnhardt's model cars growing up, but he never got his hands on this one until now, according to a report from ESPN.
After the exhibition laps, a breathless Ricciardo told reporters about the exhilarating experience.
"I can't speak," Ricciardo said. "That was fun, I think I'm still a little bit high right now."
Ricciardo's joyride caught the attention of Dale Earnhardt's son, NASCAR driver Dale Earnhardt, Jr, who responded with a tweet that gave Ricciardo "goosebumps."
"I'm happy for Daniel," Earnhardt Jr. said. "I'm also appreciative for how he celebrates my father. That makes a lot of dads family members and fans smile."
Austin FC defeated its fellow Texas MLS team, Houston Dynamo FC, 2-1 on Sunday afternoon at Q2 Stadium, marking the club's eighth win of its inaugural season.
It was an unusual match from a scoring perspective, more own goals—when the opposing team inadvertently scores on their own net—were scored than honest ones.
The Verde and Black came out of the gates strong in the first half, dictating the possession and pace from the outset. Austin FC drew two fouls, was awarded two corner kicks and got off three shots all in the first five minutes of action. Austin was rewarded for its effort with a penalty in the sixth minute.

Austin midfielder Cecilio Domínguez drew the penalty by driving up the left wing before being tackled from behind by Houston defender Zarek Valentin just inside the area. It was then Domínguez who stepped up to take the shot. Taking aim with his right foot, the shot bounced off the left post, then the right before bouncing off goalkeeper Marko Maric of the Dynamo and into the goal. Maric was credited with an own goal and Austin found itself ahead 1-0 early on.
Well...you don't see that very often. #VERDE https://t.co/JwBNVKqCxD

— Major League Soccer (@Major League Soccer) 1635111133.0
Following the defensive mistake, the Dynamo played with a heightened sense of urgency for the remainder of the half.
And just as the action seemed to be winding down before halftime, Austin launched one last-ditch attack in the final minute of stoppage time. Team captain Alex Ring got the ball in a dangerous position just outside of the box and after dodging several Houston defenders, got the ball to the open Sebastián Driussi. Driussi fired off a right-footed shot into the bottom left corner to take Austin FC up 2-0 going into the break.
Besides a two-goal advantage for Austin, the stats were fairly even in the first half. Both teams committed six fouls and had a player booked for a yellow card. Houston had a slight advantage shooting the ball, getting off eight shots and three on target while Austin had seven shots and two on target.
Austin once again came out quick to start the second half, getting off two shots in the first minute followed by two more in the 53rd minute. All were handled by the Dynamo defense.
As the final whistle neared, the Dynamo ramped up its aggression in an attempt to squeak by with a draw. Just as it seemed that Austin FC would walk away with the clean sheet, defender Julio Cascante sent the ball into his own net after it was cleared by his teammate and ricocheted off of his body.
Now only trailing 2-1, Houston tried desperately to even the score and was awarded two corners in the final minute of stoppage. Alas, the Dynamo could not get off a shot and Austin FC walked away with the win.
With the win, Austin now holds a 2-1 all-time record against the neighboring Houston. Austin remains at the bottom of the Western Conference in 13th place with a record of 8-19-4 while Houston is in 11th place.
Austin FC's next match will be away against FC Dallas on Oct. 30. Dallas FC joins them at the bottom in 12th place.
Austin's Delta 8 industry has been turned on its head after Texas health officials clarified that the cannabinoid is on the state list of illegal substances, though it was previously believed to be legal by most retailers, consumers and manufacturers.
House Bill 1325, which was signed in June 2019 by Gov. Greg Abbott, and the Farm Bill, signed into law by former President Donald Trump in 2018, legalized any hemp product containing less than .3% THC. The same bills were thought to have made Delta 8 legal, though the Texas Department of State Health Services added a notice on its website saying it was still a controlled substance as of Friday, Oct. 15.
Both the federal and state governments keep separate lists on what is considered a controlled substance. Marijuana is considered Schedule I, a category reserved for substances with "no currently accepted medical use and a high potential for abuse," both statewide and federally.
Austin-based CBD retailer Grassroots Harvest CEO Kemal Whyte, like many CBD shop retailers, was blindsided by the announcement. Many small businesses rely on Delta 8 for their sales—Green Herbal Care CBD said about 90% of its sales come from Delta 8—and Whyte said he is frustrated by the inconsistencies in the drug scheduling system.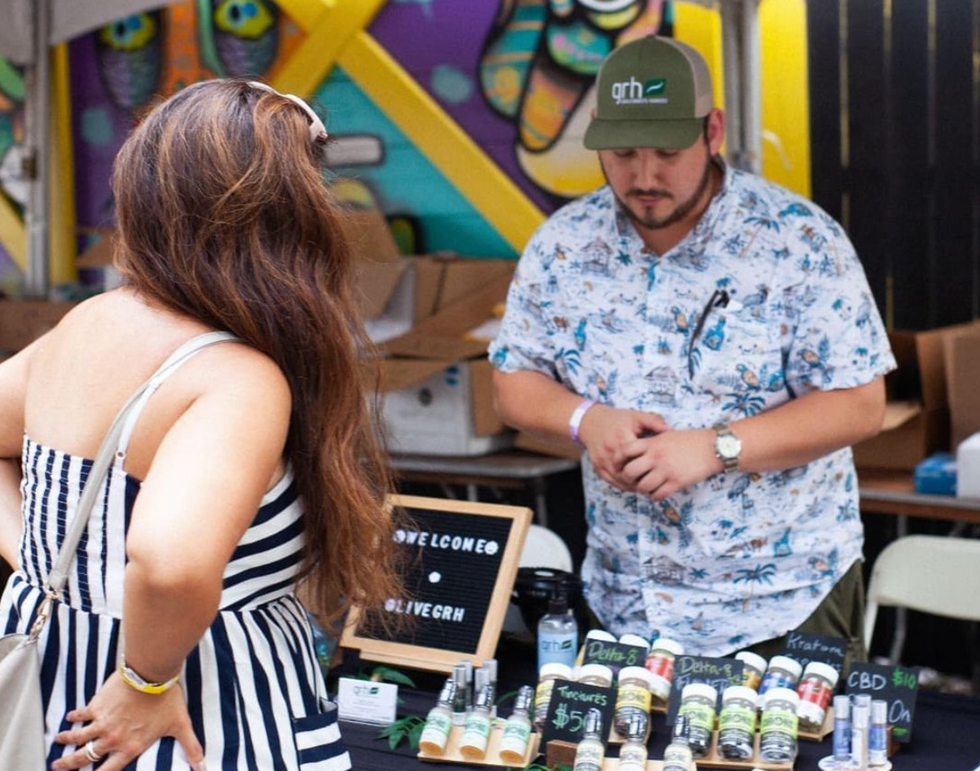 (Grassroots Harvest/Instagram)
Since 87% of Texans support the legalization of marijuana, at least for medical use, per a recent poll, Whyte said he wonders who this legislation is for.
"It's gonna have a massive impact on small businesses—there's just no way around it," Whyte said. "The reality is, we don't want to push out anything bad for our customers, we want this to benefit our customers and to help them. If we can make money while doing it, that's the American dream. What are we doing, whose benefit is this for?"
Delta 8 surged in popularity after the perceived legalization—consumers enjoyed its lower psychotropic potency, decreased anxiety while using it and the peace of mind as a legal way to get high. So in order to protect their products and livelihoods, both Grassroots Harvest and Austin-based manufacturer Hometown Heroes are taking legal action.
Whyte said Grassroots Harvest is suing DSHS, saying their action is creating negative effects in the market. Meanwhile, a Hometown Heroes spokesperson said the company is in the process of filing a temporary restraining order that would pause the ban on Delta-8 in the state of Texas.
Threats against Delta 8 are not new—DSHS lost a lawsuit trying to make "smokable hemp products" illegal last year and Texas lawmakers had been considering a bill that would make Delta 8 illegal, though it was dropped after the clarification was made.
Hometown Heroes released a formal statement in response to the DSHS rule.
"I need to be clear—we love Texas, we're just choosing to fight for the will of the people in regards to cannabis in Texas," Hometown Hero CEO Lukas Gilkey said in a statement. "(Texas DSHS) are using backhanded ways to create legislation and go against the will of the people."
Whyte laments the fact that it would be easier legally to "open up a strip club that also sells guns," and said he can't post customer testimonials that mention the benefits of Delta 8 without getting hit with a cease and desist from the Food and Drug Administration. Whyte said he isn't opposed to regulation—far from it—he just wants to see it go through the correct channels.
"The fact that they're stunting our ability to communicate with our clients that want to learn about this, you're preventing us from communicating with them and teaching them, or spreading information that we know," Whyte said. "I think that that in and of itself opens up a lot of questions."
Grassroots Harvest still has Delta 8 products on its shelves for the time being but for how long, Whyte doesn't know.