Get connected with our daily update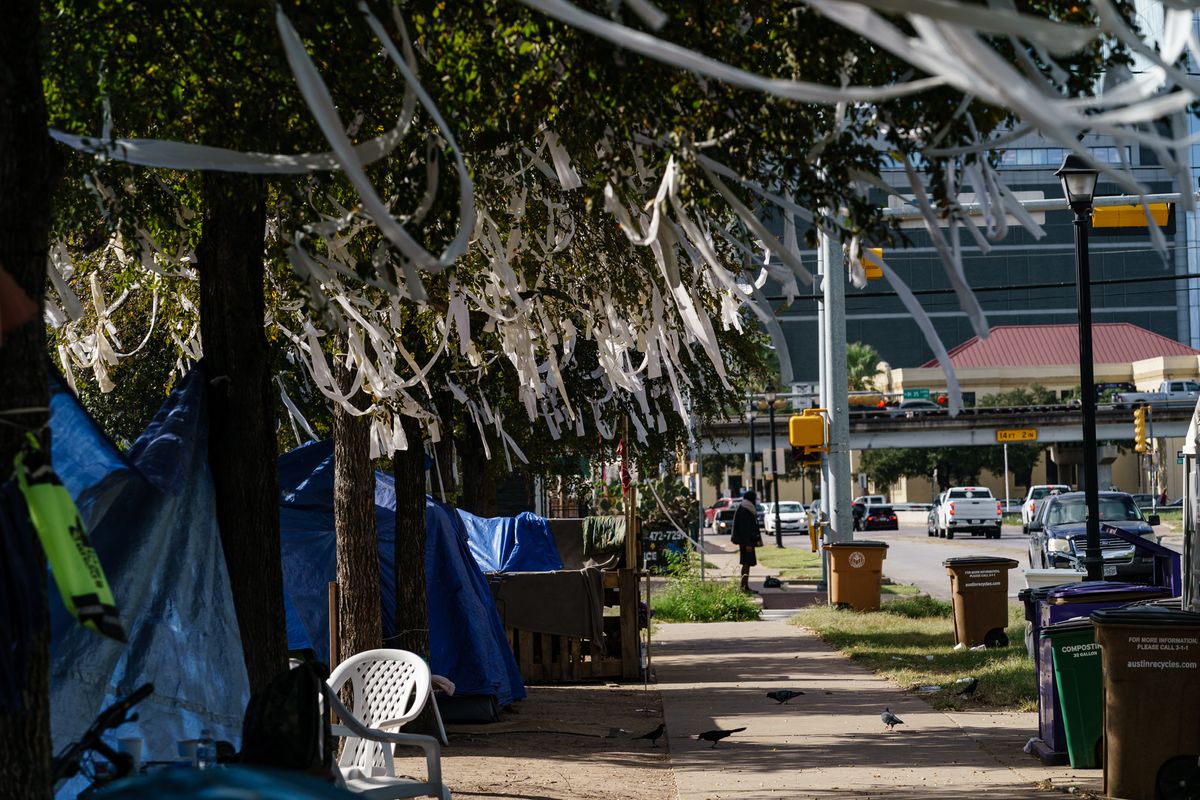 The city of Austin has a $4.3 million plan to connect around 100 homeless residents at four camps around town with shelter or housing by the end of August. The camps will be designated non-camping areas within the same time frame.
---
Council adopted a resolution to fund and implement the Homeless Encampment Assistance Link, or HEAL, Initiative on Feb. 4. On Tuesday members received an update on the first phase of the plan from Dianna Grey, the city's recently appointed homeless strategy officer, who mapped out a four-step process, starting later this month, when the city will conduct an analysis of four camping sites around town and establish a potential central shelter location from which people can be connected to housing.
The initiative will continue regardless of the outcome of the May 1 election, during which city residents will vote on whether to reinstate the city's public camping ban. "I don't see anything on the horizon that would suggest a barrier to us doing outreach and moving folks into housing or shelter," Grey said during a council work session on Tuesday.
The camp sites and shelter location
Although the city declined to name the site locations, citing the privacy of camp residents, the HEAL resolution lays out criteria that suggests the camps will be those along East Cesar Chavez Street and the Ann and Roy Butler Hike and Bike Trail downtown, in front of the Terrazas Branch of the Austin Public Library in East Austin, at the intersection of Menchaca Road and Ben White Boulevard in South Central Austin and at the intersection of Hwy. 183 and Oak Knoll in Northwest Austin.
Starting this summer, the city and its partners will begin the process of relocating camp residents to a temporary shelter from which they can access transitional or permanent housing.
The city is looking primarily at facilities it already owns or leases to serve as the site of a shelter that can house around 50 people at a time in a non-congregate setting, which allows residents to have their own space and allows for social distancing and other pandemic protocols, Grey said.
Wherever the shelter is located, it will likely spark pushback, as seen with a separate strategy to purchase and convert hotel and motel properties into housing for homeless residents. There has been substantial resistance from residents and business owners near such sites.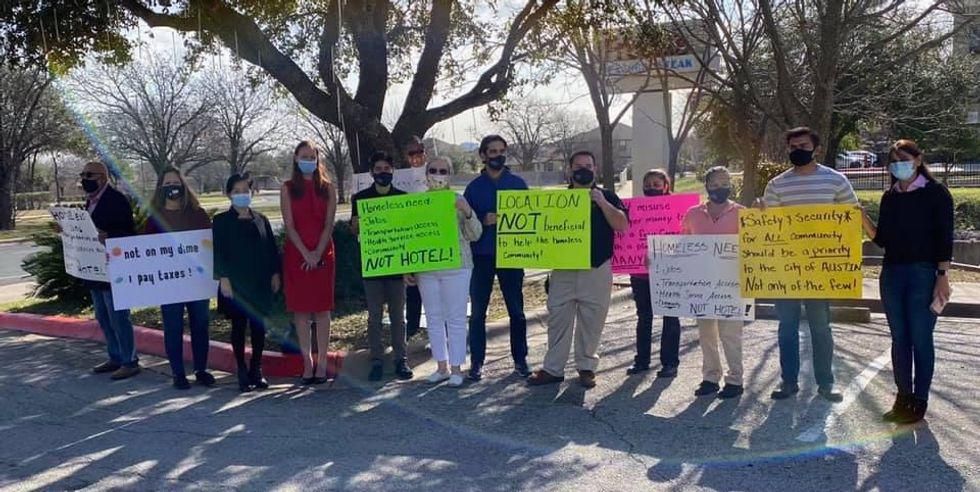 Council Member Mackenzie Kelly meets with constituents who opposed the conversion of a Northwest Austin hotel into a permanent supportive housing facility for homeless residents.(Mackenzie Kelly, Austin City Council/Facebook)
"One of the things that we're doing as part of our due diligence is reaching out to those neighborhood associations in the immediate vicinity of the (shelter) facility to talk to them … and ameliorate any of those concerns that might exist," Grey said.

Next steps
After camp residents are relocated to the shelter, residents will be directed to transitional or permanent housing. "Providing immediate access to very low-barrier shelter with direct connections to housing resources is integral to the success of this strategy designed to help end unsheltered homelessness," Grey wrote in a Tuesday memo to council.
An oft-cited concern is that homeless residents will resist housing or other support services. Although the city will not force any unsheltered homeless residents into housing, Grey said the more pressing issue is inadequate housing supply. "We have an extraordinarily long waitlist for housing," she said, adding that some people may turn down offers to live at a congregate shelter or some other location that does not meet their specific needs.
The 2020 point-in-time count, an annual census of the city's homeless population, found 1,574 unsheltered homeless people, a nearly 45% increase compared to 2019, according to the Ending Community Homelessness Coalition. The 2021 count was canceled due to the pandemic.
Meanwhile, the city will work to restore the sites, at which camping will no longer be permitted, and work to ensure voluntary compliance using non-punitive measures, such as landscaping, adding amenities such as a community garden or playgrounds, and fencing.

Council will be updated on the HEAL Initiative on May 4, three days after city voters decide whether to reinstate the camping ban.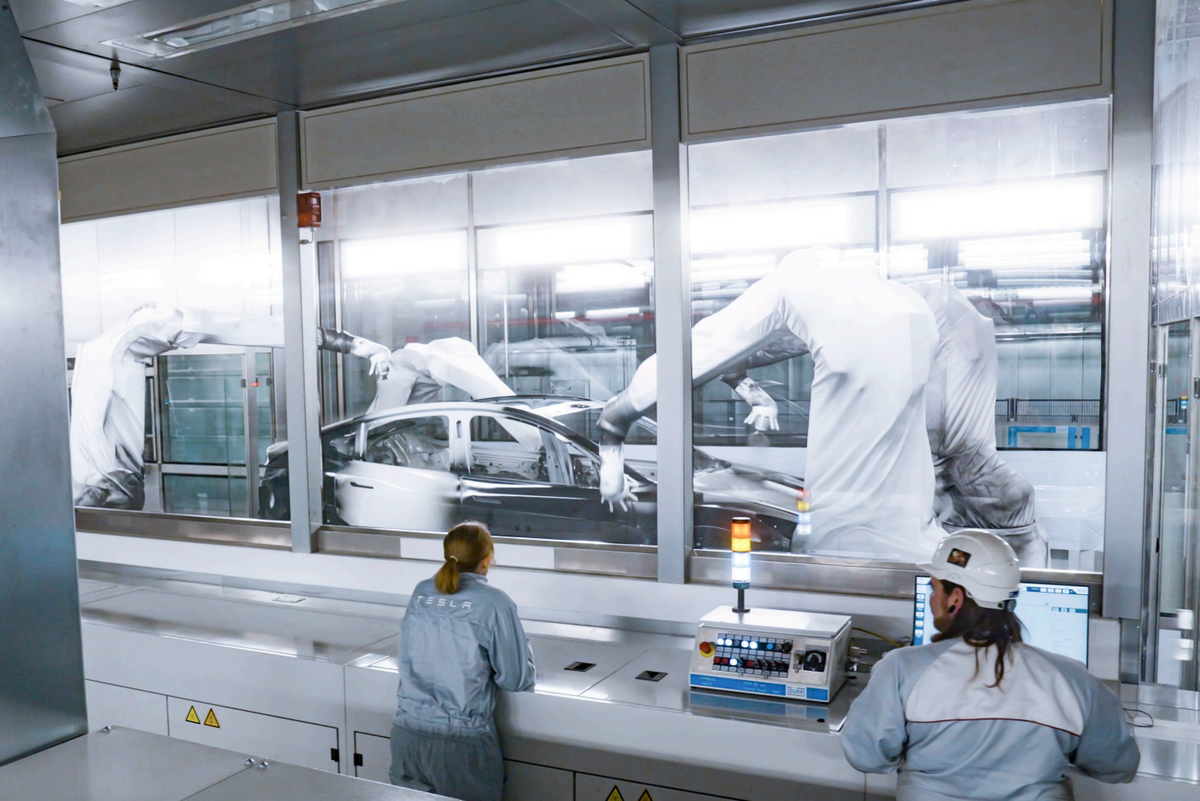 Someday, electric vehicles could go distances fit for road trips across Texas.
Researchers at the University of Texas at Austin, who have previously made strides in the lithium-ion battery industry, have developed a new electrode for such batteries that could draw greater power and allow faster charging.
So far, the research has looked at just a single type of battery electrode and is in its early stages. But it offers exciting potential as some buyers consider driving range an important factor when making the switch to an EV or picking one.
Tesla's Model Y being produced out of Giga Texas, for example, offers an estimated 330-mile range, which is lower than what many have become accustomed to in gas-powered vehicles.
So UT professor Guihua Yu, along with other researchers, had their findings on battery electrodes published in the Proceedings of the National Academy of Sciences.
"The unprecedented growth of electric vehicles during the past decade has played an indispensable role in paving the way for a carbon-neutral future," the researchers write.
That's why it's key to address a hitch with next-generation batteries, where restacking material can cause "significant bottlenecks" in charge transport, Yu says. Consequently, it can be difficult to achieve high energy and fast charging.
To tackle the sluggish reactions of electrodes, the team used thin two-dimensional materials as the building blocks and stacked them to create thickness. Then, they used a magnetic field to manipulate their orientations and put the materials in vertical alignment. In doing so, researchers essentially made a fast lane for ions to travel through the electrode.
They compared their results to a commercial electrode and a horizontally arranged one for experimental control purposes. In that comparison, they recharged the vertical thick electrode to 50% energy level in 30 minutes. The horizontal electrode took 2 hours and 30 minutes.
Zhengyu Ju, a graduate student in Yu's research group who is leading this project, said the team's electrode shows superior electrochemical performance.
In part, that's "thanks to the unique architecture we designed," Ju said. It ultimately allowed for high mechanical strength, high electrical conductivity and facilitated lithium-ion transport.
Going forward, the team aims to generalize their methodology of vertically organized electrode layers to apply it to different types of electrodes using other materials. They imagine if this technique becomes more widely adopted in industry, it may create future fast-charging, high-energy batteries to power EVs.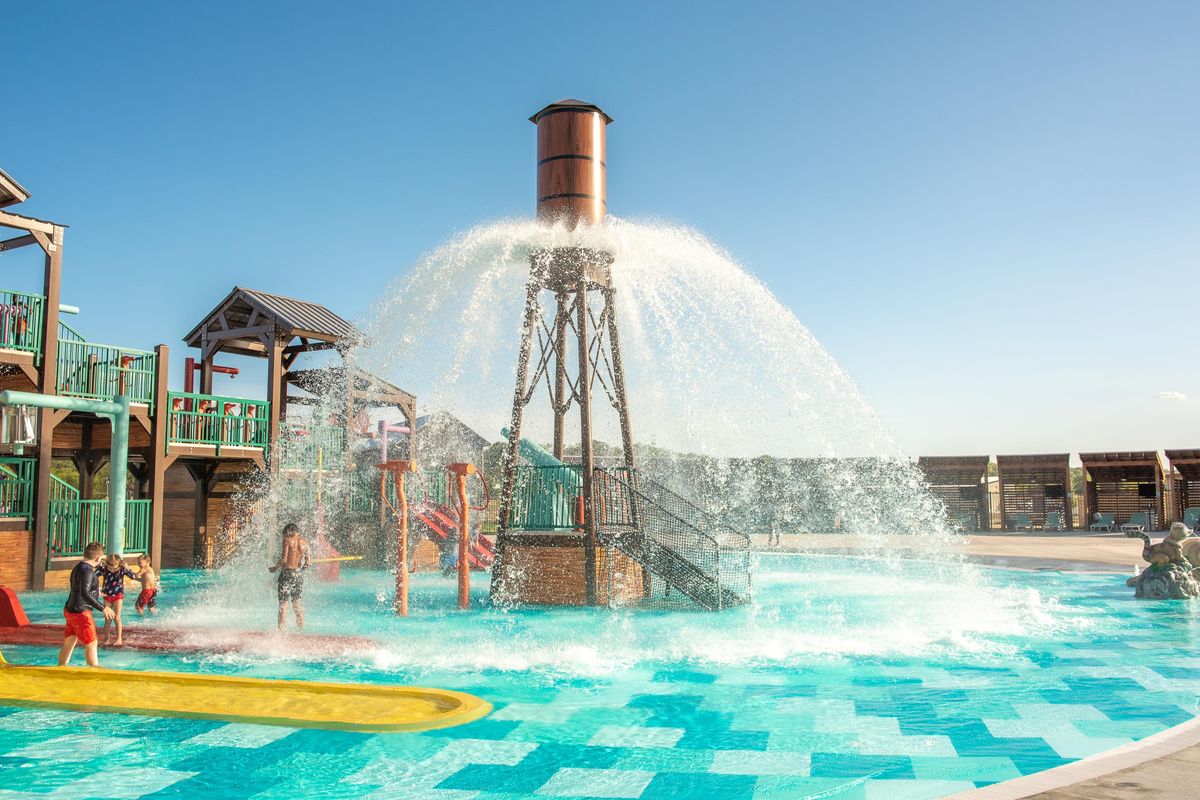 Camp Fimfo Waco
Camp Fimfo Waco, a brand new camping resort, is kicking off football and fall camping season in style! With top-notch amenities, premium accommodations, and 10 weekends of fall fun, there's no better place to have a fall camping getaway, especially if you're a Baylor football fan!
Fall promises to be a one-of-a-kind camping experience. From Sept. 16 to Nov. 24, weekends will be packed with fall-themed activities, including special Halloween weekends in October. Campers can enjoy activities like fall crafts, campground trick-or-treating, costume contests, site decorating, outdoor movie nights, and more!