Get connected with our daily update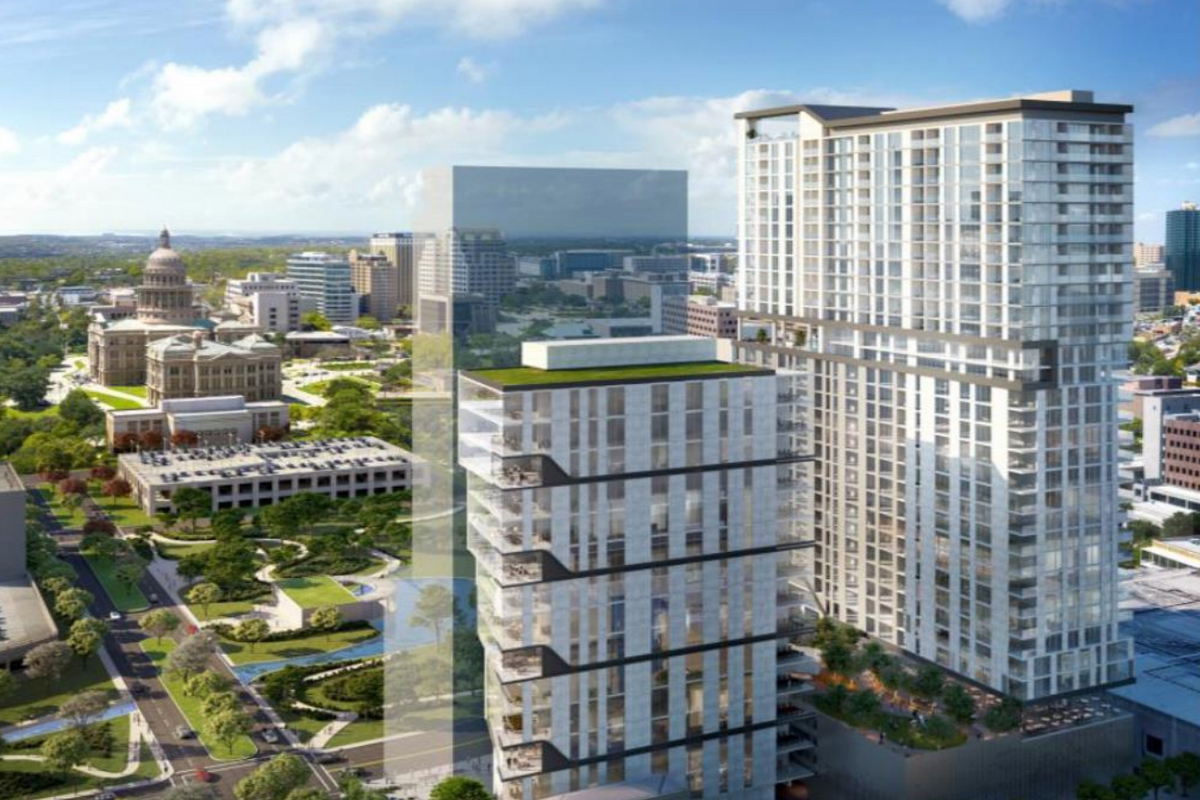 (City of Austin)
Austin City Council will decide next week whether to enter into preliminary negotiations with Aspen Heights Partners regarding the redevelopment of the former Health South property and its accompanying parking garage, on Red River Street.
---
The Health South site, at 1215 Red River Street, would be part of the city's burgeoning health innovation district—a nexus of academic, business and public tenants focused on new health policies, systems and products—along with the redeveloped Brackenridge Campus, Dell Medical School and Dell Seton Medical Center.
As proposed, the district could provide nearly 3,000 new permanent jobs, increased land value, a new property tax base and $800 million in economic output, according to an analysis commissioned by the Downtown Austin Alliance.
It would also be surrounded by other destinations—including the University of Texas at Austin campus, the urban parks network Waterloo Greenway, the Red River Cultural District and the Capital Complex—and served by a realigned Red River Street, which UT is constructing to make space for its new basketball stadium.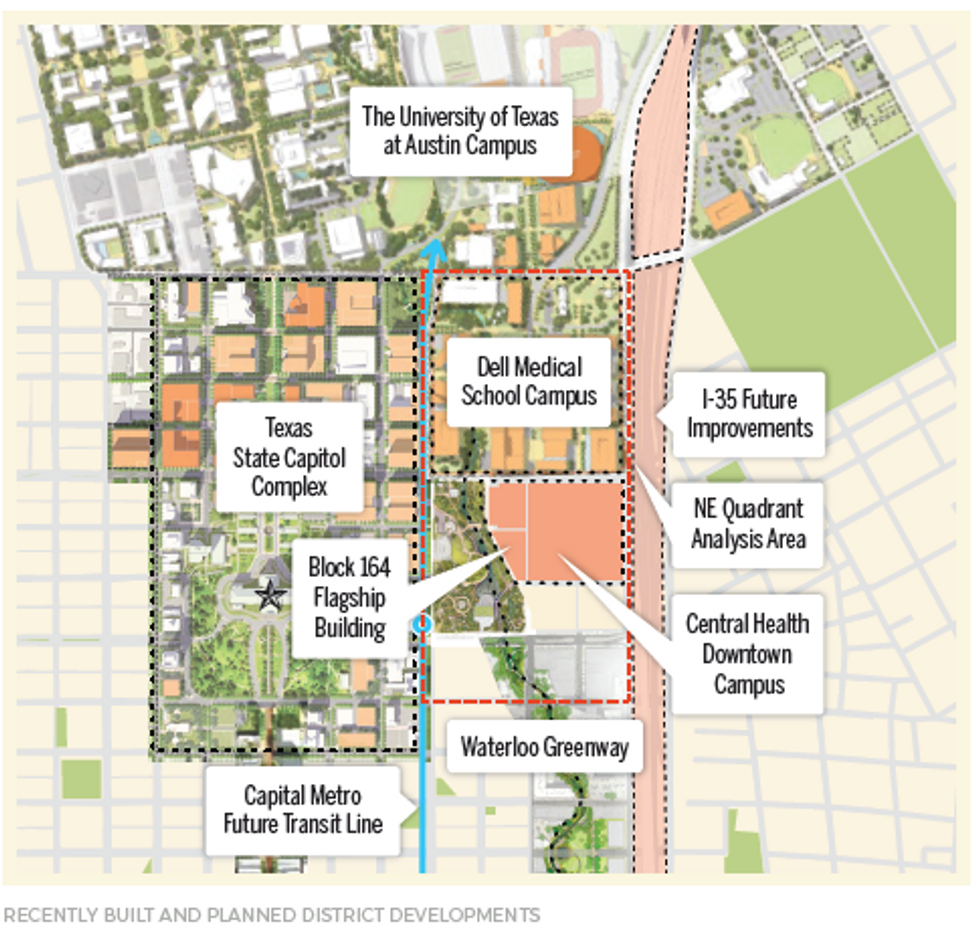 (Downtown Austin Alliance)
The Health South redevelopment would serve as a catalyst project, weaving together the different entities of the innovation district and serving its neighboring sites, Economic Redevelopment Program Manager Margaret Shaw told council during a work session on Tuesday.
The city purchased the Health South property and its parking garage in 2017. At that time, council directed staff to issue a solicitation to redevelop the property, with a focus on including affordable housing. Due to the pandemic, the solicitation process was extended slightly, from November 2019 through April of this year.

"We were quite pleased with the response from the market, given the fact that we were under a global pandemic and real estate was quite up in the area," Shaw said. "We received four proposals in strong, well known partners locally and nationally."
City staff recommended Austin-based developer Aspen Heights Partners, which was behind the Independent, a luxury condo tower downtown, based on its proposal. It includes two towers—a 36-story residential building with 348 apartments and 160 condos and a 15-story office tower—connected by an elevated park plaza. More than a quarter of the residential units would be designated affordable, targeting residents who earn between 50% and 60% of the median family income, with ownership options for those earning 80% of the median family income.
"I find it to be comprehensive and amazing, and it addresses the need in the community (and) it addresses the need in that area," District 1 Council Member Natasha Harper Madison said. "I'm very happy to support this project in District 1."
Council members postponed the vote until next Thursday to allow residents more time to provide feedback on the proposal. If council grants its approval, city staff will begin preliminary negotiations with Aspen Heights Partners, which could take up to six months. Once that process is completed, the city would move on to negotiating a master development agreement for the project, which could take up to two years, prior to the start of construction.
Over the last year, some council members have suggested using the site as an emergency homeless shelter, which prompted disagreement on the dias.
In the meantime, Austin Resource Recovery has used the former Health South parking garage, at 606 East 12th Street, as part of its Violet KeepSafe Storage program, which provides storage for homeless residents.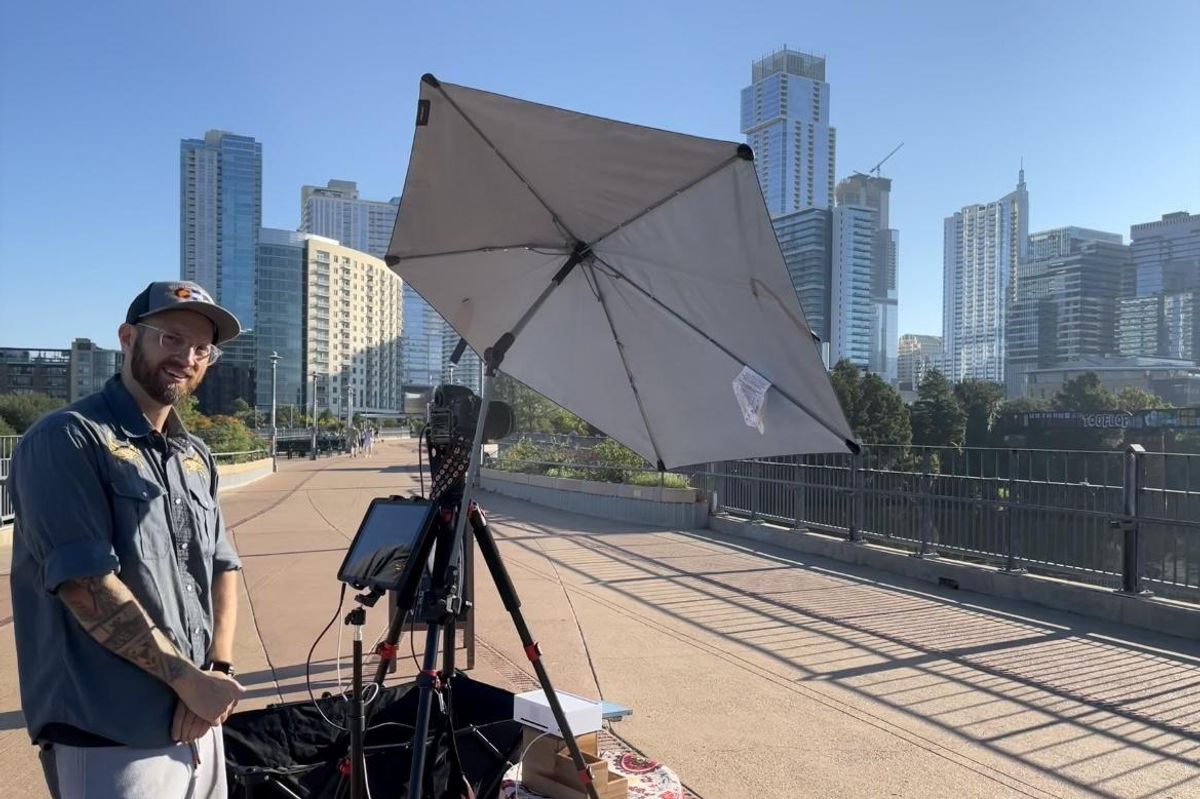 Nicklaus Pereksta says he loves photographing enthusiastic people, and it's why his latest gig offering pictures to people out on Lady Bird Lake's hike and bike trail is going smoothly. He sets up his gear on the Pfluger pedestrian bridge and puts out a sign: Photos, $10.
"Overwhelmingly, this has been a really positive experience," Pereksta said. "I get excited when I wake up in the morning and I can't wait to go to work."
Bikers and joggers are excited about it too. On the pedestrian bridge leading to downtown Thursday morning, a man on an e-bike rode up and posed, wanting more photos.
"I posted the last pictures on Instagram and people loved it. They asked, 'where is this guy?'" the biker told Pereksta. Bashfully, Pereksta, who also photographs landscapes and at weddings and other events, said he was happy to hear that.
Pereksta started these photos about a month ago, after the strenuous runs required in his valet job started causing pain in his legs. And though he has a passion for photography, he wasn't so sure when he started working independently if it would work out.
He felt uncertain about the demand for it and was also worried about having lots of expensive equipment out in the open.
"Then like the first day was nothing but high praise and people are like, this is so awesome. This is great. I've never seen anything like this before. I was like, Wow, this was really good, like positive turnout. So I got encouraged."
Now, he wants to expand and is thinking of contacting the Mueller Farmers Market about how to become a vendor. Still, he'll carry a connection to photographing on the bridge since the word bridge is related to his last name.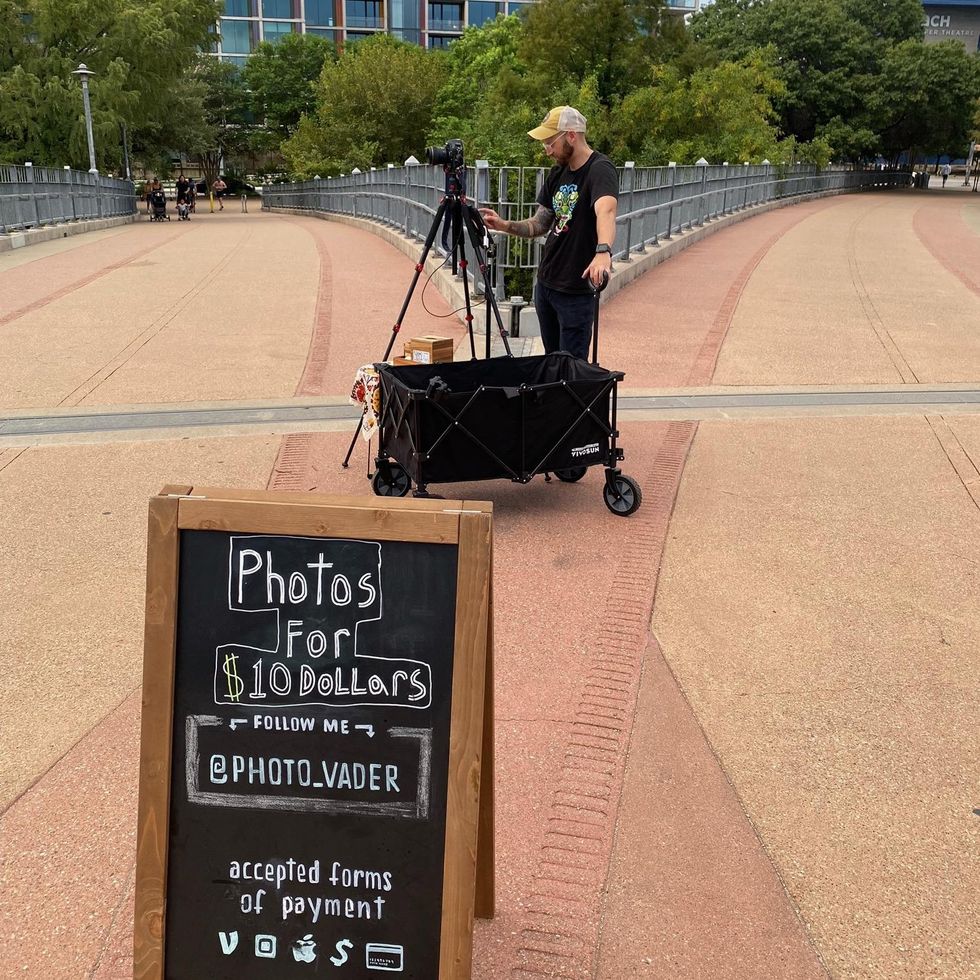 (Dewey C.)
"It's a name my great, great, great grandfather came up with when he was marrying somebody. It's actually quite a romantic name. It means a joining of two bridges," Pereksta said. "So, I thought it was ironic that I'm set up on a bridge. I'm kind of representing my last name right now."
Austonia talked to Pereksta about life in Austin, where he's lived for eight years after living in Boston doing band photography.
What was your first experience with Austin?
I came here to visit some friends and they took me to Barbarella. So we went to Barbarella and I was like, 'wow, this place is great.' And then the restaurants and the food and going to Barton Springs. I was like, 'this is amazing.' Because there's nothing like that in Boston. If you want to go to a natural spring, you got to go to New Hampshire. There's no pools in the city at all. So there's lots of swimming out here.
What do you like best about Austin?
You go to any little quiet bar and there's a band playing that should be like onstage for a sold out show. Yeah, they're playing to 10 people, right? Like, one of the best bands ever and they're playing for 10 people, right? And just little magic moments like that are pretty fun. You just run into little random weird things.
What do you think makes Austin different from other places?
There's no fall.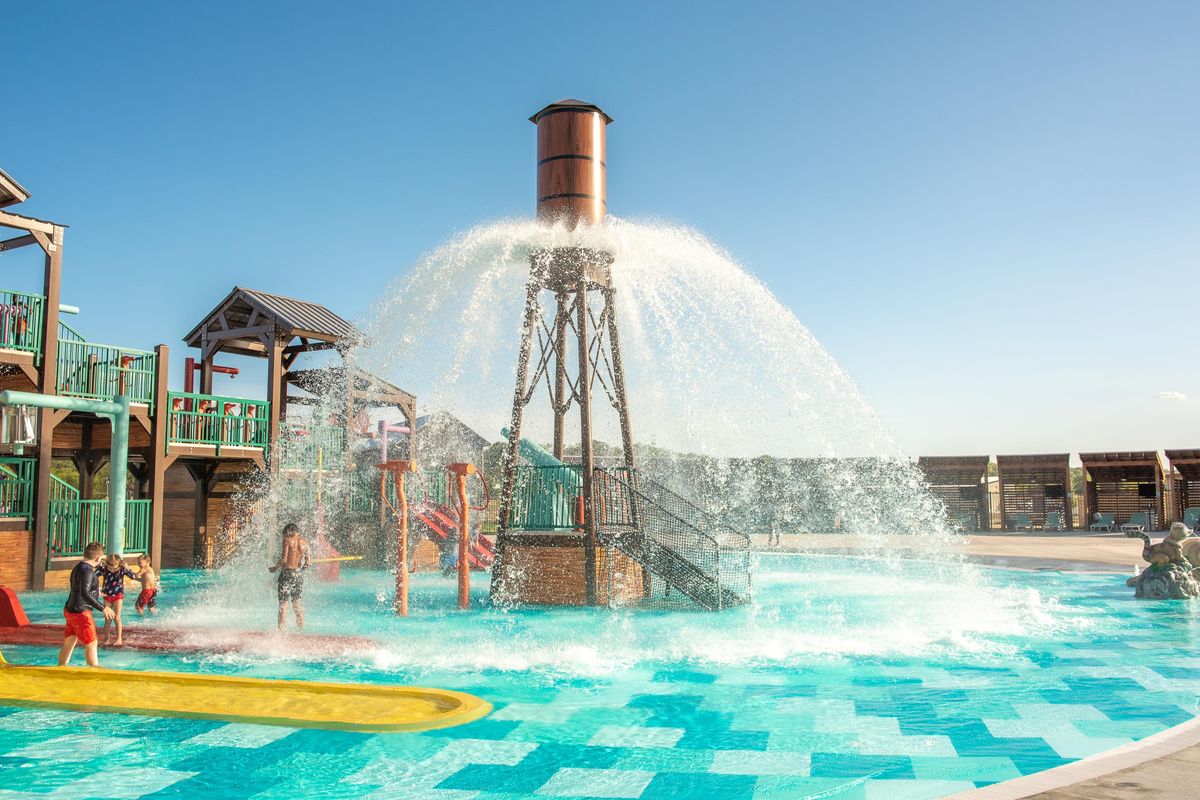 Camp Fimfo Waco
Camp Fimfo Waco, a brand new camping resort, is kicking off football and fall camping season in style! With top-notch amenities, premium accommodations, and 10 weekends of fall fun, there's no better place to have a fall camping getaway, especially if you're a Baylor football fan!
Fall promises to be a one-of-a-kind camping experience. From Sept. 16 to Nov. 24, weekends will be packed with fall-themed activities, including special Halloween weekends in October. Campers can enjoy activities like fall crafts, campground trick-or-treating, costume contests, site decorating, outdoor movie nights, and more!