Never miss a story
Sign up for our free daily morning email...
...and afternoon text update
Get connected with our daily update
(City of Austin)
Austin City Council will decide next week whether to enter into preliminary negotiations with Aspen Heights Partners regarding the redevelopment of the former Health South property and its accompanying parking garage, on Red River Street.
---
The Health South site, at 1215 Red River Street, would be part of the city's burgeoning health innovation district—a nexus of academic, business and public tenants focused on new health policies, systems and products—along with the redeveloped Brackenridge Campus, Dell Medical School and Dell Seton Medical Center.
As proposed, the district could provide nearly 3,000 new permanent jobs, increased land value, a new property tax base and $800 million in economic output, according to an analysis commissioned by the Downtown Austin Alliance.
It would also be surrounded by other destinations—including the University of Texas at Austin campus, the urban parks network Waterloo Greenway, the Red River Cultural District and the Capital Complex—and served by a realigned Red River Street, which UT is constructing to make space for its new basketball stadium.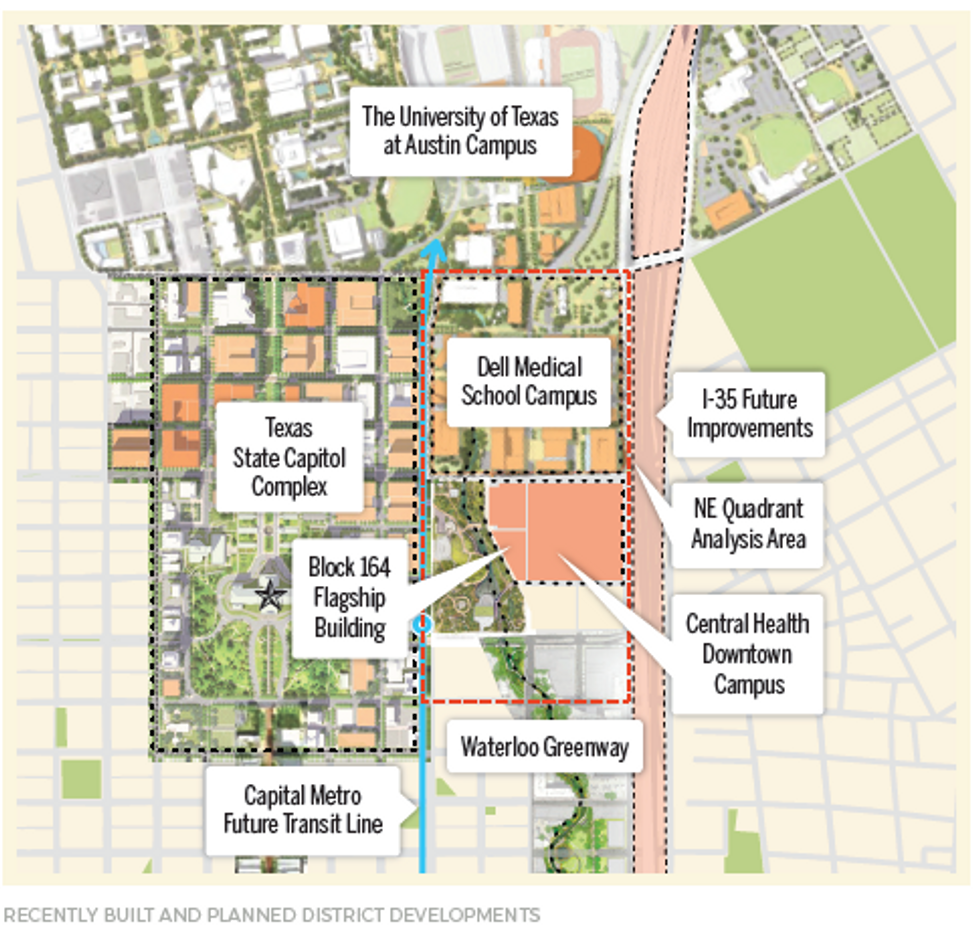 (Downtown Austin Alliance)
The Health South redevelopment would serve as a catalyst project, weaving together the different entities of the innovation district and serving its neighboring sites, Economic Redevelopment Program Manager Margaret Shaw told council during a work session on Tuesday.
The city purchased the Health South property and its parking garage in 2017. At that time, council directed staff to issue a solicitation to redevelop the property, with a focus on including affordable housing. Due to the pandemic, the solicitation process was extended slightly, from November 2019 through April of this year.

"We were quite pleased with the response from the market, given the fact that we were under a global pandemic and real estate was quite up in the area," Shaw said. "We received four proposals in strong, well known partners locally and nationally."
City staff recommended Austin-based developer Aspen Heights Partners, which was behind the Independent, a luxury condo tower downtown, based on its proposal. It includes two towers—a 36-story residential building with 348 apartments and 160 condos and a 15-story office tower—connected by an elevated park plaza. More than a quarter of the residential units would be designated affordable, targeting residents who earn between 50% and 60% of the median family income, with ownership options for those earning 80% of the median family income.
"I find it to be comprehensive and amazing, and it addresses the need in the community (and) it addresses the need in that area," District 1 Council Member Natasha Harper Madison said. "I'm very happy to support this project in District 1."
Council members postponed the vote until next Thursday to allow residents more time to provide feedback on the proposal. If council grants its approval, city staff will begin preliminary negotiations with Aspen Heights Partners, which could take up to six months. Once that process is completed, the city would move on to negotiating a master development agreement for the project, which could take up to two years, prior to the start of construction.
Over the last year, some council members have suggested using the site as an emergency homeless shelter, which prompted disagreement on the dias.
In the meantime, Austin Resource Recovery has used the former Health South parking garage, at 606 East 12th Street, as part of its Violet KeepSafe Storage program, which provides storage for homeless residents.
First score made by LAFC. (Sonia Garcia/Austonia)
Austin FC couldn't find the stamina to fight off a 2-0 loss against LAFC for their inaugural match on Saturday.
The match, which saw No. 21 Austin FC go head-to-head with No. 2 LAFC in Los Angeles, was broadcast nationally on FOX and FOX Deportes.
Eleven players took the stage as Austin FC players for the first time, with five starters making their MLS debut. "Ringleader" Alex Ring took the captain's armband and wore it well. The defensive midfielder could be seen leading his teammates through their first ever match, but it wasn't enough to stage an Austin takeover in LA.
In the signature style of Head Coach Josh Wolff, the team played with quickness and intensity, nearly connecting on several fast breaks. It was harder for them to stay in front, however, something that Wolff credits with quick decision making and a tough LAFC defense.
"We have a quick attacking team, but I think when you make quick attacks and it fizzles it's just about some decision making," Wolff said. "Are we in position to finish attacks? If not, can we reestablish our attack and get stuff better?"
The club was given some generous breaks from No. 2 LAFC, who had one or both of their star DPs out for the half. While forward Diego Rossi is out for the entire match due to a hamstring injury, Carlos Vela was accidentally pulled too soon on what turned out to be a miscommunication.
"He gave us the sign that he needed to come off," LAFC Head Coach Bob Bradley said on broadcast. "I can't say more than maybe it's my fault."
LA pulled some dramatics and slowly gained more possession throughout the half, but ATXFC's defense wasn't initially as shaky as it seemed in preseason. Jhohan Romana has pulled his weight in getting the ball out of goal, and a 34-year old Matt Besler held his own in center back.
As the second half commenced, however, it became clear that LAFC had the advantage over Austin's first major league team.
Goalkeeper Brad Stuver had his work cut out for him, fending off 24 shot attempts, 11 of which were on goal. He didn't have much time to prepare, either: in the first 30 seconds of play, Stuver had already made a save to keep the match 0-0.
LAFC finally connected in the 61st minute of play as Corey Baird shot one into the bottom right corner. The team capitalized off their momentum and put one past Stuver a second time, drawing roars of approval from the LAFC crowd.
While some last-minute attempts from Jon Gallagher and others were made, Austin FC didn't have the endurance to bring a tie. After seven additional minutes of stoppage time, the club lost their first match 2-0.
While the scoreboard tells one story, Wolff said that the team did well considering the skill of LAFC and the pressure of their club debut.
"We've got to be realistic," Wolff said. "This is the first time this organization has been in front of TV with an opportunity to show itself and I think there were some promising moments. And we're going to maximize those and continue to try to develop those, but there's lots to build on."
The team may have lost, but it still won the support of thousands of Verde fans, dozens of which made it to watch their team's first match. When Stuver and the team made it to bthe stadium, Los Verdes fans were already there to show support, and Stuver said his wife saw the same back in Austin.

"The moment that we pulled into the stadium, we saw Black and Verde fans cheering us on as we got to the stadium," Stuver said. "During warm up, you can just look around and see different groups sitting in different sections of the stadium and it's just truly amazing to see the support in our first game. We know that we want to give the fans everything, because this we play for the city and we play for them."