Get connected with our daily update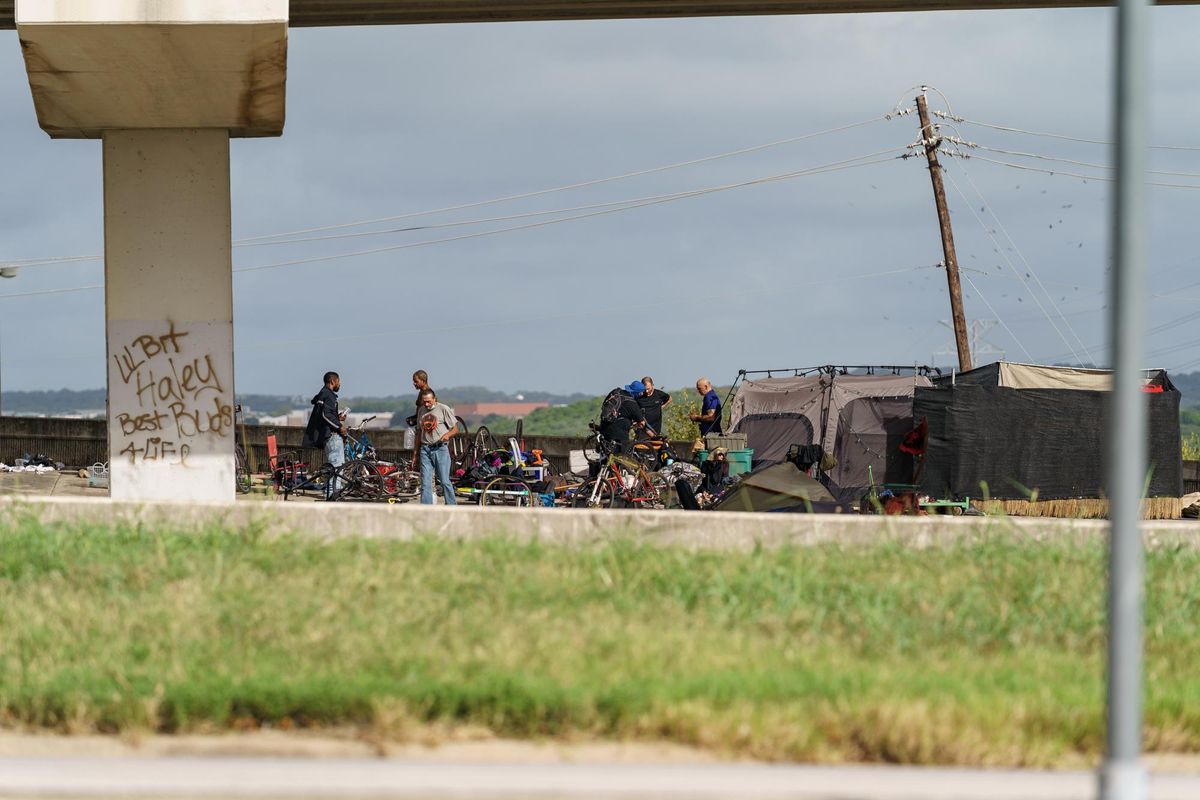 As Austin navigates its homelessness crisis, city voters will decide starting Monday whether to reinstate a ban on sitting, lying and camping in certain areas of the city. Proposition B has drawn impassioned support and opposition and is perhaps the most contentious item on the May 1 ballot.
Austonia sought out clear and brief editorials from either side of the debate. Arguing in favor of Prop B is Cleo Petricek, a Democrat and co-founder, along with Travis County GOP Chairperson Matt Mackowiak, of the Save Austin Now political action committee, which has led the charge to reinstate the camping ban. Opponent Emily Seales is a licensed clinical social worker and advocate with over 20 years of experience working and volunteering in homeless services in Austin and around the country. She is currently on staff at the Sunrise Homeless Navigation Center and is board co-chair of Open Door.
---
Editor's note: These submissions are the unedited views of their authors. Claims made have not been fact-checked to give the proponent and opponent a chance to speak their minds freely.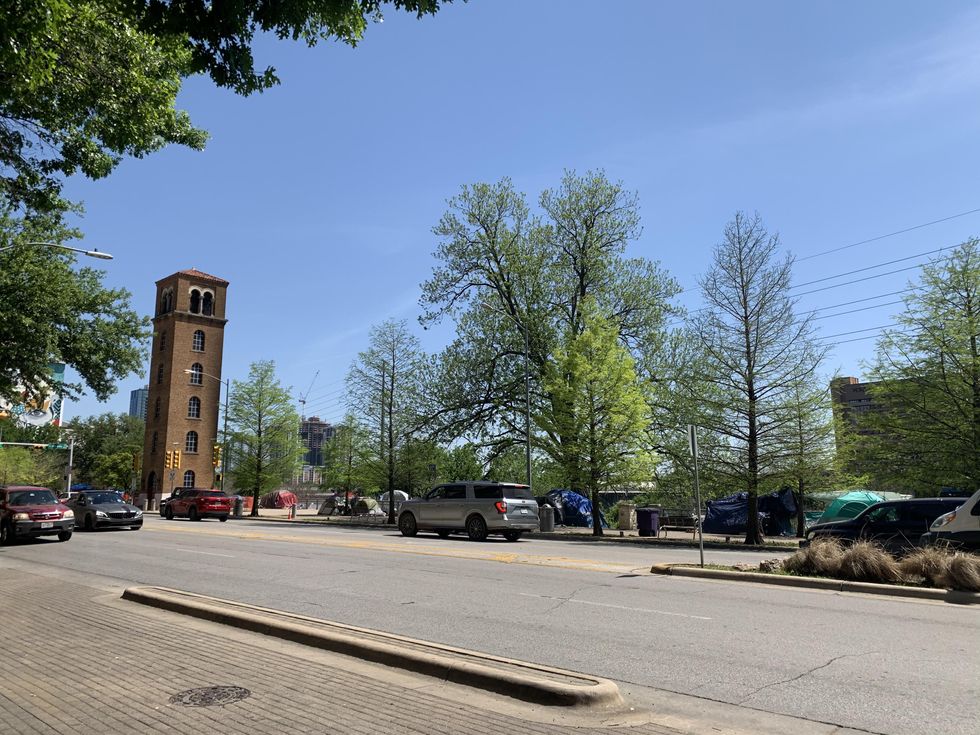 Homeless residents have also set up tents along Cesar Chavez Street near Buford Tower, which recently caught fire after a blaze spread from the camp. (Emma Freer)
Pro: Voting yes on Prop B sends a message to council that voters' voices and real solutions are paramount

In June 2019, the Austin City Council rescinded regulations on camping in public spaces. They did so without any serious public discussion and in fact appeared to actively avoid serious scrutiny. The resulting chaos is clear for all to see. Parks and playgrounds impacted by illicit behavior, lewd activities in public, trash strewn in waterways and public spaces, and most critically, assaults on the public and on other homeless individuals.
It is obvious that the homeless are not helped by this misadventure. Vulnerable women and youth in these camps are abused, mentally ill individuals are not served and there is no incentive for substance abusers to seek help.
Proponents of this mess have put forward no credible plan for any short term housing that restores safety—instead they talk about abstract housing concepts that even they acknowledge will take years to develop. This is the mark of narrowly focused activism, not what citizens should expect from elected leaders who promise to serve their communities. At every turn, the proponents of this chaos have demonstrated that they are not capable of fully considering the needs of diverse communities and proposing workable solutions. Instead they simply double down on trying to tell Austin that anything other than their chaos is heartless and inhumane. This is intellectually lazy, and Austin should demand better.
The chaos created by the City Council has resulted in a public outcry culminating in the citizens demanding to be heard by direct ballot. This demand is across the political and economic spectrum. As a co-founder of the Save Austin Now PAC and a lifelong Democrat, I have seen the diversity of people raising their voices in concern for our city.
It's time we turn this situation around and vote yes on Prop B. It sends a clear message to the council that the citizens of Austin must be heard as we work toward real solutions. There are successful models to learn from and some in our own state. But it all starts with voting yes on Prop B starting April 19.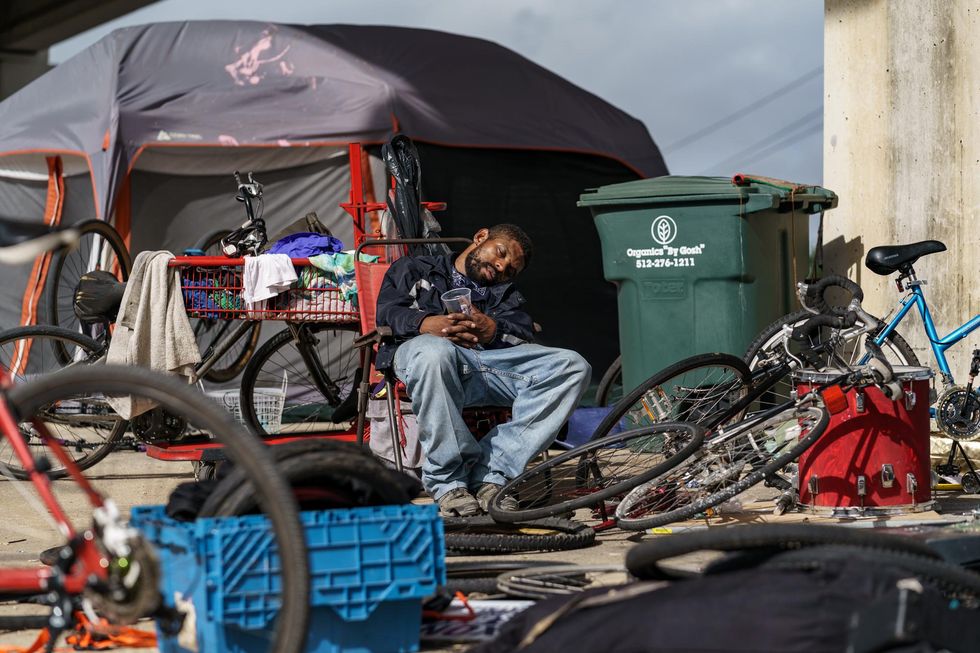 A homeless residents sleeps in the middle of a bike scavenging operation based at a camp under the South Austin overpass. (Jordan Vonderhaar)
Con: Prop B blames homeless individuals rather than providing solutions to societal problems
Austin's homeless population needs help, but Prop B doesn't do anything to solve our city's problems. It simply tells people who are experiencing homelessness that they cannot exist, visibly, in public space. I, too, am worried about the encampments. They are evidence that our strategies to help people return to housing aren't sufficient. But telling people "You can't stay here" without giving them alternatives isn't a solution.

The reason so many people are experiencing homelessness is that it takes a long time to get into housing, even when you do everything right. Shelters are at capacity, we lack deeply affordable housing, landlords can refuse housing vouchers, and housing programs are full.
As a case study, I want to tell you about "Bill," whom I met two years ago. Bill was a veteran, father, former truck driver and person of faith. He was also homeless and unsheltered. Bill had recently suffered a series of strokes and was desperate for both disability income and housing.
Bill and I worked together every single week for 17 months. He eventually was awarded disability and moved into his own apartment.
Bill's situation is typical of hundreds of people who are stymied by our complicated processes and lack of housing. Prop B would not add resources for people like Bill. Read the ballot language. Because Prop B bans "camping," people would have to move around constantly to avoid being cited. All that moving around takes time and energy. People like Bill would have a harder time keeping their appointments with case managers. Unpaid fines from citations build a criminal record—and landlords can choose not to rent to someone with a record. So punishing people for not having housing makes it even harder to get housing. Prop B hurts, not helps.
In this election, Austinites have a choice to criminalize people like Bill or to work toward solutions. Prop B places the blame on individuals rather than recognizing homelessness as a failure of society.
Prop B is an inhumane and wrong response. Oppose Prop B, and let's focus on solutions. Learn more
here
.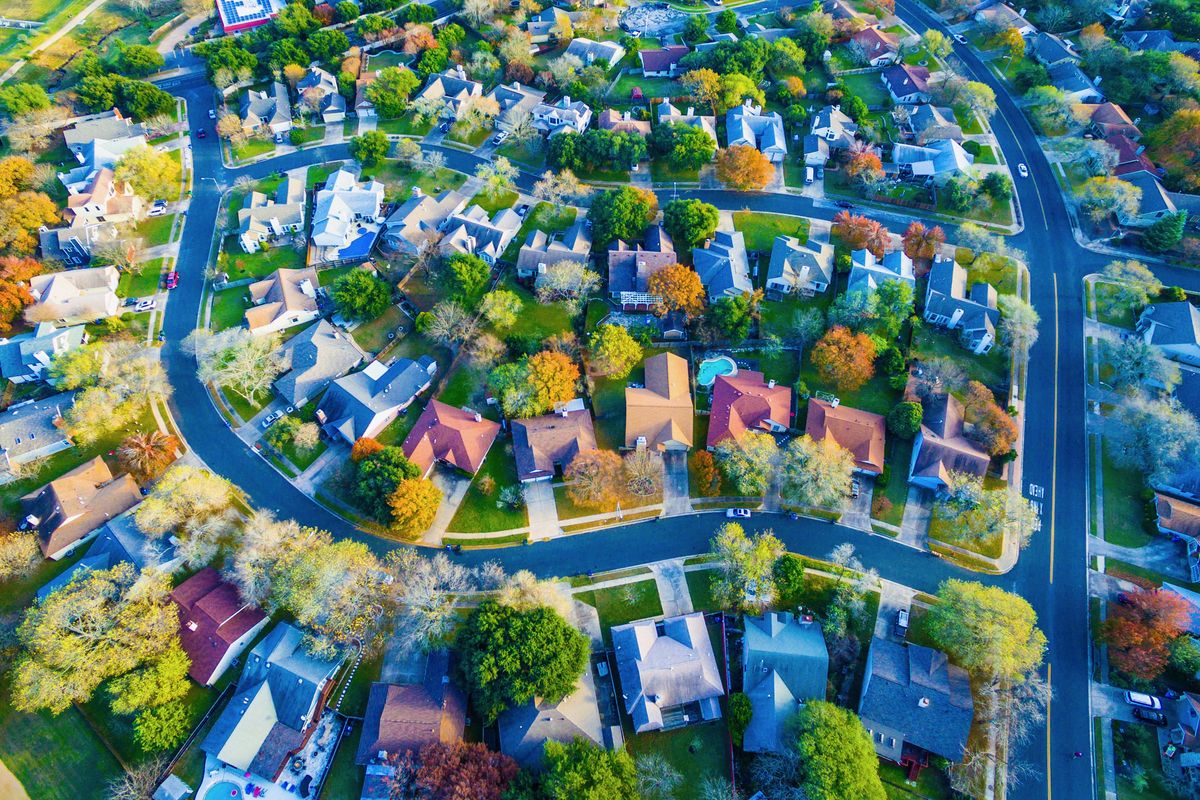 Shutterstock
So you want to buy a house?

To anyone trying to get on the "housing ladder," it's been a discouraging couple of years as prices skyrocketed in a market crowded with buyers bidding against each other for just about any available home.

Things may be calming down, with the Austin Board of REALTORS reporting fewer sales and more available homes this summer.

Mortgage rates have more than doubled in the last year, from around 3% to well over 6% on a 30-year fixed rate loan, getting even more of a bump this week after the Federal Reserve raised bank rates on Wednesday.

So how affordable are homes right now? That, of course, depends on what you want and how much you're able or willing to pay, but here are some rough estimates of what a typical buyer would pay to buy a $650,000 home, which would be considered "mid-price" in today's market.

Mortgage banker Chris Holland (NMLS 211033) of Austin's Sente Mortgage ran some numbers for Austonia to illustrate a typical purchase.


Holland says that while the 30-year fixed rate mortgage is often mentioned in the media, the most popular loan that he's seeing now is a 7/1 adjustable rate mortgage, which has a fixed rate for 7 years and then adjusts every year based on market rates, with a limit on how much it can increase each year. The interest is amortized over a 30-year period. Adjustable Rate Mortgages (ARMs) offer lower rates than fixed rate loans.

Here are the numbers, which are examples. In practice, exact numbers vary with a buyer's credit rating and overall financial situation, and with the rate, which can move up or down at any time.
$650,000 home purchase price
7/1 ARM at 5.875%
5% down payment, equals $32,500
95% financed, equals $617,500
$4,990 payment, including principle and interest (P&I), insurance, and property tax
Typically, a borrower's debt to income ratio needs to be at or below 45%. So for this mortgage, a borrower, or borrowers, would need income of roughly $11,100/month, or $133,200/year. That number could be higher, depending on the buyer's outstanding credit balances on things like credit cards and car loans.
Not included are closing costs, moving costs, maintenance, and any changes a new buyer might want to make to the home.

Holland says he's had a lot of clients approved for loans who were house hunting but have put that on hold, hoping prices come down.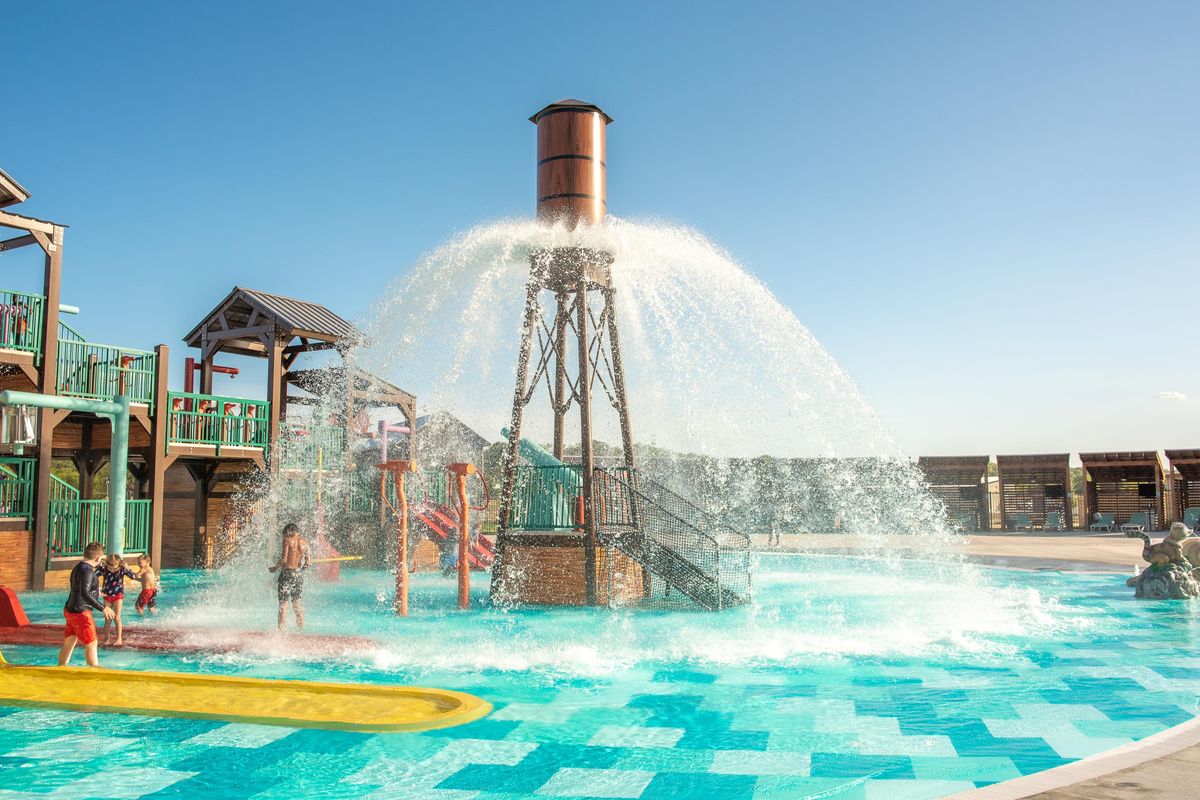 Camp Fimfo Waco
Camp Fimfo Waco, a brand new camping resort, is kicking off football and fall camping season in style! With top-notch amenities, premium accommodations, and 10 weekends of fall fun, there's no better place to have a fall camping getaway, especially if you're a Baylor football fan!
Fall promises to be a one-of-a-kind camping experience. From Sept. 16 to Nov. 24, weekends will be packed with fall-themed activities, including special Halloween weekends in October. Campers can enjoy activities like fall crafts, campground trick-or-treating, costume contests, site decorating, outdoor movie nights, and more!