Get connected with our daily update
As Austin navigates its homelessness crisis, city voters will decide starting Monday whether to reinstate a ban on sitting, lying and camping in certain areas of the city. Proposition B has drawn impassioned support and opposition and is perhaps the most contentious item on the May 1 ballot.
Austonia sought out clear and brief editorials from either side of the debate. Arguing in favor of Prop B is Cleo Petricek, a Democrat and co-founder, along with Travis County GOP Chairperson Matt Mackowiak, of the Save Austin Now political action committee, which has led the charge to reinstate the camping ban. Opponent Emily Seales is a licensed clinical social worker and advocate with over 20 years of experience working and volunteering in homeless services in Austin and around the country. She is currently on staff at the Sunrise Homeless Navigation Center and is board co-chair of Open Door.
---
Editor's note: These submissions are the unedited views of their authors. Claims made have not been fact-checked to give the proponent and opponent a chance to speak their minds freely.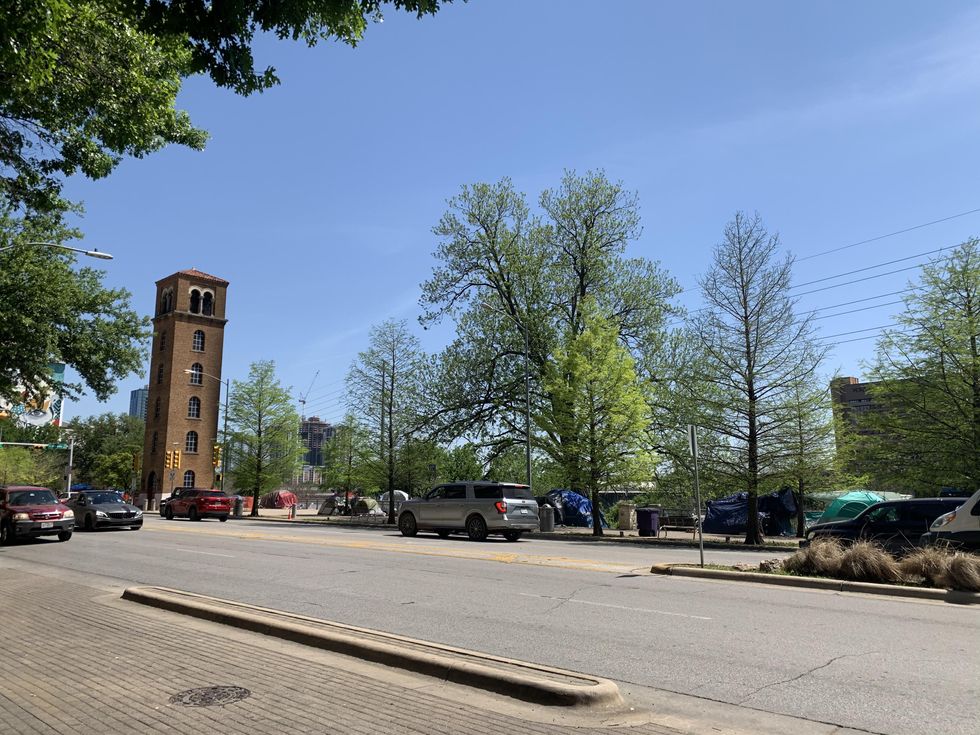 Homeless residents have also set up tents along Cesar Chavez Street near Buford Tower, which recently caught fire after a blaze spread from the camp. (Emma Freer)
Pro: Voting yes on Prop B sends a message to council that voters' voices and real solutions are paramount

In June 2019, the Austin City Council rescinded regulations on camping in public spaces. They did so without any serious public discussion and in fact appeared to actively avoid serious scrutiny. The resulting chaos is clear for all to see. Parks and playgrounds impacted by illicit behavior, lewd activities in public, trash strewn in waterways and public spaces, and most critically, assaults on the public and on other homeless individuals.
It is obvious that the homeless are not helped by this misadventure. Vulnerable women and youth in these camps are abused, mentally ill individuals are not served and there is no incentive for substance abusers to seek help.
Proponents of this mess have put forward no credible plan for any short term housing that restores safety—instead they talk about abstract housing concepts that even they acknowledge will take years to develop. This is the mark of narrowly focused activism, not what citizens should expect from elected leaders who promise to serve their communities. At every turn, the proponents of this chaos have demonstrated that they are not capable of fully considering the needs of diverse communities and proposing workable solutions. Instead they simply double down on trying to tell Austin that anything other than their chaos is heartless and inhumane. This is intellectually lazy, and Austin should demand better.
The chaos created by the City Council has resulted in a public outcry culminating in the citizens demanding to be heard by direct ballot. This demand is across the political and economic spectrum. As a co-founder of the Save Austin Now PAC and a lifelong Democrat, I have seen the diversity of people raising their voices in concern for our city.
It's time we turn this situation around and vote yes on Prop B. It sends a clear message to the council that the citizens of Austin must be heard as we work toward real solutions. There are successful models to learn from and some in our own state. But it all starts with voting yes on Prop B starting April 19.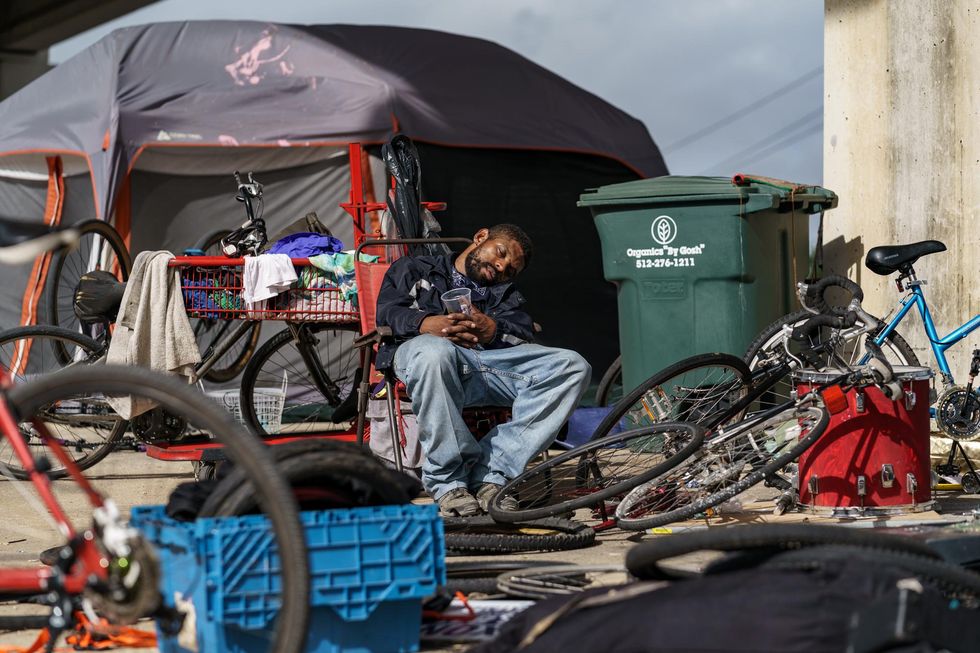 A homeless residents sleeps in the middle of a bike scavenging operation based at a camp under the South Austin overpass. (Jordan Vonderhaar)
Con: Prop B blames homeless individuals rather than providing solutions to societal problems
Austin's homeless population needs help, but Prop B doesn't do anything to solve our city's problems. It simply tells people who are experiencing homelessness that they cannot exist, visibly, in public space. I, too, am worried about the encampments. They are evidence that our strategies to help people return to housing aren't sufficient. But telling people "You can't stay here" without giving them alternatives isn't a solution.

The reason so many people are experiencing homelessness is that it takes a long time to get into housing, even when you do everything right. Shelters are at capacity, we lack deeply affordable housing, landlords can refuse housing vouchers, and housing programs are full.
As a case study, I want to tell you about "Bill," whom I met two years ago. Bill was a veteran, father, former truck driver and person of faith. He was also homeless and unsheltered. Bill had recently suffered a series of strokes and was desperate for both disability income and housing.
Bill and I worked together every single week for 17 months. He eventually was awarded disability and moved into his own apartment.
Bill's situation is typical of hundreds of people who are stymied by our complicated processes and lack of housing. Prop B would not add resources for people like Bill. Read the ballot language. Because Prop B bans "camping," people would have to move around constantly to avoid being cited. All that moving around takes time and energy. People like Bill would have a harder time keeping their appointments with case managers. Unpaid fines from citations build a criminal record—and landlords can choose not to rent to someone with a record. So punishing people for not having housing makes it even harder to get housing. Prop B hurts, not helps.
In this election, Austinites have a choice to criminalize people like Bill or to work toward solutions. Prop B places the blame on individuals rather than recognizing homelessness as a failure of society.
Prop B is an inhumane and wrong response. Oppose Prop B, and let's focus on solutions. Learn more
here
.
There are plenty of places to party in Austin, from the classic Dirty 6th to Rainey Street's tech hub to The Domain's eccentric collection of bars. With crime in Austin—and nationwide—on the rise, worries while drinking at night can take some fun out of your hangout.
Using data from the past five years, Austonia found how each part of the town's party areas stacks up in safety. Here's what to know before you go.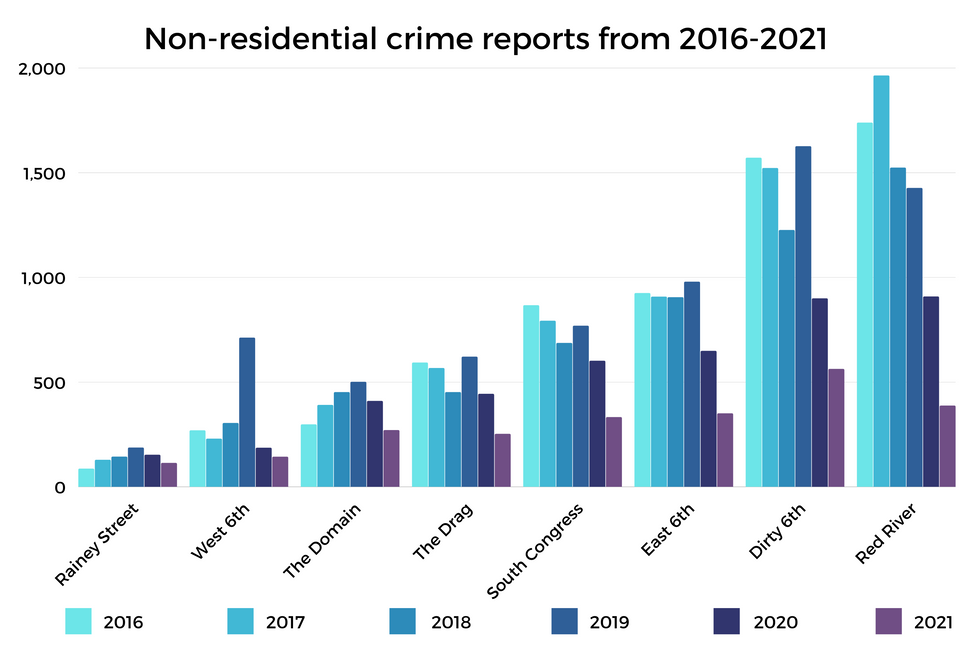 (Laura Figi/Austonia)
Red River District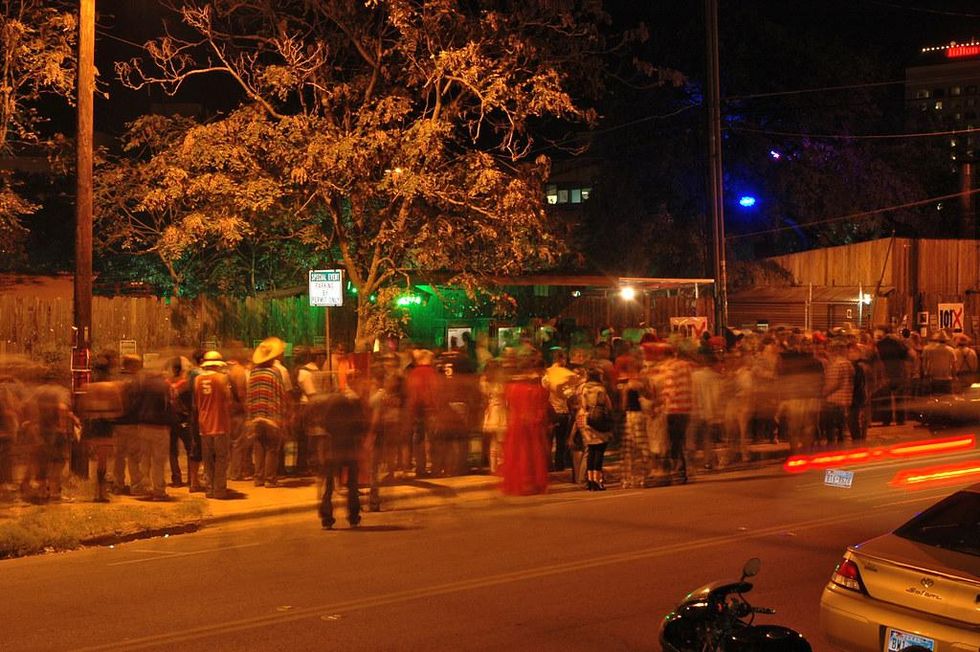 The line outside Stubb's Bar-B-Q is a familiar sight to those who frequent the venue for its live music. (Blastframe/CC)
The line outside Stubb's Bar-B-Q is a familiar sight to those who frequent the venue for its live music. (Blastframe/CC)
Red River Cultural District, home to beloved live music venues like Stubb's Bar-B-Q, Mohawk Austin and Empire Control Room, has had the most overall crime reports since 2016 but Dirty 6th Street is rapidly catching up. The downtown cultural district has averaged 1,325 police reports yearly, though crime reports on Dirty 6th surpassed Red River in 2019 and so far in 2021. The two most common reports in the area: theft, with an average of 343 reports over the past three years and assault with injury, averaging 247 yearly reports.
Dirty 6th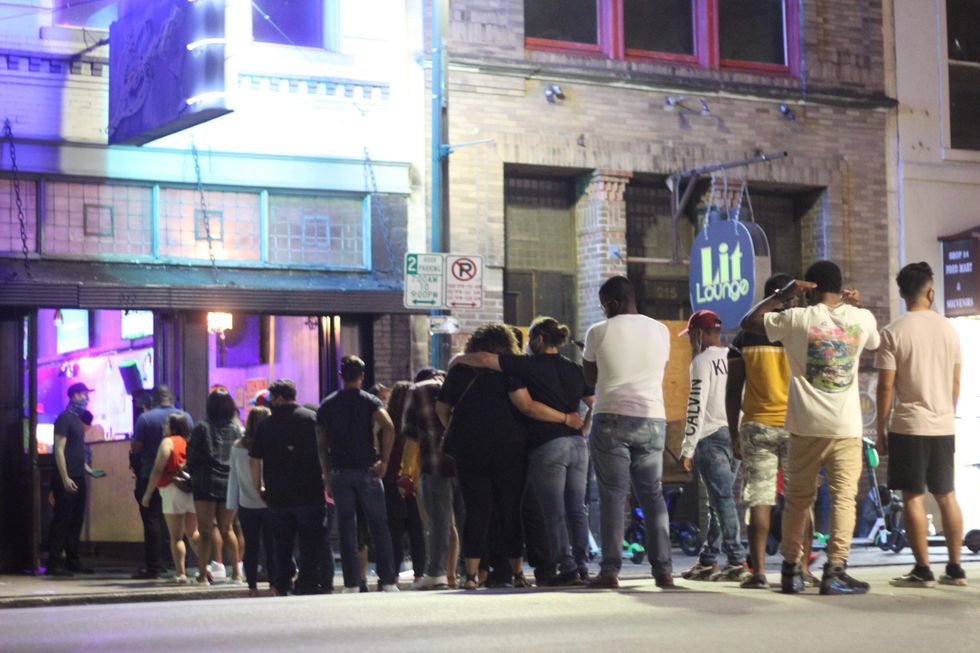 Dirty 6th is packed with partiers every weekend—crowds are a common sight. (Laura Figi/Austonia)
Dirty 6th is packed with partiers every weekend—crowds are a common sight. (Laura Figi/Austonia)
Coined the "original" night district in the city, "Dirty 6th," or the portion of East 6th that is west of I-35, has been a Friday night standard since Austin was just a sleepy college town and is often compared to Bourbon Street in New Orleans. The street has earned the nickname "dirty," as it has seen an increasing number of violent crimes in recent years, most recently a shooting that killed a tourist and left 14 others injured. The strip averages 1,234 crime reports per year since 2016, and shares the two most common reports—assault with bodily injury and theft—with nearby Red River District.
East 6th Street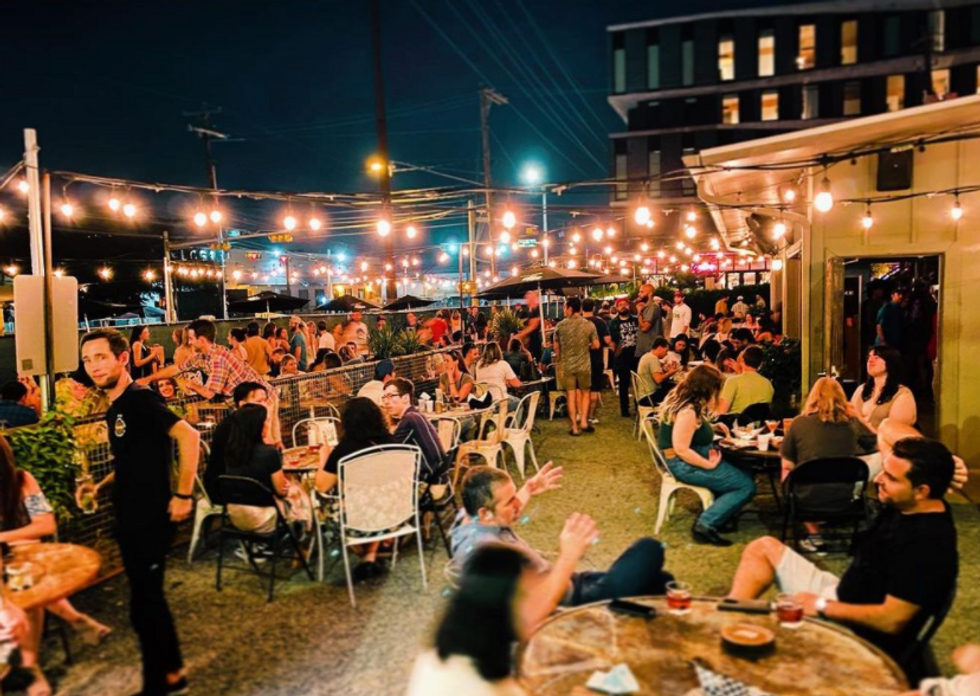 East Austin's bungalow bars aren't quite as clumped as other nightlife areas in town. (Whislers/Instagram)
East Austin's bungalow bars aren't quite as clumped as other nightlife areas in town. (Whislers/Instagram)
Taking a trip East of the highway, East 6th Street is the quieter counterpart to Dirty 6th, without compromising on the expanse of venues. At an average of 786 police reports per year, you'll see a noticeably smaller police presence in this area. The most common crimes in this area are still theft, with 196 reports in the last three years, and assault with injury, with 186 reports over the last three years. Keep a watchful eye on your car as well, as there have been 116 reports of auto theft since 2019.

South Congress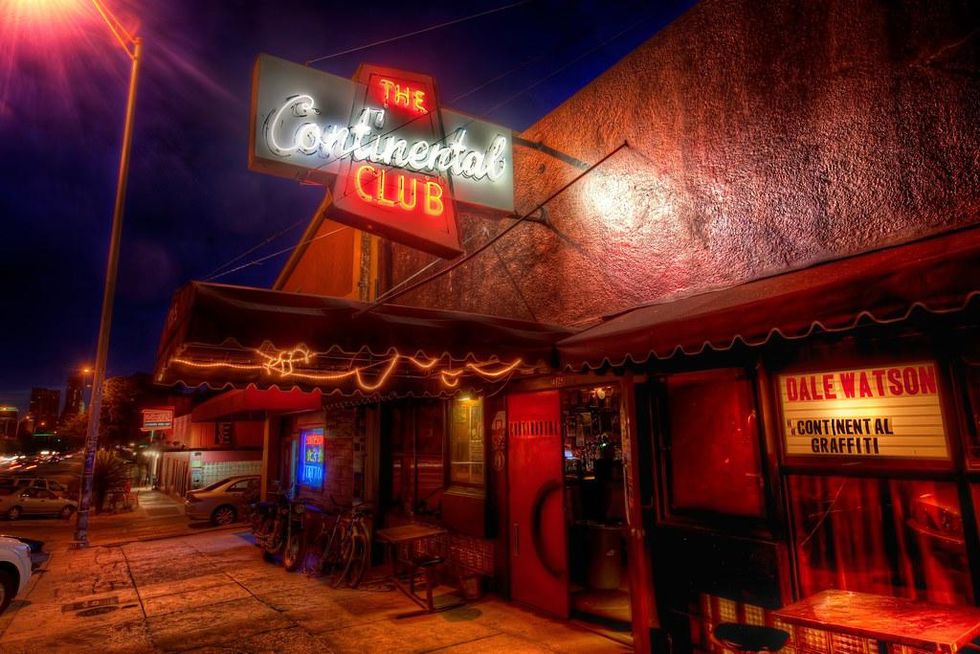 South Congress is home to one of the most celebrated venues in Austin, the Continental Club. (Trey Ratcliff/CC)
South Congress is home to one of the most celebrated venues in Austin, the Continental Club. (Trey Ratcliff/CC)
Right around the middle of the barrel, South Congress has been steadily increasing in popularity, size and variety since the late 1990s. The brightly lit street is usually bustling from afternoon until night but doesn't attract too much violent crime with just an average of 675 police reports per year since 2016. You're more unlikely to be physically harmed while visiting South Congress but make sure you lock your car tightly, as 217 total vehicle burglaries have been reported, keep an eye on your pocketbook, with 143 total theft reports, and drive safely, with 89 total reports of DWIs since 2019.
The Domain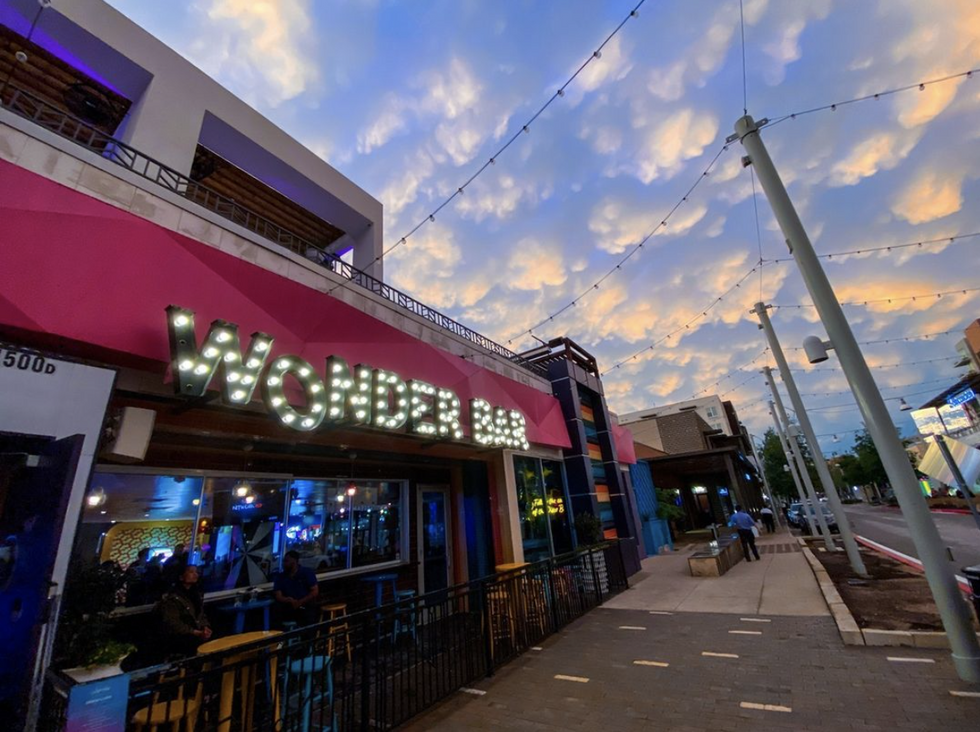 The Domain's bars are surrounded by lights, streets and nearby businesses. (Wonder Bar/Instagram)
The Domain's bars are surrounded by lights, streets and nearby businesses. (Wonder Bar/Instagram)
Tucked away further north, The Domain has been an up-and-coming night district with fun and whimsical bars like Wonder Bar, Kung Fu Saloon and The Rose Room decorating Instagram pages everywhere. While not the safest, The Domain is a fairly safe option to let loose in at night. Actually, your car will be less safe than you—The Domain's top crimes are burglary of vehicle and auto theft with 193 and 89 reports, respectively, since 2019. Theft should also be on the radar, with 132 reports.
West 6th Street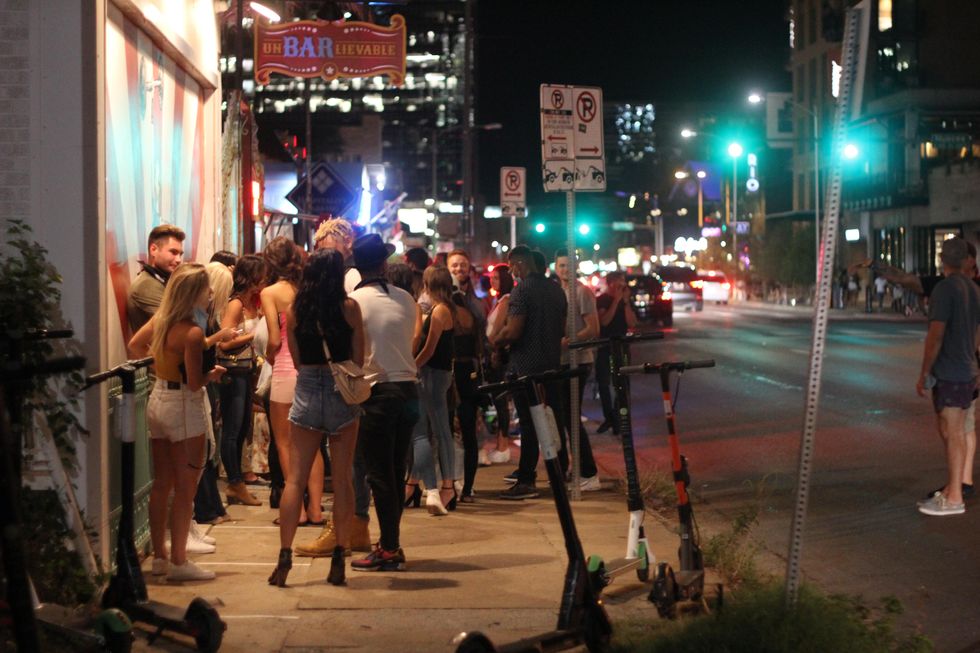 West 6th is usually a quieter option than some of the other districts, like Rainey Street or Dirty 6th. (Laura Figi/Austonia)
West 6th is usually a quieter option than some of the other districts, like Rainey Street or Dirty 6th. (Laura Figi/Austonia)
Nestled in Austin's Warehouse District, West 6th Street is another alternative to rowdy Dirty 6th. With dozens of popular bars and more coming every day, this area experiences noticeably less crime. West 6th had the second least amount of reported crime, with an average of 308 reports yearly since 2016. Your most common threats here are theft, with 172 total reports, and intoxicated drivers with 137 DWI reports since 2019.
Rainey Street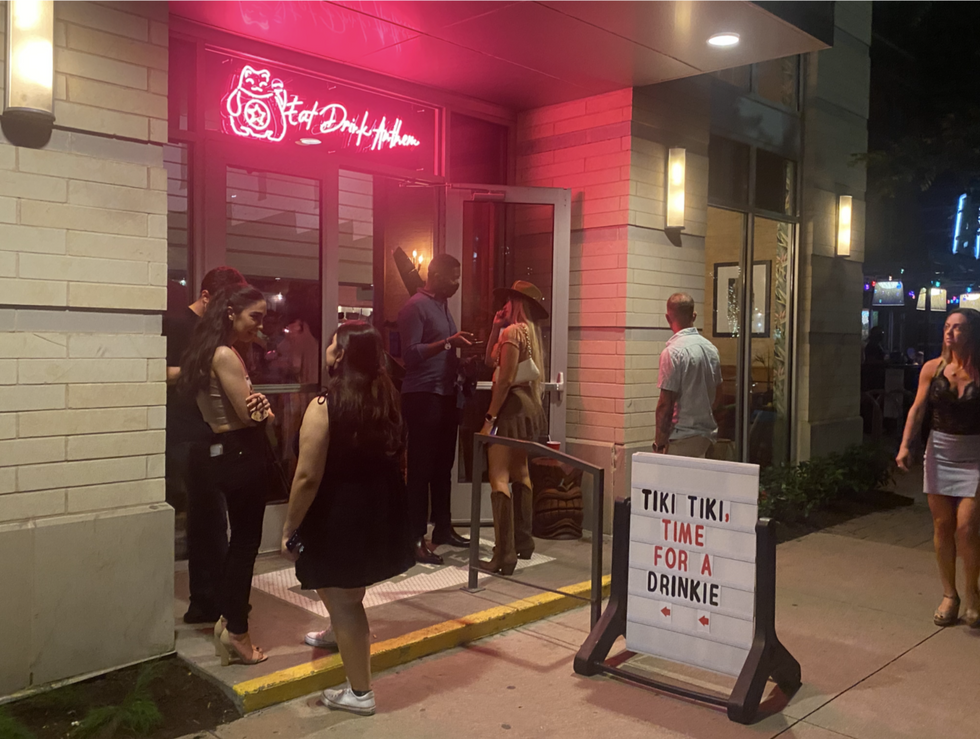 A relatively small, secluded area, Rainey Street is the safest district to party in as long as you have a ride home. (Laura Figi/Austonia)
A relatively small, secluded area, Rainey Street is the safest district to party in as long as you have a ride home. (Laura Figi/Austonia)
One of Austin's newest night districts, which is just blocks away from Dirty 6th, East 6th and Red River Street, comes out as the safest place to party on the weekends with just 135 yearly police reports on average over the past five years. Still, most common crimes fall in line with the other districts in the 78701 ZIP code: 142 total reports of theft, 117 total burglaries of vehicle reports and 71 reports of assault with injury since 2016.
Read more on Rainey Street here: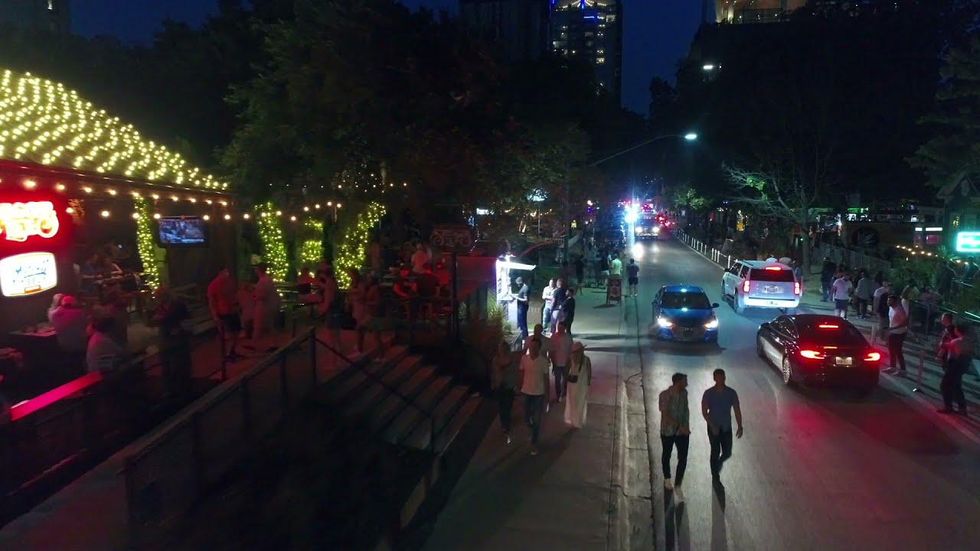 Austonia's complete guide to Rainey Street's nightlife
Want a two-hour tour of SpaceX's Starbase? Now, you can get one from CEO Elon Musk himself.
Musk gave viewers an extensive video tour after he took Everyday Astronaut's Tim Dodd through the nooks and crannies of the Boca Chica facility on Tuesday. The tour was divided into three clips that will soon be available on YouTube. A 50-minute first clip of the interview is available on YouTube now.
In the first leg of the tour, Musk showed off the 230-feet tall Starship Super Heavy Rocket, including its grid fin and human landing system. The same man that made the avant-garde Cybertruck design, which will soon be manufactured at Austin's Giga Texas, said that design is actually less important than cost-effectiveness if humans want to become a "multi-planet species."

"The fundamental thing we need to fix is the cost per ton to orbit," Musk said.
Musk noted some issues with the rocket's current design, including its still-too expensive parts and excessive weight. According to Musk, the avionics, grid fins, and batteries are currently too heavy; the grid fins currently borrow from Musk's other business and use an electrically-powered Tesla Model 3 motor to drive them.
The engineering process is still in the works for Musk's SpaceX, and designs are constantly evolving. Musk said that the company has created some parts for Raptor 2, the second version of the Raptor rocket engine, but they still have a ways to go.
"Everyone's wrong. No matter who you are, everyone is wrong some of the time," Musk said. "All designs are wrong, it's just a matter of how wrong."
Nearly 30 of those first-generation Raptor engines are attached to the Super Heavy Rocket, which was rolled from the factory to its launch pad on Tuesday as the prototype rolls through prelaunch checkpoints. For now, the U.S. Federal Aviation Administration is keeping the rocket on the ground as they perform an environmental review of Starship's launch operations.
If the Super Heavy Rocket is cleared to launch, the rocket will take SpaceX one step further to creating the Starship, a fully reusable transportation system that will be used to take humans to the Moon, Mars and beyond.
"It's definitely and exciting time because we are kind of in a final push to complete the launch system," Musk said.
Spirit Airlines continues to take a nosedive as it cancels most of its flights nationwide; 22 flights were canceled from Austin-Bergstrom International Airport alone since Sunday.
The Florida-based carrier stumbled through the beginning of the week, canceling half of its schedule on Tuesday due to glitches in staff scheduling technology and infrastructure issues spurred on by weather-related concerns. Cancellation woes continued into Wednesday, with 418 flights (60%) of their schedule canceled by 1 p.m.
Only one flight out of the six arrivals and six departures scheduled at ABIA will still arrive according to plan on Wednesday, ABIA Public Information Officer Bryce Dubee told Austonia.

"Spirit has had some ongoing operational issues and has seen a significant number of cancellations," Dubee said. "For them, it is significant."
The airline was joined by American Airlines with high cancellations rates. AA scrapped 300 flights by early afternoon Tuesday, but the high number only accounts for 9% of its schedule. By Wednesday afternoon, only 3% of flights were taken off the schedule.
Dubee said that American Airlines had only canceled one arrival to ABIA since Sunday and that the issues "don't seem to be ongoing." American Airlines said that at least three-fourths of cancellations were due, at least in part, to a lack of pilots, while others, namely at Dallas-Fort Worth International Airport, were weather-related.
Meanwhile, Spirit said in a statement that they would see cancellations start dropping on Thursday.
The airline, which saw 20% of its schedule canceled Sunday and 42% Monday, said that "overlapping operational challenges including weather, system outages and staffing shortages" caused issues in crew scheduling. Some of the cancellations were made proactively as they fought to reset the sinking ship.
The issue was exacerbated by peak summer travel crowds. While airports are seeing 80% of pre-pandemic peak travel levels, many airline and airport companies have significantly fewer on staff. Spirit's pilot union said in a tweet that staffing strikes were not the cause for the week's cancellations.
Unlike other standard airlines, the "ultra-low-cost-carrier" doesn't have agreements when cancellations occur, meaning travelers can be left stranded. While Dubee said the cancellations have not caused anything more than general frustration for customers at ABIA, unconfirmed reports of riots in Puerto Rico and Florida rose to the surface in the wake of the cancellations.
Spirit said that lines have already begun to decrease substantially as they work to make amends—including providing refunds and helping process meal and hotel vouchers—and reboot the network. The carrier also pointed out that they held the lowest percentage of cancellations in 2020 and would soon be able to bounce back from the meltdown.

In the meantime, Dubee said its best for Spirit customers traveling through ABIA to check with the airline itself for more assistance, refunds and cancellation information.