Austonia AM
100% Austin news, info, and entertainment, straight to your inbox at 6 a.m. every morning.
In five minutes, you're fully informed and ready to start another great day in our city.
Get connected with our daily update
As Austin navigates its homelessness crisis, city voters will decide starting Monday whether to reinstate a ban on sitting, lying and camping in certain areas of the city. Proposition B has drawn impassioned support and opposition and is perhaps the most contentious item on the May 1 ballot.
Austonia sought out clear and brief editorials from either side of the debate. Arguing in favor of Prop B is Cleo Petricek, a Democrat and co-founder, along with Travis County GOP Chairperson Matt Mackowiak, of the Save Austin Now political action committee, which has led the charge to reinstate the camping ban. Opponent Emily Seales is a licensed clinical social worker and advocate with over 20 years of experience working and volunteering in homeless services in Austin and around the country. She is currently on staff at the Sunrise Homeless Navigation Center and is board co-chair of Open Door.
---
Editor's note: These submissions are the unedited views of their authors. Claims made have not been fact-checked to give the proponent and opponent a chance to speak their minds freely.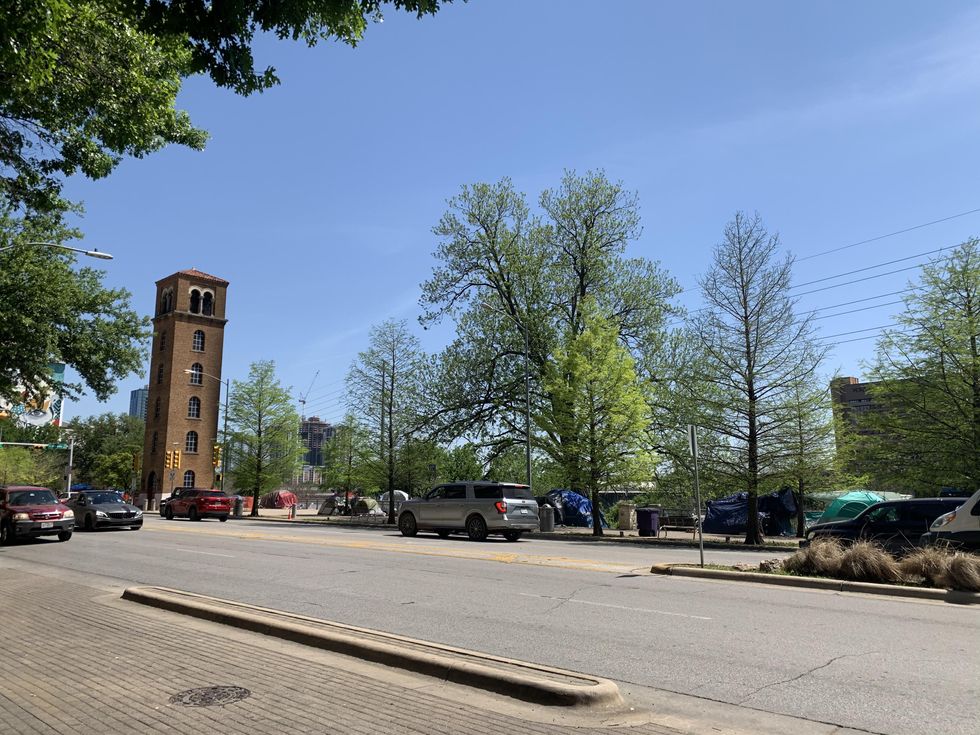 Homeless residents have also set up tents along Cesar Chavez Street near Buford Tower, which recently caught fire after a blaze spread from the camp. (Emma Freer)
Pro: Voting yes on Prop B sends a message to council that voters' voices and real solutions are paramount

In June 2019, the Austin City Council rescinded regulations on camping in public spaces. They did so without any serious public discussion and in fact appeared to actively avoid serious scrutiny. The resulting chaos is clear for all to see. Parks and playgrounds impacted by illicit behavior, lewd activities in public, trash strewn in waterways and public spaces, and most critically, assaults on the public and on other homeless individuals.
It is obvious that the homeless are not helped by this misadventure. Vulnerable women and youth in these camps are abused, mentally ill individuals are not served and there is no incentive for substance abusers to seek help.
Proponents of this mess have put forward no credible plan for any short term housing that restores safety—instead they talk about abstract housing concepts that even they acknowledge will take years to develop. This is the mark of narrowly focused activism, not what citizens should expect from elected leaders who promise to serve their communities. At every turn, the proponents of this chaos have demonstrated that they are not capable of fully considering the needs of diverse communities and proposing workable solutions. Instead they simply double down on trying to tell Austin that anything other than their chaos is heartless and inhumane. This is intellectually lazy, and Austin should demand better.
The chaos created by the City Council has resulted in a public outcry culminating in the citizens demanding to be heard by direct ballot. This demand is across the political and economic spectrum. As a co-founder of the Save Austin Now PAC and a lifelong Democrat, I have seen the diversity of people raising their voices in concern for our city.
It's time we turn this situation around and vote yes on Prop B. It sends a clear message to the council that the citizens of Austin must be heard as we work toward real solutions. There are successful models to learn from and some in our own state. But it all starts with voting yes on Prop B starting April 19.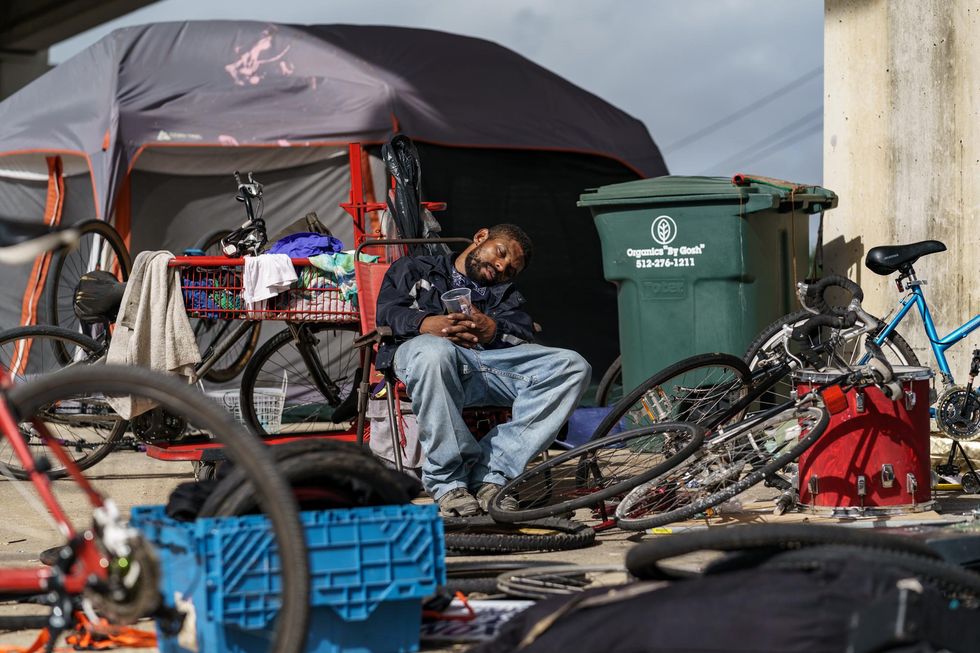 A homeless residents sleeps in the middle of a bike scavenging operation based at a camp under the South Austin overpass. (Jordan Vonderhaar)
Con: Prop B blames homeless individuals rather than providing solutions to societal problems
Austin's homeless population needs help, but Prop B doesn't do anything to solve our city's problems. It simply tells people who are experiencing homelessness that they cannot exist, visibly, in public space. I, too, am worried about the encampments. They are evidence that our strategies to help people return to housing aren't sufficient. But telling people "You can't stay here" without giving them alternatives isn't a solution.

The reason so many people are experiencing homelessness is that it takes a long time to get into housing, even when you do everything right. Shelters are at capacity, we lack deeply affordable housing, landlords can refuse housing vouchers, and housing programs are full.
As a case study, I want to tell you about "Bill," whom I met two years ago. Bill was a veteran, father, former truck driver and person of faith. He was also homeless and unsheltered. Bill had recently suffered a series of strokes and was desperate for both disability income and housing.
Bill and I worked together every single week for 17 months. He eventually was awarded disability and moved into his own apartment.
Bill's situation is typical of hundreds of people who are stymied by our complicated processes and lack of housing. Prop B would not add resources for people like Bill. Read the ballot language. Because Prop B bans "camping," people would have to move around constantly to avoid being cited. All that moving around takes time and energy. People like Bill would have a harder time keeping their appointments with case managers. Unpaid fines from citations build a criminal record—and landlords can choose not to rent to someone with a record. So punishing people for not having housing makes it even harder to get housing. Prop B hurts, not helps.
In this election, Austinites have a choice to criminalize people like Bill or to work toward solutions. Prop B places the blame on individuals rather than recognizing homelessness as a failure of society.
Prop B is an inhumane and wrong response. Oppose Prop B, and let's focus on solutions. Learn more
here
.
Ingredients:
1 1/2 oz of hibiscus-infused Tito's Handmade Vodka
2 oz sparkling water
1 oz fresh lime juice
3/4 oz simple syrup
1 tsp allspice dram
Directions: Add infused Tito's Handmade Vodka, lime juice, and simple syrup to a shaker with ice. Shake and strain into a glass over fresh ice. Top with sparkling water, and garnish with a lime slice. Enjoy!
A week after Texas added two congressional seats and California lost one, state officials reported a population decline in 2020 for the first time in the Golden State's history.
California fell by over 182,000 people from January 2020 to January 2021, dropping almost 0.5% to cap out at around 39.5 million people. It is still the nation's most populous state.
For over thirty years, California has seen more people leave than move in from other states, state officials said, with 6.1 million people moving out and 4.9 million coming in last year. Immigration and births kept California growing, but the state saw a shrink in international migration in 2020 due to COVID and the White House's hold on visas.
Of the steady flow of ex-Californians moving to other states, more are moving to Texas than any other state. Many are relocating to Austin, which has been labeled a "little California" by billionaire resident Elon Musk and continues to grow astronomically.
Meanwhile, California cities including Los Angeles, San Diego, San Jose and San Francisco saw a population decline.
With immigration and state migration on the decline, the Golden State was also hit with a spike in deaths- 51,000 people died from COVID in 2020, and all but seven of the state's counties saw death rates higher than the three-year average.
Still, the California Department of Finance said a "slightly positive annual growth" can be expected next year as the state recovers from COVID deaths and political repercussions.