Get connected with our daily update
Starting Monday, Austin voters will decide whether to reinstate a ban on sitting, lying and camping in certain areas of the city. Proposition B is one of eight proposed city code or charter amendments on the May 1 ballot, but it is perhaps the most contentious.
---
Spearheaded by the political action committee Save Austin Now, Prop B is a direct response to City Council's 2019 decision to overturn a 23-year-old ban on such activities. This is the second time the group has tried to get the issue on the ballot since the first petition was ruled invalid by the county clerk for duplicate signatures and other issues last year. Homeless advocates campaigned against the ban, arguing that it criminalized homelessness and led to citations and tickets that prevented homeless people from accessing housing, employment and other resources. Since then, the city's homeless population has grown in size and visibility.

SAN, advocates and council members generally agree that the situation is untenable, but they disagree about the ban's merit. Austinites who are directly impacted—including people who live near camps, downtown business owners and homeless residents—feel similarly embattled, telling Austonia that, regardless of how they plan to vote, not enough is being done to house the homeless.
Word on the street
Lisa Novak bought a condo in the East Riverside neighborhood in 2013, drawn in by its affordability and Guerrero Park. She attributes the increase in camping along the Riverside Drive median to council's decision to repeal the ban. "It turned into open season," she said.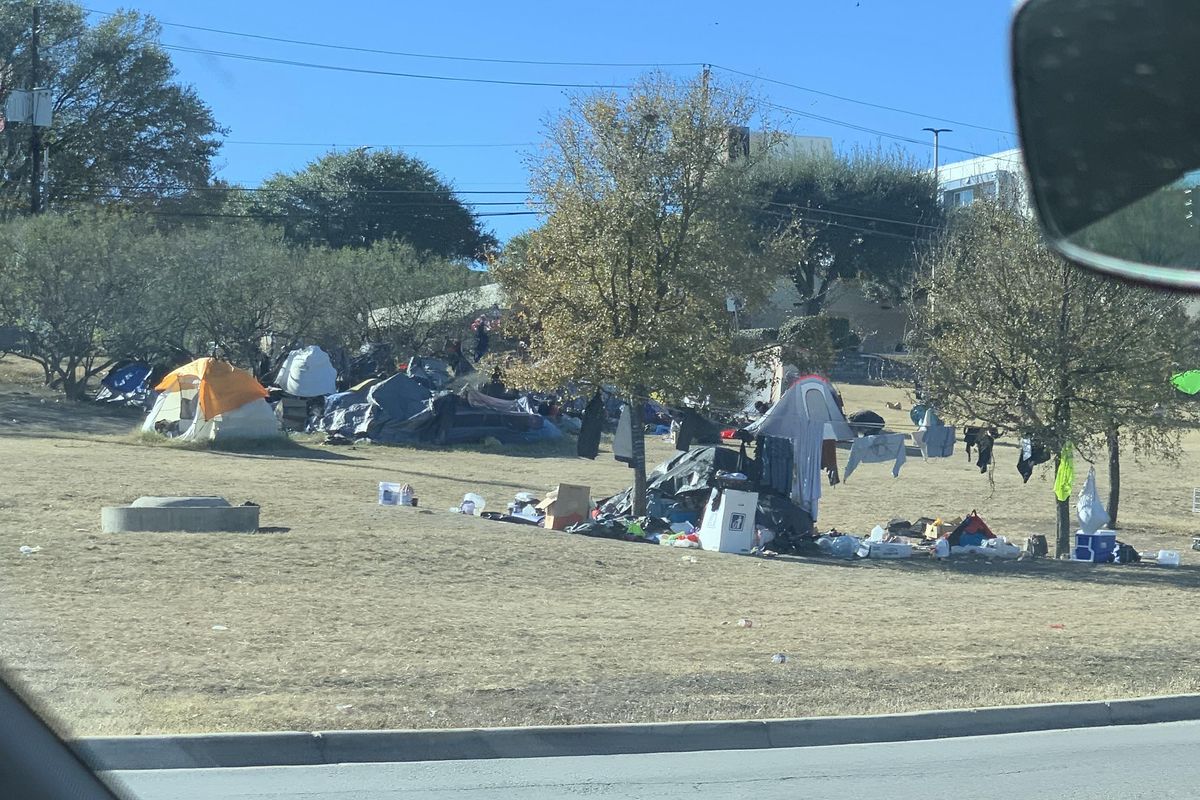 Lisa Novak took this photo of campers along the Riverside Drive median, near where she lives. (Lisa Novak)
Novak worries about the recent spate of fires and how camps affect area business owners and incoming tourists. After her husband witnessed a violent exchange between two panhandlers, the couple stopped walking to their neighborhood H-E-B. She will vote for Prop B and disagrees with advocates who say it criminalizes homelessness. "I'm sorry, but as a member of society there are certain rules and regulations," she said.

Kevin Ludlow's Windsor Park home sits right behind a long-time homeless camp along Little Tannehill Branch Creek. He estimates he has spent hundreds of hours talking to city staff, council members, nonprofits and police about trash and safety concerns.
Ludlow is undecided on Prop B. He thinks a ban will address these issues, but he also feels police could be more responsive to reports of theft, vandalism and other crimes without penalizing campers who are otherwise law-abiding. "There's no winning hand, and I feel it's by design," he said.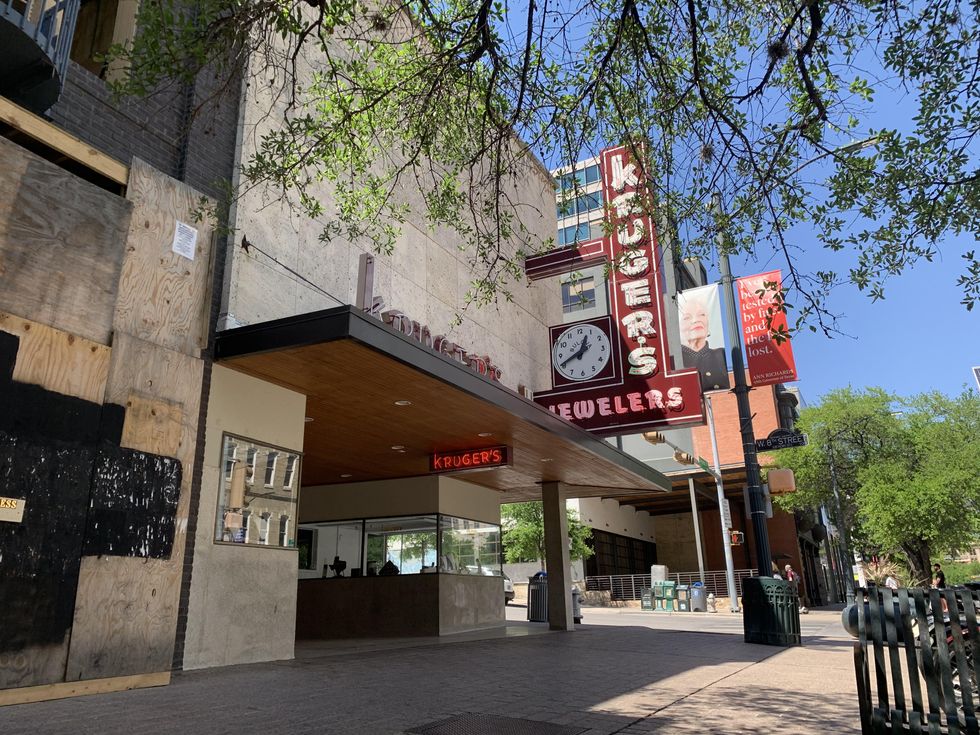 Longtime Downtown business Kruger's Diamond Jewelers often has homeless residents camping outside the entryway. (Emma Freer)
David Kruger, fourth-generation owner of Kruger's Diamond Jewelers on Congress Avenue, is similarly ambivalent. Although homeless residents often camp out in his entryway, his issue is with city leadership, whom he feels are incapable of developing solutions. "I'm probably going to vote in favor of it, I guess, but I'd feel better if there was another item that addressed the problem," he said, comparing Prop B to trying to put toothpaste back in the tube.
Christopher Carr, a member of the Austin Homeless Advisory Committee who has been intermittently homeless since graduating from the University of Texas at Austin in the 1990s, is more decisive. A poet who loves opera and has bipolar disorder, he camps near the intersection of 15th and San Antonio streets. When the ban was in effect, he was often harassed by police he says. "You felt like you might have a few seconds before the cops showed up (if you sat down on a sidewalk)," he said.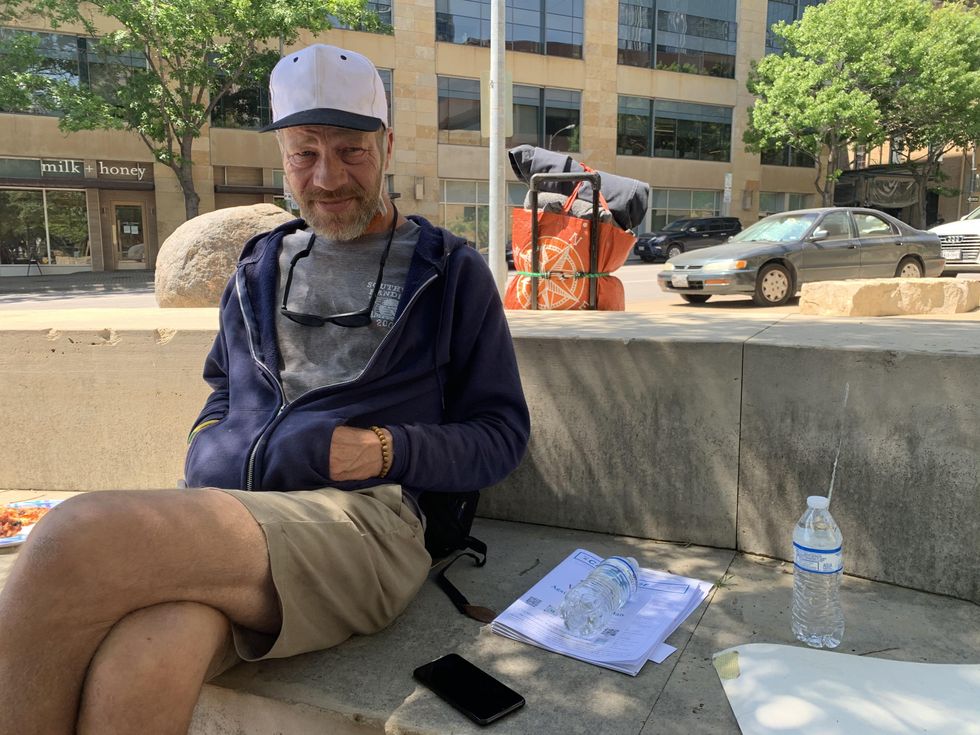 Christopher Carr attends a meeting of the Challenger Street Newspaper, for which he is a contributor and distributor, outside of City Hall on Sunday. (Emma Freer)
Since the ban was lifted, Carr feels Austin's housed residents have turned against the homeless: "If you don't like seeing all these tents everywhere, why don't you not like the country where this level of indigency exists?"

A stopgap measure
Save Austin Now argues that repealing the ban has adversely impacted public safety, residents and businesses and left homeless people to live in unsafe conditions. Ken Casaday, president of the Austin Police Association and SAN board member, added that the council vote left residents out of the process. "For me, the big issue is 'let the citizens vote,'" he said. "If the citizens vote down Prop B, we'll live with it."
But the May 1 election is likely not the end of this debate. Texas lawmakers are considering a statewide ban on public camping in a clear rebuke of local policy.
Chris Harris, director of Texas Appleseed's Criminal Justice Project and an activist who helped overturn the ban in 2019, argued that the decision has made homelessness more visible, leading to greater investment by the city and nonprofits. "No matter what happens with Prop B or with these bills at the Legislature, our community can't forget about this issue," he said. "We decriminalized homelessness not because we saw it as a solution to homelessness but because we thought it was (an issue of) right-or-wrong."
Austin may not be a snowy winter wonderland this December, but that doesn't mean you can't be transported to a land of faux snow, Christmas trees and holiday cheer.
Here are six places that are hosting winter wonderlands in Austin.
Winter Wanderland at Austin Motel, 1220 South Congress Ave.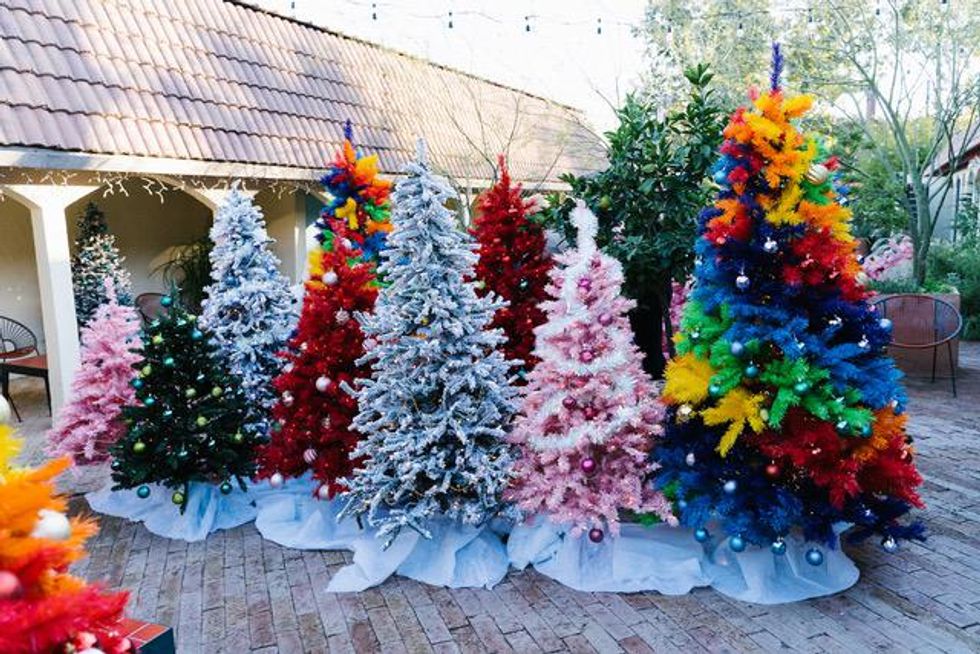 Get ready for a holiday experience you'll never forget! From Dec. 2-26, the Austin Motel is hosting a neon rainbow holiday experience, which includes trees, rainbow lights, carols with Drag Mrs. Clause, Hunky Santa, weekly holiday film screenings and boozy holiday drinks galore. Thursdays through Saturdays offer some of these special holiday treats, so come ready to have a jolly time. This is a family-friendly event, reservations aren't required and admission is free, but they do ask you to donate to CARY, Council on At-Risk Youth. The full schedule can be found here.
Yelp Pink Winter Wonderland at Revival Coffee, 1405 East 7th St.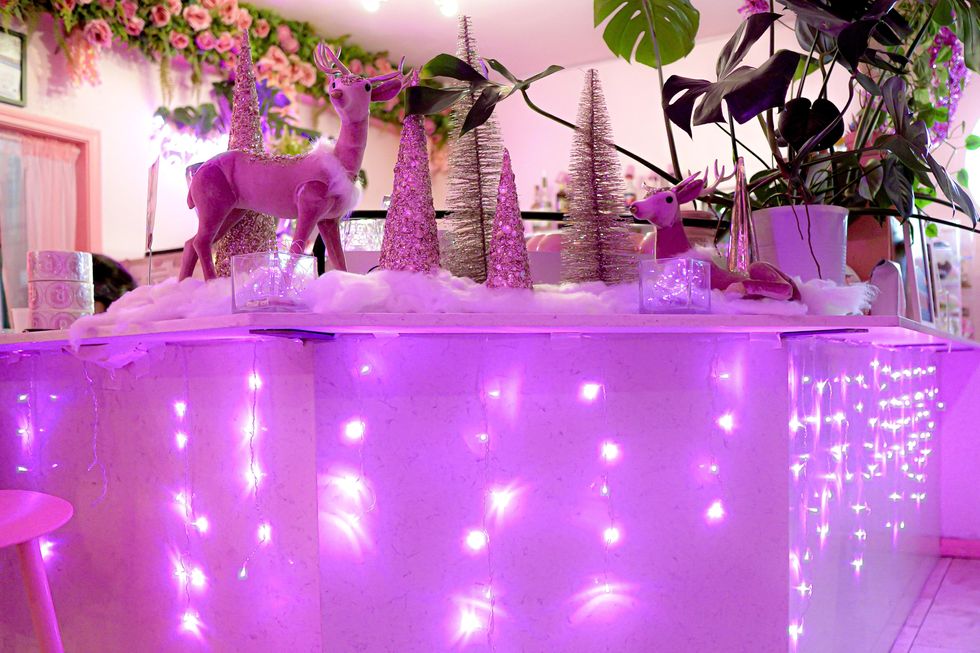 This year, Yelp is hosting their Deck the Halls with Yelp, a $100K Holiday Winterization Fund which helps local businesses fund improvement projects needed for the winter season. To celebrate this launch, they have partnered with Enchantment Event Decor to create a pink winter wonderland at Revival Coffee. This winter wonderland will also serve as a way community members can nominate local businesses in person to receive funding, learn about the campaign and celebrate the holiday season. Expect unique lights, tinsel, pink trees and an overall Instagram moment.
Illuminate at W Austin, 200 Lavaca St.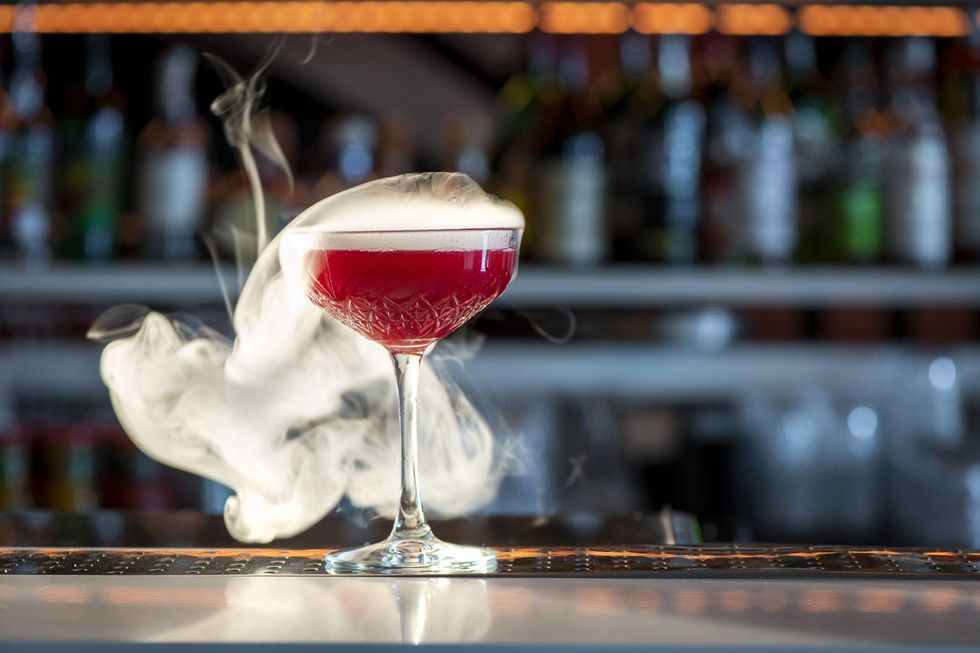 This year, the famous secret holiday bar at W Hotel will become a sophisticated winter wonderland! Guests will truly have the chance to shine during this holiday season and enjoy appetizers and tasty Fire or Ice cocktails off their brand new holiday menu.
South Pole at Kimpton Hotel Van Zandt, 605 Davis St.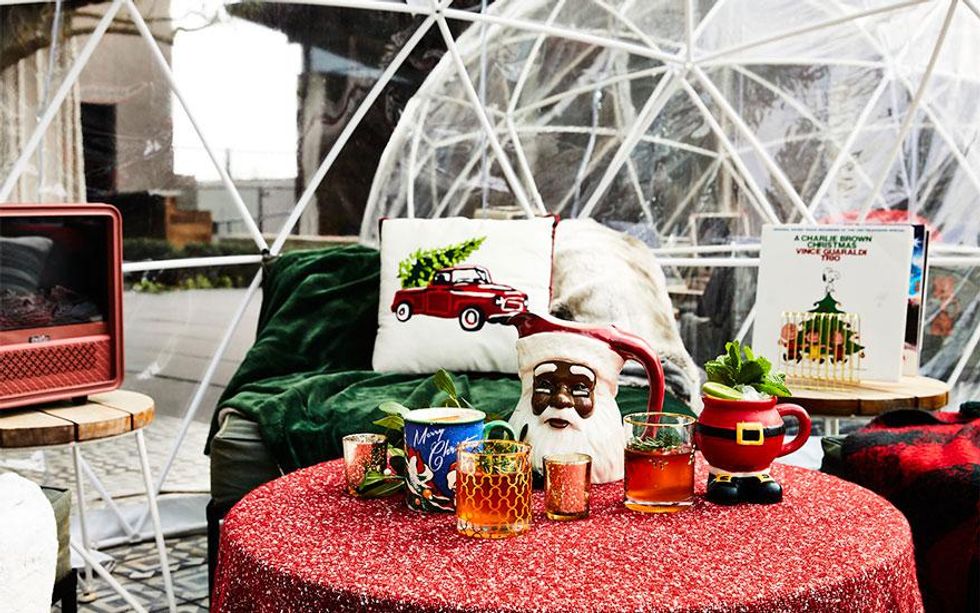 This year, the Kimpton Hotel Van Zandt is hosting a marvelous winter wonderland with its third annual fourth-floor South Pole. They have revamped the rooftop desk to showcase outdoor igloos for private dining, holiday-themed cocktails (and also Friendsgiving-themed cocktails), and holiday-themed meals from Geraldine's. Reservations for the private igloos will open on Dec. 3 and will also be open for a week around Valentine's Day. They can be made here. Guests also have the choice to purchase hotel and dining packages, which can be made through Hotel Van Zandt or Geraldine's.
Austin Trail of Lights at Zilker Park, 2100 Barton Springs Rd.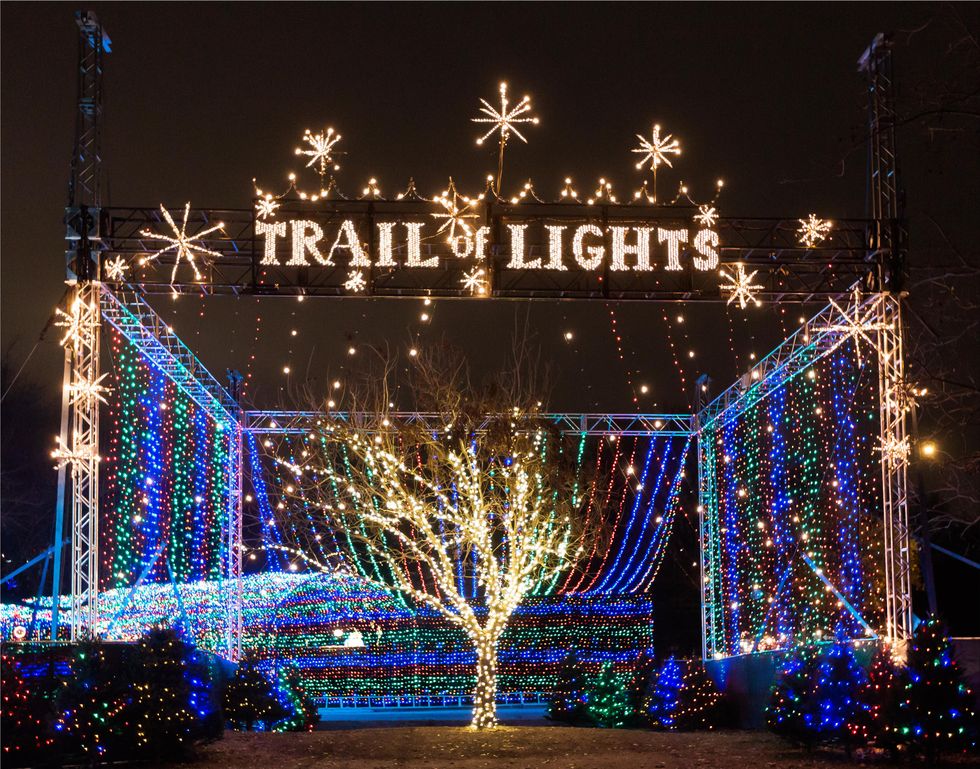 Get ready for the 57th annual Austin Trail of Lights running now through the end of the month. Tickets range from $15 to $65 and can be purchased online. The event is hosted by the Trail of Lights Foundation, and this year, it's a drive-thru event. Enjoy over two million lights that light up the park, 90 holiday trees, and over 70 holiday displays and lighted tunnels. They also offer private nights in which entry is free through the STARS at the Trail program. More information about the Austin Trail of Lights can be found here.
Peppermint Parkway at COTA, 9201 Circuit of the Americas Blvd.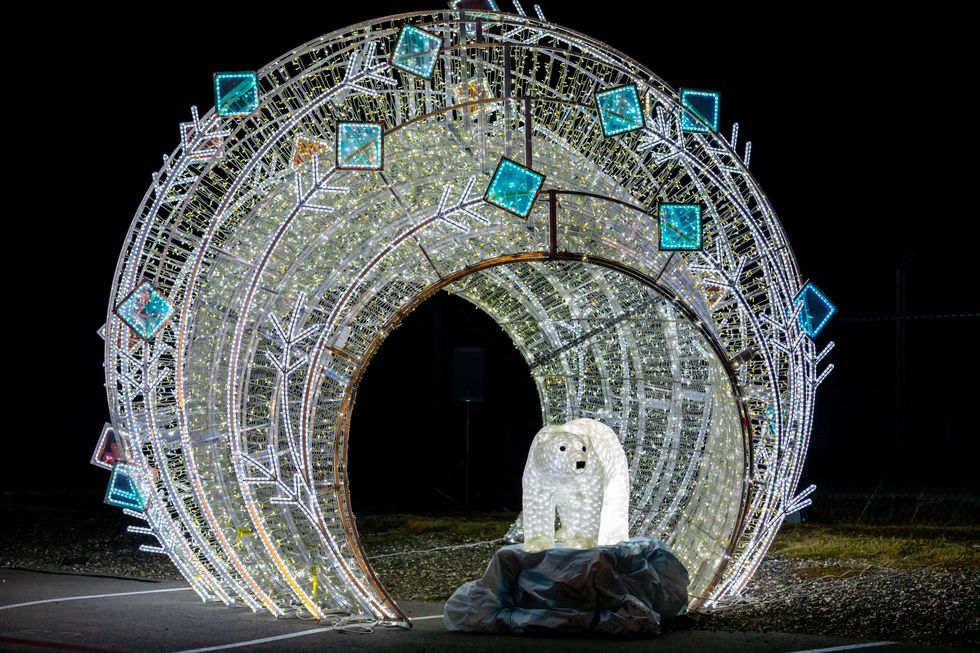 From now until Dec. 26, the Circuit of The Americas is hosting Peppermint Parkway, a winter wonderland where guests can enjoy a mile of immersive holiday displays, dancing elves, a plaza of food and activities and seven million holiday lights. There are four ticket packages that range from $40 to $95 and can include, along with regular admission, a fast pass and/or a chance to take a lap around the famous track. Regular admission includes a show, mailing letters to Santa, a mistletoe kissing booth, a holiday express train, amusement rides, treats, carols, a zipline and more!
Have fun walkin' in a winter wonderland!
Ingredients:
1 1/2 oz Tito's Handmade Vodka
3 oz warm spiced apple cider
1 oz ginger beer
Directions:
Add all ingredients to a
Tito's Copper Mug.
Garnish with a cinnamon stick. Enjoy!
Tesla's new battery-electric kid cars are all out of stock ahead of the holidays, the website shows Friday after a quiet Thursday launch.
The Cyberquad, a four-wheel ATV modeled off the company's Cybertruck design, has a weight capacity of 150 pounds and is recommended for kids who are at least 8.
It comes equipped with a lithium-ion battery that has an estimated range of 15+ miles on a full charge, which can last five hours. And while the Cyberquad can run at 10 mph, parents who find that to be too speedy can set it to go a maximum of 5 mph.
The sleek design features a full steel frame, LED light bars, and fully adjustable suspension at the cost of $1,900. That makes it by far the cheapest Tesla vehicle for sale.
Shipping won't start for another 2 -4 weeks for those who snagged a Cyberquad, and Tesla has said orders aren't guaranteed to arrive before Christmas celebrations.
Meanwhile, the status of the actual Cybertruck is unclear. While Giga Texas—the factory in southeast Travis County that serves as the company's new headquarters—will eventually produce Cybertrucks, a Q3 report had the status as simply "in development."
CEO Elon Musk took to Twitter Friday to defend the production timeline, saying it will be rolled out to external beta in the coming days if no significant issues are found during the internal release.