Get connected with our daily update
(Charlie L. Harper III/Austonia)
Leaders of the local nonprofit group "Save Austin Now" said Monday their effort to roll back a year-old city ordinance allowing camping in public spaces has drawn 24,000 petition signatures, well over the amount needed to put their initiative on the ballot in November.
---
City officials confirmed that the group submitted the petition, which needs 20,000 validated signatures to get ballot consideration, but said it could take weeks for all the signatures to be certified.
"We are ecstatic to have turned in so many signed petitions from every neighborhood, every zip code, and every demographic across our city from residents who just want to live in a safe city," said Save Austin Now co-founder Matt Mackowiak, who is also chairman of the Travis County Republican Party. "The homeless camping ordinance has been a disaster for our city."
Last summer, the Austin City Council abolished the city's ban on public sitting, panhandling, lying and camping after homeless advocates said such bans criminalize people who live on the street, and trap them there by making them targets for police action and creating criminal records.
In October, the council revisited the issue and limited where camping was allowed, banning it from sidewalks, near houses, near the Austin Resource Center for the Homeless and other shelters, and outside businesses during operating hours, among other limits.
In a texting campaign, Travis County Democrats have accused the group of misleading the public in order to get more signatures and as late as Monday urged recipients to call the Travis County Clerk's office to have their signatures removed. But a city spokesman said that once the petition is submitted, signatures cannot be removed.
Local Democratic party officials could not be reached to comment on Monday.
Mackowiak said the effort is bipartisan and has no agenda beyond prohibiting tents on city streets and sidewalks, under highway overpasses and along medians.
If the petition is certified, voters will get to decide on whether to roll back ordinances to where they were before the ban was lifted in June 2019—no panhandling at night, no public camping, no sitting or lying in public places.
"This is a standard of living issue for every neighborhood in Austin," said Save Austin Now co-founder Cleo Petricek, who describes herself as a lifelong Democrat. "There is no partisan angle to wanting a safe neighborhood."

(Clint Broden)
Daniel Perry, the active-duty Army sergeant who says he shot Black Lives Matter protester Garrett Foster in self-defense, was driving for Uber when he accidentally encountered the demonstration on the night Foster was killed, his attorney said Monday.
Perry, who is stationed in Killeen and only allowed to travel 100 miles from base, was not in Austin that night to attend the demonstration, attorney Clint Broden said, but because it "was the closest location that had significant ridesharing customers."
Broden also shared a redacted version of Perry's bank statement that shows two deposits from Uber that he said correlated to runs in Austin that night. Perry has been ordered to remain on base since the shooting, Broden said.
"We hope this puts to rest the allegations that Sgt. Perry traveled to Austin for any nefarious purpose," he said.
Some, including Foster's mother, have pointed to Perry's since-deleted Twitter account as evidence that he disagreed with BLM protesters and showed up at the rally to cause trouble.
The release was accompanied by six photos showing what the attorney described as the damage inflicted on Perry's car by protesters, including a bullet hole.
After Perry shot Foster, who was carrying an AK-47 and whom Perry claims was raising his rifle "in a direct threat to [his] life," another person in the crowd shot at Perry's vehicle, according to police. That person has not been publicly identified. Like Perry, he or she had a concealed carry license and was questioned and then released by the Austin Police Department.
Protesters arrested

On Saturday, in the wake of Foster's death and the release of Perry's name the day before, protesters and law enforcement clashed in demonstrations near downtown. Austin police on Monday released the names of 40 people arrested at the protests. The most common charge was obstruction of a highway.
Perry's attorney shared photos that he says show damage inflicted by protesters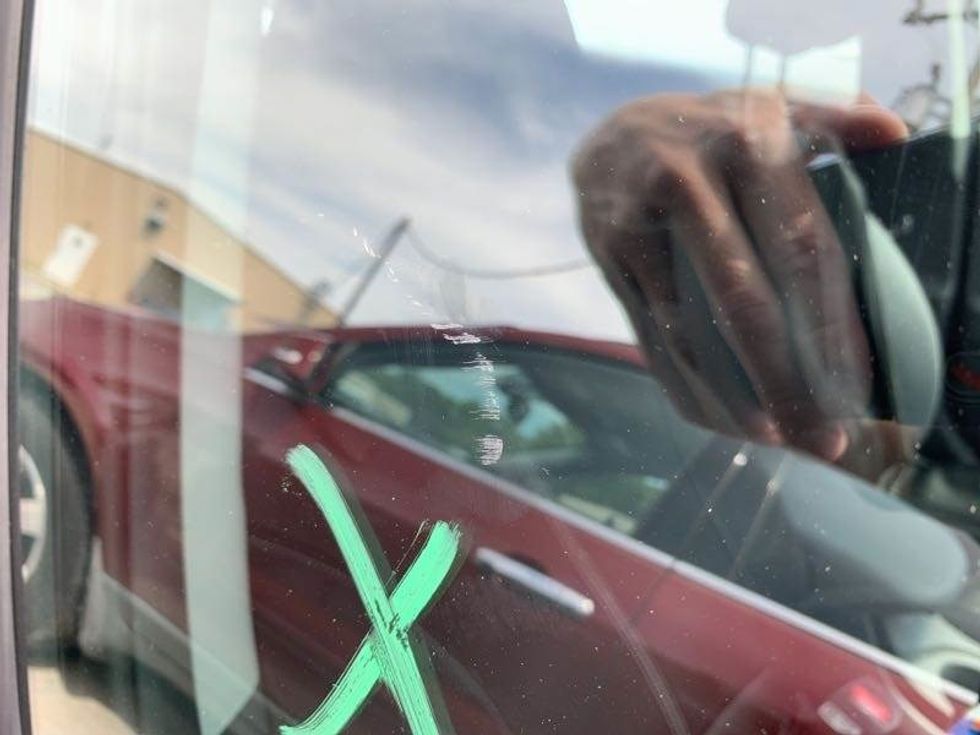 Perry's lawyer claims this photo shows where the vehicle was scraped with a brick.
(Clint Broden)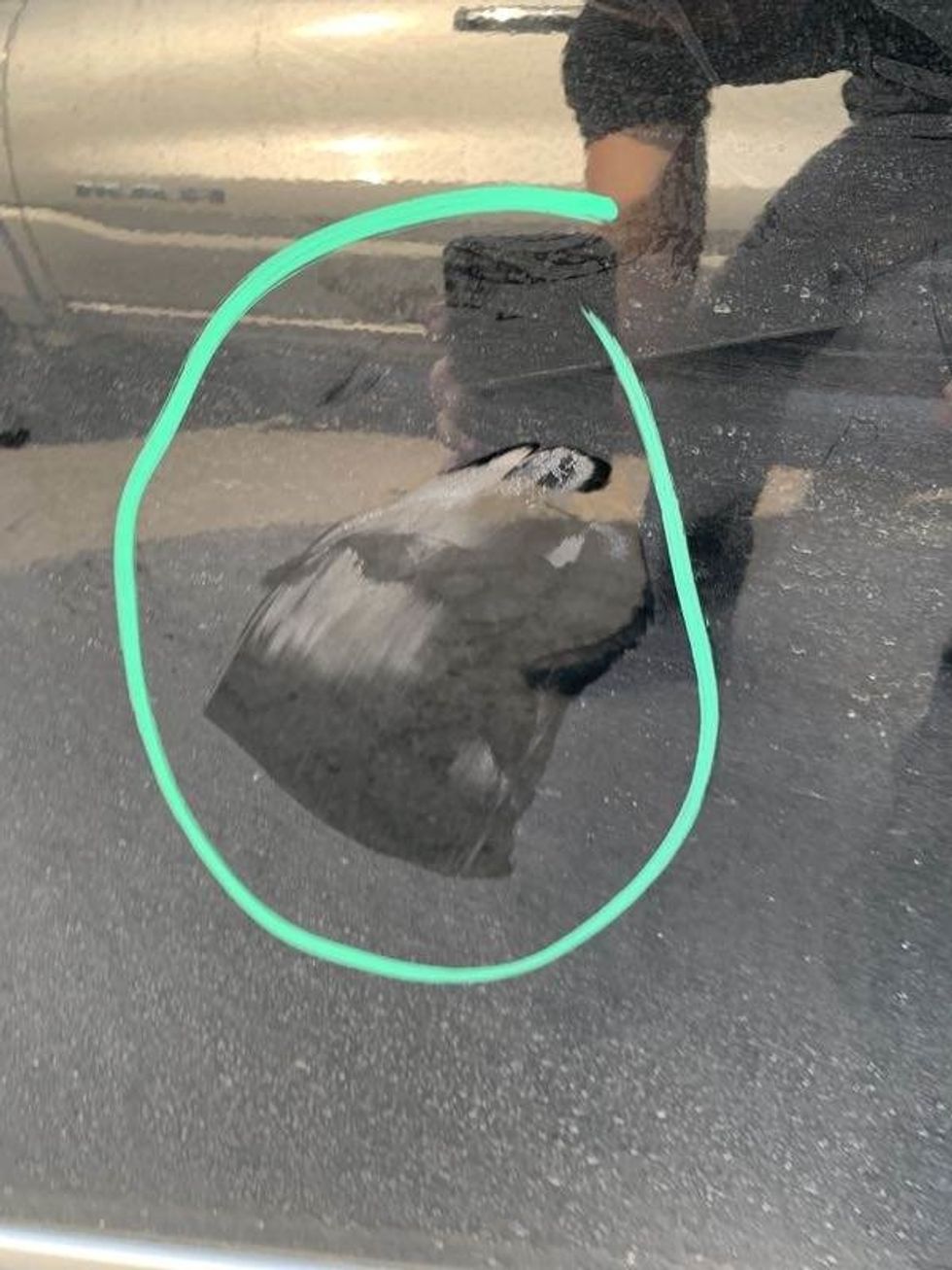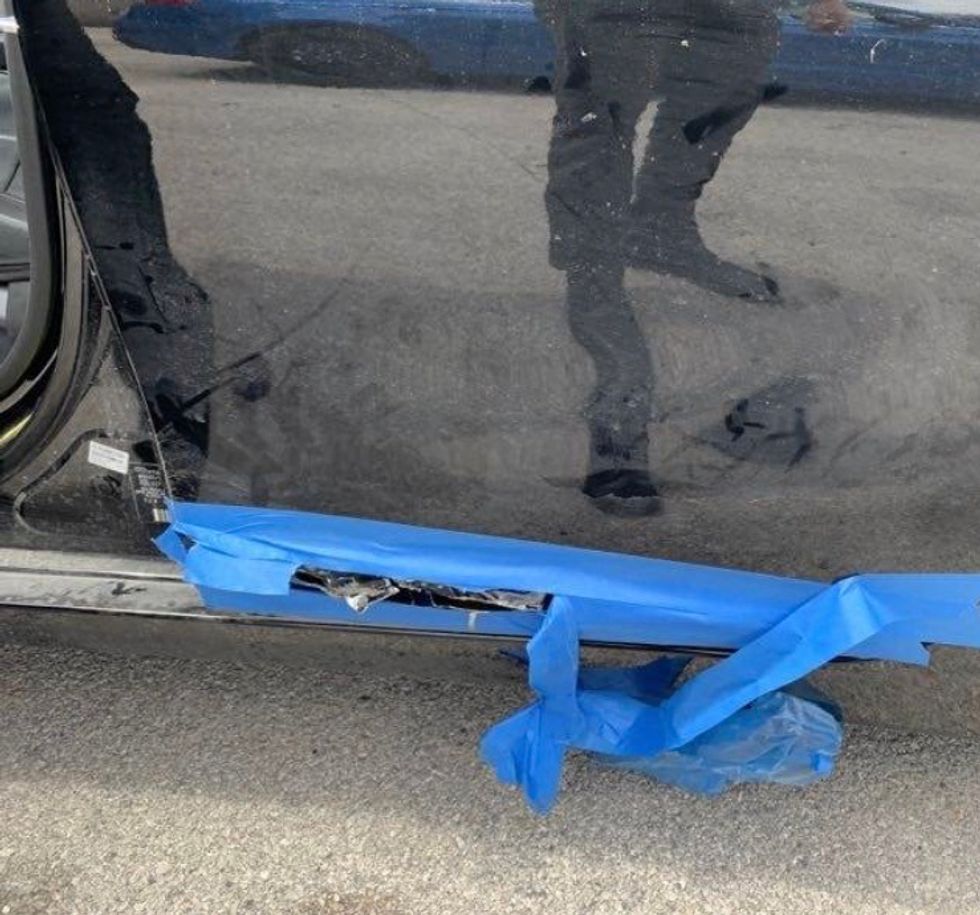 This photo, the lawyer says, depicts bullet holes.
(Clint Broden)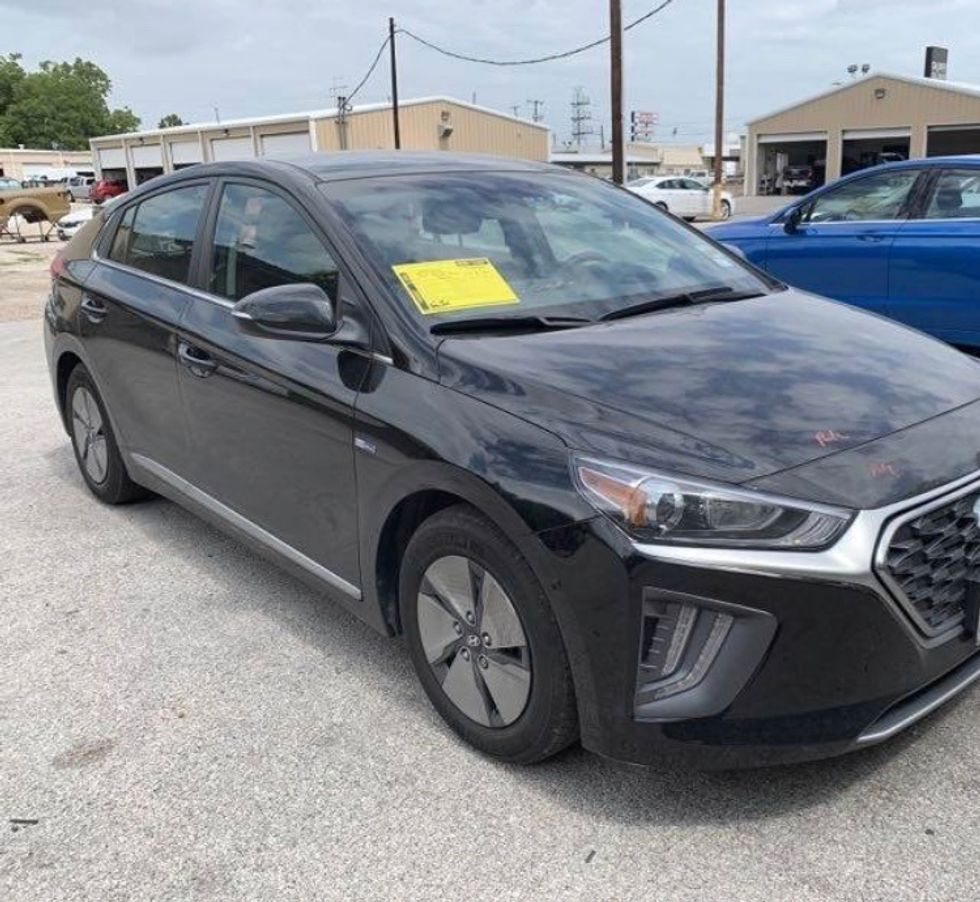 Perry's lawyer claims this photo shows hood damage "identified by auto body shop as a result of banging."
(Clint Broden)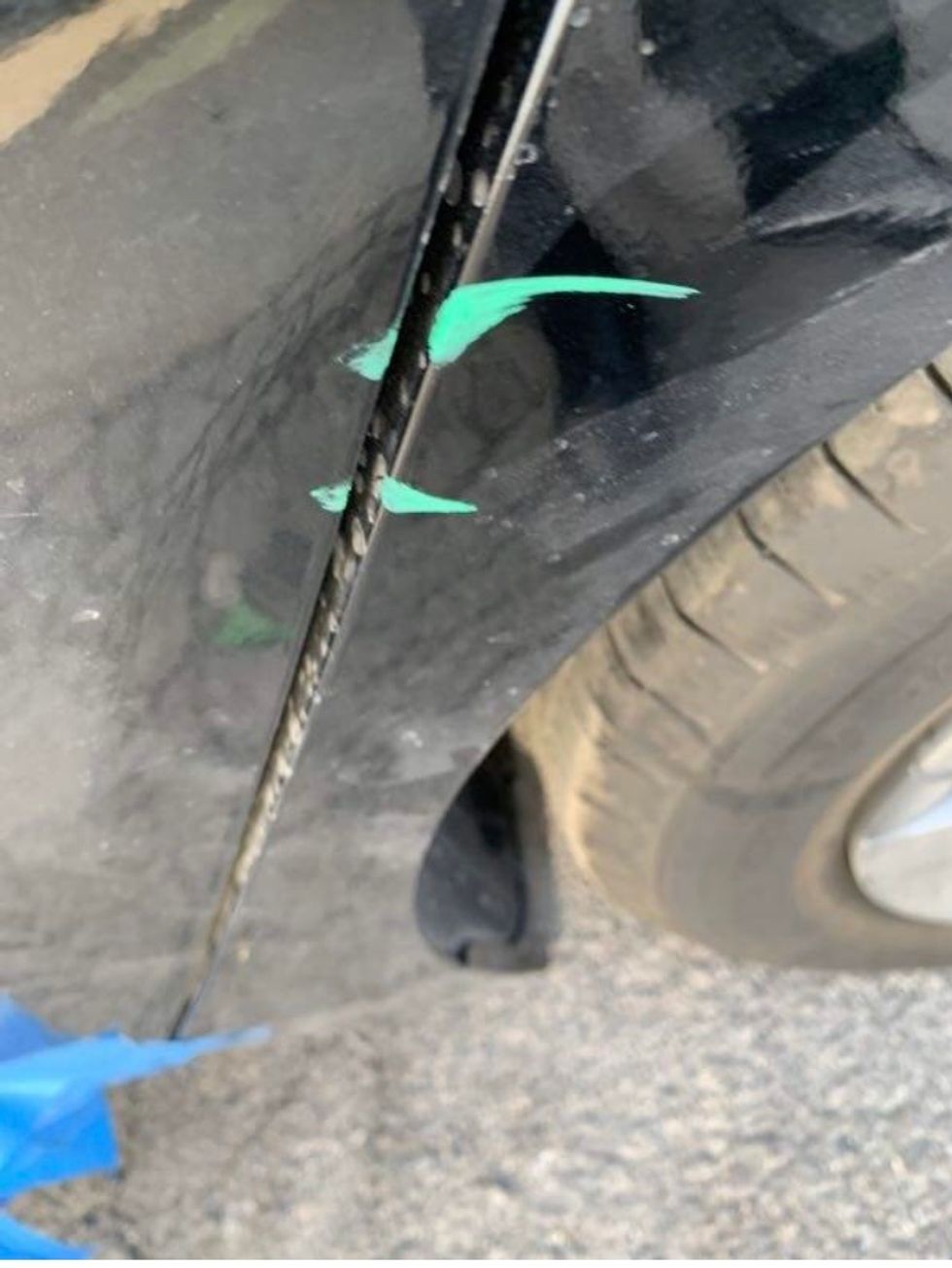 This photo, the attorney claims, shows a misaligned door where people hit the vehicle.
(Clint Broden)
Follow Austonia on Instagram to keep up with what's happening in your city.
Our Instagram page allows you to stay up to date with all things Austin, from coronavirus updates to local personalities. Join our Instagram family to see the faces, events and news that make up the city.
(Apple)
Former Longhorn and NFL star Emmanuel Acho stars in the two-part premiere of "The Oprah Conversation," which hit screens on Apple TV+ over the weekend.
<p>Acho is a natural fit to kick off the new show by Oprah Winfrey. The two are partnering to <a href="https://austonia.com/media/uncomfortable-conversations" target="_blank">publish a book based off his wildly popular social-media series</a>, "Uncomfortable Conversations with a Black Man."</p>In the show's first installment, Winfrey and Acho answer questions by white and Latino guests about race and what it means to be Black in America.<p>"He's answering uncomfortable questions about racism in America and the best ways to keep the conversation going with your family and friends," reads a statement on the show's social media.</p><div class="rm-shortcode" data-rm-shortcode-id="b731717d9d6127f784b0c98ace3bba1a"><div class="fb-video" data-allowfullscreen="true" data-href="https://www.facebook.com/video.php?v=2661048164154842"></div></div><p><br/></p><p>"The Oprah Conversation" is Winfrey's newest series on Apple TV+, following "Oprah Talks COVID-19" and "Oprah's Book Club."</p><p>In future episodes, the show will continue to explore timely topics with leaders from across the globe. <a href="https://tv.apple.com/us/episode/uncomfortable-conversations-with-a-black-man-part-1/umc.cmc.18mbwbiobbhzpxceuzvijsln8?showId=umc.cmc.49yt85r7ow6904u0177r694qy" target="_blank">Watch it here.</a></p>