Get connected with our daily update
(Jordan Vonderhaar)
It's been a year since Texas Gov. Greg Abbott intervened in Austin's homelessness crisis.
Prompted by the City Council's June 2019 decision to overturn a ban on public camping and reports of crime by homeless suspects, Abbott ordered sweeps of camps under state highways and established a state-run campsite in Southeast Austin.

---
Since then, the camps' residents have faced the COVID-19 pandemic and continued cleanups by both the Texas Department of Transportation and various city agencies.
Here's a look inside the camps.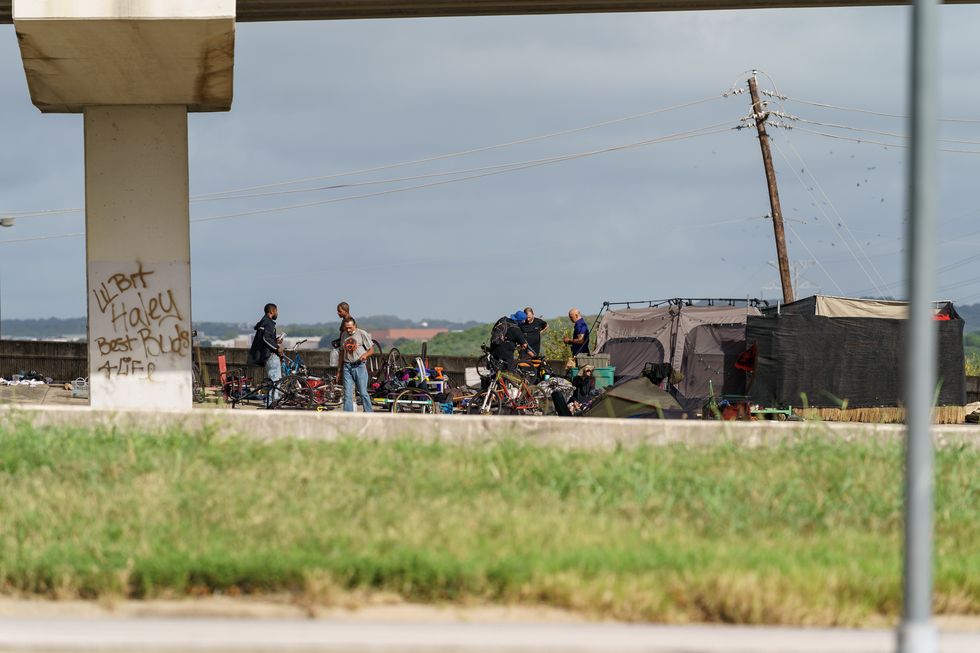 Many homeless camps in Austin can be found underway highway overpasses, such as this one at I-35 and Montopolis.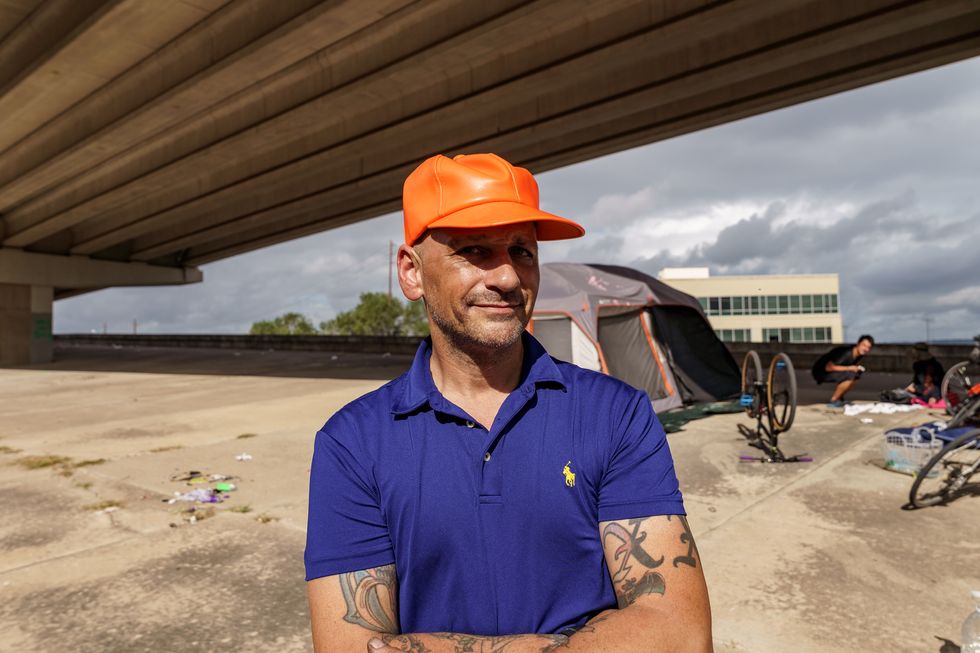 (Jordan Vonderhaar)
John Volloy has lived at a South Austin homeless camp known as the Breezeway for three years and operates a bike workshop there. Although other camps nearby have water stations and trash bins, he prefers the Breezeway, which provides the cover of an overpass and decent water drainage. He has no plans to leave. "I'm going to stay no matter what," he told Austonia.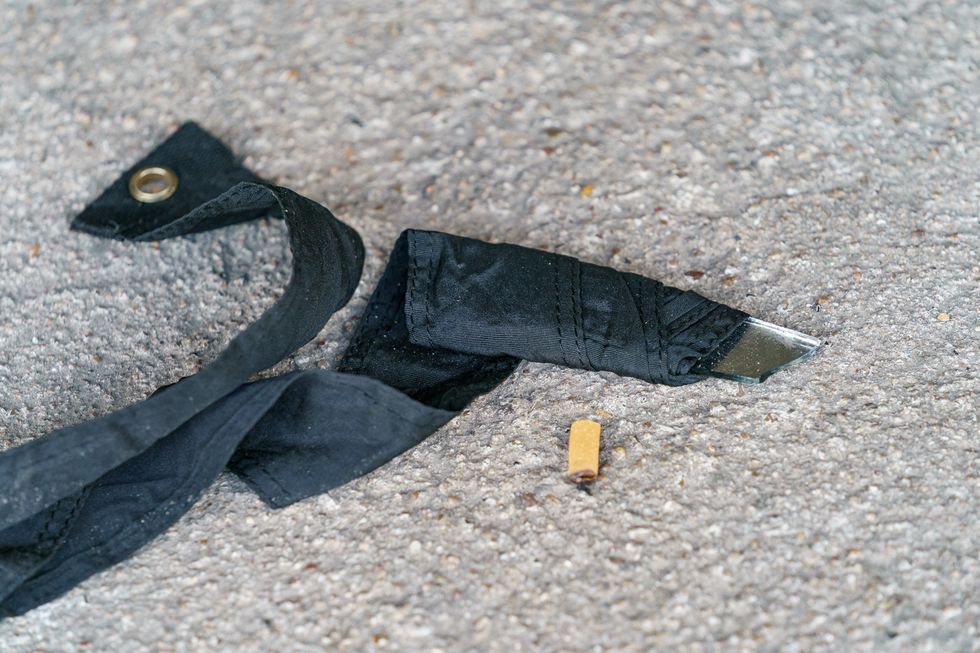 A makeshift weapon made from a piece of broken glass sits on the ground at a Southeast Austin homeless camp. Most violent crimes involving a homeless suspect have a homeless victim, Austin Police Department Assistant Chief Joe Chacon said earlier this year.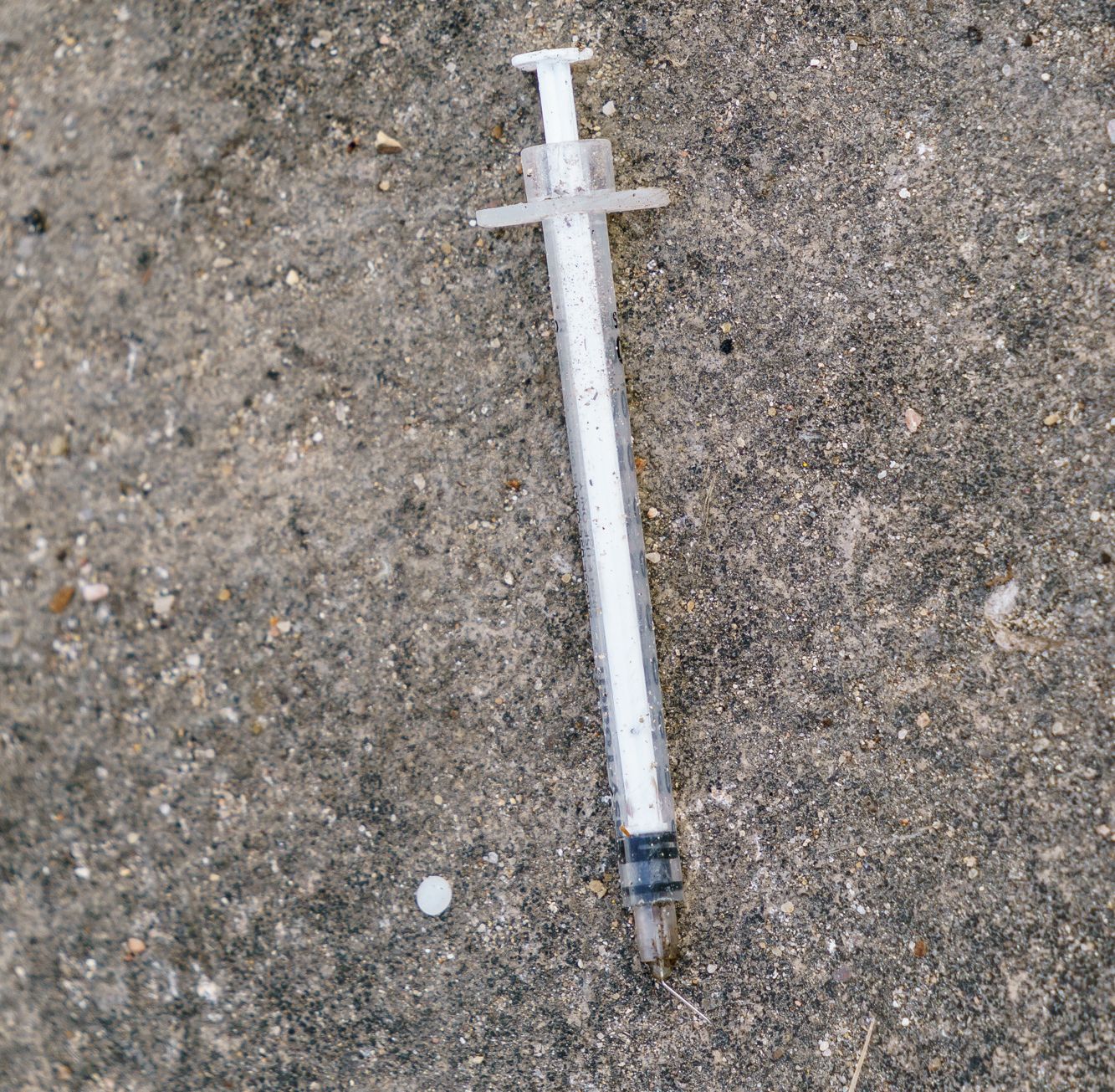 Some residents complained about the drug use at the camps, and syringes like this one littered the ground at many. The Ending Community Homelessness Coalition lists lack of affordable healthcare as one of the main causes of homelessness, citing poorly managed substance use and mental health disorders as possible reasons someone may lose a job or housing.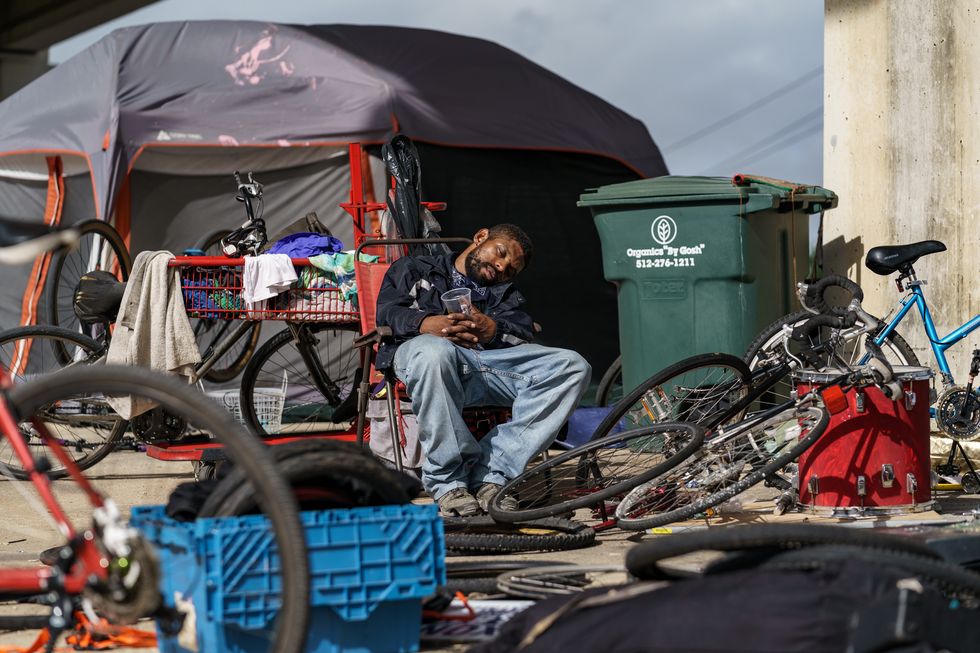 (Jordan Vonderhaar)
Numerous homeless residents said they get by salvaging items such as donated clothing or old bikes. Here, a resident sleeps in the middle of a makeshift bike workshop at the Breezeway.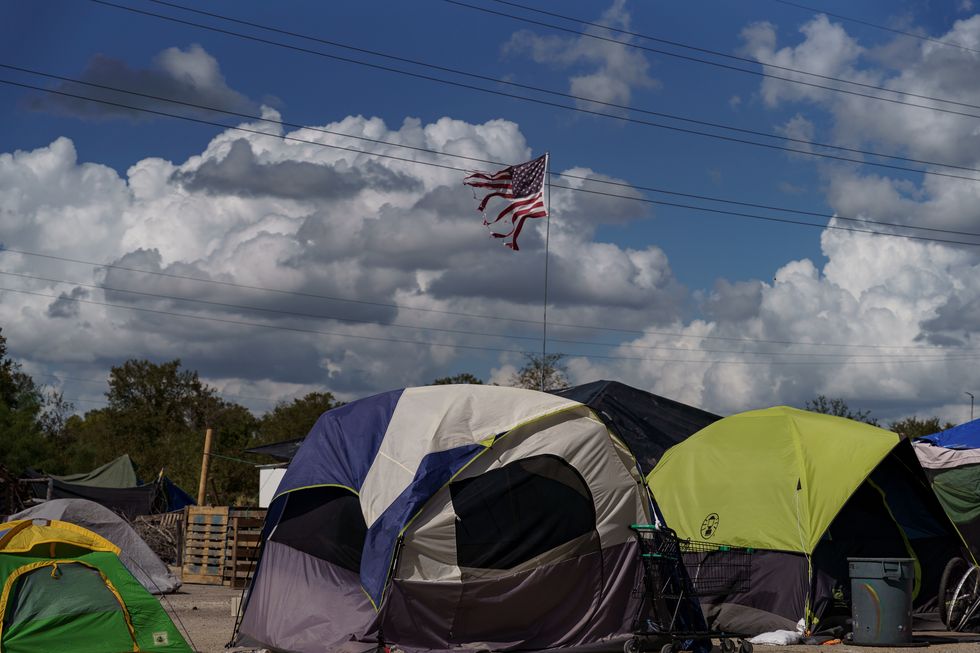 The state-run campsite spans across a seven-acre maintenance yard off of Hwy. 183 near Montopolis. Overhead, airplanes descend en route to the Austin-Bergstrom International Airport, which is nearby.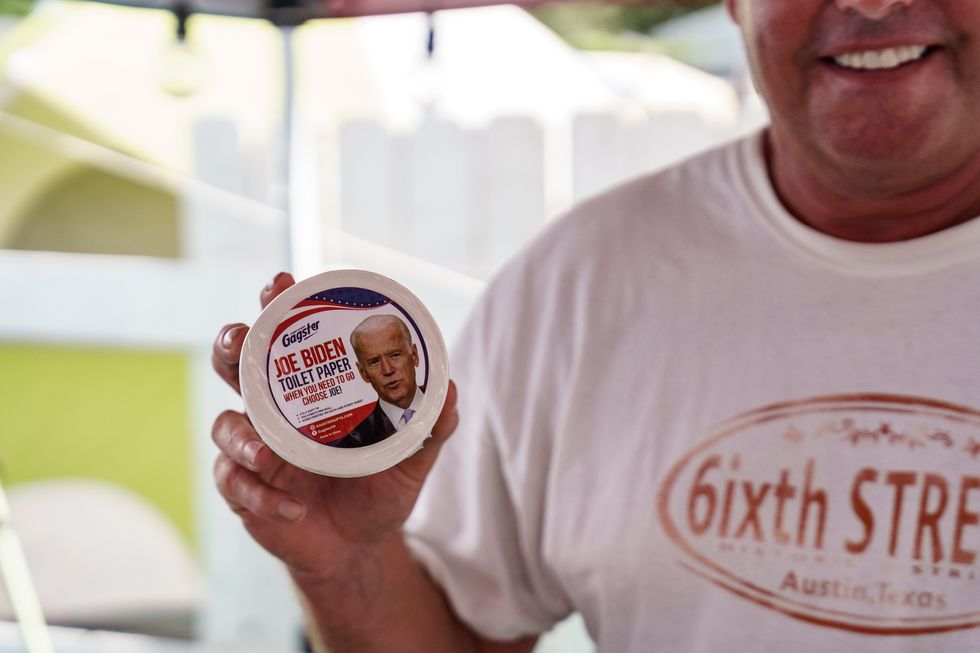 David, 58, moved to the state-run site in January, after spending two years "basically on vacation" in Mexico. Before that, he lost his job in the oil and gas industry.
His setup includes two tents, some turf, a grill station and a white picket fence. He inherited a Trump 2020 sign from one of his neighbors and got ahold of some Joe Biden toilet paper.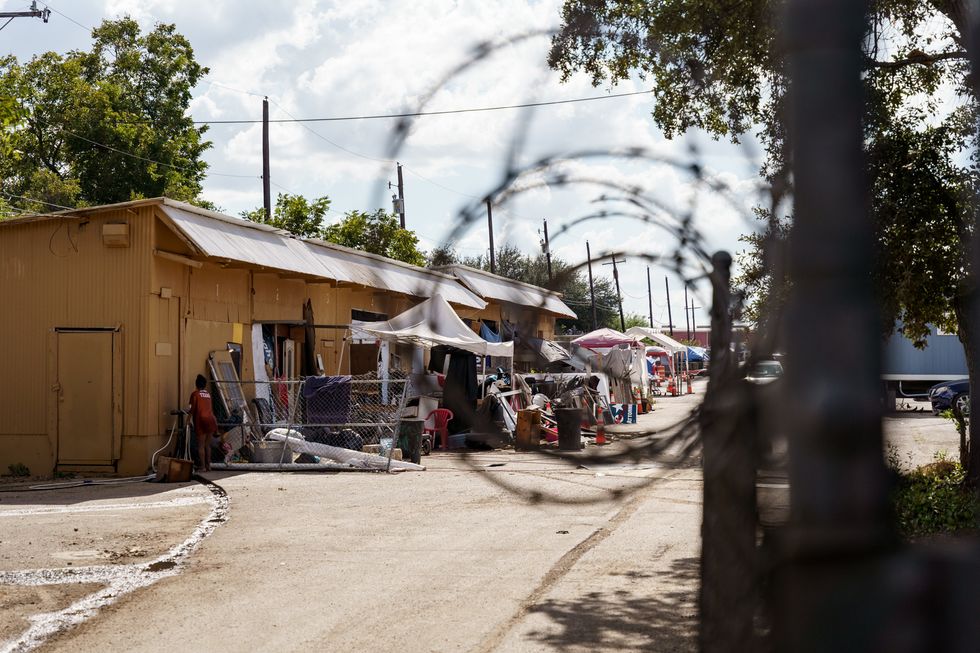 There are some vehicle bays near the entrance of the state-run homeless camp in Southeast Austin, which have since been repurposed into living quarters by its residents. Others live in tents, with no shade, toward the back of site.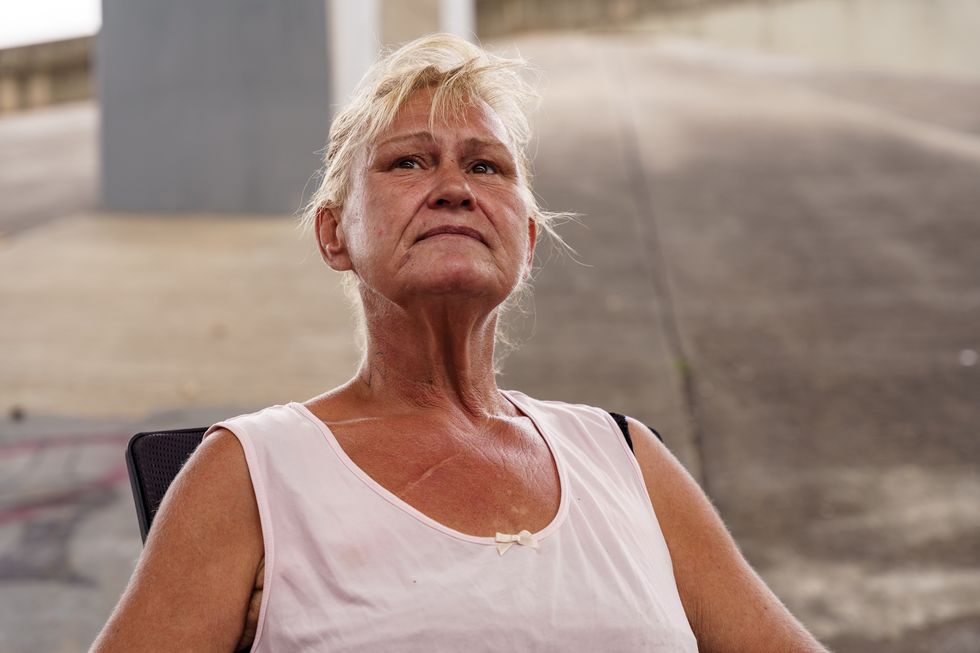 Kimberley Piper has lived at a homeless camp across from the Westgate park-and-ride for about a month. She became homeless earlier this year, after more than a decade off the streets, when she moved out of her father's apartment nearby. She said he didn't think he needed a caretaker.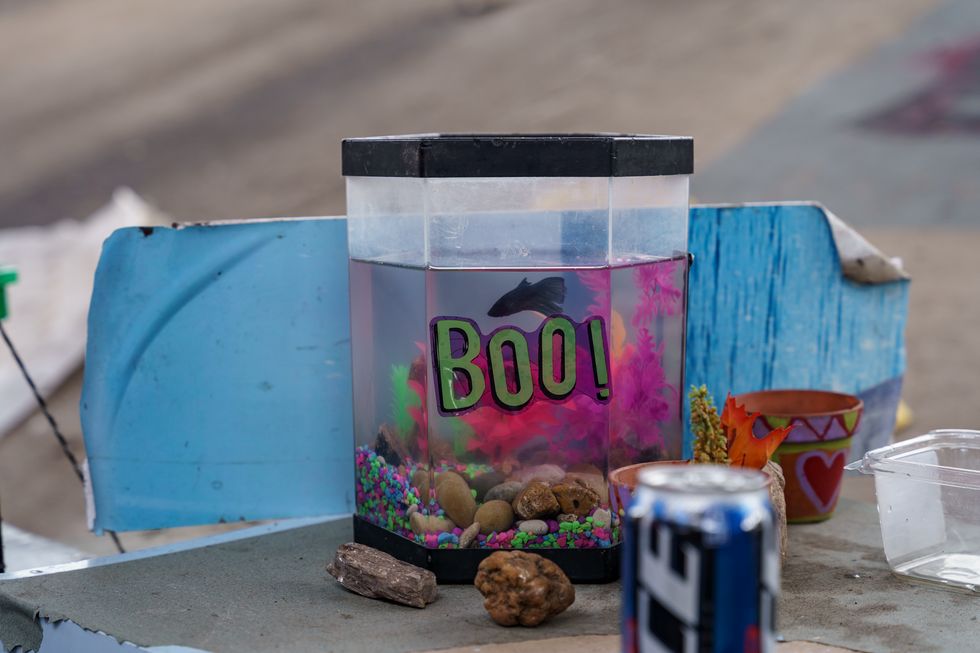 Piper has two tents set up, as well as some homey touches, such as a small flower bed surrounded by rocks and a pet fish.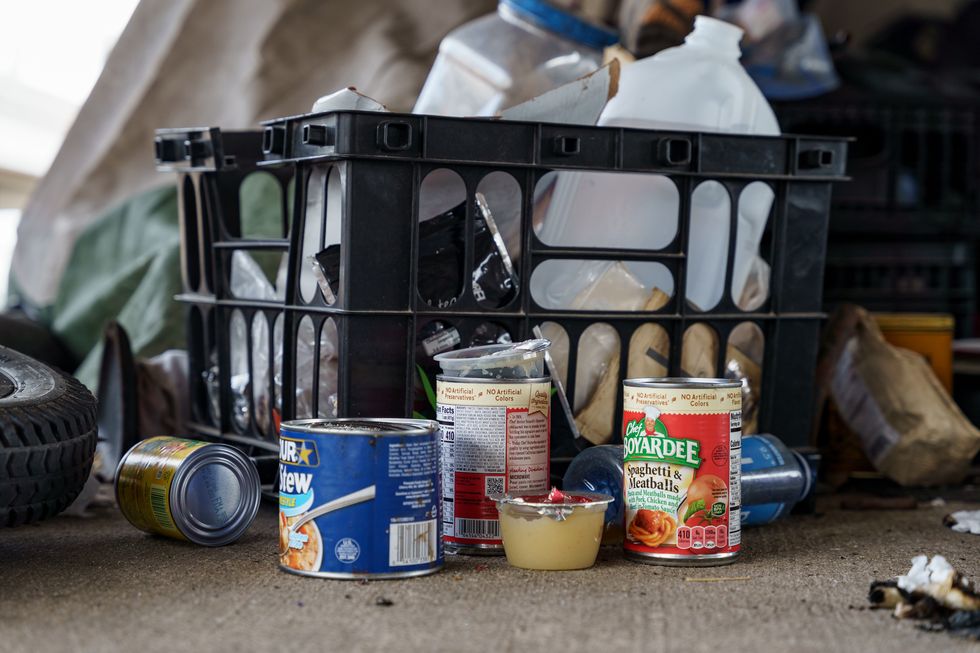 According to some of the camp residents, they must keep their belongings inside their tents or risk losing them in a city or state cleanup.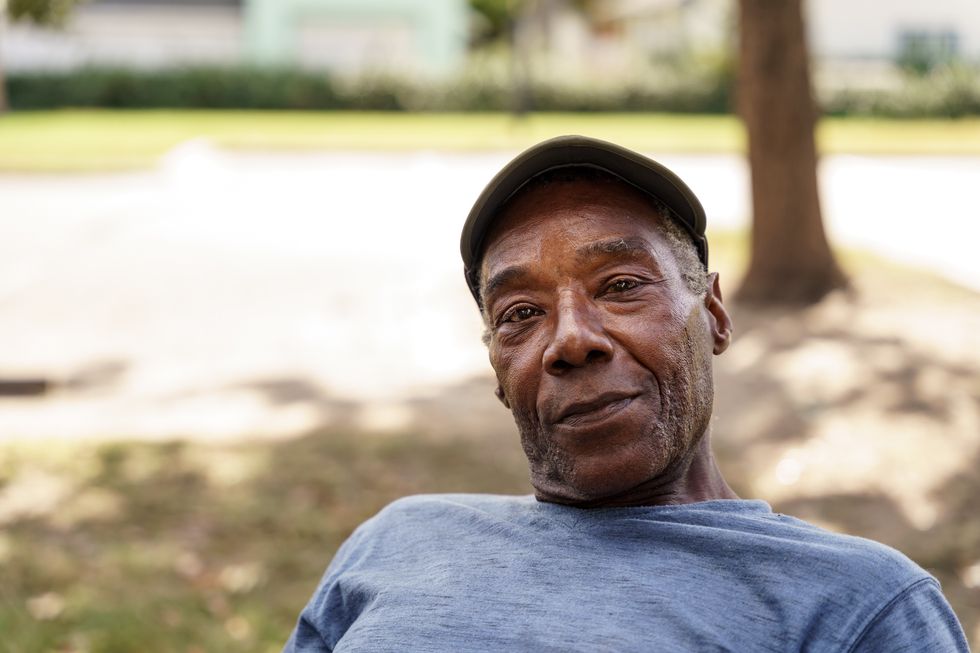 Robert has been homeless since 1984. He moved to the camp near the Terrazas Branch Library on East Riverside Drive about a year ago. CommUnity Care comes by each week to test residents for COVID-19.
None of the camp's residents have contracted the virus, he said.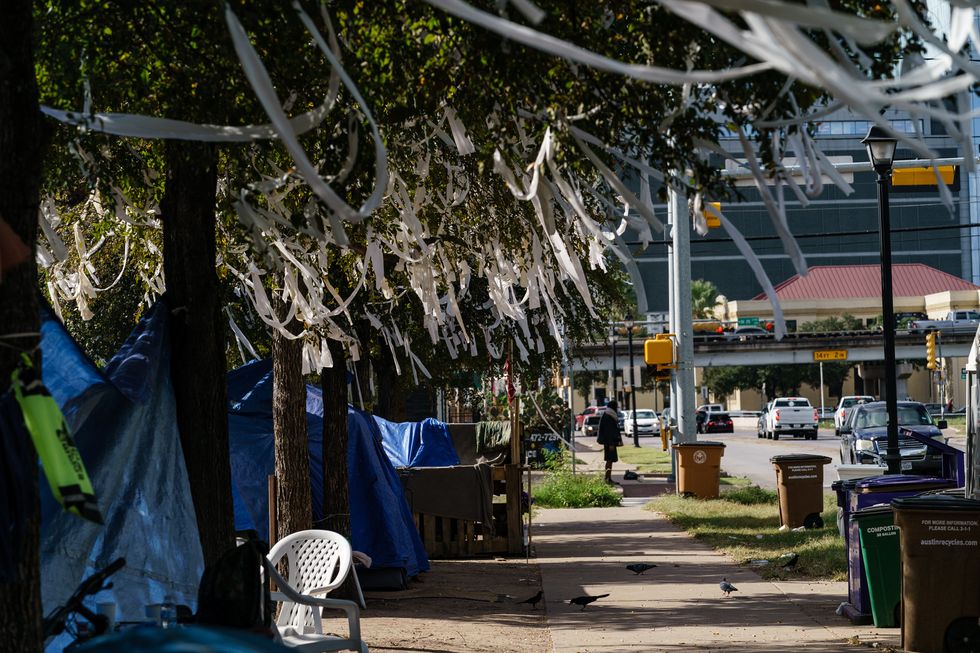 At the Riverside camp, a resident strung the trees overhead with toilet paper.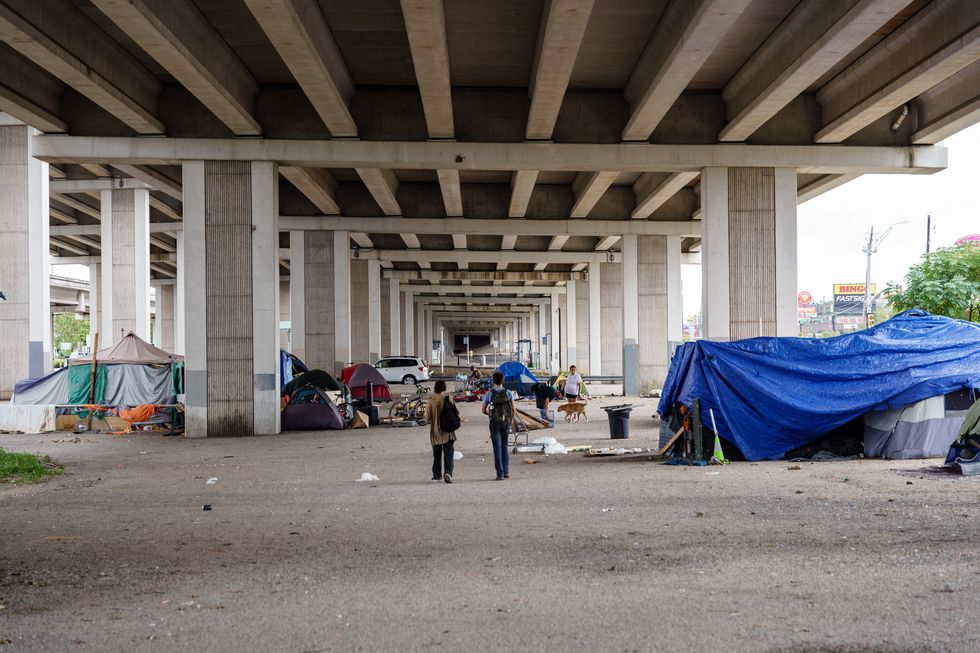 Austin's homeless camps face COVID and cleanups one year after governor's intervention (Jordan Vonderhaar)
Akins Early College High School, 10701 S. 1st St., is on lockdown as district police investigate a report of an "armed subject," Austin ISD Police Chief Ashley Gonzalez tweeted at 10:11 a.m. Wednesday.
Students and staff are safe, Gonzalez tweeted. Parents are asked to refrain from going to campus.
This post will be updated as more information becomes available.
The Taylor Police Department is investigating an apparent murder-suicide that left four people dead on Tuesday.
Officers responded to a call at around 1 p.m. for a welfare check at 616 Symes St. in Taylor, Texas, where the Taylor Fire Department helped force entry into the home since it was locked, police said. Once inside, officers found four dead bodies. The names of the victims have not been released as police continue to contact relatives, but officers revealed they consisted of a 45-year-old woman, a 20-year-old woman, an 18-year-old man and a 57-year-old man.
Police believe the deaths to be a murder-suicide and are investigating with the help of the Williamson County Sheriff's Office and the Texas Rangers.
Later that day, another murder was reported in Taylor, which police say is unrelated.
Police responded to a shooting at 2100 Whistling Way around 4 p.m. Tuesday. They said a family member found 33-year-old Jonathan Hitch with a gunshot wound to his head. It is being investigated as a suspicious death.
No matter how long you've been in Austin, Samuel Grey Horse has probably been here longer than you and the spirit of his indigenous ancestors walked the land far before anyone living did. Born and raised in the capital city in 1961, the city has grown and changed all around him.
You've probably seen or heard of Grey Horse before—he's been called the "Sixth Street Cowboy" due to his penchant for riding his horses through the city streets, dressing up as Santa Claus during the holidays and making national news back in 2011 when he received a DUI while riding his mule down Sixth Street.
"I remember when I could see the capital from anywhere," Grey Horse told Austonia during a visit to his East Austin ranch. "I never thought or imagined that I would see Austin like this."
Now, living with his three horses, mule and dogs in East Austin on "the road that time forgot," Grey Horse lives the "Native" lifestyle; he cares for his horses, tends to his garden, holds sacred prayer ceremonies, writes music, sings with legendary musicians and occasionally films with Richard Linklater, director of "Dazed and Confused."
Just as Austin changed over the years, so too did Grey Horse. On June 26, 2010, he was in an accident that he credits for changing his life. While riding a racing horse, Grey Horse's saddle came loose and dragged him underneath for 150 yards. By the time they had stopped, Grey Horse had 12 broken ribs, collapsed lungs, a broken neck, broken clavicle, cracked skull, broken wrist and went into a coma.
"I had all the things done to me but that's how the universe teaches you," Grey Horse said. "They said I would never ride a horse again or walk correctly, but no, I don't live in that world, because where I went to with my coma. I was living in another world, in the other world's illusion."
His road to recovery was long, arduous, miraculous and aided by his horses: Big Tex, Big Red and mule Mula, who have all been in his care for well over a decade. Grey Horse said they took care of his "energy" when he needed them most. Despite the pain that ensued from horses, his accident drew the cross-species family together.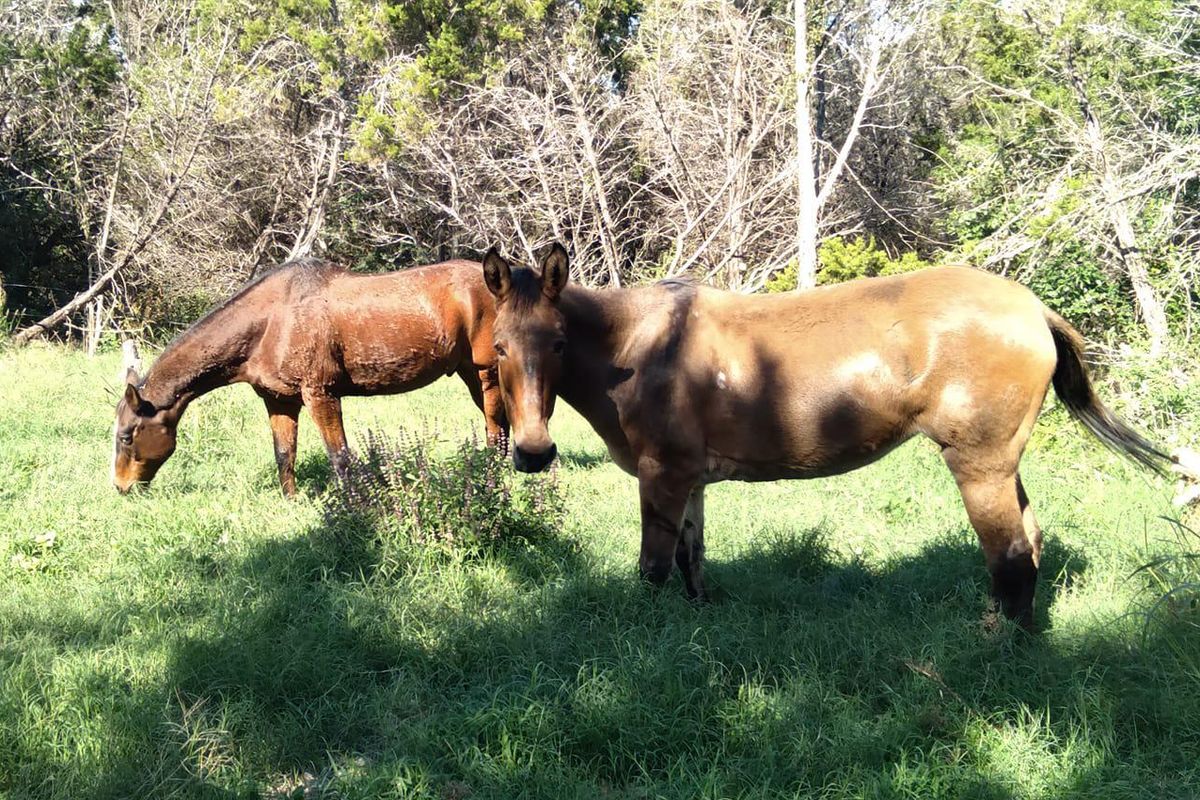 Big Red and Mula have been living with Grey Horse for 16 and 14 years, respectively. (Sam Grey Horse/Instagram)
"I ride them around town and share them with everybody because everything has a purpose," Grey Horse said. "You don't throw something away just because it's a little beat up. I was all beat up."
The winters are still painful for his joints but he powers through so he can bring joy to the people of Downtown Austin in his Santa Claus costume every year.

"I can't hurt because I'm Santa Claus, and I got to be Santa for the kids and everybody. I give them inspiration and energy, I make millions happy downtown," Grey Horse said. "I sing often with a cordless mic, my horses dance and they're happy. If I can make one person happy that makes a difference."
Though it was never his intention, a career in music found Grey Horse and it felt right due to his mother telling him as a child he would be a singer one day. Grey Horse recently returned from his tour with The Greyhounds and Sir Woman across Texas, Arkansas and Oklahoma.
(Laura Figi/Austonia)
His original song, "Crow Dog," is a tribute to his life and the people who have passed along their loving energy in it.

Show biz can't get enough of Grey Horse, who also models for Patagonia and Levi's; he taught Joe Jonas how to ride a horse for a video shoot. He is now working with a British filmmaker on a documentary, and was featured on episode 10 of Linklater's "That Animal Rescue Show."
"I sing with Grammy winners, which is very special to me, and I write songs about my life. Very magical stuff," Grey Horse said. "(The tour) was one of the best runs we've done for now—people are out and want to get out and the energy the guys bring is amazing."

You're certain to see Grey Horse around town if you spend some time near The Continental Club on South Congress or the Texas Capitol into the night. Until then, tok sha.
"There are no words for goodbye in my language, it's 'tok sha,'" Grey Horse said. "It means I'll see you again. I'll see you soon. I'll see you in the next life."