Get connected with our daily update
(Jordan Vonderhaar)
It's been a year since Texas Gov. Greg Abbott intervened in Austin's homelessness crisis.
Prompted by the City Council's June 2019 decision to overturn a ban on public camping and reports of crime by homeless suspects, Abbott ordered sweeps of camps under state highways and established a state-run campsite in Southeast Austin.

---
Since then, the camps' residents have faced the COVID-19 pandemic and continued cleanups by both the Texas Department of Transportation and various city agencies.
Here's a look inside the camps.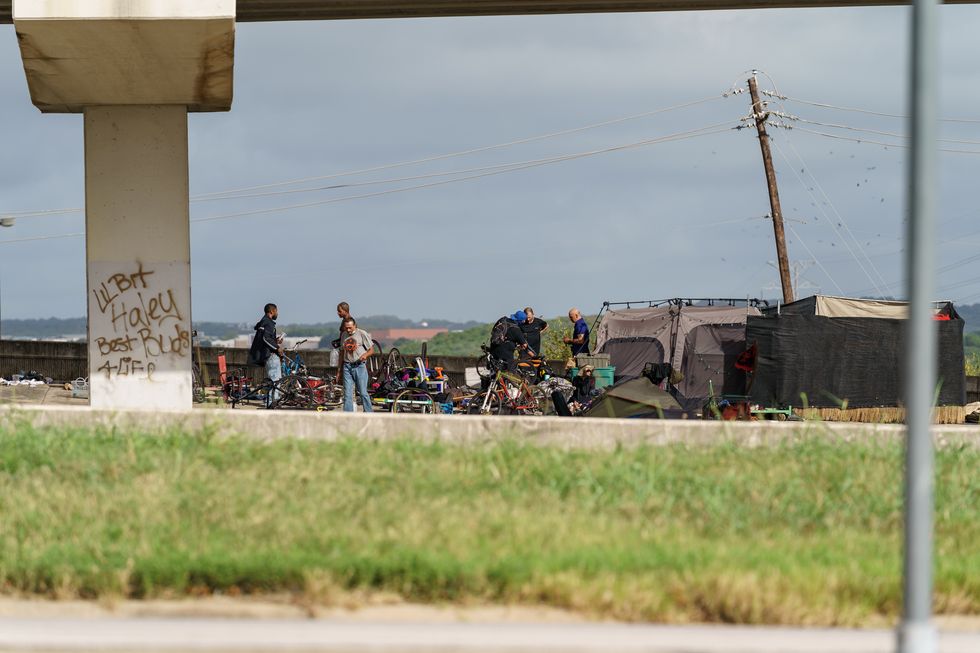 Many homeless camps in Austin can be found underway highway overpasses, such as this one at I-35 and Montopolis.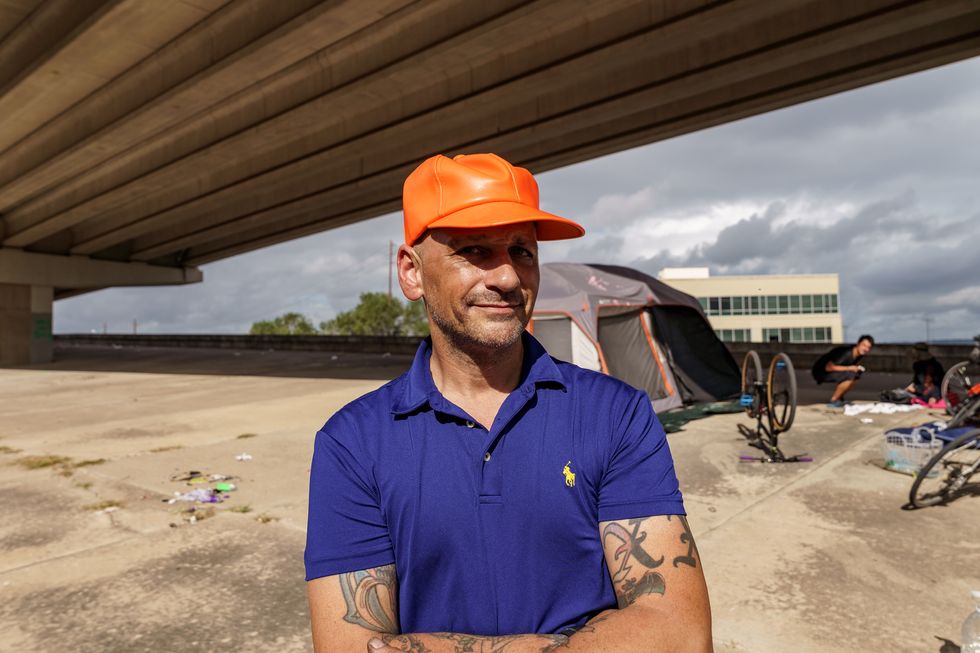 (Jordan Vonderhaar)
John Volloy has lived at a South Austin homeless camp known as the Breezeway for three years and operates a bike workshop there. Although other camps nearby have water stations and trash bins, he prefers the Breezeway, which provides the cover of an overpass and decent water drainage. He has no plans to leave. "I'm going to stay no matter what," he told Austonia.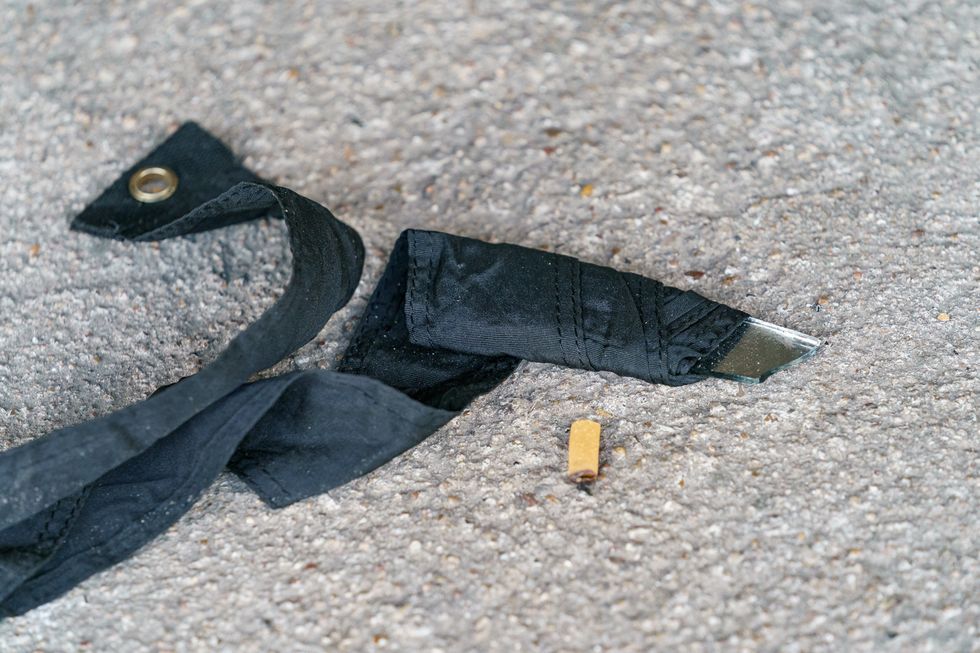 A makeshift weapon made from a piece of broken glass sits on the ground at a Southeast Austin homeless camp. Most violent crimes involving a homeless suspect have a homeless victim, Austin Police Department Assistant Chief Joe Chacon said earlier this year.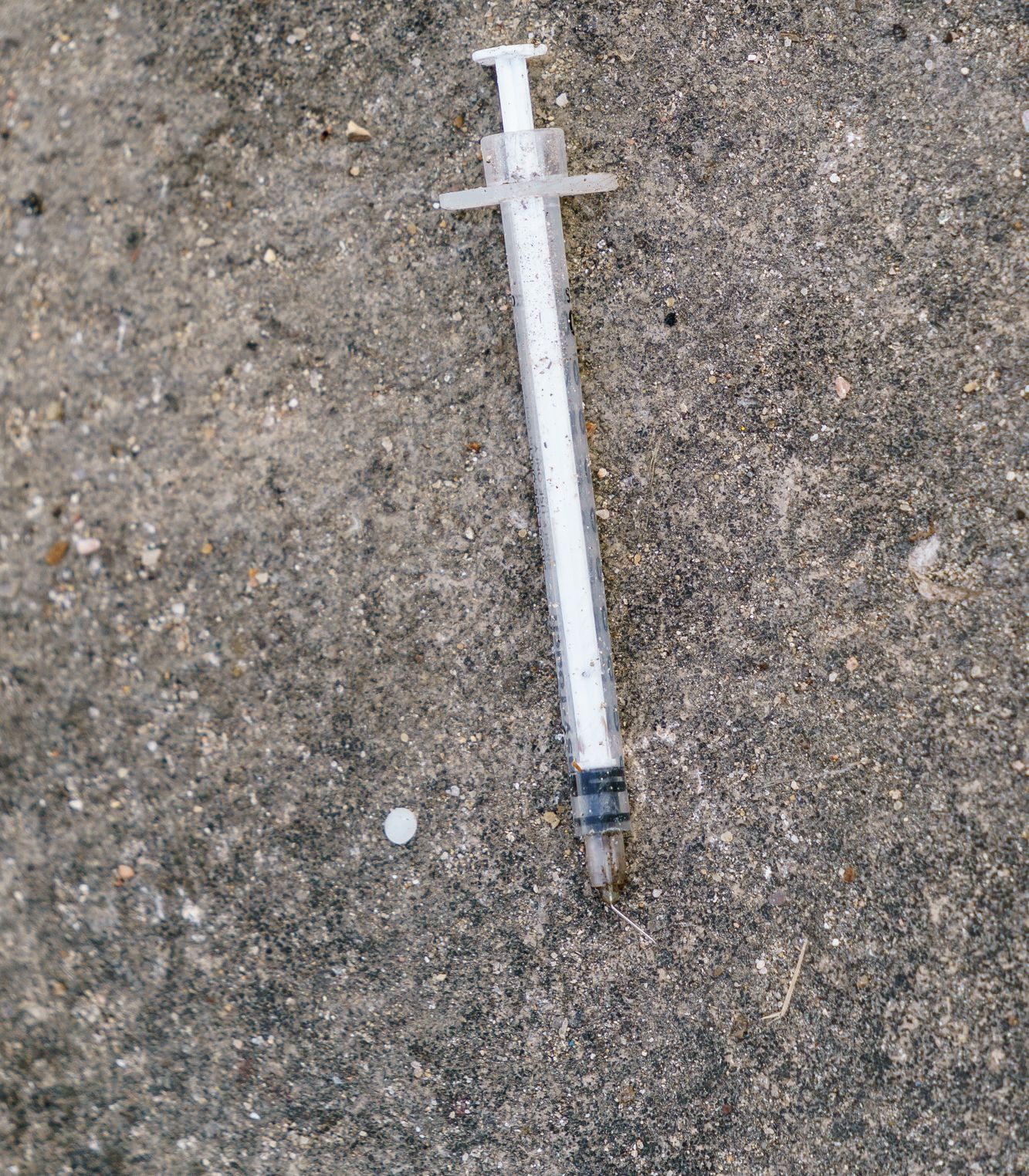 Some residents complained about the drug use at the camps, and syringes like this one littered the ground at many. The Ending Community Homelessness Coalition lists lack of affordable healthcare as one of the main causes of homelessness, citing poorly managed substance use and mental health disorders as possible reasons someone may lose a job or housing.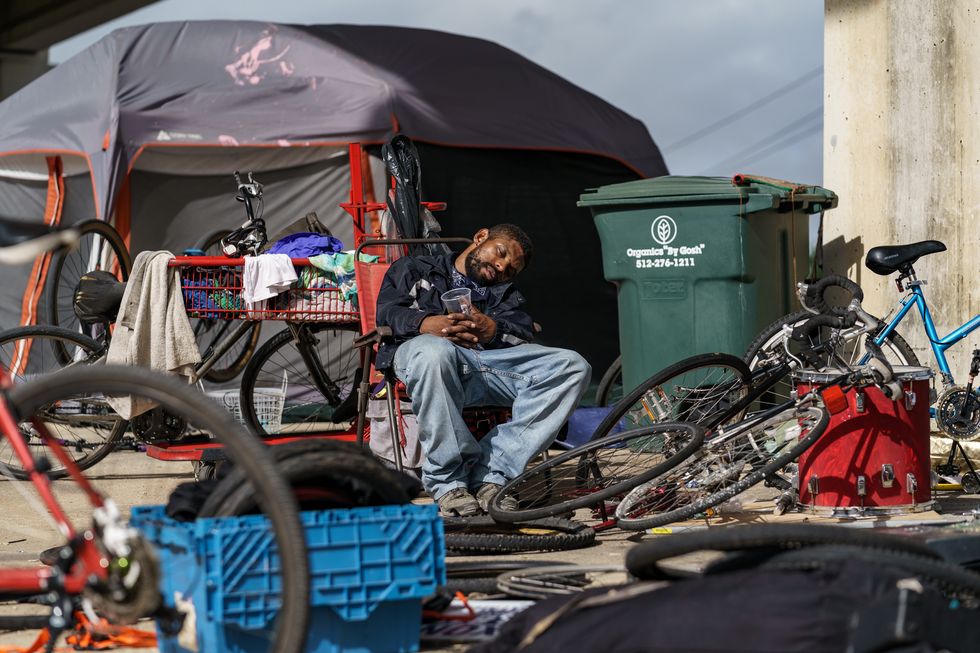 (Jordan Vonderhaar)
Numerous homeless residents said they get by salvaging items such as donated clothing or old bikes. Here, a resident sleeps in the middle of a makeshift bike workshop at the Breezeway.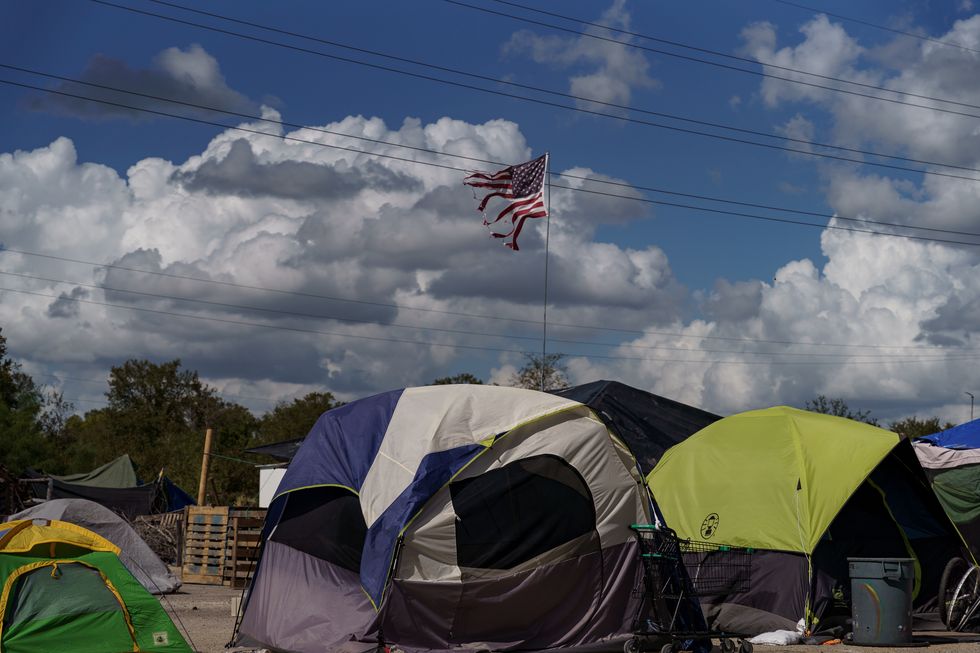 The state-run campsite spans across a seven-acre maintenance yard off of Hwy. 183 near Montopolis. Overhead, airplanes descend en route to the Austin-Bergstrom International Airport, which is nearby.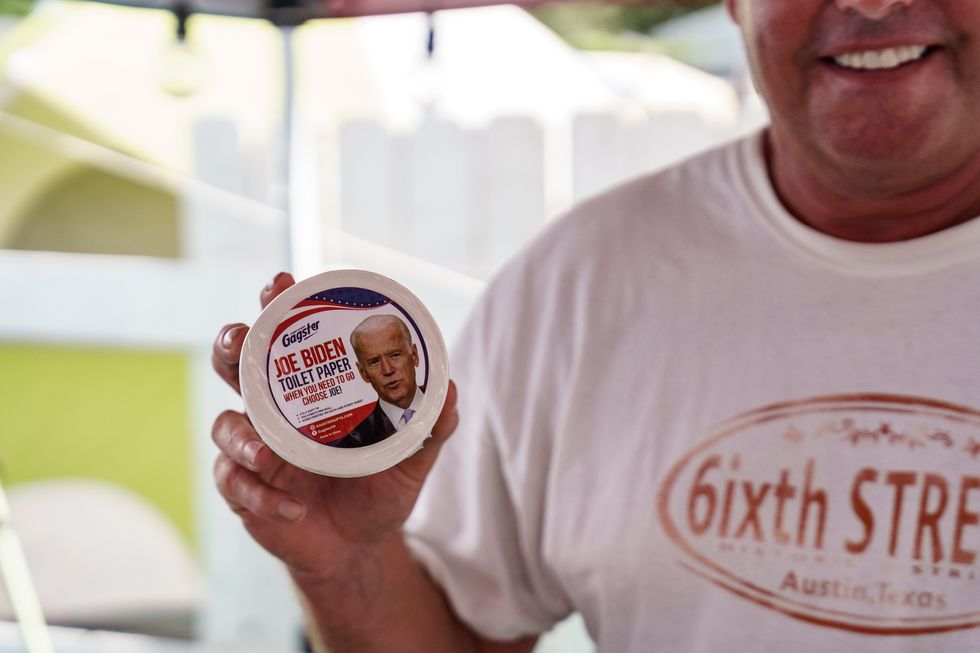 David, 58, moved to the state-run site in January, after spending two years "basically on vacation" in Mexico. Before that, he lost his job in the oil and gas industry.
His setup includes two tents, some turf, a grill station and a white picket fence. He inherited a Trump 2020 sign from one of his neighbors and got ahold of some Joe Biden toilet paper.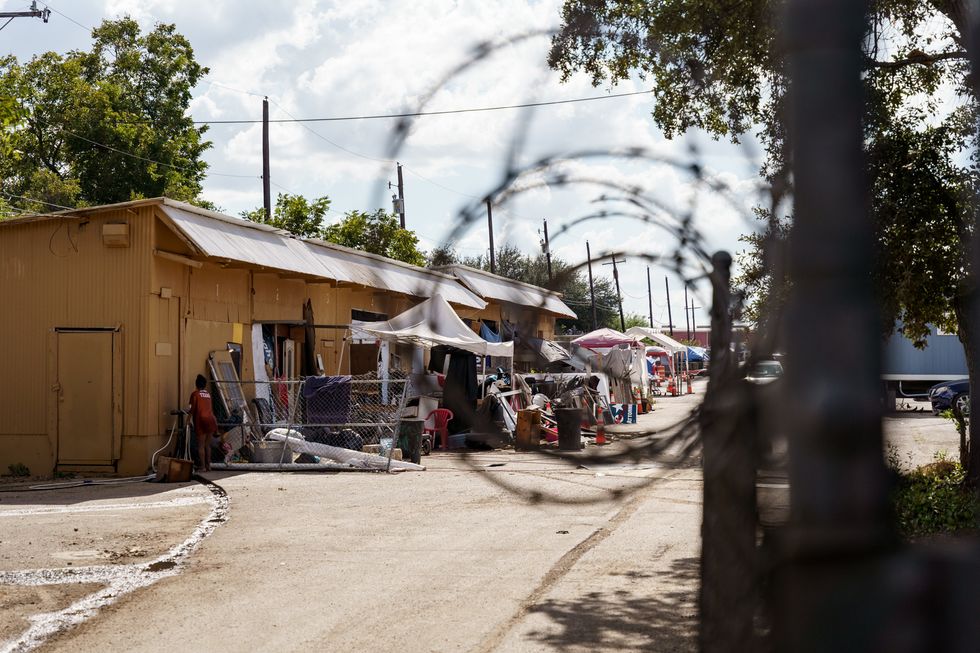 There are some vehicle bays near the entrance of the state-run homeless camp in Southeast Austin, which have since been repurposed into living quarters by its residents. Others live in tents, with no shade, toward the back of site.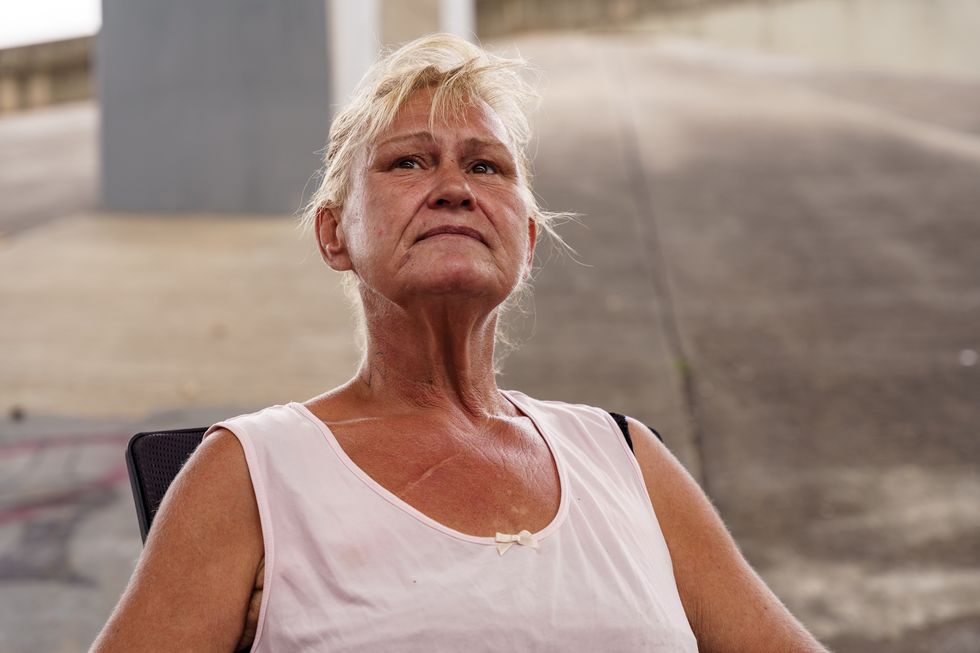 Kimberley Piper has lived at a homeless camp across from the Westgate park-and-ride for about a month. She became homeless earlier this year, after more than a decade off the streets, when she moved out of her father's apartment nearby. She said he didn't think he needed a caretaker.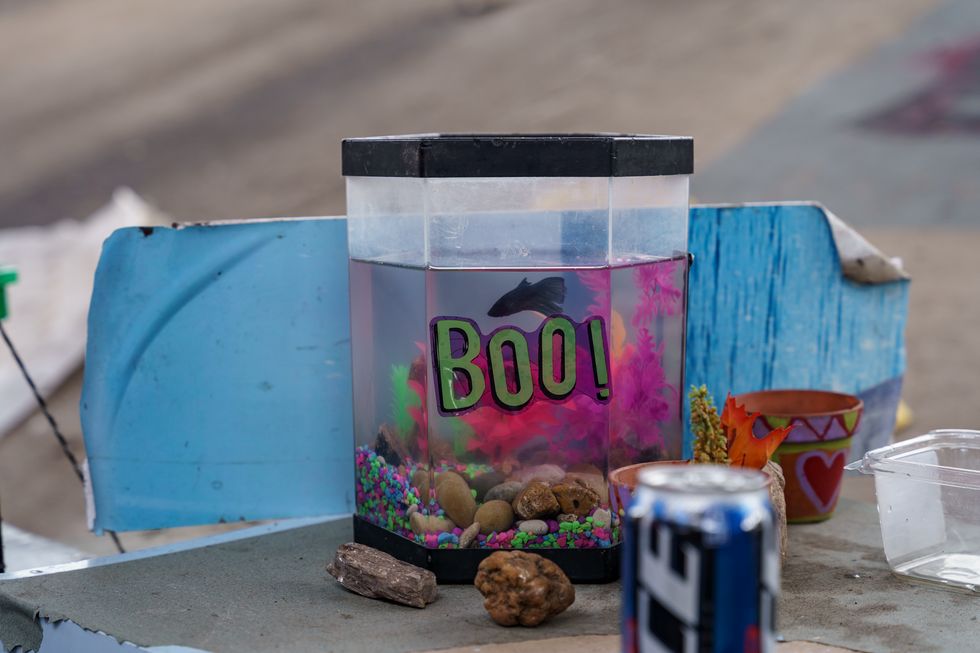 Piper has two tents set up, as well as some homey touches, such as a small flower bed surrounded by rocks and a pet fish.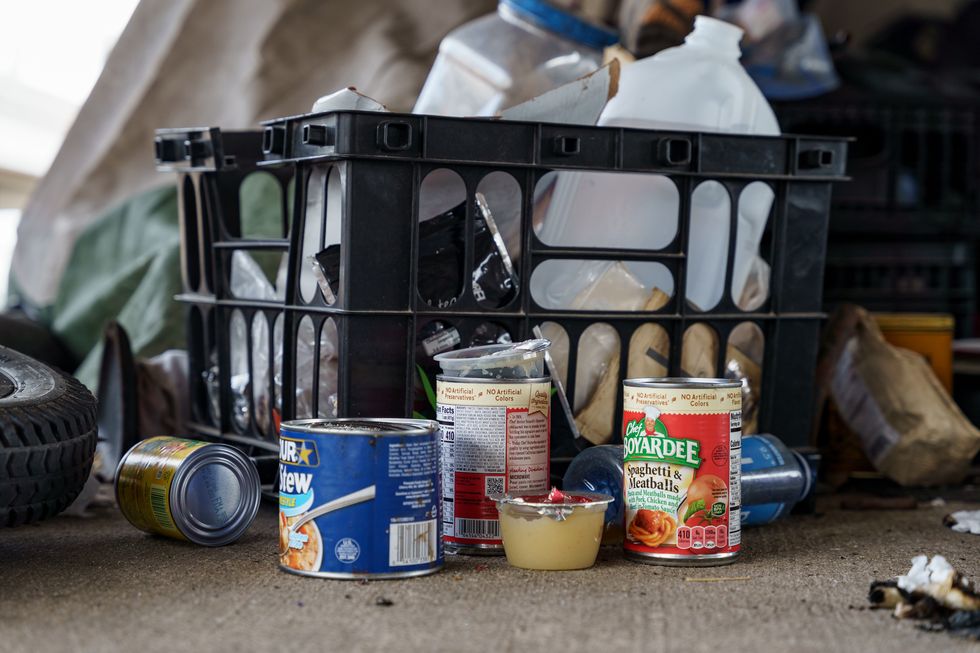 According to some of the camp residents, they must keep their belongings inside their tents or risk losing them in a city or state cleanup.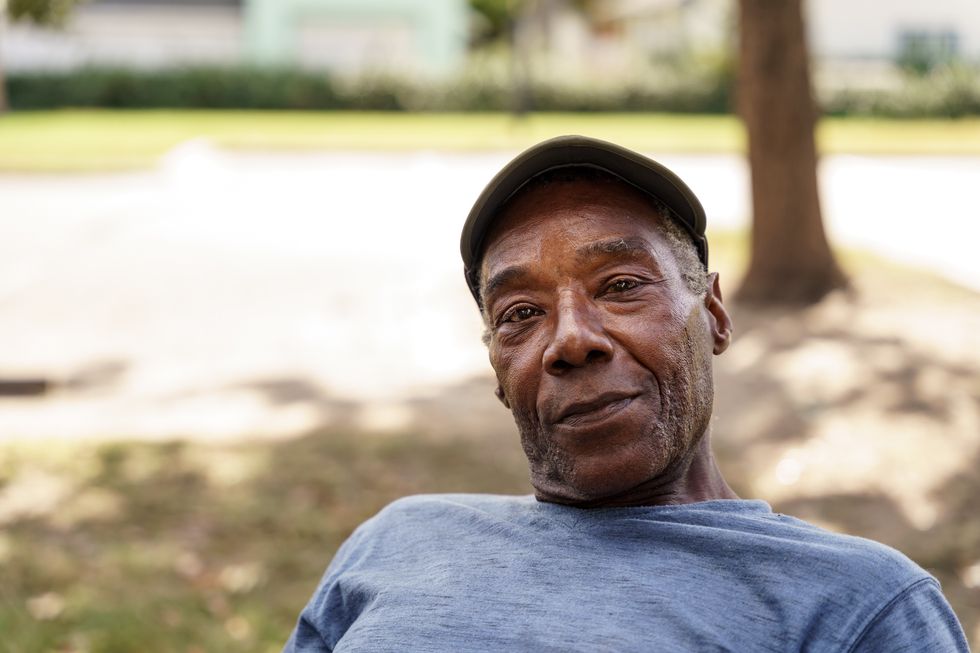 Robert has been homeless since 1984. He moved to the camp near the Terrazas Branch Library on East Riverside Drive about a year ago. CommUnity Care comes by each week to test residents for COVID-19.
None of the camp's residents have contracted the virus, he said.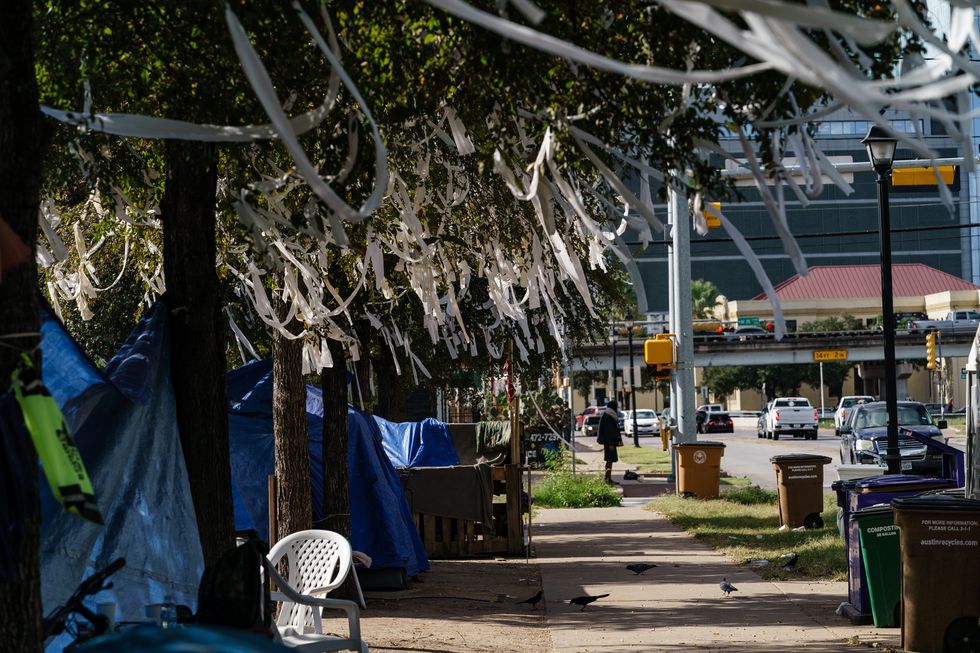 At the Riverside camp, a resident strung the trees overhead with toilet paper.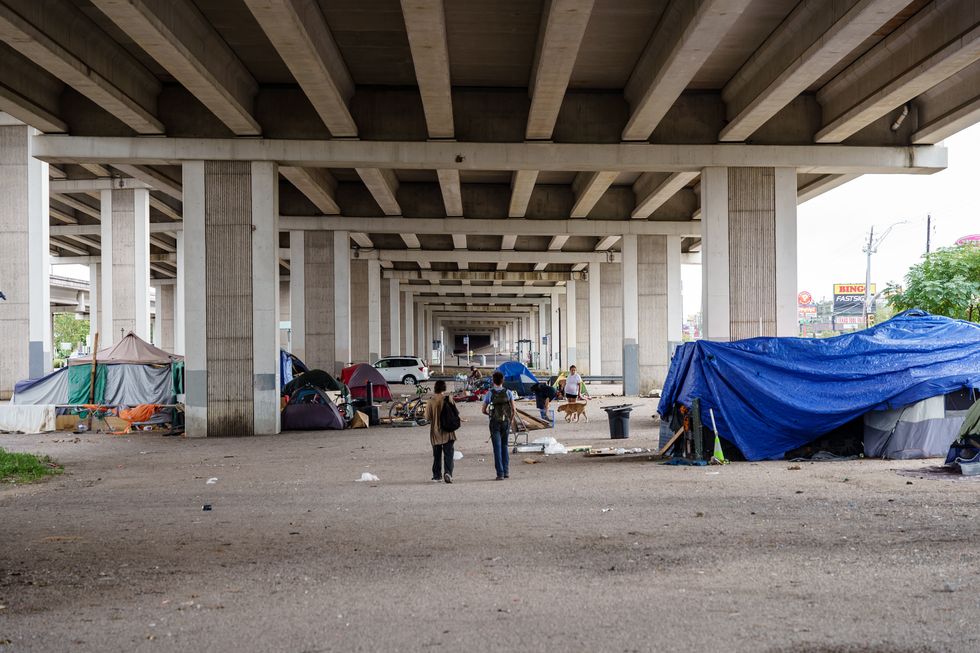 Austin's homeless camps face COVID and cleanups one year after governor's intervention (Jordan Vonderhaar)
(Tito's Handmade Vodka)
Ingredients:
750 mL Tito's Handmade Vodka
1 1/2 cup toasted pecans
Directions: Toast pecans in a 350°F oven until they become aromatic (about 5 minutes). Let pecans cool, drop them into a resealable jar, and fill with Tito's Handmade Vodka. Store in a cool, dark place for 1 month, if you can wait that long.
Small businesses have struggled through a long and arduous year, working to keep their livelihood afloat in a sea of uncertainty. This holiday season poses the opportunity to not only give gifts to your favorite people but also give back to your favorite local artists, Austin icons and small businesses.
So skip the line and shop small. There are hundreds of businesses to support around Austin, so if nothing here strikes a chord, visit the <a href="https://ibuyaustin.com/Find-a-local-business/" rel="noopener noreferrer" target="_blank">Austin Independent Business Alliance directory</a> for more.
The Austin Winery
<div id="7f64f" class="rm-shortcode" data-rm-shortcode-id="3400579315aa2bd42eeff0f20ebc659e"><blockquote class="instagram-media" data-instgrm-captioned data-instgrm-version="4" style=" background:#FFF; border:0; border-radius:3px; box-shadow:0 0 1px 0 rgba(0,0,0,0.5),0 1px 10px 0 rgba(0,0,0,0.15); margin: 1px; max-width:658px; padding:0; width:99.375%; width:-webkit-calc(100% - 2px); width:calc(100% - 2px);"> <div style="padding:8px;"> <div style=" background:#F8F8F8; line-height:0; margin-top:40px; padding:50% 0; text-align:center; width:100%;"> <div style=" background:url(data:image/png;base64,iVBORw0KGgoAAAANSUhEUgAAACwAAAAsCAMAAAApWqozAAAAGFBMVEUiIiI9PT0eHh4gIB4hIBkcHBwcHBwcHBydr+JQAAAACHRSTlMABA4YHyQsM5jtaMwAAADfSURBVDjL7ZVBEgMhCAQBAf//42xcNbpAqakcM0ftUmFAAIBE81IqBJdS3lS6zs3bIpB9WED3YYXFPmHRfT8sgyrCP1x8uEUxLMzNWElFOYCV6mHWWwMzdPEKHlhLw7NWJqkHc4uIZphavDzA2JPzUDsBZziNae2S6owH8xPmX8G7zzgKEOPUoYHvGz1TBCxMkd3kwNVbU0gKHkx+iZILf77IofhrY1nYFnB/lQPb79drWOyJVa/DAvg9B/rLB4cC+Nqgdz/TvBbBnr6GBReqn/nRmDgaQEej7WhonozjF+Y2I/fZou/qAAAAAElFTkSuQmCC); display:block; height:44px; margin:0 auto -44px; position:relative; top:-22px; width:44px;"> </div></div><p style=" margin:8px 0 0 0; padding:0 4px;"> <a href="https://www.instagram.com/p/CH5zZd0FC6w/" style=" color:#000; font-family:Arial,sans-serif; font-size:14px; font-style:normal; font-weight:normal; line-height:17px; text-decoration:none; word-wrap:break-word;" target="_top"></a></p> </div></blockquote></div><p><a href="https://www.theaustinwinery.com/" target="_blank" rel="noopener noreferrer">The Austin Winery</a>, located on 440 E. St. Elmo Road, already gives bulk discounts, because let's face it, 2020 has been a rough year. Whether you gift this local wine to someone else or stockpile for the next pandemic, <a href="https://www.austintexas.org/coupon/20%25-off-pickup-orders-free-wine-delivery-in-austin/1168/" target="_blank" rel="noopener noreferrer">take 20% off</a> a pickup order and get free Austin delivery through the rest of the year.<br></p>
Away Spa at W. Austin
<div id="b2292" class="rm-shortcode" data-rm-shortcode-id="c7920a53b54fdbe6b4f3cfb882b1f751"><blockquote class="instagram-media" data-instgrm-captioned data-instgrm-version="4" style=" background:#FFF; border:0; border-radius:3px; box-shadow:0 0 1px 0 rgba(0,0,0,0.5),0 1px 10px 0 rgba(0,0,0,0.15); margin: 1px; max-width:658px; padding:0; width:99.375%; width:-webkit-calc(100% - 2px); width:calc(100% - 2px);"> <div style="padding:8px;"> <div style=" background:#F8F8F8; line-height:0; margin-top:40px; padding:50% 0; text-align:center; width:100%;"> <div style=" background:url(data:image/png;base64,iVBORw0KGgoAAAANSUhEUgAAACwAAAAsCAMAAAApWqozAAAAGFBMVEUiIiI9PT0eHh4gIB4hIBkcHBwcHBwcHBydr+JQAAAACHRSTlMABA4YHyQsM5jtaMwAAADfSURBVDjL7ZVBEgMhCAQBAf//42xcNbpAqakcM0ftUmFAAIBE81IqBJdS3lS6zs3bIpB9WED3YYXFPmHRfT8sgyrCP1x8uEUxLMzNWElFOYCV6mHWWwMzdPEKHlhLw7NWJqkHc4uIZphavDzA2JPzUDsBZziNae2S6owH8xPmX8G7zzgKEOPUoYHvGz1TBCxMkd3kwNVbU0gKHkx+iZILf77IofhrY1nYFnB/lQPb79drWOyJVa/DAvg9B/rLB4cC+Nqgdz/TvBbBnr6GBReqn/nRmDgaQEej7WhonozjF+Y2I/fZou/qAAAAAElFTkSuQmCC); display:block; height:44px; margin:0 auto -44px; position:relative; top:-22px; width:44px;"> </div></div><p style=" margin:8px 0 0 0; padding:0 4px;"> <a href="https://www.instagram.com/p/CHx4JPoJWbu/" style=" color:#000; font-family:Arial,sans-serif; font-size:14px; font-style:normal; font-weight:normal; line-height:17px; text-decoration:none; word-wrap:break-word;" target="_top"></a></p> </div></blockquote></div><p>Give the gift of the oh-so-important self care this year, plus enjoy a little bit of it for yourself as well. With a $250 gift card purchase, receive an extra $25 spa voucher. Located on 200 Lavaca St., Austin residents also receive <a href="https://www.austinawayspa.com/texasresidents" target="_blank" rel="noopener noreferrer">20% off of certain services</a>—how can you afford not to go?</p>
Half Price Books
<div id="1fe88" class="rm-shortcode" data-rm-shortcode-id="7f5ac65fbadb3b621ba9a69d6556aa28"><blockquote class="instagram-media" data-instgrm-captioned data-instgrm-version="4" style=" background:#FFF; border:0; border-radius:3px; box-shadow:0 0 1px 0 rgba(0,0,0,0.5),0 1px 10px 0 rgba(0,0,0,0.15); margin: 1px; max-width:658px; padding:0; width:99.375%; width:-webkit-calc(100% - 2px); width:calc(100% - 2px);"> <div style="padding:8px;"> <div style=" background:#F8F8F8; line-height:0; margin-top:40px; padding:50% 0; text-align:center; width:100%;"> <div style=" background:url(data:image/png;base64,iVBORw0KGgoAAAANSUhEUgAAACwAAAAsCAMAAAApWqozAAAAGFBMVEUiIiI9PT0eHh4gIB4hIBkcHBwcHBwcHBydr+JQAAAACHRSTlMABA4YHyQsM5jtaMwAAADfSURBVDjL7ZVBEgMhCAQBAf//42xcNbpAqakcM0ftUmFAAIBE81IqBJdS3lS6zs3bIpB9WED3YYXFPmHRfT8sgyrCP1x8uEUxLMzNWElFOYCV6mHWWwMzdPEKHlhLw7NWJqkHc4uIZphavDzA2JPzUDsBZziNae2S6owH8xPmX8G7zzgKEOPUoYHvGz1TBCxMkd3kwNVbU0gKHkx+iZILf77IofhrY1nYFnB/lQPb79drWOyJVa/DAvg9B/rLB4cC+Nqgdz/TvBbBnr6GBReqn/nRmDgaQEej7WhonozjF+Y2I/fZou/qAAAAAElFTkSuQmCC); display:block; height:44px; margin:0 auto -44px; position:relative; top:-22px; width:44px;"> </div></div><p style=" margin:8px 0 0 0; padding:0 4px;"> <a href="https://www.instagram.com/p/CH0pVWOhkHC/" style=" color:#000; font-family:Arial,sans-serif; font-size:14px; font-style:normal; font-weight:normal; line-height:17px; text-decoration:none; word-wrap:break-word;" target="_top"></a></p> </div></blockquote></div><p>Texas-business Half Price Books is not skimping on the sales this year, and some of the deals even carry over into the new year. <a href="https://blackfriday.com/ads/black-friday/half-price-books" target="_blank" rel="noopener noreferrer">Take 20% off</a> of your online book haul and for every $25 gift card you give away, any HPB will give you $5 off in January. </p>
Kendra Scott
<div id="9364d" class="rm-shortcode" data-rm-shortcode-id="0dffe48a630a52143f0f01295d32318c"><blockquote class="instagram-media" data-instgrm-captioned data-instgrm-version="4" style=" background:#FFF; border:0; border-radius:3px; box-shadow:0 0 1px 0 rgba(0,0,0,0.5),0 1px 10px 0 rgba(0,0,0,0.15); margin: 1px; max-width:658px; padding:0; width:99.375%; width:-webkit-calc(100% - 2px); width:calc(100% - 2px);"> <div style="padding:8px;"> <div style=" background:#F8F8F8; line-height:0; margin-top:40px; padding:50% 0; text-align:center; width:100%;"> <div style=" background:url(data:image/png;base64,iVBORw0KGgoAAAANSUhEUgAAACwAAAAsCAMAAAApWqozAAAAGFBMVEUiIiI9PT0eHh4gIB4hIBkcHBwcHBwcHBydr+JQAAAACHRSTlMABA4YHyQsM5jtaMwAAADfSURBVDjL7ZVBEgMhCAQBAf//42xcNbpAqakcM0ftUmFAAIBE81IqBJdS3lS6zs3bIpB9WED3YYXFPmHRfT8sgyrCP1x8uEUxLMzNWElFOYCV6mHWWwMzdPEKHlhLw7NWJqkHc4uIZphavDzA2JPzUDsBZziNae2S6owH8xPmX8G7zzgKEOPUoYHvGz1TBCxMkd3kwNVbU0gKHkx+iZILf77IofhrY1nYFnB/lQPb79drWOyJVa/DAvg9B/rLB4cC+Nqgdz/TvBbBnr6GBReqn/nRmDgaQEej7WhonozjF+Y2I/fZou/qAAAAAElFTkSuQmCC); display:block; height:44px; margin:0 auto -44px; position:relative; top:-22px; width:44px;"> </div></div><p style=" margin:8px 0 0 0; padding:0 4px;"> <a href="https://www.instagram.com/p/CH8HBNNgvfj/" style=" color:#000; font-family:Arial,sans-serif; font-size:14px; font-style:normal; font-weight:normal; line-height:17px; text-decoration:none; word-wrap:break-word;" target="_top"></a></p> </div></blockquote></div><p>Kendra may not be a "small" business anymore but it started small with Austin roots. From Nov. 29 through Dec. 2, take 25% off of everything (yes, everything!) in the store and an extra 30% off of $300 or more for the "Yellow Friday" sale.</p>
Lilla & Beth
<div id="4c901" class="rm-shortcode" data-rm-shortcode-id="f95a34010ca819c655a05ddb7c0933cf"><blockquote class="instagram-media" data-instgrm-captioned data-instgrm-version="4" style=" background:#FFF; border:0; border-radius:3px; box-shadow:0 0 1px 0 rgba(0,0,0,0.5),0 1px 10px 0 rgba(0,0,0,0.15); margin: 1px; max-width:658px; padding:0; width:99.375%; width:-webkit-calc(100% - 2px); width:calc(100% - 2px);"> <div style="padding:8px;"> <div style=" background:#F8F8F8; line-height:0; margin-top:40px; padding:50% 0; text-align:center; width:100%;"> <div style=" background:url(data:image/png;base64,iVBORw0KGgoAAAANSUhEUgAAACwAAAAsCAMAAAApWqozAAAAGFBMVEUiIiI9PT0eHh4gIB4hIBkcHBwcHBwcHBydr+JQAAAACHRSTlMABA4YHyQsM5jtaMwAAADfSURBVDjL7ZVBEgMhCAQBAf//42xcNbpAqakcM0ftUmFAAIBE81IqBJdS3lS6zs3bIpB9WED3YYXFPmHRfT8sgyrCP1x8uEUxLMzNWElFOYCV6mHWWwMzdPEKHlhLw7NWJqkHc4uIZphavDzA2JPzUDsBZziNae2S6owH8xPmX8G7zzgKEOPUoYHvGz1TBCxMkd3kwNVbU0gKHkx+iZILf77IofhrY1nYFnB/lQPb79drWOyJVa/DAvg9B/rLB4cC+Nqgdz/TvBbBnr6GBReqn/nRmDgaQEej7WhonozjF+Y2I/fZou/qAAAAAElFTkSuQmCC); display:block; height:44px; margin:0 auto -44px; position:relative; top:-22px; width:44px;"> </div></div><p style=" margin:8px 0 0 0; padding:0 4px;"> <a href="https://www.instagram.com/p/CH8F_Oulu1n/" style=" color:#000; font-family:Arial,sans-serif; font-size:14px; font-style:normal; font-weight:normal; line-height:17px; text-decoration:none; word-wrap:break-word;" target="_top"></a></p> </div></blockquote></div><p>For some unique Austin-centric decor, gifts, clothes and accessories, <a href="https://www.lillabeth.com/" target="_blank">Lilla &amp; Beth</a>, located on 1911 Aldrich Street, has you covered this year. The more you buy, the more you save so take 10% off purchases under $50, 15% off purchases over $50 and 20% off purchases over $100. Everyone will wish they had gotten you as their secret Santa!</p>
Record Store Crawl
<img lazy-loadable="true" src="https://assets.rebelmouse.io/eyJhbGciOiJIUzI1NiIsInR5cCI6IkpXVCJ9.eyJpbWFnZSI6Imh0dHBzOi8vYXNzZXRzLnJibC5tcy8yNDgyNzk5Ni9vcmlnaW4uanBnIiwiZXhwaXJlc19hdCI6MTYzODcyOTIzMH0.tGkJ9sOB3AI3Mev0rf_h-ZaUOO4-KfVgRO3mUckvzPQ/img.jpg?width=980" id="6e233" class="rm-shortcode" data-rm-shortcode-id="4a20cc26c9be0201045b17c0d7993ab4" data-rm-shortcode-name="rebelmouse-image" /><p>Self-described "magic school bus that takes you to record stores and bars," the 2020 <a href="https://www.recordstorecrawl.com/?frontpage=true" target="_blank" rel="noopener noreferrer">Record Store Crawl</a> will make holiday shopping more fun than ever before. The Record Store Crawl will drive you to 10 record stores in the area, complete with a band on the bus for entertainment. Last year, the event helped sell 2 million records at local retailers nationwide, so this is a great way to have fun and help out the music industry.</p>
Roam Homegrown
<div id="e2418" class="rm-shortcode" data-rm-shortcode-id="0ed8000c5859b55fc66cca94b64ecfa2"><blockquote class="instagram-media" data-instgrm-captioned data-instgrm-version="4" style=" background:#FFF; border:0; border-radius:3px; box-shadow:0 0 1px 0 rgba(0,0,0,0.5),0 1px 10px 0 rgba(0,0,0,0.15); margin: 1px; max-width:658px; padding:0; width:99.375%; width:-webkit-calc(100% - 2px); width:calc(100% - 2px);"> <div style="padding:8px;"> <div style=" background:#F8F8F8; line-height:0; margin-top:40px; padding:50% 0; text-align:center; width:100%;"> <div style=" background:url(data:image/png;base64,iVBORw0KGgoAAAANSUhEUgAAACwAAAAsCAMAAAApWqozAAAAGFBMVEUiIiI9PT0eHh4gIB4hIBkcHBwcHBwcHBydr+JQAAAACHRSTlMABA4YHyQsM5jtaMwAAADfSURBVDjL7ZVBEgMhCAQBAf//42xcNbpAqakcM0ftUmFAAIBE81IqBJdS3lS6zs3bIpB9WED3YYXFPmHRfT8sgyrCP1x8uEUxLMzNWElFOYCV6mHWWwMzdPEKHlhLw7NWJqkHc4uIZphavDzA2JPzUDsBZziNae2S6owH8xPmX8G7zzgKEOPUoYHvGz1TBCxMkd3kwNVbU0gKHkx+iZILf77IofhrY1nYFnB/lQPb79drWOyJVa/DAvg9B/rLB4cC+Nqgdz/TvBbBnr6GBReqn/nRmDgaQEej7WhonozjF+Y2I/fZou/qAAAAAElFTkSuQmCC); display:block; height:44px; margin:0 auto -44px; position:relative; top:-22px; width:44px;"> </div></div><p style=" margin:8px 0 0 0; padding:0 4px;"> <a href="https://www.instagram.com/p/CIBGx0urxvs/" style=" color:#000; font-family:Arial,sans-serif; font-size:14px; font-style:normal; font-weight:normal; line-height:17px; text-decoration:none; word-wrap:break-word;" target="_top"></a></p> </div></blockquote></div><p>Give the gift of relaxation with the help of <a href="https://roamhomegrown.com/" target="_blank" rel="noopener noreferrer">Roam Homegrown's collection</a> of candles, soaps, scents and self care goodies. To celebrate the holidays, the Austin-based, women-owned company is giving 10% sitewide until Dec. 31. This offer has no minimum so you can gift as much or as little as your heart desires.</p>

<p class="">Make sure to check business hours before heading out, it is COVID-19 after all.</p>