Get connected with our daily update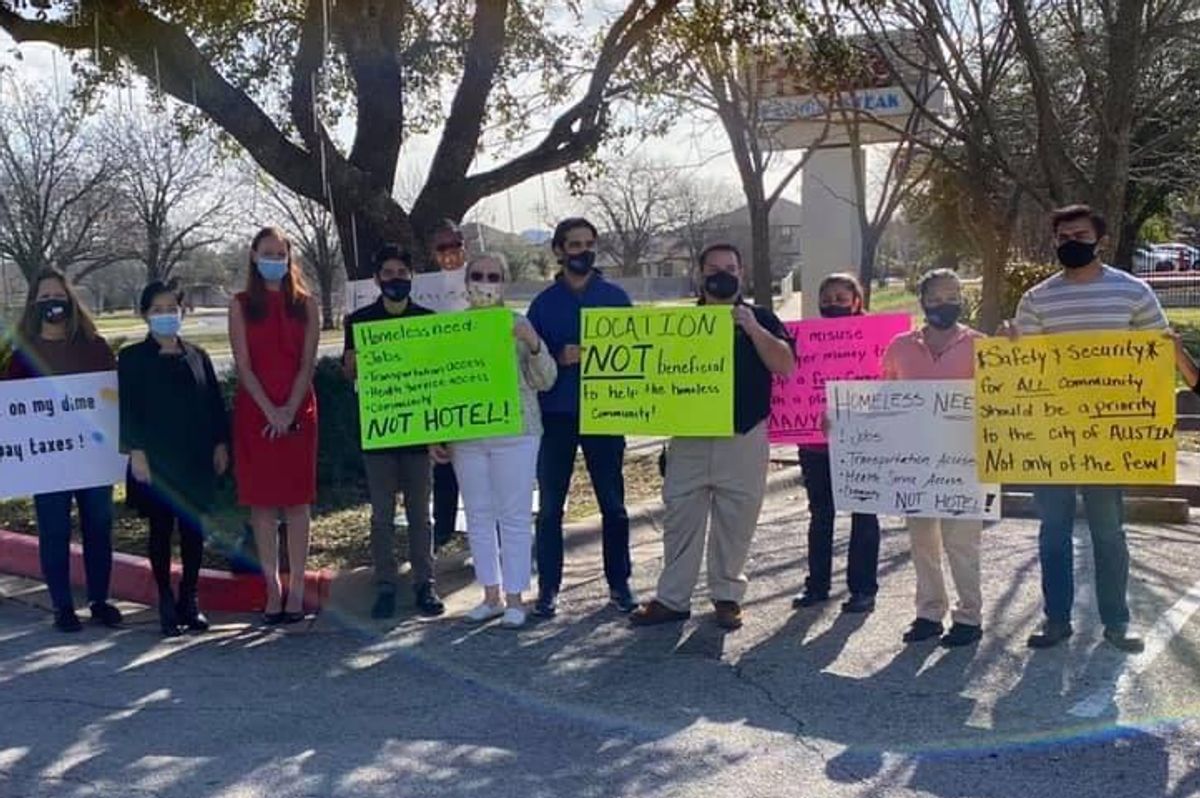 (Mackenzie Kelly, Austin City Council/Facebook)
After a one-week delay requested by District 6 Council Member Mackenzie Kelly, Austin City Council voted 10-1 to authorize the $9.5 million purchase of an 83-room hotel in her district to create permanent supportive housing—functionally, an apartment building, with leases and on-site support services—for homeless residents who are disabled.
Kelly requested an additional delay but was outnumbered on the dais. "We do need permanent supportive housing in the community, but I cannot support this permanent supportive housing because of the outcry from the community about it not being in the right location," she said during the meeting on Thursday.
---
The city began converting hotel and motel properties into transitional housing in late 2019, with a goal of purchasing properties in all 10 districts. Since the pandemic began, the city has leased five motels for use as socially-distanced emergency homeless shelters. Last week, council voted to approve the $6.7 million purchase of a hotel on Burnet Road for use as permanent supportive housing. Members were slated to vote on a second purchase—the Candlewood Inn & Suites near the intersection of Hwy. 183 and FM 620—but Kelly requested a postponement amid protests from constituents, many of whom expressed support for permanent supportive housing efforts but opposed the decision to place such a facility in their neighborhood.
Mayor Pro Tem Natasha Harper-Madison pointed out that permanent supportive housing exists in other districts and geographic diversity of such facilities is an important step toward equity. "I don't see why this area can't be an appropriate place," she said.
Misconceptions and transparency
Kelly, who was elected in November, campaigned on her opposition to council's 2019 decision to overturn a ban on public camping. But she framed her request for a postponement as a chance to get her constituents on board with the purchase. "There are a lot of misconceptions about the hotel purchase and homelessness in general," she said during the Jan. 27 council meeting. "My hope is, by postponing, we will be able to clear up confusion and open healthy dialogue."
On Wednesday, Kelly hosted a town hall to discuss the prospective purchase with local experts. More than 200 people attended.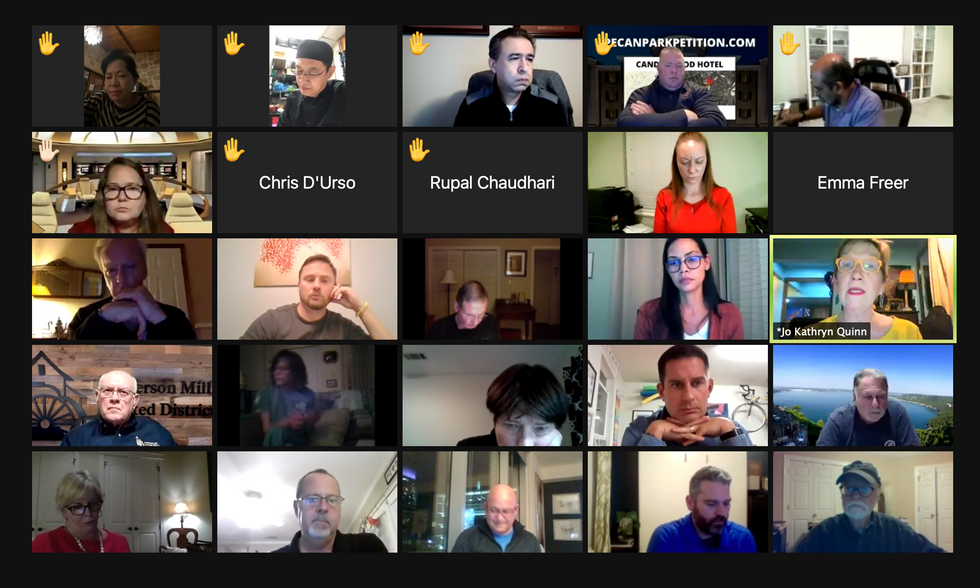 Council Member Mackenzie Kelly hosted a town hall to discuss the Candlewood purchase on Wednesday.
Jo Kathryn Quinn, executive director of the local nonprofit Caritas of Austin, addressed a commonly voiced misconception: that the hotel would be converted into an emergency shelter. "Many of you are familiar with the ARCH downtown," she said. "This is not at all what is being proposed for Candlewood Suites. (Permanent supportive housing) is permanent. It is an apartment community."
Kelly also stressed the need for transparency and community engagement around such purchases. Some other elected officials concurred.
After neighbors and business owners "expressed deep concern for the lack of any communication by the City regarding the project before it became an item on your agenda last week," Williamson County commissioners voted unanimously on Tuesday to urge council to delay the purchase by at least six months, County Judge Bill Gravell wrote in a letter to city officials. State Sen. Charles Schwertner (R-Georgetown) also opposed the purchase and announced plans to file a bill that, if passed, would require advance notice and approval by a county commissioners court before a city is able to develop new housing projects serving homeless residents.
Community concerns
Although many District 6 constituents expressed support for the project, others raised concerns about the impact on surrounding businesses, the potential for crime and the cost of operating such a facility.

"We need some compassion, yes," said Freda Chen, who owns Freda's Seafood Grille, which is next door to the Candlewood property. "But I think the city picked the wrong place."
Chen wishes the city had been more transparent about its interest in the property and considered its proximity to businesses like hers, which have already been adversely affected by the pandemic. "I don't think they think we're important because we're on the edge of the city," she told Austonia.
Rupal Chaudhari, CFO of the Hampton Inn & Suites and Homewood Suites in northwest Austin, which share a driveway with the Candlewood site, also opposes the purchase. "It is a fact that crimes do go up around homeless housing," she said during a Jan. 27 council meeting. "How are we supposed to feel safe in the community?"
"I think it is really important that we make sure that our community is not equating homelessness with criminal activity," District 9 Council Member Kathie Tovo said at the same meeting.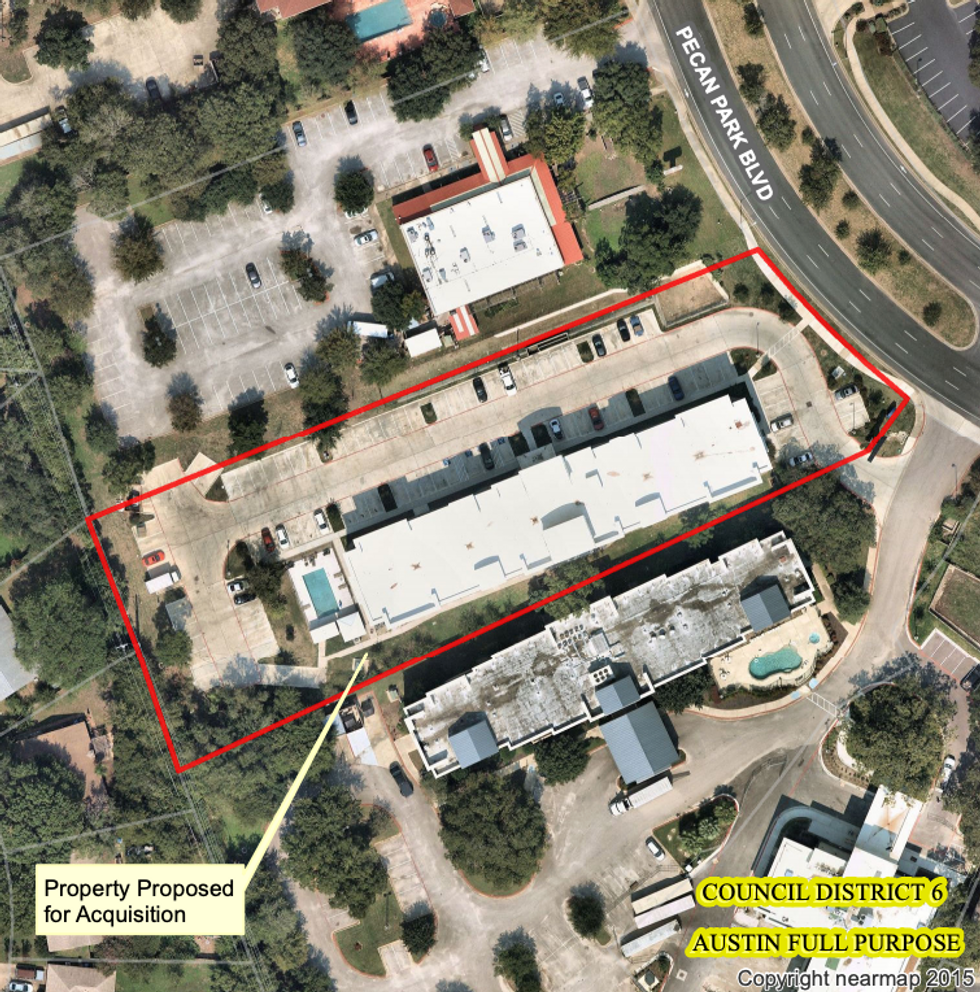 Freda's Seafood Grille sits to the left of the Candlewood hotel property, and the Hampton Inn & Suites to its right. (City of Austin)
Austin officials have said it is important to keep prospective purchases under wraps, and council is allowed to do so under state law to avoid unwanted competition from other buyers. The cost of the hotel purchase price evens out to around $115,000 per unit. "That is well under any average acquisition cost for a one-bedroom unit in Austin," newly appointed Homeless Strategy Officer Dianna Grey said during the town hall.
Next steps
The Candlewood purchase will be funded by the 2018 affordable housing bond and is expected to open late this year, according to a Jan. 20 memo from city staff. Annual operating costs are estimated to be around $2.2 million, which will come from the Austin Public Health budget.
Caritas of Austin, a local nonprofit that provides rehousing services to the homeless community, will manage the facility.
Despite the vocal opposition, some District 6 constituents welcomed this news. "There are several homelessness camps nearby, some right off of Pecan Park Boulevard," said Preston Mans, who is also a member of the Austin DSA chapter, during last week's council meeting. "So I think this location is perfect for helping the homeless."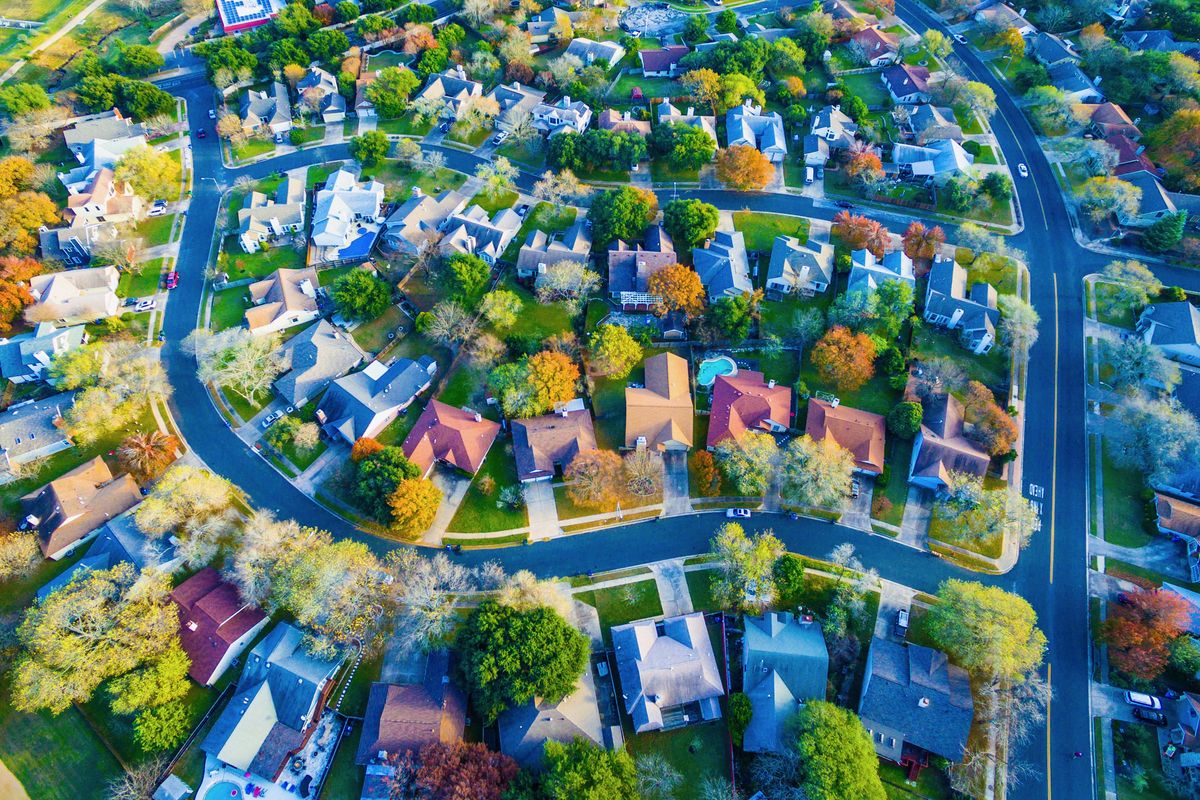 Shutterstock
So you want to buy a house?

To anyone trying to get on the "housing ladder," it's been a discouraging couple of years as prices skyrocketed in a market crowded with buyers bidding against each other for just about any available home.

Things may be calming down, with the Austin Board of REALTORS reporting fewer sales and more available homes this summer.

Mortgage rates have more than doubled in the last year, from around 3% to well over 6% on a 30-year fixed rate loan, getting even more of a bump this week after the Federal Reserve raised bank rates on Wednesday.

So how affordable are homes right now? That, of course, depends on what you want and how much you're able or willing to pay, but here are some rough estimates of what a typical buyer would pay to buy a $650,000 home, which would be considered "mid-price" in today's market.

Mortgage banker Chris Holland (NMLS 211033) of Austin's Sente Mortgage ran some numbers for Austonia to illustrate a typical purchase.


Holland says that while the 30-year fixed rate mortgage is often mentioned in the media, the most popular loan that he's seeing now is a 7/1 adjustable rate mortgage, which has a fixed rate for 7 years and then adjusts every year based on market rates, with a limit on how much it can increase each year. The interest is amortized over a 30-year period. Adjustable Rate Mortgages (ARMs) offer lower rates than fixed rate loans.

Here are the numbers, which are examples. In practice, exact numbers vary with a buyer's credit rating and overall financial situation, and with the rate, which can move up or down at any time.
$650,000 home purchase price
7/1 ARM at 5.875%
5% down payment, equals $32,500
95% financed, equals $617,500
$4,990 payment, including principle and interest (P&I), insurance, and property tax
Typically, a borrower's debt to income ratio needs to be at or below 45%. So for this mortgage, a borrower, or borrowers, would need income of roughly $11,100/month, or $133,200/year. That number could be higher, depending on the buyer's outstanding credit balances on things like credit cards and car loans.
Not included are closing costs, moving costs, maintenance, and any changes a new buyer might want to make to the home.

Holland says he's had a lot of clients approved for loans who were house hunting but have put that on hold, hoping prices come down.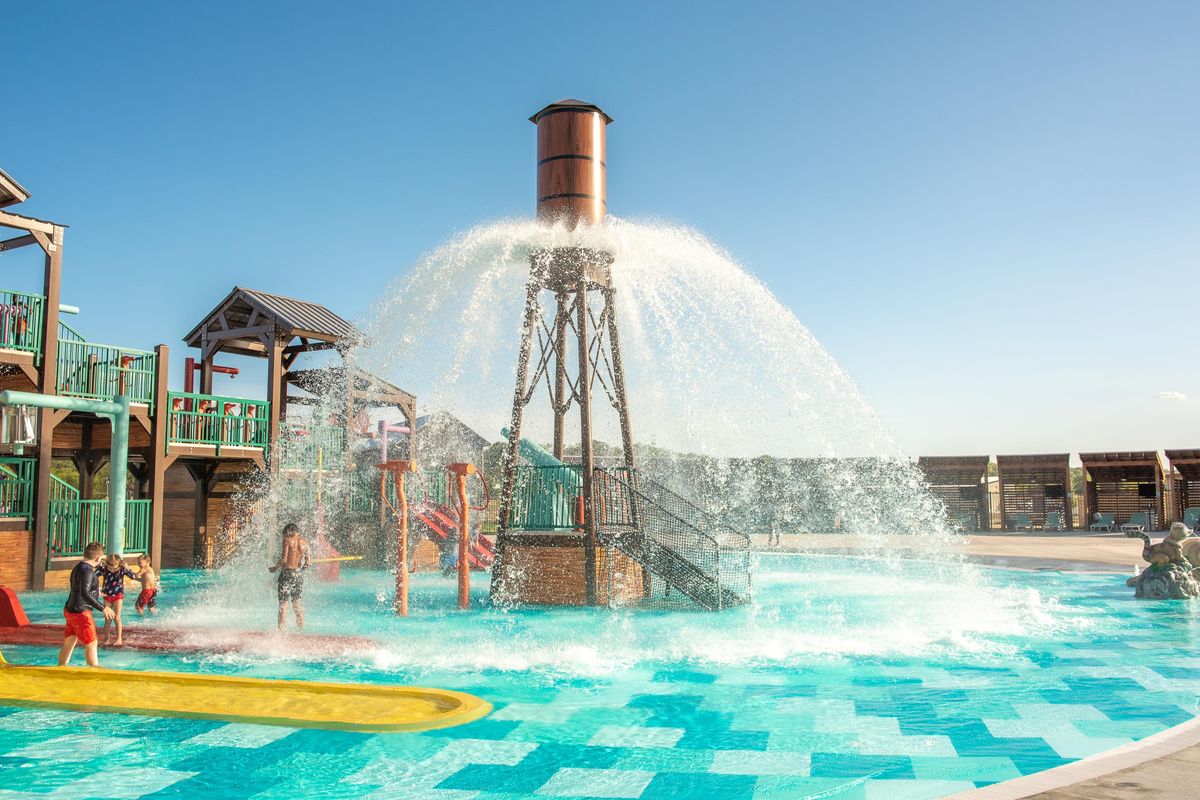 Camp Fimfo Waco
Camp Fimfo Waco, a brand new camping resort, is kicking off football and fall camping season in style! With top-notch amenities, premium accommodations, and 10 weekends of fall fun, there's no better place to have a fall camping getaway, especially if you're a Baylor football fan!
Fall promises to be a one-of-a-kind camping experience. From Sept. 16 to Nov. 24, weekends will be packed with fall-themed activities, including special Halloween weekends in October. Campers can enjoy activities like fall crafts, campground trick-or-treating, costume contests, site decorating, outdoor movie nights, and more!