Austonia AM
100% Austin news, info, and entertainment, straight to your inbox at 6 a.m. every morning.
In five minutes, you're fully informed and ready to start another great day in our city.
Get connected with our daily update
(Mackenzie Kelly, Austin City Council/Facebook)
After a one-week delay requested by District 6 Council Member Mackenzie Kelly, Austin City Council voted 10-1 to authorize the $9.5 million purchase of an 83-room hotel in her district to create permanent supportive housing—functionally, an apartment building, with leases and on-site support services—for homeless residents who are disabled.
Kelly requested an additional delay but was outnumbered on the dais. "We do need permanent supportive housing in the community, but I cannot support this permanent supportive housing because of the outcry from the community about it not being in the right location," she said during the meeting on Thursday.
---
The city began converting hotel and motel properties into transitional housing in late 2019, with a goal of purchasing properties in all 10 districts. Since the pandemic began, the city has leased five motels for use as socially-distanced emergency homeless shelters. Last week, council voted to approve the $6.7 million purchase of a hotel on Burnet Road for use as permanent supportive housing. Members were slated to vote on a second purchase—the Candlewood Inn & Suites near the intersection of Hwy. 183 and FM 620—but Kelly requested a postponement amid protests from constituents, many of whom expressed support for permanent supportive housing efforts but opposed the decision to place such a facility in their neighborhood.
Mayor Pro Tem Natasha Harper-Madison pointed out that permanent supportive housing exists in other districts and geographic diversity of such facilities is an important step toward equity. "I don't see why this area can't be an appropriate place," she said.
Misconceptions and transparency
Kelly, who was elected in November, campaigned on her opposition to council's 2019 decision to overturn a ban on public camping. But she framed her request for a postponement as a chance to get her constituents on board with the purchase. "There are a lot of misconceptions about the hotel purchase and homelessness in general," she said during the Jan. 27 council meeting. "My hope is, by postponing, we will be able to clear up confusion and open healthy dialogue."
On Wednesday, Kelly hosted a town hall to discuss the prospective purchase with local experts. More than 200 people attended.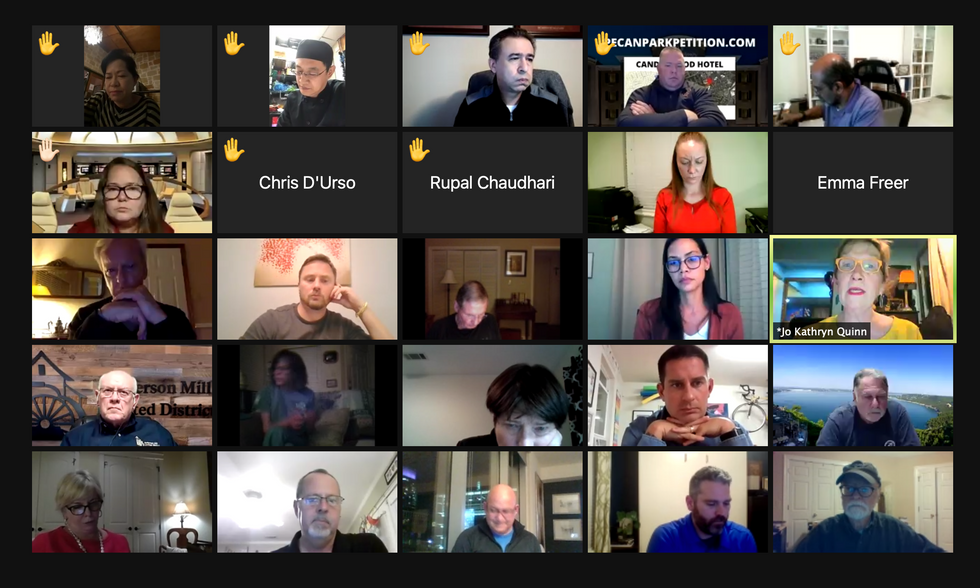 Council Member Mackenzie Kelly hosted a town hall to discuss the Candlewood purchase on Wednesday.
Jo Kathryn Quinn, executive director of the local nonprofit Caritas of Austin, addressed a commonly voiced misconception: that the hotel would be converted into an emergency shelter. "Many of you are familiar with the ARCH downtown," she said. "This is not at all what is being proposed for Candlewood Suites. (Permanent supportive housing) is permanent. It is an apartment community."
Kelly also stressed the need for transparency and community engagement around such purchases. Some other elected officials concurred.
After neighbors and business owners "expressed deep concern for the lack of any communication by the City regarding the project before it became an item on your agenda last week," Williamson County commissioners voted unanimously on Tuesday to urge council to delay the purchase by at least six months, County Judge Bill Gravell wrote in a letter to city officials. State Sen. Charles Schwertner (R-Georgetown) also opposed the purchase and announced plans to file a bill that, if passed, would require advance notice and approval by a county commissioners court before a city is able to develop new housing projects serving homeless residents.
Community concerns
Although many District 6 constituents expressed support for the project, others raised concerns about the impact on surrounding businesses, the potential for crime and the cost of operating such a facility.

"We need some compassion, yes," said Freda Chen, who owns Freda's Seafood Grille, which is next door to the Candlewood property. "But I think the city picked the wrong place."
Chen wishes the city had been more transparent about its interest in the property and considered its proximity to businesses like hers, which have already been adversely affected by the pandemic. "I don't think they think we're important because we're on the edge of the city," she told Austonia.
Rupal Chaudhari, CFO of the Hampton Inn & Suites and Homewood Suites in northwest Austin, which share a driveway with the Candlewood site, also opposes the purchase. "It is a fact that crimes do go up around homeless housing," she said during a Jan. 27 council meeting. "How are we supposed to feel safe in the community?"
"I think it is really important that we make sure that our community is not equating homelessness with criminal activity," District 9 Council Member Kathie Tovo said at the same meeting.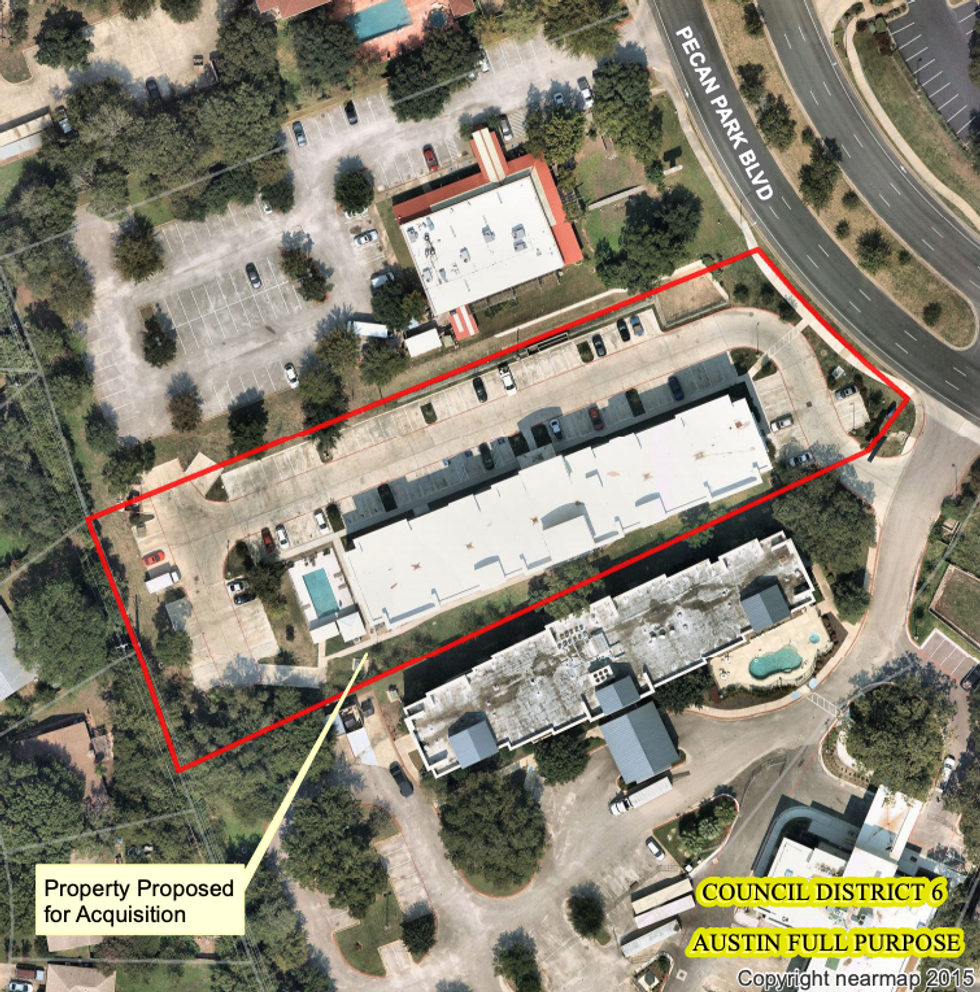 Freda's Seafood Grille sits to the left of the Candlewood hotel property, and the Hampton Inn & Suites to its right. (City of Austin)
Austin officials have said it is important to keep prospective purchases under wraps, and council is allowed to do so under state law to avoid unwanted competition from other buyers. The cost of the hotel purchase price evens out to around $115,000 per unit. "That is well under any average acquisition cost for a one-bedroom unit in Austin," newly appointed Homeless Strategy Officer Dianna Grey said during the town hall.
Next steps
The Candlewood purchase will be funded by the 2018 affordable housing bond and is expected to open late this year, according to a Jan. 20 memo from city staff. Annual operating costs are estimated to be around $2.2 million, which will come from the Austin Public Health budget.
Caritas of Austin, a local nonprofit that provides rehousing services to the homeless community, will manage the facility.
Despite the vocal opposition, some District 6 constituents welcomed this news. "There are several homelessness camps nearby, some right off of Pecan Park Boulevard," said Preston Mans, who is also a member of the Austin DSA chapter, during last week's council meeting. "So I think this location is perfect for helping the homeless."
Matthew McConaughey is reportedly weighing a run for Texas governor in 2022.
The Austin resident and Oscar winner has been "quietly making calls to influential people in Texas political circles, including a deep-pocketed moderate Republican and energy CEO" as he decides whether to run, according to Politico.
McConaughey said a gubernatorial run is "a true consideration" while on a March episode of Houston's "The Balanced Voice" podcast.
Although most political strategists doubt McConaughey's commitment and viability as a candidate, some are still intrigued by the possibility.
"I find it improbable, but it's not out of the question," Karl Rove, a top Republican strategist with a long history in Austin, told the political news site. He added that the big question is whether McConaughey would run as a Republican, a Democrat or an independent.
Brendan Steinhauser, an Austin-based GOP strategist, told Politico he's surprised McConaughey isn't being taken more seriously. "Celebrity in this country counts for a lot," he said. "It's not like some C-list actor no one likes. He has an appeal."

Texas Gov. Greg Abbott plans to run for a third term and remains popular among Republican voters, 77% of whom approve of his performance as of April, according to the Texas Politics Project.
Some strategists believe an independent McConaughey run would benefit Abbott. But a recent poll from The Dallas Morning News and the University of Texas at Tyler found that McConaughey would beat Abbott, 45% to 33%, with 22% opting for someone else.
Mimi Swartz, an executive editor at Texas Monthly, mulled a McConaughey run in a recent opinion essay from the New York Times. "Texas may not be ready for a philosopher king as a candidate, much less governor," she wrote. "May the best man win, man."
Some JuiceLand production facility workers and storefront employees are organizing to demand wage increases, better working conditions (including air conditioning in the warehouse) and pay transparency, among other asks. They are also calling on staff to strike and customers to boycott the Austin-based company until their demands are met.
JuiceLand responded on Saturday. "We are listening," the company wrote on their Instagram story. "JuiceLand crew now makes guaranteed $15 an hour or more companywide."
JuiceLand, which was founded in 2001 by Matt Shook and now has 35 locations in Austin, Houston and Dallas, acknowledged the rising cost of living across Texas and the added stress of the pandemic in an email to employees on Saturday, part of which @juicelandworkersrights shared on social media. "There's no denying that times are tough and financial security means more now than ever," the company wrote.
Organized JuiceLand workers rejected this proposal, according to a recent post on the @juicelandworkersrights Instagram account, and reiterated their demands.
"Cost of living in Austin is rising exponentially and will only continue to get worse with the tech boom," the post read. "$15 is barely a sustainable living."

Related Articles Around the Web