Austonia AM
100% Austin news, info, and entertainment, straight to your inbox at 6 a.m. every morning.
In five minutes, you're fully informed and ready to start another great day in our city.
Get connected with our daily update
(Mackenzie Kelly, Austin City Council/Facebook)
After a one-week delay requested by District 6 Council Member Mackenzie Kelly, Austin City Council voted 10-1 to authorize the $9.5 million purchase of an 83-room hotel in her district to create permanent supportive housing—functionally, an apartment building, with leases and on-site support services—for homeless residents who are disabled.
Kelly requested an additional delay but was outnumbered on the dais. "We do need permanent supportive housing in the community, but I cannot support this permanent supportive housing because of the outcry from the community about it not being in the right location," she said during the meeting on Thursday.
---
The city began converting hotel and motel properties into transitional housing in late 2019, with a goal of purchasing properties in all 10 districts. Since the pandemic began, the city has leased five motels for use as socially-distanced emergency homeless shelters. Last week, council voted to approve the $6.7 million purchase of a hotel on Burnet Road for use as permanent supportive housing. Members were slated to vote on a second purchase—the Candlewood Inn & Suites near the intersection of Hwy. 183 and FM 620—but Kelly requested a postponement amid protests from constituents, many of whom expressed support for permanent supportive housing efforts but opposed the decision to place such a facility in their neighborhood.
Mayor Pro Tem Natasha Harper-Madison pointed out that permanent supportive housing exists in other districts and geographic diversity of such facilities is an important step toward equity. "I don't see why this area can't be an appropriate place," she said.
Misconceptions and transparency
Kelly, who was elected in November, campaigned on her opposition to council's 2019 decision to overturn a ban on public camping. But she framed her request for a postponement as a chance to get her constituents on board with the purchase. "There are a lot of misconceptions about the hotel purchase and homelessness in general," she said during the Jan. 27 council meeting. "My hope is, by postponing, we will be able to clear up confusion and open healthy dialogue."
On Wednesday, Kelly hosted a town hall to discuss the prospective purchase with local experts. More than 200 people attended.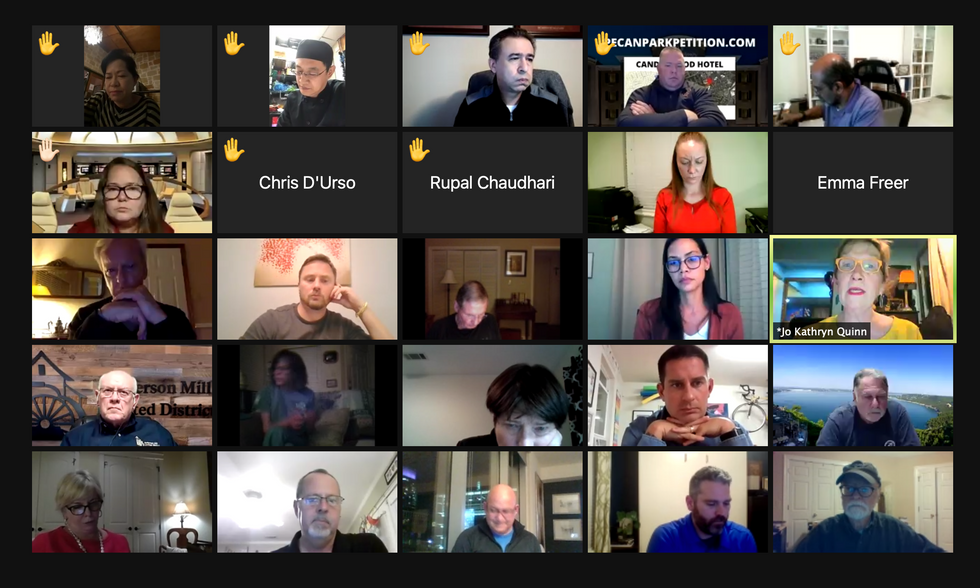 Council Member Mackenzie Kelly hosted a town hall to discuss the Candlewood purchase on Wednesday.
Jo Kathryn Quinn, executive director of the local nonprofit Caritas of Austin, addressed a commonly voiced misconception: that the hotel would be converted into an emergency shelter. "Many of you are familiar with the ARCH downtown," she said. "This is not at all what is being proposed for Candlewood Suites. (Permanent supportive housing) is permanent. It is an apartment community."
Kelly also stressed the need for transparency and community engagement around such purchases. Some other elected officials concurred.
After neighbors and business owners "expressed deep concern for the lack of any communication by the City regarding the project before it became an item on your agenda last week," Williamson County commissioners voted unanimously on Tuesday to urge council to delay the purchase by at least six months, County Judge Bill Gravell wrote in a letter to city officials. State Sen. Charles Schwertner (R-Georgetown) also opposed the purchase and announced plans to file a bill that, if passed, would require advance notice and approval by a county commissioners court before a city is able to develop new housing projects serving homeless residents.
Community concerns
Although many District 6 constituents expressed support for the project, others raised concerns about the impact on surrounding businesses, the potential for crime and the cost of operating such a facility.

"We need some compassion, yes," said Freda Chen, who owns Freda's Seafood Grille, which is next door to the Candlewood property. "But I think the city picked the wrong place."
Chen wishes the city had been more transparent about its interest in the property and considered its proximity to businesses like hers, which have already been adversely affected by the pandemic. "I don't think they think we're important because we're on the edge of the city," she told Austonia.
Rupal Chaudhari, CFO of the Hampton Inn & Suites and Homewood Suites in northwest Austin, which share a driveway with the Candlewood site, also opposes the purchase. "It is a fact that crimes do go up around homeless housing," she said during a Jan. 27 council meeting. "How are we supposed to feel safe in the community?"
"I think it is really important that we make sure that our community is not equating homelessness with criminal activity," District 9 Council Member Kathie Tovo said at the same meeting.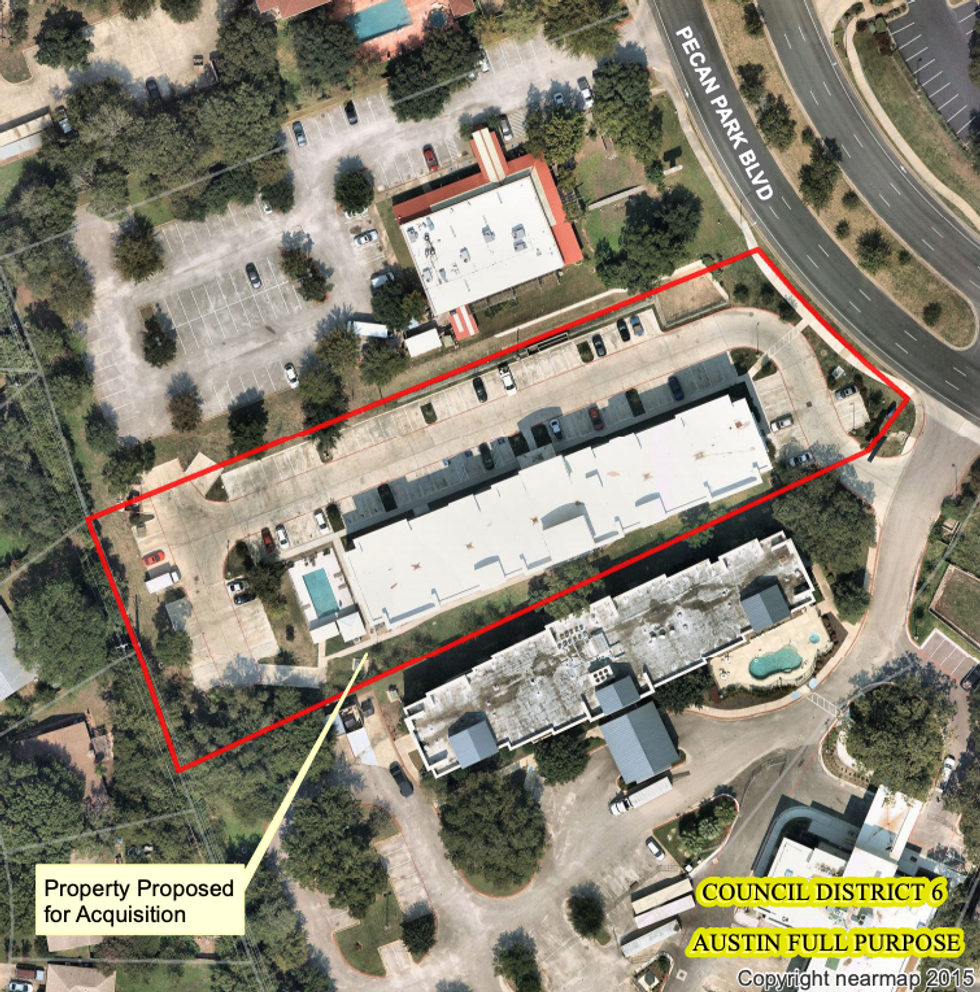 Freda's Seafood Grille sits to the left of the Candlewood hotel property, and the Hampton Inn & Suites to its right. (City of Austin)
Austin officials have said it is important to keep prospective purchases under wraps, and council is allowed to do so under state law to avoid unwanted competition from other buyers. The cost of the hotel purchase price evens out to around $115,000 per unit. "That is well under any average acquisition cost for a one-bedroom unit in Austin," newly appointed Homeless Strategy Officer Dianna Grey said during the town hall.
Next steps
The Candlewood purchase will be funded by the 2018 affordable housing bond and is expected to open late this year, according to a Jan. 20 memo from city staff. Annual operating costs are estimated to be around $2.2 million, which will come from the Austin Public Health budget.
Caritas of Austin, a local nonprofit that provides rehousing services to the homeless community, will manage the facility.
Despite the vocal opposition, some District 6 constituents welcomed this news. "There are several homelessness camps nearby, some right off of Pecan Park Boulevard," said Preston Mans, who is also a member of the Austin DSA chapter, during last week's council meeting. "So I think this location is perfect for helping the homeless."
Texas voters are split on whether Gov. Greg Abbott should run for a third term and whether Matthew McConaughey should run at all. But Democrats are clear: they want to see Beto O'Rourke on the ballot.
These are the findings of a Quinnipiac University poll of registered voters released this week.
Abbott and McConaughey received the highest favorability ratings of the elected officials, candidates and potential candidates, according to the Quinnipiac poll.
Abbott: 49%
McConaughey: 42%
O'Rourke: 34%
Former Texas GOP Chair Allen West: 25%
Former Texas senator and Republican challenger Don Huffines: 8%
Overall, 48% say Abbott does not deserve to be reelected to a third term compared to 46% who say he does. "A Trump favorite in a state that is turning less red in recent election cycles, Abbott has a decent but in no way overwhelming grasp on reelection," Quinnipiac University Polling Analyst Tim Malloy said in a press release.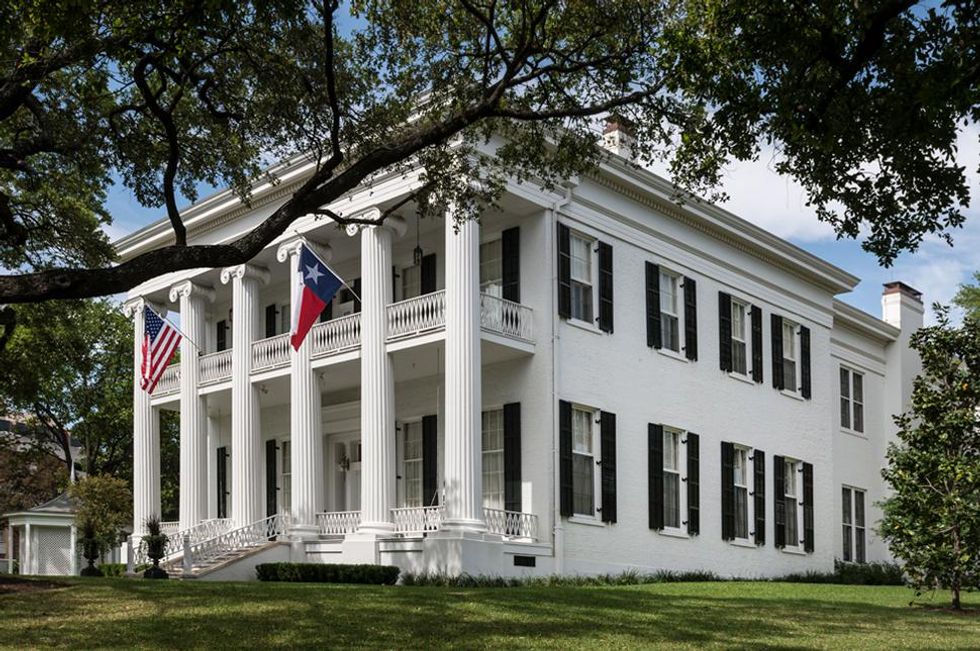 Abbott, McConaughey and Beto O'Rourke could vie for governor in 2022. (Office of the Texas Governor)
Voters are also divided on Matthew McConaughey, who is reportedly considering a gubernatorial run. Forty-one percent of voters say they would like to see him run, compared to 47% who say they wouldn't.

The poll found that Democrats and Independents favor the Oscar-winning Austinite, whose party affiliation is unclear. Forty-seven percent of Democrats would like to see him run, compared to 43% who wouldn't. Forty-four percent of Independents would, compared to 43% who wouldn't. Republicans, on the other hand, say 60%-29% they would not like to see him run.
Another possible candidate is former U.S. Representative and presidential hopeful Beto O'Rourke, who is also reportedly mulling a bid. Overall voters say 52%-41% they would not like to see him run for governor. But 77% of Democrats and 50% of Independents would, according to the poll.
"McConaughey and O'Rourke may still be on the fence, but their numbers suggest they have the attention of voters," Malloy said in the same release.
Austinites will soon be able to train like some of Hollywood's biggest stars as F45, a fitness franchise backed by major celebs, like Mark Wahlberg and David Beckham, is on its way to Austin.
F45 listed Austin as the location of its corporate headquarters in a June 21 federal filing—a big shift for the California company. The fitness franchise is preparing for its initial public offering, which will be as an Austin-based company.
F45 will be one of many California companies—Tesla, Oracle and Samsung—that have recently expanded in the Capital City. The company has several famous investors on its side—famed basketball player Earvin "Magic" Johnson and golfer Greg Norman in addition to Wahlberg and Beckham.
The fitness company is opening a 44,000-square-foot headquarters, located at Penn Field on 801 Barton Springs Road, with a lease running through 2029. F45 was one of the early adopters of Austin-based real estate-technology platform AnthemIQ, helping tenants find commercial real estate.
F45 focuses on one-on-one 45-minute workouts, which patrons watch on in-studio displays. With 2,247 franchise agreements spanning across 63 countries, F45 also has offices in Australia and England.
"We believe this flexibility will enable us to capitalize on our estimated long-term global opportunity of over 23,000 studios," the company said in its filing.
The greater Austin area already has 11 F45 locations, which take up 1,600 square feet of space each.
From Your Site Articles
Related Articles Around the Web