Get connected with our daily update
(Humanize Austin)
Instead of mourning the brain tumor diagnosis he received in August, Dusty Monroe took it as a sign: he needed to do more for his community. The tumor wasn't cancerous, luckily. Still, Monroe stuck to his epiphany. But where to start?
---
While scrolling on Reddit, Monroe stumbled upon a post made about "Bucket Guy." After losing income due to COVID-19, Bucket Guy took to the streets performing drum solos on buckets for extra cash next to a sign with his name and his Venmo.
"Someone should make him a better sign," one comment read.
Monroe, who has a background in graphic design, took it upon himself to do just that—designing, printing and delivering a new sign to Bucket Guy.
"I have a cool, unique set of skills, but my whole life I really used them only for myself and for my family and that kind of woke me up and I was like, 'Dude, you could die,'" Monroe said. "This opportunity to go help this one guy, make them cool little signs was kind of trivial (but) made me feel good."
Monroe then knew how he was going to help the community.

Humanize Austin is a new nonprofit that uses technology to help Austin's homeless residents get off the street, connect them with resources and educate the public on the causes of homelessness.
The company plans to provide qualifying homeless individuals with a sign featuring a unique QR code and link that will take people who scan to a web page. There they will find the person's story, as well as a video of how they got where they are, what skills they have and a seamless way to offer that person a job or donate money.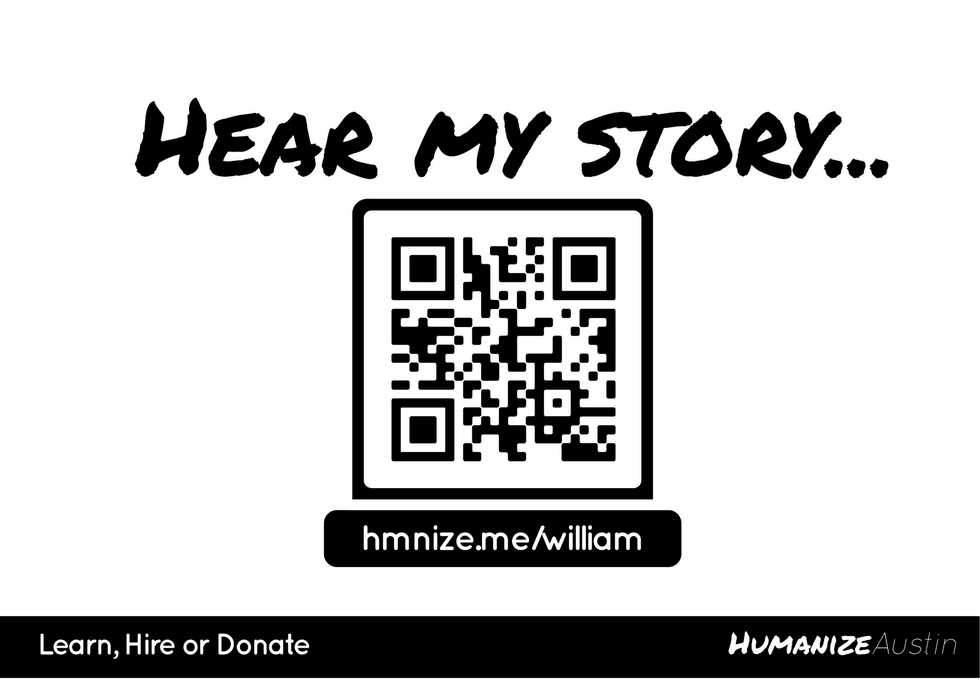 Signs will look similar to this mockup.
Monroe said there is evidence suggesting homeless people are often perceived as less human, so he is striving to correct that perception and humanize Austin's homeless population, hence the name.

"The hope is that it's like a two-minute video, not very long, just quick enough to learn about them, and help humanize who they are," Monroe said. "Give them a story, give them a face and give them an opportunity and a platform to reduce that discrimination and prejudice."
Monroe said one of the key issues with homelessness is a decline in self-esteem, sometimes making the individual feel worthless, which makes it harder to get back on their feet. Because of that, sign-holders will automatically donate 20% of the donations they receive to an organization of their choice.
"I think this is the key differentiator for us," Monroe said. "(The homeless) begin to contribute to society in a meaningful way, by choosing to have some of their donations given to that nonprofit."
Monroe will serve as the creative lead on the signs, designing them himself. Humanize Austin doesn't have any signs on the street yet, as they are still in the early stages of development, but they are on track to start doling out signs in January.
Monroe said he wants to help the homeless beyond creating these signs. For that reason, Humanize Austin is planning to partner with several other organizations, like Salvation Army, that focus on helping homeless people reintegrate into society.
"(We are) really trying to partner with different community organizations as well as make it just a grassroots effort," Monroe said.
Humanize Austin is always looking for volunteers and is available on
Facebook
and
Instagram.
More on homelessness: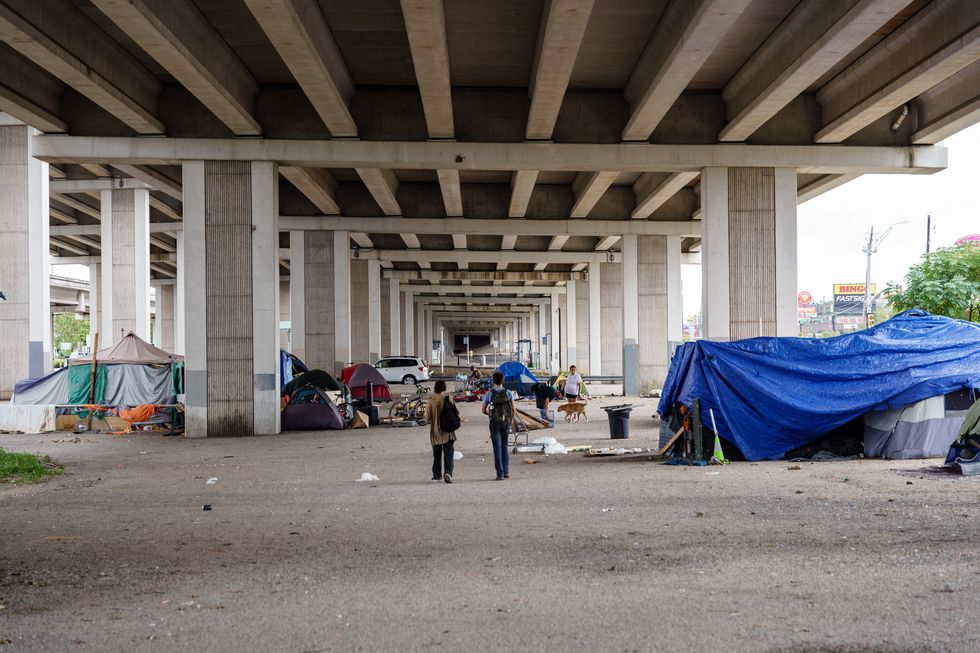 Austin's homeless camps face COVID and cleanups one year after governor's intervention (Jordan Vonderhaar)
The Texas French Bread Bakery, located on 2900 Rio Grande Street, has been completely destroyed after a fire erupted on Monday night.
The Austin Fire Department responded to the fire just before 11 p.m., where they arrived to see flames coming from the roof of the bakery. Firefighters fought the fire for about an hour before the roof collapsed.
While no one was injured in the fire, firefighters say the iconic building was completely totaled.
It is still not known what caused the fire at this time, though AFD said arson investigators have been brought in to check every angle. Due to the amount of damage, fire crews said it may not be possible to find the exact cause.

This year, Texas French Bread will celebrate 40 years of business. Before the bakery occupied the building, it was the Rome Inn, a music venue that hosted 1970s artists like Stevie Ray Vaughan.
Austin's first major league team is ready to extend its reach with a new collaborative sports complex The Pitch, an Austin FC destination packed with local food, beverages and Verde fervor is set to open in Northeast Austin in February.
The Pitch, a collaboration between Austin FC and Karlin Real Estate, among other entities, will be located in the 50-acre Parmer Pond District, which already hosts the club's practice facility St. David's Performance Center.
Dubbed a "true destination" for both soccer fans and the community, The Pitch will consist of multilevel shipping containers designed by Mark Odom Studio that will carve out into a 1,200-seat stadium complete with a soccer pitch made of turf, food and beverage options and a five-acre "Parmer Pond" featuring jogging trails.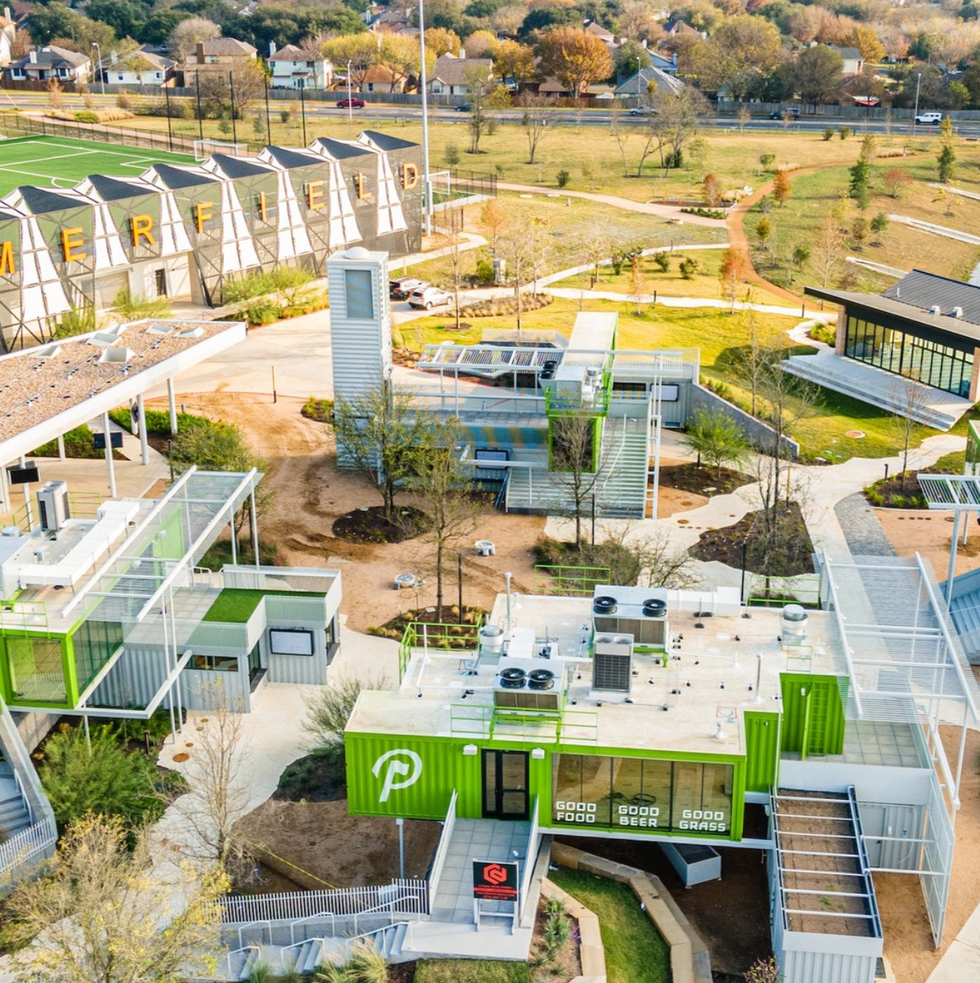 Made from multilevel shipping containers, The Pitch will include food and a 1,200-seat soccer pitch made from artificial turf. (The Pitch)
"The launch of Karlin's new food and entertainment experience will greatly enhance the Parmer development while perfectly complimenting St. David's Performance Center," Austin FC founder Anthony Precourt said. "The Pitch... will offer a strong variety of food options and gathering spaces for guests who will utilize St. David's Performance Center and Parmer Field for a variety of events."
The Pitch project lead Dave Greeley, who helped come up with the concept, is a former president of Austin FC parent company, Two Oak Ventures.
"The vision behind The Pitch at the Parmer Pond District is to be a first-of-its-kind sports, dining and entertainment destination," said Dave Greeley, The Pitch project lead and Team Orbis president. "This will be an unmatched experience for Parmer Austin tenants, Austin FC and club supporters, and the community."
With its proximity to the practice center, the venture hopes to contribute to the growing "soccer city" of Austin during Austin FC matches and youth games with the Austin FC Academy hosted at the St. David's Performance Center.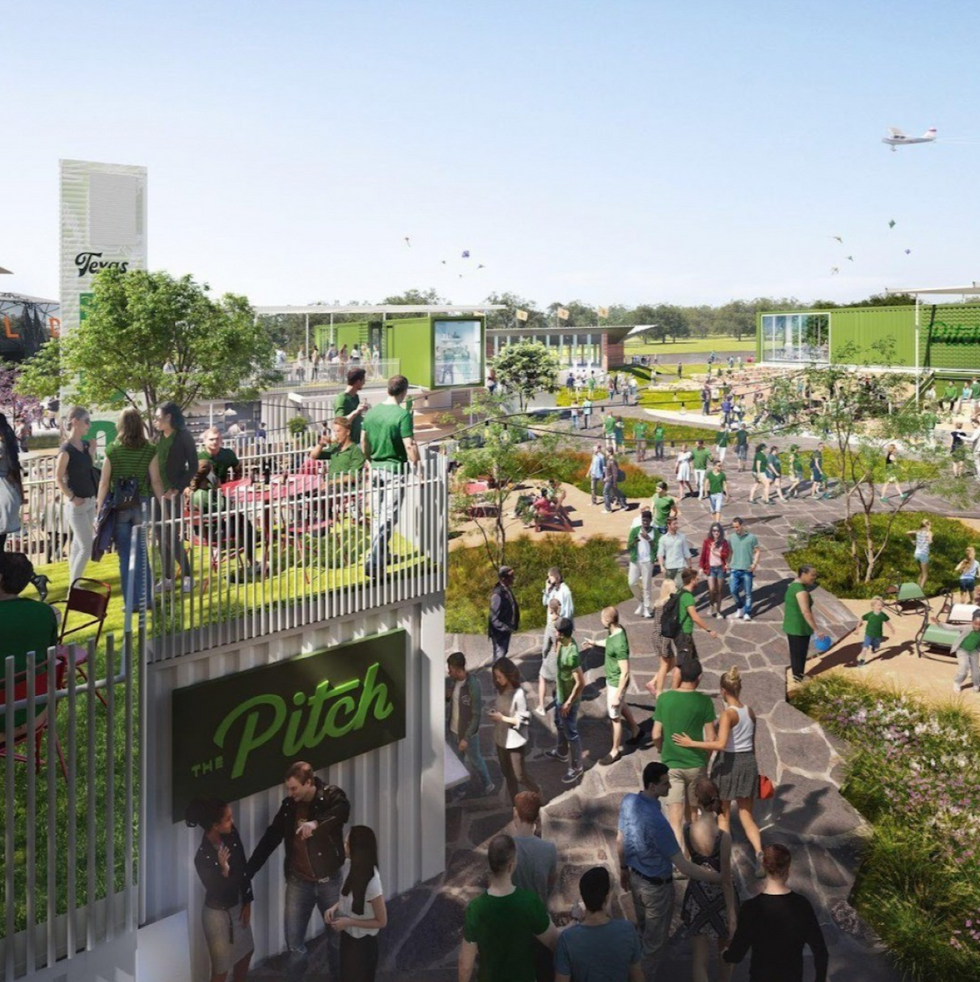 The Pitch hopes to converge both community and club interests with Austin FC. (The Pitch)
In addition to the soccer pitch, stadium and pond, The Pitch will provide a foody experience made by the creative team behind Austin staples like Fareground and Easy Tiger. The complex will offer local bites including:
Ranger Burger, which offers beers and burgers made from highly-coveted Wagyu beef direct from Ranger Cattle in East Austin
Ga Roti, which merges flavors from Northern Vietnam with the culinary techniques of France to create a unique rotisserie chicken joint
Taco Flats, a local taco chain serving Mexico City-style tacos, micheladas and more
Sand Bar, which fulfills its namesake with beauty cocktails, local beers and a sand volleyball court
Coffee Club, a coffee shop and bakery
Corner Kick Bar, the soccer-focused main bar of The Pitch complete with "tunes, TVs and (a) beer garden"
The Pitch will squeeze between St. David's Performance Center and Parmer Pond alongside the southern edge of Parmer Austin, a Karlin Real Estate venture that will eventually include multifamily housing, corporate office space and an aerospace and defense center.