Austonia AM
100% Austin news, info, and entertainment, straight to your inbox at 6 a.m. every morning.
In five minutes, you're fully informed and ready to start another great day in our city.
Get connected with our daily update
(Jordan Vonderhaar)
Behind a white picket fence, David, 58, has made a home for himself.
There is turf on the ground, a grill station with sesame oil, a large "Trump 2020" sign and multiple tents.
"I probably have it better than anyone here," he said of the state-run campsite, off of Hwy. 183 near Montopolis, where he has lived since January.
---
Tucked off the side of the frontage road, the site is long and narrow, with dozens of plots set up in rows. Some have a sandbag infrastructure, others are covered with tarps to provide privacy and shade.
Overhead, airplanes descend en route to the Austin-Bergstrom International Airport, which is nearby.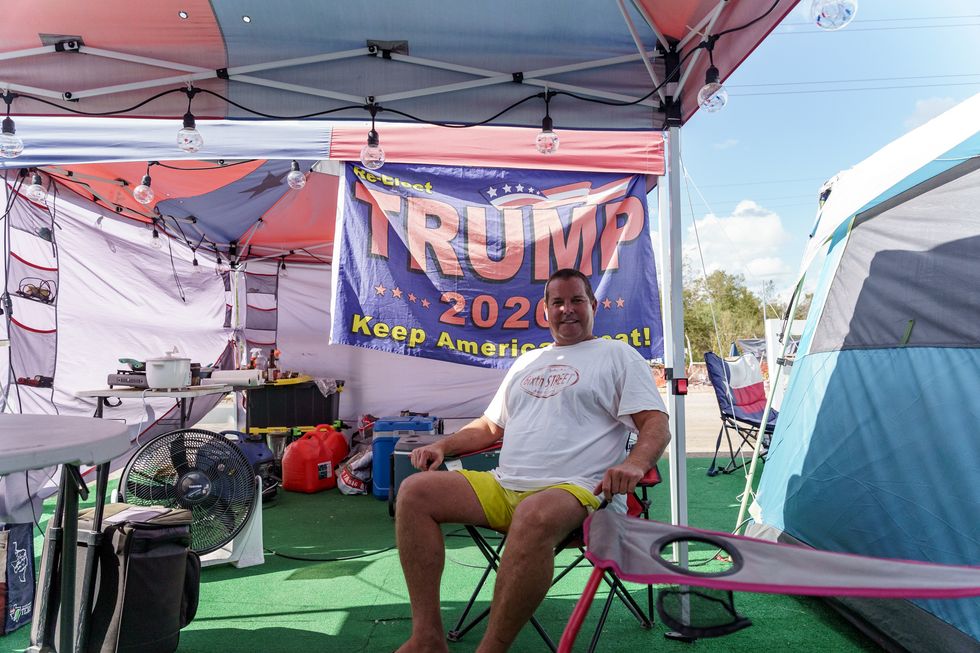 David has lived at the state-run campsite in Southeast Austin since January.(Jordan Vonderhaar)
David, who didn't give his last name, said he arrived at the camp in January, after spending 11 months living at the Salvation Army shelter downtown. Before that, he was "basically vacationing" in Mexico for two years, after losing his job as an insulation supervisor in the oil and gas industry.

Without a salary, and with a monthly child support payment of $2,780 to "little missy in Westlake," David said he couldn't afford housing—and doesn't expect he will be able to any time soon.
After maxing out his time in the shelter, David moved to the state-run campsite because of the 24-hour security provided by the Texas Department of Safety and FEMA.
"I don't talk to my neighbors," he said, adding that he disapproves of the drug use on site and has called the police a few times. "I have nothing in common with these people, other than being homeless."
Local politics
In June 2019, Austin City Council rolled back three ordinances that had prohibited sitting, lying and camping in public places and nighttime panhandling. Advocates said the move was a crucial step in decriminalizing homelessness.
But many others—including local business owners, the Austin Police Association and residents—opposed the decision, which they argued did not address the root causes of homelessness and would threaten public health and safety.
With the camping ban overturned, Austin's homeless population became more visible.
The point-in-time count, an annual census conducted by the Ending Community Homeless Coalition each January, found a 45% increase in the city's unsheltered population this year, which the organization attributed to increased volunteerism and better counting methods.
Texas Gov. Greg Abbott condemned city leadership on his personal Twitter account and shared misleading information that he attributed to "Austin's policy of lawlessness."
He ordered the Texas Department of Transportation to conduct sweeps of homeless camps under state highways last October. The next month, the state opened its campsite on a seven-acre TxDOT maintenance yard, where David now lives.
When a series of violent crimes were committed by homeless residents early this year, including a fatal stabbing at a South Congress burrito restaurant, Abbott blamed Austin's homelessness polices and ordered state police to increase patrols around downtown and the University of Texas campus.
Some local officials, including Mayor Pro Tem Delia Garza, criticized Abbott's response as politicized.
Most violent crimes involving a homeless suspect have a homeless victim, Austin Police Department assistant chief Joe Chacon told City Council in February
"The correct message …. when we're looking at our violent crime incidents, especially in the downtown area, is that a small minority of them involve an individual experiencing homelessness," he said.
Political pawns
William Plumbley has lived in the homeless encampment across from the Central Market on South Lamar Boulevard—known as the Breezeway—for three-and-a-half years, longer than any of the current residents.
"The (decision to overturn the) camping ban was a really, really good step," he said.
Since the council vote, Plumbley said it is easier for him to make his home in the Breezeway, which he likes because the bridge overhead provides a "kind of semi-shelter."
Although he said the clean-ups, orchestrated by city departments, can be destructive, they help keep rats—and related issues, like a recent bacterial staph outbreak—at bay.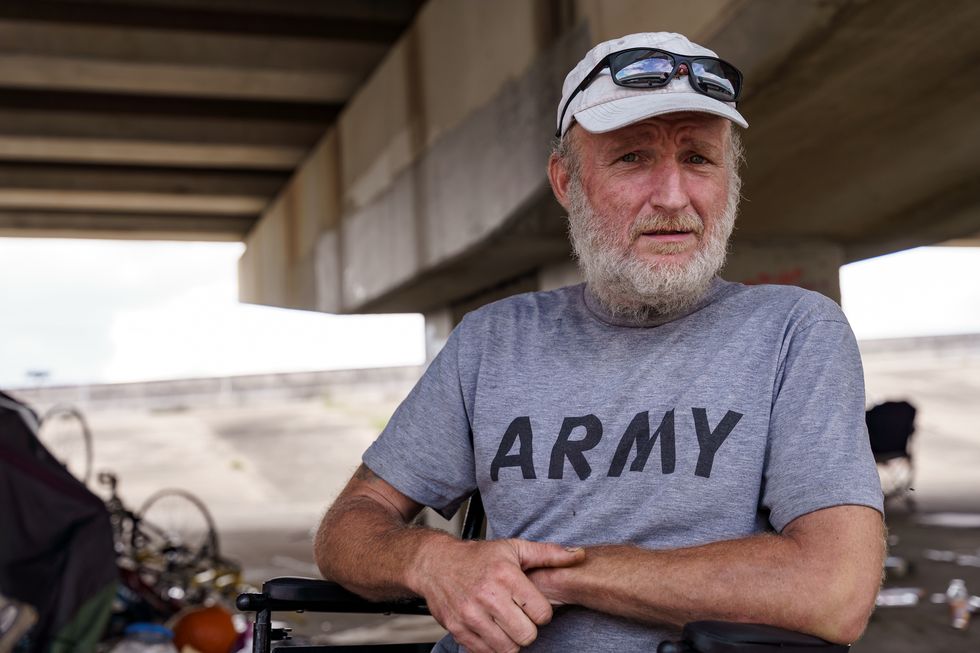 William Plumbley sits outside his tent at the "Breezeway" homeless camp in Southeast Austin.(Jordan Vonderhaar)
But Plumbley does not appreciate the political back-and-forth set off by the council's decision.

"It feels like the homeless population has been manipulated for political purposes," he said.
Plumbley's soft-spoken neighbor, John Volloy, has lived in the camp for three years, where he is known as the "Godfather" for his peacekeeping skills. He echoed Plumbley's assessment, saying that, once the governor got involved, drivers started honking, throwing bottles and yelling while passing the camp.
Still, Volloy has no plans to leave. There are water stations and violet-colored trash bins that the city collects at other camps nearby. But he prefers the Breezeway, which provides the cover of an overpass and decent water drainage when it rains, which helps minimize mosquitoes. He also has plenty of space to operate his bike workshop, where he repairs salvaged frames.
"I'm going to stay no matter what," he said.
COVID and cleanups

After the city overturned the camping ban and the governor's intervention, there was a lot of attention—from the media, business owners and residents—paid to how Austin would address homelessness.
But then the pandemic arrived, which led to shelters constricting their capacity to prevent outbreaks and fewer cleanups of homeless camps.
In addition to opening five ProLodges at area motels for homeless residents needing to recuperate from COVID-19, the city of Austin also increased its distribution of water stations, porta-potties and other resources to camps around town.
More recently, amid complaints from Austinites who live near some of the homeless camps, the city has resumed cleanups.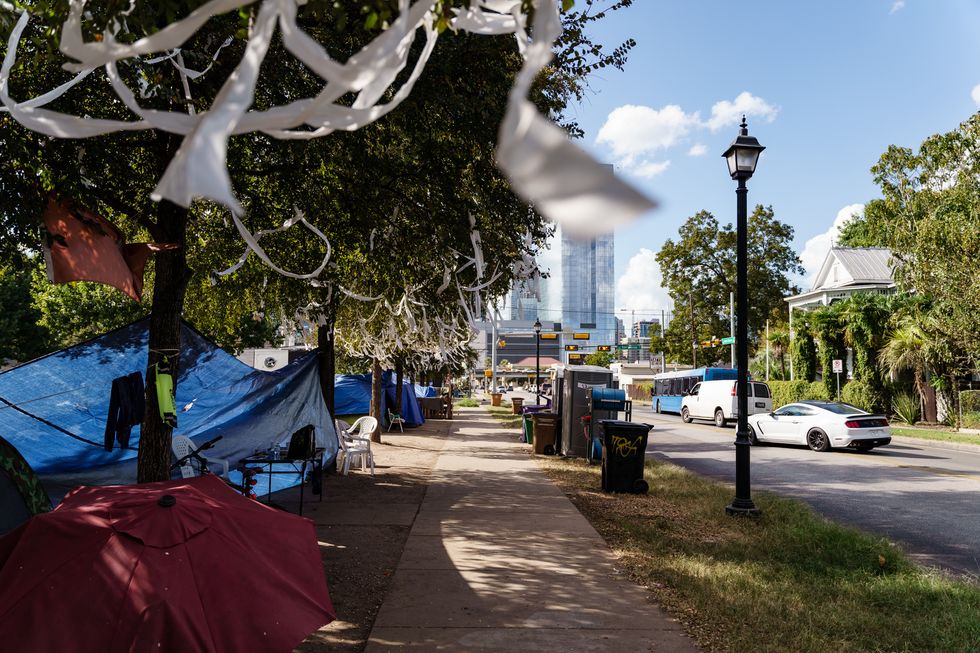 A resident of a homeless encampment on East Riverside Drive strung up the trees with toilet paper. (Jordan Vonderhaar)
But many feel the city's response is inadequate.

Nearly 20,000 people signed a petition circulated by the local nonprofit Save Austin Now calling for the city to reinstate its ban on public camping. Although the Austin City Clerk ruled in August that the petition did not have enough signatures to be placed on the November ballot, it was not without support.
That same month, Kevin Ludlow, who lives in the Windsor Park neighborhood, began posting a series of video updates on the homeless camp that abuts his backyard and extends along Little Tannehill Branch Creek. After his first video, which he shared on Aug. 2, garnered tens of thousands of views, the city sent a crew of workers to clean up the camp, but Ludlow said it was a short-term fix as homeless folks have started to reside in the same area once again.
This week, two Austin City Council members, District 6's Jimmy Flannigan and District 10's Alison Alter, faced re-election. Despite earning the most votes in their respective races, neither reached the 50% threshold required to avoid a runoff. Both will face conservative challengers whose platforms include reinstating the camping ban on Dec. 15.
New normal
Kimberley Piper lives at a camp across the street from the Westgate park-and-ride. She became homeless earlier this year, after more than a decade off the streets, when she moved out of her father's apartment nearby. She said he didn't think he needed a caretaker. Her father, John, was sitting on a pop-up chair nearby, visiting her for the morning. He said she needs to find public housing where she can live alone.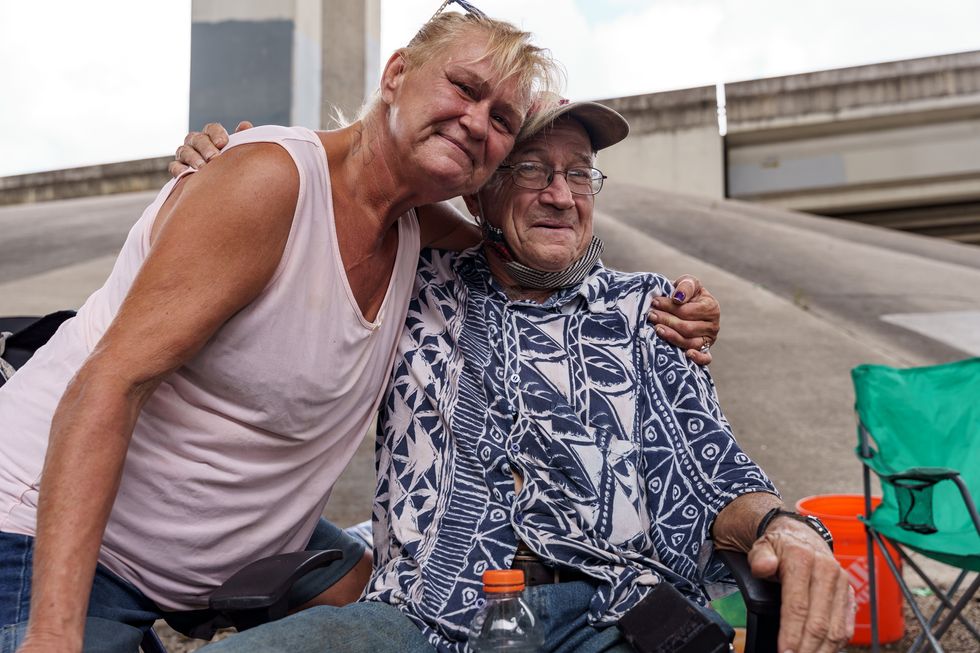 Kimberley Piper, who lives at an underpass camp near the Westgate park-and-ride, receives a visit from her father, John, who lives in an apartment nearby.(Jordan Vonderhaar)
Although Piper appreciates some of the newer amenities, including the water station and trash cans, she is distressed by the drug use, violence and more frequent cleanups. In the most recent sweep, which she said had occurred a week prior, the workers ruined the small flower garden she had planted near her two-tent campsite. A small circle of rocks and some fragile looking sprouts survived.
But for other members of the city's homeless population, not much has changed over the course of the last year, despite the pandemic and the policy changes.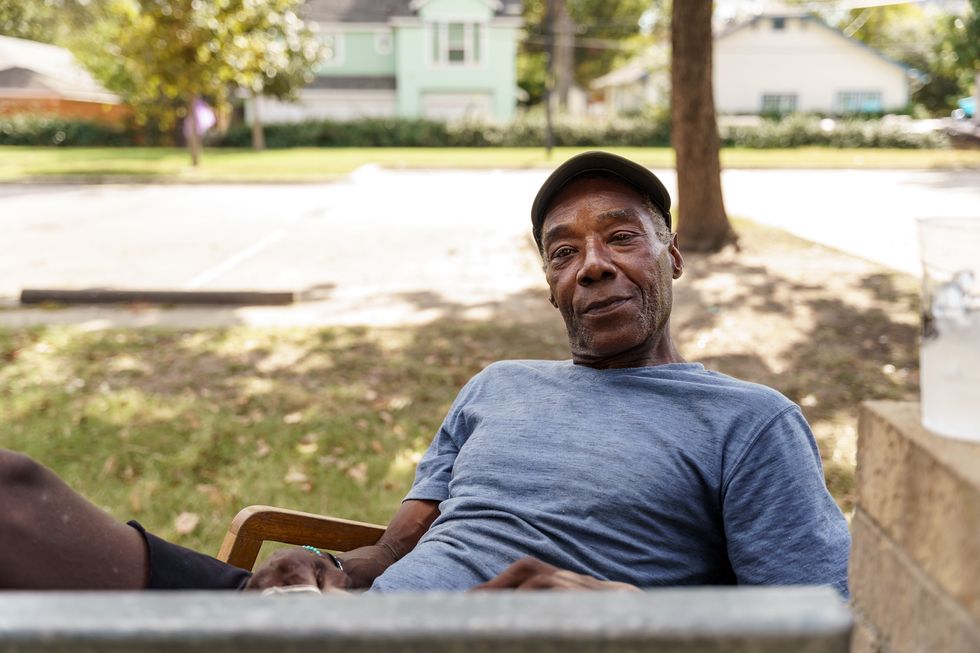 Robert has been homeless since the mid-1980s. (Jordan Vonderhaar)
Robert, who has lived at a camp near the Terrazas Branch library on East Cesar Chavez Street for about a year and been homeless since 1984, said none of the residents had contracted COVID.

Some of his neighbors are waiting to be placed in public housing, but not Robert, who has no plans to move elsewhere.
"My body has adapted to everything that's come my way," he said.
(Pexels)
Curiosity into cryptocurrency has grown nationwide with 63% reportedly "crypto curious," or those wanting to learn more about it but have not started investing, according to Gemini, a digital currency exchange and custodian platform. The platform reports 14%, or 21.2 million, Americans currently own cryptocurrency with 68% of owners buying within the last two years.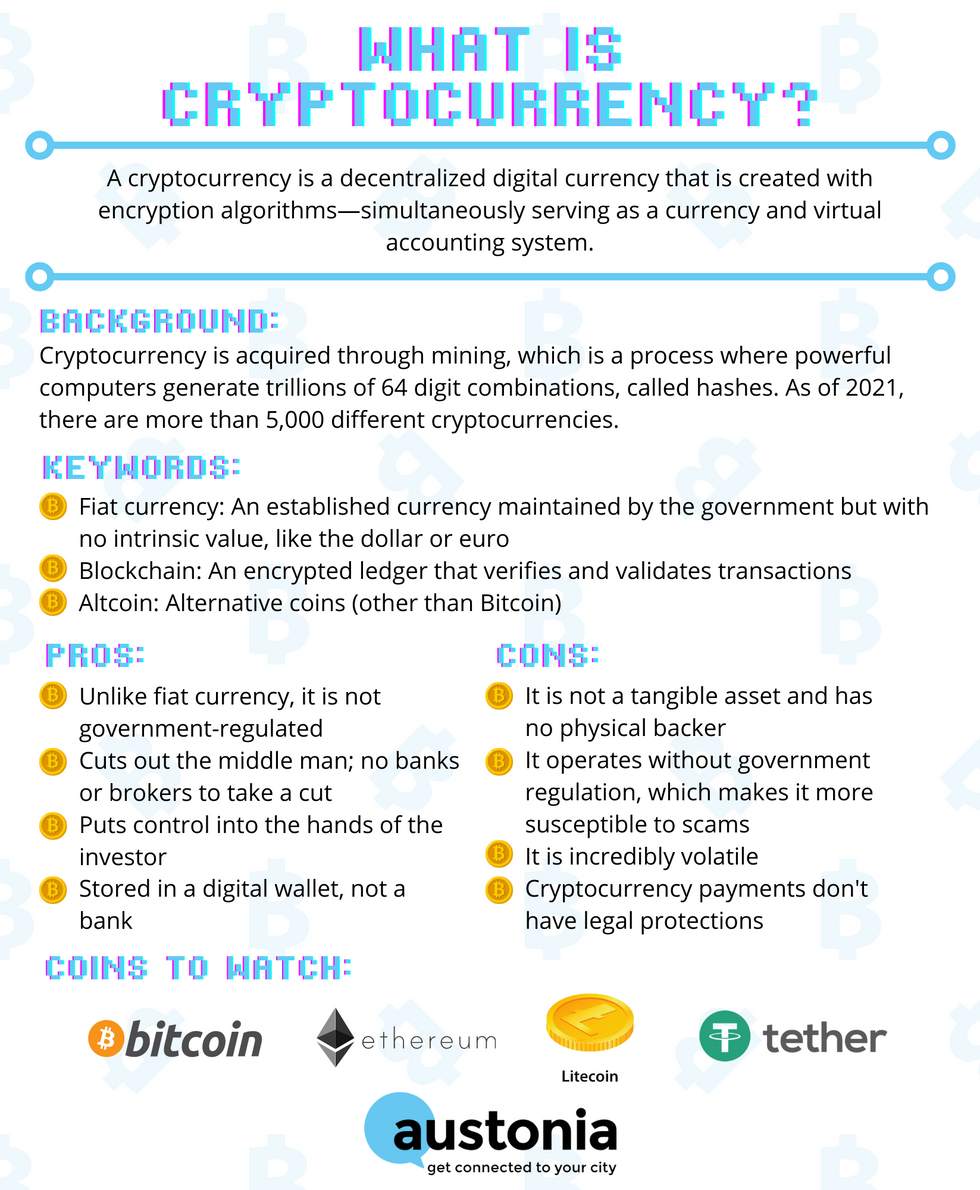 (Laura Figi/Austonia)
Who is buying in?

Sam Nassar, a Texas State University accounting graduate student, started investing in cryptocurrency in July 2020, although he kept up with crypto trends before that. At 23 years old, Nassar said the decision to take the plunge and invest was born from quarantine boredom.
"I've always been intrigued in technology, and I've always been an early adopter, so I just decided to start to invest in it and understand kind of a little bit of behind it," Nassar said. "I do believe in the technology and I know it's so useful and truly is the future"
Since then he has invested over $700 in Bitcoin, Ethereum, Litecoin, Tether, Cardano, Chainlink and Internet Computer.
Cryptocurrency interest is heavily skewed toward younger men with the biggest percentage primarily between the ages of 25 and 44.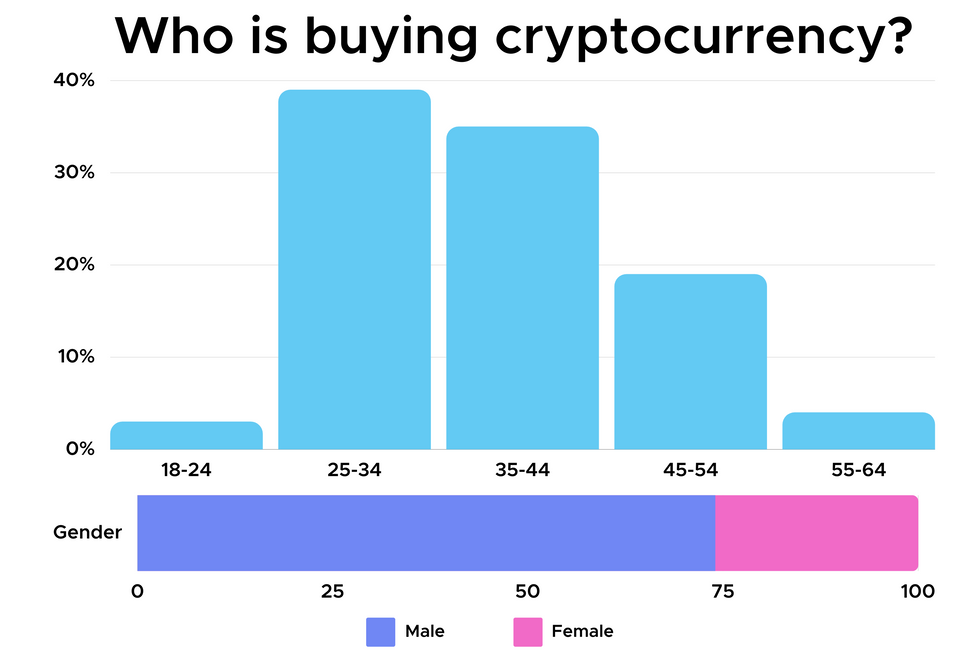 (Laura Figi/Austonia)
Likewise, 26-year-old, Liam Duddy, a South Austin salesman, started to involve himself in cryptocurrency after hearing the buzz about Bitcoin and how much money people were making off of it.

"I was like wow, so you're telling me it only takes me one of these little coins if I can get a hold of them and I have 30 grand," Duddy said. "That opened up a whole different world of all these different kinds of coins you can buy into."
Why are they investing?
For Nassar, cryptocurrency is about being part of the technology of the future. Nassar is studying to be a Certified Public Accountant and believes cryptocurrency, blockchain technology and innovations like smart contracts, or self-executing contracts programs, have the capacity to completely change the industry he wants to work in.
"You're going to have to have specialized auditors that understand blockchain technology in order to truly audit it, otherwise fraud can occur," Nassar said. "I think it really is the future. I really do think that that's another reason I'm investing into it, because I do believe that technology."
Cryptocurrency is about the gains for Duddy, who originally invested $400 and saw a $2,000 return when he invested in Bitcoin and Chainlink. Although he does see value in the future of blockchain technology, Duddy also has fun with it.

"Right now there's not a whole lot (of real-world application), it's not as easy to pay with, but if I have it and it's going up, you have one of them it's worth $50,000 U.S. dollars you can buy a car," Duddy said. "I guess you look at it as something fun to start off with."
What's their advice for new investors?
Do your research before investing
Use a platform meant for cryptocurrency
Don't just listen to Elon Musk's predictions
Look before you leap
Both Nassar and Duddy recommend using an app like Coinbase or Gemini, to track your cryptocurrency.
Finally, don't let the volatility scare you but do make sure you do your research before you sink your life savings into an unregulated currency.
"At the end of the day it's like gambling," Duddy said.
From Your Site Articles
Related Articles Around the Web
Texas Gov. Greg Abbott announced Monday that Texas will opt out of further federal unemployment benefits related to the pandemic effective June 26, citing the number of current job openings and concern about potentially fraudulent unemployment claims. The benefits include a $300 weekly supplement.
"The Texas economy is booming and employers are hiring communities across the state," Abbott said in a statement. "According to the Texas Workforce Commission, the number of job openings in Texas is almost identical to the number of Texans who are receiving unemployment jobs."
TWC listed 837,273 job openings as of Monday afternoon compared to 226,849 unemployment insurance claims filed statewide between March 31 and May 1. An estimated 1 million Texans were unemployed as of March, according to latest estimates released by the state agency.
Some local business owners, including Doc's Backyard Grill owner Charles Milligan, suspect unemployment benefits are deterring Austinites from returning to work. But others agree with economists who say multiple factors are at play, including health concerns and child care availability.
We're seeing lots of posts about how nobody wants to work right now. Just wanted to share our experience.

We received over 60 resumes for a taproom bartender position we posted last week. Every applicant we've set up an interview with has shown up.

People want 𝘨𝘰𝘰𝘥 work.
— Austin Beerworks (@AustinBeerworks) May 11, 2021
Abbott also cited fraudulent unemployment claims. Between March 2020 and April 2021, TWC received 4.48 million unemployment benefit applications, 611,000 or around 14% of which were tagged as suspicious. Most of those tagged were blocked before any benefits were paid out, according to an April 29 press release.

Federal law requires the effective date of such benefits change to be at least 30 days after the U.S. Department of Labor is notified.
From Your Site Articles
Related Articles Around the Web
Is it just us, or is the current Austin mask situation confusing? Are we supposed to wear a mask or not, and where? And should we wear one anyway, even if not requested or required?
Austin health orders requiring masks expire Tuesday. What then?
Take our three-question quiz, and tell us what you're thinking.