Austonia AM
100% Austin news, info, and entertainment, straight to your inbox at 6 a.m. every morning.
In five minutes, you're fully informed and ready to start another great day in our city.
Get connected with our daily update
Austin residents can now vote on Proposition B, which would reinstate a city ban on camping, sitting, lying and other activities in certain public places. City Council overturned the ban in 2019 after a successful campaign by advocates, who argued that it criminalized homelessness.
Since then, however, the city's homeless population has grown, both in size and visibility, prompting concerns from residents, business owners and elected officials about public health and safety. Texas lawmakers are considering a statewide ban on public camping, in a clear rebuke to local policy.
Prop B supporters and opponents agree that homelessness has reached crisis status in Austin, but they also acknowledge the ban will do little to address the root causes of homelessness. So who is homeless in Austin, and why?
---
Demographics
The Ending Community Homelessness Coalition, a local nonprofit, conducts a homeless census, called the point-in-time count, each January. This year's count was canceled due to pandemic concerns; the 2020 count found a nearly 45% increase in the local unsheltered homeless population compared to 2019 count, which ECHO attributed to a 39% increase in volunteers, among other factors.
Chris Harris, director of Texas Appleseed's Criminal Justice Project and an activist who helped overturn the camping ban, attributed this growth to rising housing costs in Austin and the pandemic recession. "There are really good reasons for it to go up," he told Austonia.

The point-in-time count helps identify trends but is considered an undercount. National consultants hired by the city of Austin estimate that 10,350 people in Austin-Travis County—around 1% of the total county population—experienced homelessness over the course of Fiscal Year 2020, according to a July 2020 report. Austin ISD estimates nearly 2,000 of its enrolled students experienced homelessness in the 2018-19 school year.
ECHO's Point-in-Time count data provides some indication of disparities in the local homeless population. For example, Black individuals are significantly overrepresented, making up around 9% of the Travis County population but more than 36% of the 2020 Austin-Travis County homeless population. Similarly, veterans account for around 4% of the county population but more than 10% of the homeless population.
Causes

The root causes of homelessness are harder to pin down.
There are individual factors, such as severe mental illness, addiction, domestic violence and poverty. Youth may become homeless when they age out of foster care or are thrown out of their homes.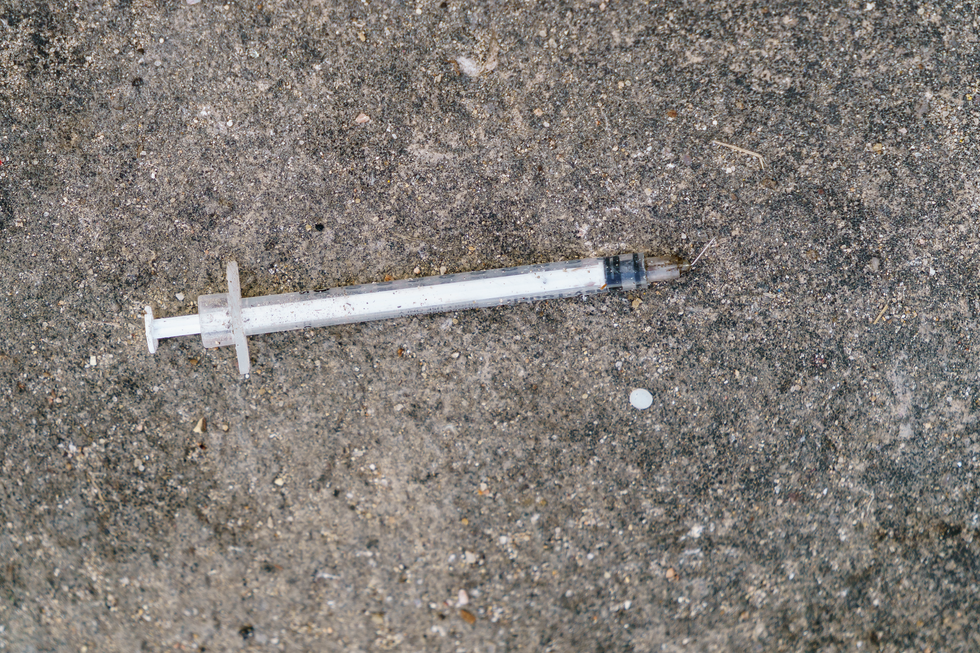 A used syringe found on the ground at a homeless encampment under an overpass in South Austin near the Westgate shopping center. (Jordan Vonderhaar)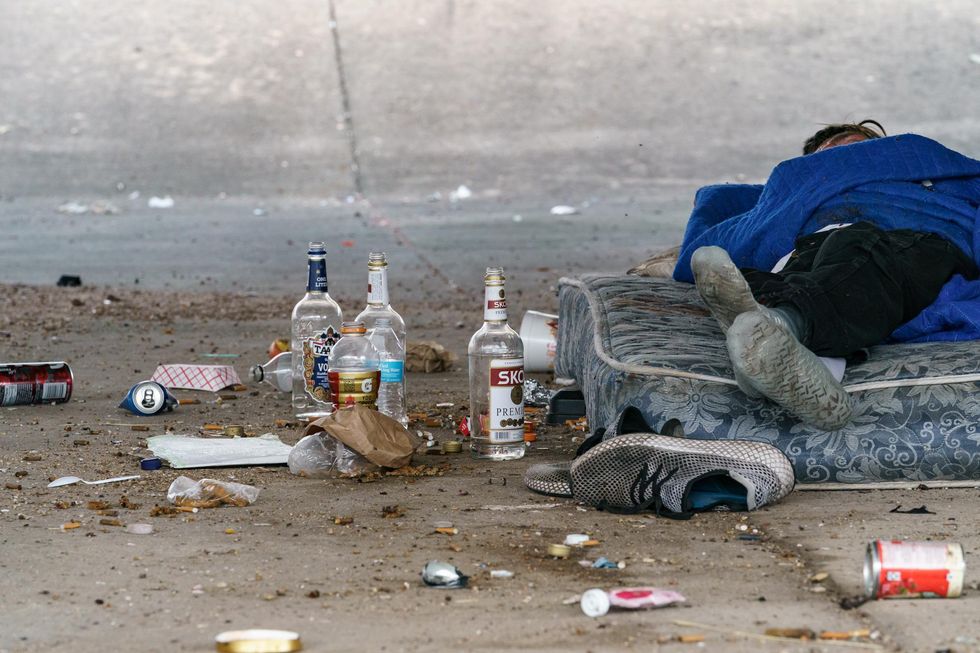 Substance use is both a cause and a result of homelessness, according to the National Coalition for the Homeless. (Jordan Vonderhaar)
The U.S. Department of Housing and Urban Development estimates that around 18% of homeless Texans are severely mentally ill, 12% are chronic substance abusers and 11% are victims of domestic violence, according to 2020 point-in-time count data. Up-to-date data on substance use is sparse, but a 1996 national survey of homeless assistance providers and clients found that more than 80% of chronically homeless individual has experienced lifetime alcohol and drug problems.
Experts point to myriad systemic reasons for the increasing number of homeless people across the U.S., including:
urban renewal, during which affordable housing was destroyed
the deinstitutionalization of mental health patients in the mid-20th century
disinvestment in public housing and other welfare programs starting in the Reagan administration
mass incarceration, which leaves many with criminal records that limit job and housing access
drug epidemics
increasingly expensive medical care
widening income inequality
A minimum wage worker in the Austin metro would have to work 156 hours a week to afford a market-rate, one-bedroom apartment, according to the National Low Income Housing Coalition. There are 168 hours in a week; at $7.25 an hour, this work schedule would leave no money left over for other expenses.
Solutions
In the last few months, the city of Austin has ramped up its response to homelessness, using federal COVID relief dollars to provide short-term rental assistance to more than 400 homeless residents; purchasing hotels that will provide permanent supportive 140 housing units for chronically homeless individuals, despite pushback; and passing the HEAL initiative, which aims to connect around 100 homeless camp residents to housing.
Mobile Loaves & Fishes, a local nonprofit, also recently announced a major expansion of Community First! Village, a master-planned community that is home to more than 220 formerly chronically homeless residents. Starting next summer, the village will grow to add 1,400 additional residences.
"There is no shortage of pressure to address this crisis, and the pressure has existed—and should have—long before the ballot initiative was even on the horizon," Homeless Strategy Officer Dianna Grey said during a press conference earlier this month.

Despite this pressure, the city's homelessness response remains underfunded. "We are far, far under-resourced to address the issue adequately," Grey said. "So the idea that, because we have spent or extended resources in response to this problem and it is not gone, I think, is a real logical fallacy."
This story was updated on April 21 to include context for the year-over-year increase in unsheltered homelessness detailed in the 2020 Point-in-Time count.

Austonia file photo. (Christa McWhirter/Austonia)
Police have arrested one of two suspects involved in a mass shooting at Austin's Sixth Street in the early morning hours on Saturday, leaving 14 people injured and two in critical condition.
The arrest was made by the Austin Police Department and the Lone Star Fugitive Task Force. One suspect is still at large.
Police started receiving 911 phone calls at 1:24 a.m about a man that fired shots into a large crowd, and responded to a chaotic scene on the 400 block of East Sixth Street. Detectives are surveying video footage captured by bystanders and cameras on the scene to identify the suspect.

The Austin Police Department has narrowed down their search to two male suspects and believes there was "some type of disturbance" between the two parties.
No deaths have been reported. Fourteen victims are receiving treatment in a hospital in stable condition with one treated in an emergency room; two are in critical condition.
According to Interim Police Chief Joseph Chacon, "almost all" of the victims are innocent bystanders but police have not ruled anyone out at this time.
Shooting on 6th Street Austin Texas 6-12-2021 (Aftermath) youtu.be
The shooting occurred on the weekend of the Republic of Texas Motorcycle Rally. With lots of people downtown, police say it was difficult to get EMS in and out of the scene. Police arrived while the scene was still an "active threat," officers "immediately began lifesaving measures" and drove six victims to the hospital in their squad cars, said Chacon, and four were transported in ambulances.
Chacon said that the incident is believed to be isolated, and they optimistic they will be successful in getting the two suspects into custody. Multiple departments, including APD, the FBI, Texas DPS and the ATF, are involved in the investigation.
Austin police are also requesting state troopers for patrol assistance in the coming days. Chacon stressed staffing issues are increasingly making responding to emergency calls "very hard."
"Overall, we remain a safe city," Chacon said. "Also keep in mind when you come downtown, you need to be safety conscious. Be vigilant of your environment and your surroundings."
Today marks the five-year anniversary of the Pulse nightclub shooting in which 49 were killed and 53 wounded in Orlando, Florida. Anyone with information on the shooting is asked to call 911 or 512-472-TIPS.

This story was updated at 2:47 p.m. to include new information and will be updated as more details are revealed.
From Your Site Articles
Related Articles Around the Web
Austin police are investigating a homicide in North Austin where a woman was shot and killed, just hours after a mass shooting in Downtown Austin hospitalized 14 people.
APD is working a suspicious death near the 1900 block of W Rundberg Ln. PIO is en route and will update with media staging location. PIO6
— Austin Police Department (@Austin_Police) June 12, 2021
Police originally responded to Ironhorse Flats Apartments, 1900 block of W. Rundberg Lane, at 3:20 p.m. when they found the woman with multiple gunshot wounds. She was transported to a local hospital, where she was pronounced dead at 4:07 p.m.

No one is in custody as of yet but police are speaking with potential witnesses. Officials said they believe this was an isolated incident with no danger to the public but said possible relation to the downtown shooting has not been specifically ruled out.
Officers could not provide a suspect description and the relationship to the victim is still unknown.
This is a developing story that will be updated as details become available.