Get connected with our daily update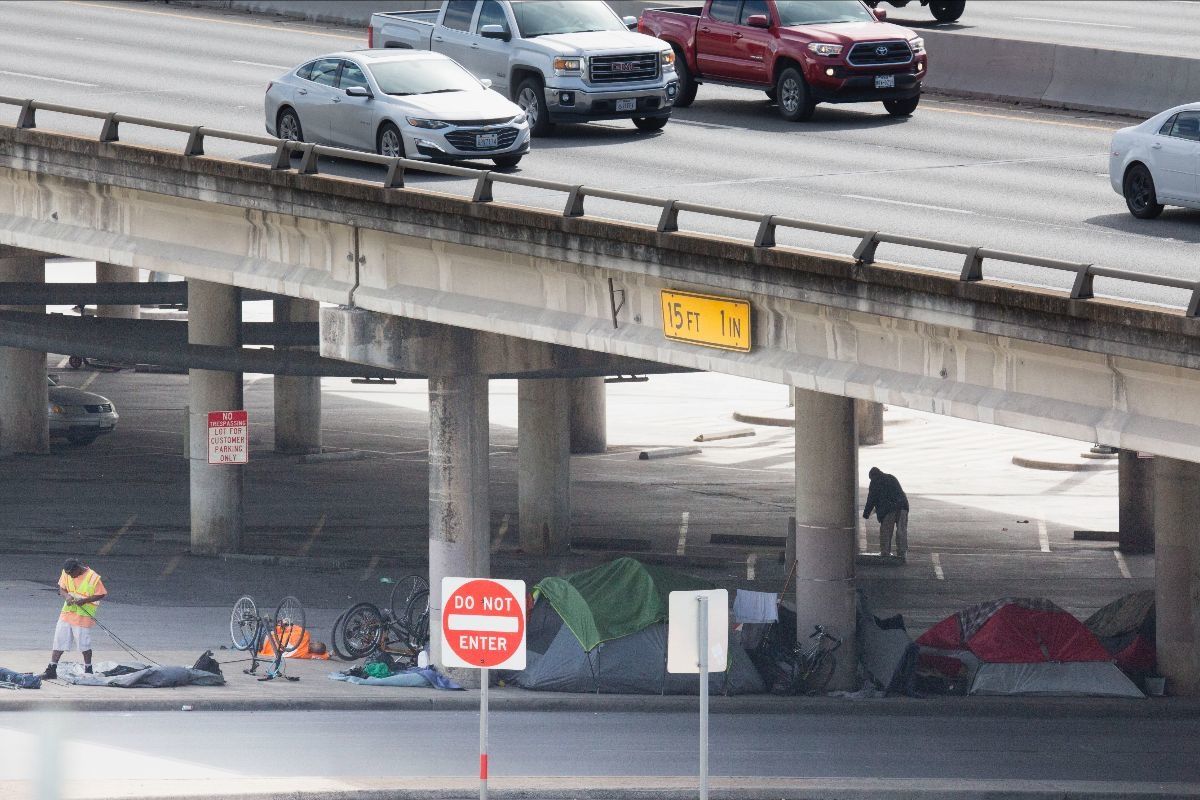 (Charlie L. Harper III)
More than eight months into the pandemic, area homeless shelters report fewer beds and volunteers due to social distancing protocols. But their clientele remains in need, so their staff have come up with new solutions, from using QR codes for donations to Thanksgiving sack meals.
With everyone being advised to limit interactions this Thanksgiving, Austonia takes a look at how Austin's shelters are coping with COVID.
---
Fewer shelter beds and volunteers
Jason Whaley, communication manager for Austin's Salvation Army, said the pandemic has made their shelter space scarce.
"We had to reduce our overall shelter capacity just based off CDC guidelines," he said. "You know, we've made beds, separated them into over six feet apart."
But the changes have been effective.
"Now fortunately we have not had to deal with a COVID outbreak at any of our shelters so that's a very good thing, and I believe that the protocols had a lot to do with that," he said.

That said, implementing safety procedures has cut down the number of badly needed volunteers.
"It certainly reduces the amount of volunteers we can actually have in the warehouse so we are most certainly cutting back in terms of just the amount of people for safety reasons," Whaley said, adding that this year those iconic red Salvation Army donation kettles will include QR codes, "so the people don't actually have to touch cash or touch the kettles."
A move from downtown
Monte Osburn, the executive director of The Foundation for the Homeless, said the pandemic has affected every aspect of his organization but especially its Feed My People program, which serves free breakfast every Tuesday and Thursday in downtown Austin.
"We would serve somewhere between four and six hundred per breakfast before COVID, and now it's down to maybe a hundred, 150, just because the population experiencing homelessness and needing that breakfast have kind of moved away from downtown into some other areas," he said.
Elaborating on the importance of the socializing aspect of the Feed My People program, Osburn said: "One of the draws for our clients to come in to have these breakfasts, it's not so much of the food, which is one type of sustenance, but they miss that connection with someone that they can speak to and just sit for a while and have a conversation with somebody rather than just surviving."
Volunteering at the foundation has been curbed significantly as well, as at other local organizations. But Osburn stressed that there are other ways to help beyond volunteering, including donating money and items such as masks and travel-sized personal hygiene products.
Another option: "Just becoming more knowledgeable about the issue," she said.
Seeking warmth
Amy Price, of Austin's Front Steps, said that another way to help the local homeless population is to donate a blanket through the organization's annual winter drive.
"Every year as winter arrives, there is a steady demand for blankets," she said. "We distribute blankets to shelter clients, individuals (who are) unsheltered and living in camps and outside places, and through the other nonprofits who work with people experiencing homelessness."
The goal this year is to get 1,300 blankets, and as Price explains, "We really need specific blankets, because the size and what the blankets are made of matters so much."

After taking some time to talk to clients and staff, Front Steps learned which blankets worked best and what blankets did not work at all.
"Wool blankets are a no-go, because most people living rough have skin damage and the wool is terribly irritating to wind- (and) sun-burned skin. Cotton blankets are a no-go because they soak up moisture from dew, rain (and) sleet and they become too heavy to carry and there is no way to dry them. Small blankets don't keep out the wind and cold," she said. "Our clients are adult men, and they know those small fleeces won't keep them warm." The blankets to donate to Front Steps should be twin- or full-sized.
Increased need
Antwon R. Martin, of the SAFE Alliance, an organization which offers shelter and housing as well as counseling for at risk individuals, says the pandemic has increased the number of people seeking shelter from abuse. "There are more people coming to SAFE for support, but the amount of shelter space we have, as always, is extremely limited," says Martin.
Due to the pandemic, volunteers are down and even basic fundraising has become a problem for the organization.
"Because of COVID-19, we couldn't hold our big fundraising events in person this year," Martin said. "Our annual gala raises more than $1 million each year, but we had to convert it to a digital event, which raised about $620,000. So we're doing everything we can to provide a high level of support to survivors of violence and abuse while finding ways to offset the decrease in donations."
The pandemic, with its shelter-in-place strictures, has made it particularly difficult for individuals who are risking abuse by simply staying at home.
"For many, home isn't a safe place," says Martin. "When someone is isolating inside a home with a partner or caregiver who uses abuse, the chance to reach out for support may never happen."
Building community

Alan Graham, the founder and CEO of Mobile Loaves and Fishes, is used to organizing a big Thanksgiving meal in downtown Austin, but this year things will be different.
"We're doing it outside, and we'll end up making some simple sack meals that people can come and pick up and take away," he said. "So the intimacy of what we do has got to be postponed for this year and hopefully we'll be back next year."
For Graham, whose organization not only brings out food to people daily but also runs Community First Village in far East Austin, the communal aspect is key to his work.
"Our belief in what homelessness is is not that you're without a house," he said. "We believe that housing is important, we believe housing is necessary but it is still insufficient as far as what the human person needs. And we have a saying at Mobile Loaves & Fishes that housing will never solve homelessness but community will."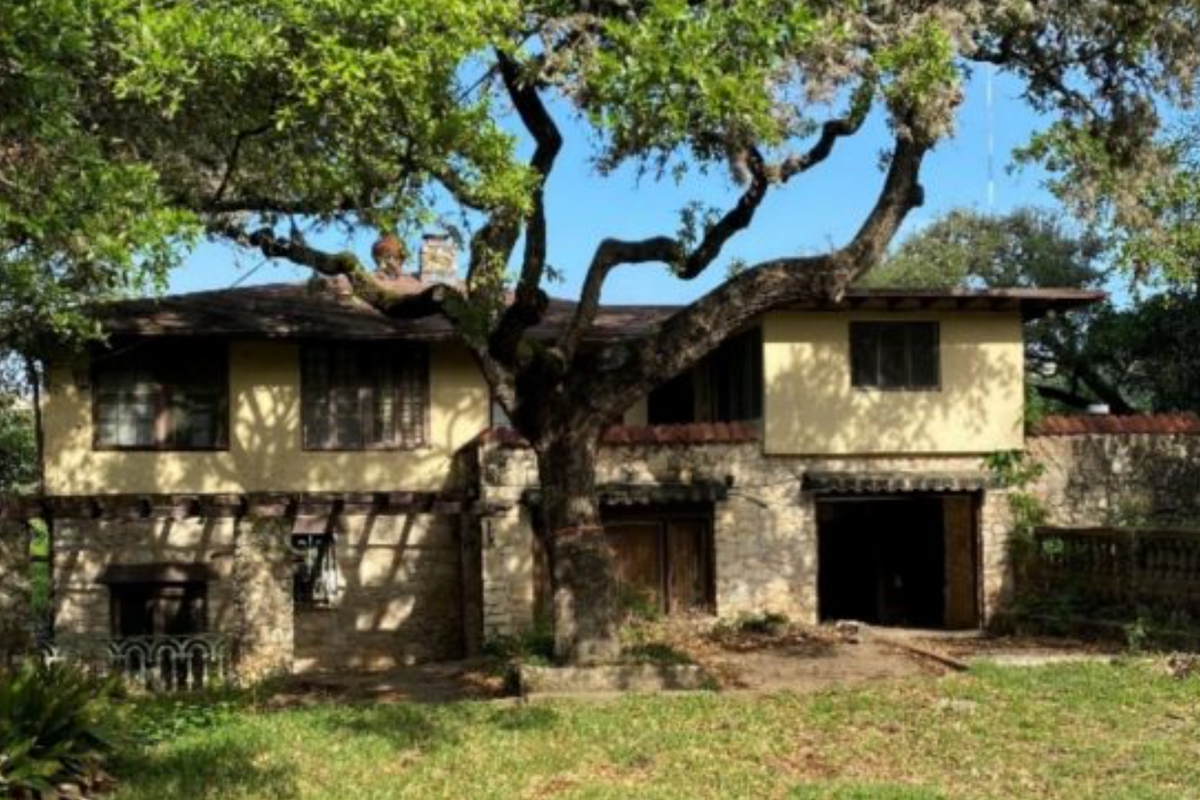 Austin Monitor
By Jonathan Lee
The Planning Commission was split Tuesday on whether to help save an eclectic lakefront estate from demolition by zoning it historic amid concerns over tax breaks and the likelihood that a previous owner participated in segregation as a business owner.
The property in question, known as the Delisle House, is located at 2002 Scenic Drive in Tarrytown. The main house, with Spanish and Modern influences, was built in 1923 by Raymond Delisle, an optician. A Gothic Revival accessory apartment was built in 1946. The current owner applied to demolish the structures in order to build a new home.'
Historic preservationists, for their part, overwhelmingly support historic zoning, which would preserve the buildings in perpetuity. The Historic Landmark Commission unanimously voted to initiate historic zoning in July, citing architectural significance, landscape features and association to historic figures. City staffers recommend historic zoning, calling both structures one-of-a-kind examples of vernacular architecture.
Tarrytown neighbors have also banded together to stop the demolition. Many have written letters, and a few spoke at the meeting. "How could anyone buy this property with the intent of destroying it?" Ila Falvey said. "I think it's an architectural treasure."
Michael Whellan, an attorney representing the property owner, said that the claims made by preservationists are shaky. The buildings are run down, he said, and have had substantial renovations. A structural engineer hired by the owner said any attempt at preservation would involve tearing down and rebuilding – an undertaking Whellan said would likely cost millions.
Whellan also argued that any historical significance derived from the property's association with Delisle and longtime owner C.H. Slator is dubious. "These men are not noted for any civic, philanthropic or historic impact," he said.
What's more, according to Whellan, Slator likely participated in segregation as the owner of the Tavern on North Lamar Boulevard between 1953 and 1960.
A city staffer, however, said she found no evidence to support the claim. "We would never landmark a property where a segregationist lived, or there was a racist person," Kimberly Collins with the Historic Preservation Office said.
Commissioner Awais Azhar couldn't support historic zoning in part due to lingering uncertainty about Slator. "Focusing on that factor is not here to disparage an individual or family. It is not about playing the race card. This is an important assertion for us to consider as Planning commissioners," Azhar said.
Commissioner Carmen Llanes Pulido said that allegations of racism should come as no surprise. "We're talking about white male property owners in the 1950s, in Austin, on the west side – and of course they were racist," she said. But she argued that allowing the house to be demolished based on these grounds does nothing to help people of color who have been harmed by racism and segregation.
The question of tax breaks was also controversial. Michael Gaudini, representing the property owner, said that the tax breaks associated with historic zoning would exacerbate inequality by shifting property tax burdens to less affluent communities. City staffers estimate that the property, appraised at $3.5 million, would get either a $8,500 or $16,107 property tax break annually, depending on whether a homestead exemption is applied.
Commissioner Grayson Cox preferred the commission focus not on tax breaks but on whether the structures merit preservation. "To me, nothing in the historic preservation criteria lists, is this person deserving of a tax break or not?"
Azhar, on the other hand, said he plans to propose a code amendment getting rid of city property tax breaks for historic properties.
The commission fell one vote short of recommending historic zoning, with six commissioners in support and three opposed. Azhar and commissioners Claire Hempel and Greg Anderson voted against.
The odds of City Council zoning over an owner's wishes are slim. Nine out of 11 members must vote in favor, and there have only been a handful of such cases over the past several decades.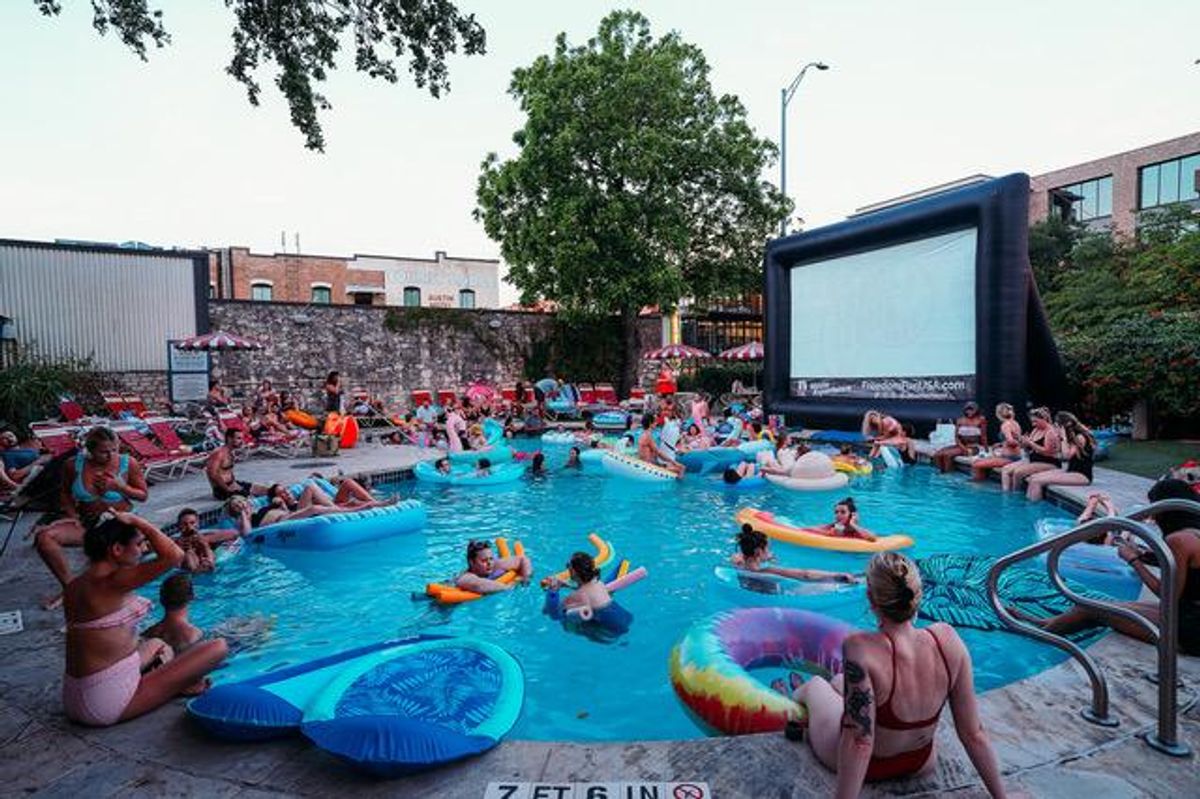 Austin Motel
What's new in Austin food & drink this week:
Nau's Enfield Drug closing after losing their lease. Did McGuire Moorman Lambert buy the building, with its vintage soda fountain?
Nixta Taqueria Chef Edgar Rico named to Time Magazine's Time 100 Next influencer list, after winning a James Beard Award earlier this year.
Question: From what BBQ joint did pescatarian Harry Styles order food this week?
Austin Motel is opening the pool and pool bar Wednesday nights in October for Freaky Floats.
Vincent's on the Lake closing due to "economic conditions and low water levels [at Lake Travis]."
Cenote has closed its Windsor Park location. The East Cesar Chavez location remains open.
The Steeping Room on N. Lamar has closed.
Local startup It's Skinnyscored new financing for its gluten-free pasta business.
P. Terry's opened a new location in Kyle, at 18940 IH-35.