Never miss a story
Sign up for our free daily morning email...
...and afternoon text update
Get connected with our daily update
(Jordan Vonderhaar/Austonia)
Citing COVID-19 concerns, Austin's Ending Community Homelessness Coalition announced via a release on Thursday that the annual Point in Time Count would not happen this year.
---
The PIT Count is a nationwide event that enlists hundreds of volunteers to track the number of people experiencing homelessness and count data on the city's homeless population; the PIT Count is required in communities that receive federal funding for homelessness relief.
Instead, ECHO requested an exception from the U.S. Department of Housing and Urban Development to use other resources to measure homelessness data this year. It will be using the Homeless Management Information System for 2021.
Last year, Austin's PIT Count was taken by 886 volunteers. In its statement, ECHO said that going through with the count "would be irresponsible at best and negligent at worst," for the following reasons:
Rising COVID-19 cases in Austin/Travis County that recently triggered Stage 5 guidelines
People experiencing homelessness are at high risk of developing severe complications from COVID-19 and contact tracing is more difficult
A lack of health insurance in Austin/Travis County limits access to testing and/or treatment
An in-person count would pull resources, within ECHO and among direct service providers, away from the COVID-19 emergency response
A lower volunteer turnout resulting from safety guidelines would almost certainly lead to an undercount, which is more damaging to the response system than estimating the number of people experiencing unsheltered homelessness using other datasets
ECHO said it would expect to see an increase in homelessness if they did perform a count, due in part to the economic struggles the Austin community has faced in light of COVID-19.
"A lot of people are hurting right now, and while we don't currently have data to show an increase in homelessness in Austin as a result, we expect to start seeing the effects in the coming weeks and months," ECHO Research and Evaluation Director Akram Al-Turk said. "We can look to other data points, like unemployment and eviction rates, to understand the impact of the pandemic and how many families will continue to suffer without assistance from every level of government."
ECHO counted 2,506 people across the city experiencing homelessness in 2020. 1,574 of them were without shelter altogether, a 45% increase in the city's unsheltered population from 2019. Homelessness has been one of the most pressing issues facing the city in recent years.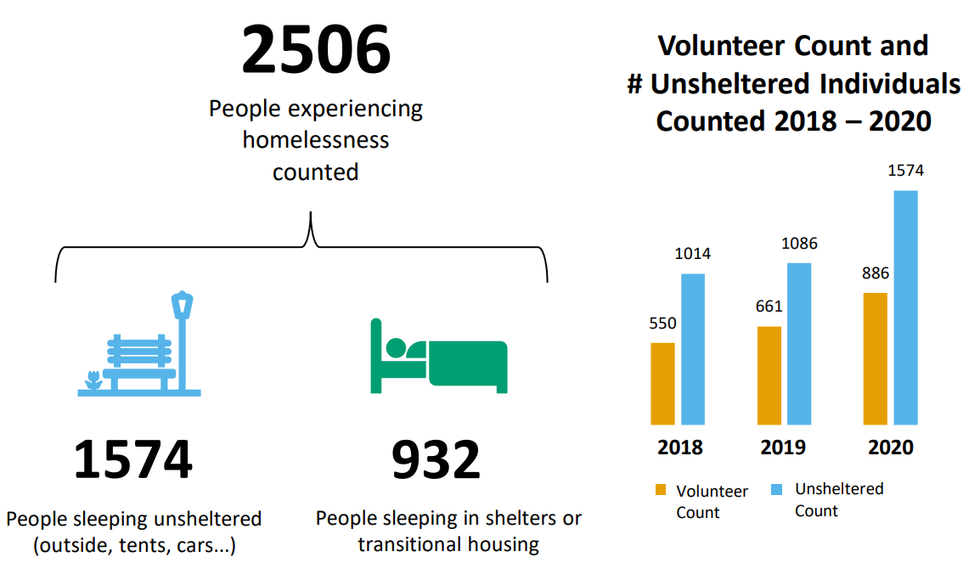 (ECHO)
This year, ECHO will still count the number of individuals experiencing sheltered homelessness on Jan. 28, and the Housing Inventory Count, which measures housing opportunities. With that data and the HMIS count, ECHO will estimate unsheltered homelessness on the night of the count.
ECHO said they don't anticipate this to impact funding.
First score made by LAFC. (Sonia Garcia/Austonia)
Austin FC couldn't find the stamina to fight off a 2-0 loss against LAFC for their inaugural match on Saturday.
The match, which saw No. 21 Austin FC go head-to-head with No. 2 LAFC in Los Angeles, was broadcast nationally on FOX and FOX Deportes.
Eleven players took the stage as Austin FC players for the first time, with five starters making their MLS debut. "Ringleader" Alex Ring took the captain's armband and wore it well. The defensive midfielder could be seen leading his teammates through their first ever match, but it wasn't enough to stage an Austin takeover in LA.
In the signature style of Head Coach Josh Wolff, the team played with quickness and intensity, nearly connecting on several fast breaks. It was harder for them to stay in front, however, something that Wolff credits with quick decision making and a tough LAFC defense.
"We have a quick attacking team, but I think when you make quick attacks and it fizzles it's just about some decision making," Wolff said. "Are we in position to finish attacks? If not, can we reestablish our attack and get stuff better?"
The club was given some generous breaks from No. 2 LAFC, who had one or both of their star DPs out for the half. While forward Diego Rossi is out for the entire match due to a hamstring injury, Carlos Vela was accidentally pulled too soon on what turned out to be a miscommunication.
"He gave us the sign that he needed to come off," LAFC Head Coach Bob Bradley said on broadcast. "I can't say more than maybe it's my fault."
LA pulled some dramatics and slowly gained more possession throughout the half, but ATXFC's defense wasn't initially as shaky as it seemed in preseason. Jhohan Romana has pulled his weight in getting the ball out of goal, and a 34-year old Matt Besler held his own in center back.
As the second half commenced, however, it became clear that LAFC had the advantage over Austin's first major league team.
Goalkeeper Brad Stuver had his work cut out for him, fending off 24 shot attempts, 11 of which were on goal. He didn't have much time to prepare, either: in the first 30 seconds of play, Stuver had already made a save to keep the match 0-0.
LAFC finally connected in the 61st minute of play as Corey Baird shot one into the bottom right corner. The team capitalized off their momentum and put one past Stuver a second time, drawing roars of approval from the LAFC crowd.
While some last-minute attempts from Jon Gallagher and others were made, Austin FC didn't have the endurance to bring a tie. After seven additional minutes of stoppage time, the club lost their first match 2-0.
While the scoreboard tells one story, Wolff said that the team did well considering the skill of LAFC and the pressure of their club debut.
"We've got to be realistic," Wolff said. "This is the first time this organization has been in front of TV with an opportunity to show itself and I think there were some promising moments. And we're going to maximize those and continue to try to develop those, but there's lots to build on."
The team may have lost, but it still won the support of thousands of Verde fans, dozens of which made it to watch their team's first match. When Stuver and the team made it to bthe stadium, Los Verdes fans were already there to show support, and Stuver said his wife saw the same back in Austin.

"The moment that we pulled into the stadium, we saw Black and Verde fans cheering us on as we got to the stadium," Stuver said. "During warm up, you can just look around and see different groups sitting in different sections of the stadium and it's just truly amazing to see the support in our first game. We know that we want to give the fans everything, because this we play for the city and we play for them."