Get connected with our daily update
(Kevin Ludlow)
The group behind a petition to put a citywide public-camping ban on the November ballot in Austin said Thursday that they were "engaging a highly respected local Democratic litigator" in their efforts to fight a city ruling earlier in the week that their petition did not enough valid signatures.
---
Matt Mackowiak, a cofounder of Save Austin Now, the group behind the petition, stopped short of saying the group was planning to file a legal contest—but he did put out a call for donations in a post on Facebook.
Mackowiak, who is also chairman of the Travis County Republican Party, said in a Facebook post that the group has called "a highly respected local Democratic litigator to review the facts, help us determine what additional information is needed, and consider our legal options."
"Put simply: This is expensive and we need your support right now," he wrote. "We have only begun to fight."
Austin City Clerk Jannette Goodall's ruling yesterday was the first time since 2002 that the city invalidated a petition because of lack of signatures, she told Austonia on Thursday.

The struggle has intensified as residents report growing camps near neighborhoods while a consultant hired by the city is advising that moving the encampments won't solve the city's homelessness issue.
Goodall used a random sampling method that the city adopted in 2002 in her review, according to a city spokesperson. State law allows cities to use any reasonable sampling method in determining whether citizen-led petitions contain the required number of signatures.
While Mackowiak was not specific about plans to file, local attorney and activist Fred Lewis—who has spearheaded other citizen-initiated petitions, including one last year that opposed an expansion of the Austin Convention Center— said he would expect the group to file very soon, likely with the state district court.
This is because the last day for the city to order a referendum in the November election is Aug. 17, according to the state election schedule.
"You're talking two or three weeks this has got to be decided - at most," Lewis said. "The court may not be able to decide it in that time."
Save Austin Now filed the petition on July 20, with 24,598 signatures—well over the 20,000 required to put their initiative on the ballot. If validated, it would have allowed voters to decide whether to roll back a year-old city ordinance allowing camping, panhandling, sitting and lying in public spaces.
But in her review, Goodall discovered several issues: some signers asked to be removed; there were duplicate names; and a second version of the petition was detected, which invalidated others.
Ultimately, the clerk estimated that there are 19,122 valid signatures on the petition.
"The probability that checking all 24,201 submitted signatures would find a total of at least 20,000 valid signatures is less than 3 in one billion," Goodall wrote in her ruling.
Some welcomed the news.
Chris Harris, director of criminal justice programs at Texas Appleseed and who was involved in a local effort to decriminalize homelessness, called the clerk's ruling "phenomenal" in a tweet on Wednesday.
"Republican efforts to re-criminalize homelessness & use homelessness as a wedge to turn out conservative voters in November has failed," he wrote.
Save Austin Now co-founder Cleo Petricek is a self-proclaimed local Democrat.
PHENOMENAL news #ATX!!! Republican efforts to re-criminalize homelessness & use homelessness as a wedge to turn ou… https://t.co/Nouy3uT91r

— Chris Harris (@Chris Harris) 1596660575.0
The Texas French Bread Bakery, located on 2900 Rio Grande Street, has been completely destroyed after a fire erupted on Monday night.
The Austin Fire Department responded to the fire just before 11 p.m., where they arrived to see flames coming from the roof of the bakery. Firefighters fought the fire for about an hour before the roof collapsed.
While no one was injured in the fire, firefighters say the historic building was completely totaled.
AFD determined that the fire was accidental and caused by mechanical failure. AFD said the damages amounted to $1.6 million total: $1.1 million in structural damage and $500,000 in damage to the contents of the bakery.

This year, Texas French Bread will celebrate 40 years of business. Before the bakery occupied the building, it was the Rome Inn, a music venue that hosted 1970s artists like Stevie Ray Vaughan.
Austin's first major league team is ready to extend its reach with a new collaborative sports complex The Pitch, an Austin FC destination packed with local food, beverages and Verde fervor is set to open in Northeast Austin in February.
The Pitch, a collaboration between Austin FC and Karlin Real Estate, among other entities, will be located in the 50-acre Parmer Pond District, which already hosts the club's practice facility St. David's Performance Center.
Dubbed a "true destination" for both soccer fans and the community, The Pitch will consist of multilevel shipping containers designed by Mark Odom Studio that will carve out into a 1,200-seat stadium complete with a soccer pitch made of turf, food and beverage options and a five-acre "Parmer Pond" featuring jogging trails.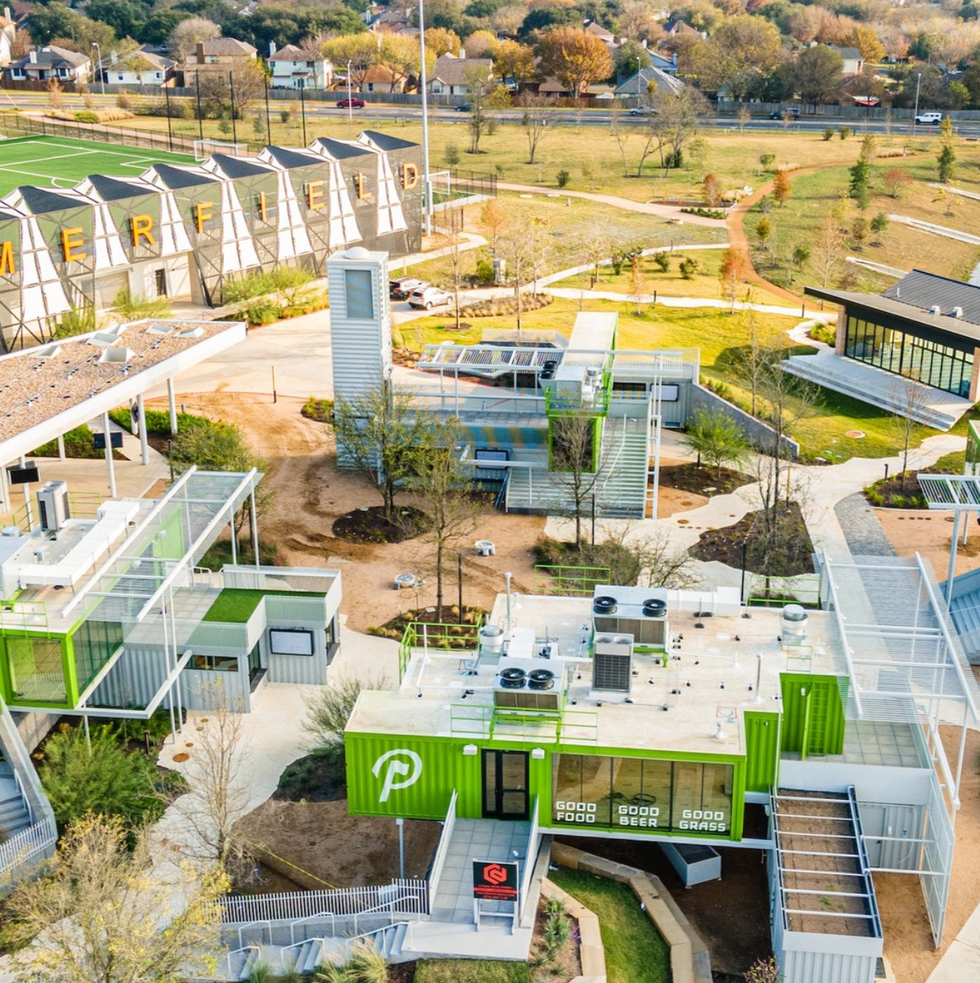 Made from multilevel shipping containers, The Pitch will include food and a 1,200-seat soccer pitch made from artificial turf. (The Pitch)
"The launch of Karlin's new food and entertainment experience will greatly enhance the Parmer development while perfectly complimenting St. David's Performance Center," Austin FC founder Anthony Precourt said. "The Pitch... will offer a strong variety of food options and gathering spaces for guests who will utilize St. David's Performance Center and Parmer Field for a variety of events."
The Pitch project lead Dave Greeley, who helped come up with the concept, is a former president of Austin FC parent company, Two Oak Ventures.
"The vision behind The Pitch at the Parmer Pond District is to be a first-of-its-kind sports, dining and entertainment destination," said Dave Greeley, The Pitch project lead and Team Orbis president. "This will be an unmatched experience for Parmer Austin tenants, Austin FC and club supporters, and the community."
With its proximity to the practice center, the venture hopes to contribute to the growing "soccer city" of Austin during Austin FC matches and youth games with the Austin FC Academy hosted at the St. David's Performance Center.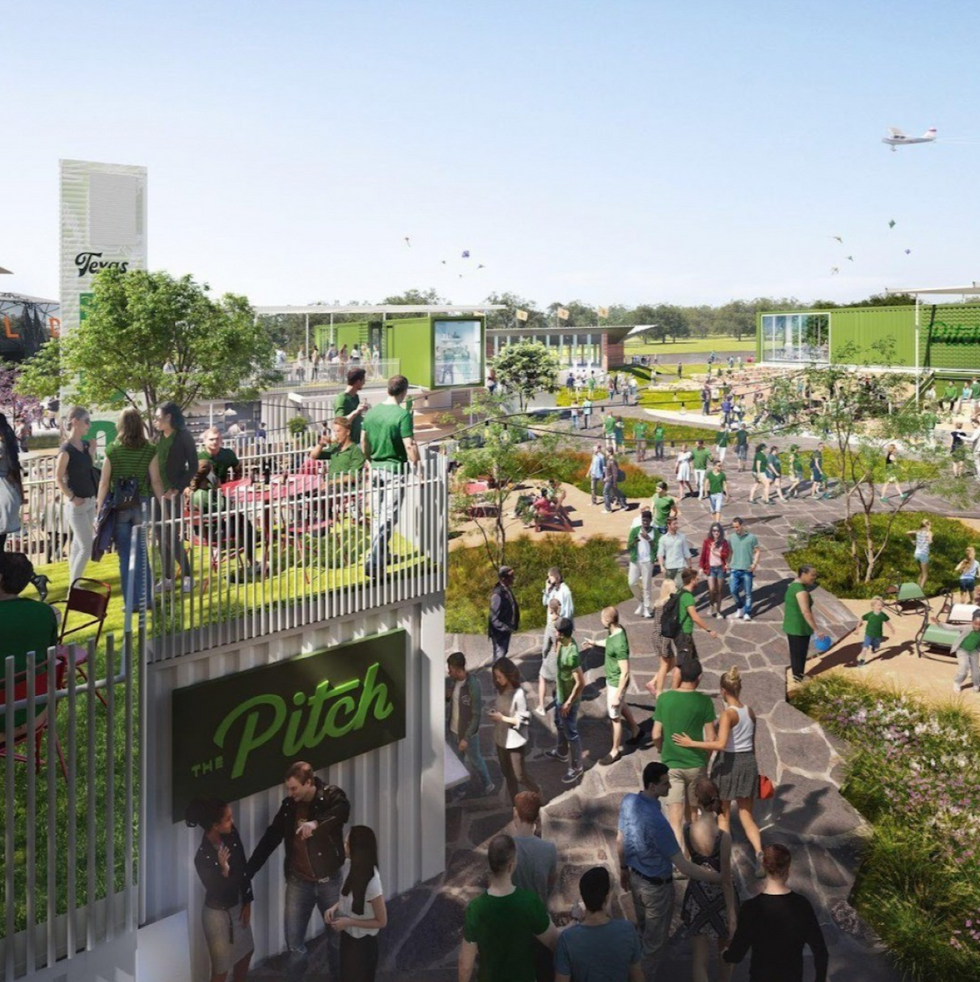 The Pitch hopes to converge both community and club interests with Austin FC. (The Pitch)
In addition to the soccer pitch, stadium and pond, The Pitch will provide a foody experience made by the creative team behind Austin staples like Fareground and Easy Tiger. The complex will offer local bites including:
Ranger Burger, which offers beers and burgers made from highly-coveted Wagyu beef direct from Ranger Cattle in East Austin
Ga Roti, which merges flavors from Northern Vietnam with the culinary techniques of France to create a unique rotisserie chicken joint
Taco Flats, a local taco chain serving Mexico City-style tacos, micheladas and more
Sand Bar, which fulfills its namesake with beauty cocktails, local beers and a sand volleyball court
Coffee Club, a coffee shop and bakery
Corner Kick Bar, the soccer-focused main bar of The Pitch complete with "tunes, TVs and (a) beer garden"
The Pitch will squeeze between St. David's Performance Center and Parmer Pond alongside the southern edge of Parmer Austin, a Karlin Real Estate venture that will eventually include multifamily housing, corporate office space and an aerospace and defense center.