Get connected with our daily update
Since Windsor Park resident Kevin Ludlow posted a video showing trash, human waste and drug use in a growing encampment behind his home last weekend, more than 60,000 people have viewed it on YouTube, hundreds have reached out to him directly and the site has been cleaned up.
Now, the area looks "really great," Ludlow said, adding that a long-term solution is still needed.
---
Massive problems in the Windsor Park creek video released Sunday, Aug. 2, 2020.www.youtube.com
The camp is along Little Tannehill Branch Creek between Broadmoor Drive and 52nd Street.

The cleanup, the result of a city contract with local nonprofit The Other Ones Foundation, began on Tuesday and wrapped up on Friday.
A TOOF spokesman said the group regularly cleans up similar camps around the city. The city called them about Windsor Park last Monday - the day after the video was posted and drew 25,000 views in 24 hours.
"There's so much to do, that it wasn't in our rotation until the people living around there (Windsor Park) called the city," said Max Moscoe, community engagement coordinator with TOOF.
TOOF, which employs people who are homeless at $15 an hour, has worked on similar cleanup efforts around the city since beginning a $720,000 year-long contract with the city last October. The group was established in 2018 with a pilot program through the city.
Encampment clean-ups had been paused since March because of pandemic-related health concerns.
Attempts to speak with Council Member Greg Casar, whose district includes the camp, were unsuccessful, but a spokesperson said Ludlow contacted his office three weeks ago about the camp.
Since then, Casar's office has been organizing efforts to get the area cleaned up and help those who live there access support and mental-health services, spokesman Braden Latham-Jones said.
"They've been able to get a few people into housing," Latham-Jones said. "The video came out, which brought a lot more scrutiny, [but] the process, regardless of the video, is the same."
Ludlow said he believes the video was a catalyst.
"There's no doubt about it that the video has had a massive impact on the response from the city," Ludlow told Austonia. "I don't think they want to dismiss it, but putting it out there to the public definitely garnered the type of reaction where they could not ignore it."
Raising awareness

While the city was aware of the encampment, many people who live in the area around it were not. It is nearly invisible from the streets that line it, blocked from view by homes and apartment buildings.
Dan Strub, president of the Windsor Park Neighborhood Association, said it has been there for 18 years but had grown recently.
"Truth be told, I don't think many people were aware of the size of the encampment before the video," Strub said. "I live here, and I wasn't aware of what was going on back there."
Hundreds of Austinites reached out to Ludlow after he posted and many offered to volunteer at future clean-ups, he said.
His footage also resonated with Austinites in other areas that are facing similar issues.
Lisa Novack owns a condo in the Riverside neighborhood east of I-35. Since the city repealed its ban on public camping last summer, she has noticed that the homeless encampment along the Riverside Drive median has grown.
Novack feels compassion for the people who live there, but she also worries about safety and the lack of regulations and would like to see the ban reinstated.
"I watched that YouTube video of the people with them in their backyard just camping along the river," she said, "and just said, 'Oh my god, I feel guilty for ever complaining,' because they aren't necessarily in mine."
Want to read more stories like this one? Start every day with a quick look at what's happening in Austin. Sign up for Austonia.com's free daily morning email.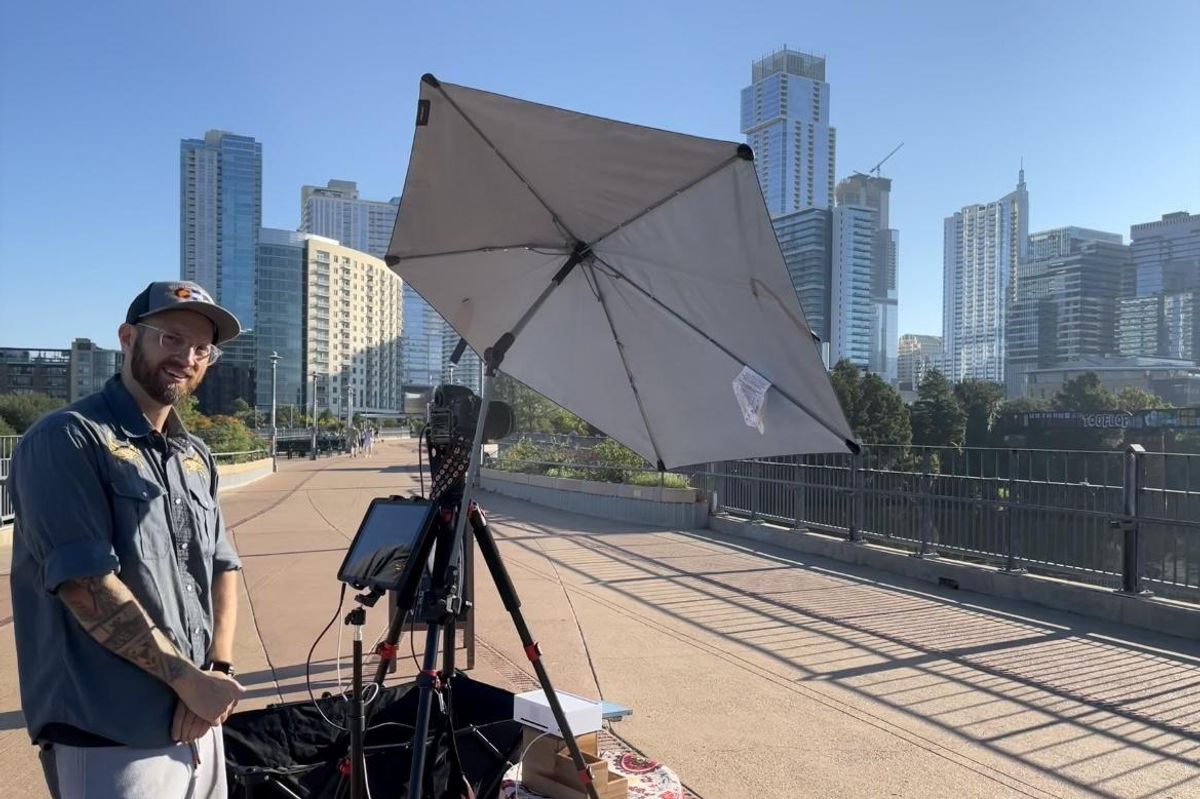 Nicklaus Pereksta says he loves photographing enthusiastic people, and it's why his latest gig offering pictures to people out on Lady Bird Lake's hike and bike trail is going smoothly. He sets up his gear on the Pfluger pedestrian bridge and puts out a sign: Photos, $10.
"Overwhelmingly, this has been a really positive experience," Pereksta said. "I get excited when I wake up in the morning and I can't wait to go to work."
Bikers and joggers are excited about it too. On the pedestrian bridge leading to downtown Thursday morning, a man on an e-bike rode up and posed, wanting more photos.
"I posted the last pictures on Instagram and people loved it. They asked, 'where is this guy?'" the biker told Pereksta. Bashfully, Pereksta, who also photographs landscapes and at weddings and other events, said he was happy to hear that.
Pereksta started these photos about a month ago, after the strenuous runs required in his valet job started causing pain in his legs. And though he has a passion for photography, he wasn't so sure when he started working independently if it would work out.
He felt uncertain about the demand for it and was also worried about having lots of expensive equipment out in the open.
"Then like the first day was nothing but high praise and people are like, this is so awesome. This is great. I've never seen anything like this before. I was like, Wow, this was really good, like positive turnout. So I got encouraged."
Now, he wants to expand and is thinking of contacting the Mueller Farmers Market about how to become a vendor. Still, he'll carry a connection to photographing on the bridge since the word bridge is related to his last name.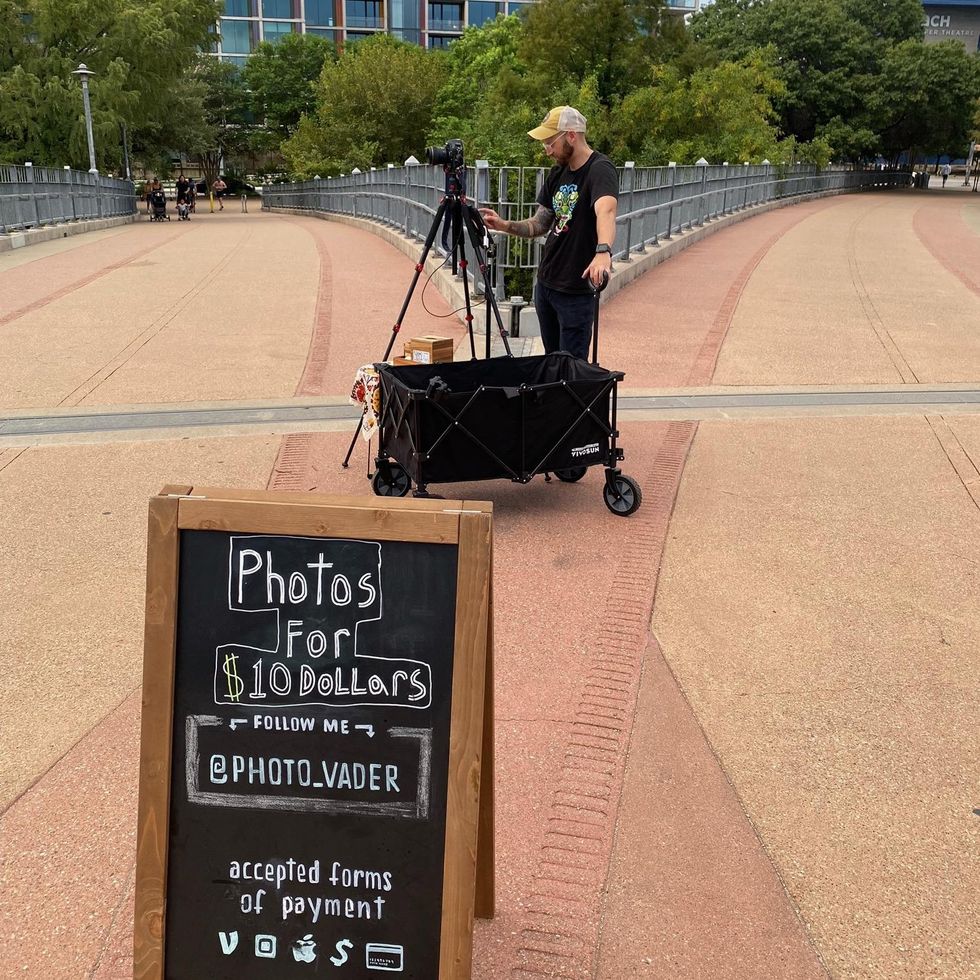 (Dewey C.)
"It's a name my great, great, great grandfather came up with when he was marrying somebody. It's actually quite a romantic name. It means a joining of two bridges," Pereksta said. "So, I thought it was ironic that I'm set up on a bridge. I'm kind of representing my last name right now."
Austonia talked to Pereksta about life in Austin, where he's lived for eight years after living in Boston doing band photography.
What was your first experience with Austin?
I came here to visit some friends and they took me to Barbarella. So we went to Barbarella and I was like, 'wow, this place is great.' And then the restaurants and the food and going to Barton Springs. I was like, 'this is amazing.' Because there's nothing like that in Boston. If you want to go to a natural spring, you got to go to New Hampshire. There's no pools in the city at all. So there's lots of swimming out here.
What do you like best about Austin?
You go to any little quiet bar and there's a band playing that should be like onstage for a sold out show. Yeah, they're playing to 10 people, right? Like, one of the best bands ever and they're playing for 10 people, right? And just little magic moments like that are pretty fun. You just run into little random weird things.
What do you think makes Austin different from other places?
There's no fall.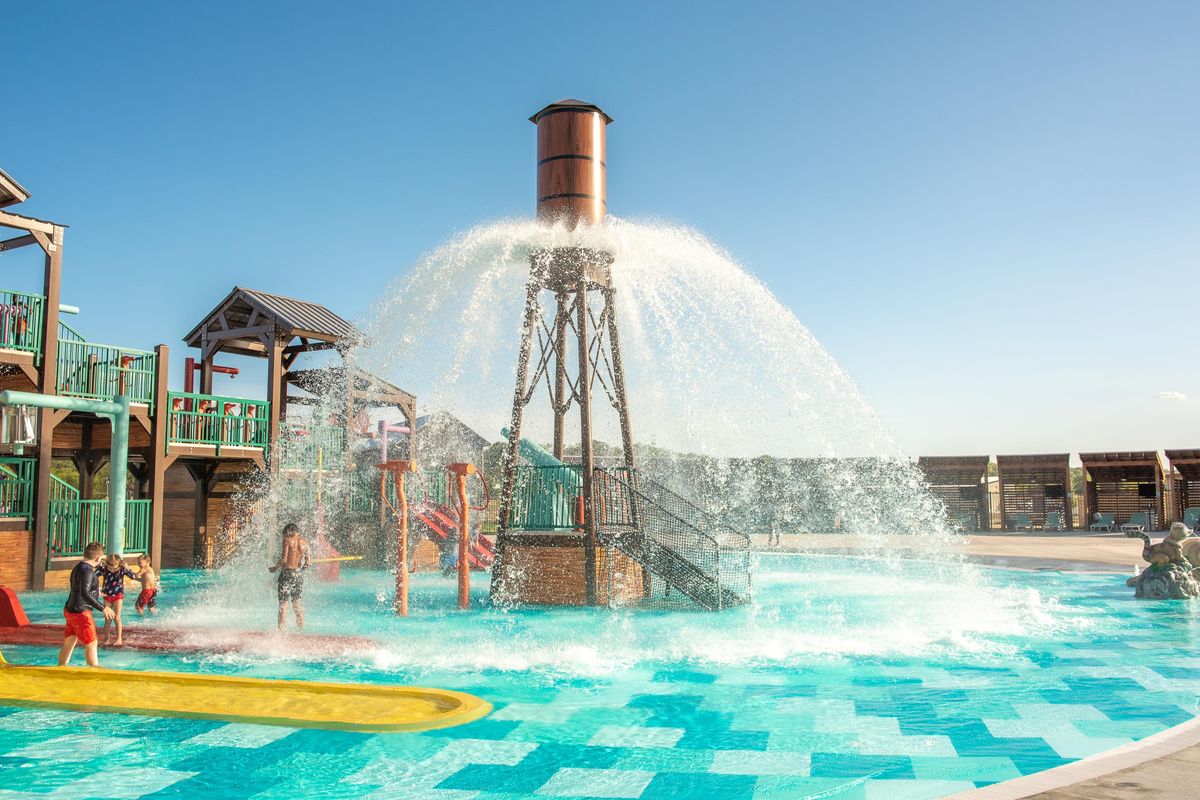 Camp Fimfo Waco
Camp Fimfo Waco, a brand new camping resort, is kicking off football and fall camping season in style! With top-notch amenities, premium accommodations, and 10 weekends of fall fun, there's no better place to have a fall camping getaway, especially if you're a Baylor football fan!
Fall promises to be a one-of-a-kind camping experience. From Sept. 16 to Nov. 24, weekends will be packed with fall-themed activities, including special Halloween weekends in October. Campers can enjoy activities like fall crafts, campground trick-or-treating, costume contests, site decorating, outdoor movie nights, and more!