Get connected with our daily update
Since Windsor Park resident Kevin Ludlow posted a video showing trash, human waste and drug use in a growing encampment behind his home last weekend, more than 60,000 people have viewed it on YouTube, hundreds have reached out to him directly and the site has been cleaned up.
Now, the area looks "really great," Ludlow said, adding that a long-term solution is still needed.
---
Massive problems in the Windsor Park creek video released Sunday, Aug. 2, 2020.www.youtube.com
The camp is along Little Tannehill Branch Creek between Broadmoor Drive and 52nd Street.

The cleanup, the result of a city contract with local nonprofit The Other Ones Foundation, began on Tuesday and wrapped up on Friday.
A TOOF spokesman said the group regularly cleans up similar camps around the city. The city called them about Windsor Park last Monday - the day after the video was posted and drew 25,000 views in 24 hours.
"There's so much to do, that it wasn't in our rotation until the people living around there (Windsor Park) called the city," said Max Moscoe, community engagement coordinator with TOOF.
TOOF, which employs people who are homeless at $15 an hour, has worked on similar cleanup efforts around the city since beginning a $720,000 year-long contract with the city last October. The group was established in 2018 with a pilot program through the city.
Encampment clean-ups had been paused since March because of pandemic-related health concerns.
Attempts to speak with Council Member Greg Casar, whose district includes the camp, were unsuccessful, but a spokesperson said Ludlow contacted his office three weeks ago about the camp.
Since then, Casar's office has been organizing efforts to get the area cleaned up and help those who live there access support and mental-health services, spokesman Braden Latham-Jones said.
"They've been able to get a few people into housing," Latham-Jones said. "The video came out, which brought a lot more scrutiny, [but] the process, regardless of the video, is the same."
Ludlow said he believes the video was a catalyst.
"There's no doubt about it that the video has had a massive impact on the response from the city," Ludlow told Austonia. "I don't think they want to dismiss it, but putting it out there to the public definitely garnered the type of reaction where they could not ignore it."
Raising awareness

While the city was aware of the encampment, many people who live in the area around it were not. It is nearly invisible from the streets that line it, blocked from view by homes and apartment buildings.
Dan Strub, president of the Windsor Park Neighborhood Association, said it has been there for 18 years but had grown recently.
"Truth be told, I don't think many people were aware of the size of the encampment before the video," Strub said. "I live here, and I wasn't aware of what was going on back there."
Hundreds of Austinites reached out to Ludlow after he posted and many offered to volunteer at future clean-ups, he said.
His footage also resonated with Austinites in other areas that are facing similar issues.
Lisa Novack owns a condo in the Riverside neighborhood east of I-35. Since the city repealed its ban on public camping last summer, she has noticed that the homeless encampment along the Riverside Drive median has grown.
Novack feels compassion for the people who live there, but she also worries about safety and the lack of regulations and would like to see the ban reinstated.
"I watched that YouTube video of the people with them in their backyard just camping along the river," she said, "and just said, 'Oh my god, I feel guilty for ever complaining,' because they aren't necessarily in mine."
Want to read more stories like this one? Start every day with a quick look at what's happening in Austin. Sign up for Austonia.com's free daily morning email.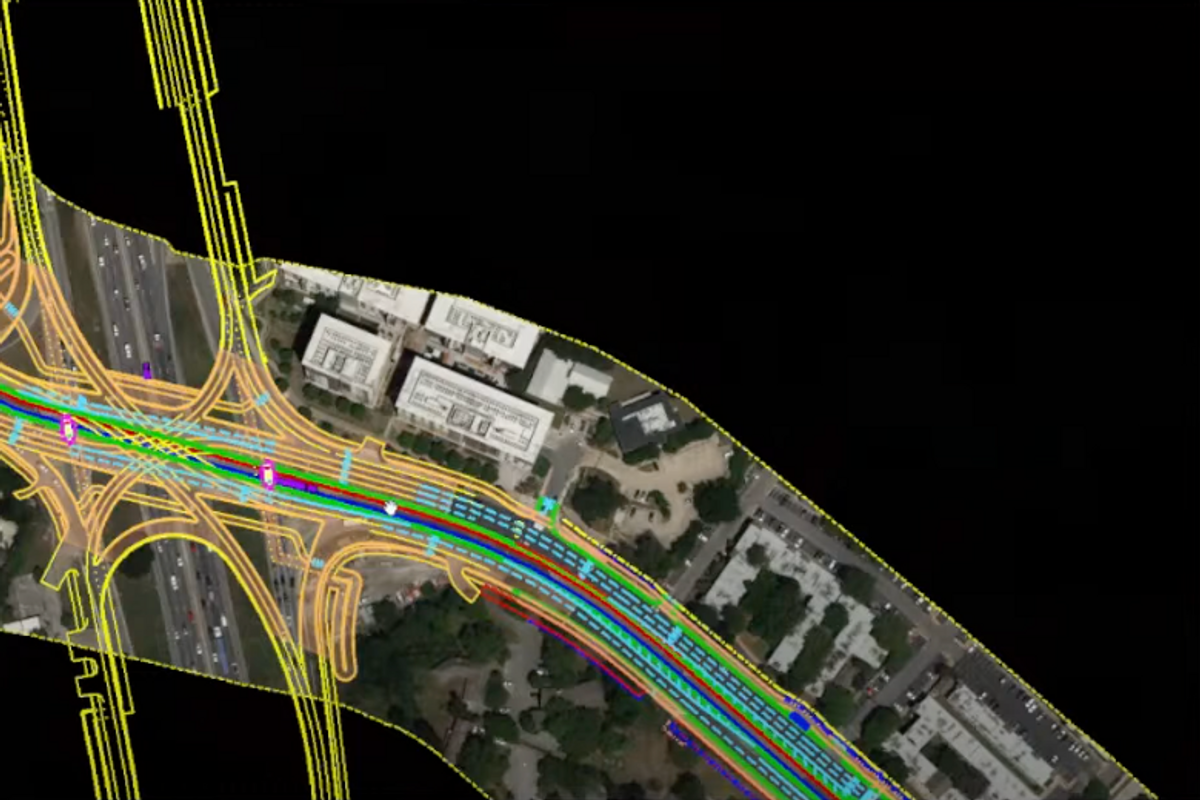 Designs for stations along Project Connect's Blue Line were presented this week, giving a detailed look at what part of the rail system extending from downtown to the airport could look like.
The planned stations that have gotten the latest focus include Waterfront, Travis Heights and Lakeshore stations past Lady Bird Lake.
At the Waterfront station, the preliminary design aims to prevent visual obstructions and save on costs. This is accomplished by a transit guideway that will lower from the bridge to a level station.
Heading onto East Riverside Drive, the light rail faces a curve requiring a slow down to about 10 miles per hour.
The Travis Heights station could involve relocating a pedestrian crosswalk zone at Alameda Drive to Blunn Creek. Since light rails can't effectively operate on a steep grade, this allows the transit guideway to avoid that.
From there, the rail will extend to the Norwood Park area, and though it will reach along the right-of-way zone, the park will be able to remain open.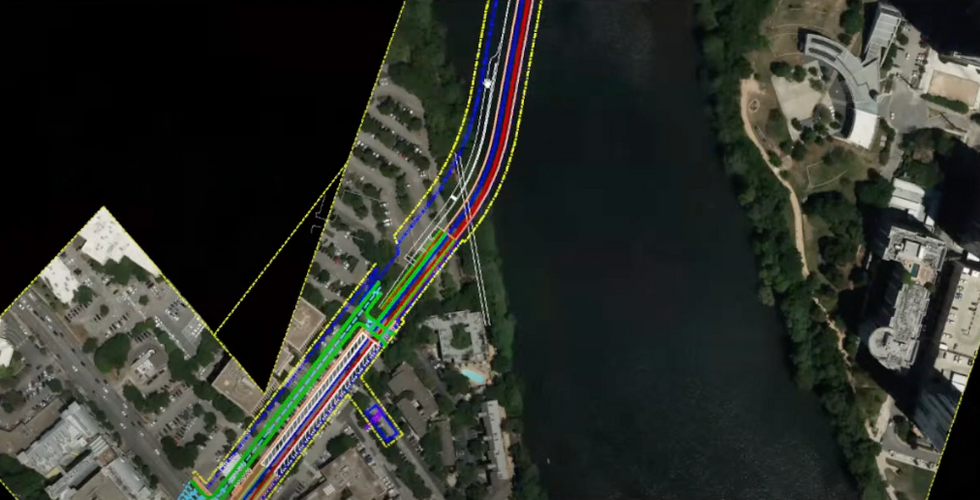 A view of the Blue Line by Lady Bird Lake. (Project Connect)
The line involves some coordination with the Texas Department of Transportation. That's because the department is working on an intersection that will have to be built before the phasing of the section of the Blue Line involving an I-35 crossing.
When it comes to the safety of cyclists and walkers, design ideas include a pedestrian hybrid beacon by East Bouldin Creek that would provide a protected signal to cross. And for the intersection TxDOT is carrying out, Project Connect is working with them on pedestrian access across the intersection. It could involve shared use paths along the street and crossings beneath it.
This summer, the public can expect 30% of design and cost estimates to be released. Though the project was $7.1 billion when voters approved it in November 2020, the latest estimates factoring in inflation and supply chain constraints show it could ultimately be upwards of $10 billion.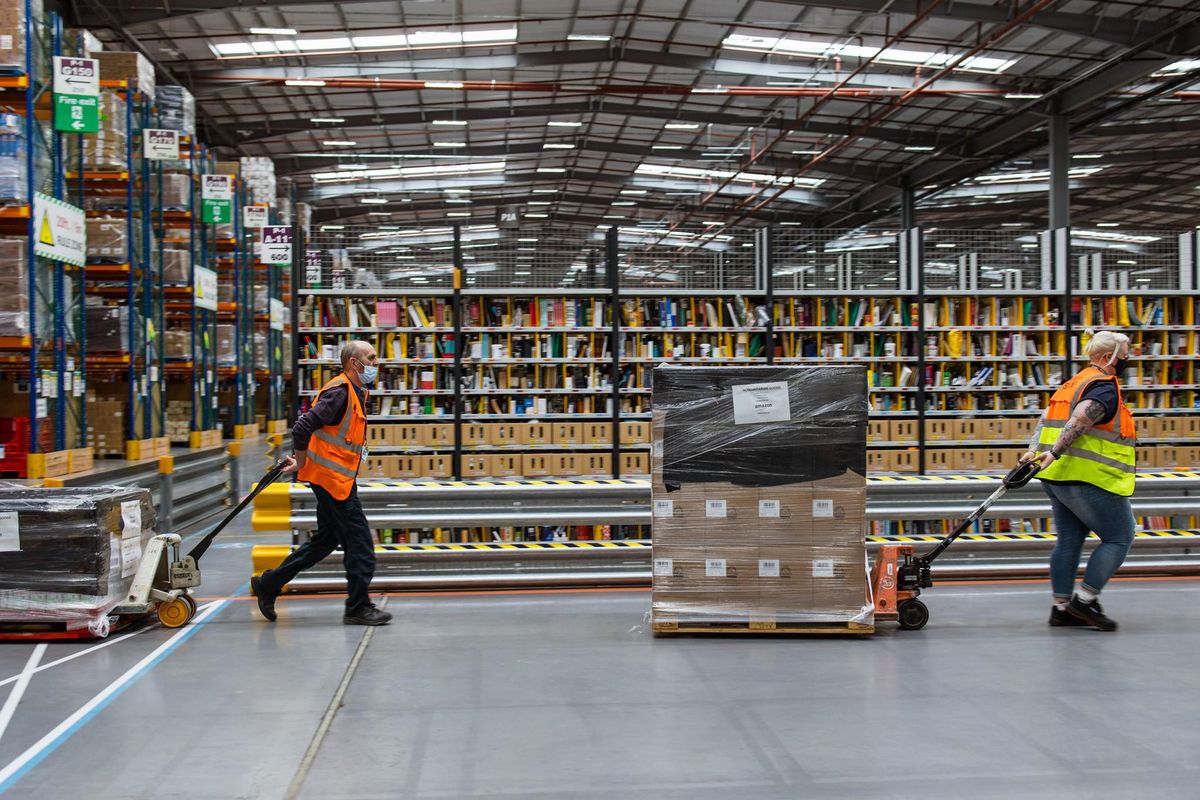 Plans for an Amazon warehouse in Round Rock—a $250 million project slated to be a large distribution center—are on hold.
This comes just after the tech giant had its worst financial quarter in seven years.
The details:
Late last year, it announced an expansion at the Domain adding 2,000 more corporate and tech jobs.
Amazon still owns the site in Round Rock. Plans for it are unclear.
Early this week, the Wall Street Journal reported that Amazon is aiming to scrap warehouse space as it faces a slowdown in its e-commerce operations.
Part of that effort involves exploring the possibility of ending or renegotiating leases with outside warehouse owners. Another aspect is a plan to sublease warehouse space.
"It allows us to relieve the financial obligations associated with an existing building that no longer meets our needs," an Amazon spokeswoman told the Wall Street Journal. "Subleasing is something many established corporations do to help manage their real estate portfolio."