Get connected with our daily update
With at least two months of extremely summer high temperatures ahead, Austinites in search of respite may find it in the form of a hotel pool day pass.
---
Although pricier than a day at Barton Springs or Deep Eddy pools, day passes often come with perks, such as free parking and the option to drink poolside. Here are 13 local hotels where you can cool down:
Homeowners in Windcrest, Texas don't take Christmas lightly. Decking out their home in thousands of lights, one Windcrest couple even won ABC's Texas episode of "Great Christmas Light Fight" that aired Sunday.
Known as "Christmas sweethearts," John and Brenda Wilson were awarded $50,000 after going up against fellow Texans, including a family in Amarillo and two families in Corpus Christi, in the ninth season premiere of the lights show.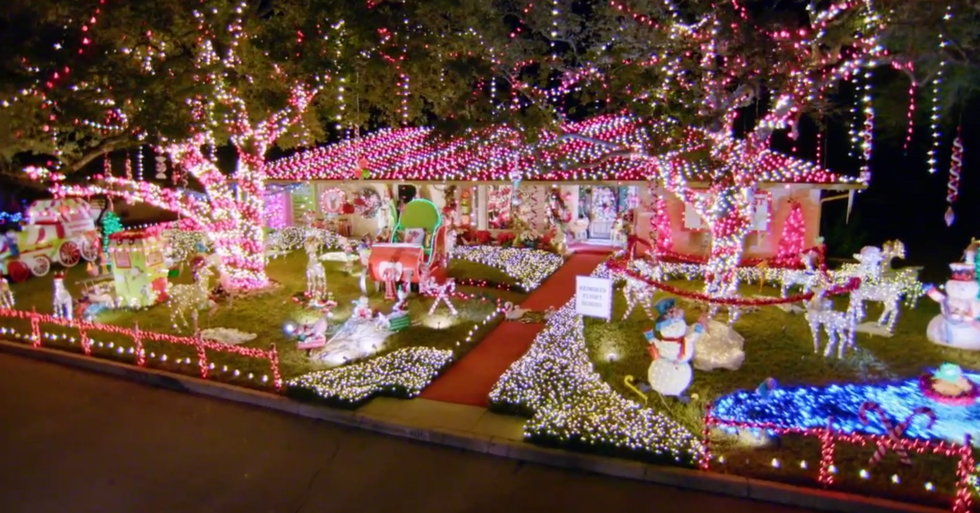 (Great Christmas Light Fight)
Their holiday display featured a hand-built sled, a train called the Peppermint Expressway with actual peppermint smoke coming out of it and Santa's reindeer "in training." Designer and judge Taniya Nayak noted the linework of the lights displayed on the roof and the positioning of the red and lime green color palette.
"Right off the bat when the lights turned on, I couldn't believe how beautiful these peppermint lights were... it's just such a fun, happy, yummy, delicious vibe to it," Nayak said when she announced the Wilsons were the winners. "It really made a smile go from one ear to the other on my face."
Judge Nayak said she also enjoyed that their display had different stories behind each section.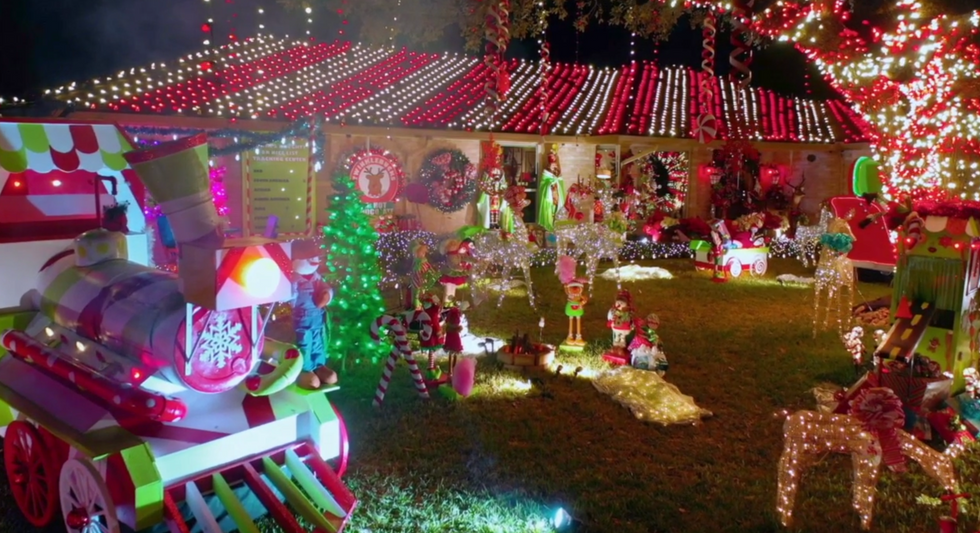 (Great Christmas Light Fight)
John, or "Mr. Christmas" as Brenda called him, said he has been putting on a Christmas lights display for over 20 years—and it's only got better since he met his Mrs. Clause 12 years ago. The two said they met online and were 98% compatible.
"Brenda and I grew up back in the 50s when things were very simple, so we wanted to create something from when we were growing up," John said on the show.
And their efforts paid off: along with their monetary prize, the couple earned a light-bulb-shaped trophy.
KSAT reports the home got the attention of the show's casting directors last year, who encouraged them to apply to be on the show. The show was then shot last year, but the couple didn't learn they won until this year.
While being on the show is their intro to stardom, locals are familiar with the Wilsons' yearly display in the light-centric Windcrest. Each year their home is part of the Windcrest Light Up, a decades-old tradition where residents go all-out with their holiday light displays. They've won at least three grand prizes in the Windcrest contest and several other category first-place prizes.
The Windcrest Light Up kicks off Dec. 4.
The countdown to the holidays has begun—do you know where your presents are? If you didn't get your shopping done over the Black Friday weekend, never fear, there are plenty of department store alternatives to check out right here in Austin.
Shopping local is the gift that keeps on giving, so here are some local artisans to keep in mind.
There are hundreds of local businesses to support—even if it isn't on this list, you can probably get it local.
Austin-Bergstrom International Airport saw 284,198 passengers checked through TSA security over the Thanksgiving holiday, marking the busiest Thanksgiving travel season on record.
The airport saw around 40,000 more passengers than its peak holiday week in 2019 and nearly triple the traffic of 2020 as the airport continues to bounce back much more quickly than was originally projected.
Those numbers weren't quite reflected nationwide—air travel on the Wednesday before Thanksgiving more than doubled when compared to the same 2020, with 2.3 million people passing through TSA checkpoints on that day. That's higher than any other pandemic day but about 88% of the levels from that day in 2019.
But the record numbers, which ABIA public information officer Bryce Dubee said are usually reserved for Formula 1's U.S. Grand Prix and both weekends of ACL fest, indicate that travel in Austin may have done more than just recover from the pandemic.

Dubee said the airport's crew was already gearing up for several 30,000+ passenger days by Friday, Nov. 19. Then the first Sunday of the holiday alone saw 32,175 passengers, the second-busiest day on record after this year's USGP race weekend.
Travel from Friday through Wednesday saw 188,168 passengers during the holiday week, already passing the threshold for the busiest Thanksgiving travel season on record.
Since last Friday, 188,168 passengers have chosen to #FlyAUStin, making this our busiest Thanksgiving travel season on record.

As we pause today to give thanks, we're grateful for all those who fly with us, as well as our incredible staff and partners who make this all possible. pic.twitter.com/kqgtV7Ypp1
— Austin-Bergstrom International Airport (AUS) (@AUStinAirport) November 25, 2021
And as travelers returned home with full bellies and weeklong visits behind them, the airport saw 96,030 passengers from Thanksgiving through Sunday. The final Sunday saw just over 30,000 passengers—which still broke 2019 records and obliterated 2020's numbers—but notably, the Sunday before Thanksgiving was the busiest travel day of the period, something that hasn't been seen in years past.
ABIA recommended that travelers arrive three hours early for their flights and find other ways to make the screening process easier as record numbers piled into the airport. But after a record-breaking F1 weekend and other high-traffic days serving as "stress tests" this October, Dubee said the team was prepared for the unprecedented weekend as travelers went to see their family, some for the first time since an 18-month travel ban was lifted.
And the airport is prepping for even more foot traffic in the future with its 2040 master plan. Even as travel dwindled and fewer passengers than ever crossed through TSA checkpoints in peak pandemic times, the airport saw significant expansion: American Airlines added 10 flights to the airport in March, Southwest Airlines announced in September that it would add nine flights in March 2022, and Allegiant, Delta and Hawaiian all tacked on new flights in 2020-21.
While this Thanksgiving week, which normally just scrapes the top ten busiest travel times of the year, saw an unusual year, Dubee said it's too soon to see whether this represents a long-term trend. And especially as the omicron COVID variant sends the world into a frenzy, the winter holidays may not see the fervor of Thanksgiving travel—the holiday season rarely makes a dent on ABIA's high-traffic fall events.
From Your Site Articles
Related Articles Around the Web