Austonia AM
100% Austin news, info, and entertainment, straight to your inbox at 6 a.m. every morning.
In five minutes, you're fully informed and ready to start another great day in our city.
Get connected with our daily update
(Christa McWhirter)
After supporters of President Donald Trump stormed the U.S. Capitol in a deadly riot last week, the FBI circulated an internal bulletin warning of armed protests being held at all 50 state capitols at least until Inauguration Day.
Here in Austin, local and state law enforcement officials have ramped up security around the Texas Capitol, the Texas Legislature has adjourned until Jan. 26 and downtown businesses have boarded up their storefronts—again.
---
Law enforcement
The Texas Capitol reopened on Jan. 4. Two days later, it closed abruptly due to the Capitol riot, which was accompanied by a local protest of Trump loyalists with signs that read "Hang traitors" and vehicles decorated with Qanon hashtags. By Tuesday, it had reopened in time for the first day of the Texas legislative session. Lawmakers gathered for the first time in two years, amid the ongoing pandemic and under heavy security presence.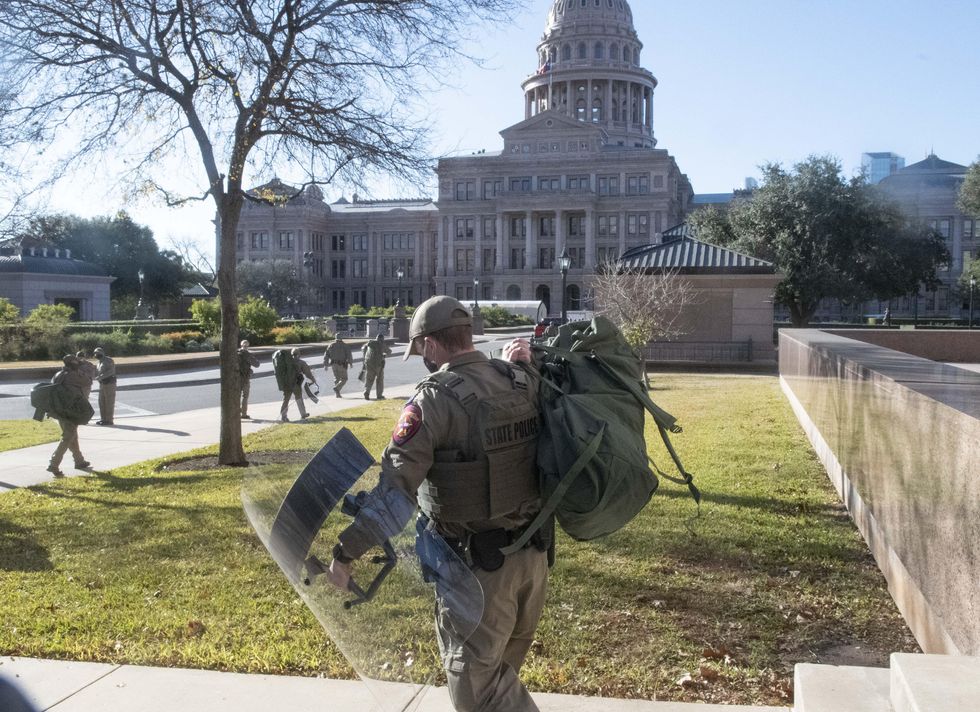 DPS troops lined the Texas Capitol Jan. 7 after pro-Trump protesters infiltrated the U.S. Capitol. (Bob Daemmrich)
The police presence will continue at least through Jan. 20, when President-elect Joe Biden and Vice President-elect Kamala Harris will be inaugurated.

The Texas Department of Public Safety has deployed additional officers to the Texas Capitol and "is continuously monitoring events and their impact on public safety," according to a statement shared with Austonia. "While we do not discuss operational specifics, DPS will continue to adjust our operations as needed to maintain public order and address potential threats."
DPS Director Steven McCraw told state senators this week that authorities are monitoring multiple sects, which could prompt the need for reinforcements if they decide to travel to the capital and band together, as the Austin American-Statesman reported Friday.
The Austin Police Department confirmed it has "reports of planned assemblies" in a similar statement. "We fully respect people's ability to exercise their First Amendment rights, and we will be prepared to respond as needed to ensure the community's safety," it read in part.
DPS has not requested the assistance of the Travis County Sheriff's Office, but the agency has a plan in place to respond if that changes, a spokesperson wrote in an email.
Meanwhile, federal law enforcement is also at work.
The San Antonio branch of the FBI said its "efforts are focused on identifying, investigating and disrupting individuals that are inciting violence and engaging in criminal activity," in a statement shared with Austonia.
And the U.S. Attorneys representing the four districts in Texas issued a press release on Wednesday headlined "Don't Mess With Texas," which announced their intent to prosecute any crimes committed at the Texas Capitol or elsewhere in violation of federal law.
Elected officials
After the riot at the U.S. Capitol, three Democratic state senators, including Sarah Eckhardt, D-Austin, sent a letter to Texas Gov. Greg Abbott, Lt. Gov. Dan Patrick and Speaker Dade Phelan asking them to prohibit firearms at the Texas Capitol on the opening day of the legislative session.
"As there are still individuals who are questioning the legitimate results of the November General Election, it is imperative we take action to prevent this anger from making its way into the halls of the Texas Capitol," they wrote.

The state Republican leadership denied the request.
"We've had security briefings and also had increased trooper presence for Opening Day," State Rep. Donna Howard, D-Austin, said in a statement shared with Austonia. "We all felt safe, protected and able to focus on the business of the people."
Two days into the session, both houses of the Texas Legislature adjourned until Jan. 26, which will keep lawmakers away from the Capitol until after Inauguration Day. Coupled with the increased police presence, this vote has led State Rep. Vikki Goodwin, D-Austin, to feel more safe. "That, of course, will help," she told Austonia.
But Goodwin remains concerned about the prospect of violence on Wednesday. "Of course, there will be those who show up at the Capitol, and I just think that people should be very wary and cognizant of what's going on around them," she said.
In the meantime, she is focused on her work as a legislator.
Last month, Goodwin filed a bill that would make it a class B misdemeanor to display a firearm while "attending or within 500 feet of a public demonstration." She was prompted to do so by the death of Garrett Foster, who was shot by an Uber driver while attending a Black Lives Matter protest in downtown Austin last July.
"If somebody is at a rally to express their point of view, we don't need that extra tension in the air," she said.
She also plans to be at the Capitol on Jan. 19, the day before the inauguration, to advocate against Confederate Heroes Day, a state holiday that sometimes conflicts with Martin Luther King Jr. Day, which is on Monday.
Local businesses
A handful of downtown businesses—including 7-Eleven, Total Men's Primary Care and a post office branch on Congress Avenue—have boarded up their storefronts ahead of Inauguration Day.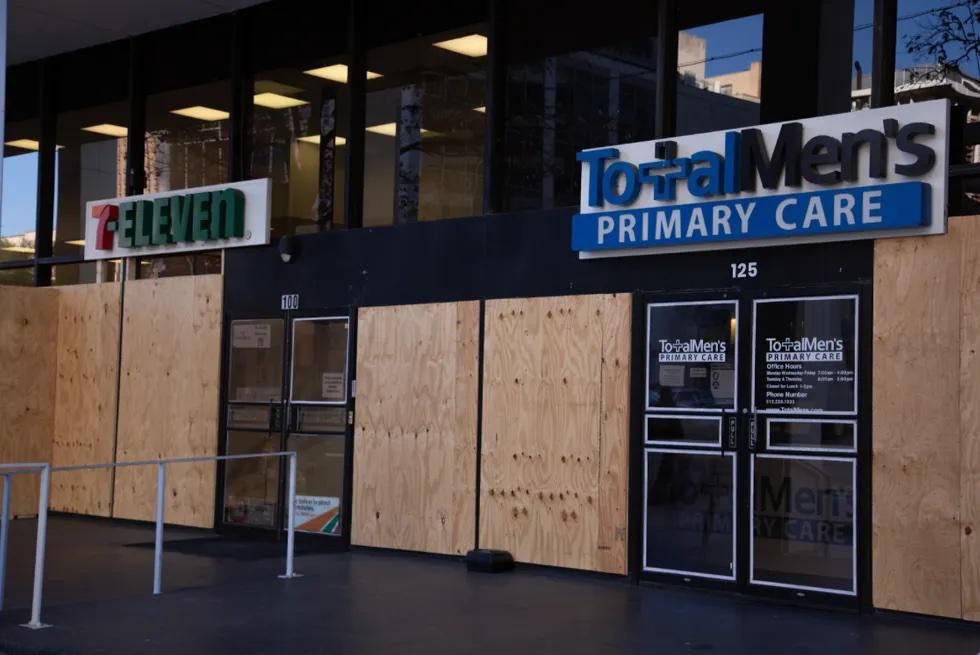 (Christa McWhirter)
Buford Snyder, who owns Snyder Commercial Glass Service, told KXAN that his company boarded up several businesses this week amid concern about looming protests.

Still, many storefronts remain uncovered.
Eric Joyner, a security guard in the area, says most of the buildings he patrols were untouched over the summer, when protestors gathered en masse in response to police violence and racial injustice. "You just never know what's going to happen though," he said.
Christa McWhirter contributed to this story.
(Stubb's Austin/Instagram)
After a long, long year without live music, Austin has waited patiently for a return that has finally come. Festivals are planning returns and even venues that adhered strictly to safety protocols during the pandemic are feeling safe enough to gather again in person.
Starting in just a few short days, you can finally enjoy what makes Austin, well, Austin again. Here are a few of the live shows to look forward to.
Remember to jump on those tickets–Austinites have been missing their live music!
We asked you what you wanted and you told us. More newsletter!
Austonia launched its new and improved newsletter today. You can expect:
100% Austin news, info and entertainment
Sent straight to your inbox at 6 a.m. every morning
In 5 minutes or less, you're fully informed and ready for a great day
Sign up here:
For Marco Silvestrini, gelato takes him back to his childhood when he and neighborhood kids in a small Italian town would end their day at the local gelato shop. It was part of what made some of the best memories for him.
He's since been offering that same experience for the past seven years with his artisanal gelato shop, Dolce Neve, in Austin, alongside his sister and her husband.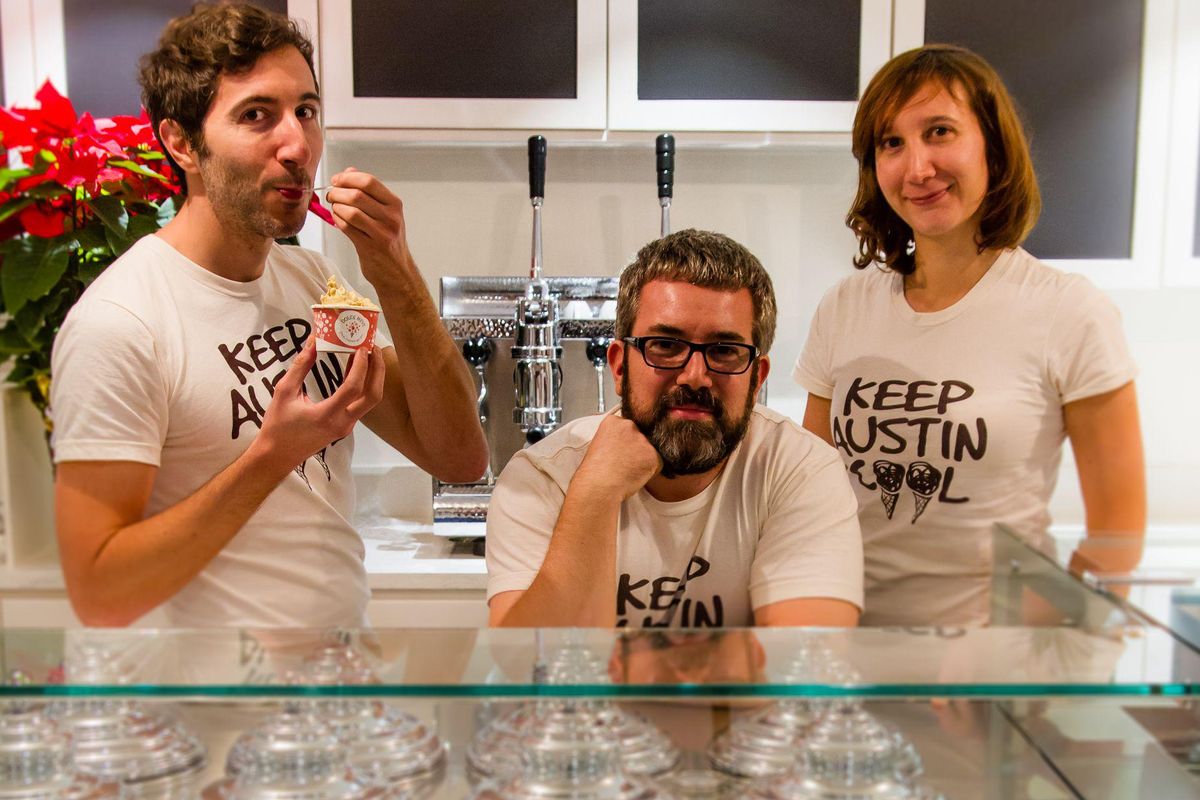 Leo Ferrarese, Marco and Franscesa Silvestrini run Dolce Neve. (Dolce Neve)
While gelato always played a big role in Silvestrini's life, it wasn't in his plans to take on a business with his favorite treat. After a few years in New York working as a management consultant, he felt he was missing out on something. "I decided to take a step back and started thinking, what could... I do to make society better and happier, even just for a moment," Silvestrini said.
He thought back to his childhood and the role gelato played in it and wanted to offer the same experience to Americans.
Once he had the product idea down, it came down to location. Growing up among farmers in a small community in Central Italy, Silvestrini knew he wanted a slower pace of living than New York, so he asked around. The answer he got: "Austin." The only thing he knew about what would become his future home was it had a Formula 1 track.
But after visiting once, he felt a great sense of community he didn't feel in The Empire State. "I felt it was not just a good place for a concept like mine, but also a good place to live because at the end of the day, you cannot just think about your business," he said.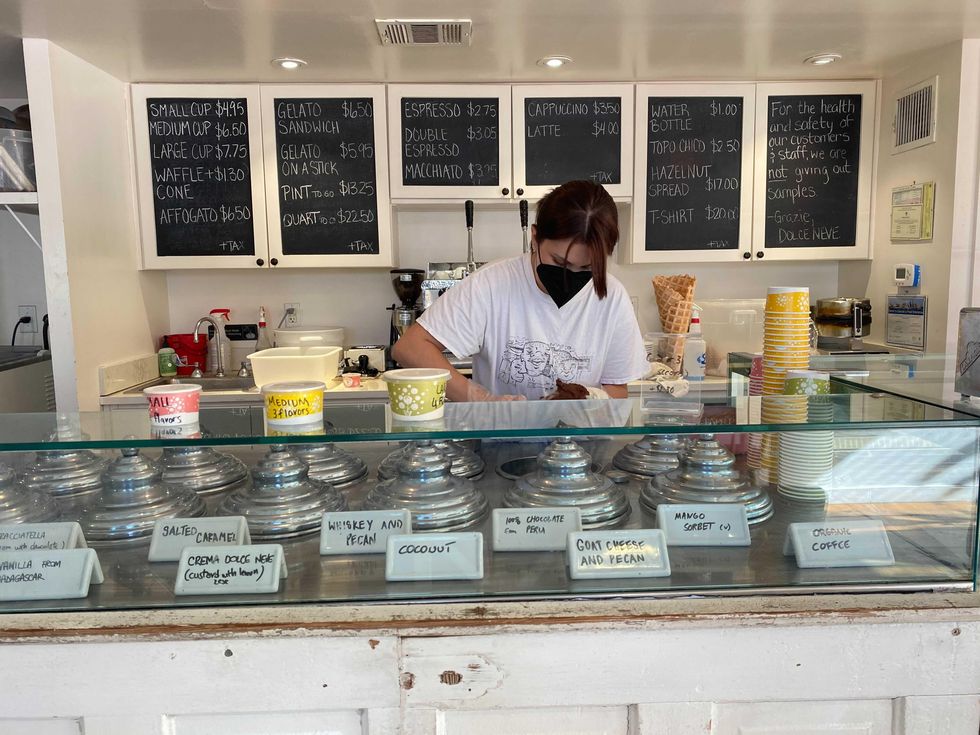 "Dolce Neve" translates to "sweet snow." The shops offers 12-18 flavors at a time. (Dolce Neve)
Similarly, his sister Francesca Silvestrini was experiencing the same feelings while studying for her Ph.D. in Ohio before teaming up with Silvestrini. She went back to Italy to be properly trained in making gelato while Silvestrini focused on the business plan. They brought Leo Ferrarese, her husband, onboard and opened their first shop on South First Street in January 2014. The rest is history.
On the menu, you'll find various traditional and innovative flavors that rotate out. Some of the staples include chocolate, 100% vanilla from Madagascar and salted caramel. Other rotating or seasonal flavors include whiskey and pecan, organic cantaloupe sorbet, goat cheese and pecan, almond custard and tiramisu. They've created over 300 flavors together in the span of the business.
So what's next for the shop? Lately, Silvestrini has been thinking a lot about that. With two locations in Austin, one in Houston—he's just not sure if expanding more is the right move. Maintaining a quality product and good service is of utmost importance that he's not willing to sacrifice.
"In order to be happy, it's not about making money, it's about being an integral part of the community," Silvestrini said. "There have been so many cases in which I think what I did today really made a difference in somebody's life."