Get connected with our daily update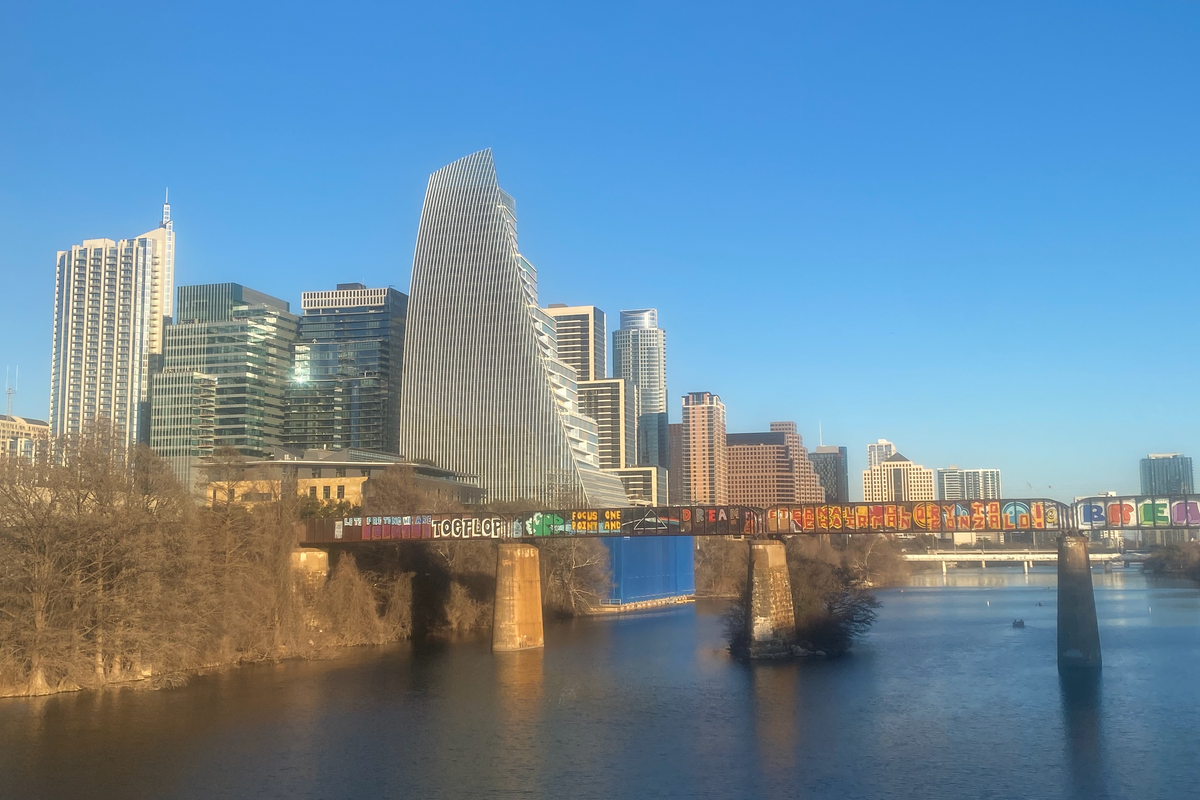 Led in conversation by Michele Glaze with Samsung Austin Semiconductor, business leaders gathered at the convention center to talk about Austin's resiliency and what that means for the city's airport, transit and wider building and human infrastructure.
---
"How do we make sure that all these different investments, whether it's I-35, Capital Metro, or Project Connect or other investments downtown, etc," Austin Transit Partnership's Peter Mullan started. "How are we ensuring that they're working together?
He went on to say that they shouldn't be looked at in isolation. "I think we're actually in a really good position for these investments to support one another."
Hosted by the Austin Chamber of Commerce, here's their panel's take on how different sectors of Austin are expanding and what interconnectedness might look like:
Tracy Thompson, Austin Bergstrom International Airport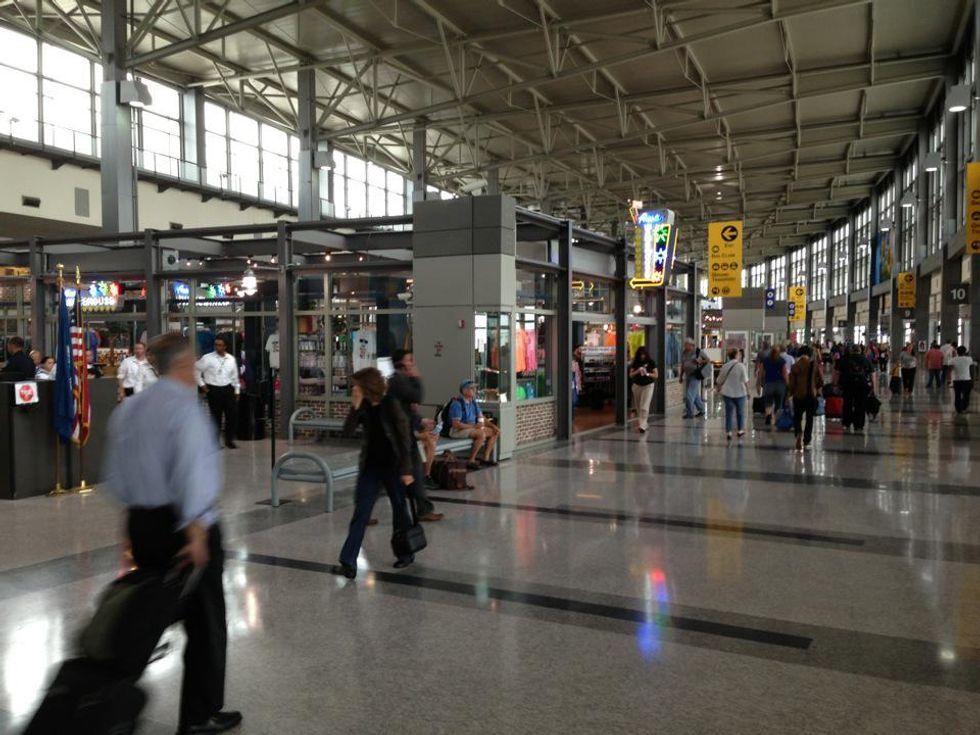 More than 14 million passengers will pass through the airport this year. That's according to a current forecast Thompson shared while adding that the airport is facing a "growth reality."
After all, Austin has the fastest growing airport in the U.S. based on scheduled service, Thompson noted. It's mainly due to an increase in service by Southwest and American airlines. Plus there are new services internationally, with flights now heading out to Germany and Amsterdam.
And while the airport may just seem like a stop along the way, Thompson talked about the role it plays in the growth of the city.
"Aviation, we do more than just move people in cargo, we move ideas," Thompson said. "We get a lot of new ideas to our city, people benefit and our Austin Americans can go out into the world."
Dewitt Peart, Downtown Austin Alliance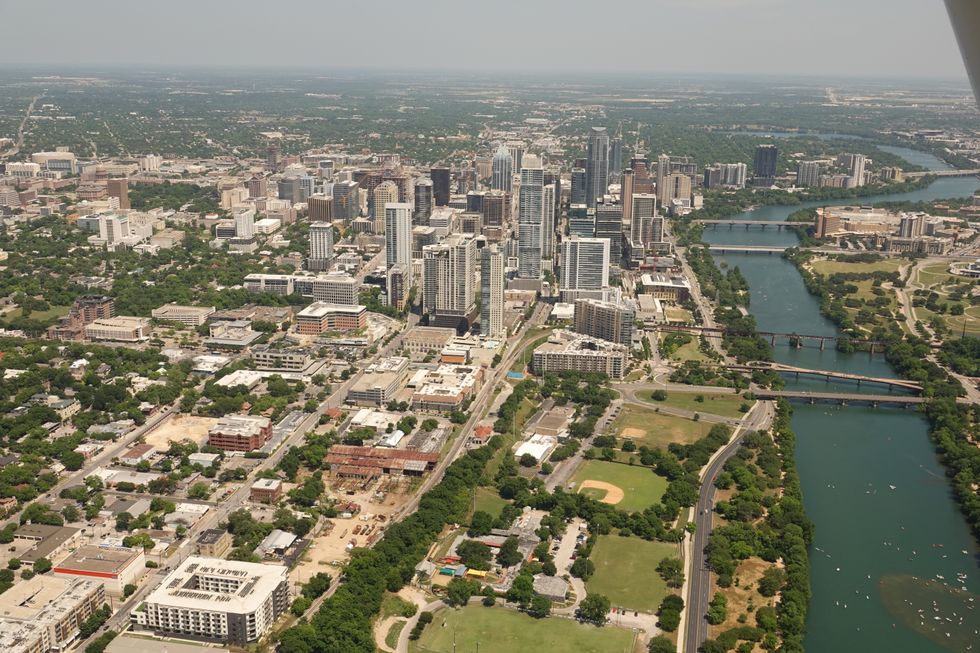 As President and CEO of the alliance, Peart is all about keeping track of projections for the rapidly growing space. His call is that the size of downtown will double in the next 10 years.
"Investment in infrastructure is so critically important because imagine you're doubling the size of your central business district, arguably you're going to double the number of people," Peart said.
In his view though, it'll require Austin taking charge on education and the workforce, affordability and strong transit. Peart mentioned that he also thinks it's key to keep incentives high in order to continue attracting big tech.
"Projects like Samsung, Oracle, Tesla—we can't screw that up," Peart said.
Robert Bryce, journalist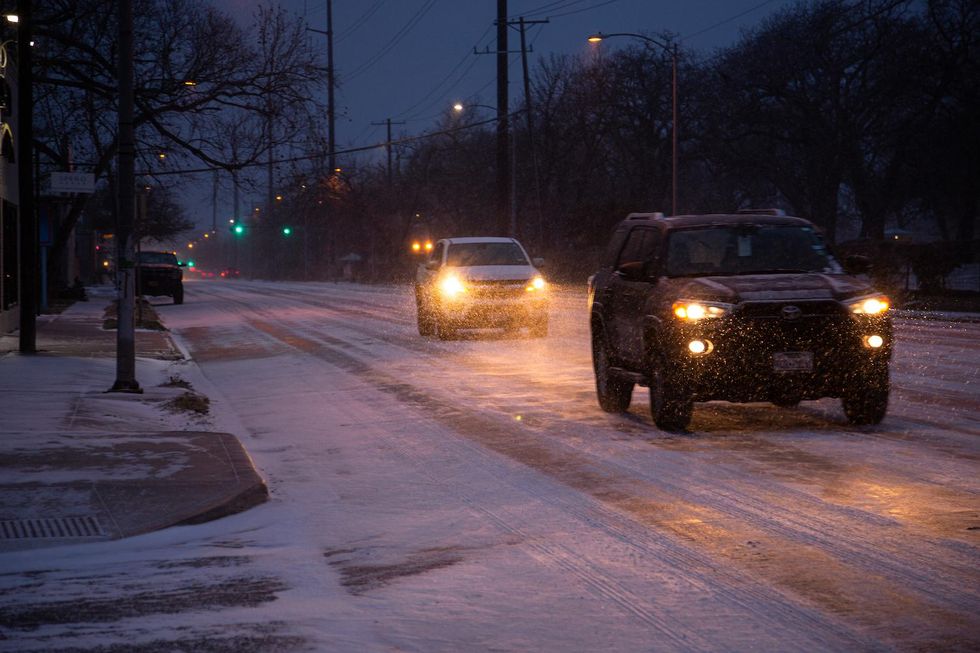 Drivers venture out in the snow Sunday evening. (Christa McWhirter)(Christa McWhirter)
With the anniversary of Winter Storm Uri this week, Bryce reminded the room that the grid came within about five minutes of a complete system blank, which he said would have caused mass mortality.
"The intermediate power networks are the fundamental networks that drive everything in our economy," Bryce said. "Everything that we touch, eat, in one way or another has been electrified. And issues that we're facing in the United States and Texas, in particular, are the resiliency of our energy networks."
He argued natural gas is not the villain and moving forward, the state should consider using multiple fuels. A report by researchers at the University of Texas at Austin found that failure by natural gas producers to supply adequate fuel to power plants exacerbated the electricity shortage.
For how the grid affects Austin in particular, Bryce pointed to Austin Energy, mentioning its recent decision to not shut down ownership of coal-fired capacity at the Fayette power plant.
If we're facing more extreme weather, we cannot rely on weather-dependent renewables," Bryce said.
Peter Mullan, Austin Transit Partnership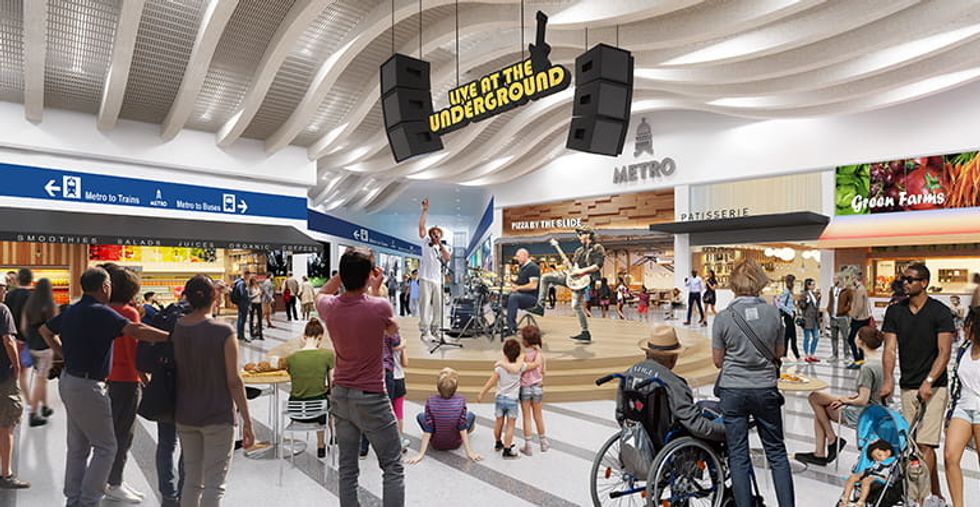 How much has Capital Metro spent on Project Connect ads?(Capital Metro)
Mullan shot back on Bryce's points.
"We had a long discussion about fuel diversity, I don't think it's gonna matter if we can turn the lights on if our planet is dead," Mullan said.
Mullan's main notes were about Project Connect, the multi-billion transit plan that voters approved in 2020. As chief of architecture at the transit partnership, Mullan says it'll act as an equalizing force in the community by providing transportation access for people who don't have ready access to a car or other forms of mobility. Recently, the project has also started on its $65 million anti-displacement plan.
"So it's not just about trains, it's about humans," Mullan said.
But it's also about businesses. He asked the room full of business leaders to reach out if they're planning a project on the corridor, emphasizing that it'll be better than working in isolation.
"We don't have a huge track record in Austin of public-private partnerships," Mullan said. "We have to build that capacity."
(Steven Joyner)
Now, after a surge in the Austin employee headcount, the acquisitions of Instagram and WhatsApp and a name change by its parent company to Meta, preparations are being made for its most striking local office yet.
A drone video taken by Austonia shows the building Meta will occupy, Sixth and Guadalupe, is well into the process of rising up to its full form as a contender for the tallest building in Austin if a 74-story project at 98 Red River St. doesn't beat them out. Once it's completed in 2023, it'll have 589,112 square feet of office space and nearly 350 units of residential space.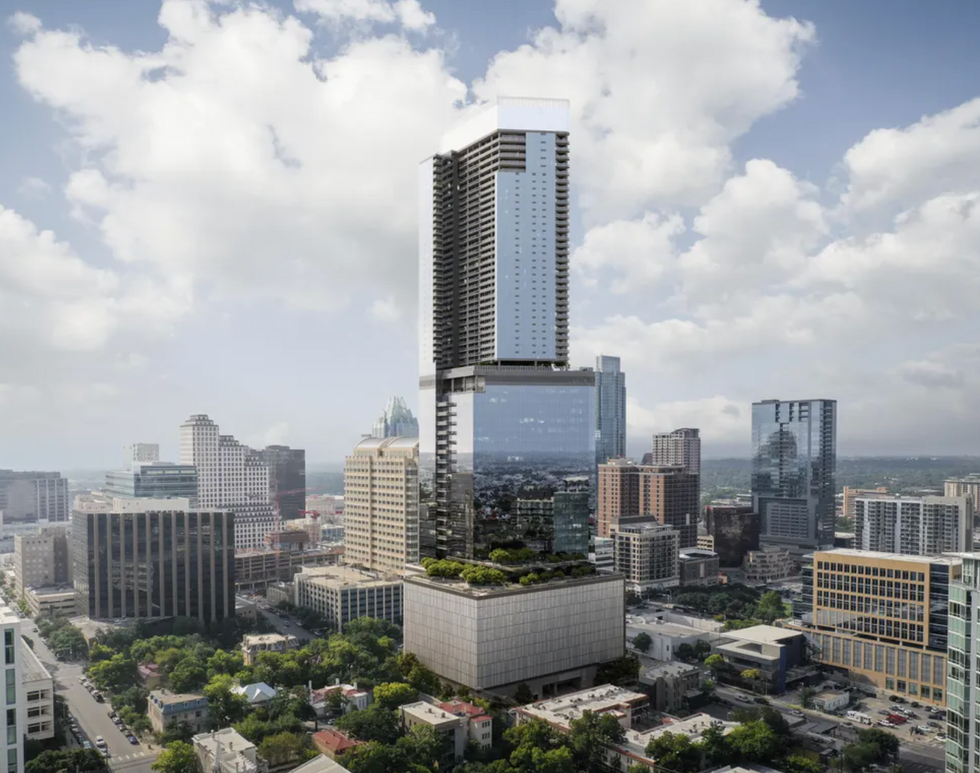 (Gensler)
Ed Muth, Gensler principal-in-charge of the project, says it's one of those buildings that only comes along every so often.
"However, it seems like in Austin, we have more and more of them that continue to happen," Muth said. "But this one is very special for us. It's a combination of three or four building types together with the parking garage, the office and the residential piece all with a ground-level that has retail in it and everything else that makes the building function."
All these pieces coming together are captured in real-time with a camera documenting the building's ascent.

A fan cam for the construction process is fitting for a tower poised to be 66 floors. But Sixth and Guadalupe is more than just its height.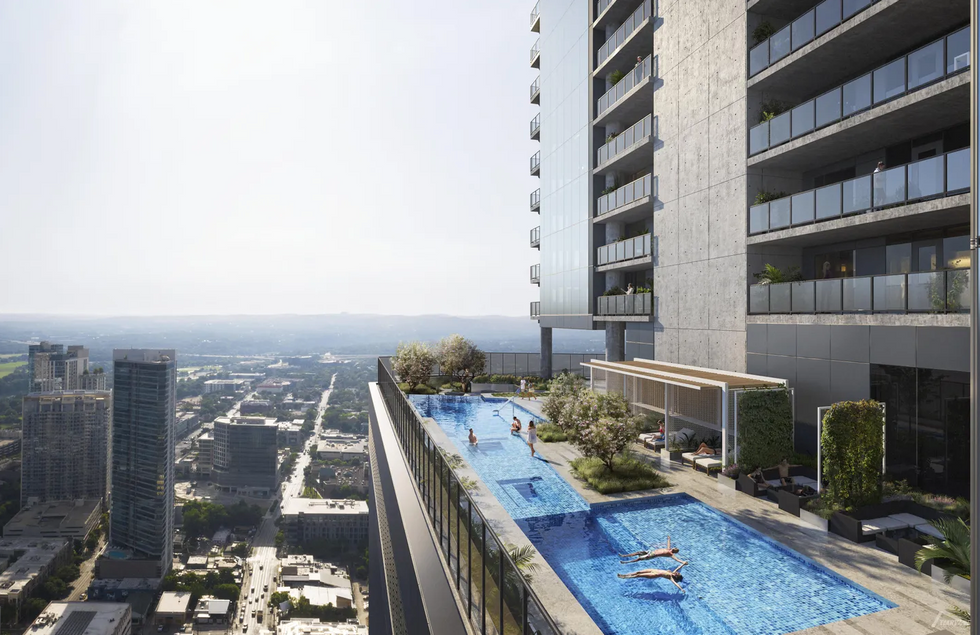 "At the end, you get great views out of the residences and the office space is just incredible because of the floor plate size and just the convenience in downtown," Muth said. "I don't know that there's anything like it or there will be like it for a while in the marketplace. This is gonna set the standard."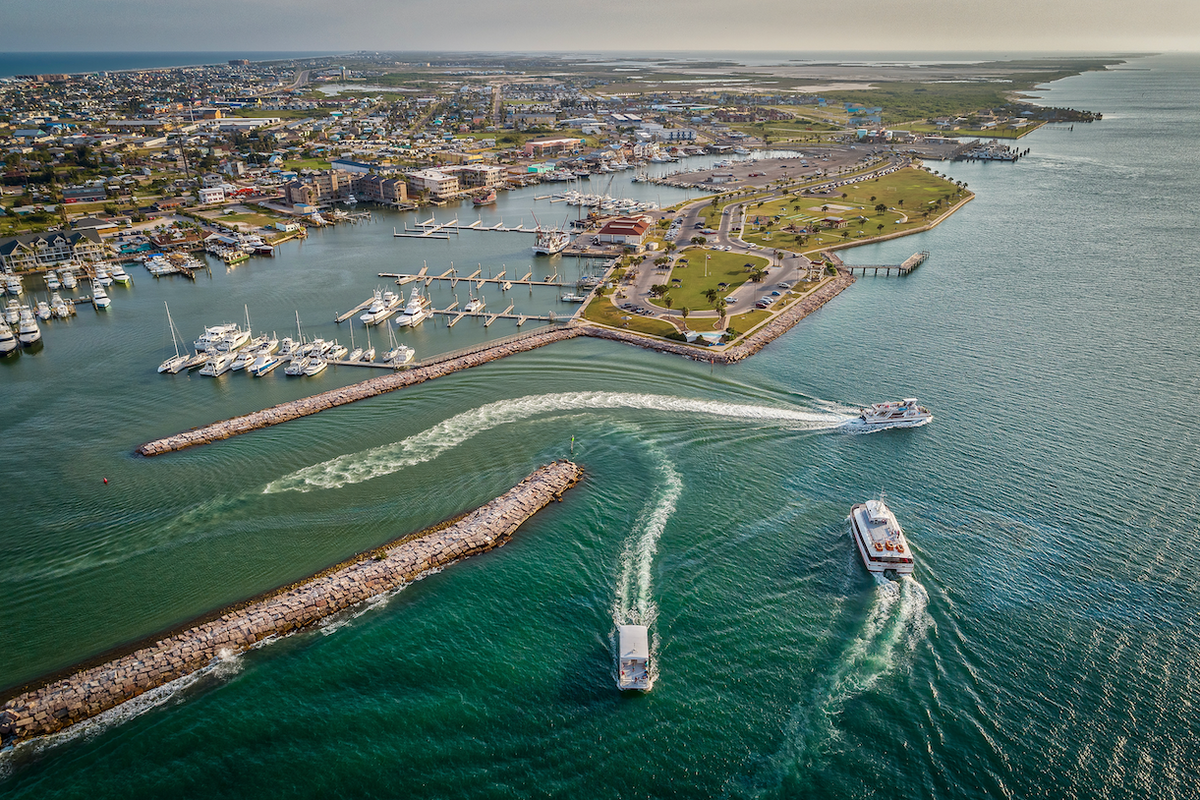 PORT ARANSAS–This is not Hilton Head or Palm Beach, with white tennis shorts and BMWs at the CVS. It's quintessentially Texas, a beach where F-350s line up at the town's three stop lights, and kids from Amarillo stare slack-jawed at "the ocean" for the first time.
Now Father's Day and the 4th of July approach, and a string of 100-degree days lurk ahead in Austin. Here's our survival guide to Port A.
Weather
The average July high in Austin is 95 and in Port Aransas 90.3.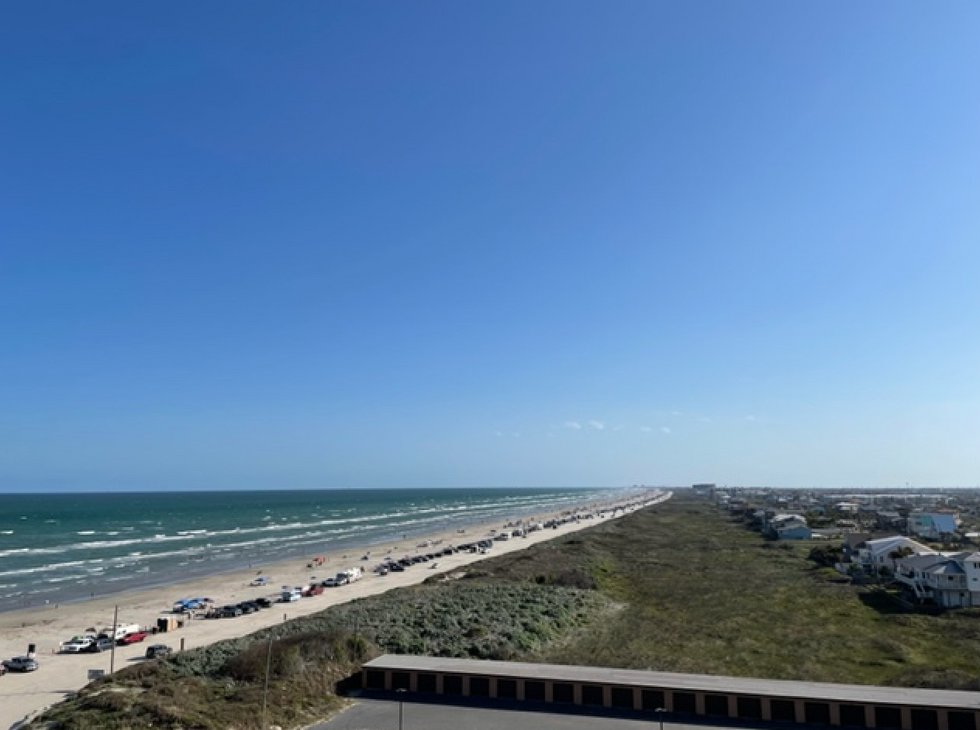 Cars lined up on the beach during Memorial Day weekend. (Rich Oppel)
Getting there
Driving from Austin, the trip is 200 miles or more. That can take four to five and a half hours, depending on time of day and route. Three strategies:

Our favorite: Take toll road SH 130 south to Lockhart and take U.S. 183 to Refugio, left on Texas 774 and follow your navigation to Aransas Pass, then left on Texas 361 to the ferry to Port A. Tips: Leave early. Avoid late Thursday or Fridays. Check the Texas DOT website for ferry wait times, which vary from 15 minutes to an hour.
Second strategy: If the ferry line is long, detour from Bayside south of Refugio to Corpus Christi and come up Mustang Island on highway 361. This adds about 30 miles.
A no-toll route: Southwest on I-35 to San Antonio, then south-southeast on I-37 into Corpus, north on 361. I-35 can be nerve-racking getting out of Austin and going through San Antonio. I-37 is blissfully boring. About 250 miles.
Money-saving tip
On the way in, refill your tank at the H-E-B in Aransas Pass, cheaper by a quarter a gallon than any fuel you'll find on Mustang Island.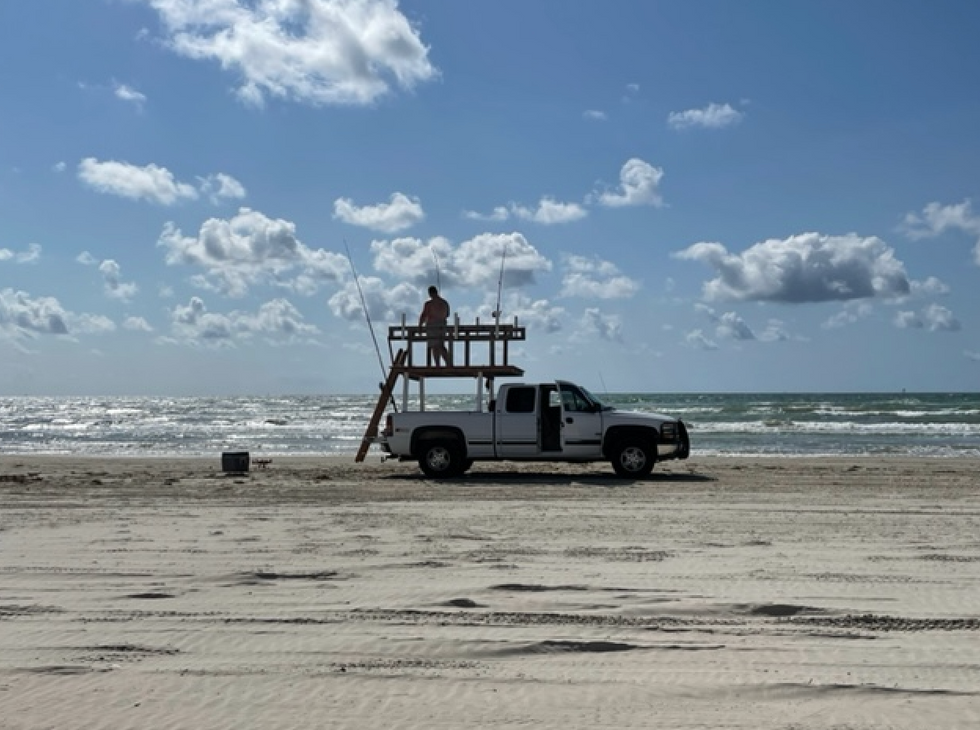 (Rich Oppel)
Sights and sounds
As you drive through South Texas you will see fields of pump jacks and wind turbines as well as fields of corn and soybean and red brangus ranches. Near the Port A ferry, huge turbine blades made in Europe are stacked high. This is a working port, but it is fast-changing.
Lodging
Check VRBO for a condo. The big condos lining the beach (Aransas Princess, The Dunes, Sandpiper, Sea Gull, Mayan Princess and more) have a few pricey rentals left, with a 2-bedroom typically going for $250 to $700 a night.
Camp on the beach. Buy a $12 annual permit at the IGA or any convenience store, and park between markers 0 and 62. Bring a sturdy tent; it can be windy. A trailer or RV are even better.
Rent a cottage off the beach. Scores of new stilt houses and multi-family dwellings were built after Hurricane Harvey laid waste to Port A in 2017. Factoid: The average elevation of Port A is 7 feet. Even cheaper than a Port A back-island rental: Find a place off-island in Rockport or Corpus Christi.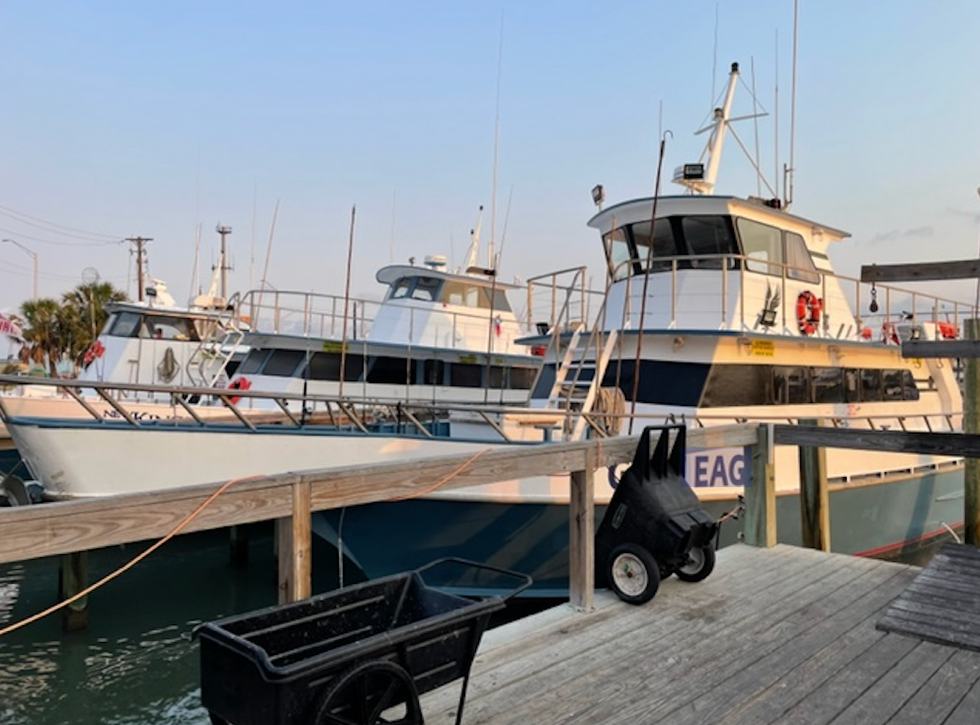 (Rich Oppel)
Food
Our favorites are the Venetian Hot Plate, Roosevelt's, Tortuga and Fins. For a cheeseburger, fries and a beer with a Gulf view, the Beach Lodge. There are 60 restaurants on Mustang Island, and the lines are long in the summer. Get there early or late, or order takeout–which is available at many places. Make reservations at the high-end places. Dress is casual. Anyone with shoelaces is way overdressed.
Fun things to do
Rent a beach cart. They'll run you up to $150 a day. Port A is one of the few places in Texas where they can be operated by unlicensed drivers 16 and older. Cart rental places outnumber seagulls.
Cast a fishing line off the South Jetty, and then watch petroleum tankers and cargo ships glide through Aransas Pass, coming from or going to Corpus Christi docks.
See hundreds of species of birds at the Turnbull Birding Center.
Eat seafood at Snoopy's Pier, overlooking Laguna Madre, on South Padre Island Drive 20 miles south of Port A. Afterward, take the kids to Scoopy's next door for ice cream.
Ride slowly along the beach and people-watch, or park and stroll or run along the wide strand. Watch the sunrise at Horace Caldwell Pier.
It's red snapper season. Take a head boat out of Deep Sea Headquarters for a $125, eight-hour trip 20 to 30 miles out. Limit out with two 16-inch or larger snapper. Great eating.
Hard truth
Port A has gotten expensive since huricane Harvey. Labor costs are skyrocketing because waiters, cleaning people and store attendants can't find affordable housing on the island. If you haven't been there in a few years, expect sticker shock.