Never miss a story
Sign up for our free daily morning email...
...and afternoon text update
Get connected with our daily update
photo by Emma Freer
Austin Mayor Steve Adler acknowledges that Gov. Greg Abbott trumps the city of Austin when it comes to whether construction workers will continue to work. They will stay on the job--but with the city guiding work behavior.
"We'll continue to enforce the non-conflicting parts of the city order to mitigate the risk for workers, their families, and the city at large," the mayor said in a written statement Thursday.
What this means is that construction men and women will still be on the job in Austin, but the city will make an effort to educate workers and job site managers. The city will enforce safety requirements such as social distancing, and see that recommended hygiene practices are being observed.
---
On March 31, the governor issued his own order implementing statewide protocols, which followed the definition of "essential services" provided by the U.S. Department of Homeland Security. This came a week after the city of Austin's March 24 stay-at-home order restricting nonessential construction in an effort to contain the spread of the coronavirus.
In conceding to the state, the city has said that all construction will be allowed to continue despite the pandemic.
In mid-March, the governor said he was confident cities would make the best decisions for their communities, a sharp diversion from his past positions against local control, including his recent criticism of Austin leaders' homelessness policies. But his March 31 order, which instructs Texans to stay home except for essential work and services, moves toward a more centralized state response to the pandemic.
Before the governor's announcement, Austin's construction industry was lobbying city leaders to reconsider the local order. Unlike those in other big cities in Texas—including Houston, Dallas and San Antonio—Austin's order did not consider construction "essential," with exceptions for projects related to public works, affordable housing, social services, government functions and critical infrastructure.
In a joint letter sent on March 25—the day after the city's order was announced—representatives from the Austin Apartment Association, Austin Board of Realtors, Austin Chamber of Commerce, Home Builders Association of Greater Austin and the Real Estate Council of Austin, among others, urged Adler and County Judge Sarah Eckhardt to "Keep Austin Building," arguing that job sites allow for social distancing and other safety measures.
Silvia Pendleton, executive director of the Austin Contractors and Engineers Association, was one of the letter's signatories.
No ACEA members have laid off workers yet, she said, but many were concerned about compliance.
Ana Gonzalez is the director of the policy and Better Builder programs at the Workers Defense Project, a progressive advocacy group that represents low-income workers, many of whom are immigrants and work in construction.
Because all construction work is allowed under the governor's order, Gonzalez said the organization's priority is to ensure job sites are safe and the city's safety requirements are maintained.
"[Construction workers] need to go to work because they live paycheck by paycheck," Gonzalez added. "And they don't have the ability to work from home. They don't have a safety net to fall on."
This article has been updated to clarify the position of the Workers Defense Project.
With a taste of MLS play under their belts, Austin FC is entering the second half of a scoreless inaugural match.
The club has been given some generous breaks from No. 2 LAFC, who had one or both of their star DPs out for the half. While forward Diego Rossi is out for the entire match due to a hamstring injury, Carlos Vela was accidentally pulled too soon on what turned out to be a miscommunication.
"He gave us the sign that he needed to come off," LAFC Head Coach Bob Bradley said on broadcast. "I can't say more than maybe it's my fault."
The two breaks aside, Austin FC has been holding their own against the match favorites. In the signature style of Head Coach Josh Wolff, the team has been quick and intense, nearly connecting on several fast breaks. ATXFC has also kept about equal possession with LAFC, although their shot attempts haven't been quite as nervewracking as the home team.
LAFC has given goalkeeper Brad Stuver some scares with 11 shot attempts, four of them on goal. By contrast, Austin FC has had five shots on goal.
LA has pulled some dramatics and slowly gained more possession throughout the half, but ATXFC's defense isn't as shaky as it seemed in preseason. Jhohan Romana has pulled his weight in getting the ball out of goal, and defensive midfielder Alex Ring has shown the qualities that make him captain as he leads his teammates through their first ever match.
Will Austin FC win against the odds? It's tough to tell, but Austonia will keep you updated!
It's matchday! Austin FC—Austin's first major league sport team—kicks off its debut season in Los Angeles today after years in the making. We know how much this means to our beloved city and are taking you along with us as we journey to LA!
Austin FC writer Claire Partain and I are excited to bring you game-day coverage straight from the City of Angels. Check back here for updates, and visit our socials: @austonianews for the latest.
5 p.m: Kickoff!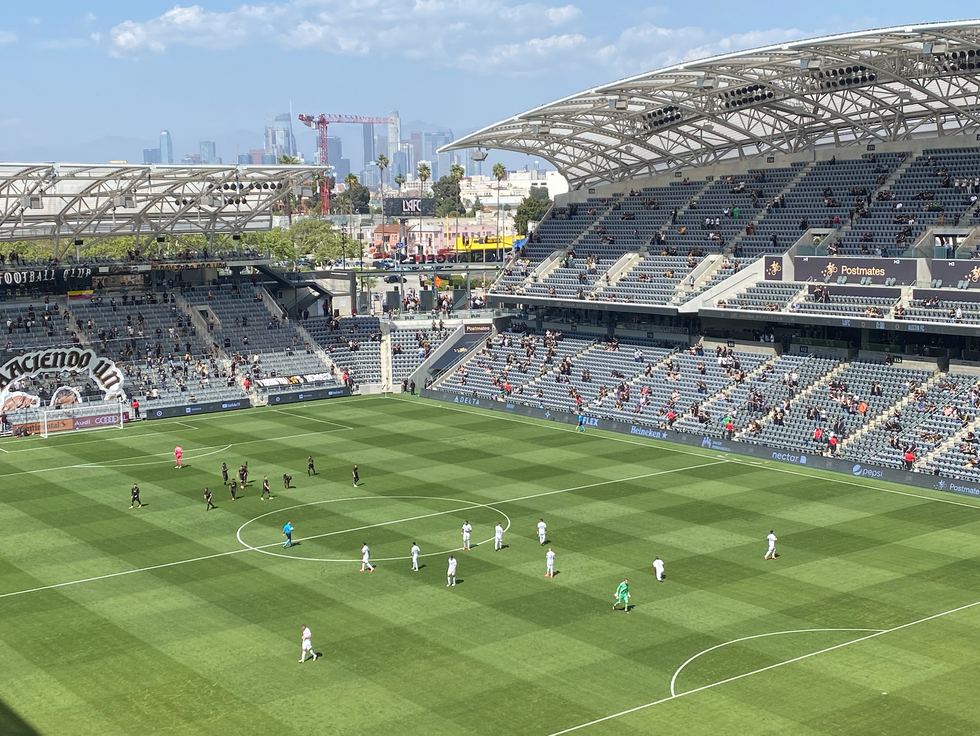 It's finally here! Claire will be updating Austonia's Twitter account live. And we'll post her game recap after the game. Best of luck Verdes!
4:40 p.m: Excitement radiates back home
Watch parties are in plenty supply back home. Austonia's Laura Figi visited Circle Brewing Co. and found a crowd of excited supporters.
4:20 p.m: Austin FC supporters are in the stadium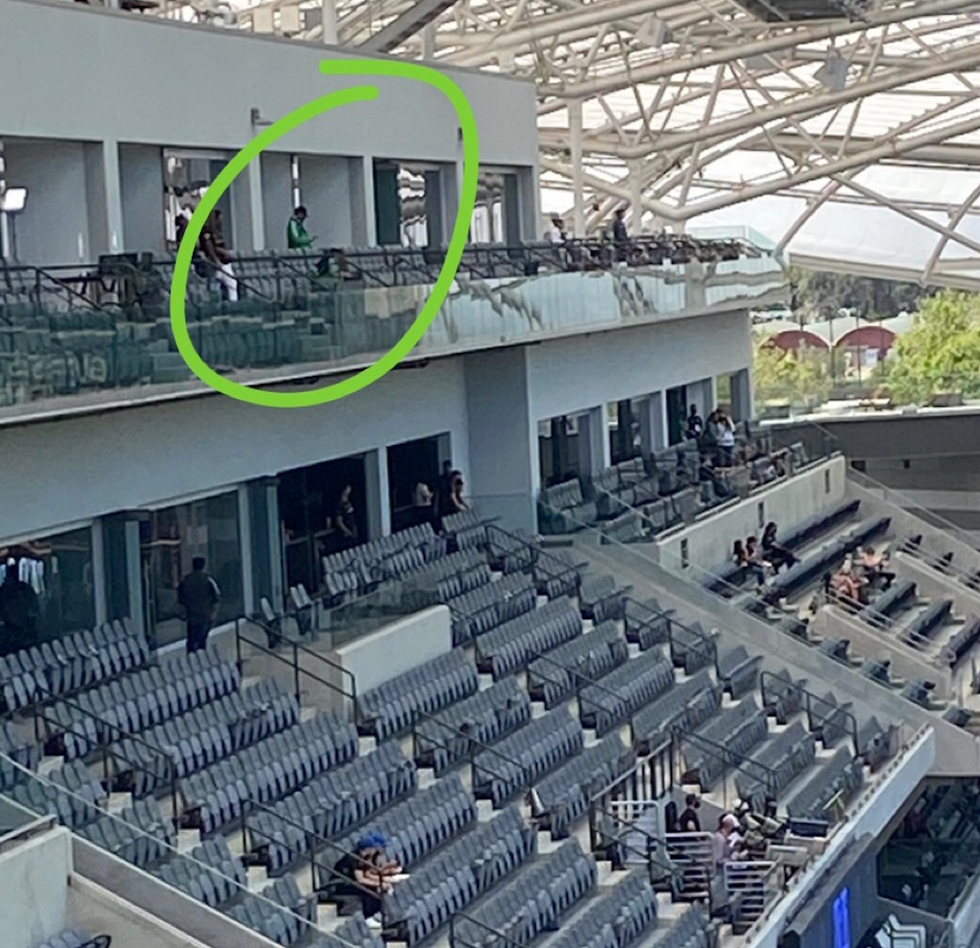 Although the Banc of California Stadium is hosting the match at limited capacity, we see some green in the stands ahead of kickoff. Just moments away from the Austin FC's debut!
~3:20 p.m: Austin FC's team bus enters the stadium grounds
With a warm welcome from Los Verdes, Austin FC players were welcomed into the Banc of California Stadium.
~1 p.m: Los Verdes in LA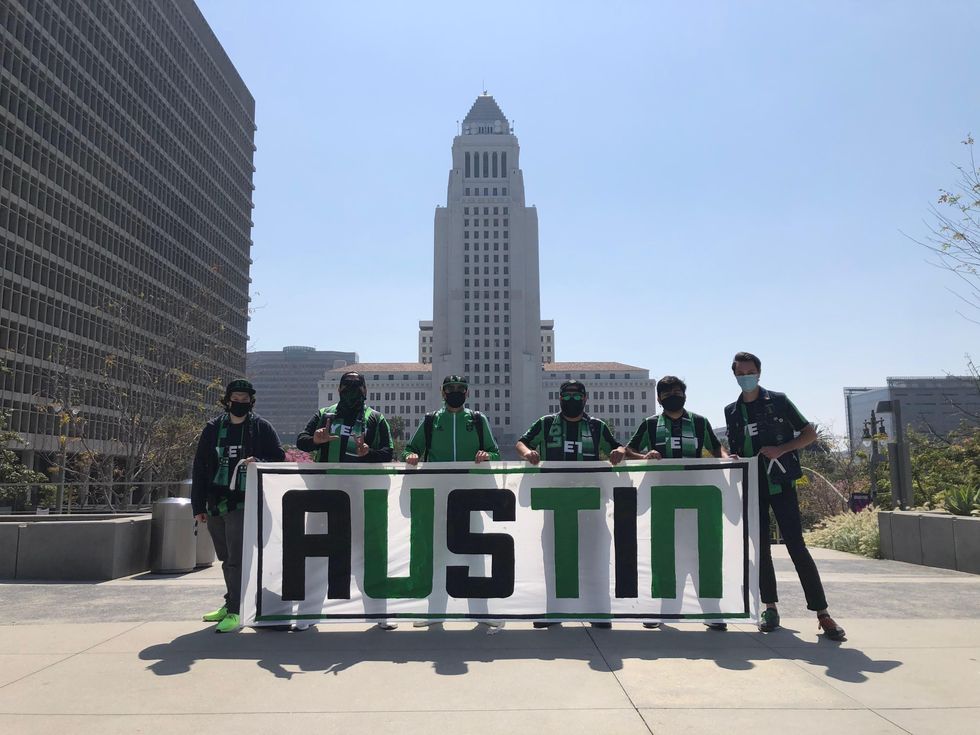 (Rigo Rodriguez/Los Verdes)
Austin FC supporters are making their presence known in LA, including the Los Verdes group.
Los Verdes members started having match-day fun around the area this morning with brunch. We'll be joining them about an hour before the game outside the stadium to share some of their excitement. We'll post immediately to Austonia's Instagram.
11:45 a.m: We landed!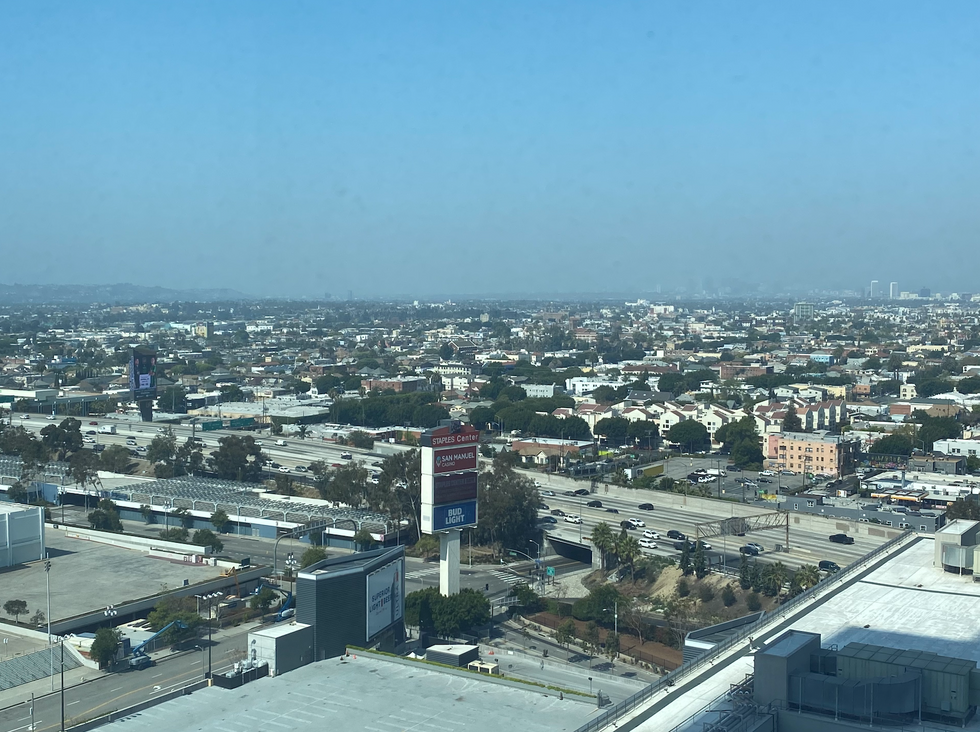 View from hotel room where we're staying; the stadium digital sign can be seen in the right corner. (Sonia Garcia/Austonia)
Switching over to pacific time, we're here and it's almost like no time went by. It's 9:45 a.m. here.
We've been in contact with Los Verdes, an Austin FC supporter group, who is also here in LA counting down to kickoff.
8:20 a.m: LA bound
Like many of you, we've been looking forward to this moment for, let's just say, a very long time. Today, we woke up bright and early, headed to Austin-Bergstrom International Airport and hopped on a flight to LA.
A gloomy day in Austin with a very quiet airport, we're headed to sunny skies in California.
As we wait for the game to start at 4:30 p.m., check out Claire's preview of the game with a predicted lineup and timeline of the long journey to get here.