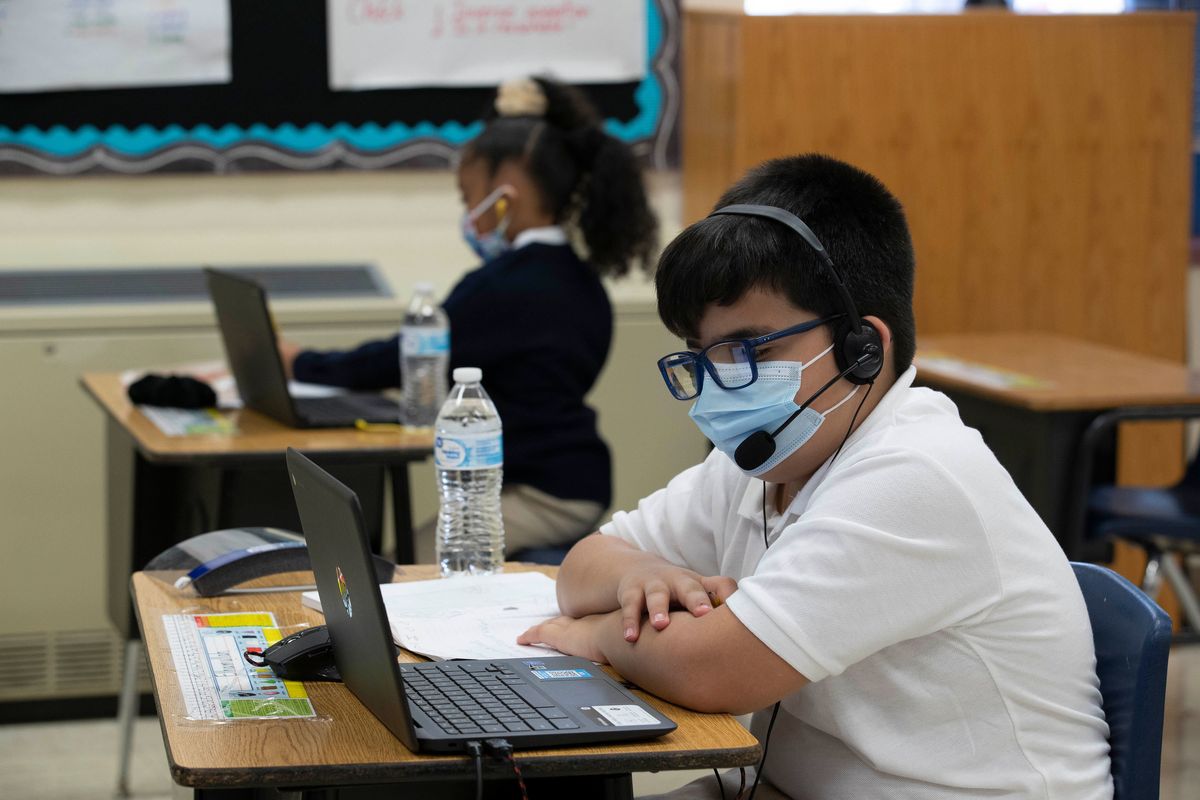 (Bob Daemmrich)
Austin ISD will offer face-to-face, on-campus learning to all students whose families choose to take advantage of it starting on Monday, Nov. 2, in compliance with the Texas Education Agency's guidelines.
---
To prepare, the district has ordered plexiglass dividers and will install them at all campuses next week, AISD Superintendent Dr. Stephanie Elizalde said at a board meeting on Monday. It is also working to access a supply of rapid tests.
We are now at the front of the line for the rapid COVID-19 tests and are working on having this possibly on hand next week.

The rapid testing is 97 percent accurate and the district would get a supply each month.
— Austin ISD (@AustinISD) October 26, 2020
Despite these preparations, Elizalde said she does not expect a mass return of students to campus.

"I do not believe that on Nov. 2 we will be anywhere near 100% of students reporting to campus," she said.
As of Thursday, 36% of elementary students, 12% of middle school students and 4% of high school students are attending in-person class. Although in-person attendance among elementary students has nearly doubled since mid-October, attendance among middle and high school students has remained relatively flat.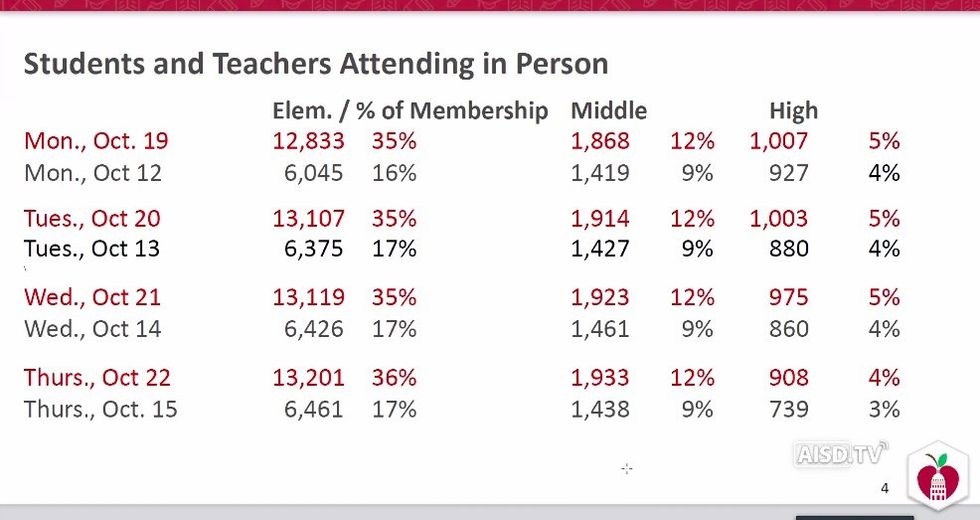 (Austin ISD)
Funding concerns

This is likely to change, however, because the TEA guidelines also stipulate that middle and high school students must offer face-to-face instruction—"making it necessary for students to transition between class periods," according to the district's website—as of Nov. 2 to receive state funding.
This compounds the district's financial woes.
Chief Business Officer Larry Throm told the board on Sept. 28 that an enrollment drop could lead to a state funding shortfall as great as $51.4 million and require layoffs of as many as 232 teachers, among other cost-cutting measures.
Although enrollment numbers improved slightly from late September to mid-October, it remains around 5,000 students shy of its enrollment of 80,621 students last year.
Elizalde has attributed the drop to virtual learning and emphasized that this trend is not unique to AISD.
Teacher accommodations
Since AISD reopened its campuses on Sept. 8, the district has reported 58 confirmed COVID cases. Of those cases, 34 were among employees, 18 among students and six were not attributed.
At the board meeting, Elizalde also addressed concerns about COVID-era accommodations provided to staff.
As of Monday, AISD has granted accommodations to 1,201 staff members. Of those, 756 are teachers.
Elizalde said earlier this month that AISD has granted accommodations to more teachers than either Dallas ISD or Houston ISD, both of which are significantly larger.
These accommodations expire on Dec. 31, Elizalde said, adding that she will share information about the number of accommodation requests for the spring term on Nov. 9.
Education Austin, a union that represents 3,000 district employees and has encouraged its members to pledge not to attend in-person classes, took credit for this in a tweet on Tuesday.
After public pressure, the district has now committed to keeping all approved accommodations in place through the e… https://t.co/SVOHtbdcKr

— Education Austin (@Education Austin) 1603815047.0