Get connected with our daily update
(Juliet)
Romeo and Juliet, one of Shakespeare's most famous plays, is about star-crossed lovers and ends in tragedy. The tale of Austin's own Romeo's and Juliet is a happier one about ships in the night.
---
In fair Zilker, where we lay our scene, Italian restaurant Romeo's closed abruptly in 2012, leaving a vacant storefront—and large patio—on Barton Springs Road.
Three years later, it reopened as a fine dining restaurant called Juliet. Owner Daniel Wilkins and his wife, Donna, had traveled extensively around Italy and found the former Romeo's location to be the right place for their new venture.
"It's really special to this day," said Emily O'Connor, chief management officer of Veneto Hospitality, which owns Juliet. "We still have people come in and say, 'We met at Romeo's,' or 'We had our first date at Romeo's.'"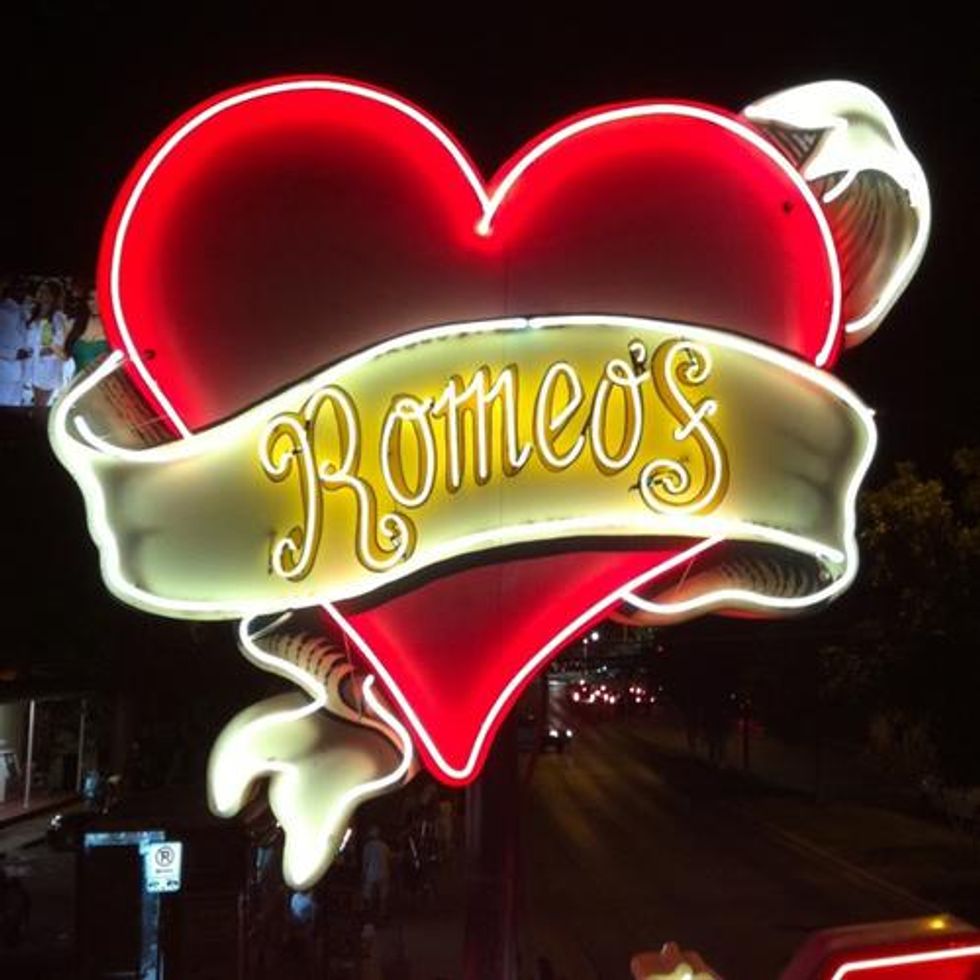 (Romeo's Austin/Twitter)
Maintaining relationships with long-term customers has been a long-term focus at Juliet.

When the restaurant first opened, it was a fine dining establishment known as Juliet Ristorante. But in 2017 it underwent a transformation to Juliet Italian Kitchen, an upscale casual spot. "Our food was so complex and our Ristorante name was a mismatch for this street," Wilkins told the Austin American-Statesman at the time.
The new Juliet was designed to be a regular destination for Austinites, rather than a special occasion spot. "It's geared more toward providing this place that people want to come back to over and over again," O'Connor said, citing local institutions such as Matt's El Rancho as inspiration.
Repeat diners have helped keep Juliet afloat during the initial pandemic shutdown and subsequent regulatory changes, ordering takeout and returning to celebrate birthdays and other special events on Juliet's large patio. "It's really heartwarming to see that the success that Romeo's had, that Juliet has that same place in people's hearts, too," O'Connor said.

It hasn't been easy, however.
Prior to the pandemic, Juliet did the bulk of its business in person. When the pandemic began, the restaurant only offered take-out for more than two months. "Every day was a learning experience for quite awhile," O'Connor said.
When Juliet reopened in late May, it had to find ways to make customers feel safe returning in-person—and adapt to constantly changing capacity limits as the severity of the pandemic fluctuated. "We've changed (capacity limits) four or five times," O'Connor said.
Despite the challenges, Juliet was in some ways better positioned than other restaurants to survive the pandemic. In addition to its regular clientele, the restaurant has a lush patio that could seat 135 people pre-COVID. Because it was already focused on casual dining, it didn't have to make the switch, as many fine dining restaurants did, when the pandemic began.
The dining room at the fine-dining Southern restaurant Olamaie, in West Campus, remains closed, but owner Michael Fojtasek has transitioned to special occasion party packs, such as for the Super Bowl, and the successful offshoot venture Little Ola's Biscuits. Other businesses have been less successful, such as high-end spots Second Bar + Kitchen and The Brewer's Table, both of which closed due to the pandemic.
"We're very lucky," O'Connor said.
After a tumultuous year, Juliet will welcome guests—both in-person and for take-out meals—this Valentine's Day weekend, with a special menu and on-theme pink drinks. And the restaurant's prospects are looking up, in a sharp departure from its namesake.

In March, Juliet will open a second location at the Arboretum in North Austin, where it hopes to become a regular haunt for a new crowd. "We want to be part of the neighborhood," O'Connor said. "That's really important for us."
Whether you became a home chef when the pandemic began or have always enjoyed crafting delicious meals, it's undeniable that no home is complete without a cozy kitchen.
Not only do these luxurious homes have enviable amenities like natural light, sky-high ceilings and land to grow into, they also boast extraordinary kitchens. These are not your mom's kitchens—we're talking wine fridges, Miele appliances and wet bars.
Take a peek at these five gems on the market now.
In the South Austin Parten community, this castle-like four-bedroom, three-and-a-half bathroom stunner puts you just minutes from Austin, Dripping Springs and other nearby communities. Stark white and black contrasting features give the interiors a clean look, while a large curving staircase serves as a centerpiece for the ground floor. The chef's kitchen is spacious, facing the living room and multiple windows, and immediately draws the eye. Upstairs you'll find a spa-style bathroom, game room with a wet bar and Hill Country Views.
This listing is held by
Adam Zell and Lexie Zell.
This hyper-modern, 3,300-square-foot Scandinavian-styled home is a paradise for natural light in Hyde Park. With four bedrooms and three-and-a-half bathrooms spread across one story, the home rests on concrete columns to protect from extreme climate conditions. Inside, you'll find crisp, clean trim in the open-plan kitchen with built-in luxury appliances and a walk-in pantry. Lofty 12-foot ceilings and gigantic windows set the tone, with a wet bar and second living room for entertaining. When you retire to the master bedroom, enjoy a warm bath in the soaking tub or enjoy the multi-output shower.
This listing is held by Austin Stowell.
In the heart of Westlake, this stacked three-story new build is a sprawling 4,483 square feet with five bedrooms and four-and-a-half bathrooms. The home is centrally located and full of natural light, especially on the open concept first floor, which includes the kitchen, casual dining space and living area. The third floor has a bedroom and loft, perfect for the at-home worker.
This listing is held by Jen Templeton and Cheryl Albanese.
This 3,539 square foot, three-bedroom, three-and-a-half bathroom Tarrytown townhouse is newly remodeled but still holds on to its vintage charm. Bright white cabinets, a green accented island and quartzite countertops in the kitchen give the space a cheery feeling. Entering on the second floor, you'll have to walk downstairs to get to the bedrooms, which include ensuite baths and walk-in showers. The third level bonus room is the perfect place for an at-home office.
This listing is held by
Cindy Fowler
.
​Just outside Austin in the sleepy town of Wimberley, the Backbone Ridge Ranch is one of the city's most "iconic and pristine" properties. On nearly 50 acres of land, the house takes you into nature without getting too far from nearby cities. With 4,369 square feet, six bedrooms and six-and-a-half bathrooms, floor-to-ceiling windows effortlessly light the entire space. You'll feel like a celebrity chef while cooking in the kitchen, even more so entertaining from the outdoor kitchen and living space. The 33,000-gallon quarried limestone pool is perfect for those hot Hill Country summers!
This listing is held by
Nicole Kessler.
Sample some spirits
When: 11:30 a.m. Friday, Saturday and Sunday
Where: Desert Door, 211 Darden Hill Rd. Driftwood
What: Attend Desert Door Distillery's first Explorer Series of 2022. Guests will be able to sample Caliber on its own or in a delicious cocktail.

Eat some chili
When: 12 p.m. Saturday
Where: Sagebrush, 5500 S. Congress Ave.
What: Enjoy great chili and great music at the 14th Annual Chili Cold Blood Chili Cook-Off. All proceeds will be donated to Health Alliance for Austin Musicians in memory of Nick Curran.

Enjoy some local art
When: 4 p.m. Saturday
Where: Neill-Cochran House Museum, 2310 San Gabriel St.
What: The Neil-Cochran House Museum will host a multi-media art exhibition by Austin artist Nell Gottlieb, titled "Land as Persona: An Artist's Journey." Gottlieb works in multiple media to reexamine her coming of age, white and female in the Jim Crow South.

Catch some improv comedy
When: 7 p.m. Sunday
Where: GameOn! ATX, 1515 Dungan Ln.
What: ColdTowne ThrowDowne is an improv comedy tournament between troupes that will take place in front of a live studio audience and streamed live to the world on Twitch.

Catch a Johnny Cash-style show
When: 7:30 p.m. Sunday
Where: Georgetown Palace Theatre, 810 S. Austin Ave.
What: Experience music history with a unique musical about love and faith, struggle and success, rowdiness and redemption, and the healing power of home and family set to the tune of the legendary Johnny Cash.