Get connected with our daily update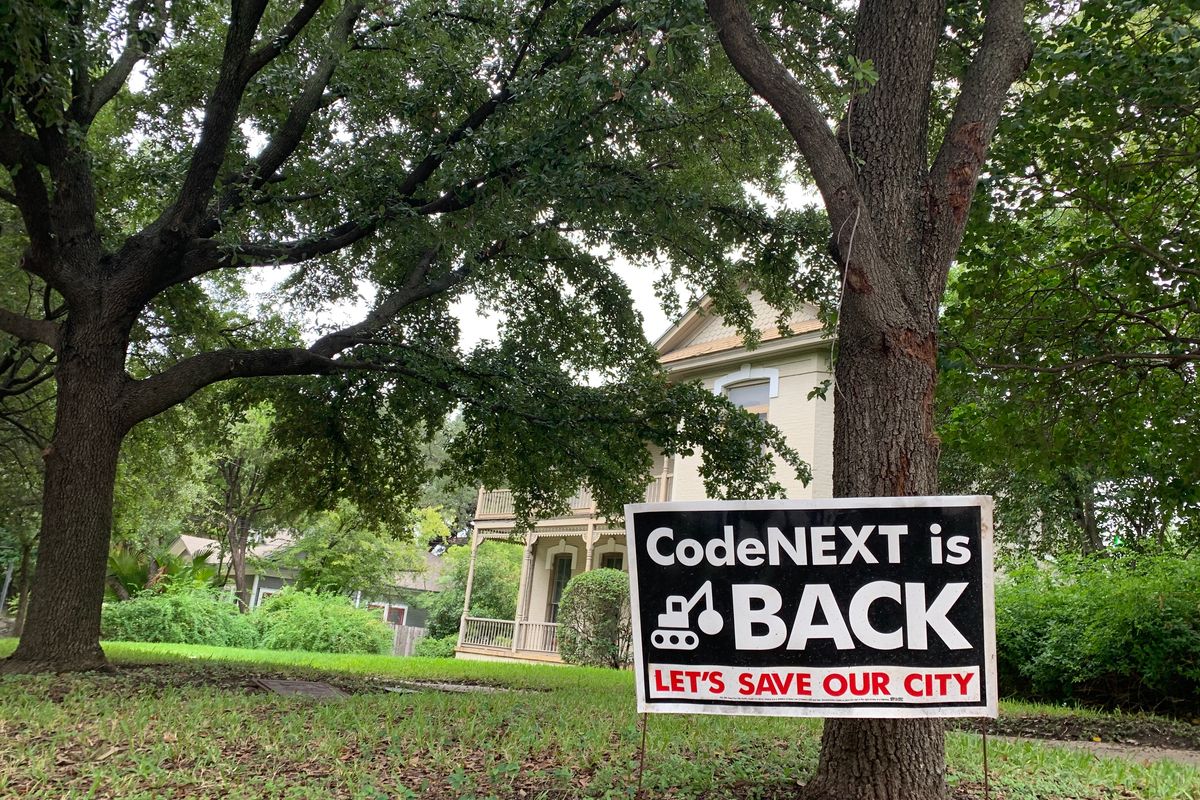 (Emma Freer)
Before the pandemic, it looked like the city of Austin was finally on track to approve a new land use code—after nearly a decade-long process that had cost more than $10 million and was mired in controversy.
The code would determine how land can be used throughout the city, including what can be built, where it can be built and how much of it can be built. The code was last rewritten in the mid-1980s.
---
"Modernizing it is important," said Annick Beaudet, assistant director of the city's Transportation Department and co-leader of the rewrite process. "If you drive around in a 1970s car, you're really polluting, right? … We know more now than we did in the '80s, and we should be using that knowledge to regulate the built environment."
The city first initiated a rewrite process—later dubbed CodeNEXT—in 2012, with the aim of streamlining the code and allowing for denser and more affordable housing given the city's population growth. Other fast-growing cities, such as Charlotte and Minneapolis, are attempting to do the same.
But in August 2018 Mayor Steve Adler scrapped the effort, which he wrote had become "divisive and poisoned," and asked the city manager to create a new process.
The second attempt at a rewrite began in 2019, and in February of this year City Council voted 7-4, along urbanist vs. preservationist lines, to approve an updated draft, with aims to reach a consensus on a third and final version later in the spring.
The pandemic arrived in March, however, and that same month a Travis County judge ruled against the city in a lawsuit over its efforts to rewrite the code, further stalling the process. This November, 20 candidates will vie for five council seats, with many making their support for or opposition to the code rewrite a central plank of their campaign platform.
Despite the abandonment of CodeNEXT, divisiveness still surrounds the issue of rezoning. Multiple community groups organized in opposition to the rewrite, which their members claim is exclusive, panders to developers and will destroy neighborhoods. Supporters, on the other hand, argue that single-family zoning stands in the way of a more equitable, sustainable Austin, at best, and is racist and classist, at worst.
Still, those on both sides of the debate believe a compromise—in the form of a code that balances increased density with preserving single-family neighborhoods—is attainable.
Fred Lewis is president of Community Not Commodity, the group that brought the lawsuit against the city. "I think [a new code is] absolutely possible," he said.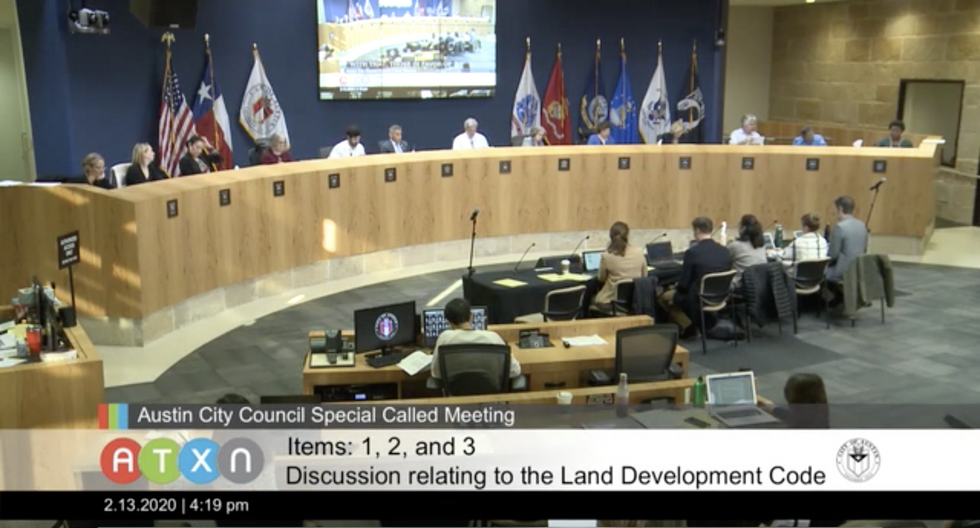 Austin City Council voted 7-4 to approve a draft of the land use code rewrite on second reading on Feb. 13. (City of Austin)
The opponents
Critics of CodeNEXT include CNC and other community organizations, such as the recently formed Voices of Austin, as well as residents with "CodeNEXT wrecks Austin" signs in their front yards. They say the process has been bungled.
"From day one, Austin has followed the wrong course in how they have done this, and it's really unfortunate," said Jim Duncan, vice chair of the city's zoning commission and a member of CNC's board of directors.
Their grievances are myriad.
The current draft is longer than the original code, even though a stated aim was to streamline zoning requirements. Duncan called it "the least user-friendly document I've ever seen in my life."
The process of arriving at this longer version has also been "subservient to special interests," Duncan argued, and would benefit developers, who he said stand to make more money on multi-family projects than on single-family homes.
Opponents also dispute council members and planners' claim that increased housing stock in denser formations will help relieve Austin's affordability crisis. This is akin to "trickle-down housing theory," Lewis said.
Peck Young, executive director of Voices of Austin and a long-time Democrat consultant, put it in starker terms: "Nobody in the real estate industry wants to build a goddamn affordable house," he said. "You can't make any money."
VoA was formed, in part, because its founders felt City Hall had left homeowners and neighborhood associations out of the rewrite process. "It says the average Austinite pays the bills but they don't have a right to an opinion," Young said.
This perceived dismissiveness toward homeowners is grating for the rewrite's opponents.
"Don't they understand that people's homes and neighborhoods matter to them?" Lewis asked. "They act like, 'So what?'"
#Austin City Law Department & #ATXcouncil (7 of the 11) like to spend 💲💲💲and time in courtrooms instead of doing Th… https://t.co/pdNwZMXZFL

— CodeNO (@CodeNO) 1599530653.0
Protecting these interests is at the core of CNC's lawsuit against the city, which accuses the city of denying homeowners' the right to receive notice of and appeal changes to the zoning of their property.

"Nobody should be told they have to live next to triplexes or tenements," Young said.
The supporters
Proponents of the rewrite include the local urbanist organization AURA; industry groups such as the Austin Board of Realtors, Austin Chamber, Real Estate Council of Austin; and, arguably, a majority of local voters who, in the 2018 midterm elections, re-elected Austin Mayor Steve Adler over a preservationist opponent and narrowly defeated an anti-CodeNEXT proposition.
They argue that a new code is necessary to increase the city's limited housing stock, adapt to a rapidly growing population and prevent the continued development of extra-large single-family homes where multi-family properties could be built to serve more residents.
Jeni Williams, ABoR's deputy director of government affairs, said the current code has exacerbated the city's housing inventory crisis. "It has made development of new housing extremely difficult," she said.
Williams and ABoR advocate for a code that balances increased density with the preservation of Austin's single-family neighborhoods. The most recent draft, she said, "definitely made a lot of progress" toward this goal.
But not every supporter feels this way.
Jake Wegmann, an assistant professor at the University of Texas at Austin School of Architecture, said single-family zoning that excludes other forms of housing is outdated and "abhorrent."
"You'll hear the same thing over and over again," he told Austonia. "'When I bought my house, I was buying into a neighborhood, and I basically have the right to expect my neighborhood wouldn't change.'"
But Austin has changed. Since 1984, the city's population has more than doubled. In August, the median home price was $423,000, up more than 11% year-over-year despite the pandemic.
A "be afraid, CodeNEXT is Back" sign in Travis Heights. Any irony it stands in front of a $2,438,248* single famil… https://t.co/osYNNrSYQp

— Greg Anderson (@Greg Anderson) 1596302725.0
On top of that, Wegmann disputes opponents' claims that a rewrite would adversely affect the neighborhood character that some homeowners seek to protect or disproportionately benefit developers.

"How is it preserving neighborhood character to replace a small, old, rundown house with [a] very large, very expensive, brand-new house that no one earning under $200,000 can ever dream of affording?" he asked.
Opponents often identify as David against "the big bad developer" Goliath, Wegmann said, but in his eyes the reverse is true.
"I'm not going to say that developers don't have lots of influence at City Hall," he said. "But by and large in terms of defending single-family zoning specifically, the homeowners have been very successful in doing that."
Fayez Kazi recently resigned as vice-chair of the city's planning commission. In his announcement, he lamented the limitations of the current code and the "constant bad-faith attacks from the likes of Fred Lewis" directed at those in favor of a rewrite. "If we continue to poison the well of civic discourse in Austin, we'll pay a big price for it long-term," he said.
Map of proposed transition areas .pdf
At loggerheads
The city's planners have worked to balance the preservationist and urbanist viewpoints, Beaudet said. Before the lawsuit halted work on a third draft, her team was updating their proposal to implement transition zones—areas along corridors and in the urban core earmarked for increased density—based on concerns that they would encroach into residential neighborhoods.
"We did listen to the community," she said. "We did propose changes. But we never got that opportunity between second and third reading to discuss those and see how the mayor and council felt about them."
Want to read more stories like this one? Start every day with a quick look at what's happening in Austin. Sign up for Austonia.com's free daily morning email.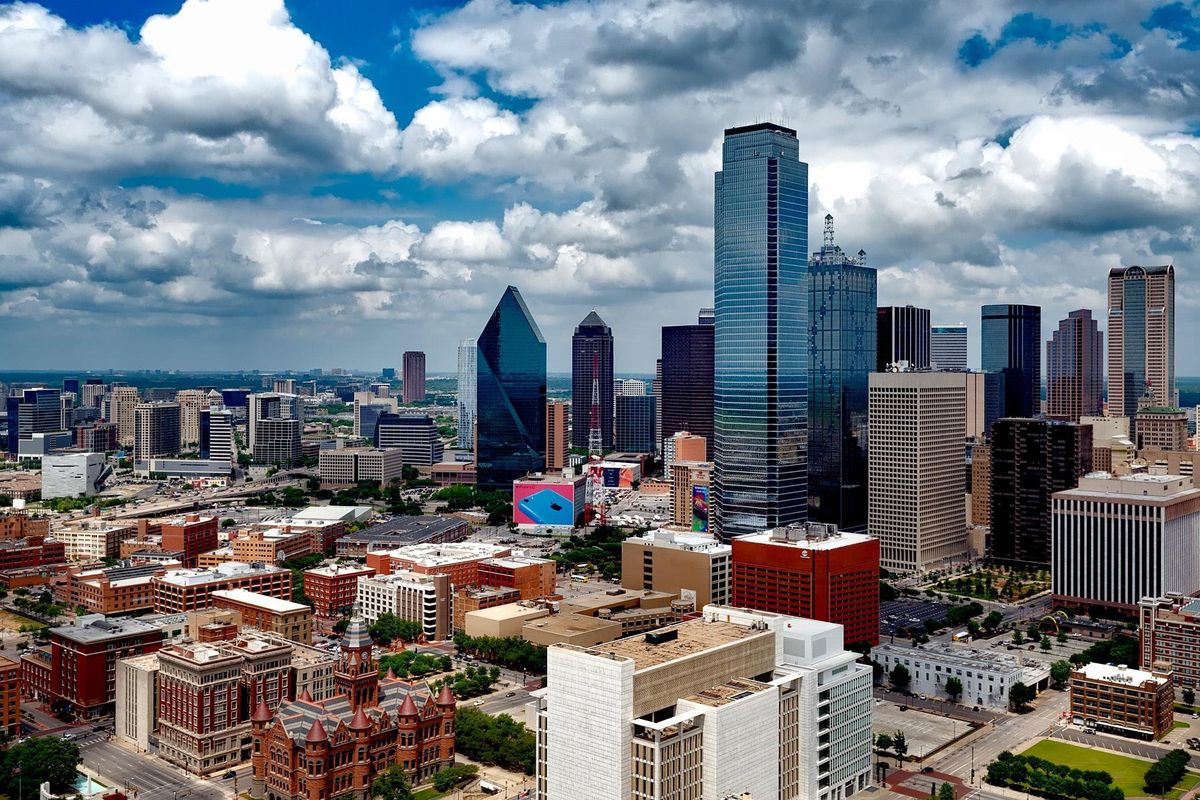 If you are a committed, grunge-wearing resident of the Pacific Northwest, it is easy–almost automatic–to look at Texas as an extraordinarily dry, hot and culturally oppressive place that is better to avoid, especially in the summer. Our two granddaughters live with their parents in Portland.
Recently we decided to take the older girl, who is 15, to Dallas. Setting aside the summer heat, a Portlander can adjust to the vibes of Austin without effort. So let's take Texas with all of its excesses straight up. Dallas, here we come.
Our 15-year-old granddaughter and her sister, 12, have spent summer weeks with us, usually separately so that we could better get to know each individually. In visits focused on Austin and Port Aransas, the girls seemed to be developing an affection for Texas.
Houston and Dallas are two great American cities, the 4th and 9th largest, each loaded with cultural treasures, each standing in glittering and starchy contrast to Austin's more louche, T-shirts and shorts ways.
Three hours up I-35, Dallas loomed before us as a set of gray skyscrapers in a filmy haze, accessed only through a concrete mixmaster of freeways, ramps and exits. I drove with false confidence. Be calm, I said to myself, it will all end in 10 minutes under the hotel entrance canopy. And it did.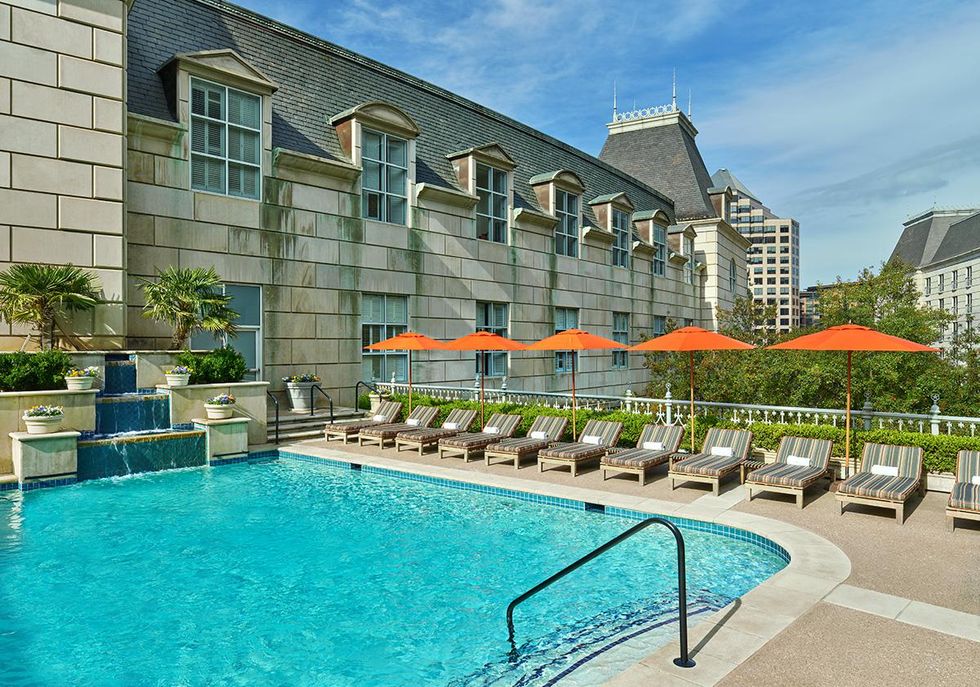 The pool at the Crescent Court Hotel in Dallas. (Crescent Court Hotel)
We stayed three nights at the Crescent Court Hotel ($622 a night for two queens), a high-end hotel in Uptown, patronized by women in white blazers, business people in suits, and tall, lean professional athletes, their shiny Escalades and Corvettes darting in and out, and other celebrities like Bill Barr, the former attorney general who shoe-horned his ample self into a Toyota.
Each morning as I walked to Whole Foods for a cappuccino, a fellow identified by a bellman as Billy the Oilman arrived in his Rolls Royce Phantom. Where does he park? "Wherever he wants to. He likes the Starbucks here."
We garaged our more modest set of wheels for the visit. We were chauffeured for tips by Matt Cooney and Alfonza "The Rev" Scott in the hotel's black Audi sedan. They drove us to museums, restaurants and past the enclaves of the rich and famous. In Highland Park, The Rev pointed out the homes of the Dallas Cowboys' Jerry Jones and Troy Aikman along with the family compound of the Hunts, oil and gas tycoons.
The Dallas Museum of Art's "Cartier and Islam" exhibit (until Sept. 18) attracted an older crowd; the nearby Perot Museum of Nature and Science was a powerful whirlpool of kids' groups ricocheting from the Tyrannosaurus Rex to the oil fracking exhibit. Watch your shins.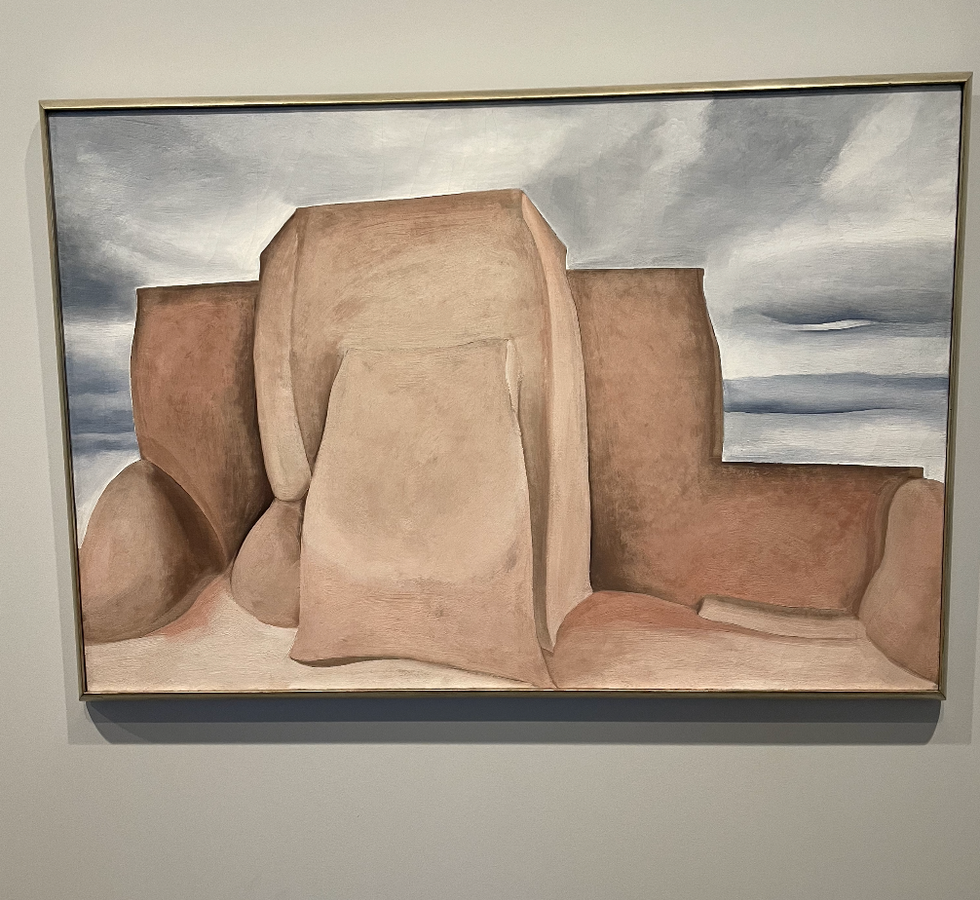 A Geogia O'Keeffe oil painting called "Ranchos Church, New Mexico" at the Amon Carter Museum of Modern Art. (Rich Oppel)
For us, the best museum was the Amon Carter Museum of Modern Art in Fort Worth, a 50-minute, madcap drive away via a 75 mph toll lane along I-30. Don't try it during rush hour. The Carter has an exquisite collection of Remington paintings and sculptures and an excellent array of 19th and 20th-century paintings as well. Pick one museum? The Amon Carter. Peaceful, beautiful, uncrowded, free admission and small enough to manage in two hours.
The Fort Worth Stockyards, a place of history (with a dab of schmaltz), fun and good shopping, filled one of our mornings. The 98 acres brand the city as Cowboy Town, with a rodeo and a twice-daily (11:30 a.m. and 4 p.m.) cattle drive. We shopped for boots, drank coffee and watched the "herd" of 18 longhorns. So languid was their progress that if this were a real market drive the beef would have been very tough and leathery before it hit the steakhouse dinner plate.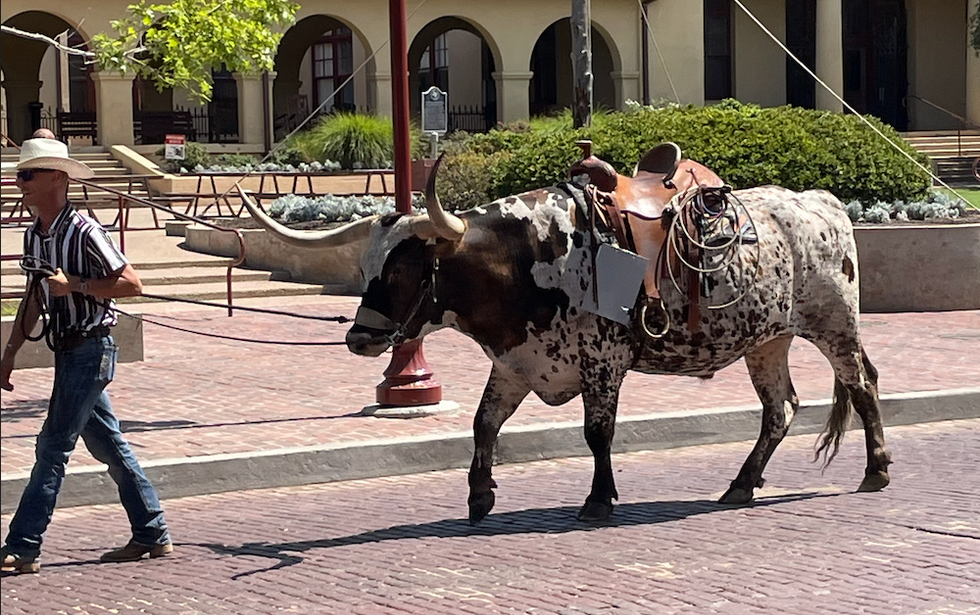 The cattle drive at the Fort Worth Stockyards. (Rich Oppel)
But we could identify: the temperature was 97. "I saw a dog chasing a cat today," said the emcee, deploying a very old joke. "It was so hot that both were walking."
With limited time, we chose three very different restaurants:
Nobu, in the Crescent Court Hotel; Jia, a modern Chinese restaurant in Highland Park; and Joe T. Garcia's in Fort Worth. Nobu's exotic Japanese menu set us back $480, with tip, for four (we had a guest), but it was worth it.
Jia was an ordinary suburban strip mall restaurant, but with good food and a reasonable tab of $110 for four.
Joe T.'s is an 85-year-old Fort Worth institution (think Matt's El Rancho but larger), a fine Mexican restaurant where a meal with two drinks was $115.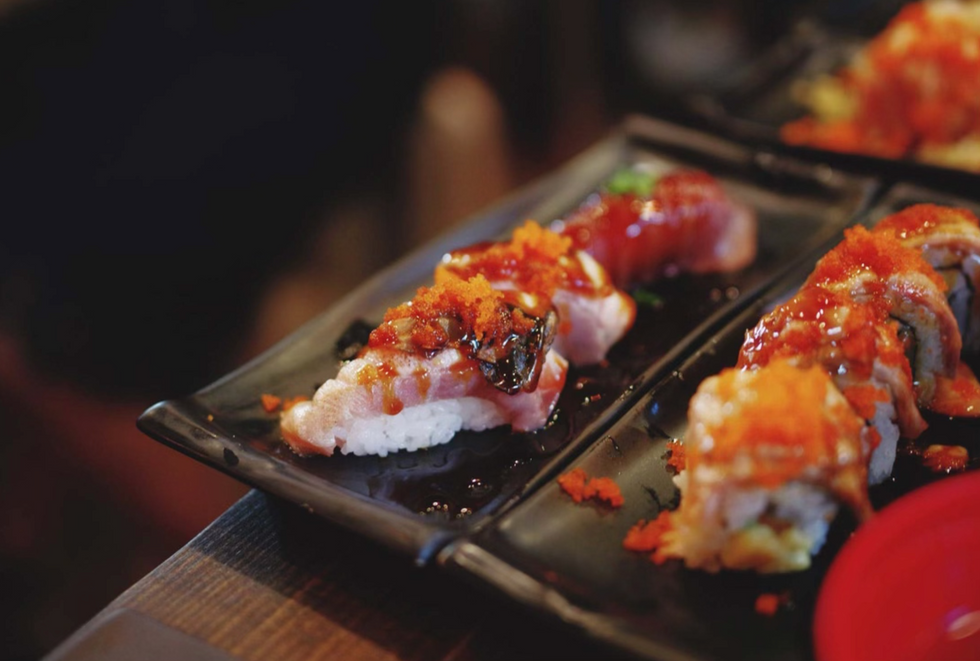 Sushi at high-end restaurant Nobu. (Crescent Hotel)
It was all a splurge for a grandchild's visit. Now we will get back to our ordinary road trips of Hampton Inns, where a room rate is closer to the Crescent Court's overnight parking rate of $52. And to corner cafes in small towns.
Did Dallas change our 15-year-old's view of Texas? "Yes. I think it's a lot cooler than I did. The fashion, the food." So, not only Austin is cool. Take Texas as a whole. It's a big, complex, diverse and wonderful state.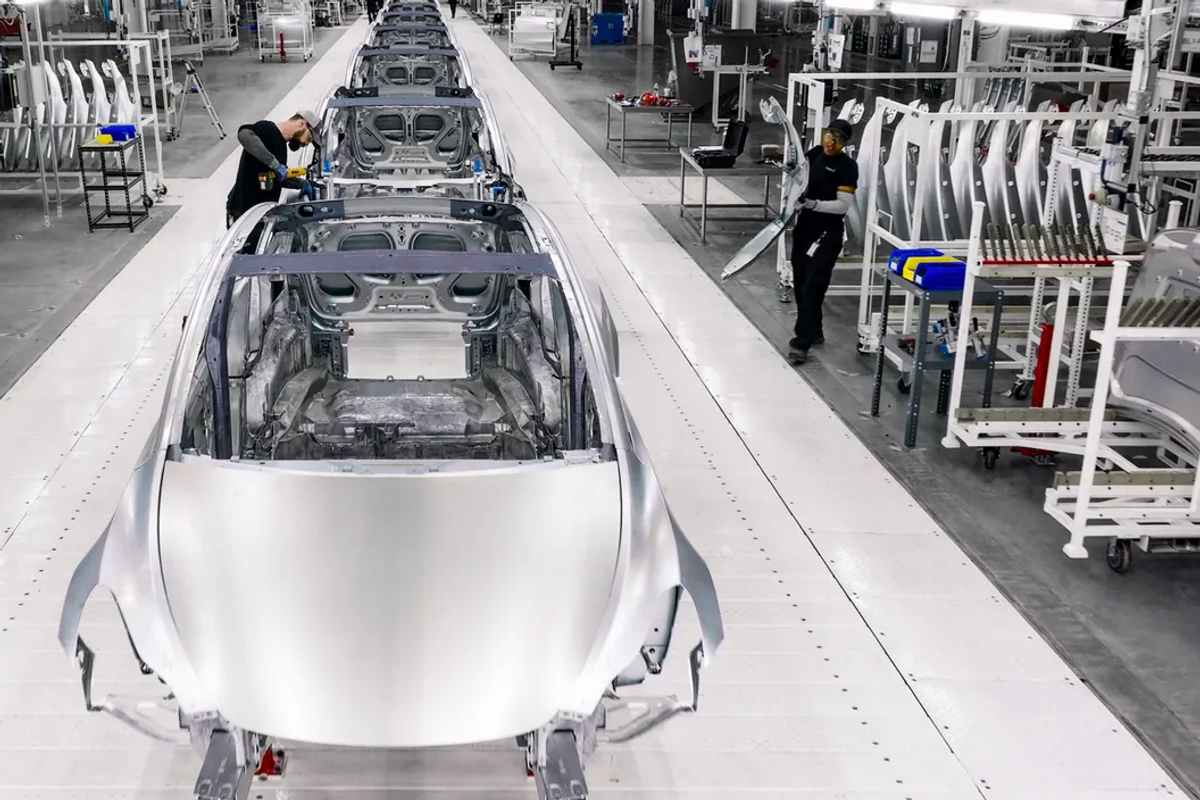 Giga Texas, the massive Tesla factory in southeast Travis County is getting even bigger.
The company filed with the city of Austin this week to expand its headquarters with a new 500,000-square-foot building. The permit application notes "GA 2 and 3 expansion," which indicates the company will make two general assembly lines in the building.
More details about the plans for the building are unclear. The gigafactory has been focused on Model Y production since it opened in April, but the company is also aiming for Cybertruck production to kick off in mid-2023.
While there is room for expansion on the 3.3 square miles of land Tesla has, this move comes after CEO Elon Musk's recent comments about the state of the economy and its impact on Tesla.
In a May interview with Tesla Owners Silicon Valley, Musk said the gigafactories in Berlin and Austin are "gigantic money furnaces" and said Giga Texas had manufactured only a small number of cars.
And in June, Musk sent a company wide email saying Tesla will be reducing salaried headcount by 10%, then later tweeted salaried headcount should be fairly flat.