Get connected with our daily update
(Emma Freer)
Before the pandemic, it looked like the city of Austin was finally on track to approve a new land use code—after nearly a decade-long process that had cost more than $10 million and was mired in controversy.
The code would determine how land can be used throughout the city, including what can be built, where it can be built and how much of it can be built. The code was last rewritten in the mid-1980s.
---
"Modernizing it is important," said Annick Beaudet, assistant director of the city's Transportation Department and co-leader of the rewrite process. "If you drive around in a 1970s car, you're really polluting, right? … We know more now than we did in the '80s, and we should be using that knowledge to regulate the built environment."
The city first initiated a rewrite process—later dubbed CodeNEXT—in 2012, with the aim of streamlining the code and allowing for denser and more affordable housing given the city's population growth. Other fast-growing cities, such as Charlotte and Minneapolis, are attempting to do the same.
But in August 2018 Mayor Steve Adler scrapped the effort, which he wrote had become "divisive and poisoned," and asked the city manager to create a new process.
The second attempt at a rewrite began in 2019, and in February of this year City Council voted 7-4, along urbanist vs. preservationist lines, to approve an updated draft, with aims to reach a consensus on a third and final version later in the spring.
The pandemic arrived in March, however, and that same month a Travis County judge ruled against the city in a lawsuit over its efforts to rewrite the code, further stalling the process. This November, 20 candidates will vie for five council seats, with many making their support for or opposition to the code rewrite a central plank of their campaign platform.
Despite the abandonment of CodeNEXT, divisiveness still surrounds the issue of rezoning. Multiple community groups organized in opposition to the rewrite, which their members claim is exclusive, panders to developers and will destroy neighborhoods. Supporters, on the other hand, argue that single-family zoning stands in the way of a more equitable, sustainable Austin, at best, and is racist and classist, at worst.
Still, those on both sides of the debate believe a compromise—in the form of a code that balances increased density with preserving single-family neighborhoods—is attainable.
Fred Lewis is president of Community Not Commodity, the group that brought the lawsuit against the city. "I think [a new code is] absolutely possible," he said.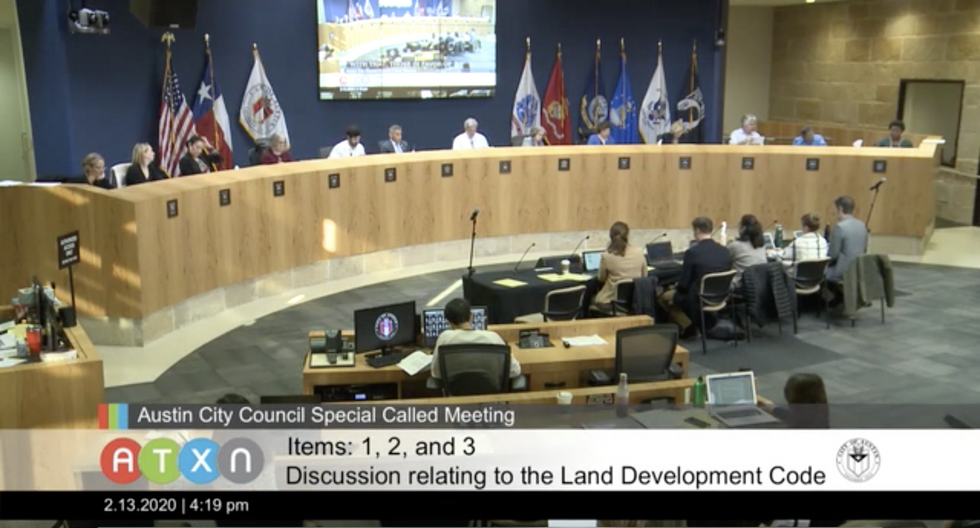 Austin City Council voted 7-4 to approve a draft of the land use code rewrite on second reading on Feb. 13. (City of Austin)
The opponents
Critics of CodeNEXT include CNC and other community organizations, such as the recently formed Voices of Austin, as well as residents with "CodeNEXT wrecks Austin" signs in their front yards. They say the process has been bungled.
"From day one, Austin has followed the wrong course in how they have done this, and it's really unfortunate," said Jim Duncan, vice chair of the city's zoning commission and a member of CNC's board of directors.
Their grievances are myriad.
The current draft is longer than the original code, even though a stated aim was to streamline zoning requirements. Duncan called it "the least user-friendly document I've ever seen in my life."
The process of arriving at this longer version has also been "subservient to special interests," Duncan argued, and would benefit developers, who he said stand to make more money on multi-family projects than on single-family homes.
Opponents also dispute council members and planners' claim that increased housing stock in denser formations will help relieve Austin's affordability crisis. This is akin to "trickle-down housing theory," Lewis said.
Peck Young, executive director of Voices of Austin and a long-time Democrat consultant, put it in starker terms: "Nobody in the real estate industry wants to build a goddamn affordable house," he said. "You can't make any money."
VoA was formed, in part, because its founders felt City Hall had left homeowners and neighborhood associations out of the rewrite process. "It says the average Austinite pays the bills but they don't have a right to an opinion," Young said.
This perceived dismissiveness toward homeowners is grating for the rewrite's opponents.
"Don't they understand that people's homes and neighborhoods matter to them?" Lewis asked. "They act like, 'So what?'"
#Austin City Law Department & #ATXcouncil (7 of the 11) like to spend 💲💲💲and time in courtrooms instead of doing Th… https://t.co/pdNwZMXZFL

— CodeNO (@CodeNO) 1599530653.0
Protecting these interests is at the core of CNC's lawsuit against the city, which accuses the city of denying homeowners' the right to receive notice of and appeal changes to the zoning of their property.

"Nobody should be told they have to live next to triplexes or tenements," Young said.
The supporters
Proponents of the rewrite include the local urbanist organization AURA; industry groups such as the Austin Board of Realtors, Austin Chamber, Real Estate Council of Austin; and, arguably, a majority of local voters who, in the 2018 midterm elections, re-elected Austin Mayor Steve Adler over a preservationist opponent and narrowly defeated an anti-CodeNEXT proposition.
They argue that a new code is necessary to increase the city's limited housing stock, adapt to a rapidly growing population and prevent the continued development of extra-large single-family homes where multi-family properties could be built to serve more residents.
Jeni Williams, ABoR's deputy director of government affairs, said the current code has exacerbated the city's housing inventory crisis. "It has made development of new housing extremely difficult," she said.
Williams and ABoR advocate for a code that balances increased density with the preservation of Austin's single-family neighborhoods. The most recent draft, she said, "definitely made a lot of progress" toward this goal.
But not every supporter feels this way.
Jake Wegmann, an assistant professor at the University of Texas at Austin School of Architecture, said single-family zoning that excludes other forms of housing is outdated and "abhorrent."
"You'll hear the same thing over and over again," he told Austonia. "'When I bought my house, I was buying into a neighborhood, and I basically have the right to expect my neighborhood wouldn't change.'"
But Austin has changed. Since 1984, the city's population has more than doubled. In August, the median home price was $423,000, up more than 11% year-over-year despite the pandemic.
A "be afraid, CodeNEXT is Back" sign in Travis Heights. Any irony it stands in front of a $2,438,248* single famil… https://t.co/osYNNrSYQp

— Greg Anderson (@Greg Anderson) 1596302725.0
On top of that, Wegmann disputes opponents' claims that a rewrite would adversely affect the neighborhood character that some homeowners seek to protect or disproportionately benefit developers.

"How is it preserving neighborhood character to replace a small, old, rundown house with [a] very large, very expensive, brand-new house that no one earning under $200,000 can ever dream of affording?" he asked.
Opponents often identify as David against "the big bad developer" Goliath, Wegmann said, but in his eyes the reverse is true.
"I'm not going to say that developers don't have lots of influence at City Hall," he said. "But by and large in terms of defending single-family zoning specifically, the homeowners have been very successful in doing that."
Fayez Kazi recently resigned as vice-chair of the city's planning commission. In his announcement, he lamented the limitations of the current code and the "constant bad-faith attacks from the likes of Fred Lewis" directed at those in favor of a rewrite. "If we continue to poison the well of civic discourse in Austin, we'll pay a big price for it long-term," he said.
Map of proposed transition areas .pdf
At loggerheads
The city's planners have worked to balance the preservationist and urbanist viewpoints, Beaudet said. Before the lawsuit halted work on a third draft, her team was updating their proposal to implement transition zones—areas along corridors and in the urban core earmarked for increased density—based on concerns that they would encroach into residential neighborhoods.
"We did listen to the community," she said. "We did propose changes. But we never got that opportunity between second and third reading to discuss those and see how the mayor and council felt about them."
Want to read more stories like this one? Start every day with a quick look at what's happening in Austin. Sign up for Austonia.com's free daily morning email.
Whether you became a home chef when the pandemic began or have always enjoyed crafting delicious meals, it's undeniable that no home is complete without a cozy kitchen.
Not only do these luxurious homes have enviable amenities like natural light, sky-high ceilings and land to grow into, they also boast extraordinary kitchens. These are not your mom's kitchens—we're talking wine fridges, Miele appliances and wet bars.
Take a peek at these five gems on the market now.
In the South Austin Parten community, this castle-like four-bedroom, three-and-a-half bathroom stunner puts you just minutes from Austin, Dripping Springs and other nearby communities. Stark white and black contrasting features give the interiors a clean look, while a large curving staircase serves as a centerpiece for the ground floor. The chef's kitchen is spacious, facing the living room and multiple windows, and immediately draws the eye. Upstairs you'll find a spa-style bathroom, game room with a wet bar and Hill Country Views.
This listing is held by
Adam Zell and Lexie Zell.
This hyper-modern, 3,300-square-foot Scandinavian-styled home is a paradise for natural light in Hyde Park. With four bedrooms and three-and-a-half bathrooms spread across one story, the home rests on concrete columns to protect from extreme climate conditions. Inside, you'll find crisp, clean trim in the open-plan kitchen with built-in luxury appliances and a walk-in pantry. Lofty 12-foot ceilings and gigantic windows set the tone, with a wet bar and second living room for entertaining. When you retire to the master bedroom, enjoy a warm bath in the soaking tub or enjoy the multi-output shower.
This listing is held by Austin Stowell.
In the heart of Westlake, this stacked three-story new build is a sprawling 4,483 square feet with five bedrooms and four-and-a-half bathrooms. The home is centrally located and full of natural light, especially on the open concept first floor, which includes the kitchen, casual dining space and living area. The third floor has a bedroom and loft, perfect for the at-home worker.
This listing is held by Jen Templeton and Cheryl Albanese.
This 3,539 square foot, three-bedroom, three-and-a-half bathroom Tarrytown townhouse is newly remodeled but still holds on to its vintage charm. Bright white cabinets, a green accented island and quartzite countertops in the kitchen give the space a cheery feeling. Entering on the second floor, you'll have to walk downstairs to get to the bedrooms, which include ensuite baths and walk-in showers. The third level bonus room is the perfect place for an at-home office.
This listing is held by
Cindy Fowler
.
​Just outside Austin in the sleepy town of Wimberley, the Backbone Ridge Ranch is one of the city's most "iconic and pristine" properties. On nearly 50 acres of land, the house takes you into nature without getting too far from nearby cities. With 4,369 square feet, six bedrooms and six-and-a-half bathrooms, floor-to-ceiling windows effortlessly light the entire space. You'll feel like a celebrity chef while cooking in the kitchen, even more so entertaining from the outdoor kitchen and living space. The 33,000-gallon quarried limestone pool is perfect for those hot Hill Country summers!
This listing is held by
Nicole Kessler.
Sample some spirits
When: 11:30 a.m. Friday, Saturday and Sunday
Where: Desert Door, 211 Darden Hill Rd. Driftwood
What: Attend Desert Door Distillery's first Explorer Series of 2022. Guests will be able to sample Caliber on its own or in a delicious cocktail.

Eat some chili
When: 12 p.m. Saturday
Where: Sagebrush, 5500 S. Congress Ave.
What: Enjoy great chili and great music at the 14th Annual Chili Cold Blood Chili Cook-Off. All proceeds will be donated to Health Alliance for Austin Musicians in memory of Nick Curran.

Enjoy some local art
When: 4 p.m. Saturday
Where: Neill-Cochran House Museum, 2310 San Gabriel St.
What: The Neil-Cochran House Museum will host a multi-media art exhibition by Austin artist Nell Gottlieb, titled "Land as Persona: An Artist's Journey." Gottlieb works in multiple media to reexamine her coming of age, white and female in the Jim Crow South.

Catch some improv comedy
When: 7 p.m. Sunday
Where: GameOn! ATX, 1515 Dungan Ln.
What: ColdTowne ThrowDowne is an improv comedy tournament between troupes that will take place in front of a live studio audience and streamed live to the world on Twitch.

Catch a Johnny Cash-style show
When: 7:30 p.m. Sunday
Where: Georgetown Palace Theatre, 810 S. Austin Ave.
What: Experience music history with a unique musical about love and faith, struggle and success, rowdiness and redemption, and the healing power of home and family set to the tune of the legendary Johnny Cash.