Get connected with our daily update
(Emma Freer)
Before the pandemic, it looked like the city of Austin was finally on track to approve a new land use code—after nearly a decade-long process that had cost more than $10 million and was mired in controversy.
The code would determine how land can be used throughout the city, including what can be built, where it can be built and how much of it can be built. The code was last rewritten in the mid-1980s.
---
"Modernizing it is important," said Annick Beaudet, assistant director of the city's Transportation Department and co-leader of the rewrite process. "If you drive around in a 1970s car, you're really polluting, right? … We know more now than we did in the '80s, and we should be using that knowledge to regulate the built environment."
The city first initiated a rewrite process—later dubbed CodeNEXT—in 2012, with the aim of streamlining the code and allowing for denser and more affordable housing given the city's population growth. Other fast-growing cities, such as Charlotte and Minneapolis, are attempting to do the same.
But in August 2018 Mayor Steve Adler scrapped the effort, which he wrote had become "divisive and poisoned," and asked the city manager to create a new process.
The second attempt at a rewrite began in 2019, and in February of this year City Council voted 7-4, along urbanist vs. preservationist lines, to approve an updated draft, with aims to reach a consensus on a third and final version later in the spring.
The pandemic arrived in March, however, and that same month a Travis County judge ruled against the city in a lawsuit over its efforts to rewrite the code, further stalling the process. This November, 20 candidates will vie for five council seats, with many making their support for or opposition to the code rewrite a central plank of their campaign platform.
Despite the abandonment of CodeNEXT, divisiveness still surrounds the issue of rezoning. Multiple community groups organized in opposition to the rewrite, which their members claim is exclusive, panders to developers and will destroy neighborhoods. Supporters, on the other hand, argue that single-family zoning stands in the way of a more equitable, sustainable Austin, at best, and is racist and classist, at worst.
Still, those on both sides of the debate believe a compromise—in the form of a code that balances increased density with preserving single-family neighborhoods—is attainable.
Fred Lewis is president of Community Not Commodity, the group that brought the lawsuit against the city. "I think [a new code is] absolutely possible," he said.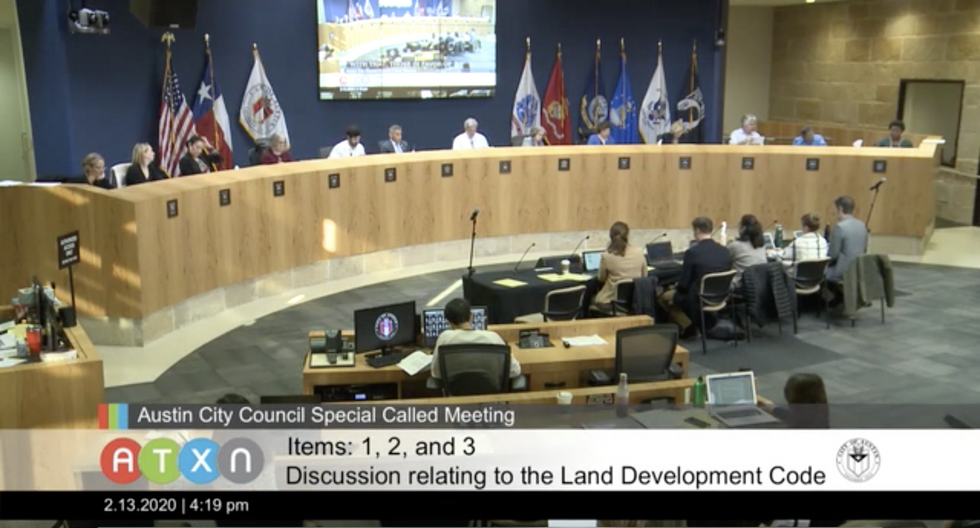 Austin City Council voted 7-4 to approve a draft of the land use code rewrite on second reading on Feb. 13. (City of Austin)
The opponents
Critics of CodeNEXT include CNC and other community organizations, such as the recently formed Voices of Austin, as well as residents with "CodeNEXT wrecks Austin" signs in their front yards. They say the process has been bungled.
"From day one, Austin has followed the wrong course in how they have done this, and it's really unfortunate," said Jim Duncan, vice chair of the city's zoning commission and a member of CNC's board of directors.
Their grievances are myriad.
The current draft is longer than the original code, even though a stated aim was to streamline zoning requirements. Duncan called it "the least user-friendly document I've ever seen in my life."
The process of arriving at this longer version has also been "subservient to special interests," Duncan argued, and would benefit developers, who he said stand to make more money on multi-family projects than on single-family homes.
Opponents also dispute council members and planners' claim that increased housing stock in denser formations will help relieve Austin's affordability crisis. This is akin to "trickle-down housing theory," Lewis said.
Peck Young, executive director of Voices of Austin and a long-time Democrat consultant, put it in starker terms: "Nobody in the real estate industry wants to build a goddamn affordable house," he said. "You can't make any money."
VoA was formed, in part, because its founders felt City Hall had left homeowners and neighborhood associations out of the rewrite process. "It says the average Austinite pays the bills but they don't have a right to an opinion," Young said.
This perceived dismissiveness toward homeowners is grating for the rewrite's opponents.
"Don't they understand that people's homes and neighborhoods matter to them?" Lewis asked. "They act like, 'So what?'"
#Austin City Law Department & #ATXcouncil (7 of the 11) like to spend 💲💲💲and time in courtrooms instead of doing Th… https://t.co/pdNwZMXZFL

— CodeNO (@CodeNO)1599530653.0
Protecting these interests is at the core of CNC's lawsuit against the city, which accuses the city of denying homeowners' the right to receive notice of and appeal changes to the zoning of their property.

"Nobody should be told they have to live next to triplexes or tenements," Young said.
The supporters
Proponents of the rewrite include the local urbanist organization AURA; industry groups such as the Austin Board of Realtors, Austin Chamber, Real Estate Council of Austin; and, arguably, a majority of local voters who, in the 2018 midterm elections, re-elected Austin Mayor Steve Adler over a preservationist opponent and narrowly defeated an anti-CodeNEXT proposition.
They argue that a new code is necessary to increase the city's limited housing stock, adapt to a rapidly growing population and prevent the continued development of extra-large single-family homes where multi-family properties could be built to serve more residents.
Jeni Williams, ABoR's deputy director of government affairs, said the current code has exacerbated the city's housing inventory crisis. "It has made development of new housing extremely difficult," she said.
Williams and ABoR advocate for a code that balances increased density with the preservation of Austin's single-family neighborhoods. The most recent draft, she said, "definitely made a lot of progress" toward this goal.
But not every supporter feels this way.
Jake Wegmann, an assistant professor at the University of Texas at Austin School of Architecture, said single-family zoning that excludes other forms of housing is outdated and "abhorrent."
"You'll hear the same thing over and over again," he told Austonia. "'When I bought my house, I was buying into a neighborhood, and I basically have the right to expect my neighborhood wouldn't change.'"
But Austin has changed. Since 1984, the city's population has more than doubled. In August, the median home price was $423,000, up more than 11% year-over-year despite the pandemic.
A "be afraid, CodeNEXT is Back" sign in Travis Heights. Any irony it stands in front of a $2,438,248* single famil… https://t.co/osYNNrSYQp

— Greg Anderson (@Greg Anderson)1596302725.0
On top of that, Wegmann disputes opponents' claims that a rewrite would adversely affect the neighborhood character that some homeowners seek to protect or disproportionately benefit developers.

"How is it preserving neighborhood character to replace a small, old, rundown house with [a] very large, very expensive, brand-new house that no one earning under $200,000 can ever dream of affording?" he asked.
Opponents often identify as David against "the big bad developer" Goliath, Wegmann said, but in his eyes the reverse is true.
"I'm not going to say that developers don't have lots of influence at City Hall," he said. "But by and large in terms of defending single-family zoning specifically, the homeowners have been very successful in doing that."
Fayez Kazi recently resigned as vice-chair of the city's planning commission. In his announcement, he lamented the limitations of the current code and the "constant bad-faith attacks from the likes of Fred Lewis" directed at those in favor of a rewrite. "If we continue to poison the well of civic discourse in Austin, we'll pay a big price for it long-term," he said.
Map of proposed transition areas .pdf
At loggerheads
The city's planners have worked to balance the preservationist and urbanist viewpoints, Beaudet said. Before the lawsuit halted work on a third draft, her team was updating their proposal to implement transition zones—areas along corridors and in the urban core earmarked for increased density—based on concerns that they would encroach into residential neighborhoods.
"We did listen to the community," she said. "We did propose changes. But we never got that opportunity between second and third reading to discuss those and see how the mayor and council felt about them."
Want to read more stories like this one? Start every day with a quick look at what's happening in Austin. Sign up for Austonia.com's free daily morning email.
Expect some whiplash this week, Austinites: with an expected high of 103 degrees, Monday is predicted to be the hottest day of the year, but a midweek cold front is on the way to bring that first glimpse of fall.
Austin-Bergstrom International Airport could see its first 100-degree temperature this year on Monday as temperatures citywide are expected to exceed this year's record of 102 degrees.
After a typical summery Tuesday with highs in the mid-90s, Wednesday will welcome the first signs of fall as a cold front drops lows into the 50s.
Expect more wind and a chance of rain come Tuesday with a 40% chance of scattered storms. The cold front, which should last through Friday, will bring drier, crisper air that could cause fire hazards on Wednesday.
Highs will be in the upper 80s and lows in the 50s and lower 60s for the front's final two mornings.
After months of speculation, a new report says political personality Beto O'Rourke is mulling a run for Texas governor that he will announce later this year.
Sources tell Axios the former congressman is preparing his campaign for the 2022 election, where he will likely vie for the position against incumbent Gov. Greg Abbott. The only other candidate that has announced he will take on Abbott for governor is former Texas GOP Chairman Allen West—no Democrats have announced they are running as of yet.
"No decision has been made," Axios reports David Wysong, O'Rourke's former House chief of staff and a longtime adviser, said. "He has been making and receiving calls with people from all over the state."
A new poll from The Dallas Morning News and University of Texas at Tyler shows O'Rourke is narrowing the gap between himself and Abbott's prospects for governor. In the poll, 37% said they'd vote for O'Rourke over Abbott, while 42% said they'd vote for Abbott.
Abbott has been in the hot seat due to his handling of COVID-19 and the signing of landmark legislation into law, including new abortion and voting rights laws; 54% of poll respondents voted they think the state is headed in the "wrong direction." Still, Texas hasn't had a Democrat as governor since the 90s.
O'Rourke's people-focused approach to the 2018 Senator race, which he lost to Sen. Ted Cruz, gave him a widespread following and many hoped he'd throw his hat into the ring since he said he was considering it earlier this year.
"We hope that he's going to run," Gilberto Hinojosa, the state chair of the Democratic Party, told Axios. "We think he'll be our strongest candidate. We think he can beat Abbott because he's vulnerable."
Austin rapper Jordi Esparza may not have won the 2021 Red Bull Batalla, the world's largest Spanish freestyle rap competition, but for a spirited two rounds, the 22-year old Mexican native looked like he had every right to.
On Saturday evening in Los Angeles, the event itself looked like Cobra Kai meets Star Search with graphics adding a very Batman Beyond aesthetic. Over a dozen rappers hoping to represent the U.S. in the international round of the competition took to the stage with in-your-face jabs at accents, sexual orientation and odors, among other things.
This was Esparza's second rodeo; he had placed third at the 2020 National Finals, automatically securing him a spot this year.
However, things were different this year. He was not nervous about the contest. Unlike in 2020, when he made his Red Bull Batalla debut, the anxiety of the event led him to "feeling so bad."
Affecting a casual calm, the locally-based landscaper said he just felt "so relaxed, so happy" and primarily wanted to "enjoy everything."
Choosing his first-round opponent, Esparza, whose stage name is Jordi, elected to go against LA-based Boss.
Esparza freestyled an attack on his opponent's weight and cholo style of dress.
Boss—bracketing his Latin freestyle with English appeals to the crowd—mocked Jordi's lack of education, made fun of how clean Jordi's shoes looked and suggested that Jordi just came back from a Footlocker.
That first round went to Jordi.
But his next opponent Eckonn would prove to be his undoing.
Eckonn compared Jordi to Hannah Montana, while Jordi soulfully explained that he had learned from the best.
Esparza's verbal dexterity is matched by a rattling rhythm and a game face that is as mawkish as it is mockish. The overall effect is that of an underdog with bite.
Eckonn beat Esparza in that round with the overall championship going to Palm Beach-based rapper Reverse.
However, Esparza was just happy to be there. He recently told Austonia going to the finals again was a dream come true—a pinnacle that he said he won't know how to top.
With his nimble jabs and sneaky prowess, honed from pop culture and the swagger of a young working man hungry to be more, Jordi Esparza is just getting started.