Get connected with our daily update
Valentine's weekend is here and Austin is no stranger to love—it's the type of city where young and old can fall in love and start or continue their stories.
Austonia interviewed Austin couples on their love stories, here's what they had to say.
---
Chiara Tomassini and Matt Graziano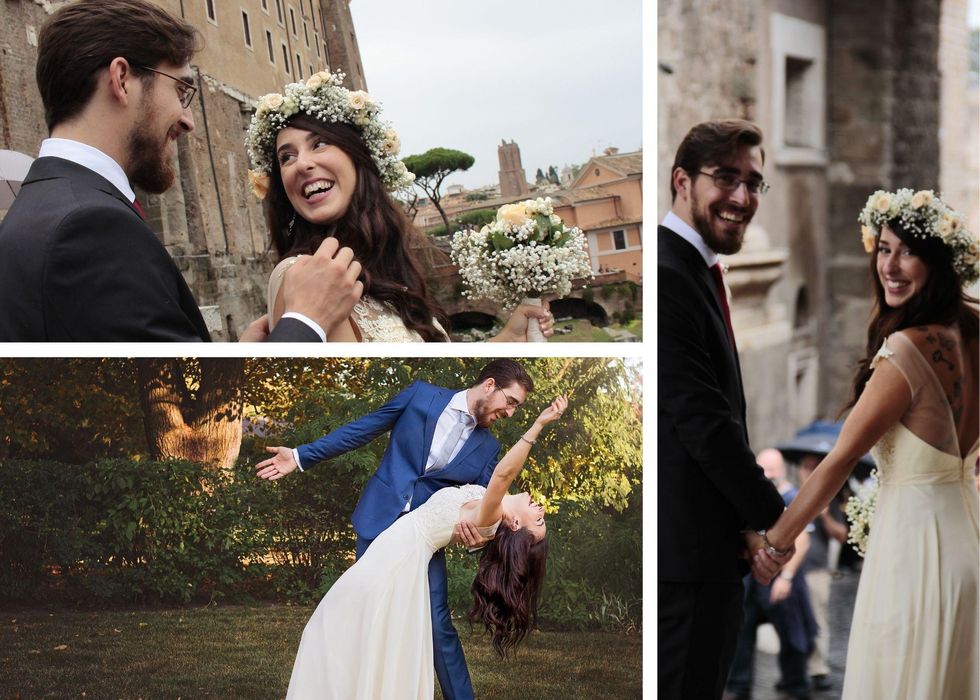 What started as a friendship in the streets of Florence, Italy became a love story worth chasing around the world. Chiara and Matt met in Florence in 2015 while taking a class to get their certification for teaching English abroad. Matt, originally from the Chicago area, was paired up in a group with Chiara, who is originally from Rome.
"I was excited because I was studying Italian, and I have an Italian in my group," Matt said. "It just so happened that she was extremely beautiful and funny and way out of my league."
Besides the chemistry they seemed to have, Matt and Chiara were both in relationships and found it challenging to be around each other. After a month and a half of friendship and getting to know each other better, the pair, being young and in a foreign country said they couldn't resist the chemistry and feelings they had for each other.
It wasn't until the class was over and Matt returned to Chicago that the pair realized how hard it was to be apart. They kept in touch for over three months, messaging on WhatsApp and Skyping most days, until Chiara took the biggest leap and moved to Chicago to be with him.
"We didn't date, we jumped right in," Chiara said. "I was scared. I wasn't expecting dedication and commitment, but he proved me wrong."
Matt, who was determined to show Chiara how serious he was, said he started doing everything possible to step up his game for her, including flossing for the relationship. The couple faced challenges like most, but the biggest struggle was having to travel back and forth from Italy to Chicago every couple of months during the beginning of the relationship. Chiara was not expecting the U.S. to be so different.
"I lived abroad for a year (in London) so I thought I was ready for that experience but I didn't realize how different the U.S. is," Chiara said. "I remember thinking: The U.S. is a beautiful dress, but it's too large for me, it doesn't fit me."
After a year of living back and forth in Chicago and Italy due to Chiara's visa, the couple got married in September 2016 in Rome, with two witnesses and a photographer. In October of 2019, the couple decided to move to Austin due Chiara's "Italian blood" not loving the Chicago cold.
Matt and Chiara, being a young married couple, loved what Austin had to offer: warm weather, cool places and fun times. Since moving, the couple has found that their love wasn't rushed, it was meant to be.
Chiara, who is described by Matt as "extremely caring and thorough, and thorough in her caring," gave birth to their daughter last month. Lily, who was named after the flower in Florence's flag, is the new addition to the love story that the couple have written over the past six years.
"Our love story proves that there are no excuses," Chiara said. "If you really want something, go for it. Jump on a plane. Just chase it, be brave, and it will pay off if you really believe in it."
"When I'm with her, I feel all these crazy feelings, and when I'm not with her, I feel sick. Physically sick," Matt said.
Susan James and Jay Curlee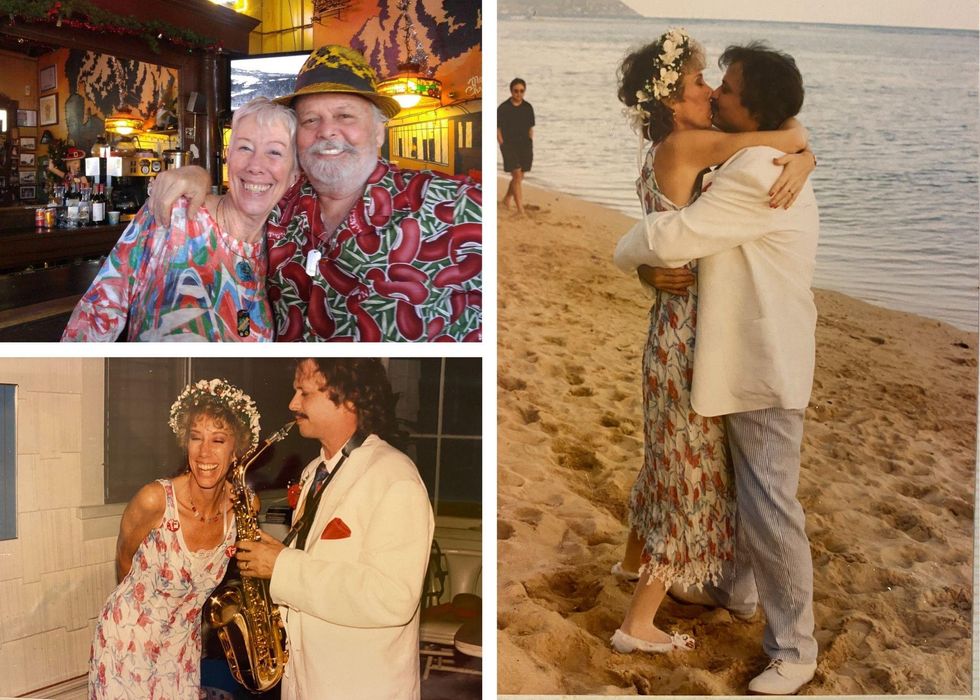 Susan and Jay have the type of story that people only read about. The couple originally met in the early 70's while living in Hawaii. Jay, who grew up in Arizona and is a television and film director, got Susan's attention with his fun sense of humor and adventurous spirit from their very first date.
The couple, quickly enamored with each other, dated and lived together for a couple of years in Hawaii until they faced their biggest enemy: time. Although the chemistry was there, the couple separated for over 16 years, each living on with their lives. Jay, married another woman for 14 years and had two kids while Susan lived with her boyfriend of 12 years.
It wasn't until Jay's divorce that the couple reunited for lunch on June 19, 1992, realized the chemistry was still there, started dating again and have been inseparable ever since. Jay and Susan got married on Feb. 14, 1993 in Kāhala Beach and will be celebrating their 28th wedding anniversary this year.
"I always considered him the love of my life," Susan said.
In 2014, the couple decided to move to Austin where they had many friends from over the years of going on the Delbert McClinton Sandy Beaches music cruise, where Jay spent a lot of time producing films. Jay, who was diagnosed with cancer in early 2020, is still working on his movie projects in Austin while in his loving marriage with fun-spirited Susan.
"If you're smart, funny, interesting and adventurous, I'm in," Jay said. "I'm a lucky guy because I got that."
When asked for what advice they would give to younger couples, Susan jokingly said "wait until you're old!" Although their love story had it's ups and downs over the years, Jay and Susan knew in the end, they would end up together.
Kay and Mike Platis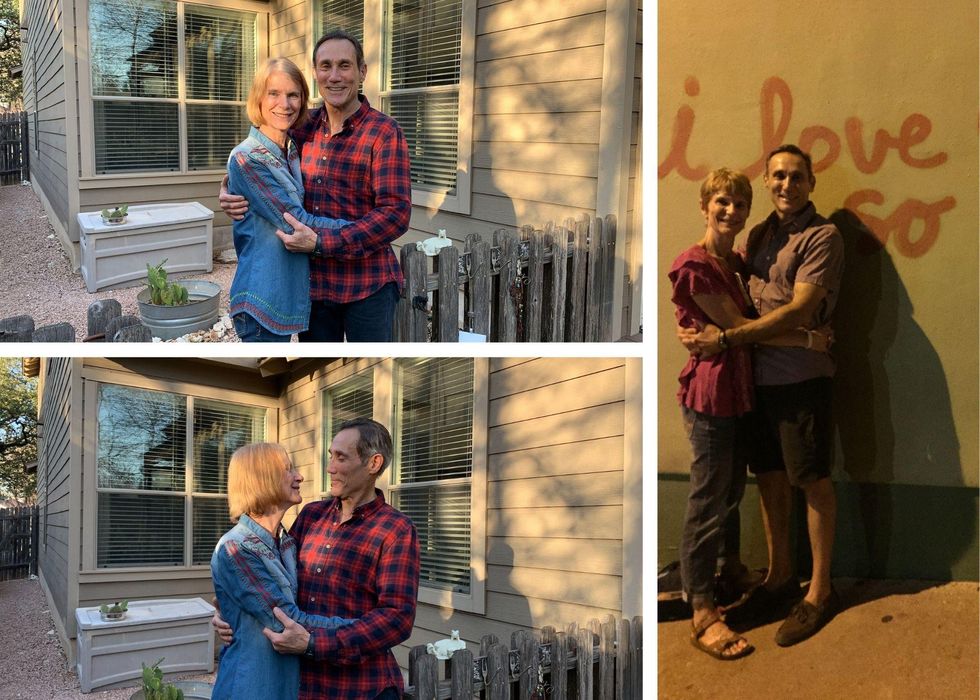 In 1978, a small town girl from Yoakum, Texas met a city boy from Houston at a fourplex in the Hyde Park area. Mike and Kay, who have been married since 1983, were both attending the University of Texas and immediately hit it off as neighbors. "She was the girl next door," Mike said.
The couple had their first date attending a production of Uncle Vanya at the University of Texas and then visiting Mount Bonnell, a classic date spot in Austin. Mike and Kay found themselves inseparable during their last semesters at UT. The only time they spent apart was when Mike would spend summers in Houston working while Kay worked in Austin. Without a lot of money and a new serious relationship ahead, the couple couldn't stay far apart for long.
"We just made it work, we didn't have a ton of money, but we made it work," Kay said.
After graduating and figuring out what kind of future the pair had in store, they stayed in Austin and grew in their relationship while having as much fun as a young couple living in town could.
"We partied a lot. We would go to 6th street, the Broken Spoke, Silver Dollar, Raul's," Mike said. "There were bands everywhere. Austin wasn't the live music capital of the world yet, but the music was here. There was a natural beauty everywhere."
After dating for a couple of years, Mike and Kay got married on May 28, 1983 in Yoakum, with about 600 people in attendance and a live performance from Alvin Crow and the Pleasant Valley Boys. After their wedding, Mike and Kay did what any young married couple would do at the time, they bought a home and worked on building a life together.
"I feel really blessed to have found a mate," Kay said. "Somebody you can live with, somebody you can grow with, somebody you can grow a family with."
The couple, still young-spirited and completely enamored with each other, have two older children and are planning on moving to New Braunfels in 2021, after finally feeling that they have "out-aged" the city. Mike and Kay still find the joy in everyday things and feel lucky to have found each other.
"We are best friends as well as love birds. I think we're lucky, I really feel like we are," Mike said. "I feel lucky all the time."
Emma and Jay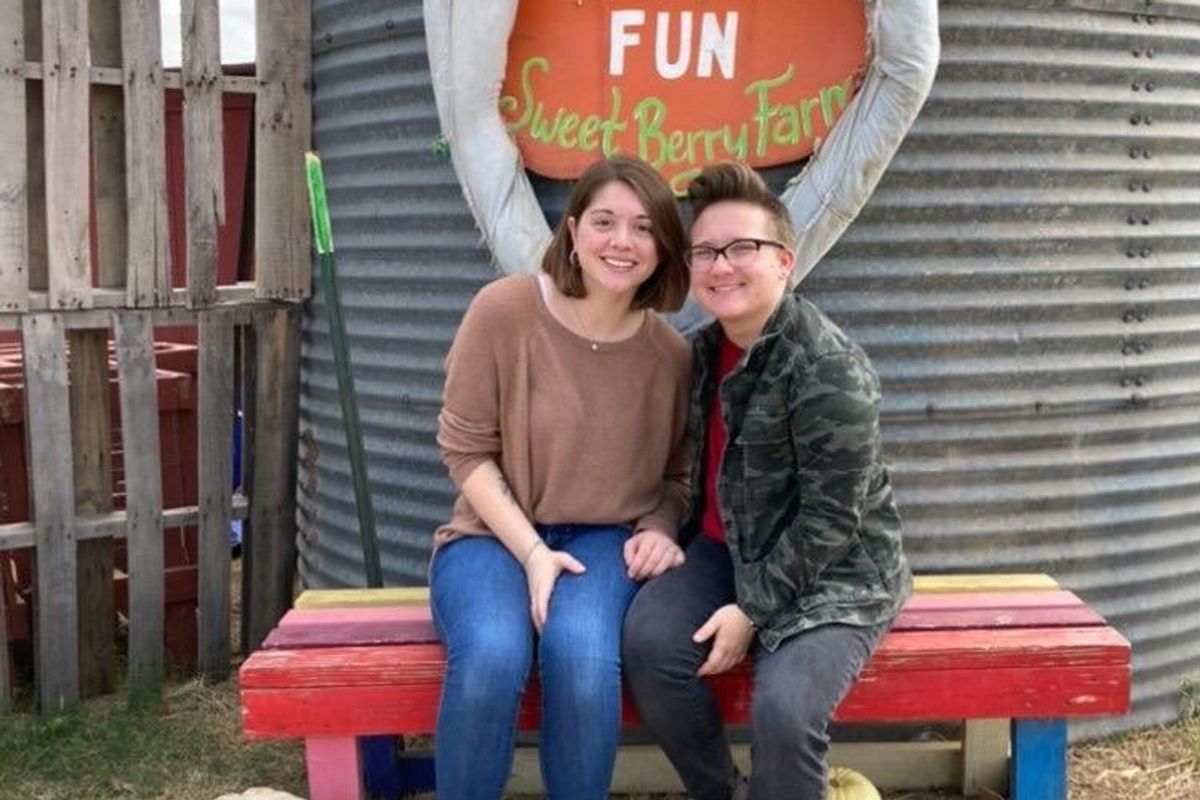 Young love in Austin is around every corner, and newly-engaged couple Emma and Jay prove that it's not about age when you know you've found the right person.

The love birds met in early 2018 through an ex-girlfriend of Jay's and instantly bonded over their love for music, the outdoors, hiking, adventuring, old cars, old records and their life-long aspirations. It wasn't until November of that year that the pair decided to try things out, and they have been on a loving whirlwind ever since.
"Everything clicked with us, it was weird," Jay said. "It was kind of really weird. We were the exact same person about everything."
Jay and Emma not only had chemistry due to their similar personalities, but their adventurous and serious spirit for the future. Jay, who loves spending time with Emma's five younger siblings, the youngest being three years old, said that was an instant connection that brought them closer together.
"The first couple months of our relationship, we would tell each other 'I like you, I like you a lot' because we didn't want to jinx it by saying 'I love you' too fast," Jay said.
The couple have spent the last two years enjoying their time together, attending concerts such as Rex Orange County, Hozier and Austin City Limits music festival while still living in romance by having picnics at the Katherine Fletcher Park downtown.
Jay proposed to Emma in September of 2020, hoping it wasn't too soon but knowing they wanted to be with each other forever.
"I really didn't care how fast it was," Jay said. "We just want to hurry up and get married. Love is great, it's a really cool thing."
Jay and Emma have found that overly communicating, loving each other and going above and beyond for your significant other is the best way to deal with a relationship.
"Ever since I first met him, his strength and his courage in life inspired me," Emma said. "He's helped me grow to be a stronger and better person. To watch him go through his life experiences and be alongside it, I'm learning and watching him become stronger as a person."
The Texas French Bread Bakery, located on 2900 Rio Grande Street, has been completely destroyed after a fire erupted on Monday night.
The Austin Fire Department responded to the fire just before 11 p.m., where they arrived to see flames coming from the roof of the bakery. Firefighters fought the fire for about an hour before the roof collapsed.
While no one was injured in the fire, firefighters say the historic building was completely totaled.
AFD determined that the fire was accidental and caused by mechanical failure. AFD said the damages amounted to $1.6 million total: $1.1 million in structural damage and $500,000 in damage to the contents of the bakery.

This year, Texas French Bread will celebrate 40 years of business. Before the bakery occupied the building, it was the Rome Inn, a music venue that hosted 1970s artists like Stevie Ray Vaughan.
Austin's first major league team is ready to extend its reach with a new collaborative sports complex The Pitch, an Austin FC destination packed with local food, beverages and Verde fervor is set to open in Northeast Austin in February.
The Pitch, a collaboration between Austin FC and Karlin Real Estate, among other entities, will be located in the 50-acre Parmer Pond District, which already hosts the club's practice facility St. David's Performance Center.
Dubbed a "true destination" for both soccer fans and the community, The Pitch will consist of multilevel shipping containers designed by Mark Odom Studio that will carve out into a 1,200-seat stadium complete with a soccer pitch made of turf, food and beverage options and a five-acre "Parmer Pond" featuring jogging trails.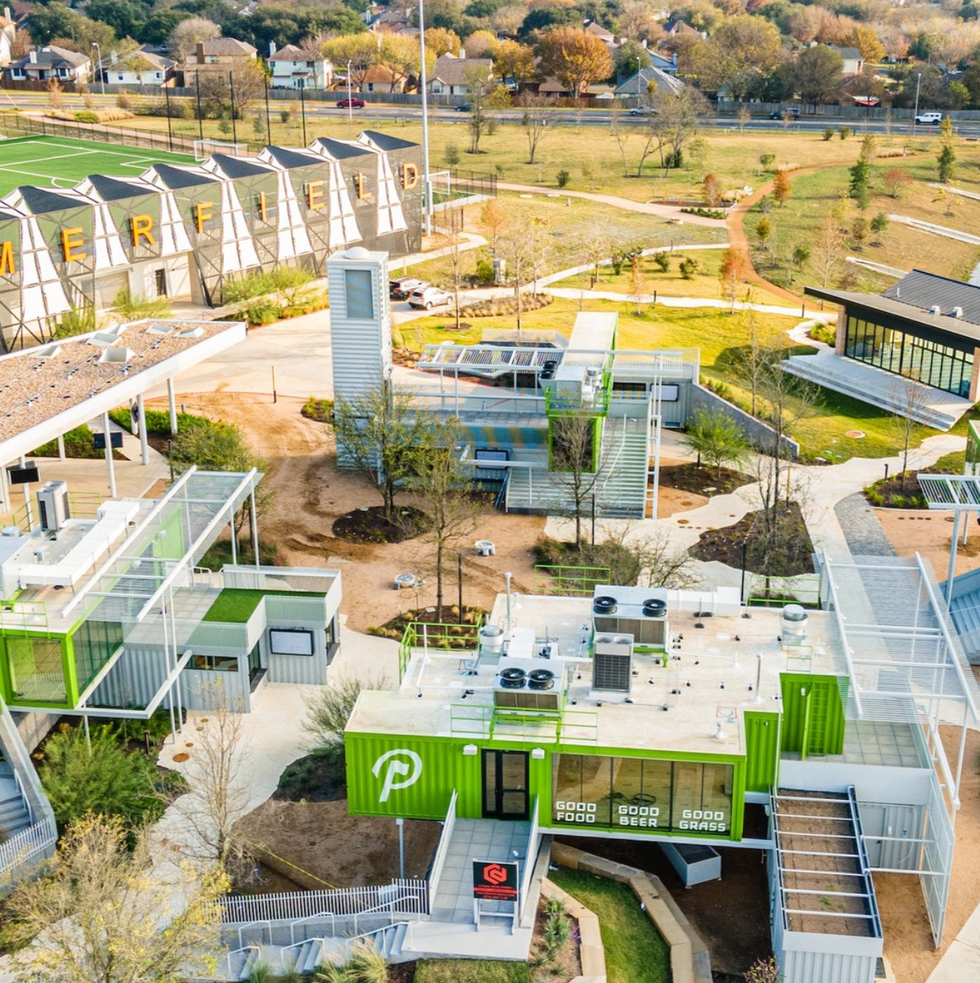 Made from multilevel shipping containers, The Pitch will include food and a 1,200-seat soccer pitch made from artificial turf. (The Pitch)
"The launch of Karlin's new food and entertainment experience will greatly enhance the Parmer development while perfectly complimenting St. David's Performance Center," Austin FC founder Anthony Precourt said. "The Pitch... will offer a strong variety of food options and gathering spaces for guests who will utilize St. David's Performance Center and Parmer Field for a variety of events."
The Pitch project lead Dave Greeley, who helped come up with the concept, is a former president of Austin FC parent company, Two Oak Ventures.
"The vision behind The Pitch at the Parmer Pond District is to be a first-of-its-kind sports, dining and entertainment destination," said Dave Greeley, The Pitch project lead and Team Orbis president. "This will be an unmatched experience for Parmer Austin tenants, Austin FC and club supporters, and the community."
With its proximity to the practice center, the venture hopes to contribute to the growing "soccer city" of Austin during Austin FC matches and youth games with the Austin FC Academy hosted at the St. David's Performance Center.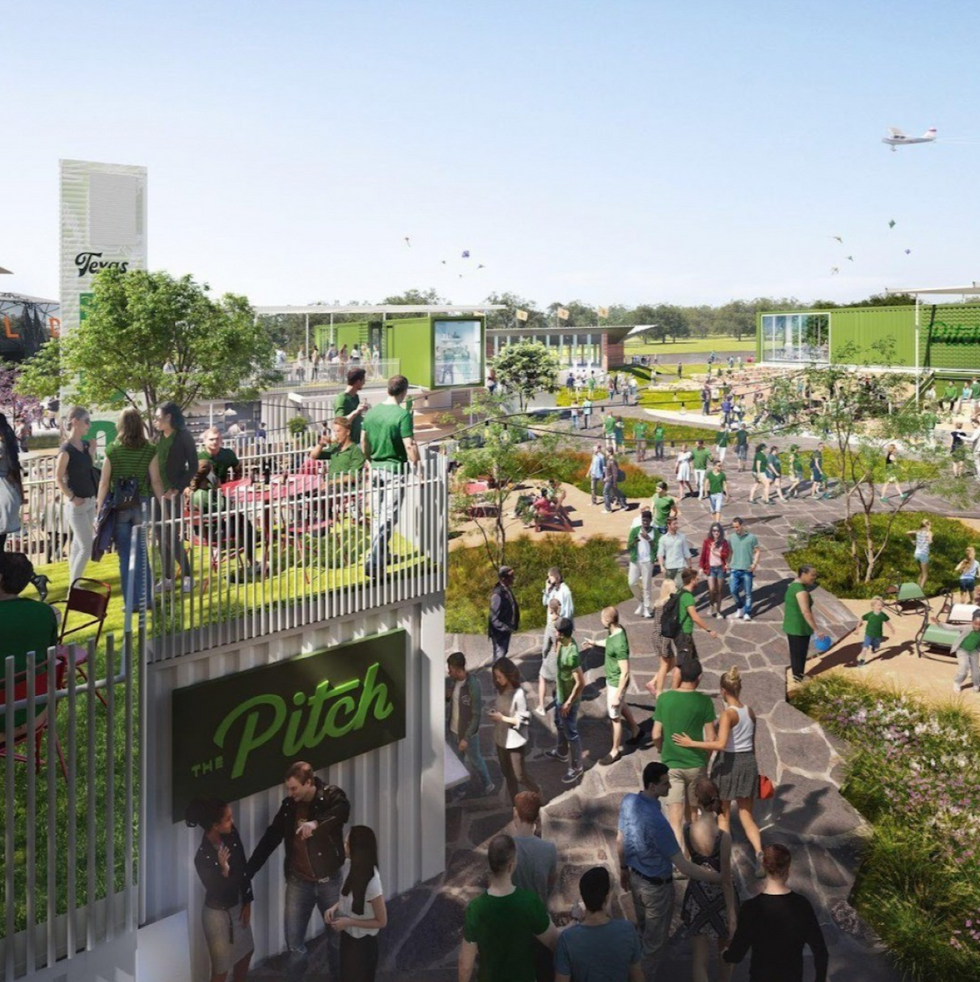 The Pitch hopes to converge both community and club interests with Austin FC. (The Pitch)
In addition to the soccer pitch, stadium and pond, The Pitch will provide a foody experience made by the creative team behind Austin staples like Fareground and Easy Tiger. The complex will offer local bites including:
Ranger Burger, which offers beers and burgers made from highly-coveted Wagyu beef direct from Ranger Cattle in East Austin
Ga Roti, which merges flavors from Northern Vietnam with the culinary techniques of France to create a unique rotisserie chicken joint
Taco Flats, a local taco chain serving Mexico City-style tacos, micheladas and more
Sand Bar, which fulfills its namesake with beauty cocktails, local beers and a sand volleyball court
Coffee Club, a coffee shop and bakery
Corner Kick Bar, the soccer-focused main bar of The Pitch complete with "tunes, TVs and (a) beer garden"
The Pitch will squeeze between St. David's Performance Center and Parmer Pond alongside the southern edge of Parmer Austin, a Karlin Real Estate venture that will eventually include multifamily housing, corporate office space and an aerospace and defense center.