Get connected with our daily update
(Greg Giannukos)
In the backyard of Justine's Brasserie, a "super-sexy," late-night French bistro at the east end of Fifth Street, behind the new pandemic-friendly dining cabanas and just next to a lit-up pagoda, is a small trailer.
Inside is a kind of old-fashioned photo booth. Wood-lined and hung with haunting tintype portraits—printed on glass plates, similar in style to a daguerreotype—the studio is modeled on traveling wagons from the Civil War era.
---
British fine art photographer Adrian Whipp first learned about the tintype process while in school for visual communication. But he didn't think of it as a modern process until he discovered the work of John Coffer, an American tintype photographer who traveled across the country with a horse-and-wagon in the late 1970s and early '80s, taking portraits of Civil War reenactors. "It was just such an interesting story that it stuck in the mind," he said.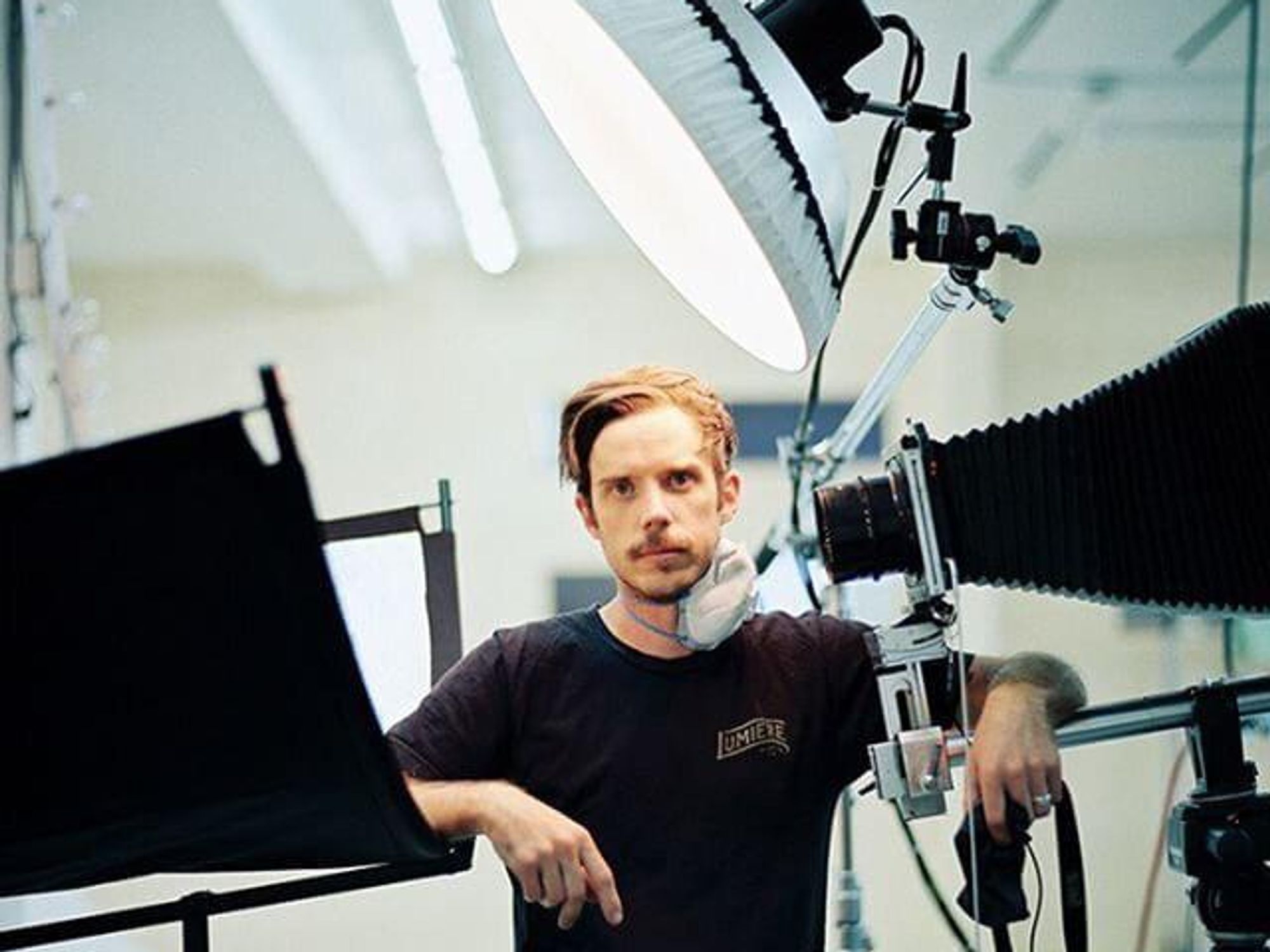 Adrian Whipp is the photographer behind Lumiere Tintype. (Jonathan Canlas)
Using Coffer's photography manual, Whipp taught himself the recipe and process, which he described as chemically similar to black-and-white film photography. In 2013, after a few years of trial and error, he opened Lumiere in Austin. The timing was inauspicious; many local portrait studios were closing due to the growth of digital photography. But the business has been busy from day one. "That need, I think, that people have for a portrait that lasts, I don't think it went anywhere," he said. "People still want an heirloom, something that they can put on a wall and hand down to their kids."

In the pre-pandemic period, Lumiere was based at Justine's most of the year, except for a summer traveling season. Over the course of a typical evening, Whipp would develop 30 to 35 tintype photographs, starting with families and babies in the early evening before ending with tipsy adults sometime around 2 a.m. "I'm pretty good at wrangling drunk people these days," he told Austonia. "People do cut loose a little bit in the evening."

Last March, however, Justine's closed for three months due to COVID-19. As soon as it reopened, Lumiere resumed business, with a few modifications. Now customers schedule an appointment in advance online; there are around 20 slots per evening. This process is a little bit more orderly than the old walk-in system, Whipp said, but there are still elements of spontaneity.
Tintype photography is finicky. Temperature changes, humidity levels and contamination can all interfere with the final photograph. "Pretty much every night something goes wrong," Whipp said. Sometimes it adds to the photograph, but other times it compromises the quality.

Some of Whipp's subjects can also prove challenging. He loves shooting kids, especially those whose families have returned to his studio year after year, and pets, but the intense flash required to produce a clear photograph can be startling. "It's pretty high stakes," he said.
Once Whipp takes the photograph, he begins developing the plate, submerging it in a tray of solution. "That's kind of what people pay for," he said. "That experience of watching the film develop. It's almost as magical as the film itself."
Whipp mostly runs Lumiere on his own, although he receives a lot of support from his wife, Lauren. A couple of assistants also help him on commercial and editorial shoots, which he does four or five times a year for well vetted clients, such as fellow Austin businesses Helm Boots and Revival Cycles. Where a photographer using a digital camera might deliver 15,000 photos, edited and photoshopped, at the end of a multi-day shoot, he might have 40 tintypes. The upside, however, is "a campaign that looks like really nothing else on the market," he said.

Digital photography is even more dominant than it was when Lumiere opened nearly a decade ago. More than three in four Americans own a smartphone, which likely has a camera roll with thousands of personal photographs. A formal, one-shot portrait may seem outmoded, but Whipp's schedule remains booked thanks to word-of-mouth referrals and walk-ins. "It's funny to see people kind of put their phones down and stare into the fixer tray," Whipp said of his nightly routine. "Not many things can do that."
Women nationwide are getting richer—Forbes reported that the wealth of the top self-made women has soared 31% since last year—and Austin's women are no exception. Out of the top 100 women who climbed their way to the rankings, five have Austin ties.
Austin, and Texas', notable addition Gwynne Shotwell is changing the space-scape of the city as we know it. As SpaceX's president and COO, Shotwell came in 62nd place with a net worth of $460 million.
Shotwell, an Illinois native, is now living outside Austin and Waco in Jonesboro, Texas. She works closely with Austin-transplant Elon Musk, having joined SpaceX back in 2002, and manages the operations of the company that wants to put human civilization on other planets.

Having watched the Apollo 11 launch as a child and the tragedy of the Challenger shuttle soon after she graduated college, Shotwell has a complicated relationship with space travel. In fact, Shotwell wasn't even interested in space until she began working at The Aerospace Corporation, which she later left to become director of the space systems division at Microcosm Inc.
Enter Elon Musk, one of the most celebrated entrepreneurs of her generation, who crossed her path at a Konigsmann launch. A little of her own business advice landed her an unexpected job as VP of sales position at SpaceX.
Shotwell's part in the company has led to a negotiation of the first Commercial Resupply Services contract with NASA, a driving force behind the 50 launches with the Falcon Vehicle and the subsequent $5 billion in generated revenue.
What's next for Shotwell? Besides landing her second year on the America's Richest Self-Made Women list, Shotwell is entering an exciting time for SpaceX. SpaceX's Starbase is nearing completion while the company prepares to send the Super Heavy rocket to space. Plus, the Starlink satellite internet service, which will soon have a factory in Austin, is rapidly gaining popularity with more than 100,000 customers.
Familiar faces on the list include SHI International CEO Thai Lee, who ranked sixth with a net worth of $4.1 billion; Bumble CEO Whitney Wolfe Herd, ranking 21st with a net worth of $1.3 billion; Kendra Scott jewelry founder Kendra Scott, coming in 35th place with a net worth of $800 million; and Advanced Micro Devices CEO Lisa Su, who ranked 52nd with a net worth of $600 million.

After almost a full week of sitting at the Stage 5 threshold, Austin health leaders are expected to make the official shift to the highest level of risk of its risk-based guidelines, along with providing new precautions to take with the Delta variant in mind.
Austin Public Health has called a COVID-19 press conference at noon today, in which it says it will answer questions from the media about changes to its risk-based guidelines. On Tuesday, APH Health Authority Dr. Desmar Walkes said new guidance was needed to account for the more contagious Delta variant on both vaccinated and unvaccinated individuals before making the shift to Stage 5.
Currently, at Stage 5, officials ask everyone to take extra measures to contain the virus, such as avoiding dining out and shopping in-person—regardless of vaccination status—and continuing to wear a mask at all times. Those that are unvaccinated are asked to avoid all gatherings and stay home.
As officials plea for residents to wear a mask and the unvaccinated to avoid nonessential trips, residents are still free to make their own choices as Gov. Greg Abbott's executive order keeps local mandates from being issued. And while some businesses such as Waterloo Records and BookPeople are once again heeding the guidance by requiring masks again, the majority of businesses in Austin are not.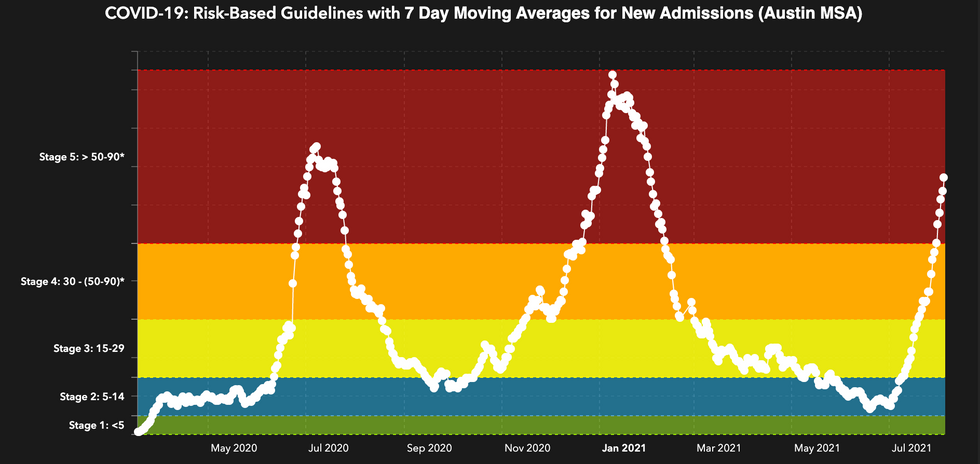 (Austin Public Health)
To reach Stage 5, hospitalizations needed to surpass a seven-day average of hospital admissions of 50, which it surpassed last Friday; it is now at an average of 67. The last time Stage 5 was met was in December.
The more contagious Delta variant along with the unmitigated spread of the virus in unvaccinated people has been attributed to the recent spike.
Health leaders have renewed their focus on vaccine outreach due to the spike in cases. As the Centers for Disease Control and Prevention revealed the Delta variant was as contagious as chickenpox—which requires 90% to get vaccinated for herd immunity—APH has changed its herd immunity threshold to at least 80% vaccinated, up from 70%.
Those that are unvaccinated have made up about 80% of those hospitalized with COVID complications in the past two weeks, according to APH.
The three local hospital systems are being overwhelmed with COVID patients, they said in a statement recently, as the Delta variant spreads and a nursing staffing shortage persists. ICUs have been at critical levels for days in the 11 county Trauma Service Region of 2.3 million people, fluctuating at 16 staffed beds, according to APH last week.
If to the point where more space is needed, the hospitals have a "surge plan" that includes sourcing supplemental staff and arranging for the return of an alternate care site. No announcements have been made about going forward with a surge plan.
The floodgates have once again opened for Austin FC.
Austin FC once again ended a scoring hiatus with a breakthrough win as midfielder Tomas Pochettino stole the show for the home team with two goals to land a 3-2 victory over the Houston Dynamo. The team is now at least temporarily the best in (Copa) Tejas, Texas' annual soccer derby, after the Wednesday night win over their newfound rivals.
Austin FC won momentum early as Pochettino, who had the most shots without scoring in MLS this season prior to the match, shot one off the post in the seventh minute. The ball would then be assisted by Houston themselves as Pochettino scored his first MLS goal and broke Austin's four-match scoreless streak.
The rivalry showed its true colors in the 20th minute of play, when Houston's Darwin Ceren took down Austin's Sebastian Berhalter with an elbow to the face and was subsequently punished with a red card.
With just ten men on the field for the remainder of the match, the Dynamo proved they could fight with one man down as they responded with a goal five minutes later.
Pochettino brought the lead to Austin once again, however, as he went for seconds with a clear goal off a rebound to close out the first half.
Pochettino said building trust between himself, Dominguez and Diego Fagundez was vital to making his first goal.
"To me, this is the first time that I scored with this club and Major League Soccer, so now that definitely helps me build our trust," Pochettino said. "Because I can talk to them in Spanish, there's always that chemistry that you build around them, and obviously having them around day in day out. I think they had a sensational match, and we definitely have to keep looking forward to improve it even more."

Austin would score once more in the 57th minute when a cross by midfielder Diego Fagundez was headed in by striker Cecilio Dominguez.
Houston attempted a late-match comeback in the final ten minutes of play as they thwarted Austin FC's Brad Stuver for a second goal, but it proved too little, too late as Austin celebrated their second high-scoring victory at Q2 Stadium.
The win provides a much-needed boost for Austin FC, who were previously stuck at the bottom of the West for two straight matches as they went scoreless for nine of their last 11 games. The club is also at least temporarily the "Best in Texas" as they tally the first win in the Copa Tejas, which adds up wins and losses between the Lone Star State's best professional teams.
Austin FC saw their lowest injured lineup in months as young midfielder Danny Pereira, who has proved himself as the club's glue, reentered the pitch in the 64th minute. Right back Nick Lima also joined the pitch once more for the second time since a pulled hamstring left him out for weeks.
Head coach Josh Wolff said a full and healthy roster will help build healthy competition as the team fights for playoff berth.
"I think it'll drastically affect the outcome when you have quality and you have a full roster," Wolff said. "Competition is a must in this league, the season's long, it's a grind. You need rotations, but you also need these guys competing... when you know there's someone knocking on the door asking questions, as a player and a teammate, it pushes you a little more."
The club has even more to look forward to: they'll likely enjoy a boost as they expect at least a few of new striker signees Sebastian Driussi, Moussa Djitte and Austinite McKinze Gaines to join them in their second Texas rivalry match at FC Dallas on Saturday.
Here's what happened in the breakaway match:
86' Not so fast: Houston scores to make it 3-2
Not. Over. Yet.@HoustonDynamo pull one back late! #ATXvHOU pic.twitter.com/v3YnffcT1W

— Major League Soccer (@MLS) August 5, 2021
Just when Austin seemed to be sailing into their second home win with ease, the Dynamo found a hole in the home team's defense to land their second goal of the night.
The Dynamo now have four minutes of regulation to find an equalizer if they wish to take some points from Austin tonight.
64' Pereira reenters the ring, for Ring
64' | Three #AustinFC substitutions.

➡️ Jhohan Romaña
⬅️ Julio Cascante

➡️ Hector Jimenez
⬅️ Nick Lima

➡️ Dani Pereira
⬅️ Alex Ring pic.twitter.com/miRnwqRzbp

— Austin FC (@AustinFC) August 5, 2021
Dani Pereira, the fuel of Austin's midfield, makes a reappearance for the first time in weeks after being out on injury. He reenters the ring for Captain Alex Ring as fellow former injured teammate Nick Lima subs in for Hector Jimenez. Jhohan Romana also makes a rare appearance at center back for Julio Cascante.
A few minutes later, Jared Stroud takes the stead of Cecilio Dominguez.
57' When it rains, it pours (but in a good way)
Fagundez ➡️ Dominguez@AustinFC feelin' it! pic.twitter.com/XbZXNi8G9y

— Major League Soccer (@MLS) August 5, 2021
It's clearly all or nothing for Austin FC. The team has now scored three times in their first rivalry matchup against Houston after a well-placed header by Dominguez goes in.
46' Stuver kicks off second half with a save
No #MLSAllStar shout for @brad_stuver?…

•Leads the league in saves % ✅
•Human Highlight reel ✅ https://t.co/WN68BD46B3

— Michael Lahoud (@MikeLahoud) August 4, 2021
He may nt have been able to stretch for two back-to-back shots to keep a clean sheet, but Stuver is still showing his keeping prowess. Every save serves as an "I told you so" to the MLS, who snubbed him from the All-Star lineup Wednesday despite leading the league in saves with 65 this season.
45+ Pochettino finally has his day! 2-1 Austin at the half
POCHETTINO@AustinFC have the lead yet again. #VERDE pic.twitter.com/8nNpHzy9GM

— Major League Soccer (@MLS) August 5, 2021
Pochettino's patience is finally paying off. The Argentinian midfielder, who had the most shots without a goal of any MLS player prior to the match, got another one in goal to regain the lead for Austin as the first half wraps up.
For his first clear goal with Austin FC, Pochettino reacts to a deflection just in time to get a solid shot into the bottom right corner of the net. Austin has scored two goals in a match for the first time since their Portland match on July 1.
25' Tie game as rivalry heats up
Fresh off the Gold Cup, @Typash smashes this one to level it! #ATXvHOU pic.twitter.com/O5UcMcGdkq

— Major League Soccer (@MLS) August 5, 2021
Shortly after the Ceren red card, the Dynamo prove they can still be a threat with 10 men. An initial shot is blocked by Stuver, but he can't quite react in time as Tyler Pasher shoots one up to the top of the net on a rebound. It's now a tie game with two goals and a red card as the Texas rivalry begins to take shape.
20' Houston knocked down to 10 after red card
Cerén shown red, and we fight on with ten men 😣#HoldItDown

— Houston Dynamo FC (@HoustonDynamo) August 5, 2021
Houston will now play the finally three-quarters of the match with 10 men after Austin's Sebastian Berhalter takes an elbow to the eye from the Dynamo's Ceren.
7' Houston has a problem! Austin scores 1-0
The @AustinFC attack forces an own goal. They lead 1-0! #ATXvHOU pic.twitter.com/hehR6mtprH

— Major League Soccer (@MLS) August 5, 2021
Tomas Pochettino's first goal with Austin may not quite be his, but it's still worth celebrating. After five of six straight home games going scoreless, Austin finally broke the silence as Pochettino's shot hit the post and was guided in by an unhappy Houston player.
Austin is now up 1-0 for the first time in weeks at their home stadium.
Starting lineup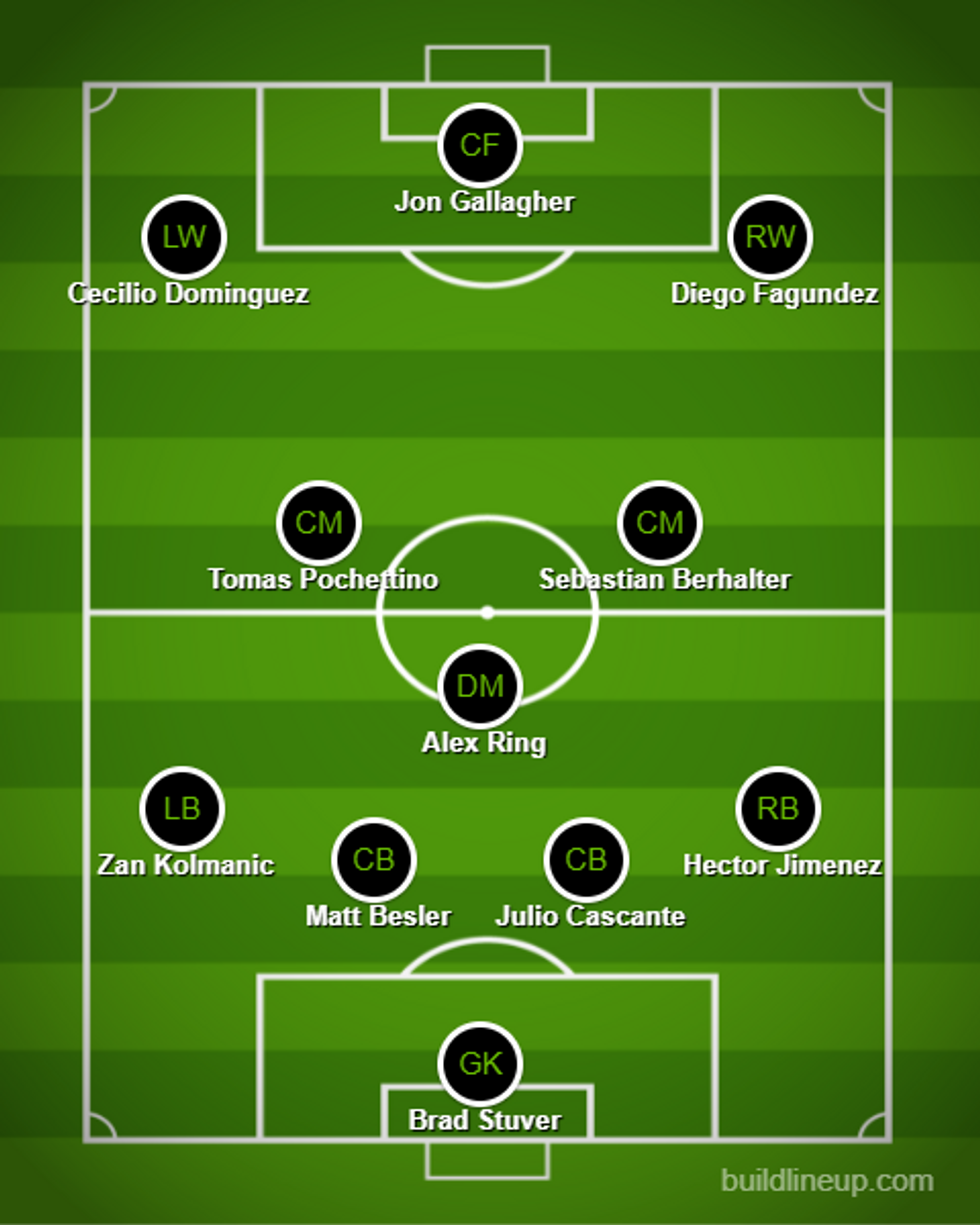 Jon Gallagher is back in the starting XI and will likely crown the lineup, with Cecilio Dominguez and Diego Fagundez flanking him on either side.
20-year-old Sebastian Berhalter will start in Fagundez's shoes for the first time since a June match vs. Minnesota United. Meanwhile, the steady back end looks much of the same with a near-All Star Brad Stuver in at keeper.