Austonia AM
100% Austin news, info, and entertainment, straight to your inbox at 6 a.m. every morning.
In five minutes, you're fully informed and ready to start another great day in our city.
Get connected with our daily update
(Greg Giannukos)
In the backyard of Justine's Brasserie, a "super-sexy," late-night French bistro at the east end of Fifth Street, behind the new pandemic-friendly dining cabanas and just next to a lit-up pagoda, is a small trailer.
Inside is a kind of old-fashioned photo booth. Wood-lined and hung with haunting tintype portraits—printed on glass plates, similar in style to a daguerreotype—the studio is modeled on traveling wagons from the Civil War era.
---
British fine art photographer Adrian Whipp first learned about the tintype process while in school for visual communication. But he didn't think of it as a modern process until he discovered the work of John Coffer, an American tintype photographer who traveled across the country with a horse-and-wagon in the late 1970s and early '80s, taking portraits of Civil War reenactors. "It was just such an interesting story that it stuck in the mind," he said.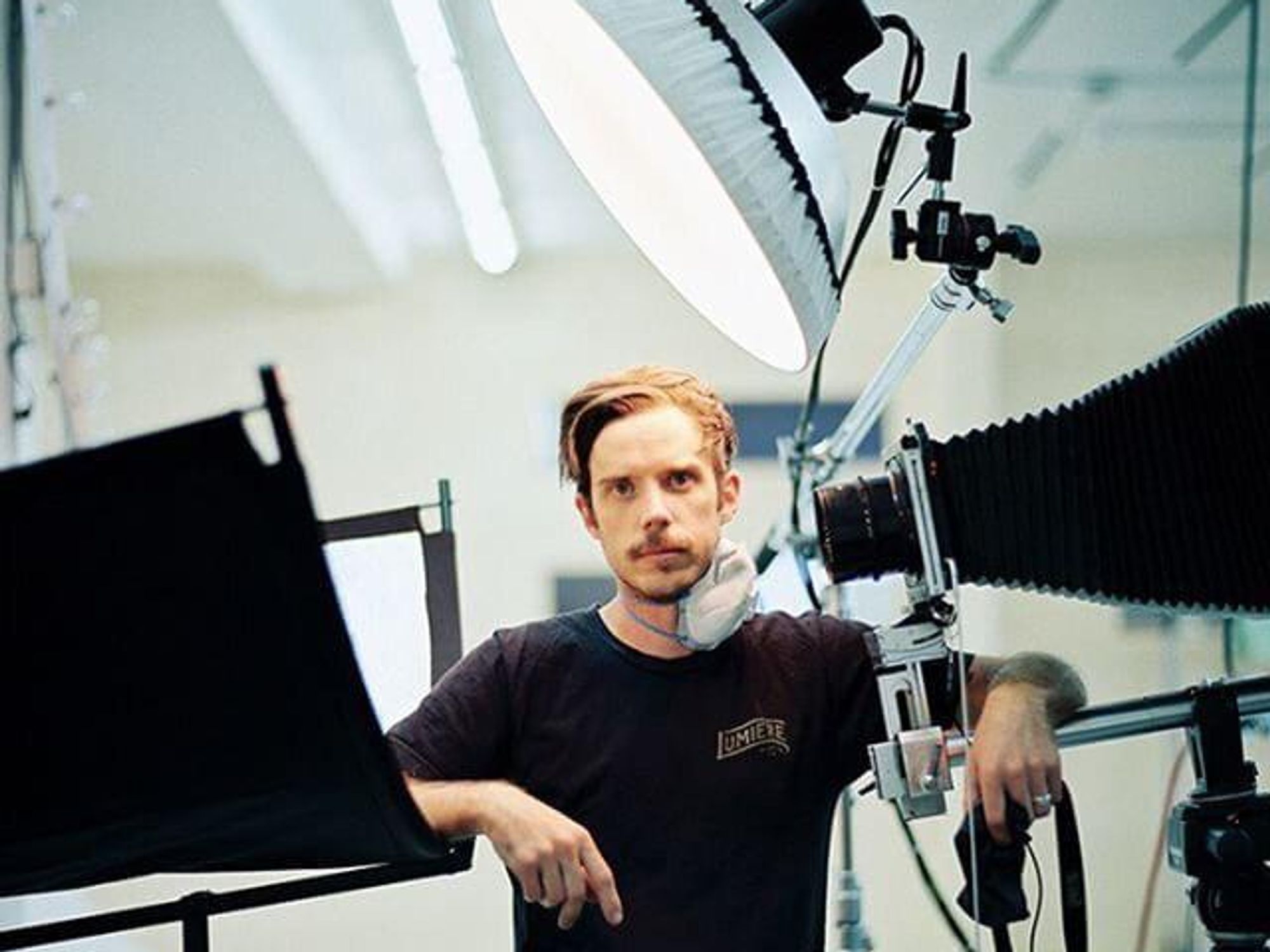 Adrian Whipp is the photographer behind Lumiere Tintype. (Jonathan Canlas)
Using Coffer's photography manual, Whipp taught himself the recipe and process, which he described as chemically similar to black-and-white film photography. In 2013, after a few years of trial and error, he opened Lumiere in Austin. The timing was inauspicious; many local portrait studios were closing due to the growth of digital photography. But the business has been busy from day one. "That need, I think, that people have for a portrait that lasts, I don't think it went anywhere," he said. "People still want an heirloom, something that they can put on a wall and hand down to their kids."

In the pre-pandemic period, Lumiere was based at Justine's most of the year, except for a summer traveling season. Over the course of a typical evening, Whipp would develop 30 to 35 tintype photographs, starting with families and babies in the early evening before ending with tipsy adults sometime around 2 a.m. "I'm pretty good at wrangling drunk people these days," he told Austonia. "People do cut loose a little bit in the evening."

Last March, however, Justine's closed for three months due to COVID-19. As soon as it reopened, Lumiere resumed business, with a few modifications. Now customers schedule an appointment in advance online; there are around 20 slots per evening. This process is a little bit more orderly than the old walk-in system, Whipp said, but there are still elements of spontaneity.
Tintype photography is finicky. Temperature changes, humidity levels and contamination can all interfere with the final photograph. "Pretty much every night something goes wrong," Whipp said. Sometimes it adds to the photograph, but other times it compromises the quality.

Some of Whipp's subjects can also prove challenging. He loves shooting kids, especially those whose families have returned to his studio year after year, and pets, but the intense flash required to produce a clear photograph can be startling. "It's pretty high stakes," he said.
Once Whipp takes the photograph, he begins developing the plate, submerging it in a tray of solution. "That's kind of what people pay for," he said. "That experience of watching the film develop. It's almost as magical as the film itself."
Whipp mostly runs Lumiere on his own, although he receives a lot of support from his wife, Lauren. A couple of assistants also help him on commercial and editorial shoots, which he does four or five times a year for well vetted clients, such as fellow Austin businesses Helm Boots and Revival Cycles. Where a photographer using a digital camera might deliver 15,000 photos, edited and photoshopped, at the end of a multi-day shoot, he might have 40 tintypes. The upside, however, is "a campaign that looks like really nothing else on the market," he said.

Digital photography is even more dominant than it was when Lumiere opened nearly a decade ago. More than three in four Americans own a smartphone, which likely has a camera roll with thousands of personal photographs. A formal, one-shot portrait may seem outmoded, but Whipp's schedule remains booked thanks to word-of-mouth referrals and walk-ins. "It's funny to see people kind of put their phones down and stare into the fixer tray," Whipp said of his nightly routine. "Not many things can do that."
A week after Texas added two congressional seats and California lost one, state officials reported a population decline in 2020 for the first time in the Golden State's history.
California fell by over 182,000 people from January 2020 to January 2021, dropping almost 0.5% to cap out at around 39.5 million people. It is still the nation's most populous state.
For over thirty years, California has seen more people leave than move in from other states, state officials said, with 6.1 million people moving out and 4.9 million coming in last year. Immigration and births kept California growing, but the state saw a shrink in international migration in 2020 due to COVID and the White House's hold on visas.
Of the steady flow of ex-Californians moving to other states, more are moving to Texas than any other state. Many are relocating to Austin, which has been labeled a "little California" by billionaire resident Elon Musk and continues to grow astronomically.
Meanwhile, California cities including Los Angeles, San Diego, San Jose and San Francisco saw a population decline.
With immigration and state migration on the decline, the Golden State was also hit with a spike in deaths- 51,000 people died from COVID in 2020, and all but seven of the state's counties saw death rates higher than the three-year average.
Still, the California Department of Finance said a "slightly positive annual growth" can be expected next year as the state recovers from COVID deaths and political repercussions.


Ingredients:
1 1/2 oz of hibiscus-infused Tito's Handmade Vodka
2 oz sparkling water
1 oz fresh lime juice
3/4 oz simple syrup
1 tsp allspice dram
Directions: Add infused Tito's Handmade Vodka, lime juice, and simple syrup to a shaker with ice. Shake and strain into a glass over fresh ice. Top with sparkling water, and garnish with a lime slice. Enjoy!
The sun is out, and thousands of Austin FC fans will be as well as Austin FC goes to Kansas to play Sporting Kansas City at 6:30 p.m. on Sunday.
There's plenty of pub partners to choose from, but here's a few watch parties to help you get in on the action.