Get connected with our daily update
(Pexels)
When the Texas Legislature convenes next month for its 87th session, state lawmakers will be tasked with addressing the pandemic, recent protests over police violence and redistricting. Another agenda item? Marijuana legalization, which some Democrats have already proposed in early bill filings.
---
Since the legislature last met in 2019, there have been a number of changes—including a push for police reform, as well an economic recession caused by the pandemic—that reform advocates hope could move the needle on reforms, such as expanding the state's allowances for medical use and legalizing adult recreational use.
But challenges—including evergreen concerns about youth drug use and staunch opposition from the state's Republican leadership—remain.
Heather Fazio, who directs the Texans for Responsible Marijuana Policy coalition, is optimistic.
"This upcoming legislative session is our opportunity … to get this done," she told Austonia.
Green lights
During the last legislative session, Texas lawmakers voted to legalize hemp in an effort to help Texas farmers. This was a significant milestone for reformers.
It also led to some unintended consequences.
Hemp is grown from a strain of the cannabis plant and contains less than 1% of the psychoactive element THC. Marijuana contains a greater concentration of THC, between 3% and 15%. The two substances look and smell similar.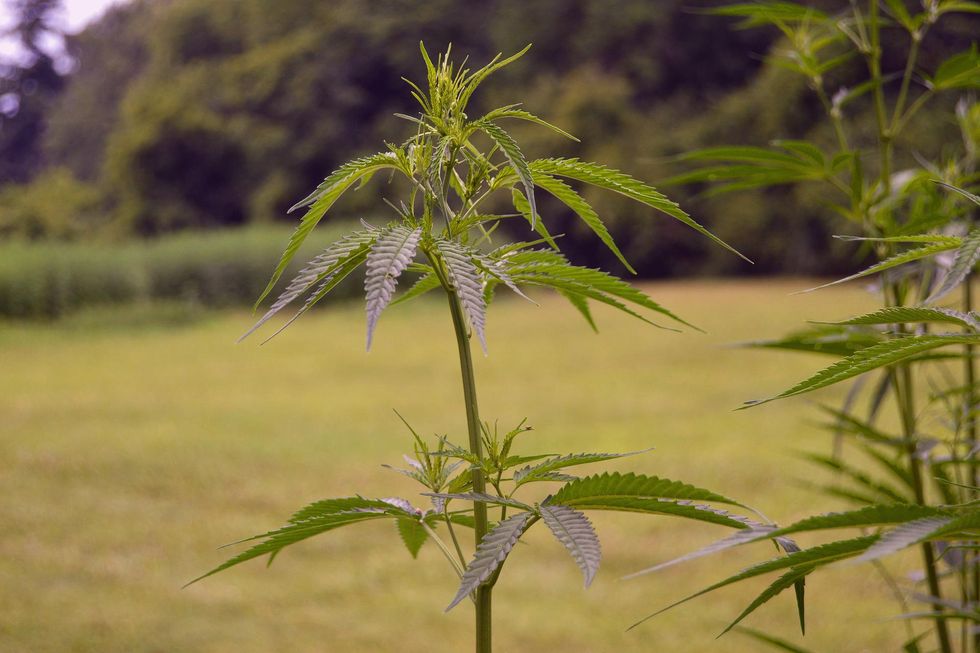 (Pixabay)
Before the law took effect, law enforcement agencies and prosecutors relied on tests of suspected marijuana to prove the presence of THC. Since hemp was legalized, however, they have struggled to procure the equipment and funding necessary to distinguish between legal hemp from illegal marijuana.
In Austin, this led to the City Council approving a resolution in January to stop arresting or ticketing people for most low-level marijuana possession offenses, citing, among other things, the disproportionate impact of enforcement on communities of color and the lack of state funding to acquire the necessary testing equipment.
Austin Police Department Chief Brian Manley issued a memo over the summer announcing that his department would comply with the resolution, effectively decriminalizing misdemeanor marijuana possession in the state capital.
Around the same time, thousands of Austinites protested police violence and racism following the death of George Floyd at the hands of Minneapolis police officers. This catalyzed a larger movement to defund police, among other reforms.

Fazio sees this as an opening for marijuana legalization in Texas.
"There continues to be growing common ground when it comes to criminal justice reform and a more sensible approach to policing," she said.
Jose Garza, who was elected Travis County District Attorney in November, has pledged to "advance important legislation like marijuana decriminalization" once in office, as part of his platform.

Statewide reform is preferable to the current "patchwork of policies," Fazio said, which can lead to inequities and confusion as residents move from one jurisdiction to another.
"This is not a good way to govern," she said.
In the green
The pandemic has also added financial pressure.
Texas Comptroller Glenn Hegar estimates that the state will face a $4.6 billion shortfall this fiscal year due to pandemic restrictions and recent volatility in oil prices.
Legalizing marijuana, however, could help make up for that lost revenue.
An October report published by the national cannabis law firm Vincente Sederberg found that if Texas were to legalize marijuana for adult recreational use—and tax sales at the same rate as Colorado—it could generate as much as $1.1 billion every two years.
In Fazio's view, there is "no question" that the economic recession precipitated by the pandemic has forced lawmakers to consider policies such as marijuana legalization that they may have previously opposed.
"Even the most conservative lawmakers are having to look at legalization in a serious way," she said.
Lt. Gov. Dan Patrick opposes marijuana reform and has blocked bills toward legalization in the past.
Criminal Justice Chair @Whitmire_John is right that #HB 63 is dead in the @Texas Senate. I join with those House R… https://t.co/wJNHPzXybA

— Dan Patrick (@Dan Patrick) 1556635876.0
But other Republicans feel differently.
Gov. Greg Abbott has floated reducing the penalty for low-level possession from a Class B to a Class C misdemeanor, and the Houston-based nonprofit Republicans Against Marijuana Prohibition, which supports legalizing marijuana for medical and adult recreational use, appeals to Republican values in its advocacy work.
"While gaining negligible progress, the 40-year ban on marijuana has birthed a big-government bureaucratic nightmare, which Conservatives should actively oppose," the organization states on its website.
Rolling forward
Although there is increasing support for marijuana reform—a University of Texas/Texas Tribune poll conducted in March 2019 found that 54% of Texans support legalization—it remains illegal in Texas except in very limited circumstances.
Fazio cited pushback from some law enforcement agencies and concerns about youth use as two major barriers to reform.

But she believes legalization could help free up law enforcement resources and deter young people from accessing marijuana by stamping out the black market.
"All around, legalizing marijuana for adult use is a win-win," she said.
Terry Black's Barbecue is journeying outside of the smoked meats sphere and into the hospitality sector, announcing plans to open "Friday Mountain," a resort-style vineyard near Driftwood.
According to a report from the Austin Business Journal, Friday Mountain will be located on 64 acres at 150 Concord Circle, featuring a boutique hotel with 22 rooms, a 14-acre vineyard and a 20,000-square-foot underground wine facility, a spa, event space, all-day café and high-end restaurant. Construction is poised to start in the next month.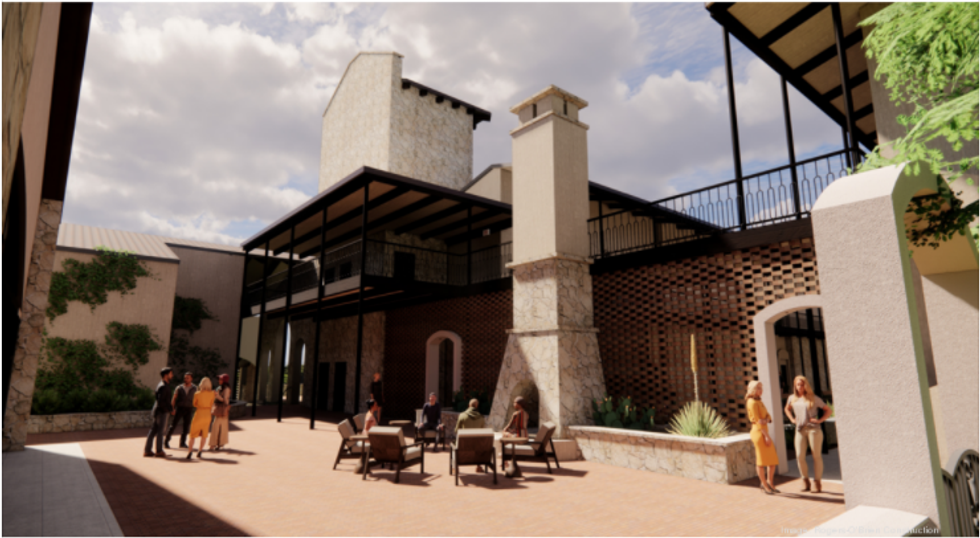 The courtyard outside of the event space will echo Hill Country architecture. (Rogers-O'Brien Construction)
Co-owner Mark Black said he expects construction to last about 10 months, hoping for opening early next year, and would hire around 140 employees: 60 full-time and 80 part-time.
The new project has long been in the works for the restaurateurs—including Mark's twin brother Mike and sister Christina—who come from the same lineage as those behind Lockhart's Black's BBQ but separated the business due to a falling out within the family.
Friday Mountain was originally planned to be a wedding venue but issues arising about noise, traffic and environmental concerns led the Dripping Springs City Council to ask for updated plans.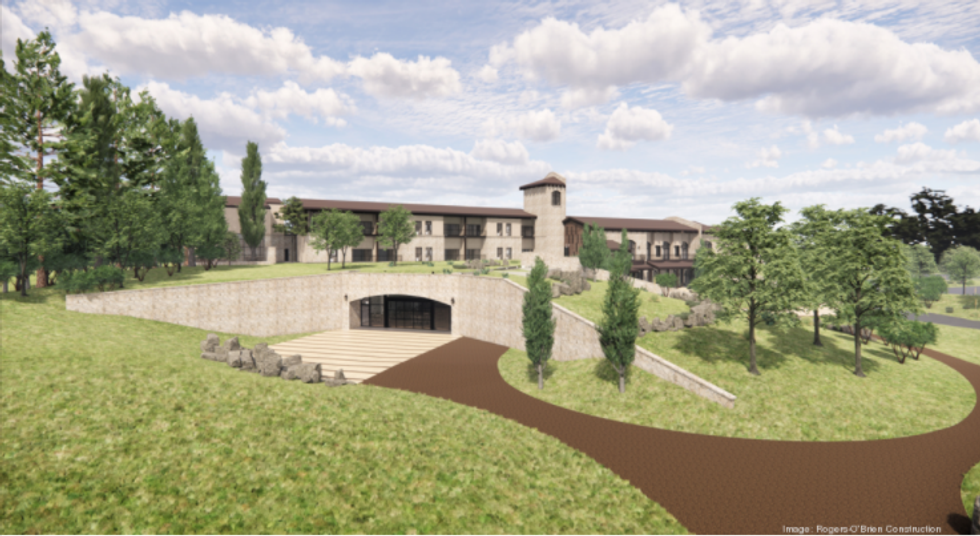 A rendering of the entrance to the planned underground wine cave. (Rogers-O'Brien Construction)
In the new plans, which have since been submitted, Black said he heard the neighborhood's concerns and is focusing on working with the right contractors to avoid issues. Black said he knows not everyone will be on board with the venue but that it will provide a little something for everyone.
To bring the concept to life, Black is partnering with engineers at Kimley-Horn and Associates Inc., architects at Lawrence Group, and Rogers-O'Brien Construction Co. Ltd. as the general contractor.
As for the vineyard, Black has partnered with Salt Lick Cellars to have wine aged and ready to drink wine upon opening and will hand off wine making operations to enthusiast Phil Price.
According to a Texas Department of Licensing and Regulation filing, the project will cost an estimated $20 million to be completed in January 2023.
From Your Site Articles
Related Articles Around the Web
The Texas French Bread Bakery, located on 2900 Rio Grande Street, has been completely destroyed after a fire erupted on Monday night.
The Austin Fire Department responded to the fire just before 11 p.m., where they arrived to see flames coming from the roof of the bakery. Firefighters fought the fire for about an hour before the roof collapsed.
While no one was injured in the fire, firefighters say the historic building was completely totaled.
AFD determined that the fire was accidental and caused by mechanical failure. AFD said the damages amounted to $1.6 million total: $1.1 million in structural damage and $500,000 in damage to the contents of the bakery.

This year, Texas French Bread will celebrate 40 years of business. Before the bakery occupied the building, it was the Rome Inn, a music venue that hosted 1970s artists like Stevie Ray Vaughan.