Get connected with our daily update
Texas Attorney General Ken Paxton is threatening legal action against the City of Austin and Travis County if leadership does not comply with Gov. Greg Abbott's decision to lift the statewide mask mandate, which went into effect today.
---
Not a full day after Mayor Steve Adler announced that the city would continue to enforce Austin Public Health's COVID-19 safety guidelines, Paxton tweeted at the mayor and Travis County Judge Andy Brown that they have until 6 p.m. today to rescind the restrictions, "otherwise, on behalf of the State of Texas," he will sue.
Paxton told officials to "come into full compliance with GA-34," which prohibits any Texas jurisdiction from requiring citizens "to wear or to mandate the wearing of a face covering," or enforce any "COVID-19 operating limits for any business or other establishment."

Paxton said he is "looking at every avenue available to stop" Adler and Brown, adding that the State of Texas has already taken Austin to court after the city tried to impose a four-day ban on dine-in food and drink services during New Year's Eve weekend.
"If you continue to flout the law in this manner, we'll take you to court again and you will lose again," Paxton said in a letter.
Mayor Adler responded to the letter at 4:33 p.m. Wednesday saying that himself and Judge Brown would do use "every tool available" to reduce the spread of the virus. "We will fight Governor Abbott and Attorney General Paxton's assault against doctors and data for as long as we possibly can," Adler wrote in a statement.
Austin-Travis County's mask mandate requires businesses to require customers to wear masks inside the establishment; knowingly violating the ordinance could result in a fine of up to $2,000. The decision was made in consultation with Interim Health Authority Dr. Mark Escott, who has been advising the city on safe COVID-19 practices.
"We need the efforts to continue. We need people to continue to mask and distance and do those things that have gotten us out of surge here in Travis County," Escott said in a press conference. "Our hope is that people, our community, our elected officials, will continue to echo the message that these protective measures, these nonpharmaceutical interventions work and they're important for us to continue with that transition."
When Abbott made the announcement that the mask mandate would end, he added that local governments would be able to reinforce restrictions if COVID-19 hospitalizations rise above 15% for a week straight. Hospital admissions for the virus have been below 7% for the past week.
Over the summer, Austin City Council authorized Escott to create rules that protect residents from the virus, meaning the city enforces rules made by Escott, not Adler or Brown. The City of Round Rock will also continue to enforce masks.
Even outside of Austin, Dallas, El Paso, Houston and San Antonio are still requiring masks to be worn in municipal buildings. Escott said no one can be arrested for not wearing a mask, though they can face criminal charges for refusal to comply with business rules.
Complaints can be made by calling 311.
The story was updated to include a later released statement from Mayor Steve Adler.
A bill that would restrict transgender student athletes from playing on school sports teams that align with their gender identity is heading to Gov. Greg Abbott's desk after the Texas House accepted Senate amendments to the legislation in a 76-61 vote Sunday afternoon.
The legislation is now primed to become law, after the state Senate voted 19-12 on Friday to pass House Bill 25, authored by state Rep. Valoree Swanson, R-Spring, and the House voted to concur on Sunday. The Senate floor vote followed a swiftly held committee meeting where a 24-hour notice rule was suspended and the Senate's Health and Human Services Committee voted to advance the legislation. Under HB 25, students would only be permitted to compete on sports teams that correspond to the gender listed on their birth certificate that was assigned at or near the time of birth.
Friday's vote is the fifth time this year the Senate has passed legislation targeting transgender youth participation in school sports. Gov. Greg Abbott and Lt. Gov. Dan Patrick have pushed for the legislation during this year's sessions. With HB 25 advancing, Texas joins at least five other states that have passed such legislation.
Critics of the legislation, including transgender advocates, say it unfairly targets transgender children and puts them and cisgender children at risk for being discriminated against.
Getting the bill through the House proved to be a major hurdle for lawmakers this year after legislation faltered in the lower chamber during the regular session and two subsequent special sessions, which included a House quorum break.
The birth certificate requirement under HB 25 goes further than rules from University Interscholastic League, which governs public school sports in Texas. According to UIL rules, gender is determined by a student's birth certificate, though the governing body also accepts birth certificates that were modified to match a student's gender identity. UIL has said the process for checking birth certificates is left up to schools and districts.
HB 25 would disallow acceptance of modified birth certificates by requiring a student's gender to be determined by their original birth certificate unless their original certificate contained a clerical error. However, the process for how a birth certificate will be checked for whether it has been legally modified is unclear.
An amendment was added in the House, but later removed in the Senate, to the legislation that defined "biological sex" as "the physical condition of being male or female as determined by the sex organs, chromosomes, and endogenous profile of the individual at birth." Another House amendment ensures the legislation complies with state and federal laws related to the confidentiality of student medical information.
Swanson has said that the intention of HB 25 is to "protect the right to fair competition in sports" for women and girls and uphold Title IX, a federal law that prohibits education institutions that receive federal funds from discriminating on the basis of sex.
State Sen. Charles Perry, R-Lubbock, who authored similar legislation this special session, said during a news conference in support of HB 25 that passage of the bill had "been a long time coming."
"A lot of times we say bills are transformational. This is actually one that drew the line in the sand: that biological females should stay with biological females and biological males should stay with biological males."
During the House floor debate on HB 25, Democrats said legislators should think about the mental burden such legislation would have on transgender children who already predisposed to bullying and thoughts of suicide.
"This [bill] is not about girls' sports, this is about trying to police people and their behavior and their gender expression," said state Rep. Erin Zwiener, D-Driftwood, secretary of the Texas House LGBTQ Caucus.
Major employers within the state have also signaled their opposition to the law, with about 70 employers and investors signing on to a letter from the coalition Texas Competes, speaking out against restrictive state policies that target LGBTQ people.
In the past year, more than half of transgender and nonbinary youth in the U.S. have seriously considered suicide, and 1 in 5 have attempted suicide, according to The Trevor Project's 2021 National Survey on LGBTQ Youth Mental Health. More than 90% of LGBTQ Youth reported that recent politics have negatively impacted their mental health.
Ricardo Martinez, CEO of Equality Texas, an organization that advocates for LGBTQ Texans, said in a statement that HB 25 tells transgender children "that Texas is not a safe place for them to live."
"Transgender kids, adults, and their families are not political collateral," Martinez said. "They deserve every fundamental right and opportunity that all other Texans have."
From Your Site Articles
Related Articles Around the Web
Just weeks after music fest Austin City Limits, Austin will be host to another global event as the Circuit of the Americas hosts Formula 1's United States Grand Prix race for the first time since the onset of the pandemic.
The weekend-long fest will have events stretching from Friday, Oct. 29 through Sunday, Oct. 31 for North America's premier Formula 1 race.
With three days of races, parades and more, it can be hard to know what to expect for an event that COTA chairman Bobby Epstein said would be "the biggest event on the planet this year."
Don't miss a beat: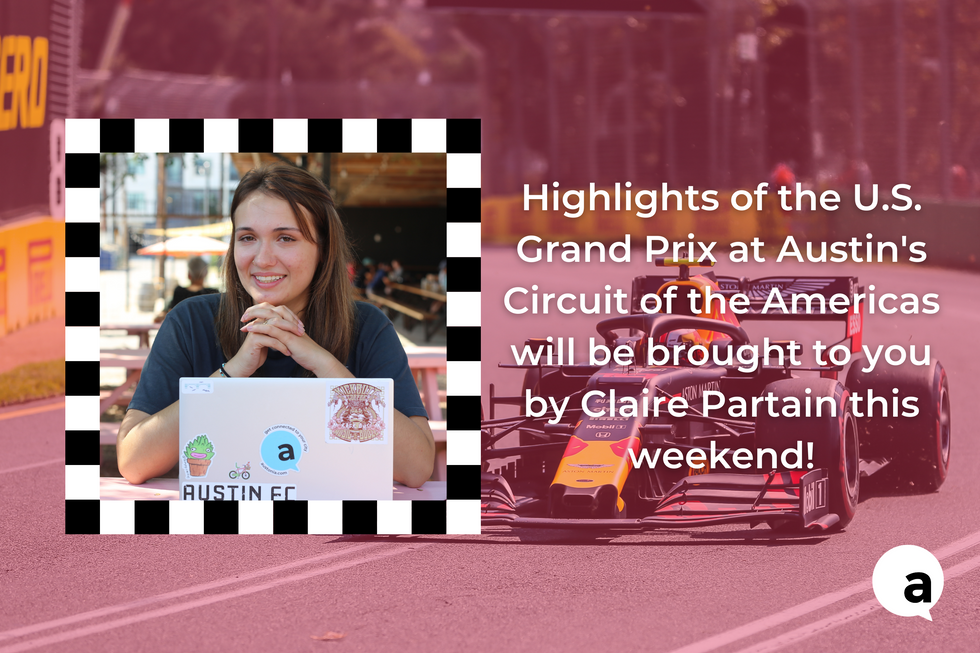 But have no fear. Here's Austonia's complete guide to make sure your trip to the U.S. Grand Prix is out of this world:
What to bring
This is why you shouldn't have a hot mic in COTA Twitter HQ. #USGP pic.twitter.com/9PhcKAVJEe

— Circuit of The Americas (@COTA) October 25, 2018
While some may have bought tickets just for the big race, others are planning for a three-day fest of constant outdoor activity. For the foreigners and out-of-towners, October weather in Austin may not be quite what you expect—many joke that a Texas "fall" is near-nonexistent. Check the weather often to see what's in store.
Our prediction is that shorts or flowy pants/skirts, a short-sleeve shirt and a light jacket may suffice. If it looks like rain is on the horizon, don't forget a poncho and/or small umbrella as there isn't much coverage from the elements once you're there.
Regardless of weather, it's a safe bet to bring sunscreen, sunglasses, a hat and some bug spray as well. Other not-so-typical items to pack in your bag—which should be smaller than 12x12x20 inches—include earplugs for the big race, binoculars and your phone camera to capture those Ferraris at full-speed.
Depending on your seats, don't forget a folding chair, and to pack a sealed plastic water bottle if you can—it's the only type of food or drink that's permitted on the property.
Keep all tents/canopies, coolers and large umbrellas at home. Check out more on what not to bring here.
Make sure you've got your tickets and you're all set!
Parking
trying to get from your parking spot to your seat 15 minutes before the race starts pic.twitter.com/2ly2DDcUVU

— Circuit of The Americas (@COTA) February 8, 2021
COTA's notorious parking can be a doozy—F1 1 fan Kevin Andrew said he's spent two and a half hours in line for the venue's sprawling paved and grass lots.
If you're of the impatient sort, it may be smart to look for some early-bird treatment even before gates open at 7 a.m. Friday, 8 a.m. Saturday and 6:25 a.m. Sunday. Show up well before your first desired event starts, especially on Sunday.
Three-day tickets are already sold out (although you can find some from resellers), while one-day tickets start at $60. Click here to book a one-day ticket.
For those looking to beat the crowd and keep some change, shuttles will pick up from five locations around the city for $15 a day. An additional Park-N-Ride lot, Lot Q, will also allow guests to drop their cars off and take the shuttle to COTA. Click here for shuttle information.
Additional transportation amenities include a drop-off spot for limos, taxis and rideshare apps. Bicyclists will have access to showers in the GEICO Premium RV Lot.
Food, music and more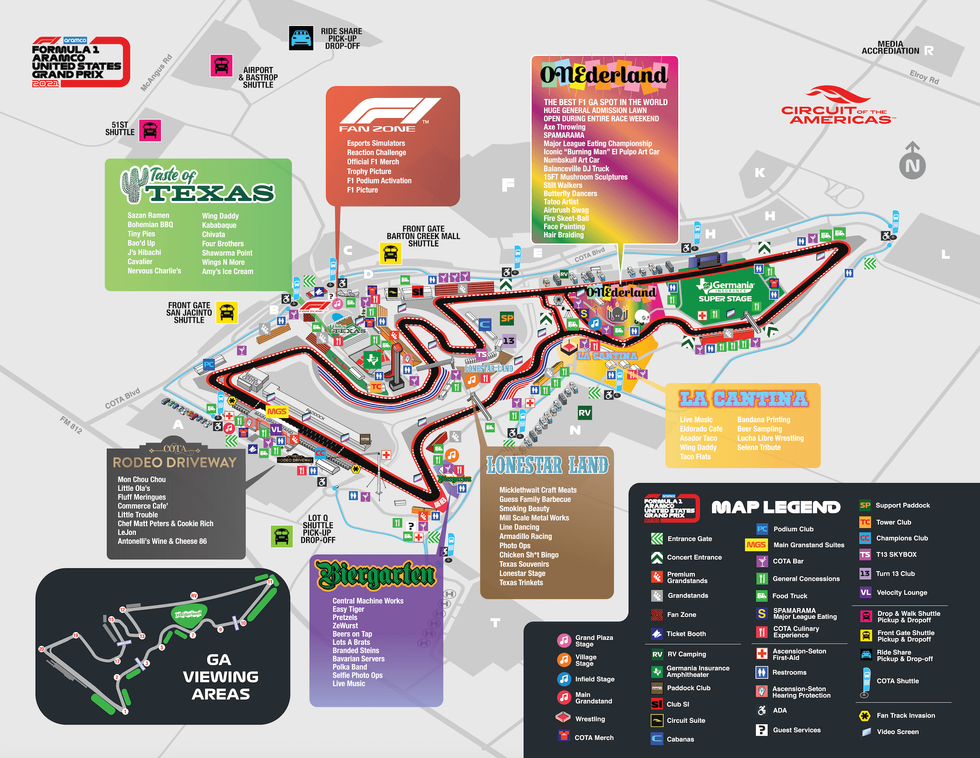 COTA will become a "World Fair"-esque fest full of local eats, live music and out-of-the-ordinary activities as part of the U.S. Grand Prix. (Circuit of the Americas)
Once you've entered those gates, the actual event will be a lot to take in. Anywhere from 300-350K people are expected to attend the big race, and fans are more excited than ever after nearly two years with no F1 in North America.
But just as fun as the big race—at least for more casual viewers—are the many attractions leading up to it.
Some highlights include performances from Twenty One Pilots and Billy Joel on Friday and Saturday, respectively, two races for the all-women's racing championship W Series and junior championship FIA Formula 4, NASCAR demos and a driver's parade on Sunday just before the race.

This is also a chance for Austin to entertain guests from far and wide—like a "World's Fair," as Andrews put it—and COTA will ensure that Austin remains on the map.
The "Live Music Capital of the World" will earn its rep with over 20 concerts across multiple stages on Saturday and Sunday. Highlights include Kool and the Gang and 15 Austin ensembles including The Ghost Wolves, Mobley and three-time Best of Austin winner DJ Chorizo Funk.
That Austin flair is well-represented in cuisine as well—expect over 30 dining options including local favorites Bao'd Up, Easy Tiger, Amy's Ice Cream and Tiny Pies scattered across the grounds. Check out the Taste of Texas section for local eats, the Biergarten for Bavarian beer, food and polka dancing, Lone Star Land for Austin's classic Chicken Shit Bingo and line dancing, and La Cantina for some Tex-Mex and a Selena tribute.
Still not satisfied? COTA's Onederland claims to host the best F1 General Admission lawn in the world and is packed with more than just amusement park rides. Expect the annual SPAMARAMA (yes, a Spam-themed festival,) axe throwing, the Major League Eating Championship and plenty of performers on stilts. Don't forget to ink a COTA-themed tattoo with an on-site tattoo artist as well.
Formula 1—a breakdown
Hamilton and Perez served up a treat with this mini battle 🍿#TurkishGP 🇹🇷 #F1 pic.twitter.com/jOTcurRWue

— Formula 1 (@F1) October 10, 2021
New to Formula 1? You're not alone—the sport has exploded in popularity in North America after gaining recognition from Netflix series "Drive To Survive." With a new track set to open in Miami, that growth will only continue.
Here's what you need to know to get caught up:
Formula 1 vehicles are arguably the fastest road-racing cars in the world. The open-wheeled single-seaters can reach top speeds around 215 miles per hour and all adhere to a "formula" set by the Fédération Internationale de l'Automobile.
Formula 1 is the top formula racing league in the world and consists of 20 drivers across 10 teams who compete in venues across North and South America, Central Asia and its native continent, Europe. F1 has existed in some form for over 70 years and features races on closed city streets as well as purpose-built racetracks like COTA.
The league is massively popular in Europe but has seen intermittent success in North America. The U.S. Grand Prix was first held in 1908 and flip-flopped across 10 different locales for 49 appearances over the next century, last spending seven years in Indianapolis from 2000-2007 before making a home in Austin in 2012.
This U.S. Grand Prix will be its 50th race and will be the 17th race of the season.
The Big Race—Hamilton v. Verstappen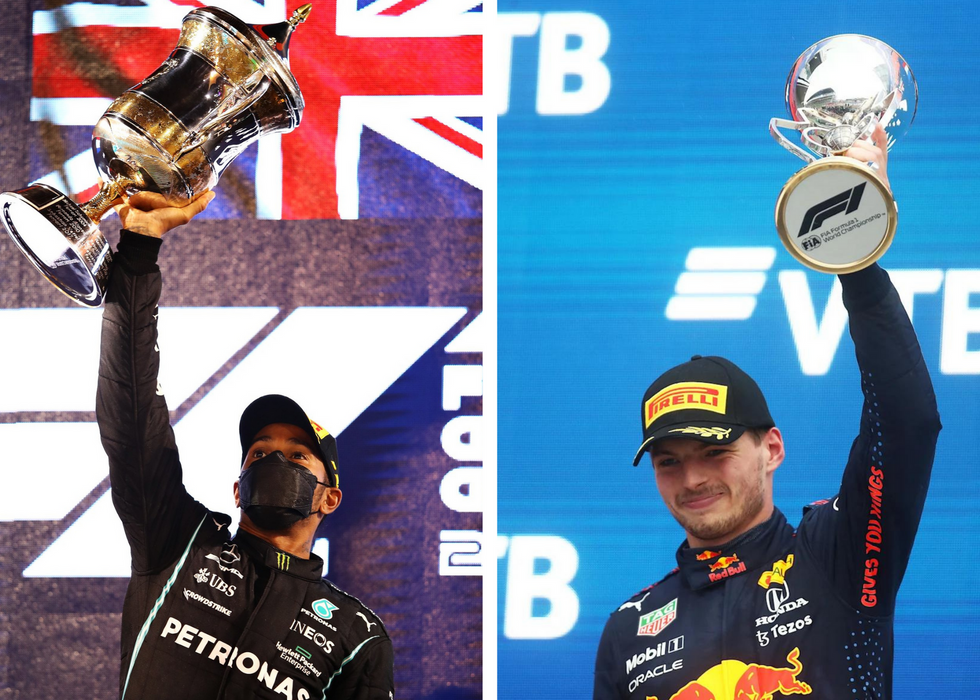 Defending champion Lewis Hamilton is in for some stiff competition from a young Max Verstappen as they fight for the F1 Championship. (Mercedes-AFG Petronas F1 Team/Twitter) (Red Bull Racing/Twitter)
The league's 20 drivers have crisscrossed across the map through the season, adapting to locales across four continents with vastly different terrains. But one factor has remained constant—standouts Lewis Hamilton and Max Verstappen have rarely left the leaderboard.
Just six points differentiate the two-star drivers with over a dozen races in—a margin low enough that the true winner may not be evident until the very end. With 262.5 points, Dutchman Verstappen holds the slight lead over Great Britain's Hamilton and both have over 1.5X the points of the next runner-up, Hamilton's teammate Valtteri Bottas.
Hamilton and Bottas make up Team Mercedes, the No.1 team in the league, while Verstappen and fifth-place Sergio Perez constitute second-place team Red Bull Racing Honda.
The evenly matched team, evenly-matched cars and neck-and-neck standings have brought forth a fan-fueled rivalry that F1 hasn't seen for quite some time.
This U.S. Grand Prix, much like the rest of the season, will be a testament of old vs. new. A 36-year-old Hamilton has taken home seven F1 championships, including a four-year dominance in the sport from 2017-2020, and has won on U.S. turf at COTA five times. Meanwhile, the 24-year-old Verstappen was once the youngest F1 driver and youngest Grand Prix race winner ever and has since finished third for two consecutive years.
The heated rivalry has culminated in three dangerous crashes throughout the season, including one at the Italian Grand Prix Sept. 13. Grand Prix Drivers' Association chairman Alex Wurz said it is "very likely" that they will again.
That next crash site may or may not be at COTA, but the U.S. Grand Prix will still see the two titans clash once more as the season nears its end. Expect either or both to end at the top of the leaderboard, and make sure to bring up either name to a committed fan if you're looking for some sideline banter.
Other racers to look out for include Bottas as a likely third-place contender and some mid-race fun from Perez and fourth-place rival Lando Norris.
For a full weekend schedule click here. Happy COTA days!
With two weeks of rest, a dream team lineup and nearly 20 scoring attempts in the match, Austin FC could have come away with a three-match home win streak against Minnesota United on Saturday.
Instead, missed opportunities and an equally boisterous opponent forced Austin to leave Q2 with a 1-0 loss to Minnesota.
Austin FC brought what appeared to be their strongest lineup to date to the pitch after their two-week break, including breakout stars Sebastian Driussi and Moussa Djitte. But even with dozens of shots between the two teams, the home team couldn't find their footing in the back-and-forth match.
After landing a brace in the team's 2-1 win against Real Salt Lake, Austin's Cecilio Dominguez struck first in the match with a shot on goal in the eighth minute of play. The scoring attempt opened the floodgates—in just three minutes, teammates Moussa Djitte and Sebastian Driussi would follow suit with their own looks at goal.
Just seconds later, Minnesota bounced back with a shot that forced Austin keeper Brad Stuver to jump for his first save, but a bad sendoff from the Verde and Black left Stuver unable to block another as the Loons' Franco Fragapone scored from close range in the 16th minute.
Despite a wide array of scoring attempts—from Djitte's blocked high-fliers to Tomas Pochettino's many near misses—Minnesota would stay on top for the remainder of the match.
A few flops from Minnesota, including a poorly-acted fall from the Loons' Emmanuel Arriaga (which was unrewarded and resulted in an Arriaga yellow card) and a controversial foul given to Moussa Djitte as he nearly made a solo drive to goal added to Austin's woes.
The Verde and Black's final attempt came as Austin center back Julio Cascante placed a close-range header in the final seconds of regulation, but the home team was unable to capitalize on their many attempts.
Both teams shared over 30 shots in the match, with Austin making eight shots on target. Austin FC held over 65% possession and received 12 fouls to Minnesota's nine.
It could soon be impossible for Austin FC to reach the playoffs, but Verde fans still have two chances to catch their team at home. Austin's first season will wrap up with five final matches, including a 4 p.m. Sunday game against the Houston Dynamo on October 24 and an 8 p.m. Wednesday match against Sporting KC on Nov. 4.
Here's a live blog of the match:
80' Austin makes first subs
80' | First couple #AustinFC substitutions on the night.

➡️ McKinze Gaines
⬅️ Diego Fagundez

➡️ Jon Gallagher
⬅️ Moussa Djitté pic.twitter.com/yVXyPr97Gn

— Austin FC (@AustinFC) October 17, 2021
With just over 10 minutes left in regulation ,Austin FC made some late-game subs, swapping Diego Fagundez for Austinite McKinze Gaines and Sebastian Driussi for forward Jon Gallagher. Both have a history of clutch performances for the team: Gaines scored just 10 minutes in to his first match of the game back in September, while Gallagher was Austin's first scorer at Q2 Stadium.
It's looking more like a draw at best for Austin as the time continues to tick down on the match.
61' Djitte loses chance after controversial call
In the 61st minute of a less-cohesive half for Austin, Moussa Djitte found himself alone near the goal with a good chance at making the home team's first goal. But referees had another ideas, making another controversial call on the Senegalese striker.
Refs stopped Djitte's menacing drive after Minnesota's Michael Boxall appeared to flop in a run-in with the striker, curbing Djitte's attempt to boos from the crowd. It's Djitte's second foul of the night and the team's ninth foul in the match. Both clubs host a yellow card, with center back Julio Cascante holding the home team's sole warning call. Minnesota's Emmanuel Reynoso holds the away team's yellow after an obvious flop that left him rolling on the ground for minutes, waiting on a call.
Blown whistles for both sides have slowed the match's tempo and left both clubs reeling as Austin looks for its first goal.
At the half: Austin still can't finish
45' still left to play. pic.twitter.com/39J1XnvvOc

— Austin FC (@AustinFC) October 17, 2021
With minutes-long shooting sprees and more shots on goal than Minnesota, Austin could easily have the lead in the match. But each crowd-raising attempt has still been slightly skewed as the home team ends the half with nothing on the board.
In just 45 minutes, both Austin and Minnesota have reached the double-digits in scoring attempts, but Minnesota's ability to infiltrate Austin's penalty box has given them the leg up in the match. The Loons have sometimes found themselves nearly alone alarmingly close to goal, and they've capitalized on their chances with a 16thb minute goal by Franco Fragapane.
Austin FC, however, has not. The club has seen close calls from Dominguez and Driussi, headers from Djitte and near-misses from Tomas Pochettino, but missed opportunities and a few strokes of bad luck have left them scoreless. The team will need to shake their age-old scoring issues if they hope to get back into tonight's game.
16' Minnesota nabs 1-0 lead
Fragapane at the back post!@MNUFC go up 1-0 on @AustinFC. pic.twitter.com/u5LxVgMhAU

— Major League Soccer (@MLS) October 17, 2021
Austin may have struck first, but Minnesota won the first points on the board as Franco Fragapane got one past keeper Brad Stuver from a close range in the 16th minute to make it 1-0. The Loons tested Stuver just as Austin did Miller, making two anxiety-inducing shots before Fragapane struck gold.
This goalie-vs.-goalie match has already seen three shots on goal from each team and a relatively quiet midfield as each team dukes it out in the box.
11' Austin tests Minnesota first
.@SebadriussiOk 😅 pic.twitter.com/SUdpNklgMF

— Austin FC (@AustinFC) October 17, 2021
Austin FC has taken no time to threaten goal. In a three-minute span, the home team has racked up three shots, two of which are on goal, as the ball bounces between Austin attackers but can't quite find the net.
Dominguez strikes first as he looks to find his third goal in three matches in the eights minute, but Minnesota's Tyler Miller fights back with a clutch save. Djitte then tests Miller just seconds later, while Driussi takes a final shot from farther back that just misses the top left corner.
Austin's Fagundez and Pochettino were the playmakers of the three-minute shooting spree, but the club still came out scoreless. Minnesota soon rebounded with a shot of their own that was blocked by keeper Brad Stuver.
Starting lineup
Rested and ready to be back on the pitch for #ATXvMIN. 💪#AustinFC x @YETICoolers pic.twitter.com/oHzypiVtqK

— Austin FC (@AustinFC) October 17, 2021
This may be Austin FC's most popular lineup— even the crankiest fans are commending the strong starting XI on Twitter. Tonight's starters are the same as in their win against Salt Lake.
New standouts Moussa Djitte and Sebastian Driussi are in alongside double-scorer Cecilio Dominguez up front, while fan favorite Diego Fagundez, Captain Alex Ring and Designated Player Tomas Pochettino take the midfield.
With Matt Besler still out on concussion protocol, Zan Kolmanic, Jhohan Romana and Julio Cascante take the back along with Hector Jimenez, who is in for right back Nick Lima. As (almost) always, Brad Stuver holds it down in goal.