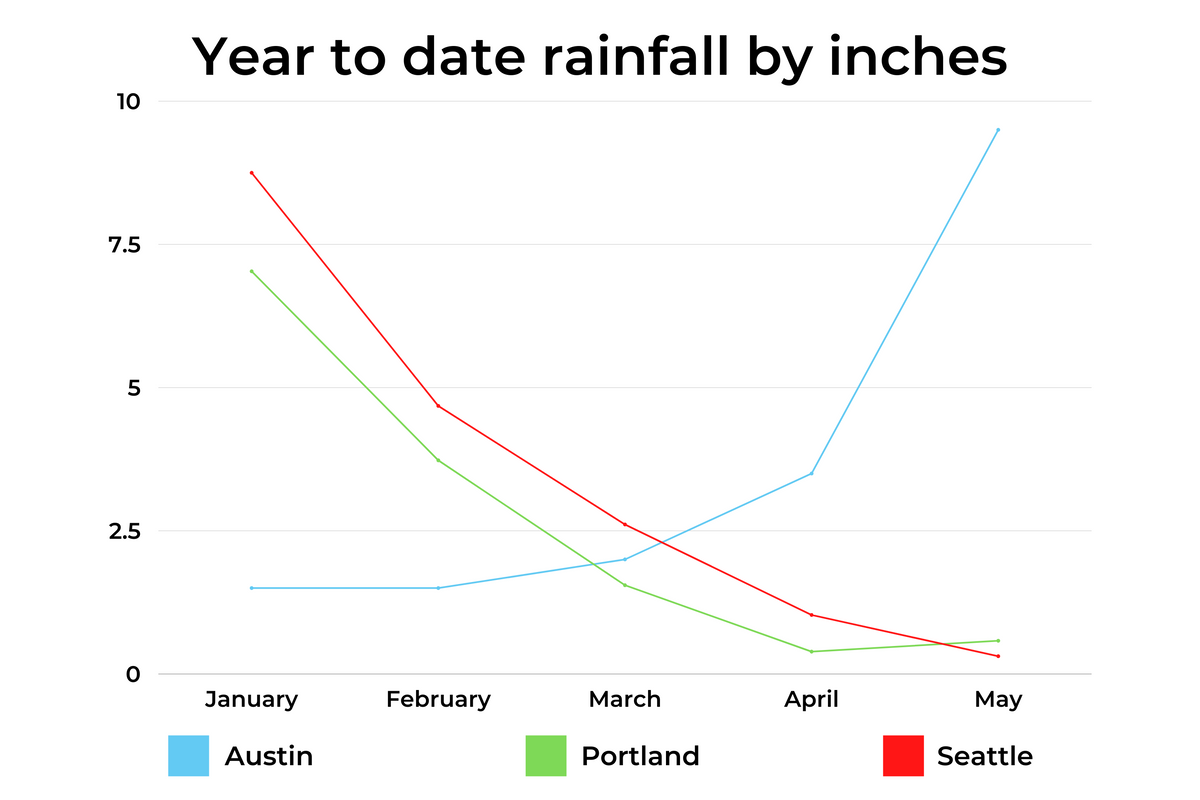 We're all getting tired of living in "Seattle." After more than a month of near-constant rain, flash floods and power outages, some residents are wondering, where's our Austin sunshine? Austin had a rainy May—rainier than some of the wettest cities across the country.
---
Year-to-date, Austin has weathered 19.8 inches of rain compared to a measured 17.38 inches in Seattle, Washington and 13.28 inches in Portland, Oregon. While it may seem like a lot of precipitation, meteorologists say this type of rain isn't uncommon for Austin.
Austin's proximity to the Gulf of Mexico, a drier than normal winter and spring due to La Niña, and a semi-tropical system were all responsible for bringing May's heavy rain, according to Keith White, National Weather Service Austin and San Antonio meteorologist.
"This spring wasn't all that unusual for this area," White said. "Mays and Octobers past have been notably wetter. We'll be entering a drier period in summer; Austin sees its highest precipitation in the spring and a secondary peak in fall; midsummer and midwinter are drier."
May is typically Austin's wettest month and despite straight days of rain, last month was beat out by May of 2016, 2015 and 1965.
Austin sees far fewer rainy days on average (around 85) than Portland or Seatttle, where it rains 156 and 160 days, respectively, but sees a similar amount of rainfall per year. Each year, Austin sees 36.25 inches of rainfall; Portland sees 36.91 inches and Seattle sees 39.34 inches of rain per year.
Most rain in the Pacific Northwest is concentrated between mid-fall and mid-spring. Portland is five inches drier than what is normal for this time of year and while Seattle had a wet start to the year in January, it has resumed normal weather patterns.