Get connected with our daily update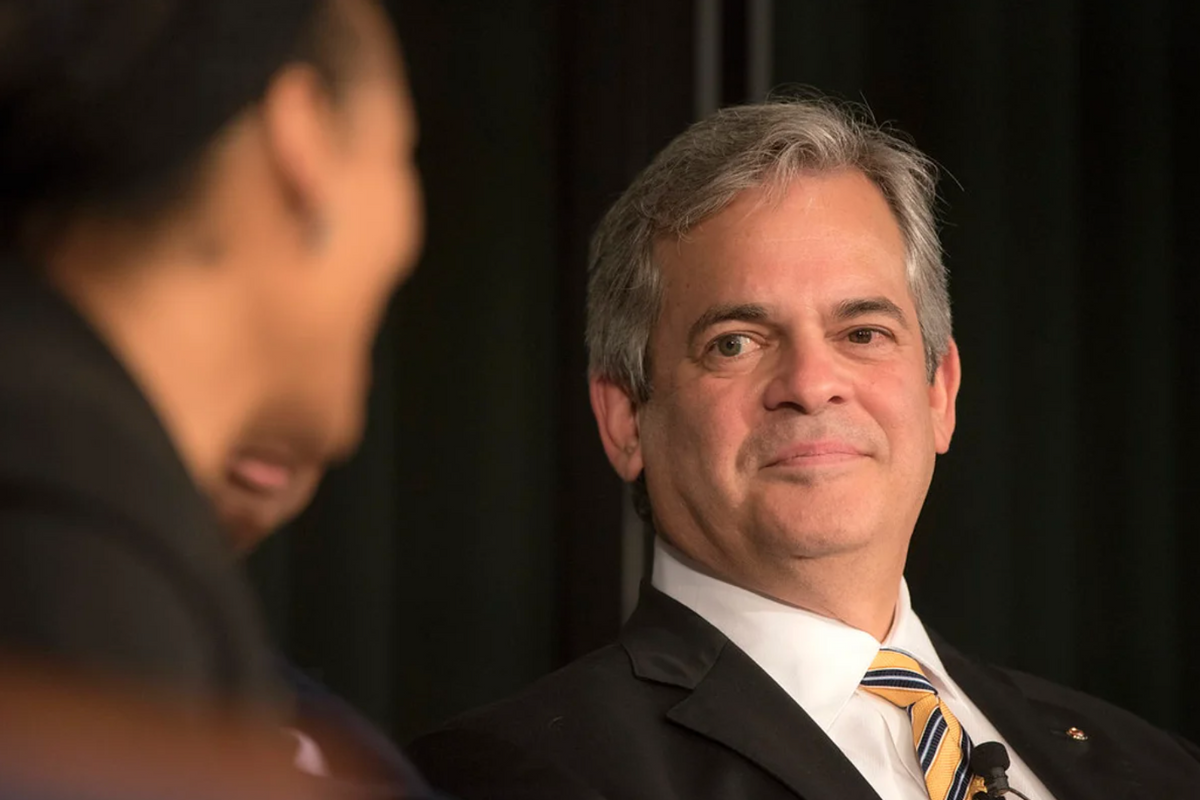 Austin Mayor Steve Adler had seen his star rise over the course of the pandemic, regularly appearing on CNN to discuss the local COVID-19 response and granting interviews to other national news outlets, including Politico. There was also chatter that he might be appointed to a cabinet position in the incoming Biden administration.

So when the news broke that Adler had hosted a small outdoor wedding for his daughter and then flew via private jet to a timeshare in Cabo San Lucas, in early November, he may have had further to fall.
---
Constituents, supporters, opponents and national commentators have called on Adler to resign, decrying his hypocrisy.
But political experts expect Adler will survive this scandal, following in the footsteps of other politicians, such as California Gov. Gavin Newsom and House Speaker Nancy Pelosi, who have also been caught violating pandemic guidelines but remained in office. The bigger challenge, they say, may arise in future elections, should he run at the state or national level.
"The (attack) ad writes itself," said Dr. Brandon Rottinghaus, a professor of political science at the University of Houston who researches political scandals.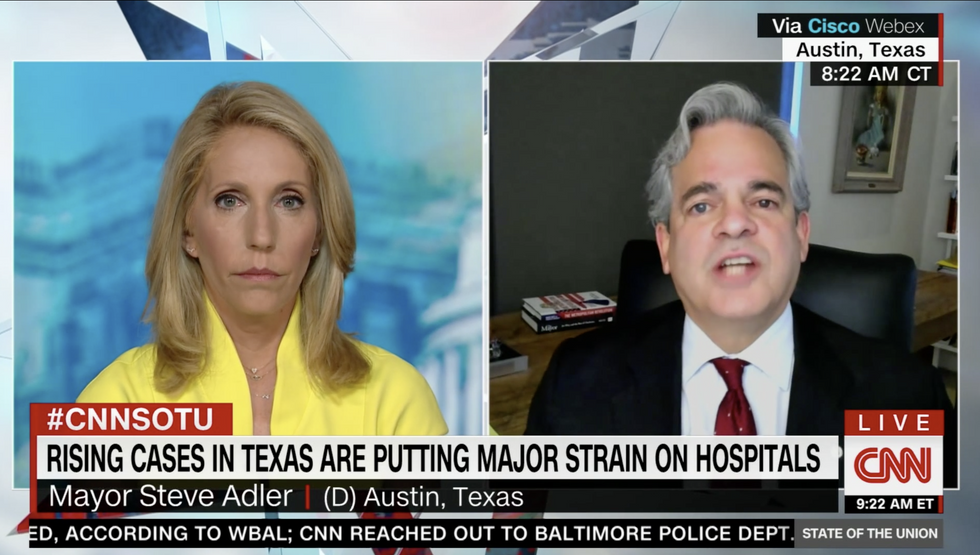 Mayor Adler speaks to CNN about Austin's COVID response in July.
Higher office?

Adler worked as an eminent domain and civil rights lawyer in Austin before being elected to his first mayoral term in 2014. Since then, he has presided over Austin City Council as it transitioned from an at-large system to a representative one, known as 10-1, and tackled contentious issues, from zoning reform and homelessness to the city's affordability crisis and recent protests over police violence.
When Adler made national news, it was generally positive, such as in 2017 when he responded to an email critical of the Austin-based movie theater chain Alamo Drafthouse, which had offered a women-only screening of "Wonder Woman," or endorsed Democratic presidential candidate Pete Buttigieg last year.
Since announcing the cancellation of SXSW in March, Adler has been part of a relatively successful local COVID response. Austin has seen fewer cases and deaths than most other Texas metros, and he and other local officials have led the charge in advocating for stricter state orders, prompting pushback from Republican lawmakers.
With these feathers in his cap, Adler's political future looked bright.
Last month, Texans Democratic Party Chairman Gilberto Hinojosa told the Austin American-Statesman that Adler would "be perfect" for a future Biden cabinet position, such as leading the U.S. Department of Housing and Urban Development or the Environmental Protection Agency. As recently as Monday, Adler said he had spent time with members of the president-elect's transition team.
Many were surprised, then, when the Statesman's Tony Plohetski reported Wednesday that Adler had hosted a 20-person outdoor wedding for his daughter in downtown Austin in early November and then flew to Mexico with some of the attendees for a vacation, all while publicly encouraging residents to stay home.
The news set off a media firestorm, garnering responses from Ted Cruz and Sean Hannity, sparking coverage in national news outlets such as the Associated Press and prompting an apology.
Hypocrites. Complete and utter hypocrites. And don't forget @MayorAdler who took a private jet with eight people t… https://t.co/rhqc6szcys

— Ted Cruz (@Ted Cruz) 1606947703.0
"I want you to know that I regret that travel," Adler said during a Facebook live on Wednesday evening. "I know that others have chosen not to travel under the same circumstances, and I know that in my position I need to send a clearer message."

Dr. James Henson, director of the Texas Politics Project and a lecturer at the University of Texas at Austin, doesn't believe that Adler was ever a front runner for any cabinet positions.
"While the mayor is known in national politics, I doubt he was a top-tier contender for a cabinet position at this point," he wrote in an email to Austonia. "If he was, this series of events certainly wouldn't help."
This is not to say, however, that Adler won't face other consequences.
Future elections
Rottinghaus, whose research interests include recalls of local governments officials, said politicians tend to survive most political scandals. But this one could spell trouble for Adler if he runs for higher office by providing fodder to his critics.
"It's not a complicated policy or legislative arrangement," Rottinghaus said. "It is pure hypocrisy, and that's something that everyone has had to experience or live through given how we all function in the pandemic."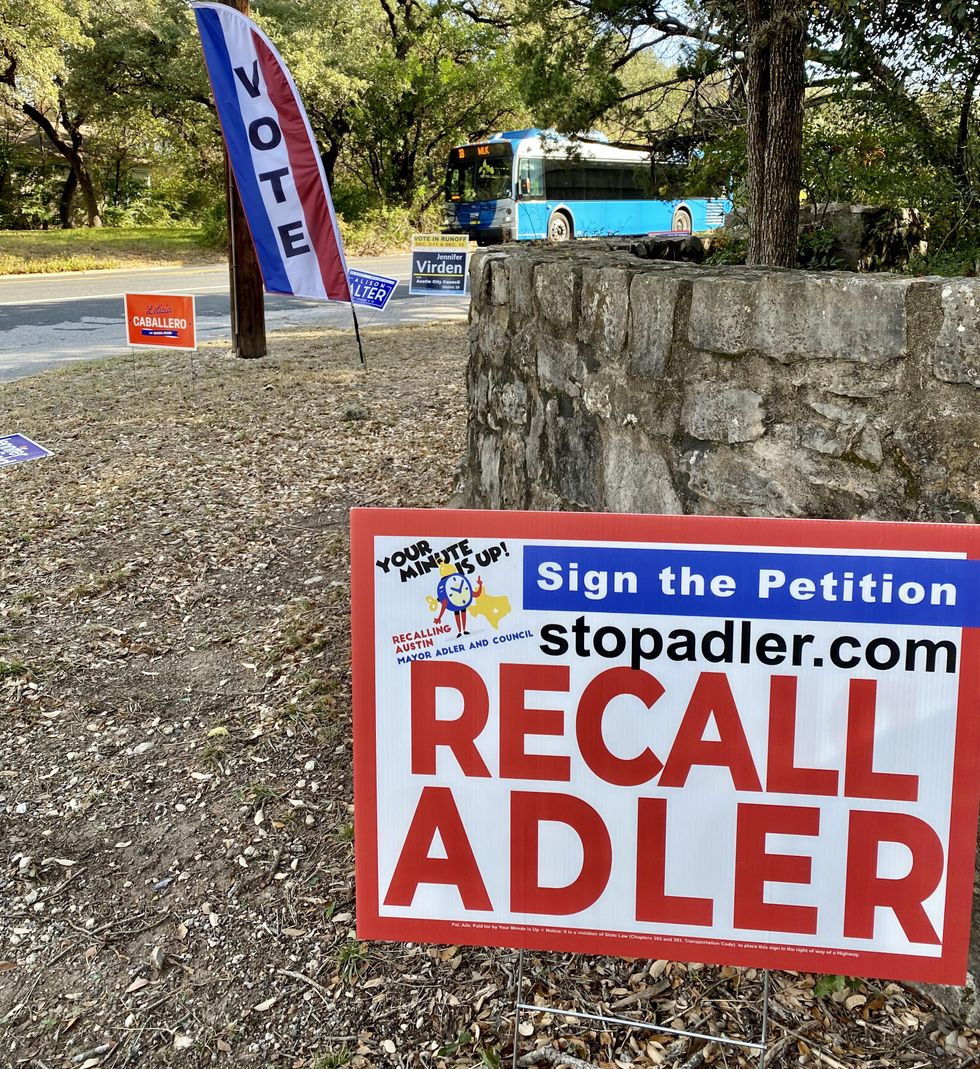 (Austonia)
In the short term, the incident is also likely to energize local political action committees, such as Your Minute Is Up, that wish to see him replaced as mayor.

"What Adler did is basically throw fuel on his own fire," Your Minute Is Up founder Becky McMIllian told Austonia.
The PAC is soliciting signatures for a petition to recall Adler and other City Council members. On Thursday, McMillian set up a table at the Old Quarry Branch library, which is an early polling place for the Dec. 15 runoff election. "People are storming up ... and throwing their pens down and saying, 'I am sick of this hypocrisy. Where do I sign,'" she said.
Despite this ammunition, Rottinghaus thinks the likelihood of a successful recall effort is "very low" for myriad reasons. To start, many voters don't understand recall elections and have short memories when it comes to political scandals, he said.

The increasing tribalism of American politics also means that many will continue to support Adler if it means defeating a member of the opposition.
"People tend to discount the actions of people they already support," he said.
Inter-party politics
Another consequence may be increased opposition to Adler from those to his left.
Dr. Lara Brown, director of George Washington University's Graduate School of Political Management, said politicians who have endured scandals often face more trouble in their primary races than in general elections.
"The question becomes whether or not somebody from your own party says, 'Yes, we could have a better Democrat,'" she said.
Adler could face a progressive challenger who uses this incident as an example of the current conflict among Democrats, with progressives feeling that the party establishment is apathetic toward the working class.
"Democrats are going to have to confront this politically," Rottinghaus said.
This may already be true for Adler.
Some Twitter users chastised him for not only failing to heed his own COVID advice but also using a private jet to do so when many people are struggling to pay their rent or feed their families.
Hypocrite Austin Mayor Steve Adler: "Stay home. Keep those numbers down. This is not the time to relax." This, day… https://t.co/BYjohTmyA3

— SanWren (@SanWren) 1607006813.0
Julie Ann Nitsch, who serves on the Austin Community College board of trustees and was endorsed by the Austin Democratic Socialists of America, was one of many people who commented on his Facebook apology video.

"The poor have to work and get no healthcare," she wrote. "You fly on private jets and throw private parties."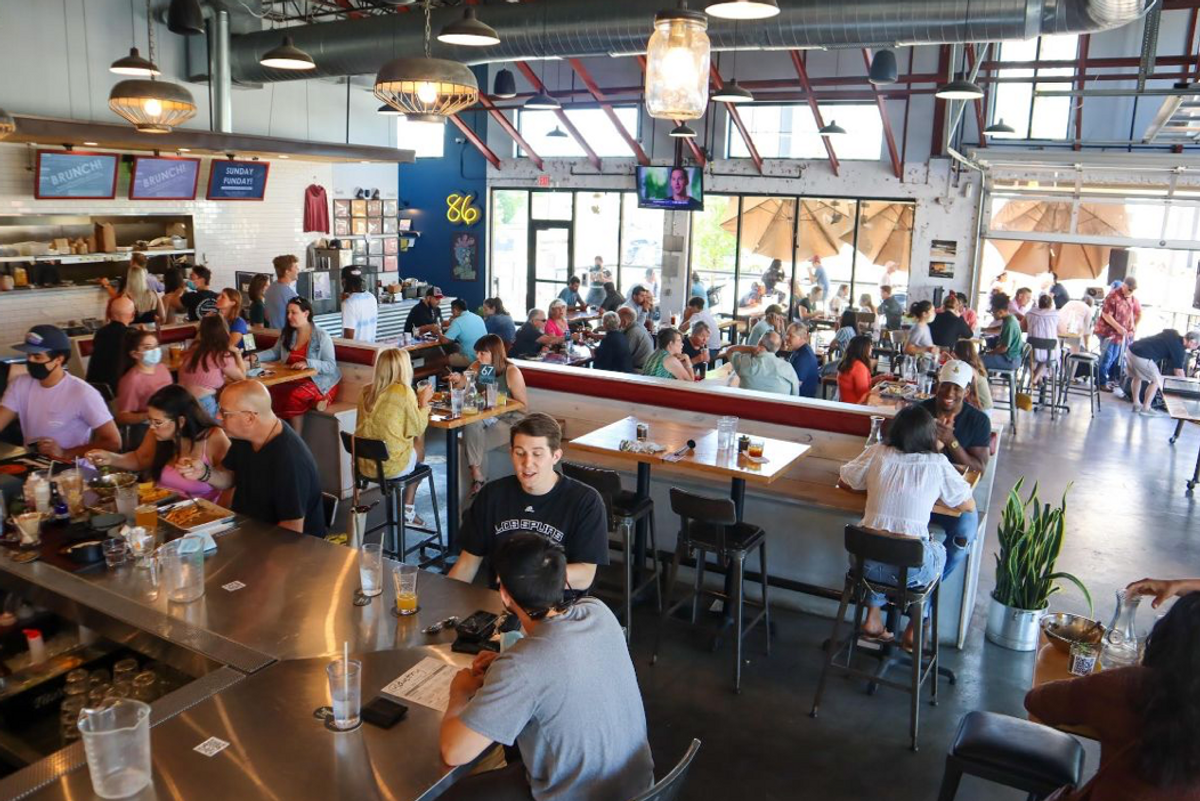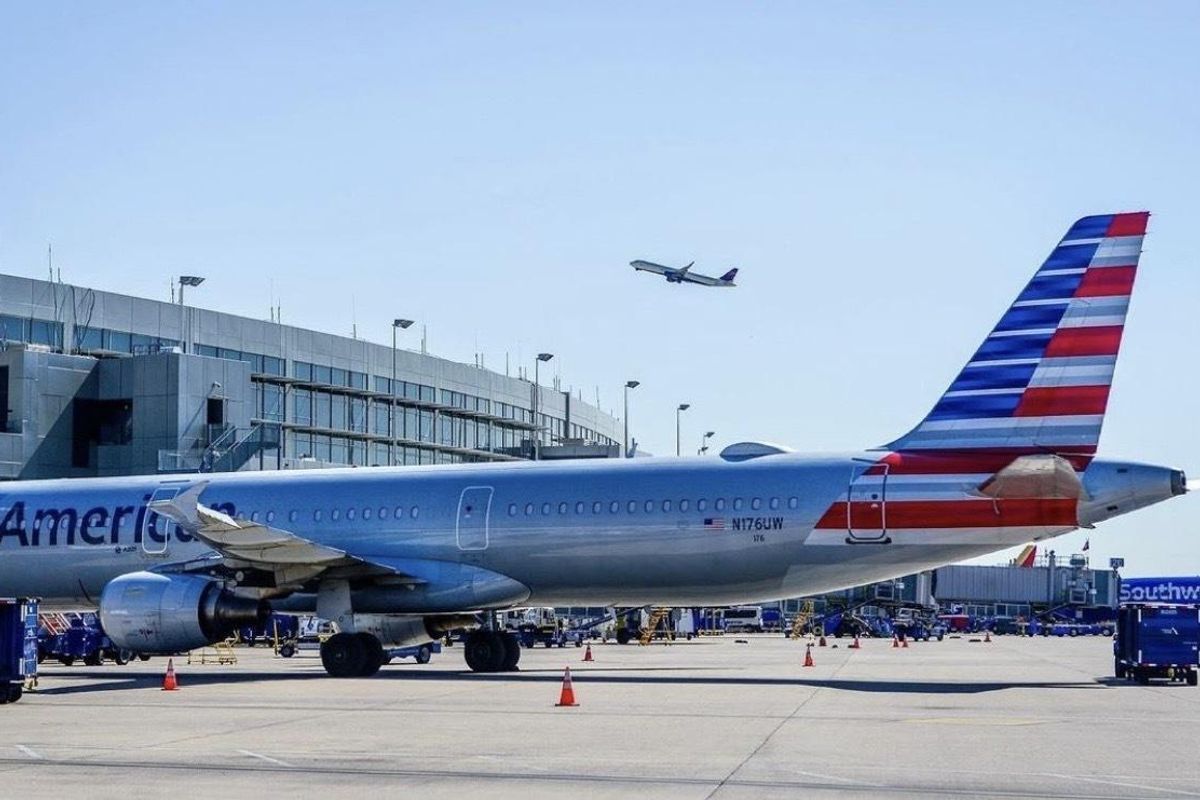 With major entertainment events slated for October, the Austin-Bergstrom International Airport is gearing up for a busy month.
Artists and music lovers are set to pack into Zilker Park for The Austin City Limits Music Festival in the coming two weekends. Following that, Formula One will bring racing fans to the Circuit of the Americas.
For those two events, the airport is anticipating high passenger days with 30,000 or more people departing flights.
ABIA recommends arriving at least two and a half hours in advance for domestic flights on those days. For ACL, it's expected on both Sundays of the festival along with the Monday and Tuesday after. The F1-driven high passenger days are expected on Oct. 20-21 and Oct. 23-26.
\u201c#AustinCityLimits visitors, you\u2019re in for a weird and wild ride \ud83e\udd18\u262e\ufe0f \n\nFlying in or out of our airport? We got firm and fun tips for you: https://t.co/RawVRalOXN\u201d

— Austin-Bergstrom International Airport (AUS) (@Austin-Bergstrom International Airport (AUS)) 1664894083
F1, especially, could draw in loads of travelers as the three-day event saw 400,000 attendees last year. ABIA warns that highways leading to the airport may see even higher traffic than usual around the event and that travelers should plan their route accordingly.
Bailey Grimmett, a spokesperson for ABIA, said travel numbers come in 24 hours in advance. So, it's hard to predict if the airport will see travel volumes at the same levels that have happened around previous F1 races or if it'll top ACL's flight traffic.
Still, she says historical knowledge points to a chance for it.
"We've had that Monday after F1 break the record for single busiest in airport history," Grimmett said. "So context clues I would say yes, but I can't confirm that. But the historical background points to that."
In anticipation of the high volume of flyers, the airport received additional TSA officers for security screening through the end of October. To prepare even further, the Department of Aviation and partners hosted a job showcase and hiring fair to address the continued labor shortage the airport has experienced.
Relief from hectic travel days is on the horizon with November likely to see a slowdown.
"I don't anticipate it will be as busy as October just because we don't have as many events going on," Grimmett said. "Thanksgiving is kind of our primary holiday that we see a lot of passengers coming in and out of the airport."