Never miss a story
Sign up for our free daily morning email...
...and afternoon text update
Get connected with our daily update
Austin Mayor Steve Adler had seen his star rise over the course of the pandemic, regularly appearing on CNN to discuss the local COVID-19 response and granting interviews to other national news outlets, including Politico. There was also chatter that he might be appointed to a cabinet position in the incoming Biden administration.

So when the news broke that Adler had hosted a small outdoor wedding for his daughter and then flew via private jet to a timeshare in Cabo San Lucas, in early November, he may have had further to fall.
---
Constituents, supporters, opponents and national commentators have called on Adler to resign, decrying his hypocrisy.
But political experts expect Adler will survive this scandal, following in the footsteps of other politicians, such as California Gov. Gavin Newsom and House Speaker Nancy Pelosi, who have also been caught violating pandemic guidelines but remained in office. The bigger challenge, they say, may arise in future elections, should he run at the state or national level.
"The (attack) ad writes itself," said Dr. Brandon Rottinghaus, a professor of political science at the University of Houston who researches political scandals.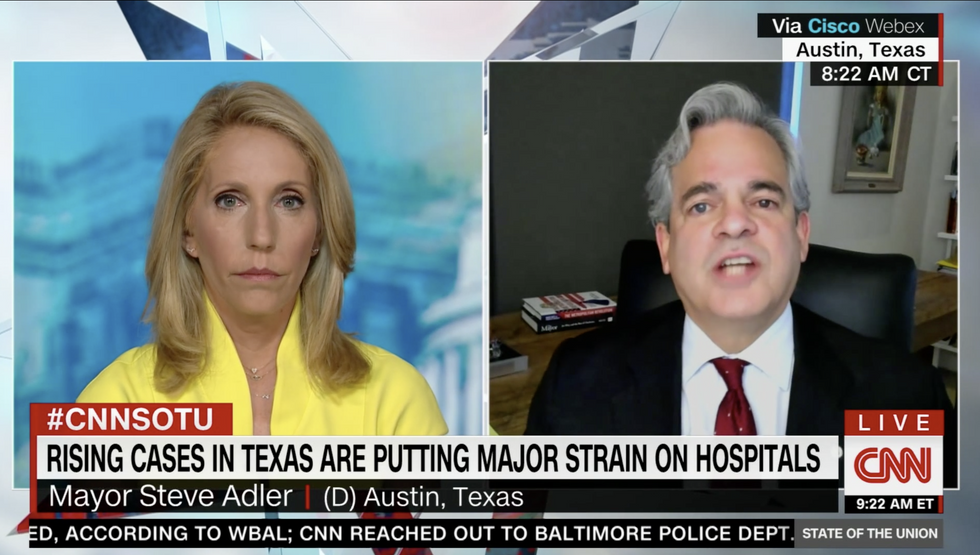 Mayor Adler speaks to CNN about Austin's COVID response in July.
Higher office?

Adler worked as an eminent domain and civil rights lawyer in Austin before being elected to his first mayoral term in 2014. Since then, he has presided over Austin City Council as it transitioned from an at-large system to a representative one, known as 10-1, and tackled contentious issues, from zoning reform and homelessness to the city's affordability crisis and recent protests over police violence.
When Adler made national news, it was generally positive, such as in 2017 when he responded to an email critical of the Austin-based movie theater chain Alamo Drafthouse, which had offered a women-only screening of "Wonder Woman," or endorsed Democratic presidential candidate Pete Buttigieg last year.
Since announcing the cancellation of SXSW in March, Adler has been part of a relatively successful local COVID response. Austin has seen fewer cases and deaths than most other Texas metros, and he and other local officials have led the charge in advocating for stricter state orders, prompting pushback from Republican lawmakers.
With these feathers in his cap, Adler's political future looked bright.
Last month, Texans Democratic Party Chairman Gilberto Hinojosa told the Austin American-Statesman that Adler would "be perfect" for a future Biden cabinet position, such as leading the U.S. Department of Housing and Urban Development or the Environmental Protection Agency. As recently as Monday, Adler said he had spent time with members of the president-elect's transition team.
Many were surprised, then, when the Statesman's Tony Plohetski reported Wednesday that Adler had hosted a 20-person outdoor wedding for his daughter in downtown Austin in early November and then flew to Mexico with some of the attendees for a vacation, all while publicly encouraging residents to stay home.
The news set off a media firestorm, garnering responses from Ted Cruz and Sean Hannity, sparking coverage in national news outlets such as the Associated Press and prompting an apology.
Hypocrites. Complete and utter hypocrites. And don't forget @MayorAdler who took a private jet with eight people t… https://t.co/rhqc6szcys

— Ted Cruz (@Ted Cruz)1606947703.0
"I want you to know that I regret that travel," Adler said during a Facebook live on Wednesday evening. "I know that others have chosen not to travel under the same circumstances, and I know that in my position I need to send a clearer message."

Dr. James Henson, director of the Texas Politics Project and a lecturer at the University of Texas at Austin, doesn't believe that Adler was ever a front runner for any cabinet positions.
"While the mayor is known in national politics, I doubt he was a top-tier contender for a cabinet position at this point," he wrote in an email to Austonia. "If he was, this series of events certainly wouldn't help."
This is not to say, however, that Adler won't face other consequences.
Future elections
Rottinghaus, whose research interests include recalls of local governments officials, said politicians tend to survive most political scandals. But this one could spell trouble for Adler if he runs for higher office by providing fodder to his critics.
"It's not a complicated policy or legislative arrangement," Rottinghaus said. "It is pure hypocrisy, and that's something that everyone has had to experience or live through given how we all function in the pandemic."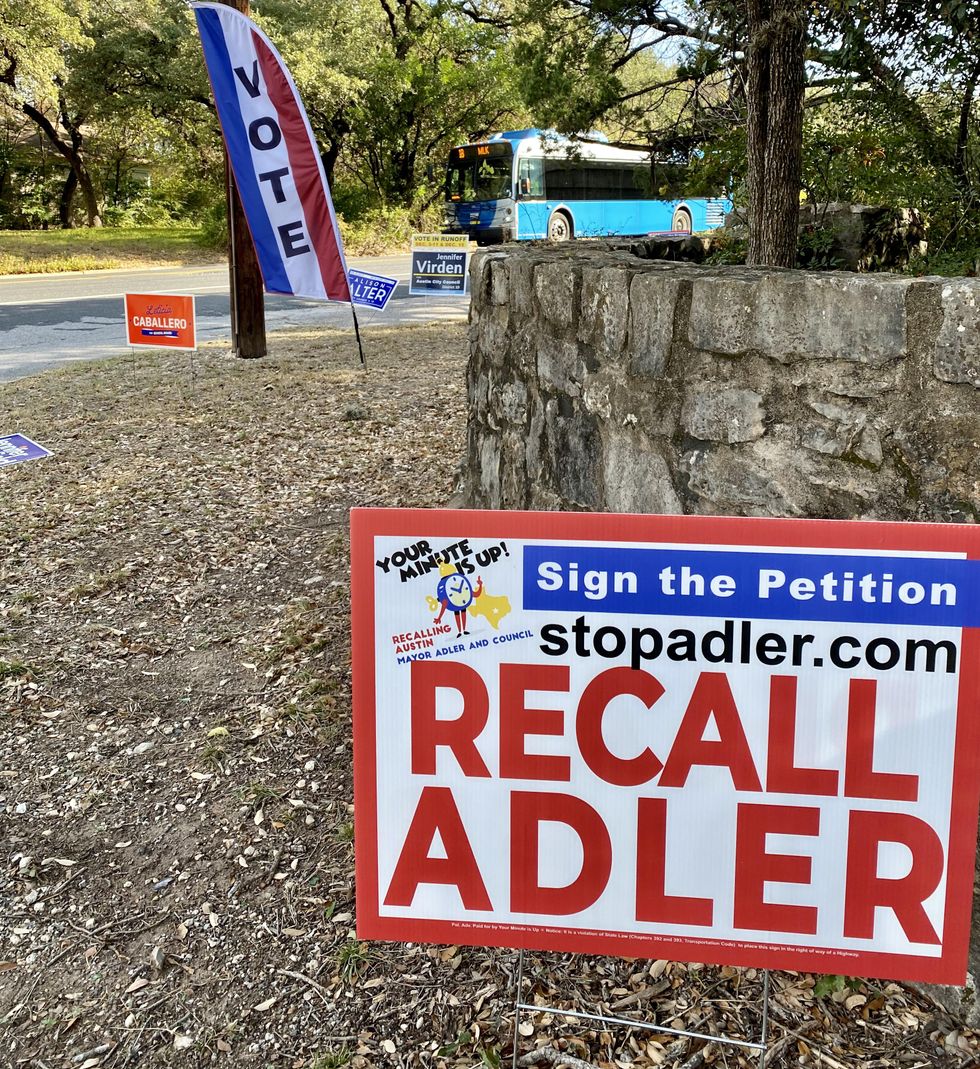 (Austonia)
In the short term, the incident is also likely to energize local political action committees, such as Your Minute Is Up, that wish to see him replaced as mayor.

"What Adler did is basically throw fuel on his own fire," Your Minute Is Up founder Becky McMIllian told Austonia.
The PAC is soliciting signatures for a petition to recall Adler and other City Council members. On Thursday, McMillian set up a table at the Old Quarry Branch library, which is an early polling place for the Dec. 15 runoff election. "People are storming up ... and throwing their pens down and saying, 'I am sick of this hypocrisy. Where do I sign,'" she said.
Despite this ammunition, Rottinghaus thinks the likelihood of a successful recall effort is "very low" for myriad reasons. To start, many voters don't understand recall elections and have short memories when it comes to political scandals, he said.

The increasing tribalism of American politics also means that many will continue to support Adler if it means defeating a member of the opposition.
"People tend to discount the actions of people they already support," he said.
Inter-party politics
Another consequence may be increased opposition to Adler from those to his left.
Dr. Lara Brown, director of George Washington University's Graduate School of Political Management, said politicians who have endured scandals often face more trouble in their primary races than in general elections.
"The question becomes whether or not somebody from your own party says, 'Yes, we could have a better Democrat,'" she said.
Adler could face a progressive challenger who uses this incident as an example of the current conflict among Democrats, with progressives feeling that the party establishment is apathetic toward the working class.
"Democrats are going to have to confront this politically," Rottinghaus said.
This may already be true for Adler.
Some Twitter users chastised him for not only failing to heed his own COVID advice but also using a private jet to do so when many people are struggling to pay their rent or feed their families.
Hypocrite Austin Mayor Steve Adler: "Stay home. Keep those numbers down. This is not the time to relax." This, day… https://t.co/BYjohTmyA3

— SanWren (@SanWren)1607006813.0
Julie Ann Nitsch, who serves on the Austin Community College board of trustees and was endorsed by the Austin Democratic Socialists of America, was one of many people who commented on his Facebook apology video.

"The poor have to work and get no healthcare," she wrote. "You fly on private jets and throw private parties."
After two years of no in-person events, Austin festival South by Southwest has agreed to give 50% of ownership to P-MRC, a Los Angeles company that controls publishing operations for Rolling Stone and Billboard.
The media venture was founded in 2020 and is part-owned by Jay Penske, racer Roger Penske's son and head of Penske Racing and Penske Media.
The move comes after the COVID-19 pandemic left the festival with two years worth of hemorrhaging funds. SXSW organizers were left scrambling for solutions in March 2020 when the city of Austin canceled the festival at the onset of the pandemic. One-third of the festival's 175 year-round employees were laid off, and the festival ran a shortened virtual event in 2021.
SXSW CEO and co-founder Roland Swenson said in a statement that the company is grateful to get aid when they need it most and that they are now looking to the future.
"It has been an incredibly tough period for small businesses, SXSW included," Swenson said. "When Jay Penske approached us with an interest in becoming a partner, it was a true lifeline for us. Both of our companies share a passion for producing high-quality content that helps shape modern culture, so this feels like a natural alliance."
Both of Austin's big-name festivals are now in the hands of out-of-town buyers. In 2014, homegrown festival Austin City Limits was bought in part by LiveNation, who took 51% ownership in Austin live promoter C3 Presents.
While SXSW was still online-only this year, it was aided in part by big-name guests such as Matthew McConaughey, Willie Nelson, Chance the Rapper and Bill Hader.
The fest has captured the essence of Austin arts and culture for 34 years, and it doesn't plan on stopping now. With P-MRC by its side, SXSW said it plans on keeping its unique identity but expanding operations as it prepares for an in-person celebration next spring.
"Since 1987, SXSW has been the world's premier festival centered at the convergence of tech, media, film, and music," Penske said. "Today SXSW continues to be one of the most recognized brands for empowering creative talent and bringing together the brightest creators of our time. As part of this significant investment, we plan to build upon SXSW's incredible foundation while extending the platform further digitally and assisting Roland and his incredible team to bring their vision to even greater heights."
With their future restored, SXSW's newest slogan rings truer than ever: "See you next year at SXSW!"
Stephen Broderick is now in police custody for a suspected domestic violence incident that killed three in northwest Austin on Sunday.

After initially being called an active shooting incident, joint local law enforcement and more than 75 FBI agents proceeded with an almost day-long manhunt with three helicopters and on-ground teams for former Travis County deputy Broderick. Police captured him after a 911 caller reported a suspicious man walking along U.S. 290, where he was taken into custody.
Police believe the victims, who have been identified as two Hispanic women and one Black man, knew their assailant. A child was involved but is now safely in police custody. Two of the victims have been identified as former and current Elgin ISD students: Alyssa Broderick and Willie Simmons III.
The school district released a statement offering its condolences to the families. Alyssa was enrolled until October 2020 and played on the basketball team. Simmons was a senior at Elgin High School where he was captain of the football team and had been recruited to play football at the University of North Texas.
Travis County Sheriff Sally Hernandez released the following statement on the incident: "I'm truly heartbroken that a former Travis County Sheriff's Office Deputy is the suspect in such a horrific incident. TCSO is standing by to provide any, and all assistance we can to the families of the victims in their time of need. I'm proud of the integrity and professionalism shown by the men and women of TCSO, APD and other law enforcement agencies, who worked tirelessly throughout the night to locate Stephen Broderick. I'm especially grateful to the vigilant citizen who called 911 after seeing Broderick, and to the Manor PD officers and TCSO deputies who took him into custody this morning."
During a press briefing at 4:45 p.m. on Sunday, Interim Police Chief Joe Chacon said law enforcement was on the scene for several hours investigating the incident with 41-year-old Broderick.
"We're very sorry that obviously this has happened and we continue to try and locate this individual, we are transitioning from a search in this area to a fugitive search and those efforts will continue until this person is located," Chacon said. "I don't want anyone to think that we're packing up and going home. We're going to continue to look for this individual because he continues to pose a threat to this community."
This story has been updated at 8 a.m. Monday to include the latest information.

From Your Site Articles
Related Articles Around the Web
(Hard Rock Stadium)
Formula 1 is returning to Florida for the first time since 1959, announcing that the brand-new Miami Grand Prix will join the calendar in 2022 and Austin will no longer be the only F1 race in the U.S.
Held at the Hard Rock Stadium complex in Miami Gardens, this will be the first race in the Sunshine State in 62 years. With a new track setup, F1 will loop the stadium, home of the NFL's Miami Dolphins.
The new 3.36 mile circuit has 19 corners, three straights and potential for three DRS zones, with expected top speeds of 198 mph.

Now with two races in the U.S., F1 President Stefano Domenicali said they will avoid having back-to-back events by keeping the Miami Grand Prix separate from the U.S. Grand Prix, which is held at Austin's Circuit of the Americas.
The date of the race has yet to be confirmed, though Domenicali said he expects the first race in a 10-year deal to take place in the second quarter of 2022. Austin's race will take place on Oct. 24 this year.
"The USA is a key growth market for us, and we are greatly encouraged by our growing reach in the U.S. which will be further supported by this exciting second race," Domenicali said.
Miami will mark the 11th race location in the U.S. since the Championship began in 1950: Circuit of The Americas in Austin; Dallas, Texas; Indianapolis, Indiana; Sebring, Florida; Riverside, California; Watkins Glen, New York; Long Beach, California; Las Vegas, Nevada; Detroit, Michigan and Phoenix, Arizona. COTA was first opened in 2012.
Domenicali said F1 will be working with the FIA and the Hard Rock Stadium to leave a lasting impact on the community: discounted tickets for residents, a program to support local businesses and a STEM education program through F1 in schools.