Get connected with our daily update
Millennials love Austin. They also love unions.
Local union leaders report increased interest among millennial and Gen Z members, while workers at a number of Austin businesses—including JuiceLand, the Austin American-Statesman and BookPeople—have recently organized.
---
This trend is not limited to Austin. More than three-quarters of people who joined labor unions in 2017, the most recent year for which data is available, were under the age of 35, despite making up less than 40% of total employment, according to the U.S. Bureau of Labor Statistics.
Historically, younger workers have been less likely to join unions, but current workforce trends—rising job insecurity and the ubiquity of part-time, contract and unpaid positions—have led to a demographic shift, according to the Economic Politics Institute.
Paul Steiner, 25, is the labor branch co-chair of the Austin chapter of the Democratic Socialists of America (and a millennial cusp). He believes millennials are interested in unionizing for the same reason they're buying fewer wedding rings and homes. "Quite frankly, we're poorer than any other generation has been in a long time," he said. "These are all the result of material conditions worsening for everyone in America."
The Benjamin Button effect
When Ken Zarifis, 57, became president of Education Austin in 2010, the Austin ISD employee union membership was graying. To ensure the union's longevity, he began meeting with its younger members and asking them why more of their peers weren't joining up. "They said, 'Not relevant anymore,'" he said. "That wasn't easy to hear."
Union gains, such as weekends and the eight-hour workday, were ancient history to millennial workers. In response, Education Austin grew more involved in the social justice issues that younger workers said were important to them, including hosting a series of DACA clinics to help eligible Dreamers apply for work permits and advocating for more equitable recess policies.
These efforts have paid off. "I can't say that we're not still a little gray-haired," Zarifis said. "(But) we see us growing young, like Benjamin Button."
Austin EMS Association President Selena Xie has also noticed a slight attitude change among incoming members. "There is excitement about the identity of being in a union rather than grilling us over the specific benefits being in the Association has," she wrote in an email to Austonia.
Next-generation demands
Recent worker movements in Austin have focused on social justice issues in addition to wage increases and workplace conditions.
The United Front of Juice Crews, a group of JuiceLand workers who organized earlier this month, have called on the Austin-based company to acknowledge allegations of racism, sexism and sexual harassment. "Management has continuously refused to acknowledge their role in upholding a racist and sexist structure," the group's media team wrote in a statement shared with Austonia. JuiceLand leadership disputes these allegations.
The Austin NewsGuild, which represents journalists at the Austin American-Statesman and its six community newspapers, won the right to negotiate for a union contract in February. Among its demands is an anti-racist action plan, which includes reviving the Spanish-language newspaper ¡Ahora Si!, diversifying hiring and disclosing pay to allow for an equity study.

Our company is observing MLK Day today. Tomorrow we'll send a letter to management demanding change and outlining measures to achieve diversity, equity & inclusion in our newsroom.

Today, we're sharing the letter so we can start this conversation 🦇https://t.co/Jygb1vq5WP
— Austin NewsGuild (@AustinNewsGuild) January 18, 2021
Although these demands may reflect millennial leadership, they also have to appeal to workers of all ages to ensure organizational success. Austin DSA skews more millennial, Steiner said, but its growth in recent years is built on the commitment of longstanding members who "held down the fort" during the decades when unions were less popular. He pointed to BookPeople United, which was recognized in 2018, as an example of a union that included a mixed-age membership. "It necessarily has to cross generational lines," he said. "Otherwise you'll fail."
East Austin restaurant la Barbecue has been robbed a third time in less than three months, according to a post on the restaurant's Instagram.
In the post, the restaurant included photos of what appeared to be a man exiting a minivan from surveillance footage.
"This guy pulled up in a car full of stuff… he ripped our gate open and stole a couple empty kegs," the post said. "The ring system scared him off so he did not venture back into the area. PLEASE EVERYONE ON THE EAST SIDE BE CAREFUL!!! This guy goes back into his car to grab something before he goes in. I am hoping he won't be back!!"
The robbery comes as many restaurant and food truck owners have been on guard from recent break-ins. East Austin cheesesteak truck R&B's Steak and Fries has also been robbed three times in around three months, according to owner Kris Elliott. Elliot said the truck was last robbed around a month and a half ago.
"When the weather gets cold, it seems like these things start to happen more often," Elliott said. "We're just happy no one got hurt."
Additionally, he said all 5 of the food trucks in their lot have experienced burglaries. The landlord of the space is taking action by investing in alarm and camera systems. "Been very tough dealing with this problem as us small business owners are just trying to survive during the pandemic," Elliott said.
And it's not just in East Austin. North Austin restaurants Eldorado Cafe and Chez Zee Bistro were both broken into and robbed on the weekend of Jan. 8, while over a dozen food truck robberies and break-ins were reported in the latter half of 2021.
Some, like Chez Zee's Deborah Velasco, wonder if the understaffed Austin Police Department's decision to no longer respond to non-emergency calls is part of the problem. Xose Velasco, owner of East Austin's Discada, said owners are keeping their guard up in the wake of the robberies as he was robbed twice within a month of reopening in November 2021.
"We try to keep the lights on," Velasco said. "We're a little bit more careful."
After 12 months, the long-anticipated massive Tesla factory in Southeast Travis County is up and operating and everyone wants a look inside.
Phase 1 of Giga Texas appears to be tied up as production of the Model Y Tesla is underway, the electric car company revealed on Wednesday in its fourth-quarter earnings call. The factory, located on the former Harold Green-turned Tesla Road, sits on more than 2,000 acres of land in southeast Travis County.
Here's a glimpse inside the factory.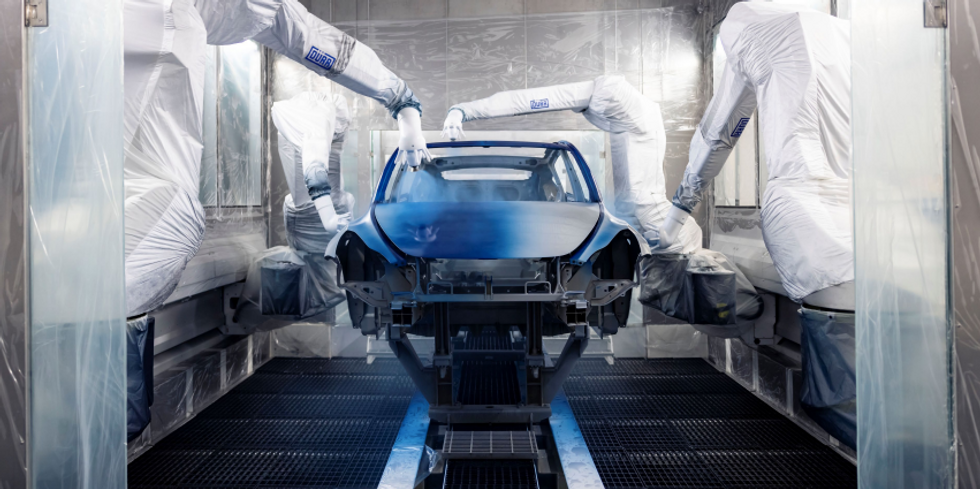 (Tesla)
Model Ys will be the first Teslas to come out of Giga Texas with an estimated delivery of August. The wait estimate comes after Tesla noted supply chain issues have affected their factories, which have been running below capacity for several quarters. A deep blue metallic like this goes for $1,000 more than a white or silver Model Y, totaling $61,990.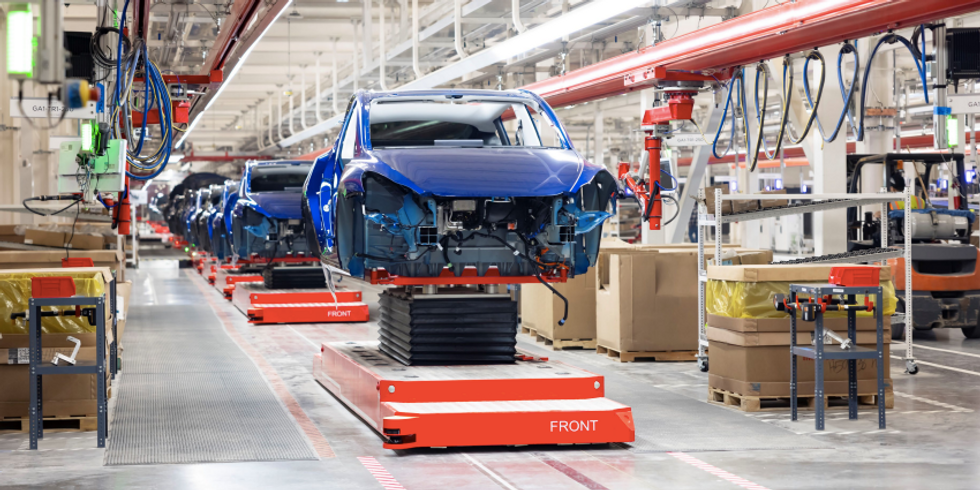 Model Ys began being produced at Giga Texas at the end of 2020. In general assembly at the factory, the Teslas get their major interior components to finish the vehicle.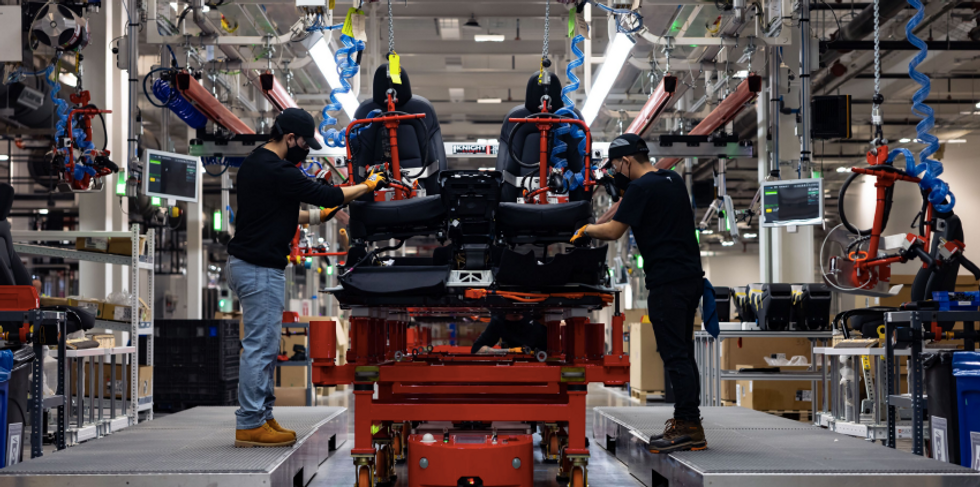 (Tesla)
Workers at Austin's Gigafactory are attaching seats to a structural battery pack. It's been described by some as the biggest difference between Texas-made Model Y's and the current version at the Fremont, California factory. It shouldn't have a major impact on the owner's experience, but Tesla has updated instructions for the jacking procedure, as the lift points are different.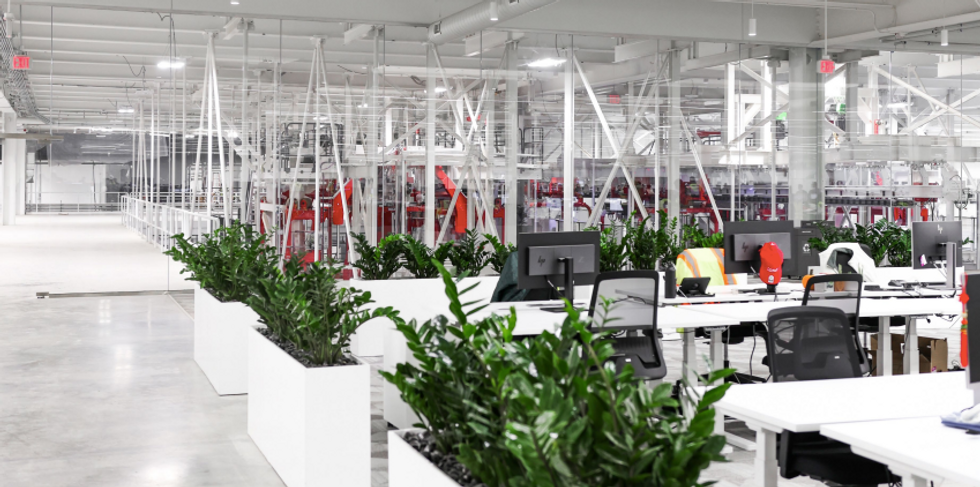 With a sleek, open office setup, workers can take in a view of the factory from their seats. It's a component CEO Elon Musk wanted for what is now the headquarters of Tesla.
On the Austin, Texas public location Snapchat, a photo of inside Giga Texas has appeared. On the left you can see a sneak peek of a Model Y body.pic.twitter.com/N7zliZ5vkL

— Sawyer Merritt (@Sawyer Merritt) 1643081462
With Snapchat's maps, anyone can look at everyday activity happening at the factory. To view these geographically-linked stories, click the bottom left "map" icon and search "Tesla Giga Texas." Once you've found it, you can view the Snapchat story of those in and around the facility. While most stories stay up for only 24 hours, Giga Texas is a designated place on Snapchat, allowing users to view a collection of photos and videos from the inside.
Following Model Ys, Texas-made Teslas will include the Cybertruck, Semi and Model 3. But it might be a while before those other models arrive. EV makers have been hit hard by the chip shortage, and it's thought that changing features are contributing to Cybertruck delays as Tesla works to compete in the electric pickup market.
Joe Rogan paid a visit to buddy Elon Musk this week. The two have been seen around town since both moving to Texas. Naturally, Rogan was impressed with the prototype.
If you're dying to get a closer look at this factory, you just might get to. In December, Musk said the factory would have tours available to the community early this year.