Austonia AM
100% Austin news, info, and entertainment, straight to your inbox at 6 a.m. every morning.
In five minutes, you're fully informed and ready to start another great day in our city.
Get connected with our daily update
(Charlie L. Harper III)
Three murders occurred in Austin this weekend, bringing the total number committed in 2020 to 44.
This marks a more than 40% increase compared to this time last year and at least a 10-year high, Austin Police Department Lieutenant Jeff Greenwalt said Monday.
---
Despite the "fairly significant" increase, Greenwalt doesn't believe the trend is concerning.
"In comparison to any other large city and any other city our size, we're very, very safe," he explained.
Most of the murders that have occurred in Austin this year have been connected to robberies or domestic violence.

"We see all the same types of murders that we've seen in years past," Greenwalt said. "It might be a long endeavor to analyze all of the underlying reasons why this is happening."
In a tweet on Monday, Texas Gov. Greg Abbott linked the increase to a recent effort by Austin City Council to "reimagine public safety."
After the death of George Floyd at the hands of Minneapolis police in May, Austinites turned out in droves to protest police violence. Many also lobbied City Council to cut APD funding and reallocate the dollars toward other services, such as mental health response.

In August, council cut approximately $20 million—or around 5%—of APD's budget. Members also put an additional $130 million into two transitional funds that will allow several of APD's traditional duties to continue while officials work out which responsibilities to move out from under police oversight.
Abbott and other state GOP leaders have been sharply critical of the effort to defund police in Austin and other big Texas cities.
In August, they announced legislation that would hamstring cities' ability to raise property taxes if they cut police budgets will be a priority in the upcoming session, which begins in January. The next month, Abbott tweeted that he was considering a legislative proposal that, if passed, would put APD under state control.
Greenwalt disputed the notion that local policy had anything to do with the increase in violent crime.

"We saw a rise in violent crime in the very early months of 2020, before the reimagine and defunding conversations came up," he said. "I don't think that we can say that the numbers in 2020 are reflective of that issue."
But Greenwalt also welcomed state support, explaining that the reallocation of funds could lead to a sustained increase in violent crime next year if certain support services are cut back.
"If we do, I think the Austin Police Department would welcome any outside agency that could help us keep the community safe," he said. "If it reduces violent crime, if it makes Austin a safer place, then it's a good idea."
(Stubb's Austin/Instagram)
After a long, long year without live music, Austin has waited patiently for a return that has finally come. Festivals are planning returns and even venues that adhered strictly to safety protocols during the pandemic are feeling safe enough to gather again in person.
Starting in just a few short days, you can finally enjoy what makes Austin, well, Austin again. Here are a few of the live shows to look forward to.
Remember to jump on those tickets–Austinites have been missing their live music!
We asked you what you wanted and you told us. More newsletter!
Austonia launched its new and improved newsletter today. You can expect:
100% Austin news, info and entertainment
Sent straight to your inbox at 6 a.m. every morning
In 5 minutes or less, you're fully informed and ready for a great day
Sign up here:
For Marco Silvestrini, gelato takes him back to his childhood when he and neighborhood kids in a small Italian town would end their day at the local gelato shop. It was part of what made some of the best memories for him.
He's since been offering that same experience for the past seven years with his artisanal gelato shop, Dolce Neve, in Austin, alongside his sister and her husband.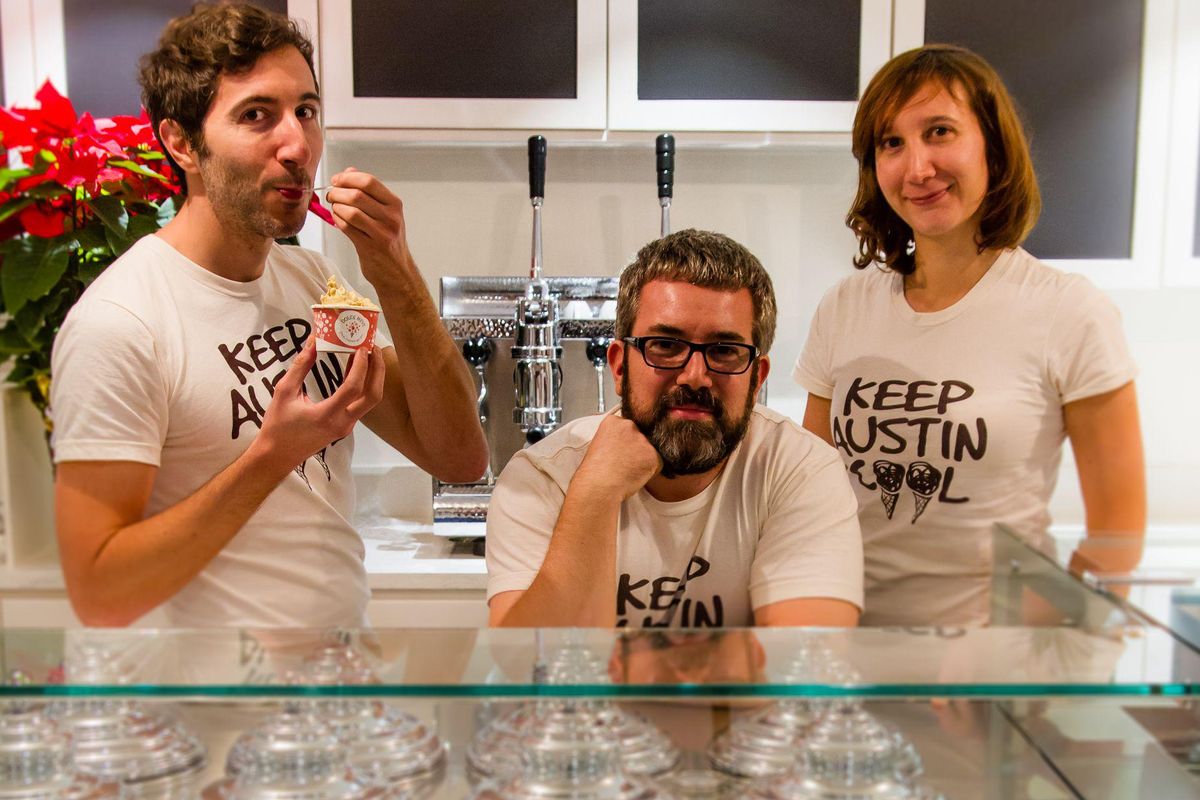 Leo Ferrarese, Marco and Franscesa Silvestrini run Dolce Neve. (Dolce Neve)
While gelato always played a big role in Silvestrini's life, it wasn't in his plans to take on a business with his favorite treat. After a few years in New York working as a management consultant, he felt he was missing out on something. "I decided to take a step back and started thinking, what could... I do to make society better and happier, even just for a moment," Silvestrini said.
He thought back to his childhood and the role gelato played in it and wanted to offer the same experience to Americans.
Once he had the product idea down, it came down to location. Growing up among farmers in a small community in Central Italy, Silvestrini knew he wanted a slower pace of living than New York, so he asked around. The answer he got: "Austin." The only thing he knew about what would become his future home was it had a Formula 1 track.
But after visiting once, he felt a great sense of community he didn't feel in The Empire State. "I felt it was not just a good place for a concept like mine, but also a good place to live because at the end of the day, you cannot just think about your business," he said.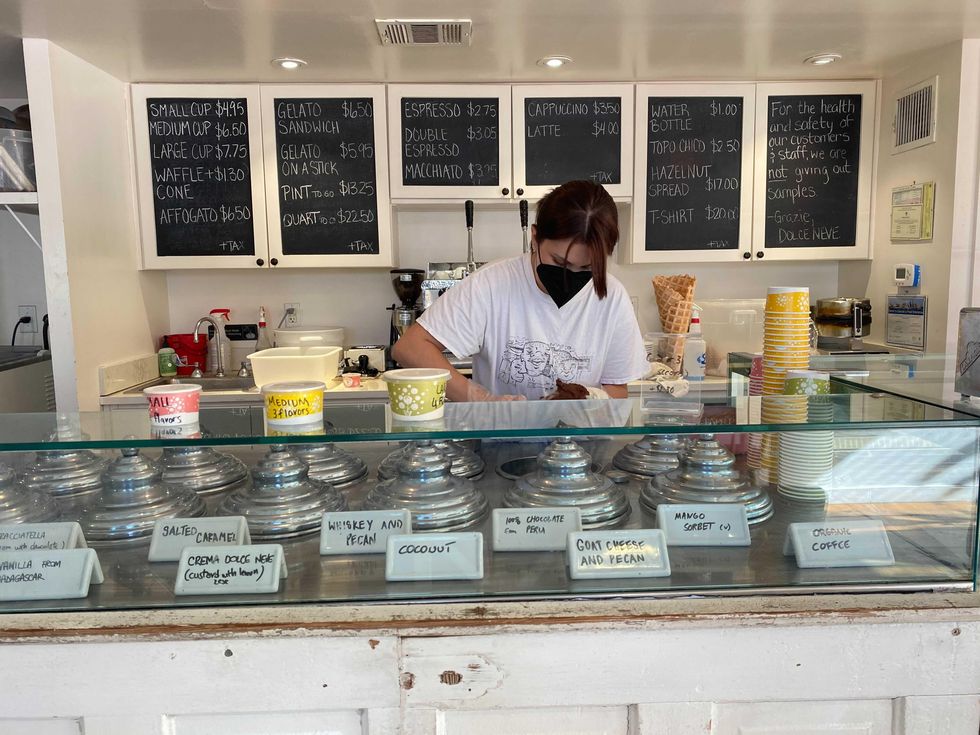 "Dolce Neve" translates to "sweet snow." The shops offers 12-18 flavors at a time. (Dolce Neve)
Similarly, his sister Francesca Silvestrini was experiencing the same feelings while studying for her Ph.D. in Ohio before teaming up with Silvestrini. She went back to Italy to be properly trained in making gelato while Silvestrini focused on the business plan. They brought Leo Ferrarese, her husband, onboard and opened their first shop on South First Street in January 2014. The rest is history.
On the menu, you'll find various traditional and innovative flavors that rotate out. Some of the staples include chocolate, 100% vanilla from Madagascar and salted caramel. Other rotating or seasonal flavors include whiskey and pecan, organic cantaloupe sorbet, goat cheese and pecan, almond custard and tiramisu. They've created over 300 flavors together in the span of the business.
So what's next for the shop? Lately, Silvestrini has been thinking a lot about that. With two locations in Austin, one in Houston—he's just not sure if expanding more is the right move. Maintaining a quality product and good service is of utmost importance that he's not willing to sacrifice.
"In order to be happy, it's not about making money, it's about being an integral part of the community," Silvestrini said. "There have been so many cases in which I think what I did today really made a difference in somebody's life."