Get connected with our daily update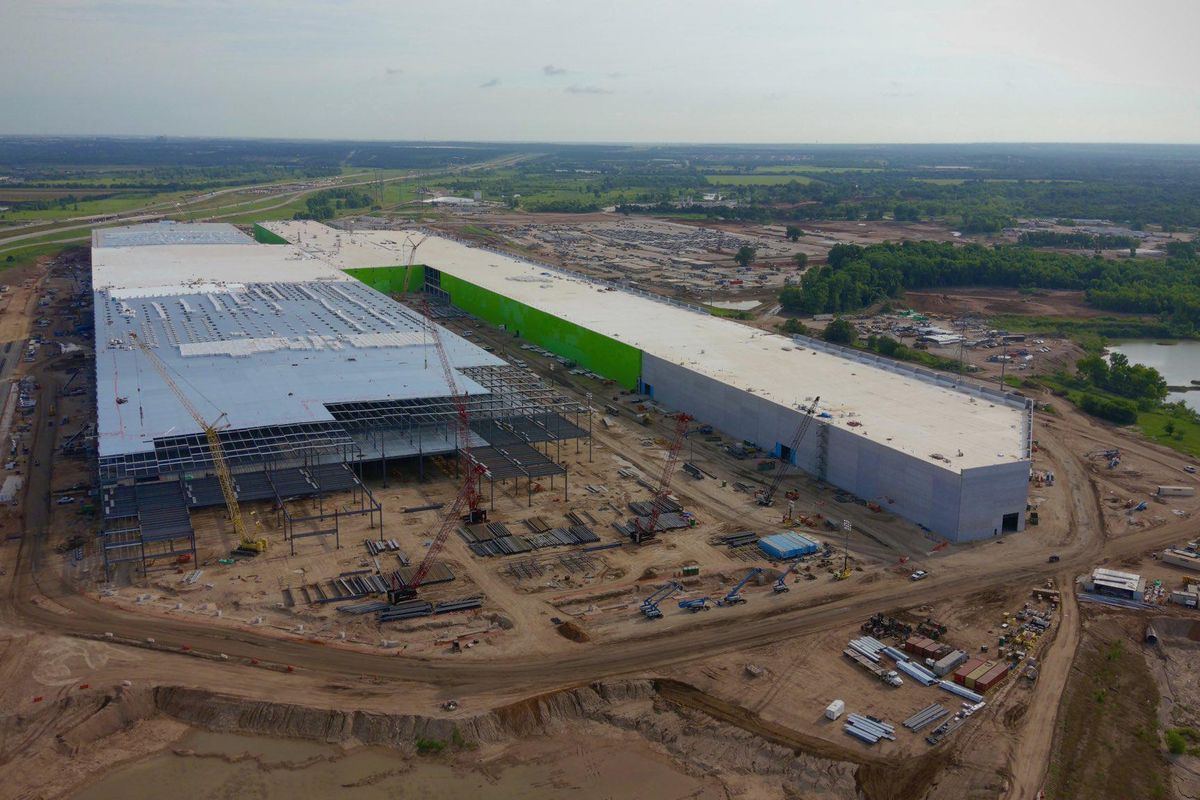 Multi-hyphenated billionaire Elon Musk recently revealed that he lives in a $50,000 prefab tiny home in Boca Chica, Texas, that he rents from his aerospace company SpaceX. Although he says that is his primary home, many of his business ventures are quickly growing in Austin.
Here's an update on five of his startups, from Tesla to his Austin-based philanthropic foundation.
---
Tesla 
Happy #4thofJuly weekend, enjoy 3 drone shots from Tesla GigaTexas, taken just now!

Factory for the most American made car.

Thanks @Tesla & @elonmusk for choosing #Texas as your home! TSLA

📷 @peterdog15#IndependenceDaypic.twitter.com/IOJN6BvDY2

— Tesla Owners Austin (@AustinTeslaClub) July 3, 2021
The $1.1 billion Tesla Gigafactory in Southeast Travis County is growing each day as crews work to make good on Musk's promises: initial limited production by the end of the year and as many as 10,000 jobs. The construction site has attracted acolytes such as the Tesla Owners Austin and local elected officials as well as speculation.
🚘 Toured the Tesla site w/ some of my team on Friday! It's incredible to see how quickly it's coming together. I look forward to checking it out once it's complete. #GigaTexaspic.twitter.com/y1dEqwJFvu

— Vanessa Fuentes 💃🏽 (@VanessaForATX) June 30, 2021
The factory will produce the Model 3 sedan, Model Y SUV and Cybertruck, at least one of which has made its Central Texas debut. Tesla sold 201,250 cars in the second quarter, more than twice as many as it did in the same period last year, despite a global chip shortage, according to a July 2 press release.
Cybertruck at Giga Texas pic.twitter.com/c1RuektPnN

— Tesla (@Tesla) April 16, 2021
In addition to construction, the electric carmaker is in the midst of a local hiring spree, with more than 250 Austin-based jobs posted on its website.
Although the factory is still under construction, questions are already swirling about future projects. The entity Tesla used to buy the site owns more than 2,500 acres along SH 130, according to a May 13 report by the Austin Business Journal. Experts suggested it could be used for Musk's other ventures or serve as the future home of Tesla HQ, following its founder from California to Texas.
SpaceX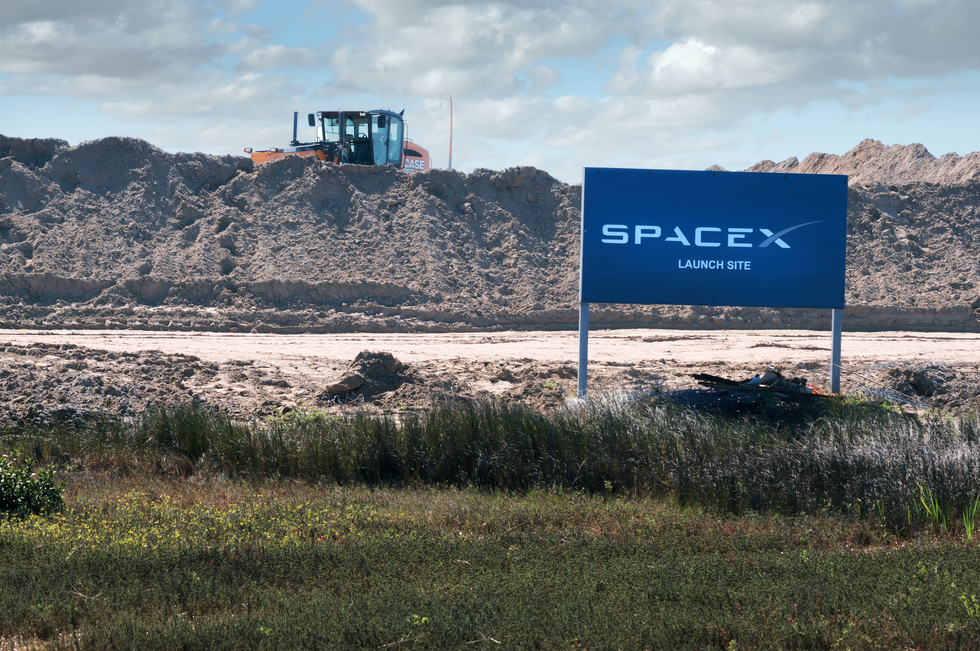 Musk's aerospace company SpaceX is not currently hiring in the Austin area but does have scores of open positions in Brownsville and McGregor, where it has a launch facility and rocket development facility, respectively.
However, SpaceX will break ground on a new "state-of-the-art manufacturing facility" in Austin related to its broadband Starlink project, according to job listings posted in March.
Starlink is a forthcoming high-speed, low-latency broadband internet system enabled by a "constellation of low Earth satellites" and suited for populations with little or no connectivity, such as rural areas, according to its website.
It is unclear where the Austin facility will be located but it will manufacture consumer products such as Starlink dishes, Wi-Fi routers and mounting hardware, according to the postings, which are no longer listed.
Neuralink
Musk's brain implant startup is also hiring in Austin. Its website lists seven positions, including a neurosurgical robot operator and veterinarian. The company has tested its product on monkeys and pigs, prompting pushback from PETA, and Musk tweeted in February that initial human trials could begin as soon as later this year.
Musk Foundation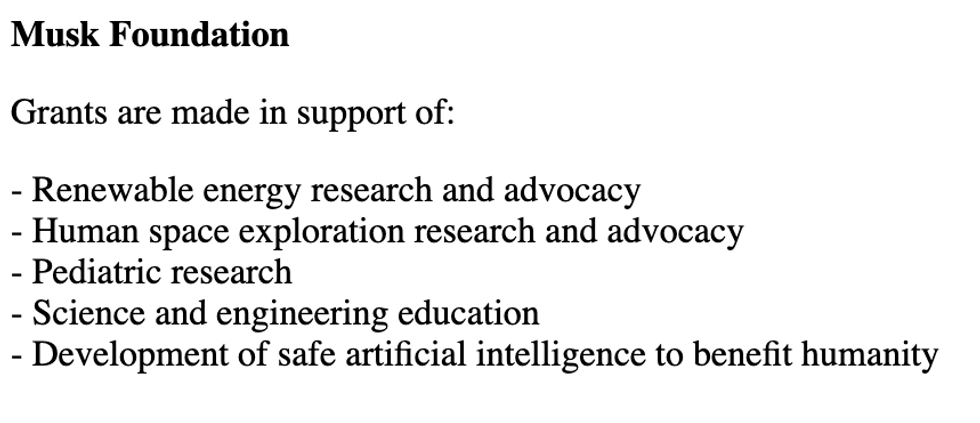 The Musk Foundation website is extremely bare. (Musk Foundation)
Musk's philanthropic venture relocated to Austin last summer, ahead of its founder's closely watched move from California to Texas. Founded in 2001, the foundation supports renewable energy, human space exploration, pediatric research, science and engineering education, and the development of artificial intelligence.
The Musk Foundation recently donated $1 million toward the revitalization of downtown Brownsville and new housing opportunities in the area, where SpaceX has a launch facility and is actively hiring.
Please consider moving to Starbase or greater Brownsville/South Padre area in Texas & encourage friends to do so!

SpaceX's hiring needs for engineers, technicians, builders & essential support personnel of all kinds are growing rapidly.

— Elon Musk (@elonmusk) March 30, 2021
"There's going to be a need for professionals to be able to have a home near downtown," Brownsville Community Improvement Corporation Executive Director Josh Mejia told Valley Central last month. "We understand that there have been folks who've lived here for many generations, so we'd also like to support that as well."
Musk announced in March that he would donate $20 million to school districts in Cameron County, where he is attempting to incorporate the new city of Starbase, and $10 million to the city of Brownsville. The donations have prompted some to wonder: Could Austin be next?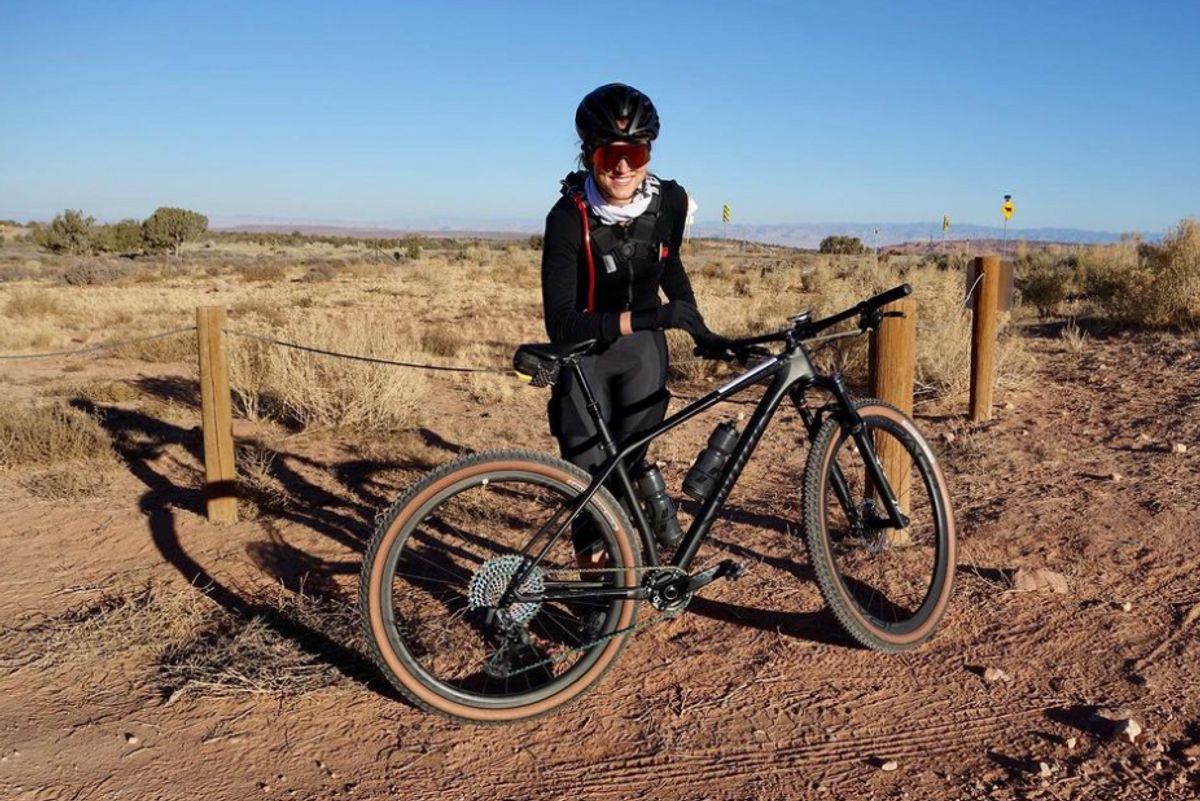 Austin police have charged Kaitlin Marie Armstrong, a local cyclist, for the murder of Moriah "Mo" Wilson.
Wilson, a rising star in the gravel and mountain bike community, was found dead with gunshot wounds inside an East Austin home on the night of May 11 when she was in town for the weekend Gravel Locos race in Hico, Texas.
Police believe Wilson was having a relationship with a man Armstrong was also in a relationship with. The man, another gravel cyclist, Colin Strickland, has since issued a statement on the murder.
In his statement, he said he had a brief romantic relationship with Wilson in October 2021 before he resumed his relationship with Armstrong, but that he remained friends with Wilson. "There is no way to adequately express the regret and torture I feel about my proximity to this horrible crime. I am sorry, and I simply cannot make sense of this unfathomable tragedy.
NEW: Austin professional cyclist Colin Strickland has just released a statement about the murder of cyclist Moriah Wilson, clarifying his relationship with her and expressing "torture about my proximity to this horrible crime." pic.twitter.com/KnIna3mWrE
— Tony Plohetski (@tplohetski) May 20, 2022
Wilson, a 25-year-old Vermont native living in Colorado, had won a slew of races becoming a fan favorite. She had just become a full-time racer this year.
Anyone with information on this crime can contact Austin police at 512-974-TIPS or contact Crime Stoppers anonymously at 512-472-8477.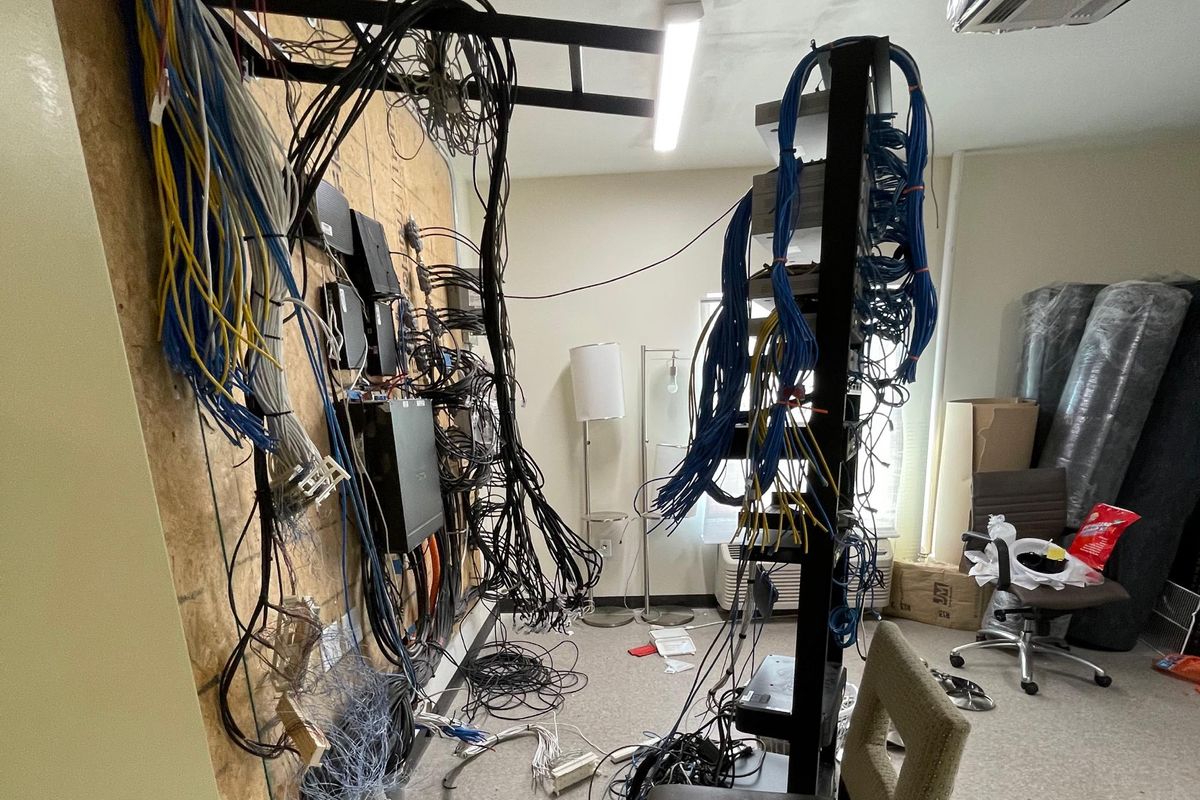 Austin has added 24-hour security to the city-owned Pecan Gardens property, which will be converted into supportive housing for people exiting homelessness, after the former hotel was found with months of damage and vandalism May 5.
The building, which was broken into and stripped of copper and had people illegally sleeping inside of it, has been secured, Kelly said in a Friday press conference. Kelly said the city confirmed a measure to implement 24-hour security, including updates every 60 days until the property opens up as supportive housing.
"We cannot let this happen to any vacant city-owned property ever again," Kelly said. "This blatant act of disregard and criminal behavior will not be tolerated in our community."
The city bought the former hotel in August 2021 for $9.5 million with plans to renovate the property into a 78-unit supportive housing property. Those 55 or older that are experiencing chronic homelessness can qualify to live at the site once it is completed in late 2022-early 2023.
While the council was set to discuss a $4 million deal with Family Eldercare to begin converting the property Thursday, Kelly pulled the item for a later executive session due to security concerns. But the council did approve an item to authorize city leaders to begin negotiating other renovation contracts.
"I want to thank my colleagues for pumping the brakes on this contract and realizing that we owe the community not only an apology, but reassurance that the protection of the assets the city owns is vital to the success of achieving our intended goals," Kelly said.
When the building was found vandalized May 5, Kelly, who presides over the district containing the property, said damage included:
Damage spanning all three floors of the building and is in nearly every room.
The entire hotel was stripped of copper.
Destroyed washers, dryers, air conditioners and electrical wiring.
People sleeping at the hotel without permission.
On Tuesday, Austin's Homeless Strategy Officer Dianna Gray apologized and said there was no security due to a delay in processing the request.
"The intent had been to have security on site previous to this event," Gray said. "It had been requested, and there was a delay in the request, so it had not been initiated. We acknowledge that as a failure and apologize."
Kelly said city staff, the Austin Police Department and the Williamson County Sheriff's Office are investigating what happened at the property and encouraged those who know anything about the investigation to call Crime Stoppers at 512-872-8477.