Get connected with our daily update
Multi-hyphenated billionaire Elon Musk recently revealed that he lives in a $50,000 prefab tiny home in Boca Chica, Texas, that he rents from his aerospace company SpaceX. Although he says that is his primary home, many of his business ventures are quickly growing in Austin.
Here's an update on five of his startups, from Tesla to his Austin-based philanthropic foundation.
---
Tesla 
Happy #4thofJuly weekend, enjoy 3 drone shots from Tesla GigaTexas, taken just now!

Factory for the most American made car.

Thanks @Tesla & @elonmusk for choosing #Texas as your home! TSLA

📷 @peterdog15 #IndependenceDay pic.twitter.com/IOJN6BvDY2

— Tesla Owners Austin (@AustinTeslaClub) July 3, 2021
The $1.1 billion Tesla Gigafactory in Southeast Travis County is growing each day as crews work to make good on Musk's promises: initial limited production by the end of the year and as many as 10,000 jobs. The construction site has attracted acolytes such as the Tesla Owners Austin and local elected officials as well as speculation.
🚘 Toured the Tesla site w/ some of my team on Friday! It's incredible to see how quickly it's coming together. I look forward to checking it out once it's complete. #GigaTexas pic.twitter.com/y1dEqwJFvu

— Vanessa Fuentes 💃🏽 (@VanessaForATX) June 30, 2021
The factory will produce the Model 3 sedan, Model Y SUV and Cybertruck, at least one of which has made its Central Texas debut. Tesla sold 201,250 cars in the second quarter, more than twice as many as it did in the same period last year, despite a global chip shortage, according to a July 2 press release.
Cybertruck at Giga Texas pic.twitter.com/c1RuektPnN

— Tesla (@Tesla) April 16, 2021
In addition to construction, the electric carmaker is in the midst of a local hiring spree, with more than 250 Austin-based jobs posted on its website.
Although the factory is still under construction, questions are already swirling about future projects. The entity Tesla used to buy the site owns more than 2,500 acres along SH 130, according to a May 13 report by the Austin Business Journal. Experts suggested it could be used for Musk's other ventures or serve as the future home of Tesla HQ, following its founder from California to Texas.
SpaceX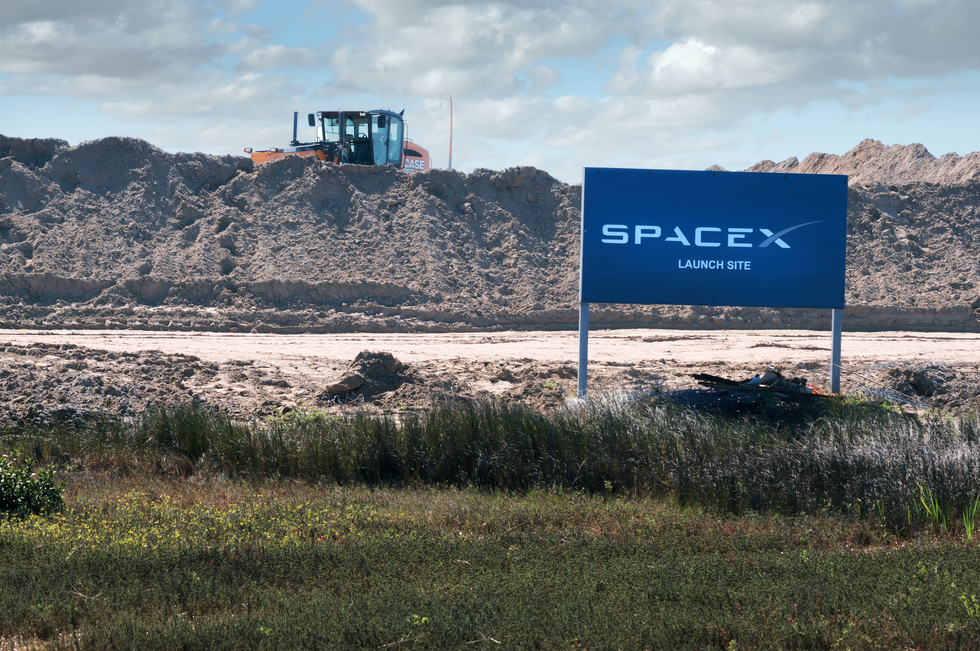 Musk's aerospace company SpaceX is not currently hiring in the Austin area but does have scores of open positions in Brownsville and McGregor, where it has a launch facility and rocket development facility, respectively.
However, SpaceX will break ground on a new "state-of-the-art manufacturing facility" in Austin related to its broadband Starlink project, according to job listings posted in March.
Starlink is a forthcoming high-speed, low-latency broadband internet system enabled by a "constellation of low Earth satellites" and suited for populations with little or no connectivity, such as rural areas, according to its website.
It is unclear where the Austin facility will be located but it will manufacture consumer products such as Starlink dishes, Wi-Fi routers and mounting hardware, according to the postings, which are no longer listed.
Neuralink
Musk's brain implant startup is also hiring in Austin. Its website lists seven positions, including a neurosurgical robot operator and veterinarian. The company has tested its product on monkeys and pigs, prompting pushback from PETA, and Musk tweeted in February that initial human trials could begin as soon as later this year.
Musk Foundation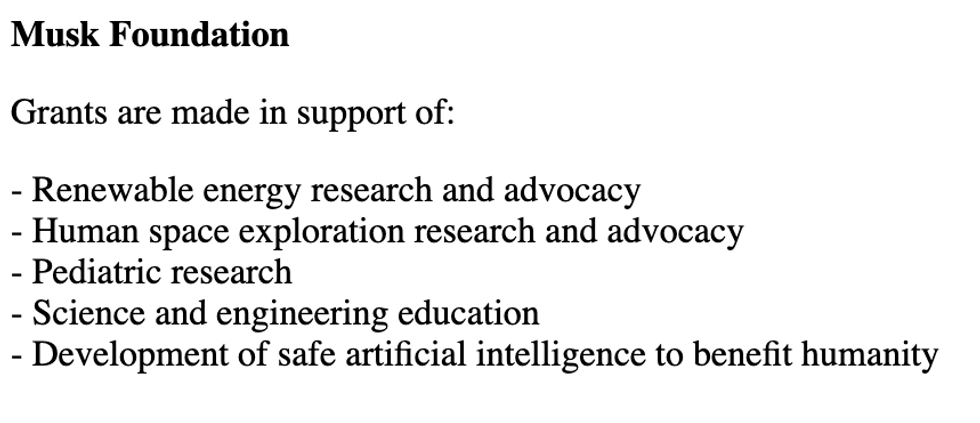 The Musk Foundation website is extremely bare. (Musk Foundation)
Musk's philanthropic venture relocated to Austin last summer, ahead of its founder's closely watched move from California to Texas. Founded in 2001, the foundation supports renewable energy, human space exploration, pediatric research, science and engineering education, and the development of artificial intelligence.
The Musk Foundation recently donated $1 million toward the revitalization of downtown Brownsville and new housing opportunities in the area, where SpaceX has a launch facility and is actively hiring.
Please consider moving to Starbase or greater Brownsville/South Padre area in Texas & encourage friends to do so!

SpaceX's hiring needs for engineers, technicians, builders & essential support personnel of all kinds are growing rapidly.

— Elon Musk (@elonmusk) March 30, 2021
"There's going to be a need for professionals to be able to have a home near downtown," Brownsville Community Improvement Corporation Executive Director Josh Mejia told Valley Central last month. "We understand that there have been folks who've lived here for many generations, so we'd also like to support that as well."
Musk announced in March that he would donate $20 million to school districts in Cameron County, where he is attempting to incorporate the new city of Starbase, and $10 million to the city of Brownsville. The donations have prompted some to wonder: Could Austin be next?
The holiday season is upon us, so get ready to celebrate with carols, snacks and light shows galore. Austin is full of holiday festivities spanning throughout all of December so get out and enjoy the cool weather while it lasts.
Don't miss these nine holiday-themed light shows.
Austin's most famous annual light show and a Readers Choice of USA Today's 10 Best Public Displays of Holiday Lights, the Trail of Lights will be drive-thru again this year Nov. 27-Dec. 31. For 57 years in a row, the Trail of Lights has lit up Zilker Park with games, food, local vendors and more than two million lights gleaming for the holidays. The event, as always, is free to the public and you can reserve slots here. The Zilker Tree is already up, so you can already see it if the holiday cheer is too much to bear.
Coming back for the second year in a row, Peppermint Parkway will transport you to COTALAND, where six million lights gleam and Christmas is just a one-mile drive away. The hybrid event will have you drive through the display of lights, dancing elves and unique little villages before you hit the walking plaza, where you can grab a bite to eat and meet Santa. Tickets range from $40-$95, some including a lap around the COTA track, running from Nov. 26-Dec. 26.
Dreamland Dripping Springs has been transformed into a winter wonderland—running throughout the month of December, the venue's first-ever holiday display is taking over with activities for the whole family. Plus, running from Nov. 20-Jan. 4, a pop-up ice skating rink will really bring the holiday cheer for $10 or $5 Monday specials. The lights display will feature half a million lights and warm, festive sips from the taproom.
With events galore for the holiday season, winter is really when the Hill Country Galleria thrives. Starting with its Light Up The Plaza event on Saturday from 6-8 p.m., where visitors can see Santa, gaze at the official lighting of the holiday tree and hear some live tunes from rock band American Authors. The Galleria will also hold a holiday market every Thursday, Friday and Saturday leading up to Christmas Eve and periodic photos with Santa at Buenos Aires Cafe.
Deck the Halls at the Driskill Hotel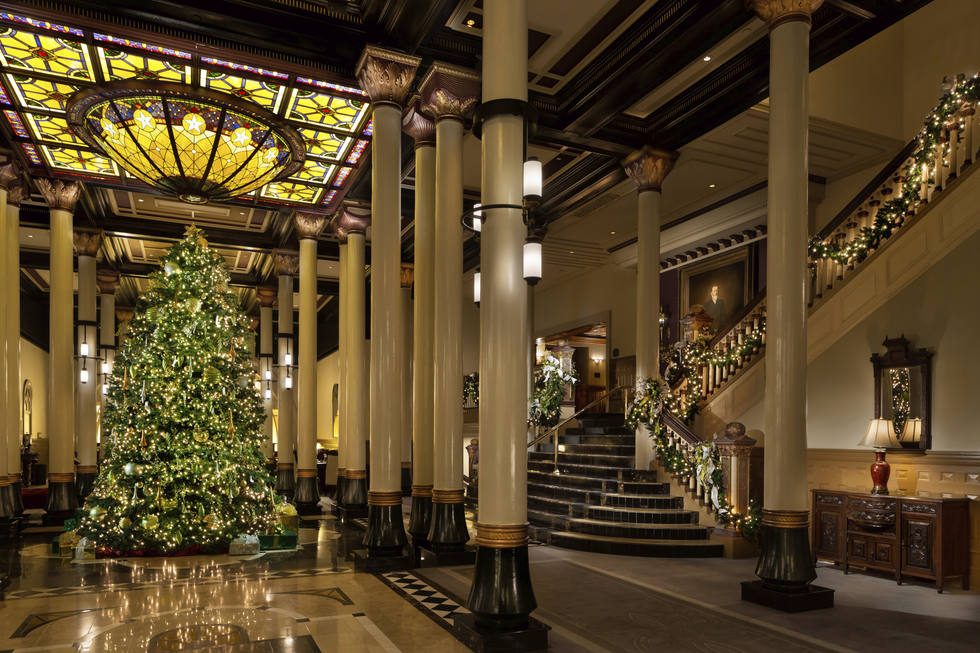 (Courtesy of the Driskill Hotel)
This holiday season, the Driskill will deck out every nook and cranny of the historic hotel from the grand staircase to the 16-foot Christmas tree in the lobby to be lit on a Dec. 1 ceremony that will be open to the public. Touches of Driskill festivities can also be seen at Dell Children's Hospital with a gingerbread village for its annual "Cookies for Caring" event.
Kicking off the lighting of the tree on Saturday, Dec. 4, Austinites will gather on the steps of the Texas Capitol at 6 p.m. to sing the 45-foot tree to life. Afterward, local band Los Coast will close out the night with a free concert. The fun doesn't stop there though as the Downtown Austin Alliance will host the Downtown Holiday Stroll, with "holiday passports" and stamps to collect for local restaurants and stores, and a Frida Friday Holiday Market at Republic Square.
Combining festive holiday lights and the beautiful native plants of Central Texas, Luminations at the Wildflower Center is back with thousands of lights, luminarias and a lit-up look at Fortlandia. This year will also feature an interactive light maze called "silvana" by Ben Busche of architecture firm Brut Deluxe, which will be the maze's first appearance in North America. The event will run Thursdays-Sundays from Dec. 2-Jan. 30 for $10-$25 per person.
Reserved tables are back for Mozart's Coffee Roasters annual Christmas Lights Show for $20 four-person tables and $30 six-person tables—so get your tickets early because these tables are likely to sell out. The light show will also feature a festival-style Bavarian marketplace for those last-minute gifts. If you're too late to reserve a table, don't worry, there will be standing room available for free so come one, come all, and come early for parking.
From Dec. 2-4, Old Settlers Park will light up with holiday displays, family activities, festive refreshments and live music. Watch the balloons hover above the lake as you sip on a hot chocolate or give to those in need, with stands for Round Rock Operation Blue Santa, which is taking toys for kids in need, the Play For All Foundation, which is accepting cash donations for disabled children, and the People & Parks Foundation, accepting cash donations for green space in the community. Admission to the event is free, along with most of the activities in the park.
In this season of gifts, giving, and gratitude, Tito's is making it easy to shop for your friends and loved ones while helping our community.
The beloved Austin company's Love, Tito's retail space, downtown at 215 Lavaca Street, is fully stocked with great gear. 100% of net proceeds of whatever you purchase—a new collar for your four-legged friend, a Tito's tee, some branded barware—go to the nonprofits they support. From the environment to animal rescue, you can choose your cause while choosing a new copper cocktail kit… or old school cap… or golf polo.
The store is stocked with stuff that the online experience just can't offer: never-before-seen swag, doggy photo booths (to say it's a dog-friendly space is an understatement), a record player to spin some tunes, and a bar finder listing local spots serving mean Tito's cocktails. Locals and out-of-town visitors alike can enjoy wonderful distractions while kicking back in an environment designed to cater to Tito's fans.

While you can't enjoy a cocktail there due to Texas liquor laws, the store offers unique experiences for any and all fans of the brand, and gives folks a chance to find what resonates with them while taking home a piece of the Tito's story.
*At our Love, Tito's store in Austin, net proceeds constitute an average margin of at least 25% of the retail price of a product, excluding the cost of tax on the purchase. We are not deducting cost of our people, the store rent or other operating costs.
When Texas and the NCAA passed a bill allowing college athletes to profit off their names and likenesses this summer, Longhorn athletes joined professional teams and athletes by stepping into the growing NFT scene.
NFTs, which are essentially unhackable codes used as one-of-a-kind "certificates of authenticity" paid for with cryptocurrency Ethereum, have been cropping up in the Austin art scene and worldwide—and they're quickly evolving into a sports fans' paradise as a new way to snag some bragging rights through digital trading cards, tickets and highlight reels.

Here are five Austin-based athletes and sports venues now involved in NFTs: