Get connected with our daily update
Multi-hyphenated billionaire Elon Musk recently revealed that he lives in a $50,000 prefab tiny home in Boca Chica, Texas, that he rents from his aerospace company SpaceX. Although he says that is his primary home, many of his business ventures are quickly growing in Austin.
Here's an update on five of his startups, from Tesla to his Austin-based philanthropic foundation.
---
Tesla 
Happy #4thofJuly weekend, enjoy 3 drone shots from Tesla GigaTexas, taken just now!

Factory for the most American made car.

Thanks @Tesla & @elonmusk for choosing #Texas as your home! TSLA

📷 @peterdog15 #IndependenceDay pic.twitter.com/IOJN6BvDY2

— Tesla Owners Austin (@AustinTeslaClub) July 3, 2021
The $1.1 billion Tesla Gigafactory in Southeast Travis County is growing each day as crews work to make good on Musk's promises: initial limited production by the end of the year and as many as 10,000 jobs. The construction site has attracted acolytes such as the Tesla Owners Austin and local elected officials as well as speculation.
🚘 Toured the Tesla site w/ some of my team on Friday! It's incredible to see how quickly it's coming together. I look forward to checking it out once it's complete. #GigaTexas pic.twitter.com/y1dEqwJFvu

— Vanessa Fuentes 💃🏽 (@VanessaForATX) June 30, 2021
The factory will produce the Model 3 sedan, Model Y SUV and Cybertruck, at least one of which has made its Central Texas debut. Tesla sold 201,250 cars in the second quarter, more than twice as many as it did in the same period last year, despite a global chip shortage, according to a July 2 press release.
Cybertruck at Giga Texas pic.twitter.com/c1RuektPnN

— Tesla (@Tesla) April 16, 2021
In addition to construction, the electric carmaker is in the midst of a local hiring spree, with more than 250 Austin-based jobs posted on its website.
Although the factory is still under construction, questions are already swirling about future projects. The entity Tesla used to buy the site owns more than 2,500 acres along SH 130, according to a May 13 report by the Austin Business Journal. Experts suggested it could be used for Musk's other ventures or serve as the future home of Tesla HQ, following its founder from California to Texas.
SpaceX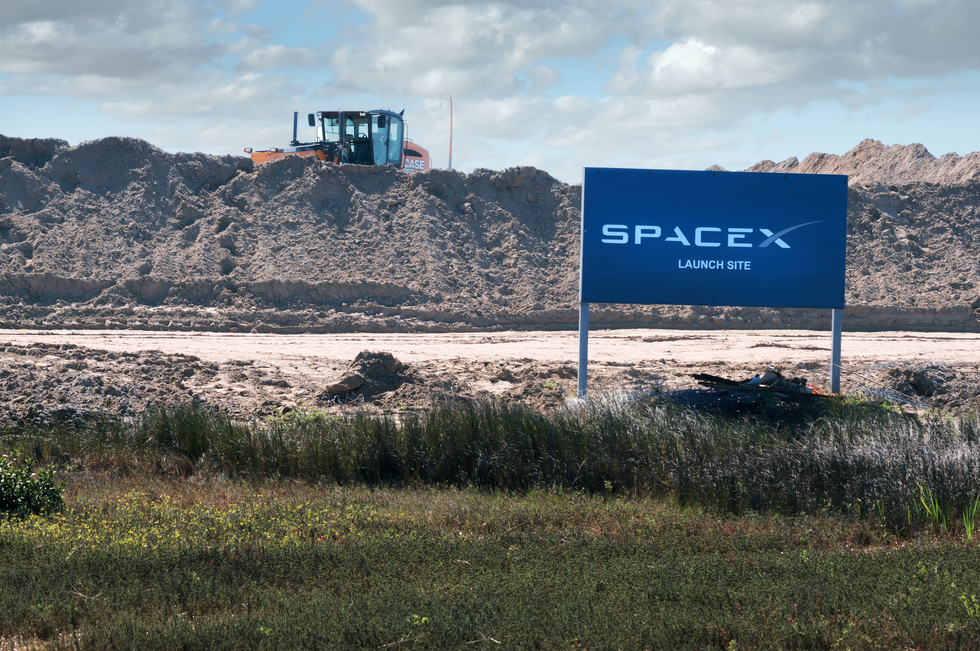 Musk's aerospace company SpaceX is not currently hiring in the Austin area but does have scores of open positions in Brownsville and McGregor, where it has a launch facility and rocket development facility, respectively.
However, SpaceX will break ground on a new "state-of-the-art manufacturing facility" in Austin related to its broadband Starlink project, according to job listings posted in March.
Starlink is a forthcoming high-speed, low-latency broadband internet system enabled by a "constellation of low Earth satellites" and suited for populations with little or no connectivity, such as rural areas, according to its website.
It is unclear where the Austin facility will be located but it will manufacture consumer products such as Starlink dishes, Wi-Fi routers and mounting hardware, according to the postings, which are no longer listed.
Neuralink
Musk's brain implant startup is also hiring in Austin. Its website lists seven positions, including a neurosurgical robot operator and veterinarian. The company has tested its product on monkeys and pigs, prompting pushback from PETA, and Musk tweeted in February that initial human trials could begin as soon as later this year.
Musk Foundation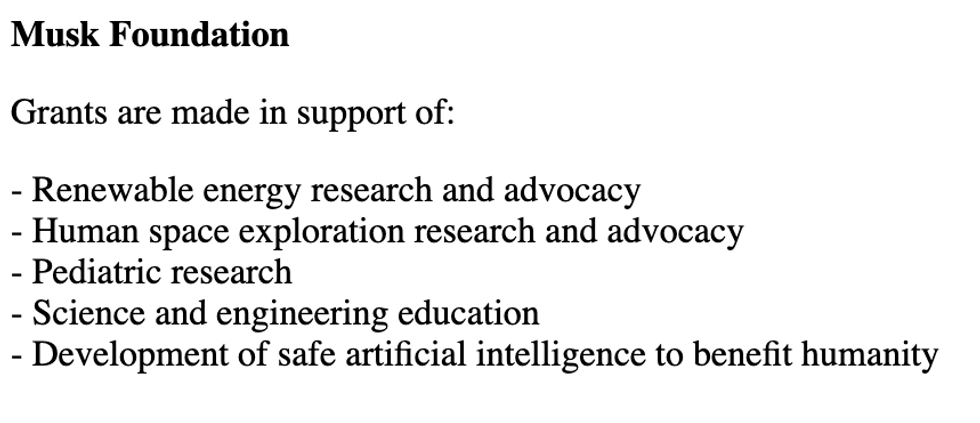 The Musk Foundation website is extremely bare. (Musk Foundation)
Musk's philanthropic venture relocated to Austin last summer, ahead of its founder's closely watched move from California to Texas. Founded in 2001, the foundation supports renewable energy, human space exploration, pediatric research, science and engineering education, and the development of artificial intelligence.
The Musk Foundation recently donated $1 million toward the revitalization of downtown Brownsville and new housing opportunities in the area, where SpaceX has a launch facility and is actively hiring.
Please consider moving to Starbase or greater Brownsville/South Padre area in Texas & encourage friends to do so!

SpaceX's hiring needs for engineers, technicians, builders & essential support personnel of all kinds are growing rapidly.

— Elon Musk (@elonmusk) March 30, 2021
"There's going to be a need for professionals to be able to have a home near downtown," Brownsville Community Improvement Corporation Executive Director Josh Mejia told Valley Central last month. "We understand that there have been folks who've lived here for many generations, so we'd also like to support that as well."
Musk announced in March that he would donate $20 million to school districts in Cameron County, where he is attempting to incorporate the new city of Starbase, and $10 million to the city of Brownsville. The donations have prompted some to wonder: Could Austin be next?
An Austin-based firm that's established itself as one of the top Bitcoin miners in North America is set to go public.
On Thursday, the company, known as Core Scientific Inc., announced it's now trading on Nasdaq as $CORZ. The stock opened at $9.74 per share then peaked at $10.48. The company was assigned a $414 million market cap.
"As one of the largest publicly-traded blockchain infrastructure providers and digital asset miners in North America, we are focused on growing our capacity, defending and securing the blockchain ecosystem and building long-term shareholder value," CEO Mike Levitt said.
As reported by Yahoo News, investors approved a plan for a public debut through a $4.3 billion merger with special purpose acquisition company Power & Digital Infrastructure Acquisition Corp. The deal arrives as Austin sees its crypto scene soar, with increased activity in the NFT economy and groups pooling their money together through DAOs.
Core Scientific was established in 2017 and relocated its headquarters from Seattle to Austin last year. It has a site in Downtown Austin on 106 E. 6th St. and data centers in Georgia, Kentucky, North Carolina and North Dakota. More than 100 full-time employees are in the U.S., but it's unclear how many are in Austin.
Now, they say they are the biggest Bitcoin miners based on processing power, with claims that the combined mining capacity on the Bitcoin network exceeds that of competitors. And SEC filings from earlier this month show it's in the process of acquiring Blockcap, Inc., which moved to Austin last year.
The company describes itself as a leader in high-performance, carbon-neutral blockchain infrastructure in an industry that catches flak for its energy use.
Aside from mining, the company provides internet hosting services for other large-scale miners. In fact, it derives about half its revenue by helping big customers mine, a quality seen in what's often referred to as an "institutional-grade" miner.
Looking ahead, Core Scientific seems optimistic about the year ahead even as Bitcoin falls from its all-time high.
"We've worked hard to lay the groundwork that will enable us to achieve our 2022 projections," Levitt told Yahoo News. "Our objective is to be the best. Being the best means doing all that we can for our business, the industry in which we participate and for the Bitcoin network."
Watch some Cricket
When: 5:30-10 p.m. Saturday and Sunday
Where: The Crossover, 1717 Scottsdale Drive
What: Looking for a new sport to obsess over? Attend one of Sports Movement's indoor cricket matches.
Le Garage Sale
When: 11 a.m. Saturday and Sunday
Where: Palmer Events Center, 900 Barton Springs Rd.
What: Find over 100+ boutiques, brands and designers at Le Garage sale. Shop leisurewear, accessories, menswear, children's apparel, home decor and more. Tickets start at $10.
See a movie at the drive-in
When: 6:25-8:45 p.m., 9:15-10:50 p.m. Saturday
Where: The Globe Drive-In Theater, 8017 Cele Rd.
What: This weekend you can see Harry Potter and the Prisoner of Azkaban at 6:25 p.m. or you can see The Cabin in the Woods at 9:15 p.m. at the drive-in. Tickets cost $16 per car.
Museum of Ice Cream
When: 11:30 a.m Saturday and Sunday
Where: Museum of Ice Cream, 11410 Century Oaks Ter.
What: The Museum of Ice Cream is featuring 12 never-before-seen instillations celebrating the enjoyment of ice cream. View tickets here.
The Austin Flea
When: 12 p.m. Sunday
Where: Meanwhile Brewing, 3901 Promontory Point Dr.
What: Find handmade items, vintage wares, food and drink and more at The Austin Flea at Meanwhile Brewing. Vendors are handpicked for each show to guarantee a great selection of items to shop for.