Get connected with our daily update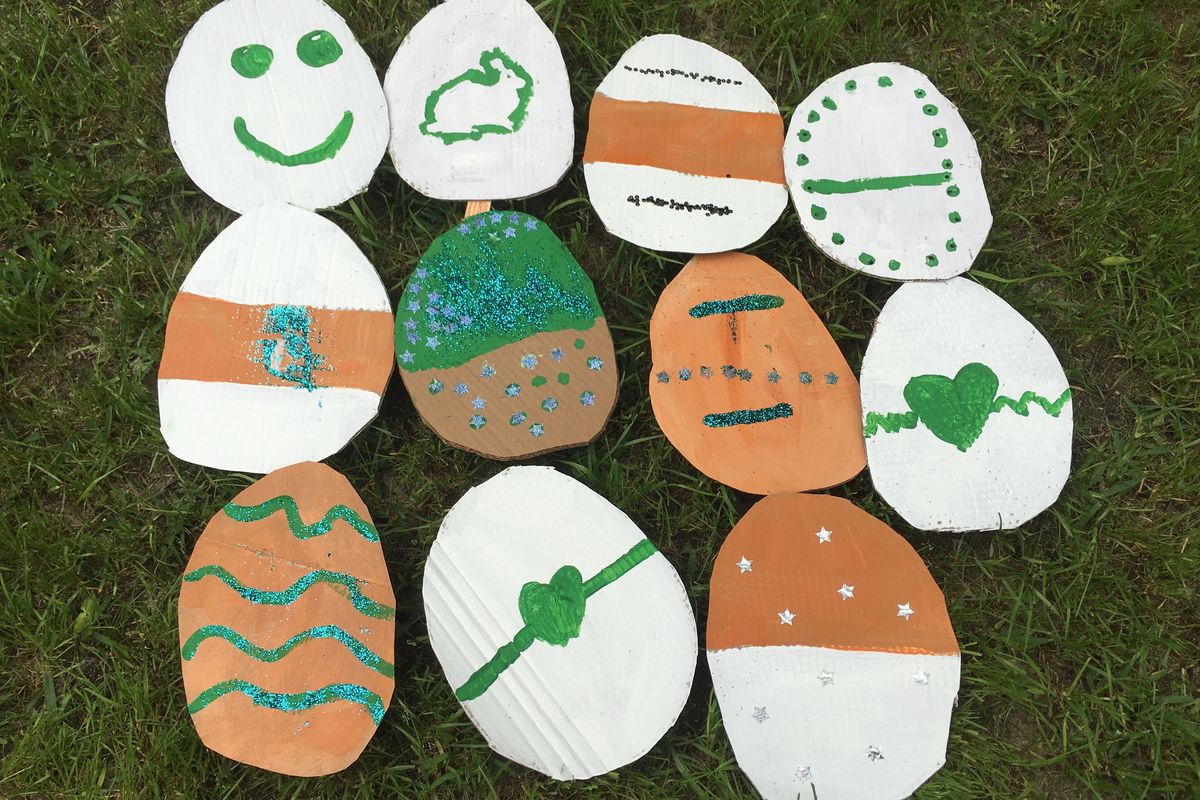 Katie Pudhorodsky
On Sunday morning, Katie Pudhorodsky and her kids, Darcy, 9, and Grady, 6, will plant handmade Easter eggs—made from cardboard and posted on paint stirrers—around the Clifford-Sanchez neighborhood, which is nestled between East 12th Street and Martin Luther King Boulevard.
"We'll post them up in trees and on telephone poles, tape them to the side of the trash cans, much like you find a hidden Easter egg, so that if anyone is walking down the street, they can have a pleasant surprise in their day," Pudhorodsky said. "And the kids can be delighted as they walk the street and point out, 'I found one! I found one!'"
---
Public parks will be closed for the holiday, and most Easter events—including church services—are canceled or have been moved online as a result of the coronavirus pandemic. But Austin families that celebrate have found an unconventional solution.
One resident in the South Lamar neighborhood posted about "at-a-distance" egg hunts on her local Nextdoor forum. To host, the post said, families should hide eggs that are visible from the street in their front yard, and then post the number of hidden eggs on their mailbox. To hunt, families should walk or bike around the neighborhood—maintaining a safe six-foot distance—and see how many eggs they can find.
This follows an international trend.
Earlier this week, New Zealand Prime Minister Jacinda Ardern reassured her youngest constituents that the Easter bunny—and also the tooth fairy—are considered to be "essential workers."
However, Ardern admitted it might be difficult for the bunny to reach everyone this year and recommended children draw an Easter egg and post the picture in their front window, to be discovered by neighbors out on walks.
Since Austin schools closed March 16, many children—here and around the country—have participated in a different hunt: for bears.
Seemingly inspired by the 1989 children's book "We're Going on a Bear Hunt," written by Michael Rosen and illustrated by Helen Oxenbury, families have placed stuffed animals in their windows for others to spot.
Pudhorodsky said her family has strapped a stuffed monkey to the post by their front door. Darcy and Grady have hunted for others in their neighborhood, though they haven't found many yet.
But much of the fun is in the preparation, Pudhorodsky said.
"Darcy really likes to spread joy and make somebody happy," she said. "So I think she's really going to enjoy that. I think that's going to be the highlight of her time."
The activity provides a welcome reprieve—especially for Darcy, who is sad to be home from school. The third-grader was looking forward to taking the statewide STAAR test and celebrating with a classroom party.
When Easter is over, the family will be on the hunt for another animal.
"She was really excited to dissect a fish this year," Pudhorodsky said. "So, we're going to have to figure out how to dissect the fish at our house."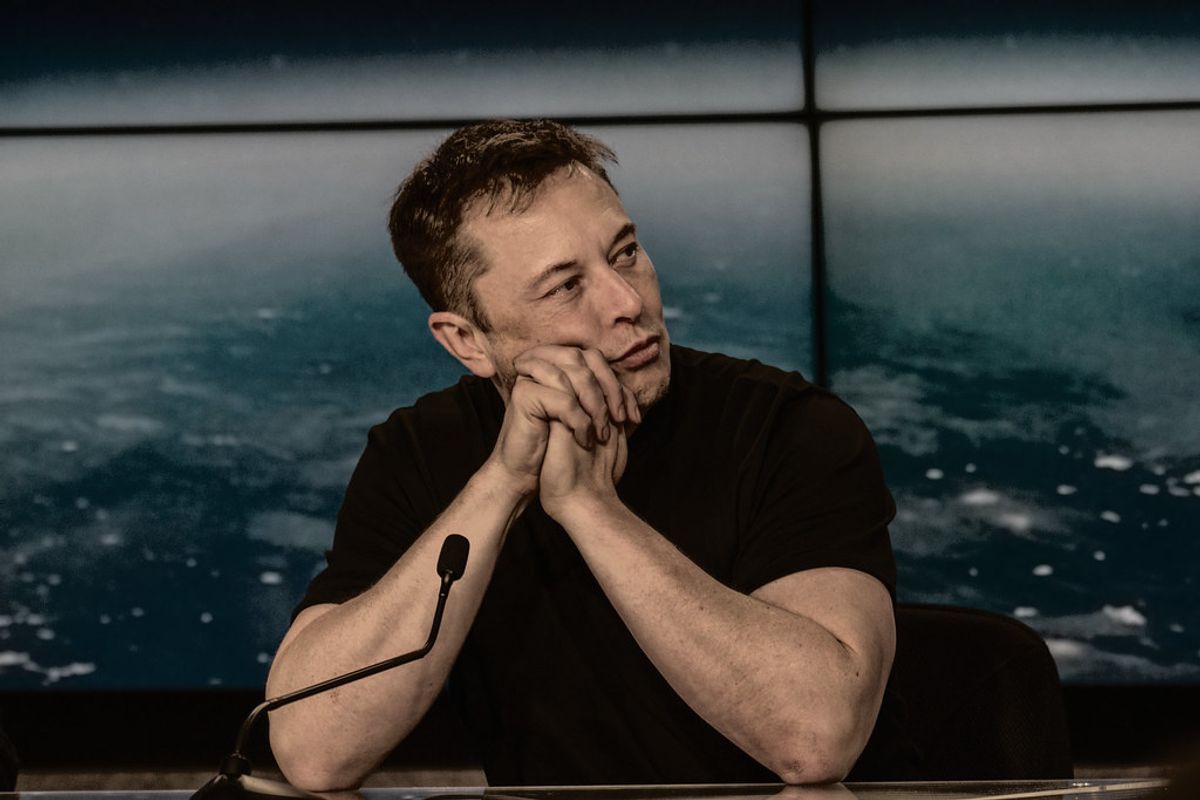 SpaceX, the aerospace company founded by Elon Musk, paid a flight attendant $250,000 to settle a sexual misconduct claim against Musk in 2018,
according to a report by Insider.
The claim came from a flight attendant who worked as a cabin crew member on a contract basis for the company's corporate jet fleet. Insider reports that she accused Musk of exposing his erect penis to her, rubbing her leg without consent and offering to buy her a horse in exchange for an erotic massage.
The alleged 2016 incident is described in a declaration signed by a friend of the worker and prepared in support of the claim.
The misconduct happened during a flight to London when Musk allegedly asked the attendant to come to his room for a full body massage. When she arrived, Musk was naked except for a sheet covering the lower half of his body. Later on, Musk touched her and said he'd buy her a horse if she would "do more," Insider reports the declaration saying. She declined and continued the massage.
Shortly after, the friend says the attendant told her about it and was "visibly shaken."
In 2018, the attendant reportedly felt that by declining Musk's proposal, her opportunities at SpaceX were diminished.
She hired a California employment lawyer and sent a complaint to the company's human resources department. The complaint was resolved after a mediator session when SpaceX, Musk and the attendant entered into a severance agreement where the attendant received $250,000 for promising not to sue over the claims.
It also included non-disclosure and non-disparagement clauses barring the attendant from discussing the payment or disclosing information about Musk and his businesses. The attendant declined to comment for Insider's story.
Musk is currently in a bid to acquire Twitter. Today, he posted that Insider published the story to interfere with the deal.
SpaceX is headquartered in California and has key operations in South Texas with Starbase, a rocket production facility and test site.
The company has previously seen allegations of sexual harassment with four women speaking out in December last year. And at Tesla, where Musk is also CEO and recently celebrated the grand opening of Giga Texas in southeast Travis County, at least six women have sued the company, alleging sexual harassment.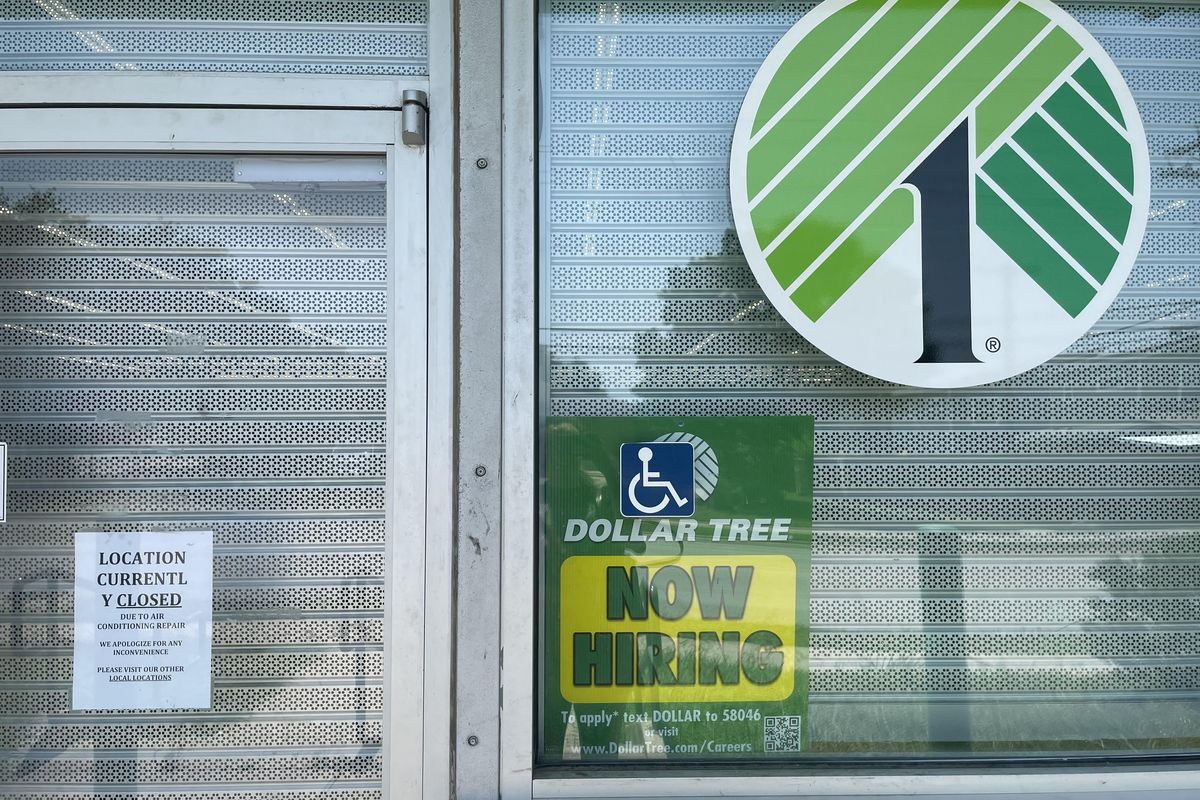 It's been a few weeks since a viral TikTok revealed poor working conditions at the Montopolis Dollar Tree in southeast Austin, and employee Maggie Lopez is still feeling its effects.
Lopez was filmed working alone at the location May 1 in a since-deleted video that saw 2.9 million views and over 450,000 likes.
In the video, stacked boxes littered the floor, shelves were left unstocked and a leaky, broken air conditioning unit welcomed customers into the understaffed storefront.
Lopez, who now works at the dollar store's Springdale location, says she was left with the aftermath of a 90-hour workweek, lost wages and a mystery illness after the store closed a few days later.
"Nobody ever told me... that there was no air conditioning. They didn't tell me there was danger of getting robbed," Lopez told Austonia. "Nobody said anything... they didn't care."
The location didn't shut its doors because of the TikTok exposure: instead, an AC unit specialist doing routine maintenance found employees working in extreme heat and said it was too hot for employees to continue working.
"To operate a business, you have to have your temperature within a certain parameter," Ikaika, the specialist who didn't disclose his full name to protect his job, told Austonia. "As soon as you walk in, you start sweating... it's not good at all."
Lopez said working in 90+ degree heat became the norm in her two months at the location as air conditioning units remained broken for months before the closure. She added some employees, including her former manager and several customers, passed out in the store due to the heat. But she said company leadership remained unresponsive.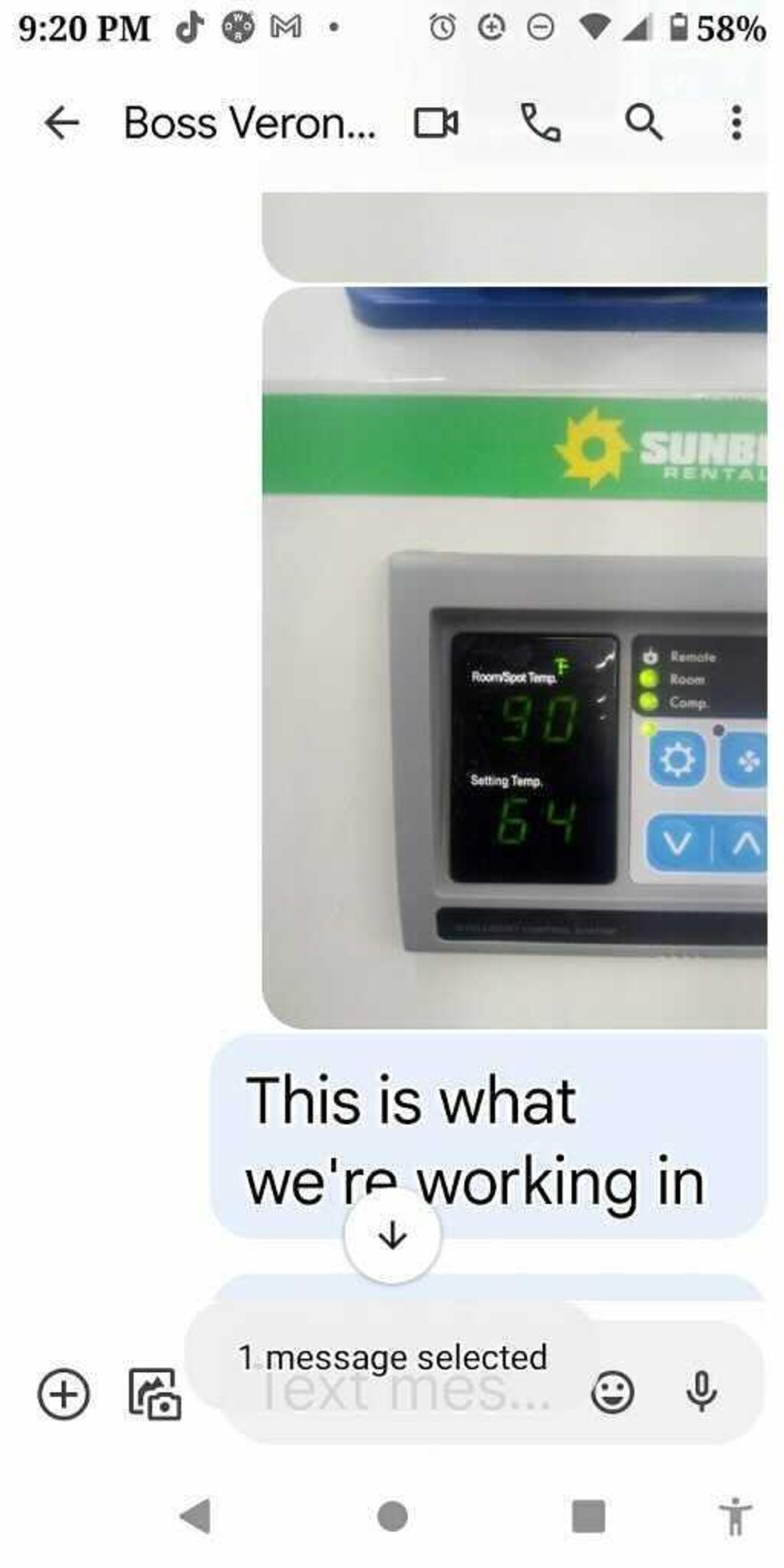 Lopez said she sent her district manager, Veronica Oyervides, screenshots of 90+ degree temperatures inside the store. (Maggie Lopez)
Four days after the air conditioning repairman told employees they should no longer keep working at the store, Lopez said her district manager, Veronica Oyervides, was asking her to come back in to prep the location for reopening. Lopez worked May 8 in the shuttered store prepping it for a reopening, which has yet to happen. Oyervides has declined to comment.
Ever since she started working in the deteriorating Dollar Tree, Lopez said she often wakes up with nosebleeds. She said she's constantly thirsty, her hands shake, and she's experiencing headaches and mood swings—symptoms she believes are due to long-term exposure to mold.
Former assistant manager Linnea Bradley told Austonia she has been hospitalized with symptoms linked to heat and stress after working at the store.
"We are sick and corporate does not give a shit," Lopez said. "What kind of damage did these stupid units do to our bodies?"
Lopez hasn't sought care for her symptoms. She says she makes $13.50 an hour and doesn't have health insurance.
Former employees have more complaints than just the heat: Lopez said that personal safety became a concern in the understaffed store. Catherine, a former employee who wished to only reveal her first name, said she's witnessed large-scale theft and instances of mismanagement in her months as a stocker at the location.

"They have no security, no cameras... they don't want you to have anything in writing," Catherine told Austonia. "It's just complete chaos."
Catherine said that she and other hourly employees were given zero hours for weeks on end as managers, who work on salary, were left to run the store alone from 5 a.m. to 10 p.m. each day. She said some managers became so desperate they were hiring homeless people to help stock shelves in exchange for a drink and a bite to eat.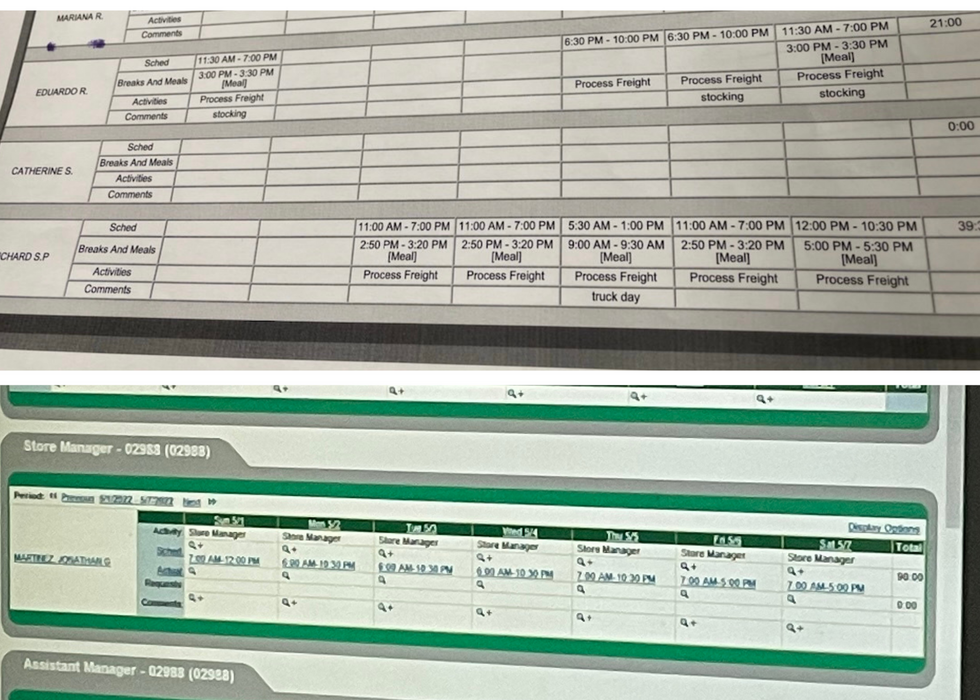 While Catherine (top, middle) often had zero-hour weekly schedules, Martinez, who was paid on salary, worked back-to-back 90-hour workweeks. (Catherine) (Claire Partain)
"They actually did have people willing to work, they just refused to give them hours," Catherine said. "I'm not understanding whether Dollar Tree wants to go under... are they doing this as a tax break?"
Other Austin Dollar Tree locations have reported similar issues. Former manager Jonathan Martinez, who says he was supposed to work 45 hours a week, says he was racking up 90+ hour workweeks and sleeping in the store as he shouldered both the Montopolis and William Cannon locations while his newborn baby was in the ICU in March.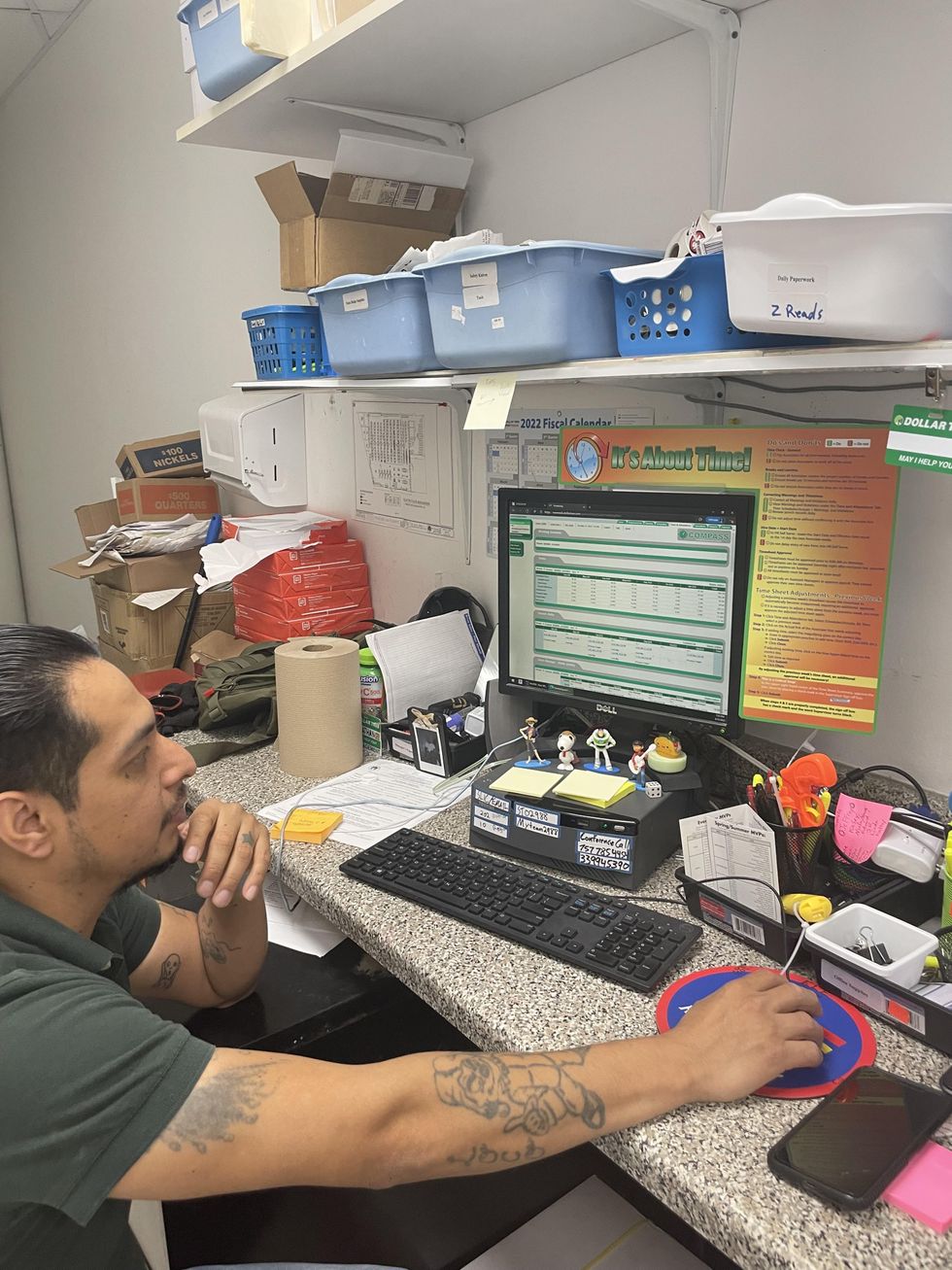 Martinez kept extra clothes in this office after working seven-day weeks at two Dollar Tree locations. (Claire Partain)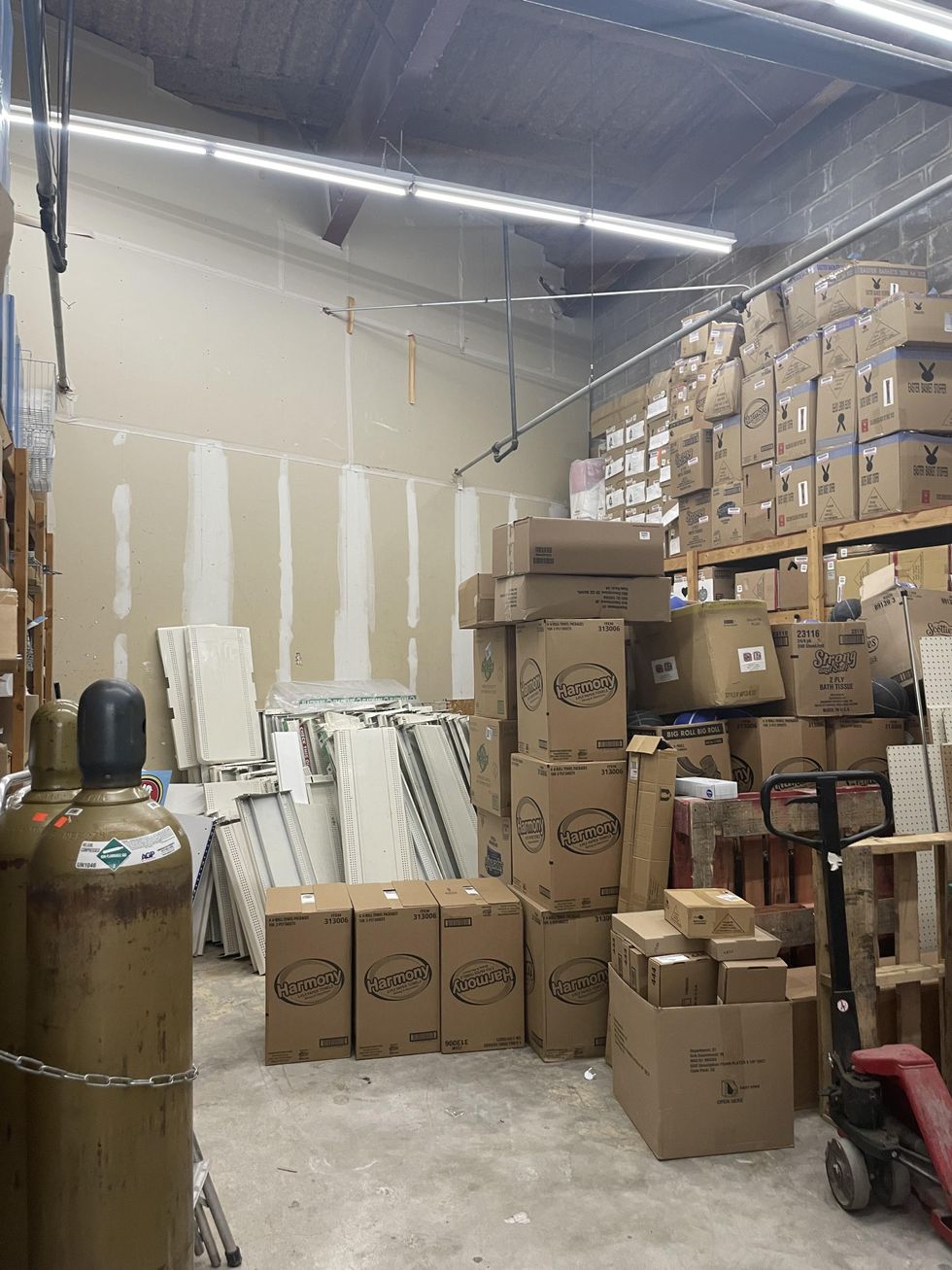 Martinez said he slept on boxes as he juggled the job and visiting his newborn in the ICU. (Claire Partain)
Martinez said he slept on boxes as he juggled the job and visiting his newborn in the ICU. (Claire Partain)
"As long as the store stays open, there are corporate people getting bonuses," Martinez, who quit last week after receiving a $100 annual bonus, told Austonia. "Six months ago, when corporate people had a shitload of bonuses, that's when they upped the price (of everything in the store from $1 to $1.25)."
In the six months since Dollar Tree hiked its prices to $1.25, it's gained plenty of mostly negative national attention. In February, the Food and Drug Administration shut down an Arkansas distribution plant due to a massive rodent infestation, and several lawsuits have ensued. The company has also come under fire for selling allegedly expired over-the-counter medicine and its worker shortage at locations across the country.
One employee, who still works for Dollar Tree and wished to remain anonymous, said that they've seen or heard that many area locations are near their breaking point.
"I've seen the good, the bad, the bad to worse," they said. "And it's always a rinse repeat kind of thing... How many more (stores) will go? And what about the employees?"
"Every time I would tell (Oyervides) 'I'm just going to close, I can't stand it anymore,' she would say, 'No, no, no,'" Lopez said. "And I'd be so upset because why? They have my paycheck. It's just been mortifying... the most horrible year of my life."
Dollar Tree's regional director did not respond to requests for comment from Austonia.