Get connected with our daily update
Austinites will once again be able to take a nonstop flight to London as Austin-Bergstrom International Airport resumes transatlantic travel this fall.
Starting Oct. 13, British Airways will offer its direct flight from ABIA to London-Heathrow Airport three times a week on Wednesday, Friday and Sunday. The airline, which has been operating in Austin since 2013, had halted service at the start of the pandemic over a year ago.
"We can't wait to welcome our customers back on board our Austin flights and we are honored to be playing our part in reuniting families and friends with their loved ones after such a long time apart," said Marie Hilditch, British Airways' head of North America sales.
Safety protocols the airline is taking include:
social distancing measures
wearing of facemasks
providing hand sanitizer stations
cleaning all surfaces after every flight
fully recycling the air once every two to three minutes through HEPA filters, which remove microscopic bacteria and virus clusters with over 99.9% efficiency
The announcement comes as COVID-19 testing requirements to enter the UK are scheduled to stop on Oct. 4. for vaccinated Americans.
Additionally, a Monday White House announcement allows fully vaccinated international travelers to enter the U.S. starting in early November with proof of a negative COVID-19 test. The ban, which was implemented in 2020, restricted travelers from a number of European countries, Iran and China throughout the pandemic.
With a goal of making healthy goodies available to the masses, HumanCo LLC has caught the attention of famous Austinites.
The Austin-based investment firm and holding company that incubates, acquires and scales consumer packaged health foods just closed a $35 million bridge funding round that included some well-known backers from the capital city and beyond according to co-founder and CEO Jason Karp.
Even since the beginning of its launch in May 2020, HumanCo had gained a new board of advisers member and an undisclosed investment from professional tennis superstar Venus Williams.
This most recent round welcomed a vetted round of investors who share a love of healthy food: co-founder of Austin-based private equity firm Vista Equity Partners Brian Sheth, Austin-based venture capital firm 8VC general partner Joe Lonsdale, actress Scarlett Johansson, Whole Foods Market Inc. co-CEO Walter Robb, model Cindy Crawford, Thrive Market co-founder and CEO Nick Green, San Francisco venture capital firm Jazz Venture Partners, former PepsiCo CEO and chairwoman Indra Nooyi, U.S. Open winner and former Austinite Andy Roddick, model and actress Brooklyn Decker, and Vital Proteins founder and CEO Kurt Seidensticker.
Founded in 2019, the company secured a $15 million Series A funding round in January 2020. Come late 2022, the company is planning "a much bigger" round of funding. According to HumanCo officials, targeting well-known influencers and celebrities was a deliberate choice—they have the influence money can't buy.
Some of the brands under the company's umbrella include organic, grain-free and gluten-free Snow Days Pizza bites, which feature Johansson as the creative director; wholesale gluten-free baked goods manufacturer Against the Grain Gourmet Foods and organic and plant-based ice cream brand Coconut Bliss.
The company employs 22 people, nine of which work in Austin at 98 San Jacinto Center. The rest of the employees are spread across at least four cities, including Chicago and Los Angeles, for the time being.
HumanCo plans to hire around 10 more in the next year, according to Karp, and go public in "a few years." The company currently has
two jobs open in Austin
.
For the first time since July 30, the seven-day moving average for COVID hospitalizations dropped below 50 on Tuesday, reaching the Stage 4 threshold.
At 49, the number is low enough to lower guidelines, but the city has not yet changed its Stage 5 status.
Austin has been in Stage 5, the highest level of Austin Public Health's COVID risk-based guidelines, for over a month as case rates and hospitalizations surpassed last summer's surge, the Delta variant targeted the unvaccinated and a younger demographic and ICUs surpassed capacity in the Austin metro. But with the seven-day moving average at 49 on Tuesday, it may be a sign that the third surge is beginning to end.
On Tuesday, 515 new cases were reported, down from a third-surge peak of 1,261 on Thursday, Sept. 7. Two days after the peak, Austin reported 1,000 COVID deaths and broke a daily death toll record with 23 deaths in a single day.
But while cases and hospitalizations are dipping, the city still has many factors to consider before dropping safety guidelines. Austin Public Health told KXAN Wednesday that key indicators including "positivity rate, the doubling time of new cases, and current ICU and ventilator patients" will need to be evaluated first.
The metro continues to have no ICU beds available as Austin-Travis County Health Authority Dr. Desmar Walkes says patients from other counties come into the area to seek care. Travis County saw 35 COVID deaths for the week of Sept. 17, slightly down from a peak of 36 for two weeks prior.
The lower hospitalization rate comes as Austin reaches a 70% vaccinated population, a number once thought to be needed to reach herd immunity. With the highly contagious Delta variant, however, many think that the new herd immunity rate is closer to 80%. But Austin officials have reported being "cautiously optimistic" as the moving average for hospital admissions slowly declined from their peak of 83.6 on Aug. 11.
"We're starting to see our case numbers decrease over time, and that is an exceptional thing to say at this point, but we're still cautiously optimistic," Walkes said.
Under Stage 4 guidelines with the Delta variant, APH continues to recommend limiting dining to takeout/curbside for unvaccinated or partially vaccinated individuals and slightly lifts shopping and travel guidelines to "only if essential." Stage 4 continues to recommend masks for vaccinated individuals in social and public settings but now includes high-risk vaccinated individuals that were recommended to stay home unless essential in Stage 5.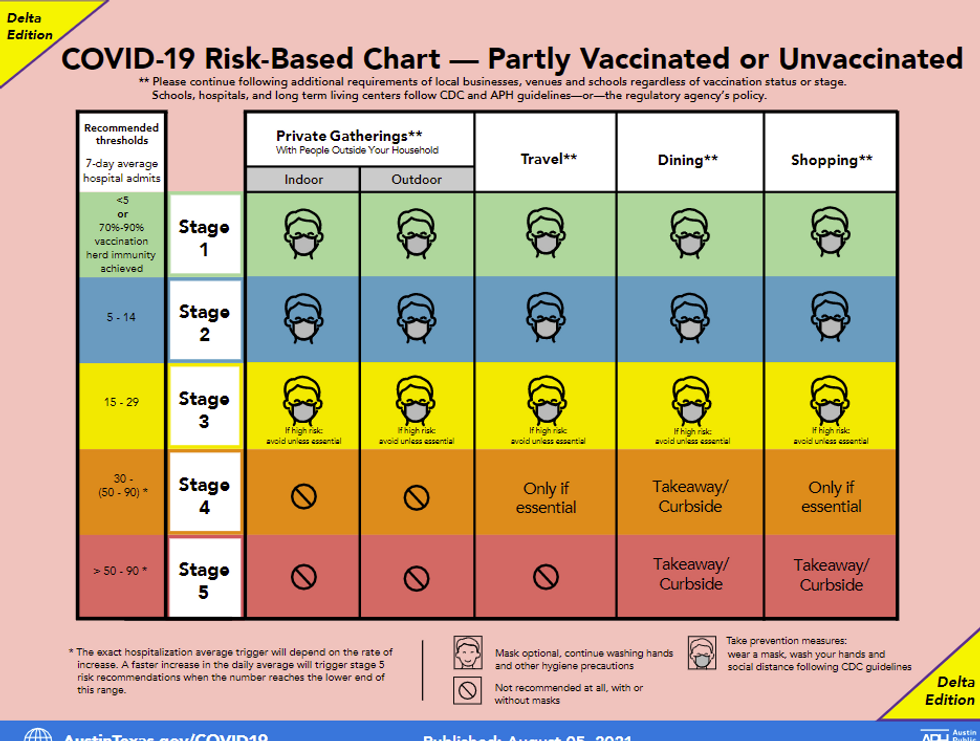 (Austin Public Health)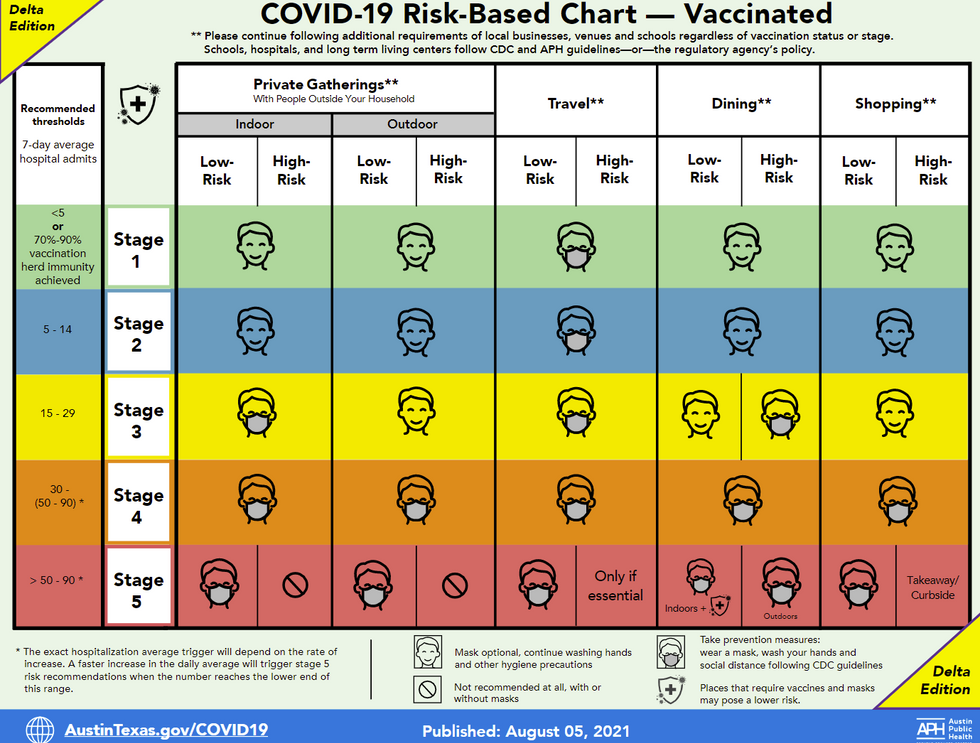 (Austin Public Health)