Get connected with our daily update
The 2020(1?) Olympics have induced plenty of late nights and early mornings for millions of Americans as they watch the world's best leap, flip and dive through the 2020 Tokyo Games.
---
Over two dozen athletes with Austin ties and many more from Texas are making headlines for their contributions to the Games, including 17-year-old gold medal swimmer Lydia Jacoby and legendary softball pitcher Cat Osterman.
So far, Austin athletes have racked up a gold and two silvers for Team USA. Some have more history-making opportunities ahead of them in the Games; others are soon headed home early with no medal but an Olympic title nonetheless. Team USA is in third place overall and has accumulated 40 medals, the second-most behind China, at this year's Games.
We're one week into the Games. Here's a quick look at the biggest headlines in this year's controversial competition and how athletes with Austin ties stacked up.
The Olympics' strangest Games to date? A quick rundown
This year's Games have been an outlier for several reasons. Many athletes have been impacted by COVID, with some saying that the Olympics maybe shouldn't have happened at all.

Millions of fans are getting an insider's view of the Olympics thanks to TikTok. U.S. women's rugby sevens star Ilona Maher helped viewership of her sport spike after her witty videos, including a clip where the team attempts to break the Olympic Village's cardboard beds.
The once-delayed Games have also seen upsets like no other, with many U.S.-dominated sports being championed by the most unlikely of teams.
In gymnastics, Texas native and world-renowned gymnast Simone Biles stepped out of the team competition left the team final and the individual all-around due to what is known as the "twisties," a sort of mind-and-body disconnect that could result in life-threatening injuries. Biles isn't sure if she'll compete in individual events next week, but her team is still doing well without their leader: the U.S. won silver as a team and Suni Lee was the individual gold medal winner.
A condom was used to repair the canoe of world-renowned Australian canoeist Jessica Fox. Meanwhile, a crash put Rio gold medalist Connor Fields in the hospital after a dangerous crash involving six riders on the BMX track.
Things got awkward in a post-swimming press conference when Team USA silver medalist Ryan Murphy and British bronze medalist Luke Greenbank said that the Games are "probably not clean," alluding to Russia's state-sponsored doping campaign that forced them to switch names to the Russian Olympic Committee. ROC competitor Evgeny Rylov was the gold medalist in the event.
Winners! 
TEAM USA'S LYDIA JACOBY TAKES GOLD 🥇

She's only 17 years old 😳

(via @NBCOlympics) pic.twitter.com/dYeAtk1pLk

— Bleacher Report (@BleacherReport) July 27, 2021
Austin athletes have taken a gold and two silvers so far in the Games, with two swimming medals and a silver softball title.
Upcoming UT freshman Lydia Jacoby earned her first gold medal as a 17-year-old in the women's 100m. The Alaska native is the first of her state to win a swimming gold medal, and she completed the feat despite not having an Olympic-size swimming pool to train with.
Longhorn Erica Sullivan made it to the podium as well with a silver medal in the women's 1500m freestyle, finishing just behind U.S. star Katie Ledecky.
Legendary UT alum Cat Osterman's decorated Olympic run is up. The 38-year-old lefthanded pitcher left her final Olympics with a bittersweet silver medal after home team Japan secured the gold in the women's softball final. The loss was the first time the two had seen each other since Japan first took the gold from Team USA in 2008, the last time softball had been in the Olympics. Osterman's next move is off the pitcher's mound; the current assistant coach at Texas State University hopes to work for a nonprofit in Austin after she officially retires on September 27.
Those who went home
#TexasToTokyo 🤘@matt_scoggin | @drew_kibler | @TownleyH pic.twitter.com/NkOjjScsOV

— Texas Men's Swimming & Diving (@TexasMSD) July 22, 2021
While every Olympian wants to go home with that precious metal, even making it to the world's biggest competition is a feat on its own. Here are the Austin athletes who didn't quite make it to the podium:
Longhorn swimmer Townley Haas was 5th in the semifinals of the men's 200m freestyle and did not advance.
Despite being medal favorites, Longhorn Gia Doonan and her women's eights crew just missed the mark with a fourth place finish in Tokyo after many members recovered from COVID.
Austinite Alison Gibson and partner Krysta Parmer finished eighth in the women's 3m synchronized diving competition.
Haas and fellow UT alum Drew Kibler helped Team USA to a fourth-place finish in the men's 4x200m swimming freestyle.
Caspar Corbeau, a Longhorn swimming for the Netherlands, finished 7th in his opening heat for the men's 100m and 200m swimming freestyle.
Remedy Rule, a Longhorn swimming for the Philippines, finished eighth in the semifinal for the women's 200m butterfly.
Anna Elendt, a UT swimmer competing for Team Germany, finished 7th in the semifinals of the women's 100m freestyle and was sixth in the prelims as part of the 4x100 medley relay.
What's to come
CAELEB DRESSEL SETS AN OLYMPIC RECORD IN THE MEN'S 100M FREESTYLE 🤯

(via @NBCOlympics) pic.twitter.com/kqyaKs6uZv

— Bleacher Report (@BleacherReport) July 29, 2021
Swimming
Sugar Land native and standout Simone Manuel helped Team USA to set a single-day record for medals won on Sunday with a bronze in the 4x100 freestyle relay. Fellow Team USA star Caeleb Dressel established his dominance with a first-place finish in the men's 100-meter freestyle on Thursday and set an Olympic record in the prelims of the 100m butterfly after helping the men's 4x100m freestyle earlier in the week.
Coming up, former Longhorn Joseph Schooling, who beat Michael Phelps in the Rio Olympics, will compete in the men's 100m butterfly final alongside Dressel on Saturday.
Both @_haileyhern and @PalmerKrysta are semifinals bound! Hailey finished the day in 6th with Krysta in 15th! pic.twitter.com/oDEeiMRuQ2

— USA Diving (@USADiving) July 30, 2021
Diving
Hailey Hernandez, a Texan diver who is coming to UT in the fall, was the youngest competitor to advance to the semifinal round of the women's 3m springboard competition early Saturday morning.
Teahna Daniels gets the win in her women's 100m heat to qualify for the semis!@TeamUSA x #TokyoOlympics

📺 NBC
💻 https://t.co/vlVjyst3S3
📱 NBC Sports App pic.twitter.com/ykShTI8r1I

— #TokyoOlympics (@NBCOlympics) July 30, 2021
Track and field
UT alum Teahna Daniels has advanced to the women's 100m semifinals alongside teammates Javianne Oliver and Jenna Prandini after a heat-winning time of 11.04 seconds. Daniels and crew will look to establish themselves as the world's fastest women in the semifinals at 6:15 a.m. followed by the finals at 8:50 a.m.
The women's 100m trio were some of the first to hit the track on Thursday. Team USA DQ'd in the 4x400m mixed race on Thursday, squandering veteran Alyson Felix's quest for another medal. Ethiopia and Uganda are the only current medal-winners for the sport, but UT alum Melissa Gonzalez will look to change that on Saturday morning as she competes in the women's 400m hurdles. Fellow Longhorn Pedra Seymour will begin her fight to beat her 6th place finish in Rio as she runs in the prelims for the women's 100m hurdles for Team Bahamas on Saturday, while men's long jumper Steffin McCarter will look to qualify in the men's long jump competition that afternoon.
The world's fastest men will begin competition Saturday morning as well, with Team USA's Trayvon Bromell as the favorite to get the gold.
Other UT track stars including world-record shot putter Ryan Crouser (Thursday), Team Jamaica 4x400m runner Stacey-Ann Williams (Thursday), and long jumper Tara Davis (Sunday) will hit the track next week.
Win or go home AND WE'RE NOT GOING HOME YET 😤 pic.twitter.com/qdK7Aa7c4s

— U.S. Soccer WNT (@USWNT) July 30, 2021
Women's soccer
Team USA advanced to the semifinals in penalty kicks in an adrenaline-pumping match early Friday morning. Next, they'll play Canada in the semifinals to compete for that top spot and avenge their loss in Rio as they fight for the finals. On Team Canada's Olympic team is UT midfielder Julia Grosso, who has helped her team to a win and three draws thus far.
13 first-half threes for @usabasketball, including 6 for Damian Lillard.#USABMNT 60
Iran 30

Zach LaVine, Kevin Durant, Jrue Holiday: 2 3PM each pic.twitter.com/0WzmpjB01R

— NBA (@NBA) July 28, 2021
Men's basketball
Kevin Durant and team have had a rocky start to the Olympics, leaving many to wonder if their No. 1 status is in jeopardy. The team suffered their first Olympic loss since 2004 in a 83-76 upset against France. They bounced back with an easy win against Iran, though the win was expected against a team with no NBA players in their roster. Next up is the Czech Republic, a team with two NBA talents that the U.S. is expecting to smother at 8:30 a.m. Saturday.
The USA Women's basketball team picks up their first W 🚨

USA takes down Nigeria, 81-72

A'ja Wilson (Olympic debut): 19 PTS | 13 REB pic.twitter.com/cRwnEgAzhn

— Bleacher Report (@BleacherReport) July 27, 2021
Women's basketball
The U.S. women's basketball team, including UT alum Ariel Atkins, have shakily continued their world dominance in Tokyo. The team is 2-0 in Group B after an 81-72 defeat over Nigeria and 86-69 victory over Japan. Atkins celebrated her birthday on the same day as the Japan defeat.
Next up, the team will look to increase their winning margins as they take on France at 12:40 a.m. on Monday.
So proud to have @ChiakaOgbogu on our team! https://t.co/tK6sQUGlkU

— USA Volleyball (@usavolleyball) July 30, 2021
Volleyball
Longhorn middle blocker Chiaka Ogbogu and the Team USA volleyball team are fighting hard for their first gold medal in 57 years. The team has already swept defending gold medalists China and was undefeated in group play with wins over Argentina and Turkey as they head to the quarterfinals starting Wednesday, They'll look to defeat the ROC and Italy in their final group rounds along the way.
Six days a week, thousands of onlookers tune in to live streams to watch the pros rake it all in at high-stakes poker tournaments. The big-name poker players aren't in Las Vegas or even Oklahoma's finest casinos—instead, they're where Texas Hold 'Em gets its name.

Gambling may be illegal in Texas, but over a hundred poker houses are using a loophole to open up shop across the state, especially in Austin and Dallas.
The classic poker game is finally getting played for real cash around the Lone Star State thanks to an exception in Texas' gambling ban that allows poker games to be played in private residences. Instead of taking a cut from the pot like traditional gambling ventures, private poker houses don't make money from the results of a game; instead, they get their revenue from membership and hourly fees.
It's a business strategy that's gone (mostly) unchallenged by Texas politicians, especially as the industry begins to heat up.
Austin may now have around 20 poker houses around town, but it wasn't long ago that one stood alone like a small town saloon. The city's premiere poker house, Texas Card House, was founded in 2015 and has since grown to include a YouTube channel with over 30,000 subscribers, a wide range of gameplay and regular visits from big-name poker gurus like Brad Owen and Doug Pope.
David Lagana, a content creator who has worked in college sports and Hollywood, was brought into the scene in May as the house's live streams began to blow up. He said the live streaming battleground is only beginning.
"The space is ever-growing," Lagana said. "It's been interesting to try and find a lane that everybody can succeed. It's all about finding something that people want to watch on a nightly basis."
Carolyn Hapgood, who has worked for Texas Card House for three years, has made a name for herself as a live stream producer, dealer and player herself with the company. She's seen Texas Card House grow from a two-room card house to the most well-known poker venue in Austin with another branch in Dallas.
"It was a teeny tiny little house with five tables, and that was the first legal card house in the state," Hapgood said. "And since then it's blown up."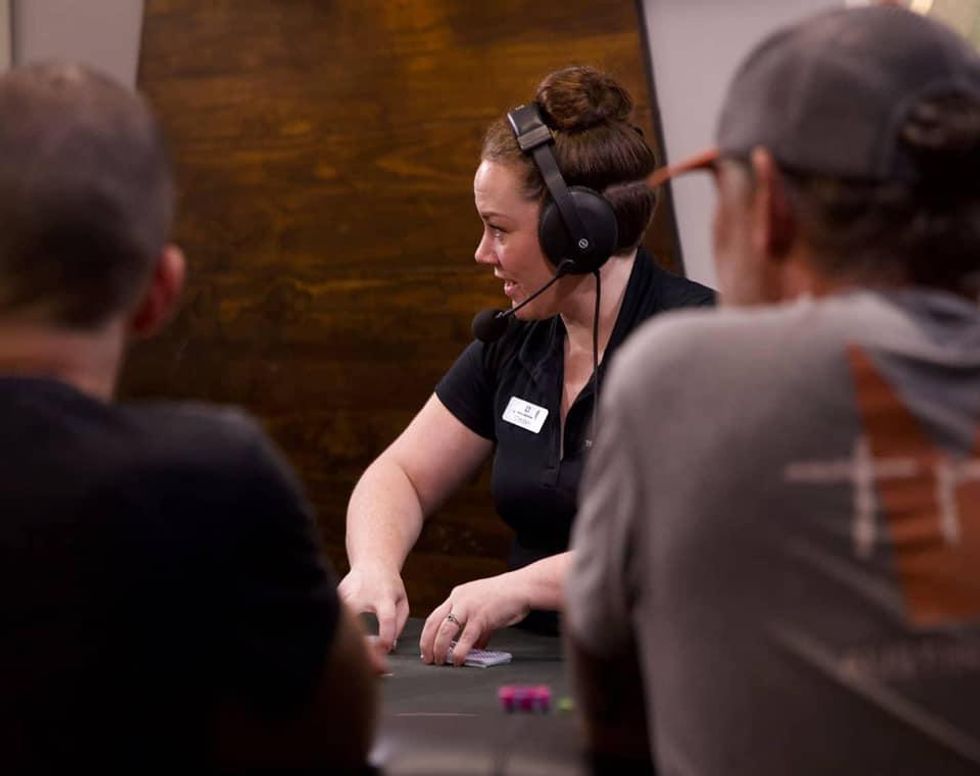 Texas Card House dealer Carolyn Hapgood has been working with Austin's premier poker house since 2018. (Texas Poker House Austin/Facebook)
From $100 pots to buy-ins of $15,000 or more, Texas Card House has it all, especially as in-state players learn more about the game. Hapgood said there isn't really a typical poker player at the house—instead, the poker table forms an "interesting little ecosystem" that includes college students, a 93-year old Vietnam War veteran, online gamblers, old-school players and everyone in between. The diversity at the table has been enhanced even further by COVID as people clamor to return to in-person events.
But Texas Card House no longer holds a "royal flush" in Austin's poker culture. The Lodge, based in Round Rock, is now expanding to over 60 tables, the largest in Texas, while Palms Social Club, owned by Texas Card Houses' original owner Sam Von Kennel, brought service staff and a refined atmosphere to the Austin scene.
Hapgood said the base of poker players is very large and continues to grow, forming a community as players form friendships on and off the table.
"My favorite part of the poker community is how much fun we have," Hapgood said. "You sit at a table with eight of your friends, everyone's kind of just having a good time. There's a lot of players who will, you know, call or text each other after they're done playing, and they end up inviting each other barbecues, and going out to dinner with their families and stuff like that... those are my favorite people to hang out with."
Getting involved in the poker scene is as easy as tuning into a live stream, and Lagana hopes to see more outsiders like himself get inspired by poker in the future.
"It's kind of like life," Lagana said. "Life isn't just one hand to play... you're only in control of sort of what's in your hand (and) you can't play the card that you weren't dealt with. So it's really been a fascinating life lesson for me."
From four-time Grammy-nominee turned big-screen actor, Black Pumas frontman Eric Burton will debut in the sci-fi short film "Devexity," which is written, directed by and stars Austinites.
The film, brought to life by Austin-based filmmaker Luke Lidell, will premiere on Oct. 7 at the Native Hostel while Burton is in town for Austin City Limits Fest. Then, "Devexity" will head off to film festival screenings, according to a report by The Austin Chronicle.
Following Burton as the film's protagonist, named Jean, "Devexity" takes place across several different settings and surfaces an existential response from the watcher. Burton stars alongside fellow Austinites Ali Pentecost, Dominique Pitts and New Yorker Madison Murrah in the partially black-and-white film.
The film was shot over the course of four days in October 2020, which Lidell said was a challenge of "focus" and "trust" to create. With a variety of scenes and intertwining narratives, the film dives into the topic of virtual reality.

A musician in addition to a filmmaker, Lidell previously directed the film "Telekinetic" in 2018. The script for "Devexity" was written by Lidell with Burton in mind for the lead after meeting him during a music video project in 2017—Lidell said Burton helped him shape the characters along the way.
Now that the door has been opened for work between Burton and Lidell, you're likely to see the pair collaborate again—a Black Pumas documentary is being rumored.
The University of Texas at Austin welcomed more incoming freshmen than ever before, with 9,060 new Longhorns, thanks to the rise of on-time graduations allowing the university to admit more undergraduates.
The count was taken on the 12th day of class, Sept. 10, beating out the previous high of 8,960 from 2018. The new class is also setting records for its diversity, citing a rise of Black, Hispanic and Asian undergrads.
"People all across the UT community have been working hard to recruit, attract, retain and support even more talented and diverse students, staff members and faculty members who can change the world," UT President Jay Hartzell said. "I'm proud that our combined enrollment of historically underrepresented groups has reached record levels for the second year in a row."

A 3% enrollment rise can be attributed to UT's all-time high graduation rates: the four-year graduation rate rose from 72.2% to 72.7%, while the six-year student rate rose from 87.6% to 87.7%.
Of the 51,992 students on UT's campus, 13,366, or 29.6%, come from historically underrepresented groups—including Black, Hispanic, American Indian or Alaska Native, or Native Hawaiian or Other Pacific Islander—one of the highest totals out of the Association of American Universities and a record-breaking percentage.
With this new class, the university is also serving more first-generation students and Hispanic students than ever before, making up 22.9% and 27.1% of the undergrad student body, respectively. Last year, UT hit a quota of 25% Hispanic students to qualify as a Hispanic-Serving Institution and received the Seal of Excelencia for its commitment to the success of Latin students.
Black students fell just a bit, from 5.3% to 5.2% university-wide, though the actual enrollment amount is up, from 2,193 to 2,219.
From Your Site Articles
Related Articles Around the Web