Get connected with our daily update
(Christa McWhirter)
Hundreds of Austinites cycled through the Delco Activity Center in Northeast Austin on Saturday morning, making their way through an orderly process that ended with them partially or fully vaccinated against COVID-19.

Thirteen weeks into the vaccine rollout, this event was in some ways routine. But it also took place on the one-year anniversary of the first confirmed case in Austin-Travis County.
---
Since March 13, 2020, Austin Public Health has reported 77,329 confirmed cases and 778 deaths. Nearly 200 people were hospitalized with the virus across the five-county Austin metro on Friday, and another 20 were receiving treatment at the alternate care site downtown.
"A year ago today, we didn't even have a vaccine that was available," APH Director Stephanie Hayden-Howard told Austonia at the Deldo vaccine event. "So knowing that thousands of people will come through here … and receive that vaccine, I'm overjoyed."
Hard choices
Saturday also marks the one-year anniversary of the planned first day of SXSW 2020. City officials canceled the annual festival on March 6, 2020, citing fears of the spreading coronavirus.
Austin-Travis County Interim Health Authority Dr. Mark Escott recalled a series of meetings—with the CDC, state officials and local stakeholders—that took place in advance of that announcement. "I made the statement that this would be incredibly disruptive," he said. "I had no idea how long the disruption would last."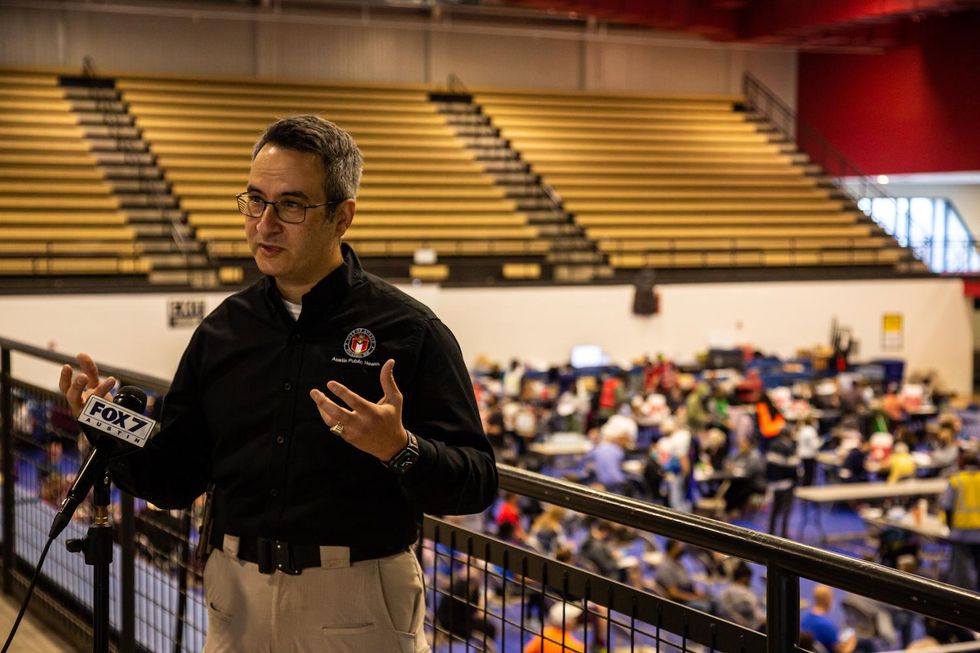 Austin-Travis County Interim Health Authority Dr. Mark Escott speaks about the one-year anniversary of the first locally reported COVID case on Saturday. (Christa McWhirter)
In hindsight, the "difficult" decision has proven to be a good one. "Remember at the time we had zero cases," Escott said. Since then, however, case investigations have revealed that nearly 100 people had contracted coronavirus on the day the festival was scheduled to begin. "Had SXSW been going on with that number of cases at the state, we would have seen an early and aggressive surge," Escott said. "I think (canceling) saved a lot of lives."

The cancellation of SXSW and local stay-home orders in the early days of the pandemic set the stage for a relatively successful response. "I'm incredibly proud of how this community has come together to ramp up testing, to lock down when we needed to lock down, to mask for as long as we've had to wear masks," Escott said. "And I think that is why Austin is doing better than every other metropolitan jurisdiction in Texas and most others in the United States."
But the past year has not been without its challenges. Antiquated public health infrastructure, including fax machines, and decades of disinvestment stymied the initial testing rollout and contact tracing efforts. Similar technical issues have plagued the vaccine rollout, with Ausinites reporting long wait times, missing confirmation emails and unreachable help lines.
"A lot of people use the analogy of trying to build the airplane while you're flying," Escott said. "We're trying to build a supersonic jet while we're flying."
A new stage
Despite these delays, the pandemic forecast is improving. The Austin-Travis County area entered Stage 3 of APH's risk-based guidelines on Saturday—the first time since mid-November—after a two-month decline in new confirmed COVID cases and related hospitalizations.
Although Escott remains concerned about new emerging variants and the prospect of increased transmission due to spring break travel, he is hopeful that Austinites will continue to take precautions—such as quarantining and getting tested—to mitigate this prospect. "This is measured risk," he said of the decision to move down to stage 3.
The vaccine rollout is also improving, with increased supply expected in the coming weeks thanks to recent FDA approval of Johnson & Johnson's one-shot candidate. Nearly 100,000 Travis County residents are fully vaccinated—around 7.8% of the total population—and more than twice that number have received their first dose, according to the Texas Department of State Health Services.
Although this is far short of the 70% to 85% vaccinate rate associated with herd immunity, it is already having an impact. "Herd immunity is not an all-or-nothing thing," Escott said, explaining that risk-taking behaviors will be safer than it is today once the community has achieved an overall vaccination rate of 20% or 30%.
Groups with higher vaccination rates—such as nursing home residents—are already seeing an impact. In the last 14 days, Travis County long-term care facilities have reported nine new COVID cases, compared to around 350 during a two-week period two months ago. "It's been a remarkable and rapid decline of cases as a testament to the efficacy of the vaccine," Escott said.
Working through the waitlist
Vaccine eligibility is also expanding in Texas, although local public health officials say there is still not enough supply to meet demand.
DSHS announced earlier this week that it would expand eligibility criteria to include a new group—1C, or adults ages 50 to 64—starting Monday. Although APH initially said it would not make appointments to individuals in this group, citing limited vaccine supply, the department issued an updated statement on Saturday: "In the coming days, APH will make modification to our registration platform to include the 1C population and allow us to prioritize based on 1A, 1B and 1C status."
Since being designated a hub provider in January, APH has received a weekly allocation of 12,000 first doses. But the department currently has around a quarter of a million people on its waitlist who are currently eligible—under groups 1A and 1B or as educators and childcare personnel—and still waiting for an appointment. Adding in residents who qualify under group 1C starting Monday could add another 200,000 to the queue, Escott said. "There's not enough vaccine to go around right at the moment," he added.
Until its vaccine supply increases, APH is working to reach those in priority groups who have still been unable to secure an appointment. In partnership with Travis County, the department debuted an equity call center in January, which accepts referrals from local nonprofits and reaches out to elderly folks directly. APH is also working with faith-based organizations to set up smaller vaccine clinics at local churches; this effort could be especially important in reaching Black residents, who remain underrepresented among vaccine recipients relative to their share of the local population.
APH officials also recommend residents sign up for any waitlist they can find, as other local providers may have more availability.
Coupled with the anticipated increase in vaccine availability, these improvements have left Hayden-Howard feeling optimistic. "We are so hopeful and so excited about the future," she said.
This story was updated at 3:45 p.m. to include an update from Austin Public Health regarding its policy on 1c eligibility.

Whether you became a home chef when the pandemic began or have always enjoyed crafting delicious meals, it's undeniable that no home is complete without a cozy kitchen.
Not only do these luxurious homes have enviable amenities like natural light, sky-high ceilings and land to grow into, they also boast extraordinary kitchens. These are not your mom's kitchens—we're talking wine fridges, Miele appliances and wet bars.
Take a peek at these five gems on the market now.
In the South Austin Parten community, this castle-like four-bedroom, three-and-a-half bathroom stunner puts you just minutes from Austin, Dripping Springs and other nearby communities. Stark white and black contrasting features give the interiors a clean look, while a large curving staircase serves as a centerpiece for the ground floor. The chef's kitchen is spacious, facing the living room and multiple windows, and immediately draws the eye. Upstairs you'll find a spa-style bathroom, game room with a wet bar and Hill Country Views.
This listing is held by
Adam Zell.
This hyper-modern, 3,300-square-foot Scandinavian-styled home is a paradise for natural light in Hyde Park. With four bedrooms and three-and-a-half bathrooms spread across one story, the home rests on concrete columns to protect from extreme climate conditions. Inside, you'll find crisp, clean trim in the open-plan kitchen with built-in luxury appliances and a walk-in pantry. Lofty 12-foot ceilings and gigantic windows set the tone, with a wet bar and second living room for entertaining. When you retire to the master bedroom, enjoy a warm bath in the soaking tub or enjoy the multi-output shower.
This listing is held by Austin Stowell.
In the heart of Westlake, this stacked three-story new build is a sprawling 4,483 square feet with five bedrooms and four-and-a-half bathrooms. The home is centrally located and full of natural light, especially on the open concept first floor, which includes the kitchen, casual dining space and living area. The third floor has a bedroom and loft, perfect for the at-home worker.
This listing is held by Jen Templeton.
This 3,539 square foot, three-bedroom, three-and-a-half bathroom Tarrytown townhouse is newly remodeled but still holds on to its vintage charm. Bright white cabinets, a green accented island and quartzite countertops in the kitchen give the space a cheery feeling. Entering on the second floor, you'll have to walk downstairs to get to the bedrooms, which include ensuite baths and walk-in showers. The third level bonus room is the perfect place for an at-home office.
This listing is held by
Cindy Fowler
.
​Just outside Austin in the sleepy town of Wimberley, the Backbone Ridge Ranch is one of the city's most "iconic and pristine" properties. On nearly 50 acres of land, the house takes you into nature without getting too far from nearby cities. With 4,369 square feet, six bedrooms and six-and-a-half bathrooms, floor-to-ceiling windows effortlessly light the entire space. You'll feel like a celebrity chef while cooking in the kitchen, even more so entertaining from the outdoor kitchen and living space. The 33,000-gallon quarried limestone pool is perfect for those hot Hill Country summers!
This listing is held by
Nicole Kessler.
Sample some spirits
When: 11:30 a.m. Friday, Saturday and Sunday
Where: Desert Door, 211 Darden Hill Rd. Driftwood
What: Attend Desert Door Distillery's first Explorer Series of 2022. Guests will be able to sample Caliber on its own or in a delicious cocktail.

Eat some chili
When: 12 p.m. Saturday
Where: Sagebrush, 5500 S. Congress Ave.
What: Enjoy great chili and great music at the 14th Annual Chili Cold Blood Chili Cook-Off. All proceeds will be donated to Health Alliance for Austin Musicians in memory of Nick Curran.

Enjoy some local art
When: 4 p.m. Saturday
Where: Neill-Cochran House Museum, 2310 San Gabriel St.
What: The Neil-Cochran House Museum will host a multi-media art exhibition by Austin artist Nell Gottlieb, titled "Land as Persona: An Artist's Journey." Gottlieb works in multiple media to reexamine her coming of age, white and female in the Jim Crow South.

Catch some improv comedy
When: 7 p.m. Sunday
Where: GameOn! ATX, 1515 Dungan Ln.
What: ColdTowne ThrowDowne is an improv comedy tournament between troupes that will take place in front of a live studio audience and streamed live to the world on Twitch.

Catch a Johnny Cash-style show
When: 7:30 p.m. Sunday
Where: Georgetown Palace Theatre, 810 S. Austin Ave.
What: Experience music history with a unique musical about love and faith, struggle and success, rowdiness and redemption, and the healing power of home and family set to the tune of the legendary Johnny Cash.