Get connected with our daily update
(Christa McWhirter)
Hundreds of Austinites cycled through the Delco Activity Center in Northeast Austin on Saturday morning, making their way through an orderly process that ended with them partially or fully vaccinated against COVID-19.

Thirteen weeks into the vaccine rollout, this event was in some ways routine. But it also took place on the one-year anniversary of the first confirmed case in Austin-Travis County.
---
Since March 13, 2020, Austin Public Health has reported 77,329 confirmed cases and 778 deaths. Nearly 200 people were hospitalized with the virus across the five-county Austin metro on Friday, and another 20 were receiving treatment at the alternate care site downtown.
"A year ago today, we didn't even have a vaccine that was available," APH Director Stephanie Hayden-Howard told Austonia at the Deldo vaccine event. "So knowing that thousands of people will come through here … and receive that vaccine, I'm overjoyed."
Hard choices
Saturday also marks the one-year anniversary of the planned first day of SXSW 2020. City officials canceled the annual festival on March 6, 2020, citing fears of the spreading coronavirus.
Austin-Travis County Interim Health Authority Dr. Mark Escott recalled a series of meetings—with the CDC, state officials and local stakeholders—that took place in advance of that announcement. "I made the statement that this would be incredibly disruptive," he said. "I had no idea how long the disruption would last."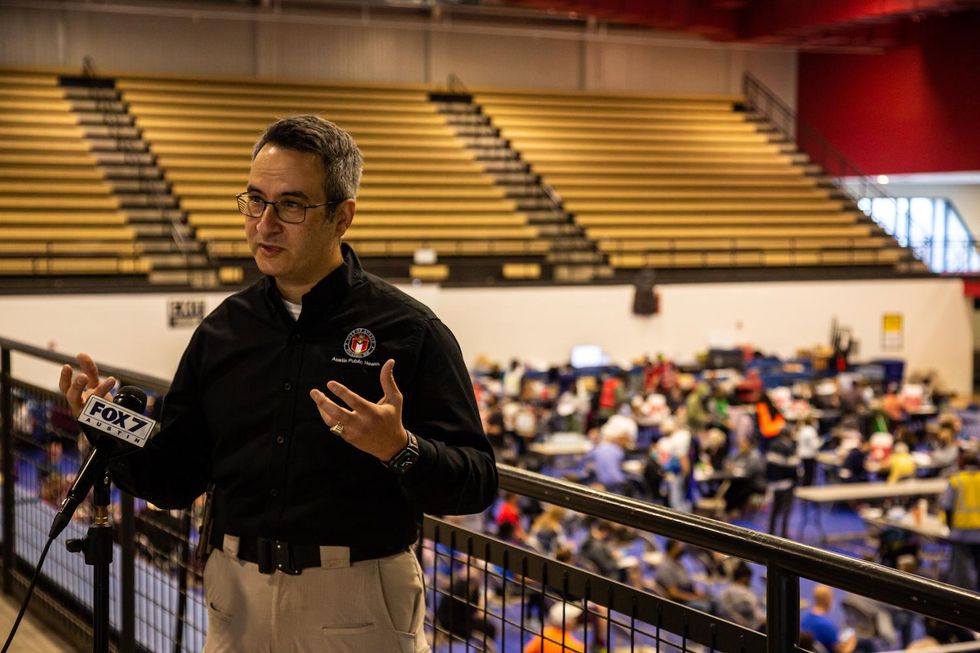 Austin-Travis County Interim Health Authority Dr. Mark Escott speaks about the one-year anniversary of the first locally reported COVID case on Saturday. (Christa McWhirter)
In hindsight, the "difficult" decision has proven to be a good one. "Remember at the time we had zero cases," Escott said. Since then, however, case investigations have revealed that nearly 100 people had contracted coronavirus on the day the festival was scheduled to begin. "Had SXSW been going on with that number of cases at the state, we would have seen an early and aggressive surge," Escott said. "I think (canceling) saved a lot of lives."

The cancellation of SXSW and local stay-home orders in the early days of the pandemic set the stage for a relatively successful response. "I'm incredibly proud of how this community has come together to ramp up testing, to lock down when we needed to lock down, to mask for as long as we've had to wear masks," Escott said. "And I think that is why Austin is doing better than every other metropolitan jurisdiction in Texas and most others in the United States."
But the past year has not been without its challenges. Antiquated public health infrastructure, including fax machines, and decades of disinvestment stymied the initial testing rollout and contact tracing efforts. Similar technical issues have plagued the vaccine rollout, with Ausinites reporting long wait times, missing confirmation emails and unreachable help lines.
"A lot of people use the analogy of trying to build the airplane while you're flying," Escott said. "We're trying to build a supersonic jet while we're flying."
A new stage
Despite these delays, the pandemic forecast is improving. The Austin-Travis County area entered Stage 3 of APH's risk-based guidelines on Saturday—the first time since mid-November—after a two-month decline in new confirmed COVID cases and related hospitalizations.
Although Escott remains concerned about new emerging variants and the prospect of increased transmission due to spring break travel, he is hopeful that Austinites will continue to take precautions—such as quarantining and getting tested—to mitigate this prospect. "This is measured risk," he said of the decision to move down to stage 3.
The vaccine rollout is also improving, with increased supply expected in the coming weeks thanks to recent FDA approval of Johnson & Johnson's one-shot candidate. Nearly 100,000 Travis County residents are fully vaccinated—around 7.8% of the total population—and more than twice that number have received their first dose, according to the Texas Department of State Health Services.
Although this is far short of the 70% to 85% vaccinate rate associated with herd immunity, it is already having an impact. "Herd immunity is not an all-or-nothing thing," Escott said, explaining that risk-taking behaviors will be safer than it is today once the community has achieved an overall vaccination rate of 20% or 30%.
Groups with higher vaccination rates—such as nursing home residents—are already seeing an impact. In the last 14 days, Travis County long-term care facilities have reported nine new COVID cases, compared to around 350 during a two-week period two months ago. "It's been a remarkable and rapid decline of cases as a testament to the efficacy of the vaccine," Escott said.
Working through the waitlist
Vaccine eligibility is also expanding in Texas, although local public health officials say there is still not enough supply to meet demand.
DSHS announced earlier this week that it would expand eligibility criteria to include a new group—1C, or adults ages 50 to 64—starting Monday. Although APH initially said it would not make appointments to individuals in this group, citing limited vaccine supply, the department issued an updated statement on Saturday: "In the coming days, APH will make modification to our registration platform to include the 1C population and allow us to prioritize based on 1A, 1B and 1C status."
Since being designated a hub provider in January, APH has received a weekly allocation of 12,000 first doses. But the department currently has around a quarter of a million people on its waitlist who are currently eligible—under groups 1A and 1B or as educators and childcare personnel—and still waiting for an appointment. Adding in residents who qualify under group 1C starting Monday could add another 200,000 to the queue, Escott said. "There's not enough vaccine to go around right at the moment," he added.
Until its vaccine supply increases, APH is working to reach those in priority groups who have still been unable to secure an appointment. In partnership with Travis County, the department debuted an equity call center in January, which accepts referrals from local nonprofits and reaches out to elderly folks directly. APH is also working with faith-based organizations to set up smaller vaccine clinics at local churches; this effort could be especially important in reaching Black residents, who remain underrepresented among vaccine recipients relative to their share of the local population.
APH officials also recommend residents sign up for any waitlist they can find, as other local providers may have more availability.
Coupled with the anticipated increase in vaccine availability, these improvements have left Hayden-Howard feeling optimistic. "We are so hopeful and so excited about the future," she said.
This story was updated at 3:45 p.m. to include an update from Austin Public Health regarding its policy on 1c eligibility.

After months of speculation, a new report says political personality Beto O'Rourke is mulling a run for Texas governor that he will announce later this year.
Sources tell Axios the former congressman is preparing his campaign for the 2022 election, where he will likely vie for the position against incumbent Gov. Greg Abbott. The only other candidate that has announced he will take on Abbott for governor is former Texas GOP Chairman Allen West—no Democrats have announced they are running as of yet.
"No decision has been made," Axios reports David Wysong, O'Rourke's former House chief of staff and a longtime adviser, said. "He has been making and receiving calls with people from all over the state."
A new poll from The Dallas Morning News and University of Texas at Tyler shows O'Rourke is narrowing the gap between himself and Abbott's prospects for governor. In the poll, 37% said they'd vote for O'Rourke over Abbott, while 42% said they'd vote for Abbott.
Abbott has been in the hot seat due to his handling of COVID-19 and the signing of landmark legislation into law, including new abortion and voting rights laws; 54% of poll respondents voted they think the state is headed in the "wrong direction." Still, Texas hasn't had a Democrat as governor since the 90s.
O'Rourke's people-focused approach to the 2018 Senator race, which he lost to Sen. Ted Cruz, gave him a widespread following and many hoped he'd throw his hat into the ring since he said he was considering it earlier this year.
"We hope that he's going to run," Gilberto Hinojosa, the state chair of the Democratic Party, told Axios. "We think he'll be our strongest candidate. We think he can beat Abbott because he's vulnerable."
Austin rapper Jordi Esparza may not have won the 2021 Red Bull Batalla, the world's largest Spanish freestyle rap competition, but for a spirited two rounds, the 22-year old Mexican native looked like he had every right to.
On Saturday evening in Los Angeles, the event itself looked like Cobra Kai meets Star Search with graphics adding a very Batman Beyond aesthetic. Over a dozen rappers hoping to represent the U.S. in the international round of the competition took to the stage with in-your-face jabs at accents, sexual orientation and odors, among other things.
This was Esparza's second rodeo; he had placed third at the 2020 National Finals, automatically securing him a spot this year.
However, things were different this year. He was not nervous about the contest. Unlike in 2020, when he made his Red Bull Batalla debut, the anxiety of the event led him to "feeling so bad."
Affecting a casual calm, the locally-based landscaper said he just felt "so relaxed, so happy" and primarily wanted to "enjoy everything."
Choosing his first-round opponent, Esparza, whose stage name is Jordi, elected to go against LA-based Boss.
Esparza freestyled an attack on his opponent's weight and cholo style of dress.
Boss—bracketing his Latin freestyle with English appeals to the crowd—mocked Jordi's lack of education, made fun of how clean Jordi's shoes looked and suggested that Jordi just came back from a Footlocker.
That first round went to Jordi.
But his next opponent Eckonn would prove to be his undoing.
Eckonn compared Jordi to Hannah Montana, while Jordi soulfully explained that he had learned from the best.
Esparza's verbal dexterity is matched by a rattling rhythm and a game face that is as mawkish as it is mockish. The overall effect is that of an underdog with bite.
Eckonn beat Esparza in that round with the overall championship going to Palm Beach-based rapper Reverse.
However, Esparza was just happy to be there. He recently told Austonia going to the finals again was a dream come true—a pinnacle that he said he won't know how to top.
With his nimble jabs and sneaky prowess, honed from pop culture and the swagger of a young working man hungry to be more, Jordi Esparza is just getting started.