Get connected with our daily update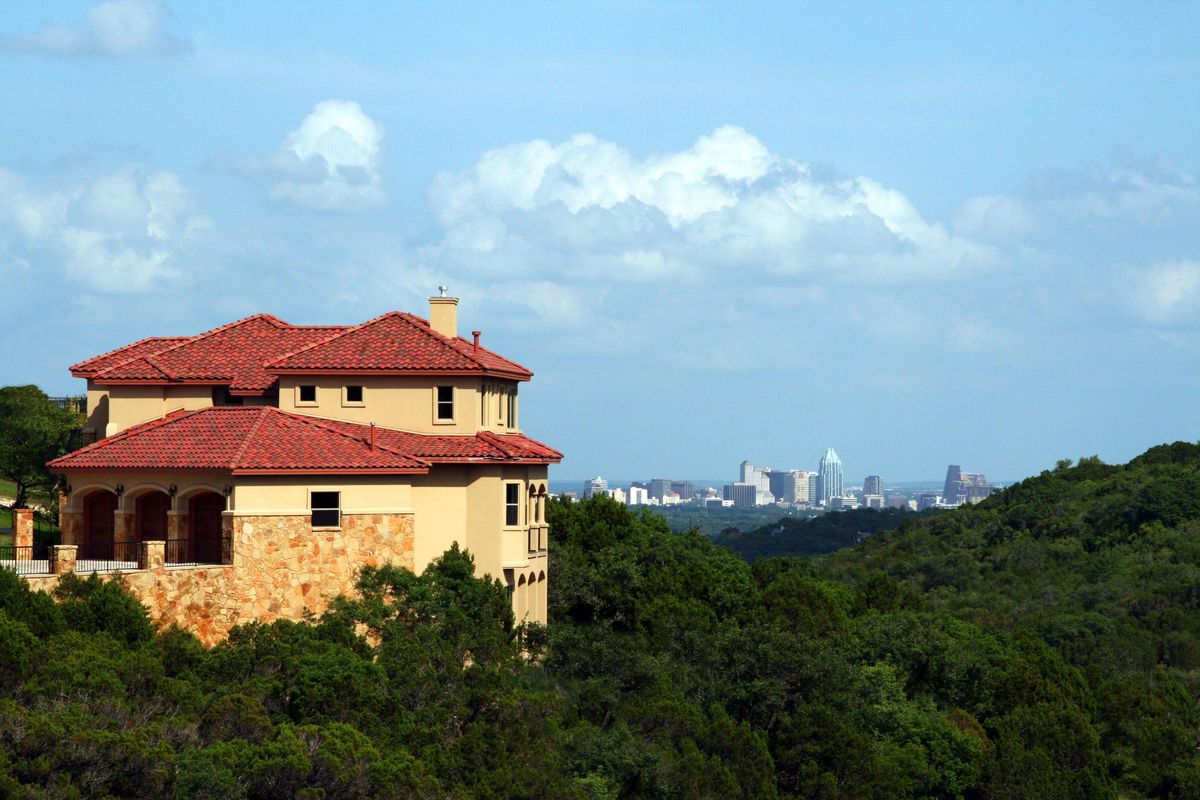 Longtime Austinite Carlos Garza has recently toggled between the local rental and housing markets. He sold his Southwest Austin home last October, after living there for around a decade. Within two days of listing the property, it had received multiple offers; he ended up accepting an offer slightly above asking price within the week. "We were very pleased with the process," he told Austonia.

Since selling, Garza has rented an apartment while he decides what he'd like in his next home. Although it was a bit of sticker shock compared to what he paid to rent 10 years ago, he knows that rent is "relatively low" compared to recent years.
---
Since the pandemic began, Austin's housing and rental markets have taken divergent paths. Across the five-county metro, the median sales price increased nearly 20% to $365,000 year-over-year, according to the Austin Board of Realtors's latest market report, which was published Thursday. Between March and December of 2020, however, the local apartment market slumped, with both rents and absorption rates in decline compared to the previous year, according to ApartmentData.com's February report. These trends are good for sellers and renters but cause challenges for prospective buyers, who face steep competition and high prices, and landlords.
"The main reason is the bifurcation of the economy," said Dr. Luis Torres, a research economist at the Texas Real Estate Research Center at Texas A&M University.
On the up and up
The Austin housing market was strong going into the pandemic and quickly rebounded due to a number of factors: continued job creation, especially in the tech and professional services sector; a healthy rate of relocations; a millennial-heavy population, with many members starting families and looking for more space at home.
"Because of the pandemic we saw an enormous amount of families decide after 90 days living in one tiny space with no backyard, 'Oh my gosh, we need to make a change,'" ABoR President Susan Horton told Austonia.
In addition to sustained demand, the housing market has long faced low supply. This is good for sellers, like Garza, but provides challenging when they need to buy a new home in turn, prompting some to rent in the short term.
During the pandemic, this challenge has been exacerbated as potential sellers, worried about the risk of exposure to COVID and the challenge of finding a new place to move into, held off on listing their homes, pushing prices even higher.
"Despite developers building as quickly as they can throughout the region and more than 6,000 homesites projected to come online within the next six months, the overall number of lots in development is only just able to keep up with current demand," Zonda's Austin Regional Director Vaike O'Grady said in a statement Thursday. "This means that homes will continue to sell as soon as they hit the market, and prices will continue to rise steadily in the months to come."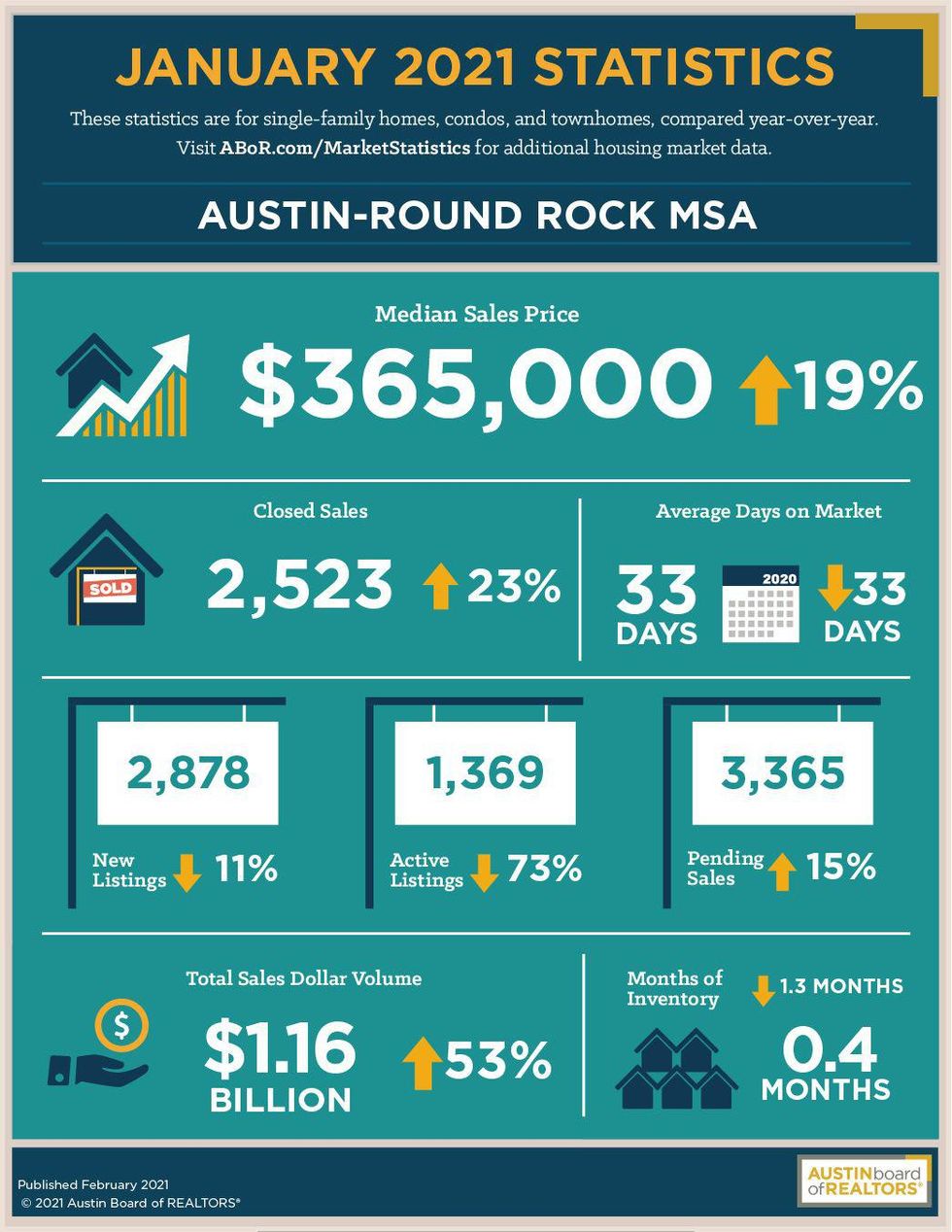 (Austin Board of Realtors)
The success of the Austin housing market indicates that prospective homebuyers have largely been shielded from the financial impacts of the pandemic, Torres said. Demographically, this crowd typically tends to be more educated and earn higher income than renters. Since the pandemic began, they are also more likely to have had the option to work from home, which may make a move to the suburbs more appealing—both for the additional space and because there's no commute to worry about. There's also the added benefit of historically low-interest rates. As a result, he said, "People who were renting became homeowners."

The apartment market slump
The local rental market was impacted in almost the exact opposite way: its target audience was more likely to have suffered job loss as a result of the pandemic or to work in an industry that did not allow for social distancing, such as hospitality, and a glut of new construction in recent years meant that supply outpaced demand.
Unlike the housing market, which has seen record-low levels of inventory, the rental market was "saturated" with available units, Horton said.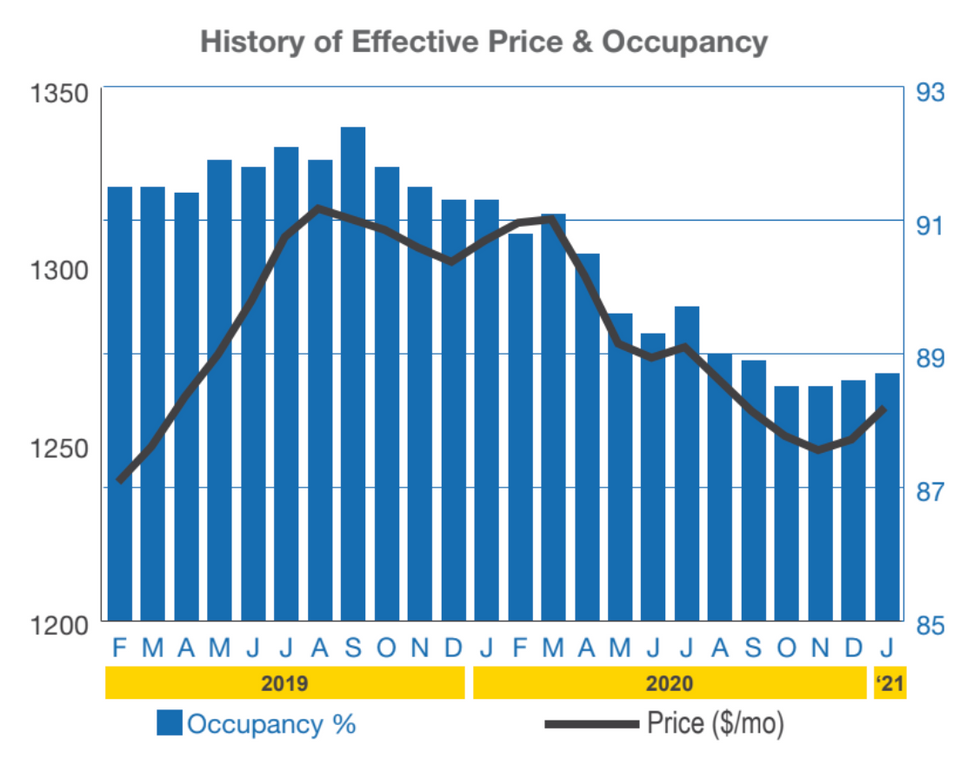 This graphic, from ApartmentData.com's February market report, shows how rent and occupancy rates have fallen in Austin over the course of the pandemic.
This is good for tenants. "It's a great time to rent right now generally because prices are down nationally," Apartment Guide Managing Editor Brian Carberry said.

But it's tough for landlords, whose tenants may be transitioning to homeownership or in need of rental assistance, according to the Austin Apartment Association's state-of-the-industry report, which was released Feb. 1. "By most measures, single-family is outperforming multifamily, due to the pandemic-related demand for more spacious residences in suburban locations that accommodate learning and working from home," TXP President Jon Hockenyos said in the report.
The advent of COVID-19 has also led to job loss and reduced retail sales. "These loss-of-income and consumer behavior trends produced a double-whammy effect on the apartment industry, which houses many hourly-wage workers needing housing assistance," AAA President Emily Blair said in the same document.
But things could be worse, Torres said, pointing to the role stimulus checks and unemployment benefits have played in keeping the rental market from slumping even further. He also added that, as the pandemic lessens—and unemployment rates and business restrictions do the same—there will likely be a rebound. "When we start seeing all of these things, I think the apartment market will be much better," he said.
When this happens, the rental market's surplus supply will come in handy. Meanwhile, low housing inventory coupled with the likelihood that interest rates may soon begin to rise could spell a slowdown in that market, Torres said. But he added: "It's still going to be strong."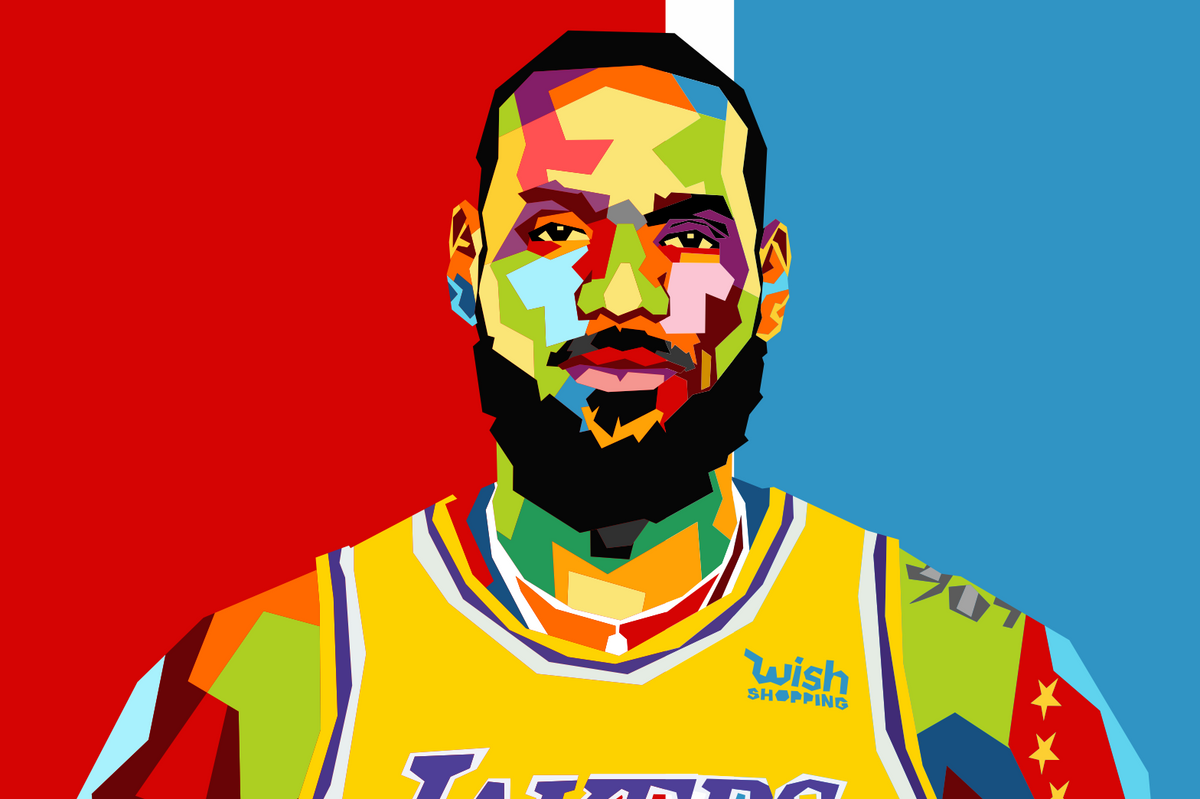 Shutterstock
It's not on the level of LeBron signing with the Spurs, but who knows, maybe you'll see him at Guero's one day, having a Rob's Especial marg and a No. 1 dinner?
LeBron James, Draymond Green, Kevin Love, LeBron's business partner Maverick Carter, and a bunch of other sports-related investors are buying a Major League Pickleball expansion franchise.
Oddly, MLP teams aren't associated with places, so at this point it's just "an expansion team."
But Major League Pickelball is based in Austin, created, according to the Austin Business Journal, by Dreamland and Richard's Rainwater owner Steve Kuhn.
League investors include familiar Austin names like C3 Presents founders Charles Attal and Charlie Walker, Parsley Energy founder and partial Austin FC owner Brian Sheffield, Silicon Labs Chairman Nav Sooch, and pickleball enthusiast Brené Brown.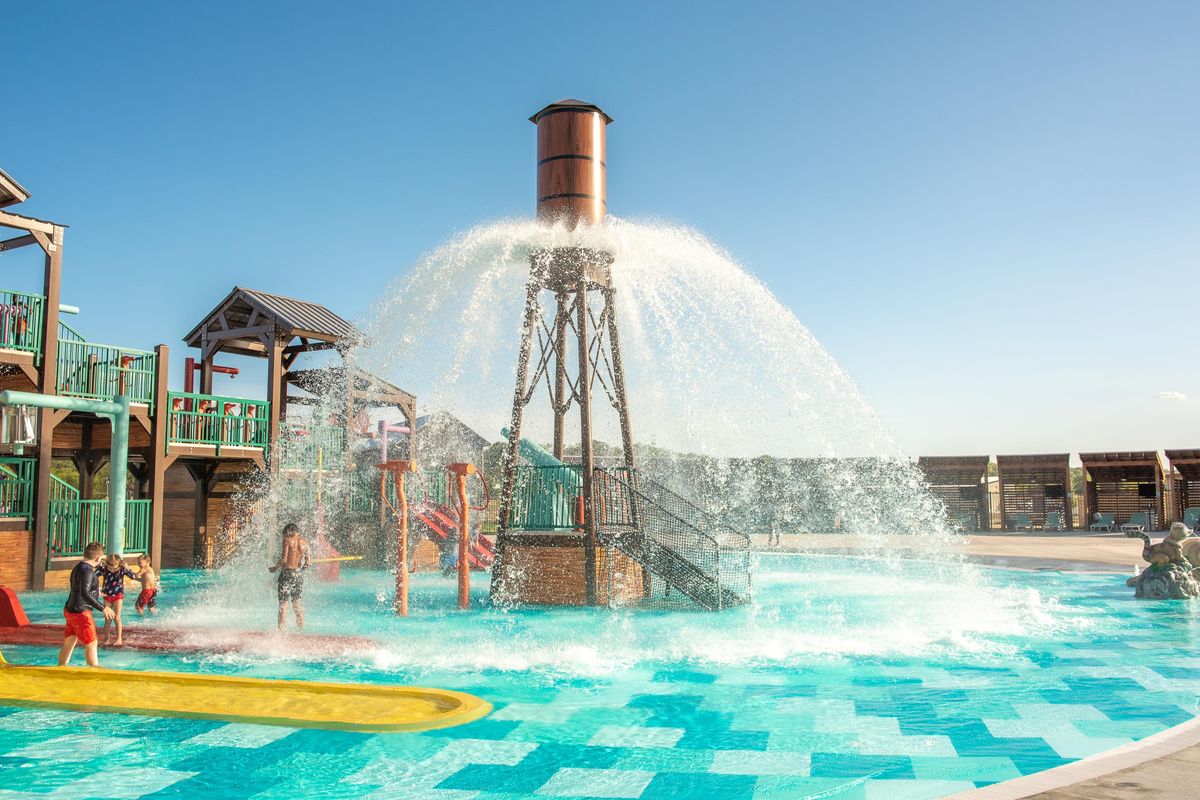 Camp Fimfo Waco
Camp Fimfo Waco, a brand new camping resort, is kicking off football and fall camping season in style! With top-notch amenities, premium accommodations, and 10 weekends of fall fun, there's no better place to have a fall camping getaway, especially if you're a Baylor football fan!
Fall promises to be a one-of-a-kind camping experience. From Sept. 16 to Nov. 24, weekends will be packed with fall-themed activities, including special Halloween weekends in October. Campers can enjoy activities like fall crafts, campground trick-or-treating, costume contests, site decorating, outdoor movie nights, and more!