Austonia AM
100% Austin news, info, and entertainment, straight to your inbox at 6 a.m. every morning.
In five minutes, you're fully informed and ready to start another great day in our city.
Get connected with our daily update
(Sarah Summers)
As government officials debate when and how students will go back to school this fall, parents are caught in the middle, trying to account for childcare, work schedules and academic development in the absence of clear guidance.

---
On Tuesday, Travis County health authorities announced that, to slow the spread of COVID-19, no schools would be allowed to hold in-person instruction until at least Sept. 7.
Austonia spoke with three families about the choices they're making.
Opting out
Sarah Summers is the single mother of a 4-year-old daughter and a PhD candidate in religious studies at the University of Texas at Austin. Originally, she planned to send her daughter to Pre-K at Maplewood Elementary in the Cherrywood neighborhood. But now she faces new childcare and financial constraints related to the pandemic.
"In the fall, I'm not going to put her back in school," Summers said.
Because Summers received emergency pandemic funding from her university department, she is no longer eligible for free Pre-K and would have to pay to send her daughter to Austin ISD.
But, her sister, who also lives in town, was fired from her retail job—"in an email," Summers said—and is now available for childcare a couple days a week.
"All [my daughter] should be doing is arts and crafts and playing outside in the dirt, and she can definitely do that better with my sister than from remotely online," Summers said.
While Summers has mixed feelings about her decision, she appreciates being able to make it.
"Being able to choose in the fall whether school is necessary or not feels like a very privileged choice," she said.
Especially since she worries if school would be a safe place for her daughter.
"I don't think there's anything that any individual school could do to make it feel OK," Summers said.
Her daughter, however, is not conflicted. When Summers explained that she would not be attending school in the fall, her daughter said: "That's great. I love being with you. I hate boring school."
Managing expectations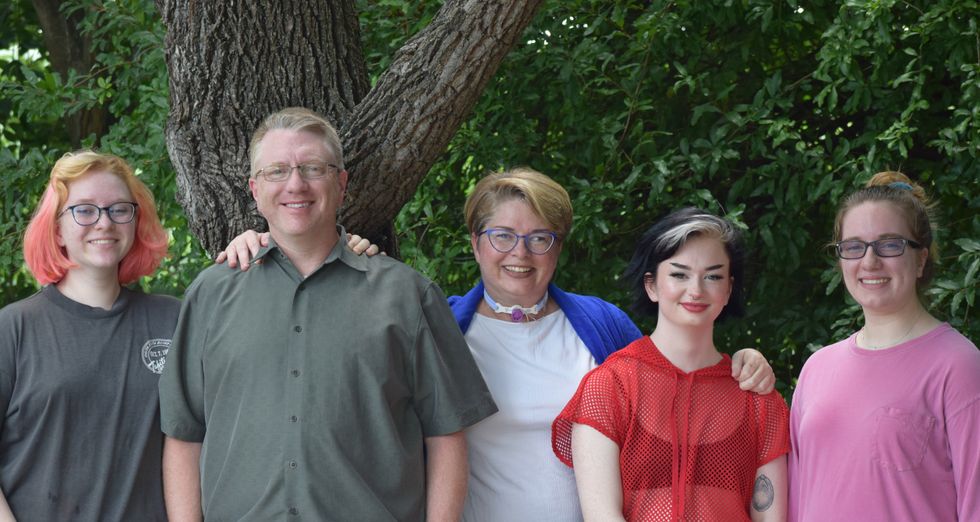 Ellary Jones, Chris Jones, Patrice Jones, Emily Freeman and Abigail Jones are deciding as a family whether a return to school makes sense.
(Patrice Jones)
Patrice Jones lives in the North Loop neighborhood with her husband and three of their six children, a 15-year-old rising sophomore and 17-year-old rising senior at McCallum High School, as well as a 19-year-old enrolled at the Aveda Institute.
Because Jones has an autoimmune disease, the family has closely adhered to quarantine guidelines. If the two younger children return to McCallum, they'll have to redouble their efforts.
"Our house is set up so that we could live downstairs and they could live upstairs," Jones said. "We're very privileged in that respect."
While Jones feels that her kids would likely be safe from the virus if they were to return to school, she worries about the risk they might pose to others.
"If we're not prepared to protect the teachers and the staff, then my personal belief is that we don't have any business opening up schools right now," she said. "Even though I really want to send my kids back. They really need it."
Her high schoolers are involved in music and art, which are hard to practice virtually, and her senior is especially concerned about missing out on senior year traditions. But Jones and her husband have urged them to balance their own desire to return to school with concern for others.
"It's a decision they really have to come to themselves," she said.
While she wants her kids to have a say, it's up to her and her husband to make the final call.
"The kids are just lost." she said. "They've never experienced anything like this. I mean, we haven't either. But I think we're better equipped to handle it."
Navigating work 
Shaena Robison lives with her husband and their two children—a 6-year-old son enrolled at Austin ISD and a 3-year-old daughter who is signed up for a church preschool—in the Skyview neighborhood.
"I don't think that there's going to be any in-person school [this fall]," Robison said. "Maybe there'll be some online, but that doesn't help as far as childcare."
When the city's stay-home order was in place, in late March and April, Robison's job in health care allowed her to cut back on hours and still receive full pay.
"I was able to be at home with the kids while my husband was working and still getting paid, so that was working well," Robison said. But now things are "totally different."
Robison had to return to her job, which she said takes precedence because the family receives its health insurance from her employer, she earns slightly more than her husband and she is enrolled in a loan forgiveness program that requires her to work full time to receive benefits.
Her husband is a private contractor and works when she's off, which is an imperfect solution.
Initially, Robison was frustrated by the prospect that schools might not reopen.
"I work in health care. And I currently treat and work with COVID patients. I feel like, a little bit, I'm putting my health and life on the line to do that," she said. "Why isn't, at the very least, elementary school an essential service?"
After speaking with some teacher friends of hers, she remains frustrated but for a different reason. Teachers told her they don't have the same resources that are available to health care workers to keep them safe.
"Why aren't they given those resources?" Robison asked. "It's all just frustrating."


Want to read more stories like this one? Start every day with a quick look at what's happening in Austin. Sign up for Austonia.com's free daily morning email.
Summertime sure does fly by, doesn't it? It's time to jam-pack as many summer activities as you can while there is still about a month left before school starts up again and the grind gets going. Luckily, Austin is full of places to visit that will fill your season full of memories.
To get you started, check out some of these seasonably-fit museums, galleries and snacks.
Soak up the rest of summer while you can!
Ingredients:
1 1/12 oz sweet pepper-infused Tito's Handmade Vodka
3 oz soda water
1 oz grapefruit juice
1/2 oz lime juice
1/4 oz simple syrup
Directions: Add all ingredients, except soda water, to a shaker with ice. Shake and strain into a glass over fresh ice. Top with soda water and garnish with a mint sprig.
The Biden administration is asking cities and states to use pandemic relief funds to pay residents $100 to get vaccinated. Meanwhile, Texas Gov. Greg Abbott reaffirmed prohibitions on pandemic protocols in a new executive order issued on Thursday.
The order emphasizes that "the path forward relies on personal responsibility rather than government mandates," according to a press release. It outlaws government entities from requiring employees to be vaccinated or individuals to provide proof of vaccination and upholds previous orders restricting government entities' ability to impose pandemic protocols.
Local public health and elected officials have asked all Austinites to wear masks indoors, regardless of vaccination status, and unvaccinated individuals to avoid nonessential trips last week given the rising number of local confirmed cases and related hospitalizations in recent weeks. But it is not enforceable under Abbott's order.
The seven-day moving average of new hospital admissions in the five-county Austin metro has more than quintupled since the beginning of July and is now 47.4. The threshold for Stage 5 is 50, according to Austin Public Health's risk-based guidelines.
Despite these trends, Abbott stands firm in his commitment to avoid new statewide mandates and to prohibit local government entities from issuing any of their own.

"Texans have mastered the safe practices that help to prevent and avoid the spread of COVID-19," he said in a statement. "They have the individual right and responsibility to decide for themselves and their children whether they will wear masks, open their businesses and engage in leisure activities."
Public health officials have attributed the current spike to the more contagious Delta variant and unmitigated spread among unvaccinated individuals. Abbott encouraged Texans to get vaccinated if they haven't already but affirmed that it would never be required by the state in his statement.
An increasing number of Austin-area employers—including Ascension Seton, Baylor Scott & White Health, Facebook and the Department of Veterans Affairs—have announced new vaccine requirements in recent days. Austin Mayor Steve Adler asked the city manager to enact a similar requirement on Wednesday, but the city is unable to do so due to an executive order issued by Abbott in April.