Get connected with our daily update
(Charlie L. Harper III/Austonia)
Legislation that would hamstring cities' abilities to raise property taxes if they cut police budgets will be a "priority" when Texas lawmakers meet for their regular session early next year, state leaders said Tuesday.
---
Among the first cities to be affected would be Austin, where the Austin City Council voted last week to cut part of the police budget—earning Mayor Steve Adler and the rest of the council sharp and targeted criticism from the state's conservative leaders.
"They will never be able to increase property-tax revenue again if they defund police," Texas Gov. Greg Abbott said in a press conference Tuesday in Fort Worth.
Lt. Gov. Dan Patrick and House Speaker Dennis Bonnen agreed that their chambers would support such a bill.
"We will be ready in the Senate to work on this legislation and make it a priority," Patrick said. "When I think about what Austin has done, had any other mayor of any other city in the state been as irresponsible as they had been, they would have chaos and their city would be in danger."
Bonnen promised 100% support from the House, although he is not returning for the session after announcing last fall that he would not seek re-election. A new House Speaker will be elected on the first day of the session in January 2021.
Legislation will not be filed until after the November election. Abbott and the others were not clear on how the legislation would define "defund"—whether it would be a percentage limit on reduction of budget or a requirement to increase funding by a certain amount, or another approach.
Adler said cities should be able to "decide their own priorities" and that state action to limit that is "a problem."

"I think the press conference was mostly about trying to make us afraid and scared, and my concern is that we're going to see more of that," Adler said. "The kind of cap that is imposed at the state level on the local community is a problem. It takes away fundamental and basic freedoms and rights from local communities to be able to decide what their priorities are."
Council action
The Austin Police Department is still funded, but the Austin City Council voted on Thursday to move $150 million out of the $440M police budget over the next six months, including $20 million immediately that would have filled 150 currently vacant officer spots in the department.

The remaining $130 million will be negotiated with input from the community, including law enforcement and victims advocate groups, concerning where to best reappropriate the remaining funds for functions such as fighting domestic violence and responding to mental health crises. In total the cuts will amount to roughly one-third of the current 2019-20 police budget.
Thursday's action did not remove active-duty officers from the street, but it will eliminate positions that may have been filled later.
Spike in homicides
In his argument against the city council's actions, Abbott cited recent crime statistics showing a spike in the number of homicides in the first half of this year compared to last year, pointing to national headlines showing Austin had the largest increase of any city in the country.

Percentage-wise, that was true for January through June—a 64% increase translating to nine more homicides in the first half of the year.
In comparison, Chicago saw a smaller percentage increase from last year but still has recorded more than 320 homicides this year. In 2020, Austin police had responded to 29 homicides by July 31.
In spite of the increase, Austin still had the second lowest murder rate of any large city in the country, according to a Wall Street Journal analysis.
Austin council responds
Adler said the council action was in response to "thousands of Austinites (who) marched in the streets demanding justice and action" during Black Lives Matter protests in the wake of the deaths of George Floyd and Michael Ramos at the hands of officers.
"The status quo and the past are no longer good enough," Adler said. "This is the inflection point and we all have a decision to make as to which side of history we choose to be on."
Council Member Jimmy Flannigan, chairman of the council's committee on public safety, pointed to a move by Abbott three years ago to cut funding for the Texas Department of Public Safety by 4 percent.
"I'm disappointed that the governor chooses this extreme political rhetoric at a time when we are implementing the most fiscally responsible reform movement in municipal history, to go through the largest bureaucracy in the general fund, line by line, and making sure taxpayers are getting the most for their investment," Flannigan said.
Some members of the Austin City Council fired back on social media, defending their decision.
.@GovAbbott said "defunding law enforcement is never the answer," yet the Governor himself requested a 4% cut to D… https://t.co/9ZpwTHh0hF

— Gregorio Casar (@Gregorio Casar) 1597775727.0
Officials are asking certain residents in Bastrop State Park to evacuate as crews work to put out a "very active fire" that is currently 0% contained.
The Texas A&M Forest Service has responded to help local fire departments with the Rolling Pines Fire at 100 Park Road 1A, which is consuming 300 acres. Residents of Pine Hill Drive, Pine Tree Loop, Linda Lane and Lisa Lane are being asked to evacuate.
Aviation resources have been called to assist.

According to the Bastrop County Office of Emergency Management, the wildfire sparked during a prescribed burn that took place today, despite wildfire warnings. Park Road 1C from Harmon Road to Park Road 1A had been closed for the prescribed burn.
The blaze is in the same location as the Bastrop Complex Fire of 2011, which burned for 55 days, killing two people, destroying 34,000 acres and around 1,700 homes and buildings. The fire, which started in 2011, became the most destructive wildfire in Texas at the time.
A hotbed for fires, the Hidden Pines Fire started at the same location in 2015, destroying 4,600 acres and 64 structures.
Some road closures have been put in place at State Highway 21 South Shore Lake Bastrop and East State Highway 21.
This is a developing story and will be updated as information becomes available.
After months of record-setting periods for Austin real estate, the Austin Board of Realtors announced Tuesday that the metro's housing market accounted for over $23 billion of economic activity in 2021, making it the biggest year yet for both home sales and median home prices in the metro.
The Austin-Round Rock MSA saw 41,316 homes sold in 2021, 2.5% more than a record-setting 2020. Median home prices skyrocketed as well, rising 30.8% from 2020 to $450,000. The housing market also saw unprecedented impact on Austin's economy, with sales dollar volume jumping to over $23.38 billion, and more homes hit the market in 2021 than any previous year, increasing by 5.9% to 46,449 total homes listed.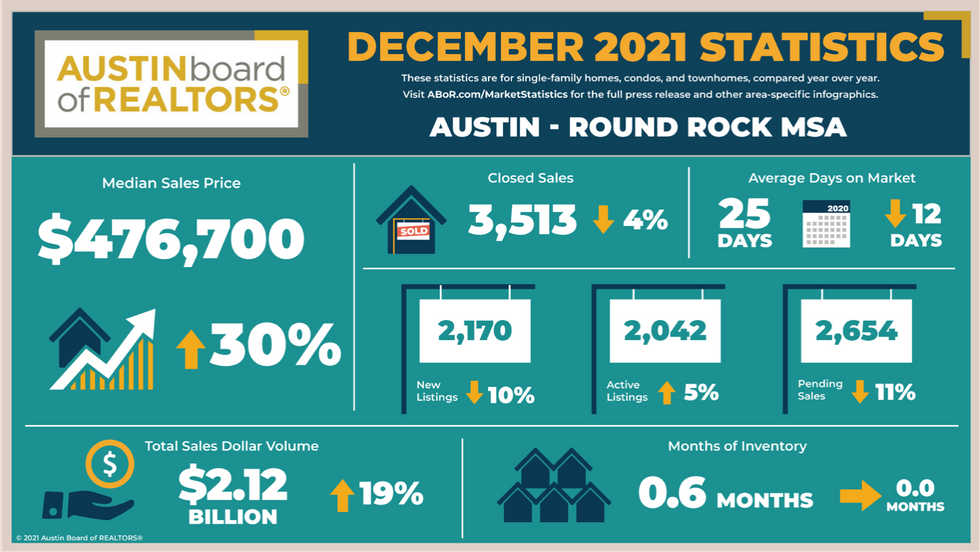 (Austin Board of Realtors)
As many recent Austin homebuyers have experienced firsthand, Austin Board of Realtors 2022 President Cord Shiflet said 2021 was the most "exciting, complicated, fast-paced and record-setting housing market" in Austin's history.
Shiflet dubbed the market as "complicated" for a reason—Austin became a case study on supply and demand in 2021, with demand far outpacing the number of active listings, which dropped by 48.2% to 2,348 homes in 2021.
The metro ended the year with 0.6 months of inventory, a far cry from a "healthy" six-month supply, and houses were snatched at breakneck speeds, spending 25 fewer days on the market when compared to 2020. The average home was on the market for 20 days.
But low inventory is more due to high demand than a stagnant homebuilding market, Mark Sprague, Independence Title's state director of information capital, said in the report.
"In 2021, the record number of homes sold were demand-driven transactions and that demand was influenced greatly by companies continuing to target the region for job creation and expansion," Sprague said. "Even though more homes are being built, listed and sold than ever before, our region is still nowhere close to having a comfortable amount of supply to meet the demand, which is why home prices continue to rise steadily."
Over 23,000 jobs have been promised by companies across the metro as of December 2021, breaking the 2020 record, according to Opportunity Austin, the economic development arm of the Greater Austin Chamber of Commerce. With an influx of major factories and offices, including Tesla's Giga Texas, Samsung's Taylor plant and a planned 33-floor Facebook office, Sprague said the region's booming market paired with a struggling inventory and supply chain issues could be a double-edged sword in 2022.
"In short, 2022 will see a robust market for home sales and property values, but the region must do more to address inventory, " Sprague said.
Shiflet recommended that potential homebuyers make a decision ahead of predicted increases in interest rates and home prices and said that he hopes local politicians will continue to prioritize affordable housing in the election year.
Still, Shiflet said a record-breaking housing market reflects Austin's growing reputation as a hub for talent, tech jobs and a good quality of life.
"With all the new jobs across the region from exciting companies like Tesla and Samsung, Austin was put on the world's stage and captured the hearts and attention of so many," Shiflet said. "We are lucky to call Austin our home when it has so much to offer from a great quality of life to a wonderful destination for innovation and opportunity."