Get connected with our daily update
Video released by APD, detailing the officer-involved shooting that killed Alex Gonzales.
The Austin Police Department released body-camera footage of the Jan. 5 police killing of Alex Gonzales to the public on Wednesday morning, after first releasing it to Gonzales' family members on Tuesday.
---
Gonzales, 27, was shot by APD officers in two separate incidents, leading to his death. Off-duty officer Gabriel Gutierrez was driving his personal car, from which he shot Gonzales after he said Gonzales cut him off "in a road rage incident" and then pointed a gun at him, according to the 911 call transcript. Gonzales was driving with his girlfriend and their infant child.

Gutierrez then called for police backup. APD officer Luis Serrato responded. In the bodycam footage, he can be heard yelling at Gonzales, who by then was standing near the passenger side door of his car, to put his hands up and not reach into the car. When Gonzales appeared to reach inside the vehicle, which his family and attorneys have said he did to check on his child, officers fired multiple shots—nearly a dozen, according to the footage—at him. Two anguished screams follow.
Gonzales was pronounced dead on the scene. His girlfriend was shot multiple times but survived after being treated at a nearby hospital, according to APD. Their infant child was unharmed. APD found a gun on the driver's side floorboard of Gonzales' car.

APD is supposed to release video footage of police shootings within 60 days, according to a department policy enacted last year. It's been nearly four months since Gonzales' death. APD released a statement on April 2, four days before the 60-day deadline, saying that former chief Brian Manley had determined a delay was needed "to address investigative and prosecutorial interests."
Family representative Bertha Delgado addressed the video footage at a press conference on Tuesday, filling in for Gonzales' mother, who was too overcome to speak.
Delgado called the delayed release unacceptable and asked for the arrest and indictment of the officers who shot and killed Gonzales. She also spoke about the impact of the killing on District 3, where she lives and where Gonzales' death occurred less than a year after the police killing of Mike Ramos less than a mile away. "My community is not just irate," she said. "They are in fear of the fact that our Austin PD continues to kill our children, Brown and Black."
Gonzales' parents are represented by the Hendler Flores Law Firm, which is also representing Ramos' mother in a civil suit against the city of Austin and APD, which alleges her son's death was "a direct result of the racism that has permeated policing in Austin." The officer who killed Ramos was charged with first-degree murder last month.
Downtown may be recovering from the pandemic but the priorities residents want in their city center are changing, according to the City Pulse Survey done by design firm Gensler.
After studying 7,500 people in 15 global markets, including Austin, Gensler found that life in COVID has pushed city-dwellers to want more outdoor activities, social spaces and entertainment venues in bustling business districts.
Post-pandemic, the highest-rated downtown activities were shopping, visiting parks and just "hanging out." The need for more public spaces like parks jumped from sixth on the list to second this year.
Although globally people view downtown as a business district for task-based activities, across the U.S., downtown districts are viewed more as a vehicle for entertainment. This is especially true for Austinites, where people surveyed said they would rather see more entertainment and cultural venues than shopping or public transit downtown.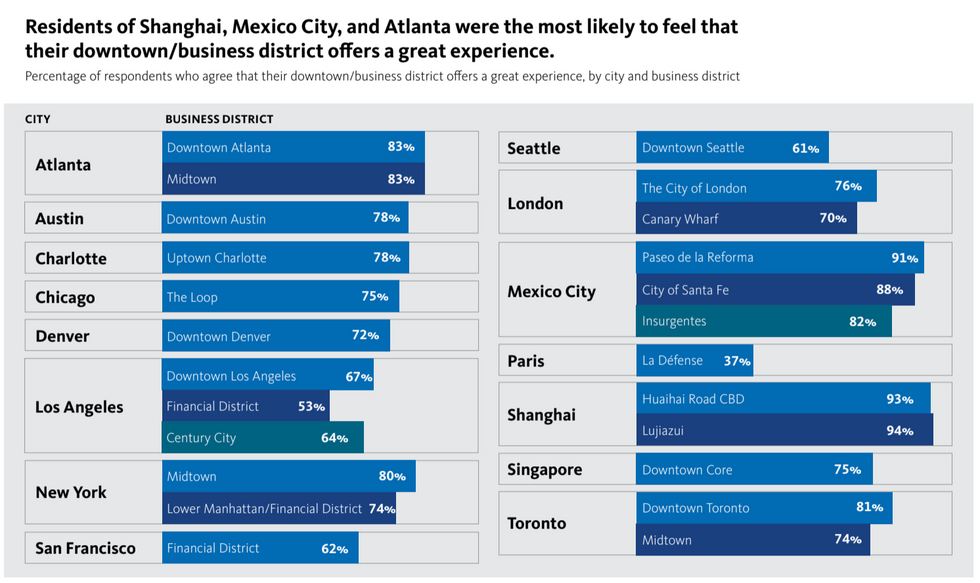 (Gensler)
For Melanie Gartman, a manager at construction software company Levelset who has been living in Austin for most of her life, the needs and wants of the average resident closely align with her own.
Austin clocked in second-most desirable downtown, tied with Charlotte, North Carolina. Like the 78% of Austinites in the survey, Gartman said she thinks Downtown Austin is hanging on to its lovable charm.
"Even now with fewer people out and about it's still very vibrant and lively. I feel like I saw life come back to downtown a lot sooner than I expected it to," Gartman said. "It's still holding on a bit that Austin vibe and with the high rises coming in, it's scary that we could lose that. I think it's holding on better than I would have expected, especially within the last two years of everything that happened."
As Austinites eased back into downtown, the first stop Gartman made was to go see music again. Since venues opened back up, Gartman and her loved ones have seen live music at their favorite venues: Moody Amphitheatre, Mohawk, The Parish and Empire Control Room.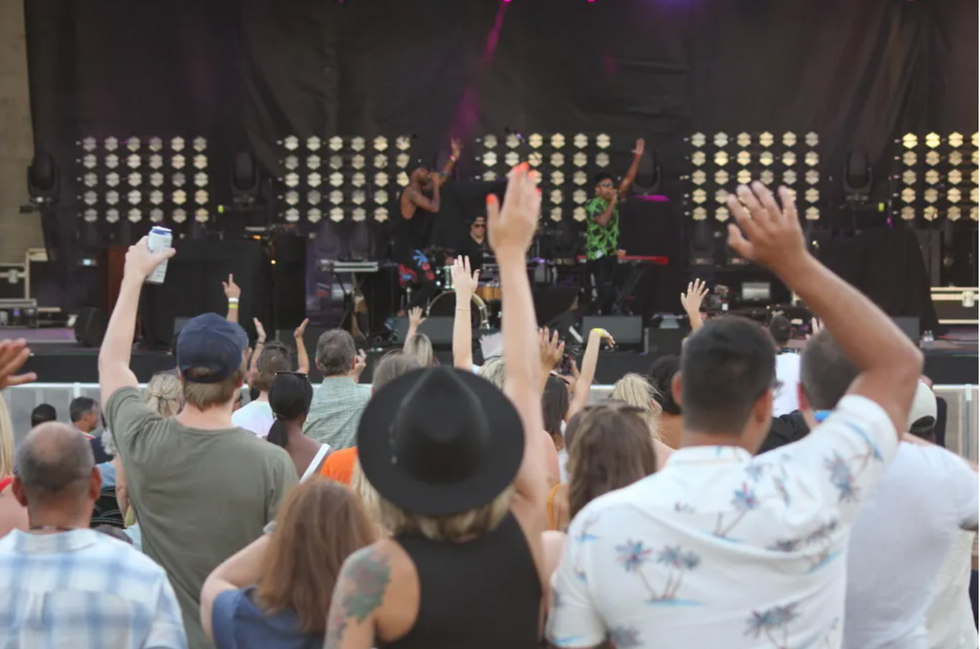 Blackillac opened for Gary Clark Jr. at the Moody Amphitheater's first show back in August. (Laura Figi/Austonia)
Entertainment is most important for Gartman's life in Austin—seeing Gary Clark Jr. in August brought normalcy back into her routine—and said our local downtown is the ideal out of other cities in Texas.
"I've always noticed that between Houston's downtown and Austin's, Houston's is so Monday to Friday, eight to five, maybe a post-work happy hour," Gartman said. "Growing up, downtown (Austin) was always the place to go. It has always been the hub and I think Austin is unique in that way."
Traffic in downtown areas is way down overall, even though concern over pandemic safety has taken a backseat. Shopping traffic has decreased by 28%, dining out and entertainment attendance dropped by 33% in the post-pandemic sphere.
Even though her office is located downtown, Gartman usually works from home. Her downtown visits tend to be for the purpose of entertainment and she said the lack of parking sometimes becomes problematic.
"I feel like all these high rises are taking over all the parking," Gartman said. "It used to be for go-to parking, I would just park under I-35. No big deal. But now, that's kind of scary, especially if you're by yourself. The party parking is a barrier to actually making it down there."
But with the rise of the hybrid work model, it's likely that the downtown sphere is going to change all across the U.S. For now, survey participants said they would like to see their downtown reduce traffic, add more green space, improve the cityscape and increase parking capacity as we shape the future of cities.
Akins Early College High School, 10701 S. 1st St., was on lockdown Wednesday morning as district police investigated a report of an "armed subject." The three students, which a witness said they saw with a weapon, have since been identified and located.
The lockdown took place just after 10 a.m., when someone reported three students in the restroom with a possible handgun. The three were then identified and located in different classrooms. One of the students had two magazines, one with ammunition. A weapon was not located by police.
The district deescalated the lockdown to a hold at 12:25 p.m., which meant students could go to the restroom and be picked up if parents chose to do so. No shots were fired and all students and staff were safe throughout the whole lockdown, according to police.
The three students will not be returning to school tomorrow. Austin ISD police said the students' punishment with the school or charges have not been identified since the investigation is in the early stages. Additional officers will be on campus this week to investigate.
"We take these events seriously and we prepare so that at the end of the day, everyone can go home safe," Austin ISD Police Chief Ashley Gonzalez said.
The Taylor Police Department is investigating an apparent murder-suicide that left four people dead on Tuesday.
Officers responded to a call at around 1 p.m. for a welfare check at 616 Symes St. in Taylor, Texas, where the Taylor Fire Department helped force entry into the home since it was locked, police said. Once inside, officers found four dead bodies: 57-year-old Anthony Davis, 45-year-old Araceli Lopez Davis, 20-year-old Cynthia Abundiz and 18-year-old Pedro Navarro.
Police believe the deaths to be a murder-suicide with Anthony Davis shooting the other three victims before himself. TPD is investigating with the help of the Williamson County Sheriff's Office and the Texas Rangers.
Later that day, another murder was reported in Taylor, which police say is unrelated.
Police responded to a shooting at 2100 Whistling Way around 4 p.m. Tuesday. They said a family member found 33-year-old Jonathan Hitch with a gunshot wound to his head. It is being investigated as a suspicious death.