Austonia AM
100% Austin news, info, and entertainment, straight to your inbox at 6 a.m. every morning.
In five minutes, you're fully informed and ready to start another great day in our city.
Get connected with our daily update
Austin Police Chief Brian Manley received intense criticism for the police killing of Michael Ramos, an unarmed Black and Latino man, last April and his department's response to mass protests over the summer. When he announced his retirement Feb. 12, he said the criticism did not factor into his decision. But it will undoubtedly shape the nationwide search for his successor.
---
Houston Police Chief Art Acevedo said the top job at the Austin Police Department, which he led until 2016, used to garner 70 or 80 applicants. But that's no longer the case. "People are hesitant to apply for cities with misguided, reactionary city councils," he told Austonia. "It's having an effect."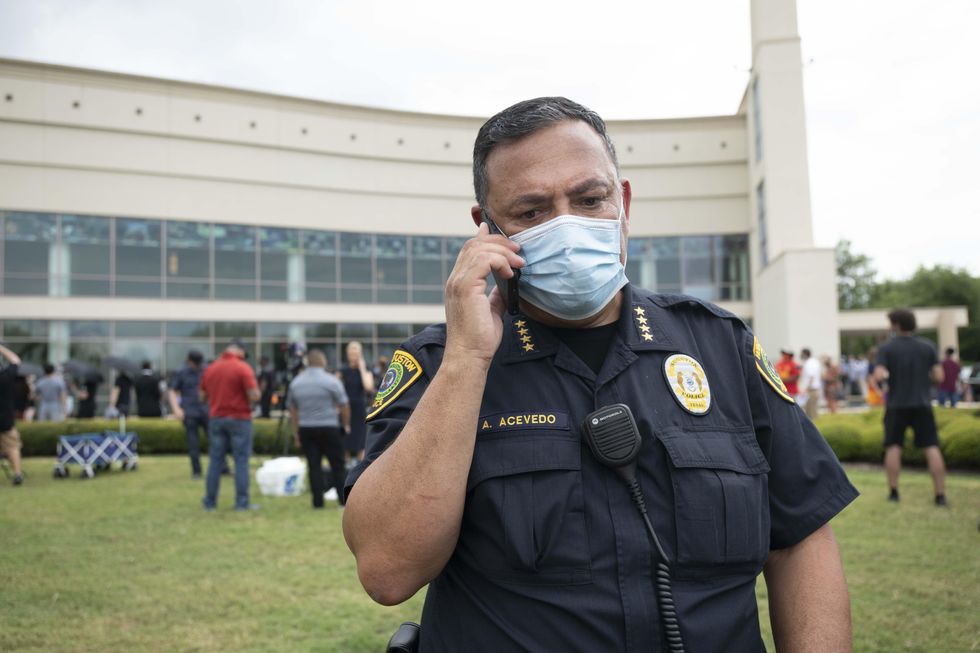 Houston Police Chief Art Acevedo at George Floyd's funeral on June 8, 2020 in Houston. (Bob Daemmrich)
There is also the challenge of hiring a police chief at the same time as many other major cities across the country. Acevedo estimates around a third of the police executives who belong to the Major Cities Chiefs Association, of which he is president, have either left their jobs or been asked to leave in the last year due to political pressure.

"Some of these elected officials are tripping over each other to be able to demonstrate they're reform-minded ones, when they're no different from the right-wing extremists who look at everything through the prism of political theater, and that's really damaging the long-term health of policing across this country," he said.
Austin City Council Member Greg Casar, an avowed progressive and the architect behind recent cuts to APD's budget, agreed that heightened public scrutiny and the city's ongoing effort to reimagine public safety will influence the search process. But he doesn't see this as a bad thing. "I think that we will find candidates who want to bring the community together in Austin," he said, "around making police better."
The ideal candidate
Dennis Kenney, a professor at the John Jay School of Criminal Justice and a former police officer, said the role of police chief is a politicized position that has grown even more so in the post-George Floyd era. In addition to managing overall department strategy, police chiefs also have to contend with strong unions, binding labor contracts, city management, a broken mental health care system, declining budgets and a divided public. "It's something of a nightmare job right now," he added.
Progressives and criminal justice reform activists want a chief who can improve accountability and transparency while addressing racial disparities among arrests and use of force incidents.
NAACP Austin President Nelson Linder believes Austin's next police chief should be more visible and engaged with the community, while also capable of holding his or her officers accountable when they make mistakes.
"Chief Manley had a very challenging tenure because, in essence, he got hijacked, first with the Austin bomber and then with the George Floyd death," he said. "I think he's a very committed policeman, but I think he was not prepared for the escalation of police issues around the country and in Austin."
As an alternative, Linder suggested someone like Frank Dixon, a former APD assistant chief who went on to lead the Denton Police Department and now serves as the city's interim assistant city manager. "There are people out there who can meet this criteria," he said.
Others would like to see a chief who can rebuild a beleaguered department.
Ken Casaday, president of the Austin Police Association union, wants a chief who can address APD's years-long staffing shortage and support its officers. "It will take a very, very special person to come to this department and start the healing that it needs from a very brutal contract negotiation … (and) the de-policing issue," he said.
APA members have thrown out names of people they would like to see in the top spot, Casaday said, including:
APD Assistant Chief Robin Henderson, a Black woman who was promoted shortly after allegations of racism rocked the department's top ranks;
APD Commander Donald Baker, who joined a discrimination lawsuit against the city in 2016, claiming he faced retaliation for pointing out that older and minority officers were being transferred from an elite division;
And former Seattle Police Chief Carmen Best, who retired last September in protest over the city council's plan to cut the department's budget and lay off officers.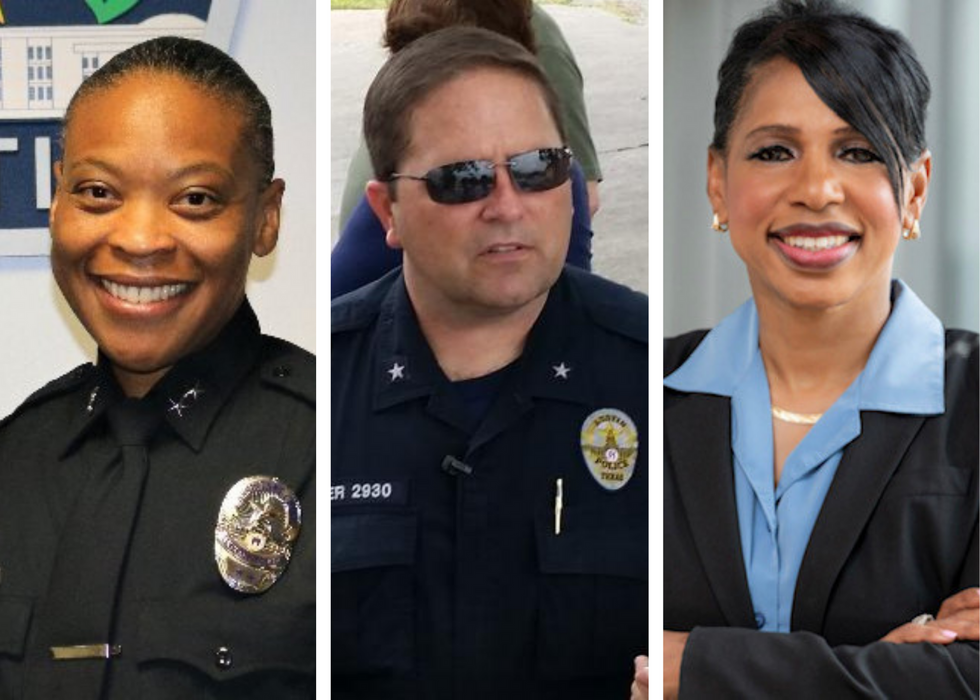 APD Assistant Chief Robin Henderson, APD Commander Donald Baker and former Seattle Police Chief Carmen Best.
These competing priorities can lead to unmeetable expectations. "The problem that you've got as chief is: You're expected to come up with solutions that don't exist—or at least aren't likely to be doable—to address social problems that we can't even agree (on) and to do so in an organization that you have limited control over," Kenney, the John Jay professor, said.
The search process
Another challenge is the nationwide game of police chief musical chairs currently underway.
This search will be different than the one City Manager Spencer Cronk conducted in 2018, in the wake of the Austin bombings, in which he named Manley, then interim police chief and one of Fortune's top world leaders, lone finalist. In a Feb. 12 memo to City Council announcing Manley's retirement, Cronk wrote that he would "immediately start to conduct a national search for our next Chief and look forward to an extensive engagement with our Austin community in that process."
In addition to heightened public scrutiny, there will also likely be more competition. "There's a kind of circuit of chiefs who move from one place to the next," Kenney said, adding that protests and politics are leading to a wave of chief resignations and retirements. "That's kind of uniformly hitting chiefs around the country. So where do you recruit your new chiefs from?"
Headhunting firms will help, such as the California-based Public Sector Search & Consulting, which exclusively recruits police executives. "While demonstrably smaller, the folks in the pool are really committed to reimagining policing and advancing it to the next level," CEO Gary Peterson recently told Axios.
Casar is both optimistic that such a candidate is out there and pragmatic about what a new chief can accomplish. "It's not all on them," he said. "In the end, we'll need the city manager to be committed to change. We'll need the community and all of our city employees to shift." Still, this is a unique opportunity. "We usually have to wait years before there is change at the top of the police department," he said, "so we really want to get this one right."
In a scene that seemed to mark the pandemic's triumphant end, over 20,000 mostly maskless fans packed into Q2 Stadium for Austin FC's debut at Austin's first professional sports stadium in June. That mask-free utopia couldn't have been possible even a month before, and it may not be possible once more as Austin and the CDC returns to mask recommendations again for the first time since May.
Austin returned to Stage 4 restrictions on July 23 as case rates tripled since the beginning of the month and hospital beds once again filled with COVID patients. The spike comes after the highly contagious Delta variant was detected in Travis County. In its Stage 4 announcement, APH said its recommendations will not affect large events, such as Austin FC games, from operating.
More recently, the CDC updated its recommendation for vaccinated people on Wednesday, saying that all people in high-risk areas—including Austin with more than 50 COVID cases per 100,000 people—wear masks.
With businesses reinstating mask policies and new fear in the air, Q2's carefree party atmosphere may be affected. The club released the following statement to Austonia: "Austin FC encourages all guests to observe Austin Public Health's recommendations and take appropriate action based on individual circumstances."
After Austin voters passed Proposition B, reinstating a ban on public camping, City Council directed staff to look into possible sanctioned campsites where homeless residents could live legally. Now two members are asking to shelve discussion on the controversial topic.
Staff presented dozens of possible sanctioned campsites across each fo the 10 council districts in late May, following the election. But members mostly pushed back on the proposed locations, citing cost, wildfire risk and lack of transparency as concerns.
With updated criteria, staff recommended two sites—one in District 1 and the other in District 8—for further review last week. After being briefed on the options during Tuesday's work session, Mayor Pro Tem Natasha Harper-Madison, who represents District 1, and Council Member Paige Ellis, who represents District 8, issued a joint statement proposing "a pause" on further discussion of temporary sanctioned encampments.
"We are not convinced that these sites would be a cost-effective solution, but rather a band-aid tactic when we need to be supporting the long-term strategy to get folks off the street permanent," they said. "It is our responsibility to look at the situation holistically and objectively, and to spend out city's limited resources on solutions we know can work."
Homeless Strategy Officer Dianna Grey noted that the two locations were imperfect and would require a lot of time and money to outfit as sanctioned campsites during the briefing.
City staff and homeless experts have previously raised concerns about sanctioned encampments, saying they are expensive to maintain, challenging to manage and hard to close, even when intended to to be temporary.
In 2019, staff declined to make recommendations for such sites despite being directed by council to do so, citing 2018 guidance from the U.S. Interagency Council on Homelessness. "Neither authorized encampments nor parking areas provide housing for people experiencing homelessness," staff wrote in a memo. "Rather, each option detracts from the staff resources assigned to addressing this moral imperative."

But with Prop B being enforced and too few shelter beds and affordable units for the estimate unsheltered homeless population in Austin, the city is facing the same predicament that prompted District 9 Council Member Kathie Tovo to pursue possible sanctioned campsites in the first place: "When individuals in encampments ask where they should go, we need to have places to suggest," she said at a May 6 council meeting.
Don't lose your mask just yet—the Centers for Disease Control and Prevention announced it is now recommending masks in areas that are surging as cases rise nationwide and the Delta variant looms.
The CDC announced Tuesday that even fully vaccinated individuals should mask up indoors if their community is experiencing substantial transmission—defined as areas with more than 50 cases per 100,000 people. Travis County is sitting at an average of 94.59 cases per 100,000 over the past seven days, falling into the highest risk category, according to the CDC.
#DeltaVariant surging in U.S. New data show Delta much more contagious than previous versions of #COVID19. Unvaccinated people: get vaccinated & mask until you do. Everyone in areas of substantial/high transmission should wear a mask, even if vaccinated. https://t.co/tt49zOEC8N
— CDC (@CDCgov) July 27, 2021
After two COVID-19 recommendation stage jumps in the last two weeks, from Stage 2 to Stage 4, Austin-area cases are the highest they have been since February. The seven-day average for cases is on an upward trend, reaching 226 on Tuesday.
The CDC is also recommending that all students K-12 wear masks indoors, regardless of vaccination status. A May executive order by Gov. Greg Abbott prohibits schools from requiring masks, regardless of vaccination status. Austin ISD is "strongly" encouraging students to wear masks.
Although vaccinated individuals are still protected against the most severe symptoms of the variant, infections are spreading rapidly and now make up 83% of confirmed cases in the U.S. At least a dozen cases of the delta variant have been confirmed in the Austin area, though there are likely more since testing for it is limited.
CDC Director Dr. Rochelle Walensky said that hospital admissions are "almost exclusively" coming from people who are unvaccinated but those who are vaccinated can still catch and spread the virus.
"Unlike the alpha variant that we had back in May, where we didn't believe that if you were vaccinated you could transmit further, this is different now with the Delta variant," Walensky said. "That leads us to believe that the breakthrough infections, rare that they are, have the potential to pool and transmit at the same with the same capacity as an unvaccinated person."
Research suggests those who become infected carry 1,000 times more of the virus than other variants and could stay contagious for longer.
The announcement comes on the heels of the Biden administration ramping up cautionary measures in the face of the Delta variant. Just last week, the CDC said it had no plans to change its May guidance of vaccinated not having to wear masks unless there was a significant change in the data. Officials met on Sunday night to review new evidence,
according to reports.