Get connected with our daily update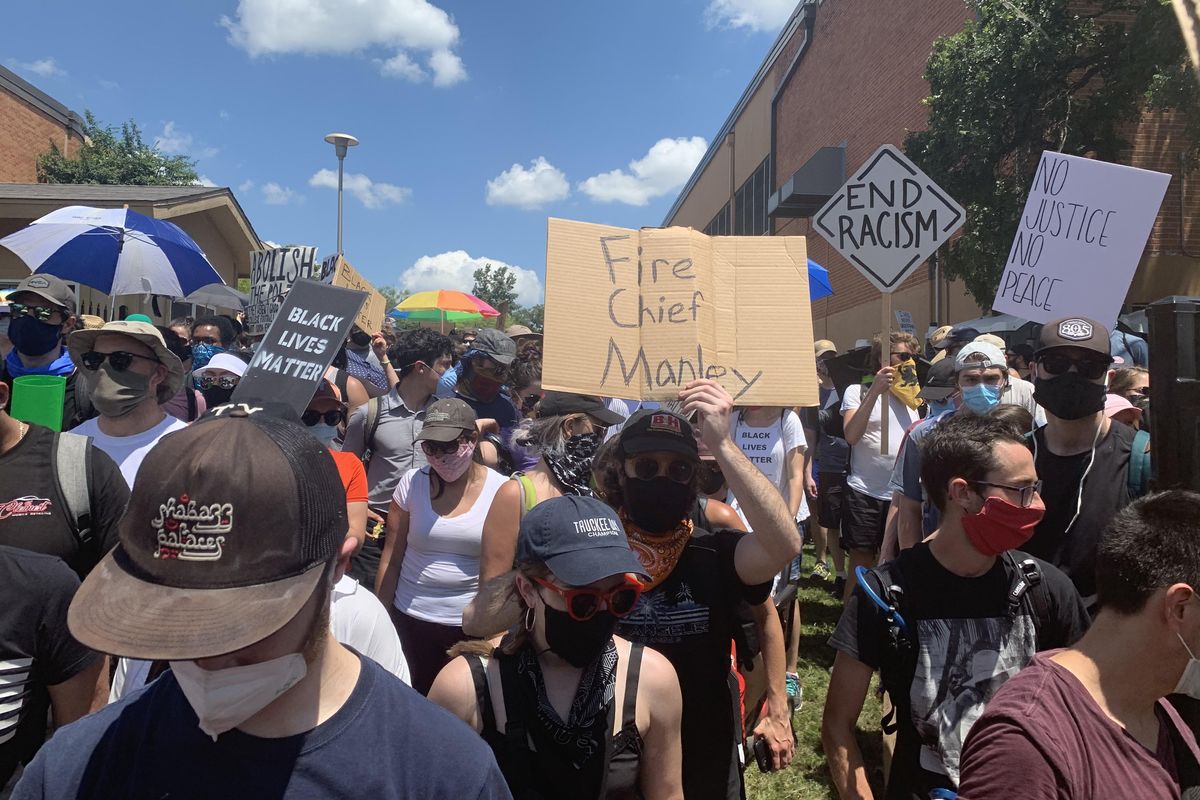 Austin Police Chief Brian Manley received intense criticism for the police killing of Michael Ramos, an unarmed Black and Latino man, last April and his department's response to mass protests over the summer. When he announced his retirement Feb. 12, he said the criticism did not factor into his decision. But it will undoubtedly shape the nationwide search for his successor.
---
Houston Police Chief Art Acevedo said the top job at the Austin Police Department, which he led until 2016, used to garner 70 or 80 applicants. But that's no longer the case. "People are hesitant to apply for cities with misguided, reactionary city councils," he told Austonia. "It's having an effect."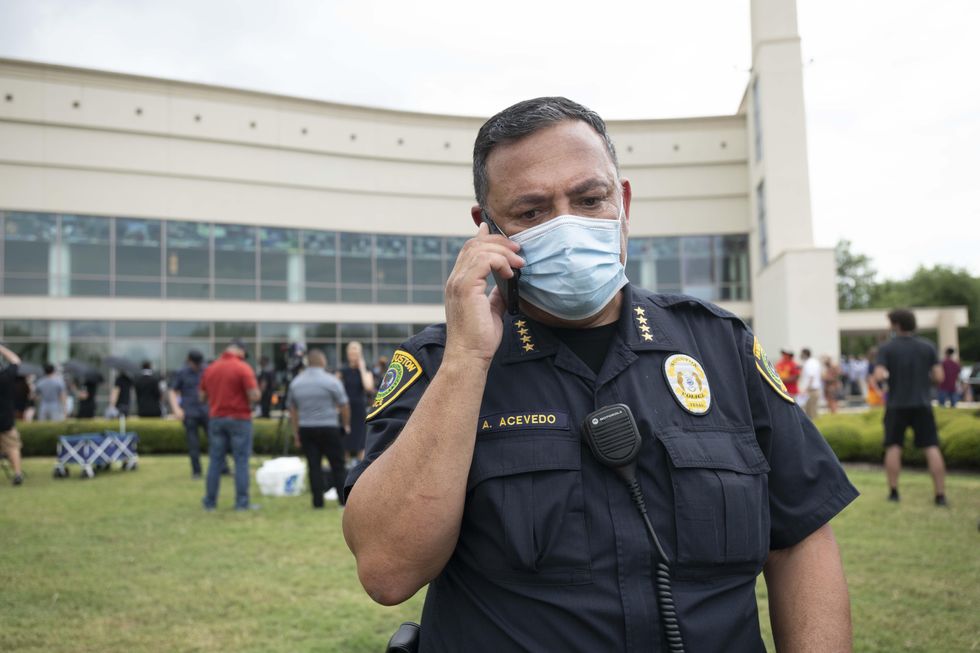 Houston Police Chief Art Acevedo at George Floyd's funeral on June 8, 2020 in Houston. (Bob Daemmrich)
There is also the challenge of hiring a police chief at the same time as many other major cities across the country. Acevedo estimates around a third of the police executives who belong to the Major Cities Chiefs Association, of which he is president, have either left their jobs or been asked to leave in the last year due to political pressure.

"Some of these elected officials are tripping over each other to be able to demonstrate they're reform-minded ones, when they're no different from the right-wing extremists who look at everything through the prism of political theater, and that's really damaging the long-term health of policing across this country," he said.
Austin City Council Member Greg Casar, an avowed progressive and the architect behind recent cuts to APD's budget, agreed that heightened public scrutiny and the city's ongoing effort to reimagine public safety will influence the search process. But he doesn't see this as a bad thing. "I think that we will find candidates who want to bring the community together in Austin," he said, "around making police better."
The ideal candidate
Dennis Kenney, a professor at the John Jay School of Criminal Justice and a former police officer, said the role of police chief is a politicized position that has grown even more so in the post-George Floyd era. In addition to managing overall department strategy, police chiefs also have to contend with strong unions, binding labor contracts, city management, a broken mental health care system, declining budgets and a divided public. "It's something of a nightmare job right now," he added.
Progressives and criminal justice reform activists want a chief who can improve accountability and transparency while addressing racial disparities among arrests and use of force incidents.
NAACP Austin President Nelson Linder believes Austin's next police chief should be more visible and engaged with the community, while also capable of holding his or her officers accountable when they make mistakes.
"Chief Manley had a very challenging tenure because, in essence, he got hijacked, first with the Austin bomber and then with the George Floyd death," he said. "I think he's a very committed policeman, but I think he was not prepared for the escalation of police issues around the country and in Austin."
As an alternative, Linder suggested someone like Frank Dixon, a former APD assistant chief who went on to lead the Denton Police Department and now serves as the city's interim assistant city manager. "There are people out there who can meet this criteria," he said.
Others would like to see a chief who can rebuild a beleaguered department.
Ken Casaday, president of the Austin Police Association union, wants a chief who can address APD's years-long staffing shortage and support its officers. "It will take a very, very special person to come to this department and start the healing that it needs from a very brutal contract negotiation … (and) the de-policing issue," he said.
APA members have thrown out names of people they would like to see in the top spot, Casaday said, including:
APD Assistant Chief Robin Henderson, a Black woman who was promoted shortly after allegations of racism rocked the department's top ranks;
APD Commander Donald Baker, who joined a discrimination lawsuit against the city in 2016, claiming he faced retaliation for pointing out that older and minority officers were being transferred from an elite division;
And former Seattle Police Chief Carmen Best, who retired last September in protest over the city council's plan to cut the department's budget and lay off officers.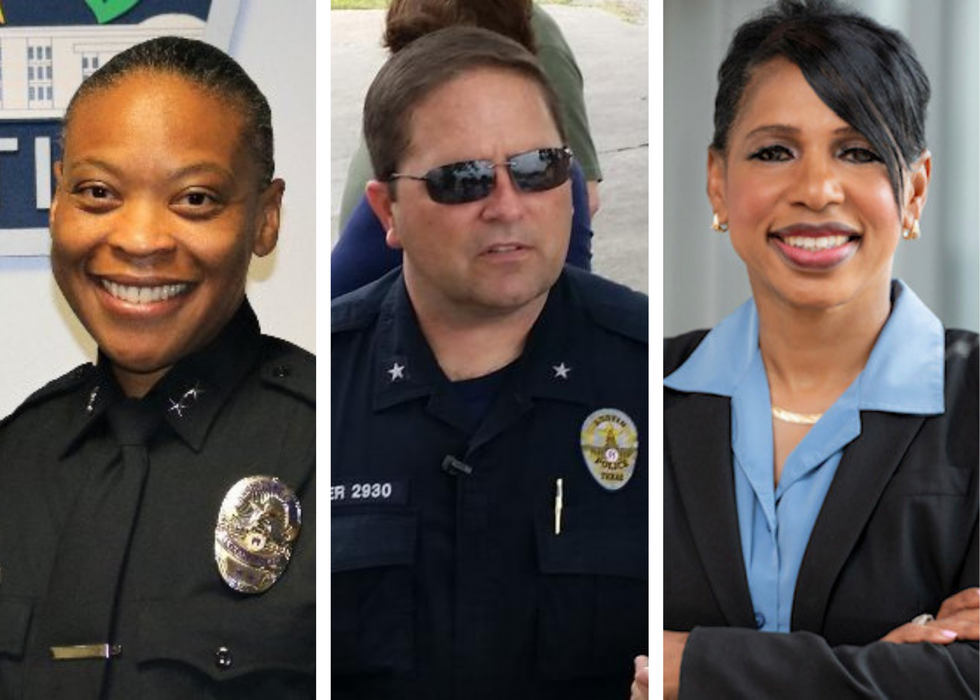 APD Assistant Chief Robin Henderson, APD Commander Donald Baker and former Seattle Police Chief Carmen Best.
These competing priorities can lead to unmeetable expectations. "The problem that you've got as chief is: You're expected to come up with solutions that don't exist—or at least aren't likely to be doable—to address social problems that we can't even agree (on) and to do so in an organization that you have limited control over," Kenney, the John Jay professor, said.
The search process
Another challenge is the nationwide game of police chief musical chairs currently underway.
This search will be different than the one City Manager Spencer Cronk conducted in 2018, in the wake of the Austin bombings, in which he named Manley, then interim police chief and one of Fortune's top world leaders, lone finalist. In a Feb. 12 memo to City Council announcing Manley's retirement, Cronk wrote that he would "immediately start to conduct a national search for our next Chief and look forward to an extensive engagement with our Austin community in that process."
In addition to heightened public scrutiny, there will also likely be more competition. "There's a kind of circuit of chiefs who move from one place to the next," Kenney said, adding that protests and politics are leading to a wave of chief resignations and retirements. "That's kind of uniformly hitting chiefs around the country. So where do you recruit your new chiefs from?"
Headhunting firms will help, such as the California-based Public Sector Search & Consulting, which exclusively recruits police executives. "While demonstrably smaller, the folks in the pool are really committed to reimagining policing and advancing it to the next level," CEO Gary Peterson recently told Axios.
Casar is both optimistic that such a candidate is out there and pragmatic about what a new chief can accomplish. "It's not all on them," he said. "In the end, we'll need the city manager to be committed to change. We'll need the community and all of our city employees to shift." Still, this is a unique opportunity. "We usually have to wait years before there is change at the top of the police department," he said, "so we really want to get this one right."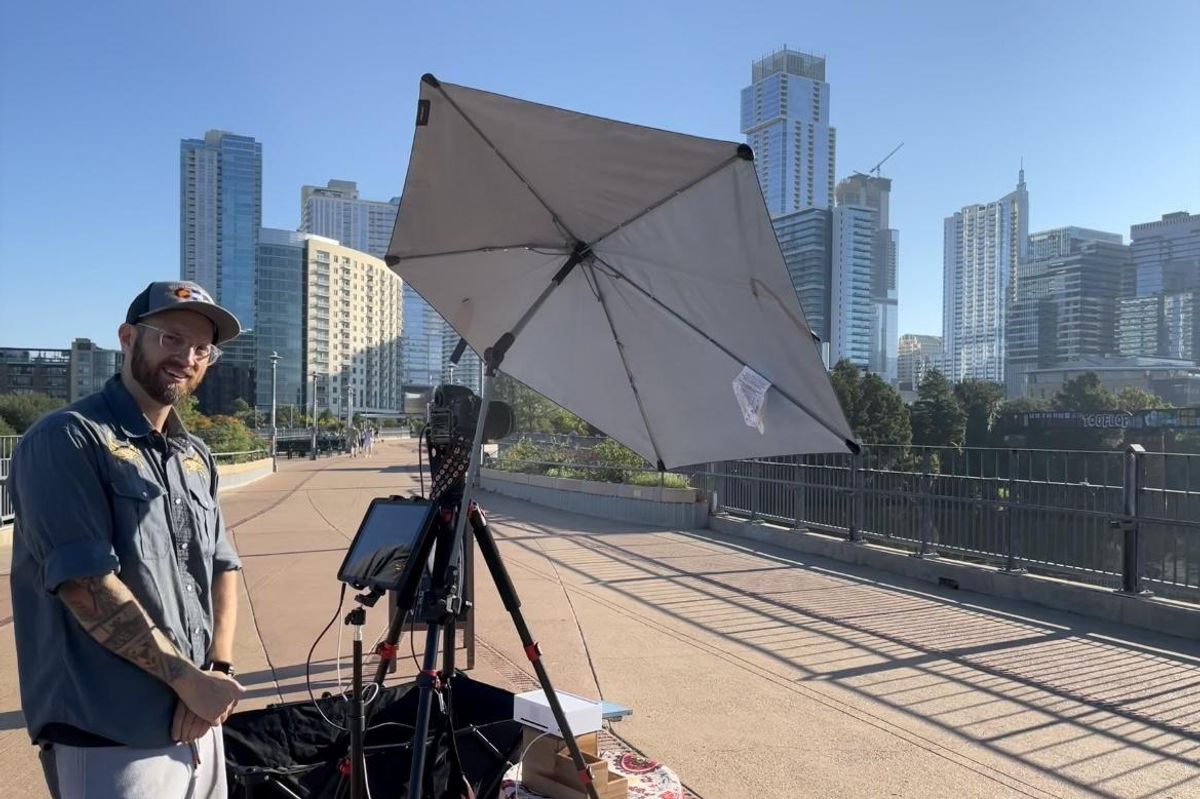 Nicklaus Pereksta says he loves photographing enthusiastic people, and it's why his latest gig offering pictures to people out on Lady Bird Lake's hike and bike trail is going smoothly. He sets up his gear on the Pfluger pedestrian bridge and puts out a sign: Photos, $10.
"Overwhelmingly, this has been a really positive experience," Pereksta said. "I get excited when I wake up in the morning and I can't wait to go to work."
Bikers and joggers are excited about it too. On the pedestrian bridge leading to downtown Thursday morning, a man on an e-bike rode up and posed, wanting more photos.
"I posted the last pictures on Instagram and people loved it. They asked, 'where is this guy?'" the biker told Pereksta. Bashfully, Pereksta, who also photographs landscapes and at weddings and other events, said he was happy to hear that.
Pereksta started these photos about a month ago, after the strenuous runs required in his valet job started causing pain in his legs. And though he has a passion for photography, he wasn't so sure when he started working independently if it would work out.
He felt uncertain about the demand for it and was also worried about having lots of expensive equipment out in the open.
"Then like the first day was nothing but high praise and people are like, this is so awesome. This is great. I've never seen anything like this before. I was like, Wow, this was really good, like positive turnout. So I got encouraged."
Now, he wants to expand and is thinking of contacting the Mueller Farmers Market about how to become a vendor. Still, he'll carry a connection to photographing on the bridge since the word bridge is related to his last name.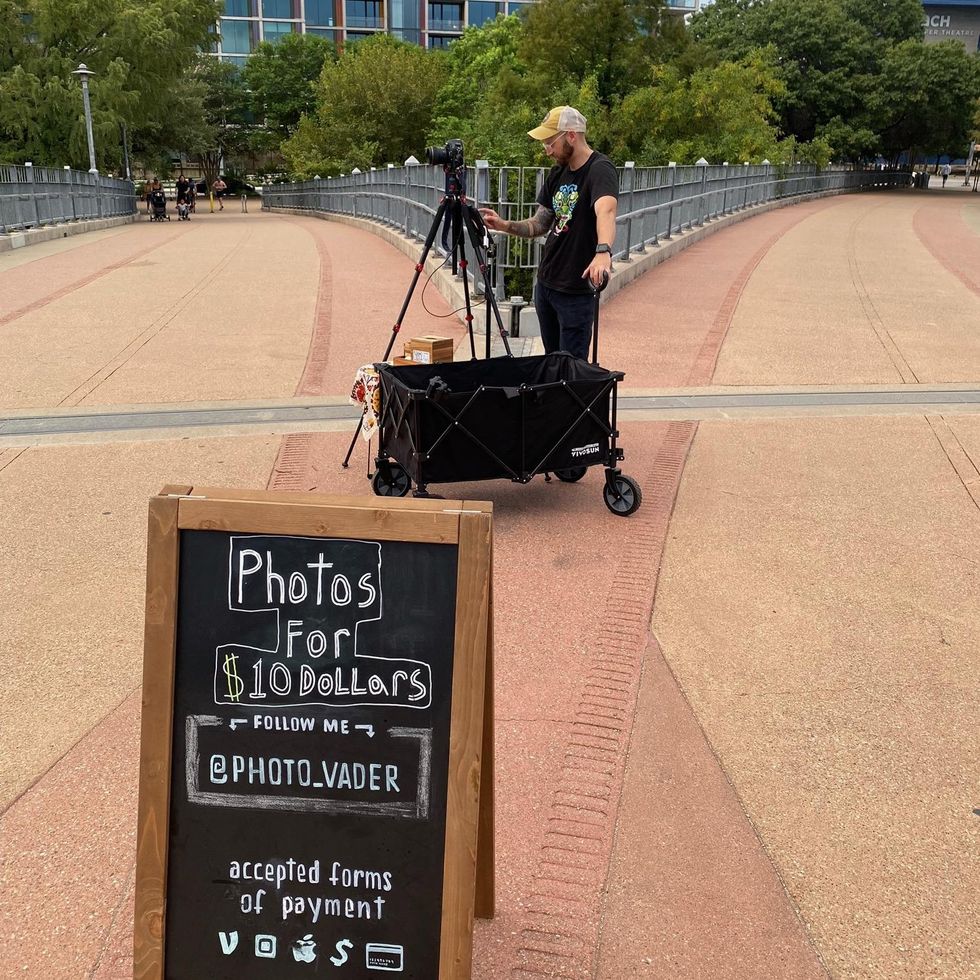 (Dewey C.)
"It's a name my great, great, great grandfather came up with when he was marrying somebody. It's actually quite a romantic name. It means a joining of two bridges," Pereksta said. "So, I thought it was ironic that I'm set up on a bridge. I'm kind of representing my last name right now."
Austonia talked to Pereksta about life in Austin, where he's lived for eight years after living in Boston doing band photography.
What was your first experience with Austin?
I came here to visit some friends and they took me to Barbarella. So we went to Barbarella and I was like, 'wow, this place is great.' And then the restaurants and the food and going to Barton Springs. I was like, 'this is amazing.' Because there's nothing like that in Boston. If you want to go to a natural spring, you got to go to New Hampshire. There's no pools in the city at all. So there's lots of swimming out here.
What do you like best about Austin?
You go to any little quiet bar and there's a band playing that should be like onstage for a sold out show. Yeah, they're playing to 10 people, right? Like, one of the best bands ever and they're playing for 10 people, right? And just little magic moments like that are pretty fun. You just run into little random weird things.
What do you think makes Austin different from other places?
There's no fall.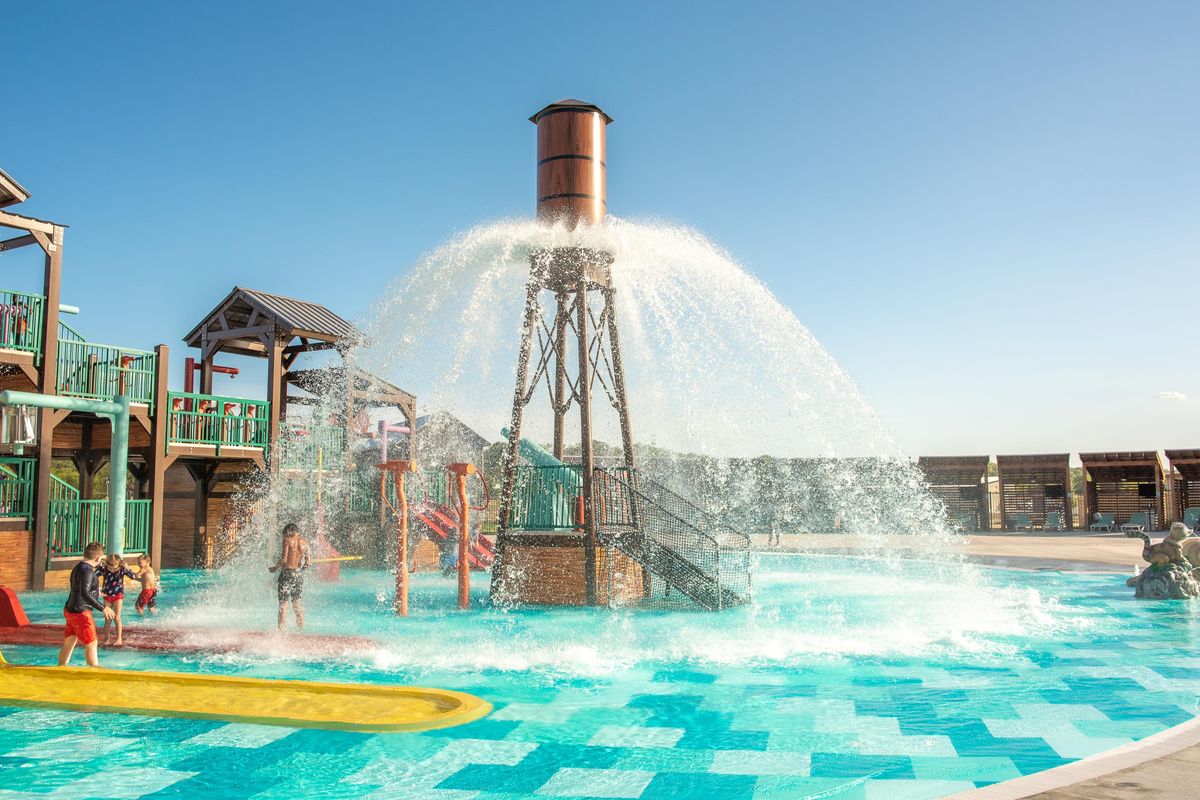 Camp Fimfo Waco
Camp Fimfo Waco, a brand new camping resort, is kicking off football and fall camping season in style! With top-notch amenities, premium accommodations, and 10 weekends of fall fun, there's no better place to have a fall camping getaway, especially if you're a Baylor football fan!
Fall promises to be a one-of-a-kind camping experience. From Sept. 16 to Nov. 24, weekends will be packed with fall-themed activities, including special Halloween weekends in October. Campers can enjoy activities like fall crafts, campground trick-or-treating, costume contests, site decorating, outdoor movie nights, and more!