Get connected with our daily update
(Vic Hinterlang/Shutterstock)
The Austin City Council is poised to order sweeping changes to police work, responsibilities and spending as early as this week, members said on Monday, a day after thousands marched peacefully to protest police brutality.
---
A package of resolutions addressing everything from the budget for the Austin Police Department to its staffing, from its use of force during arrests and protests to the very types of calls police should address, is up for a vote at the regular Austin City Council meeting Thursday.

"Our black and brown communities deserve it, our city needs it, and this moment in history demands it," said Mayor Pro Tem Delia Garza, a member of the council's judicial committee, which sponsored the proposals.
Some of those measures, like bans on the use of tear gas in protests and limits on no-knock warrants, can go into effect right away, said Council Member Greg Casar, another committee member.
Others, including proposed staffing reductions and budget cuts at the Austin Police Department, won't be officially addressed until budget season later this year.
"These are not problems that can be fixed overnight, but the backlog is so big we can kick this journey off with a flurry of activities," said Council Member Natasha Harper-Madison, who is also on the committee.
Several protesters were seriously injured during clashes with officers during the first week of demonstrations over the deaths of George Floyd in Minneapolis in May and Michael Ramos in Austin in April.
Resolutions appearing on the agenda for Thursday's regular City Council meeting propose changes including police use-of-force reforms, an audit of Austin police disciplinary procedures, a rewrite of the department's general orders, capping police staff at current levels and redirecting those budget dollars to community-based prevention strategies. They also address housing for former inmates and other community issues.
The resolutions appear to have broad support of the council and Mayor Steve Adler. The press conference on Monday only included the four sponsors, and Adler, as open meetings laws prohibit a quorum of council members from meeting without public notice.
Garza and Casar, another member of the judicial committee, have both suggested that Austin Police Chief Brian Manley step down as an act of good faith and the first step toward systemic change in the department.
They and two others, including Judicial Committee Chairman Jimmy Flannigan, last week expressed criticism over Manley's handling of recent police protests—as well as heading up a department that they said is generally slow to respond to council directives. Manley joined the force in 1990 and became chief in 2018.
Asked Monday if they would be taking that further, members did not repeat their call for Manley to resign and noted that City Manager Spencer Cronk alone has the authority to decide whether Manley stays.
Cronk last week issued a statement in support of Manley and city officials told Austonia on Friday there is no movement afoot to replace him.
But one of the resolutions does include a statement of no confidence in department leadership.
"We can express our opinion, as many of us have, but we are prohibited in interfering in personnel decisions," Casar said.
Said Harper-Madison: "We're basically asking our manager to heed the concerns and recommendations of the community and our constituents regarding Chief Manley's future with the Austin Police Department."
The resolutions, which include Items 50, 93, 95, 96 and 97 on the agenda, can be found here. Changes will be addressed formally in the regular meeting of the Austin City Council on Thursday.
(Clint Broden)
Daniel Perry, the active-duty Army sergeant who says he shot Black Lives Matter protester Garrett Foster in self-defense, was driving for Uber when he accidentally encountered the demonstration on the night Foster was killed, his attorney said Monday.
Perry, who is stationed in Killeen and only allowed to travel 100 miles from base, was not in Austin that night to attend the demonstration, attorney Clint Broden said, but because it "was the closest location that had significant ridesharing customers."
Broden also shared a redacted version of Perry's bank statement that shows two deposits from Uber that he said correlated to runs in Austin that night. Perry has been ordered to remain on base since the shooting, Broden said.
"We hope this puts to rest the allegations that Sgt. Perry traveled to Austin for any nefarious purpose," he said.
Some, including Foster's mother, have pointed to Perry's since-deleted Twitter account as evidence that he disagreed with BLM protesters and showed up at the rally to cause trouble.
The release was accompanied by six photos showing what the attorney described as the damage inflicted on Perry's car by protesters, including a bullet hole.
After Perry shot Foster, who was carrying an AK-47 and whom Perry claims was raising his rifle "in a direct threat to [his] life," another person in the crowd shot at Perry's vehicle, according to police. That person has not been publicly identified. Like Perry, he or she had a concealed carry license and was questioned and then released by the Austin Police Department.
Protesters arrested

On Saturday, in the wake of Foster's death and the release of Perry's name the day before, protesters and law enforcement clashed in demonstrations near downtown. Austin police on Monday released the names of 40 people arrested at the protests. The most common charge was obstruction of a highway.
Perry's attorney shared photos that he says show damage inflicted by protesters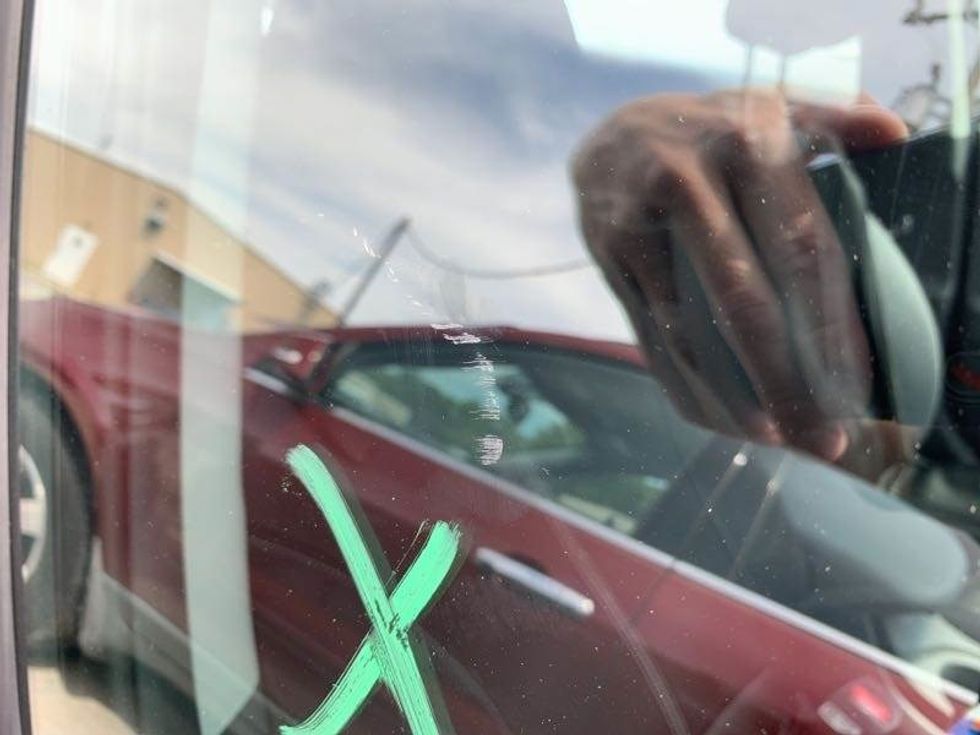 Perry's lawyer claims this photo shows where the vehicle was scraped with a brick.
(Clint Broden)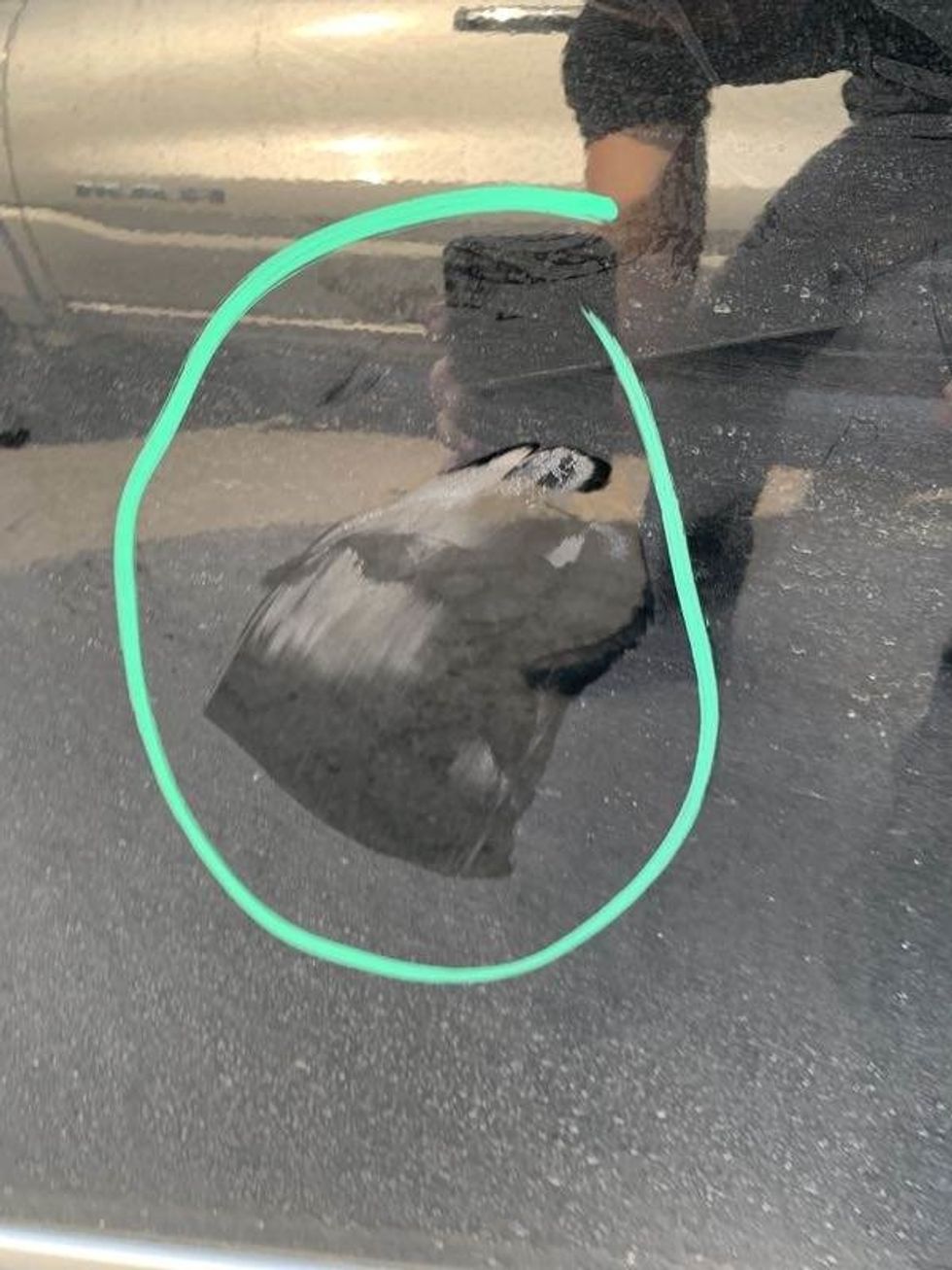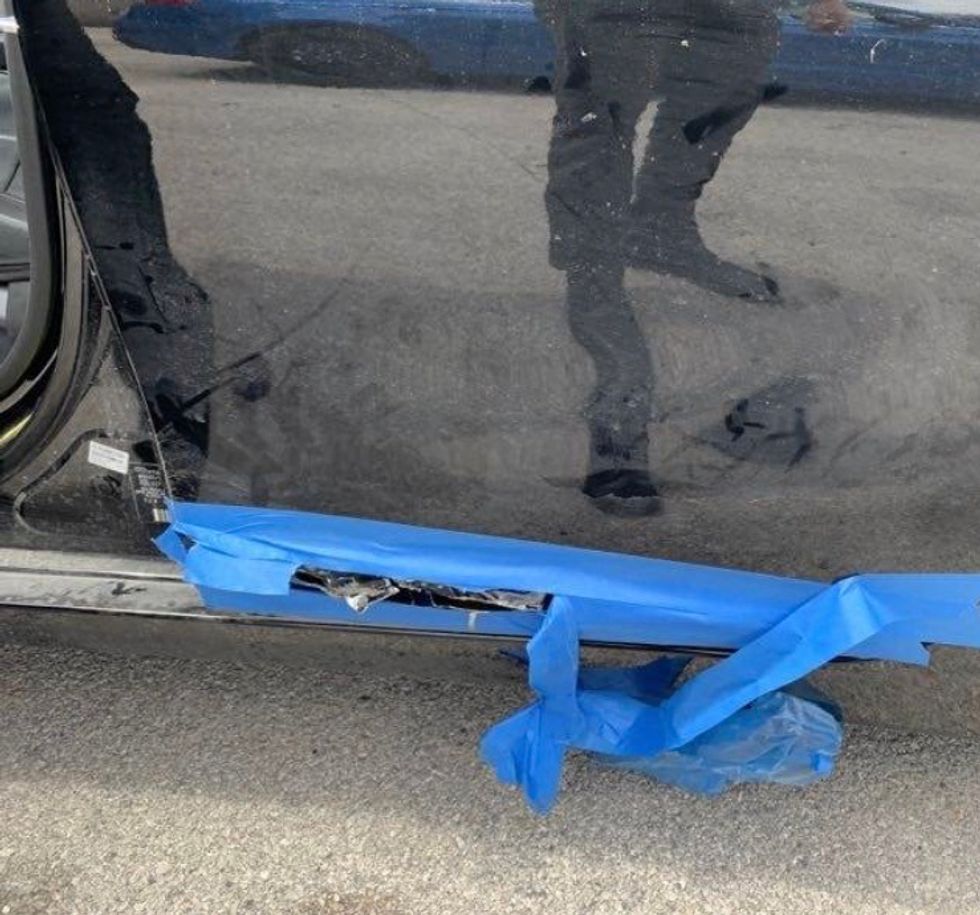 This photo, the lawyer says, depicts bullet holes.
(Clint Broden)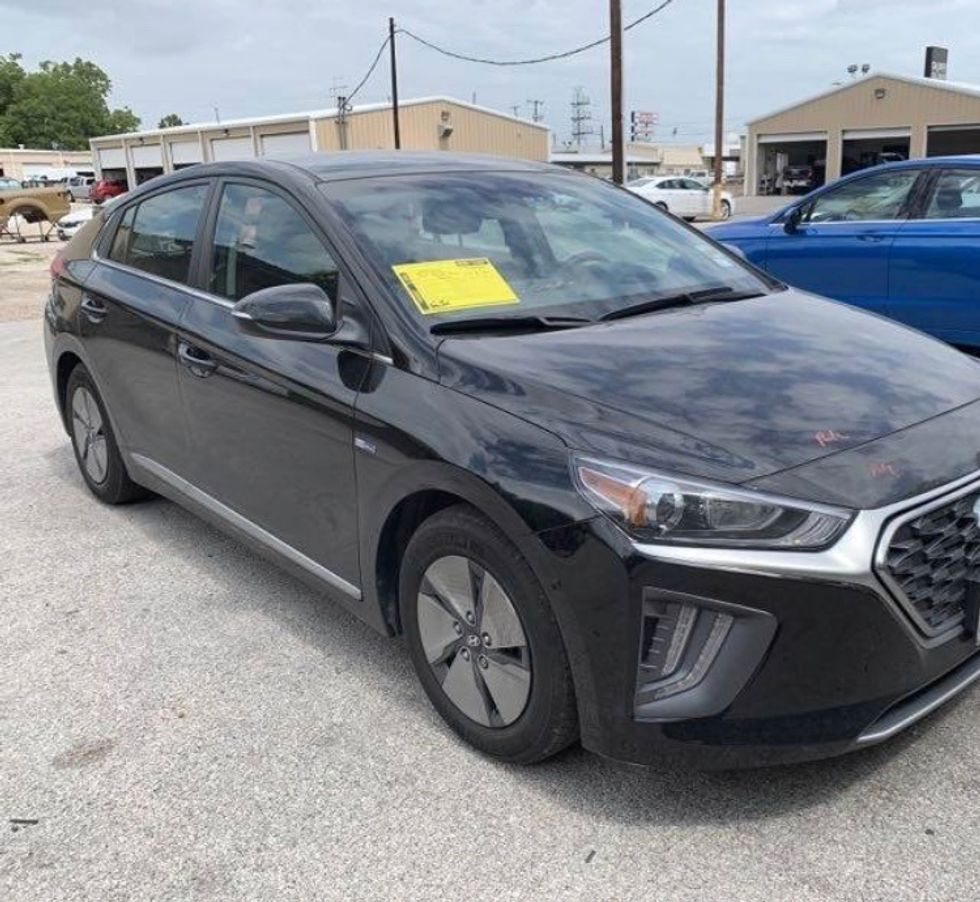 Perry's lawyer claims this photo shows hood damage "identified by auto body shop as a result of banging."
(Clint Broden)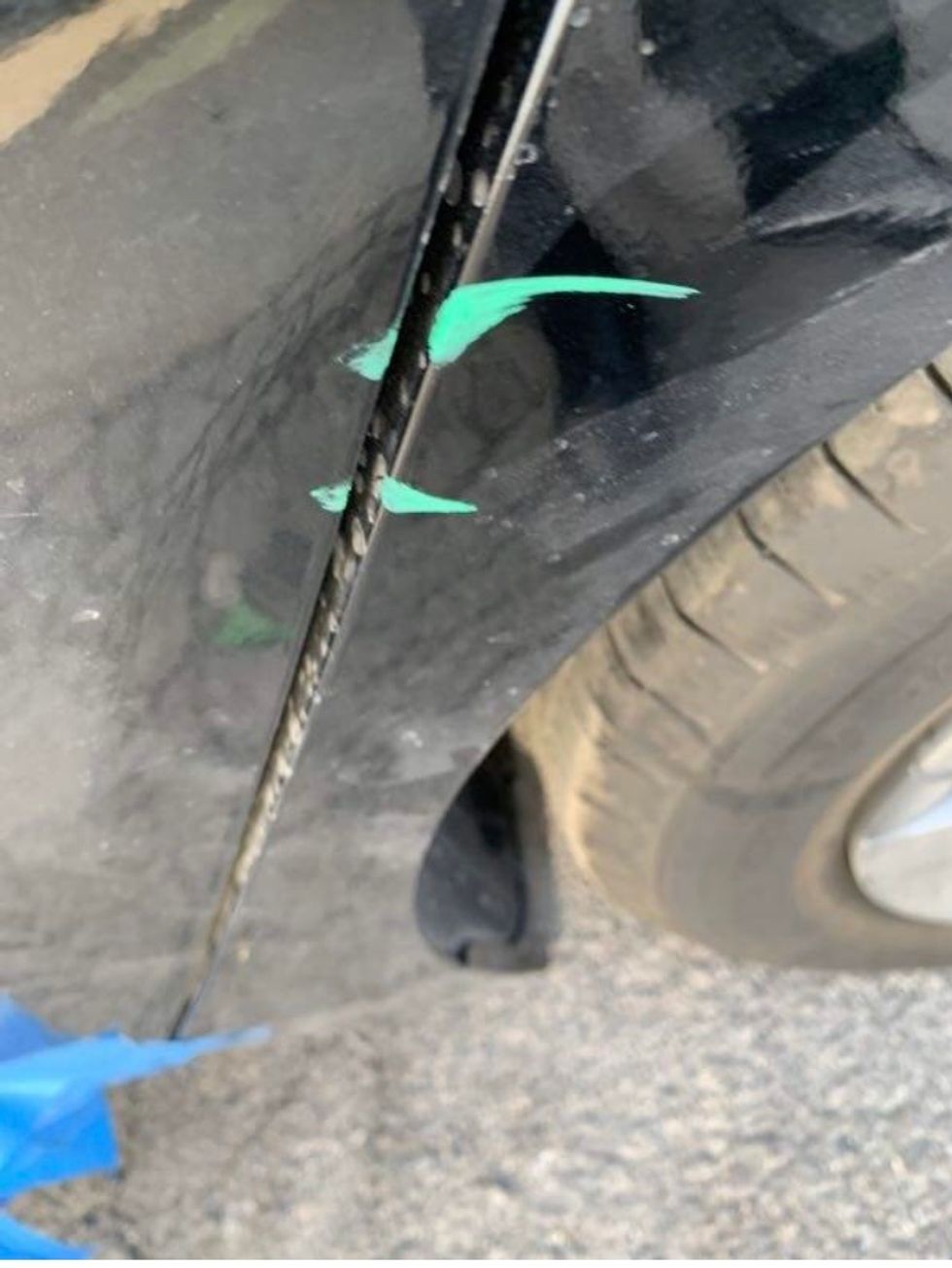 This photo, the attorney claims, shows a misaligned door where people hit the vehicle.
(Clint Broden)
Follow Austonia on Instagram to keep up with what's happening in your city.
Our Instagram page allows you to stay up to date with all things Austin, from coronavirus updates to local personalities. Join our Instagram family to see the faces, events and news that make up the city.
(Apple)
Former Longhorn and NFL star Emmanuel Acho stars in the two-part premiere of "The Oprah Conversation," which hit screens on Apple TV+ over the weekend.
<p>Acho is a natural fit to kick off the new show by Oprah Winfrey. The two are partnering to <a href="https://austonia.com/media/uncomfortable-conversations" target="_blank">publish a book based off his wildly popular social-media series</a>, "Uncomfortable Conversations with a Black Man."</p>In the show's first installment, Winfrey and Acho answer questions by white and Latino guests about race and what it means to be Black in America.<p>"He's answering uncomfortable questions about racism in America and the best ways to keep the conversation going with your family and friends," reads a statement on the show's social media.</p><div class="rm-shortcode" data-rm-shortcode-id="b731717d9d6127f784b0c98ace3bba1a"><div class="fb-video" data-allowfullscreen="true" data-href="https://www.facebook.com/video.php?v=2661048164154842"></div></div><p><br/></p><p>"The Oprah Conversation" is Winfrey's newest series on Apple TV+, following "Oprah Talks COVID-19" and "Oprah's Book Club."</p><p>In future episodes, the show will continue to explore timely topics with leaders from across the globe. <a href="https://tv.apple.com/us/episode/uncomfortable-conversations-with-a-black-man-part-1/umc.cmc.18mbwbiobbhzpxceuzvijsln8?showId=umc.cmc.49yt85r7ow6904u0177r694qy" target="_blank">Watch it here.</a></p>