Get connected with our daily update
Assistant Police Chief Joe Chacon will serve as interim police chief of the Austin Police Department following the retirement of Brian Manley on March 28. City Manager Spencer Cronk is conducting a national search for Manley's permanent successor and plans to make an appointment by August. "We need to have a chief in short order," he said during a press conference on Monday.
---
Chacon is a 22-year veteran of the department, having started as a patrol officer in 1998. He moved through the ranks and was named assistant chief in 2016. He is third in command behind Chief of Staff Troy Gay, who some expected to be named interim chief. (When former chief Art Acevedo left for Houston in 2016, then-Chief of Staff Manley was named interim chief and later promoted after the Austin bombings in 2018.)
Both men have been finalists for other police chief positions across Texas and the U.S. Chacon was named one of four finalists for the top job in Waco earlier this year and one of two finalists for the chief position in Boise, Idaho, last year, according to local reports. Gay was one of five finalists considered to lead the Nashville Police Department in 2020.
City Council will decide whether to confirm Chacon as Manley's interim successor at its meeting on Thursday.
The search process
The national search for Manley's successor began Monday, Cronk announced in a memo to council outlining the process. He has hired Ralph Andersen & Associates, a California-based executive search firm that has assisted 35 other cities in their police chief searches and the city of Austin in a number of executive searches.
"I hope through this process that we collectively find the ideal candidate—one who collaborates with our community, instills trust in the workforce, works to achieve results from established Council policy, creates a culture of improvement and accountability, and is willing and able to lead the department in ways that lead to equitable public safety outcomes for all," he said in a statement.
The search process will take place in three phases, according to the memo. The first phase will entail creating a candidate profile with input from the community as well as city leadership and APD employees. The second phase will consist of outreach and recruiting. And the final phase will involve interviewing the top candidates and selecting the city's next chief. "The search will be transparent and inclusive, with engagement at every level," he said.
The community engagement component of this search will be different from that of the 2018 search process, when Manley, then-interim chief, was named lone finalist for the permanent role following his handling of the Austin bombings. "The difference between what we saw in 2018 and now is that we are starting with an open, national and dare I say international search," Cronk said.
Joya Hayes, director of human resources for the city of Austin, added that this time around community engagement will be considered from the start, including in the formation of a candidate profile, rather than only after a finalist has been chosen.
A rare opportunity
Manley announced his retirement last month amid an ongoing national debate over policing and after mass protests against police violence and racial injustice in Austin last summer. He has faced sustained criticism from local elected officials, criminal justice reform advocates and residents after APD officers seriously injured protesters over the summer. Four council members asked him to resign, Cronk faced pressure to demote him and the council voted unanimously to cut the police department's budget. Last August, the Austin Justice Coalition debuted a jingle, "No Confidence in You," as part of its campaign to get Manley to resign.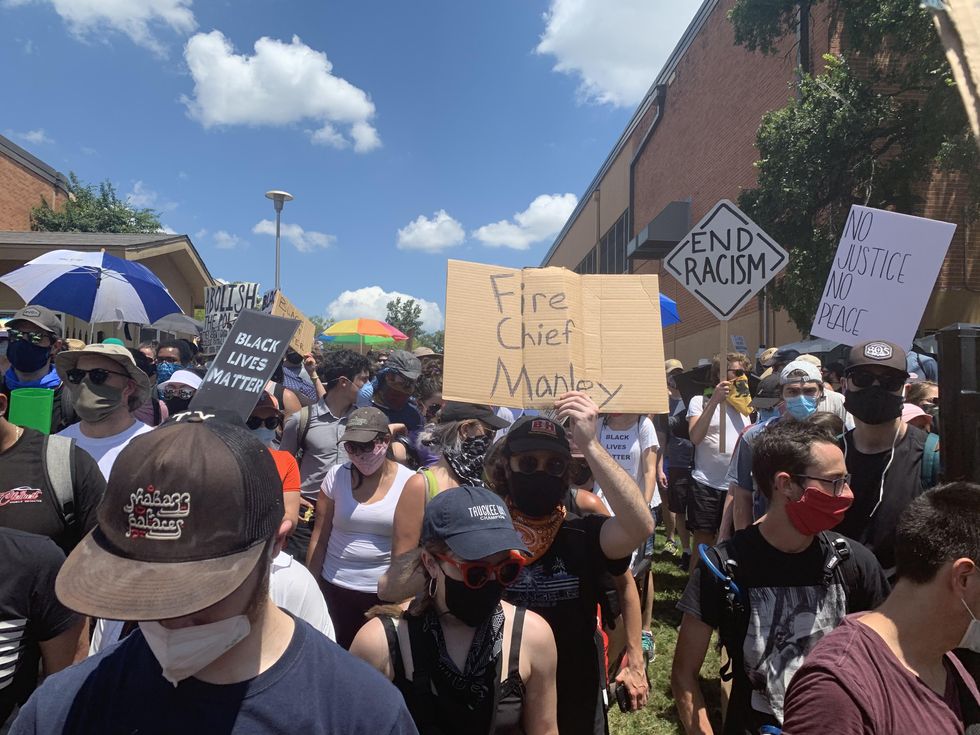 Thousands of protesters marched from Huston-Tillotson University to the Texas Capitol on June 7 in response to police violence and racial injustice. (Emma Freer)
The department has also come under fire in recent years for multiple officer-involved shootings, allegations of racism among its top ranks and reports of hazing at its training academy.

Manley said this criticism did not contribute to his decision to retire, but it will certainly color the search for his replacement. Acevedo, who previously led APD and recently announced he will lead the Miami Police Department, said the city's police reform efforts are deterring candidates from applying to chief positions. "People are hesitant to apply for cities with misguided, reacting city councils," he told Austonia earlier this month. "It's having an effect."
But city leaders, including District 4 Council Member Greg Casar and Cronk, say Manley's retirement presents a rare opportunity. "The Reimaging Public Safety process, budget decoupling and department restructuring, and, most recently, the announcement of Chief Brian Manley's retirement provides a unique opportunity to work with our community to bring new leadership that aligns with our values and our commitment to equity and community engagement," Cronk said in a statement.
Republic Square Park has turned into a Ford-themed fiesta for its Built to Connect pop-up experience, complete with test drives, off-roading and an inside look at the Tesla-rivaling electric vehicles that the motor vehicle company is planning to integrate over the next decade.
The outdoor driving event is free, open to the public and will stay in the park from now until Oct. 24, offering rides on Bronco Mountain, a 0-40 mph zip in the 2022 all-electric Ford F-150 Lightning and a chance to win an original Ford Bronco.
The event kicked off with a panel of speakers, including Austin Director of Transportation Rob Spillar, Ford General Manager Darren Palmer and engineering specialists discussing Ford's goals to make it so that 50% of the vehicles on the road are electric by 2030.
As an eco-conscious city, Spillar said that around 4,000 vehicles, or 22% of the Texas electric vehicle market, as well as over 15,000 plugins lie in Austin, meaning driving electric just got accessible.
"Austin, as you know, is a fast-growing modern city that is committed to protecting the long term health and viability of our communities and strategies that reduce greenhouse gases, mitigate the effects of climate change and improve the drone quality of life here in Central Texas for all of our residents," Spillar said.
And Ford's electric vehicles are putting up some steep competition for newly-Austin-based company Tesla. The new electric Mustang Mach-E and F-150 Lighting offer amenities that used to be exclusive to Musk's brand, such as the BlueCruise self-driving network. The cars also boast a 300-mile range on a single charge, assisted reverse technology and access to the biggest charging network outside of the home.
Plus, Ford's got affordability on its side. The F-150 Lightning starts at $39,974 and the Mustang Mach-E starts at $42,895, while the cheapest Tesla model, the Model 3, starts at $41,990 and averages 262 miles on a single charge.
Speaking of price, the numbers on the electric vehicles may look like a little more than you'd like to pay for your transport, but Palmer promises it will pay off. In addition to a $7,500 tax credit you can earn for your sustainability, you'll never have to buy a pricey tank of gas again.
"Personally, I have not found one customer ever, who would go back to gas so that says something," Palmer said. "I realized, at $51,000, that car outruns every childhood hero car I ever had."
Texas buyers: take note. The Ford Lightning can power your house for three to 10 days, just in case the statewide power grid fails. You can take it glamping with you, so you don't have to leave the comfort of modern life behind, and in a pinch, Palmer said he's even seen a wedding party powered by the truck.
Ford is investing $30 billion into the U.S. market to meet demand by 2025 and the new electric truck already has over 150,000 reservations.
"I think they're going to take off much faster than you expect—they're going to be extremely, extremely popular next year," Palmer said. "With the incentives that are available today, this is starting to become more mainstream and viable for more and more families. We couldn't have done that before, we didn't have the technology, or the technology at that price."
The event is ongoing through next weekend from 12-9 p.m. Monday-Friday and 9 a.m.- 8 p.m. Saturday and Sunday.
The Austin Police Department is searching for a man who is believed to be behind a series of robberies that is "sexual in nature and is escalating."
Three robbery cases that took place in North Austin within a 30-day period are being investigated by police, who report the victims all had similar descriptions for suspects in the case. The suspect is described as a 20-25-year-old Spanish-speaking Hispanic man, approximately 5'3, thin build, recently shaved with black hair. Police say he is known to typically wear athletic clothing and used a knife on each of the victims.
Here's a breakdown of the cases:
1. At 7:56 a.m. on Sept. 22 at the 1600 block of Rutland Drive, a woman was walking alone and returning from her child's school when a suspect walking by inappropriately touched her. The suspect then grabbed her by the arm, threatened her with a knife and demanded "her property."
2. At 8:10 a.m. on Oct. 11 at 1700 block of Colony Creek Drive, a woman was walking to her child's school when a man approached her with a knife and then demanded her personal items. The suspect then said he would return the items in return for sex.
3. At 11:03 a.m. on Oct. 13 at the 9300 block of Northgate Boulevard, a woman was with her child in the laundry room of an apartment complex when a man walked in performing a sexual act. The suspect demanded personal items from the victim, threatening to hurt the victim and take her child.
Police cautioned the public to walk without earbuds, stay alert and report suspicious activity to the police.